Bossa Nova's French Connection
While it remains no doubt a worldwide phenomenon, bossa nova seems especially beloved in France. I thought that maybe this was a confusion that only I had when looking back at the post-war, pre-youth-culture window: jazz, bright colors, Josephine Baker in a banana skirt, Carmen Miranda with a banana hat and so on, but it's a trend that can still be seen in music coming out today, more than a half century since this breezy, intricate music broke onto the world scene. The general consensus in its native Brazil seems to be that bossa nova is great, but it is the music of the past. In France, the singer-songwriter Séverin's 2016 album was heavily influenced by Brazil; the French outfit Nouvelle Vague continues to rework British New Wave songs; the electronic duo Thievery Corporation switched between French and Portuguese on their bossa nova-homage Saudade. The music has been there so long and so comfortably that when the comedians Flight of the Conchords went to make a French parody, they reached for those upbeat guitars.
The two countries are separated by a language and by an ocean and there wasn't some sort of huge post-war immigration between the two, but the most I looked, the more connections I found—Black Orpheus was made by a French director; Claude Lévi-Strauss studied in the Brazilian Amazon. What's going on here?
I, an American, found my answer in Canada, of course.
While at the Nuits d'Afrique festival I got to talking to Bïa, a Brazilian singer who lives in Montreal and sings in French, Spanish or Portuguese, depending on how the idea for the song came to her. As she was living in the Francophone world, first on the mainland and then in Montreal, I asked her if she knew how bossa nova got to France.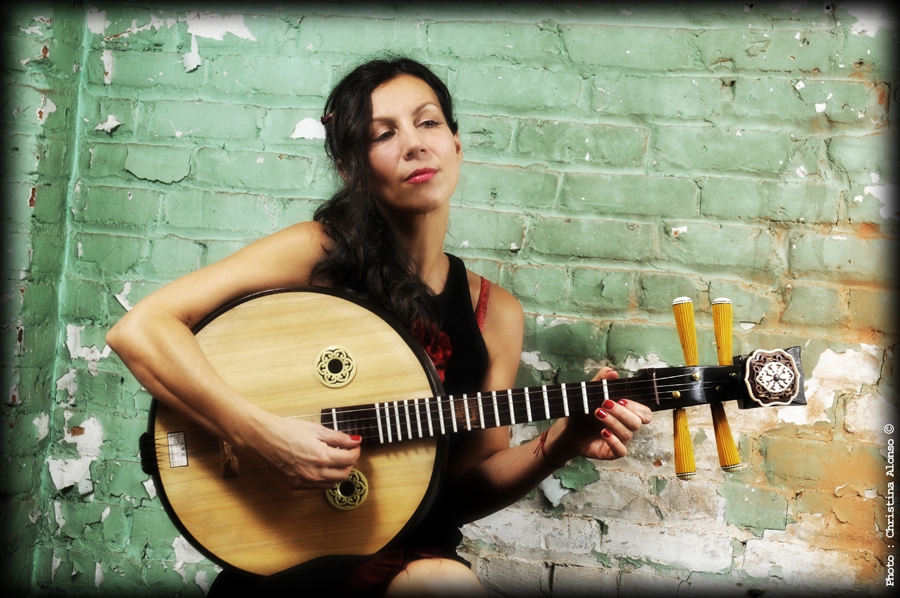 Bïa. Photo by Christina Alonso
The way she explained it, you can't overstate the impact of Getz/Gilberto. The album brought together American saxophonist Stan Getz with bossa nova pioneer João Gilberto, and won the 1965 Grammy for Album of the Year. The first track, "The Girl From Ipanema," is said to be the second-most-recorded pop song in music history, after "Yesterday" by the Beatles. Bïa told me that record "is a must in the French culture." She also mentioned the lyricist behind "The Girl From Ipanema," Vinicius de Moraes.
Moraes was a poet, playwright, lyricist, and eventually diplomat. Though he wrote "Ipanema" with Antonio Carlos Jobim, Vinicius collaborated many times with the Brazilian guitarist Baden Powell, including on the amazing 1966 album Os Afrosambas.
Bïa asked me if I had ever seen the Claude Lelouch film A Man and A Woman. I hadn't, but when she sang the theme song, I recognized it.
Bïa explained: "The guy who wrote the lyrics to that famous song, Pierre Barouh, met Baden Powell and Vinicius de Moraes in Brazil because he went there for filmmaking or something. Barouh was a musician and...he was filming a picture as an actor and talked to the director, Claude Lelouch, and said 'I just met these amazing musicians in Brazil; can I sing that song and make a version and put it in the movie?' And Lelouch said 'yeah go for it,' because that was his style: improvisation."
Barouh wrote French lyrics for Powell and Moraes's "Samba da Benção," and re-released it as "Samba Saravah." The song appeared in the film sung by Barouh himself.
Un Homme et Une Femme was a smash success both in France and internationally, both critically and commercially. It won the Palme d'Or at Cannes, two Golden Globes and two Oscars, and the soundtrack was responsible for one of those Golden Globes, an additional nomination and a BAFTA win.
"Brazilian music came into France through the movie door," Bïa said. "Through the '70s every major artist in Brazil would be present in the French scene and it never stopped, actually. It began to be big in those years and nowadays there's still this connection. Lots of French artists go to Brazil for inspiration and the French public loves the music too."
Pierre Barouh stayed interested in Brazilian music, and he returned to Brazil to film a documentary called Saravah in 1969. I haven't been able to find a version with English subtitles, but an entire version is up on Youtube. While understanding all of the dialogue would require fluency in both French and Portuguese, the scenery is worth the price of admission alone. Barouh follows around his friend Baden Powell, who plays candidly and beautifully. An extremely young Maria Bethania and Paulinho da Viola appear, goofing around and singing, and looking about as carefree as two people can. Bethania sings the song "Baby," versions of which appear on the first Os Mutantes album and also the Tropicalia compilation. It is a harbinger of what replaces bossa nova in Brazil.
On the success of this two-pronged attack, the Brazilian songbook took hold within that of the French.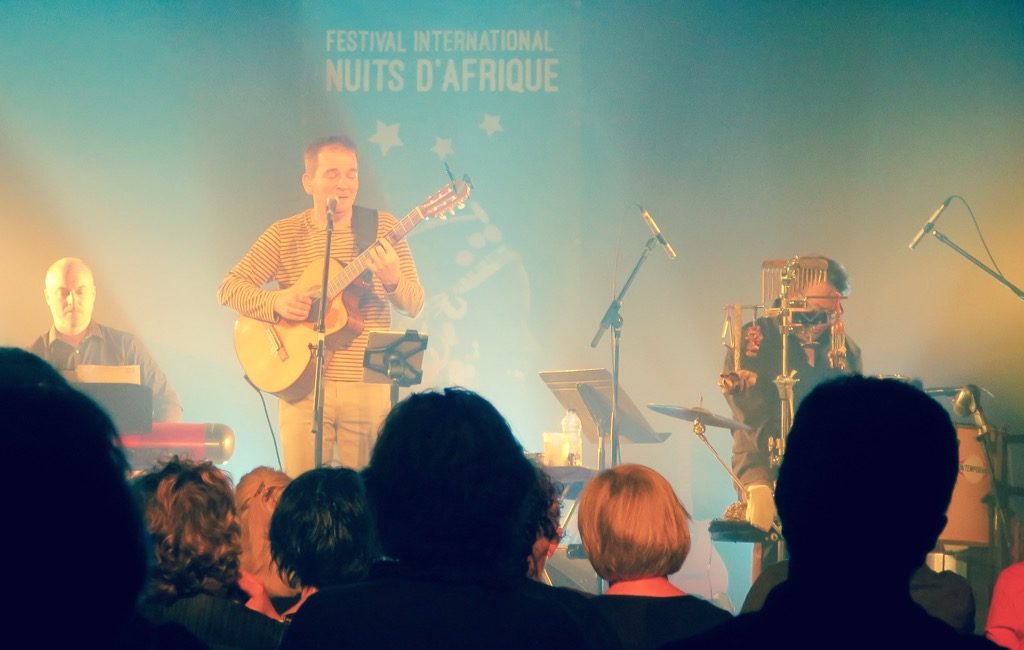 Jean-François Léger, photo by author.
Jean-Francois Léger is a French-Canadian musician based in Montreal. At the Nuits d'Afrique Festival 2017, he played a sort of revue of bossa nova that ran through the history of the genre, and how it came into the French world.
"It's not like artists were kind of like 'O.K., I like this song and I want to do a French version'," Léger told me. "They traveled to Brazil and they met the creators and they bonded with each other and they created another kind of bossa nova for the French."
French artists like Georges Moustaki, did translate Jobim songs like "Água de Março" into "Les Eaux de Mars." But the underlying rhythms became part of their repertoire and part of their musical language, and by the '70s, Brazilian influence went without saying.
Brazilian artists had found a receptive audience and, as the '60s continued and the political situation in Brazil soured, some even found a new home. Baden Powell relocated to France permanently in 1968. His sons, musicians, were born in Paris.
Léger doesn't write songs in a bossa nova idiom—not yet anyway, he told me—but he did explore the flexibility of the genre that night in Montreal, "bossa nova-fying" some Cuban and Quebeçois songs. It being the Nuits d'Afrique festival he tried to express the visible African-ness that he saw in the music.
"Of course its in the rhythm because samba is the direct child of African music because of the percussion aspect, but also in the tone," Léger told me. "When I think of the tone, I'm saying what the music feels as an emotion is very African to me. I wonder if I am being clear?"
Later that night, when Zal Sissokho came to play kora over "Samba Savanah," it sort of beggared belief: African music, across the Atlantic to South America, back across the Atlantic to Europe, over to North America, and then here, ready as ever for the kora. However it got there, it sounded great.