Best of The Beat on Afropop: Bambino, Hero of Bamako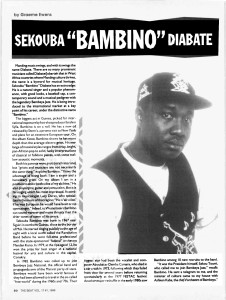 You may have heard about the African singer who was caught up in the terrorist attack at the Hotel Radisson Blu in Bamako, Mali on Nov. 20. That was Sekouba "Bambino" Diabate, a superstar from Guinea, who was in Bamako for a concert appearance. Although 19 people were killed, he was one of 170 hostages safely evacuated by Malian police, and is being hailed as a hero for reporting he overheard the gunmen speaking in African-accented English, a clue for authorities who are hunting for the perpetrators of the siege. On Diabate's return to Conakry, he received an audience with Guinea's president, Alpha Condé.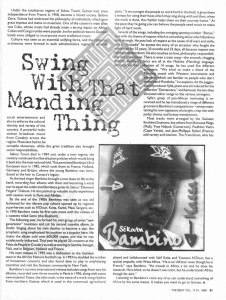 Although not widely known in the West, Bambino, as he is called by his multitude of fans, is one of the biggest names in West Africa. A musical child prodigy, he was personally recruited by the country's first president, Sekou Toure, as lead singer for Guinea's flagship Bembeya Jazz at the age of 16 following the death of the soloist/bandleader Aboubacar Demba Camara. He was also a featured member of Africando, the African/Latin supergroup produced by Ibrahima Sylla. The Beat published this article, "Swing With That Manding Thing," by British journalist Graeme Ewens in 1998, on the occasion of the release of Bambino's first international album, Kassa (Sterns Music).
CLICK HERE TO READ OR DOWNLOAD PDF: Beat17#1Bambino
READ BANNING EYRE'S REVIEW OF BAMBINO'S ALBUM, THE GRIOT'S CRAFT.
"Sekouba Barna"from Bambino's most recent international album, The Griot's Craft (Sterns).