Buika: A Musical Missionary, Part Two
In part two, we discuss some of Buika's latest projects, including her new EP, a movie, and an opera.....
In part one of our interview with Buika, she discussed her past, her thoughts on life, and her mission as a singer. Here, we talk about some of her current, past and future projects....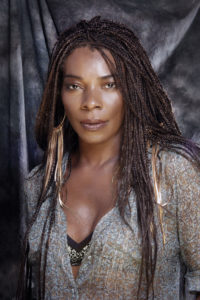 Ron Deutsch: I keep hearing about a movie you've been making or made. Are you still working on it?
Buika: Yes, I made this film. [De la Soledad al Inferno, From Solitude to Hell] It's already done. We are working on the soundtrack which has been a nightmare! It was supposed to be a short film, because it came from a poem in my last book. But at the end, I don't know, it's now 90 whatever minutes. We're just crazy, just crazy. I'll tell you something, this is the first and the last time in my life I do something that crazy. Oh my God! Do you know what it is to do a movie? I thought it was easier. I almost died.
But now you're involved in putting on an opera, right? That's got to be almost as crazy, no?
Yes, [Laughs]. I'm working on an opera now. And, yeah, it's just as crazy, but in this occasion they called me. It wasn't my idea. I'm a fan of this band called Apparatjik. I don't know why, but they called me for work. I was so amazed and I thought, '"Oh my God! That's not possible!" I was so nervous because I really do love what they do and everything. I so respected that they would call me to work, first of all because we didn't know each other.
They wanted to do an opera about a woman called Julia Pastrana, who was a woman who had a face full of hair, "a bearded lady." She had two lines of teeth in her mouth. She was a special person, so talented. She spoke several languages; she was a soprano and could sing opera. But they treated her like she was an animal. She was sleeping in a cage in the circus, close to the monkeys, because they said she was between a monkey and a person. We're talking about the 19th century. The poor girl, she had an amazing traumatic life.
Apparatjik knew about that story and decided to do an opera about her and just called me. After that, we started to play together. And now we do some shows together, and I'm having fun with them. They're amazing. The singer is of the [Danish] band Mew, the other is the guitarist from [the group] a-ha, remember them from the '80s? The other is [Swedish] Martin Terefe [who coproduced her 2015 album Vivir Sin Miedo], who is an amazing and talented producer. An amazing band. We're supposed to release the opera in 2019 in Norway. But we've been doing a show from the opera last year, and it was amazing, beautiful. And some of the compositions are mine, too.
Excerpt of "Day of the Dead" performance:
https://www.youtube.com/watch?v=oSa2JYvmV4c
This is not the first time you've been drawn to stories of interesting women. In 2009, you teamed up with Cuban pianist Jesús "Chucho" Valdés to make the Latin Grammy winning album El Último Trago (The Last Drink), in which you reinterpreted traditional ranchera songs made famous by Costa Rican singer Chavela Vargas.
Oh, you would have loved her. She was amazing. She used to sleep with a gun under her pillow. I remember once, she felt bad and we took a doctor to her home. And he said something and she got so offended, she picked up the gun and started to shoot it.
We first met because we had the same manager. I remember she had to come to Madrid to do a show and the manager was scared because he thought she wouldn't be able to stand two hours for the show, because she was too old. My manager decided to have me and another singer sing with her. She didn't want that because she was offended. But then she said: "O.K., let me listen to the singers you want me to sing with." So we went there and she said: 'O.K., what's your name?' And I started to stutter, I was so in awe of her. So then I started to sing but I was so nervous. And she kicked me out… like a dog. [Laughs] She stopped me and said, "You can go home. You're not ready." And I was like, "What?! I was a Grammy winner! I'm not ready for what?!" I was so angry. But then, we went to Mexico to play and she came and was in love with what she heard. She came to the dressing room and said: "You are my black daughter." And I was like, "O.K.!" She was a really strong woman, you know? You couldn't mess with her.
Let's talk about the new album, Para Mi. Why did you decide to release an EP of just five songs instead of an entire album?
https://open.spotify.com/album/5BxGWEHesGovXQAvhqD8Q6
Well, first of all because I think nobody has time to listen to a whole album today. Today, albums don't exist anymore… for real. I have my playlist. You have your playlist. It's not an album anymore. That is first. Then I think that to throw away so much money, it's so much money. Why do you want to spend all that money? Why release 12 songs each year? I don't have 12 great ideas each year, you know? Why do I have to release 12 songs each year, with a video clip, and this and that, like this? Why do we have to always do the same? Today, I invent an amazing song and I want my audience to listen to that song in 15 days. What is the problem? So I release one song. If in a couple of months, I have a couple of more songs that I like, I'll release two songs. Of course, now is when my record label will kick my ass. [Laughs]
So this EP is 25 minutes and it's called Para Mi–for me. That's my gift to my tribe. Twenty-five minutes for you that you don't need to share–because you have to share your feelings, you have to share your money, you have to share your ideas, you have to share your secrets! So these 25 minutes are for you. Just for you. If you want to share them, you can share them. If you don't want to share them, you don't have to. It's just 25 minutes. And, Papi, if you cannot give yourself 25 minutes in a day, then you have to think about what's going on with your life. You know what I'm saying?
You've also started producing your albums. I'm wondering if this came about because of problems you had with your former manager and now you've seem to have taken more control over your career?
It was so much important, Papi. You can't leave your tribe, your fans, in somebody else's hands. No. You can't do that. If you work with someone, this someone has to work for you. Because you work for the audience. It's not the other way. Before, I was like a worker and I thought my manager was my boss. I thought my record label was my boss. I was so loyal. The best soldier. I've always been one of the best soldiers. "Do this!" I'll do it. "Do that!" I'll do that. At the end of the line, it was the audience, always the audience. Everything I do in this life is for the tribe. We are missionaries. We have to be there for them. The companies now are here, tomorrow, who knows? I don't know. Especially today, you look at the future of the record labels and you go, "Uh oh, I don't know." But music will be there, won't it? Records labels... I don't know.
It's cool that there's a business music, but what is not cool is to make the people believe that the music doesn't belong to them. That's what I mean by the "industrialization of feeling." Music belongs to humanity, not to the companies. You know what I'm saying? Your thoughts, your ideas belong to the people who listen to you, it doesn't belong to who you work for. You're a soldier. Never forget that. You're a missionary. You belong to humanity, not to the companies.
Let me tell you something, beyond 40, rebellious is the answer! At this point, I don't think nobody can tell you, "Hey you, don't write this because then people are going to think you are this and that." There has to be a line to cross, but once you cross that line you aren't scared anymore. I'm 45 years old. I'm not scared for my career anymore.
You also play several different instruments. Do you ever play on your own recordings?
Yeah, I do sometimes. I presume I'm a really good music programmer. And when I do my music, I normally record all the instruments. I record the bass, piano, drums, everything myself. But then when I go to the big production in the studio, I call musicians because I want a really good job. I'm not really a very good musician. I just try.
Tell me about the musicians you chose for Para Mi....
First of all, they accompany me for a long, long, long time ago. It was a like a gift for all of us to get together again and do this short, tiny, and small masterpiece, you know? It was like a decision. No producers, just ourselves to go into the studio and have fun. It's just five songs, so let's dream something. It was amazing.
The percussionist, Josue [Suarez Piraña], I've been with for the last 15 years. All the best players that I've always been with from a long time ago. The guitarist [Jesus De Rosario], is the only one who's new, and it was amazing to discover this boy. They're all Gypsy-flamenco musicians, like Ramon Porrina, and Santiago Cañada, who is a trombone player. That was something really nice. I decided to play with a trombone because it is an unusual instrument for accompanying a singer, you know? I discovered something about this instrument that is something like a voice, so I feel like we are two voices on the album. It's just beautiful.
I feel really proud of it, honestly. And you know how once you listen to something, and you say, "Did I do that for real?" That's how I feel in front of that album. I feel it's so special. And I'm taking these musicians with me on the tour, because I wanted the people to listen to the original, for real.
O.K., one last question. You are known for always getting a new tattoo when you go on tour. What's the latest?
The latest one are two butterflies, because I honestly think that butterflies are the only animal who flies in all directions to go straight, you know? The same as me.
Thank you so much for your time.
Thank you too, Papi.
Para Mi is available wherever you buy or download music. Upcoming North American tour dates include Festival International de Jazz de Montreal (July 4), Santa Fe, NM (July 28), San Juan, PR (Aug. 19), and Seattle, WA (Aug. 29-30).