Bunny Wailer Reflects on His Legacy
Bunny Wailer was a few dates into his first U.S. tour in over 20 years on May 2, 2016 when the band went on at B.B. King Blues Club in New York City. Bunny and his band, led by veteran guitarist Dwight Pinkney, delivered a hit-packed, two-hour set that had the capacity crowd in rapture. Blending such Marley classics as "Rastaman Chant," "The Heathen," "No Woman, No Cry," and the Wailers' first big hit "Simmer Down," with Peter Tosh's "Legalize It," with original songs ranging from Wailer's 1976 solo album Blackheart Man to recent tracks from his 50-song, three-CD set Reincarnated Souls, released in 2013. The next day, Wailer was beginning to feel under the weather, and canceled a Sirius Radio sponsored event at Town Hall. But we were told that if we came out to the Holiday Inn in Queens, we could do an interview. Good thing too: As it turned out, Wailer's health went south and much of the remaining tour was canceled. But when Afropop's Banning Eyre reached the hotel, Bunny Wailer turned up for the interview in full stage attire, and ready to talk. Here's their conversation.
Banning Eyre: You know, I first listened to Blackheart Man when it came out 40 years ago. I was a freshman in college, that year, and the guy in the next room loved this record. He played it all the time. So it's deep in there. And it's been nice to hear it again. But when you go back to that time, what do you remember about making Blackheart Man?
Bunny Wailer: Well, Blackheart Man was made, you know, when I left the Wailers. We did Catch A Fire and Burnin'. We did that and then I left the Wailers and started my solo career with the Blackheart Man album.
What was it like going in the studio and being the boss for the first time?
Well, it was something very new because I wasn't accustomed to being in the studio alone, without Peter and Bob. You know, so it was a challenge for me to be there doing what I did on the Blackheart Man album.
Tell us about that song, "Blackheart Man." You played it last night.
Well, you see blackheart man is something that is related to our culture, custom and practice. There was a kind of nickname that was given to the Rastaman. That nickname was the blackheart man. Parents used to tell us, "You be careful where you go. Watch out for the blackheart man." And this sort of stuff. So we grew up the blackheart man being that kind of a challenge where we are concerned. But now we still maintained the order of the blackheart man.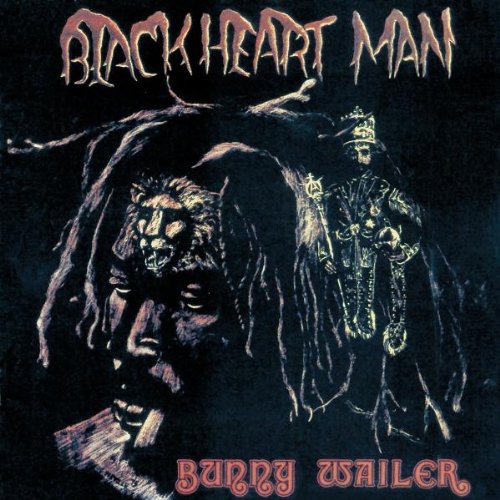 So you turned that parental advice around on its head.
Well, you know, I've been a blackheart man since 4 years of age.
Really.
Yeah. I used to play in the gullies and race border horses and stuff like that. And one day we were there playing, and we just saw a foot come out of a manhole, just a foot. And every man every youth, every 4-year-old, would run from the scene. And I didn't exactly run because it was just a foot. And the foot had on a shoe that we weren't accustomed to, as youths. And then when he came out, he had on pants and a flower bag shirt. And his shoe was made from leather. He had cut it out and set it and… And when he came out, he looked at me and said, "So why you don't run?" I said, "For what?" And he was on his way, and I became a Rastaman from that day. From then on until now; my dreadlocks touched the ground when I stand.
You say you were how many years old?
Four years old.
Wow. That's deep. That's beautiful. You mentioned Burnin' and Catch A Fire. I think Burnin' might be one of my favorite albums ever. I just love that vocal sound, and your role and is so important there. What was it like when you got your first creating that vocal sound?
You know. We were working along with Danny Sims at that time. That didn't work out. Danny Sims was doing things that was appropriate for Johnny Nash. And then we decided to take a trip and see what [Chris] Blackwell had. And went in and came out with Catch A Fire.
And Burnin'?
Burnin' was done at the same time as Catch A Fire. In fact we were touring one album as we got ready to put out to the other.
From the book "The Natural Mystics: Marley, Tosh, Wailer," by Colin Grant
So how did those vocals get so beautifully arranged? Who was behind that?
The Wailers are responsible for the Wailers sound. Bob, Peter and myself: We are totally responsible for the Wailers sound, and what the Wailers brought to the world, and left as a legacy. And then the one called Rita. She's a dangerous creature! I don't know why Robert Marley would even choose to look at her. Somehow he looked at her and it turned out in the way it turned out, and she is still alive, and focusing on doing all the things that are ill mannered and disrespectful where the Wailers are concerned. Big time.
Well, that is too bad. But sticking with the music, had you guys already worked out those vocal arrangements before you went into the studio with Blackwell?
Well, we always worked. The thing about the Wailers is that we are always rehearsing. Always. Until we parted. We were rehearsing from "Simmer Down."
"Simmer Down," your first hit in 1963. It was so great to hear that last night. You took a lot of the high voices back in the '60s, right?
Yes, I had high tenor.
There's something about the sound of you three guys together. Nothing really touches that.
Sure.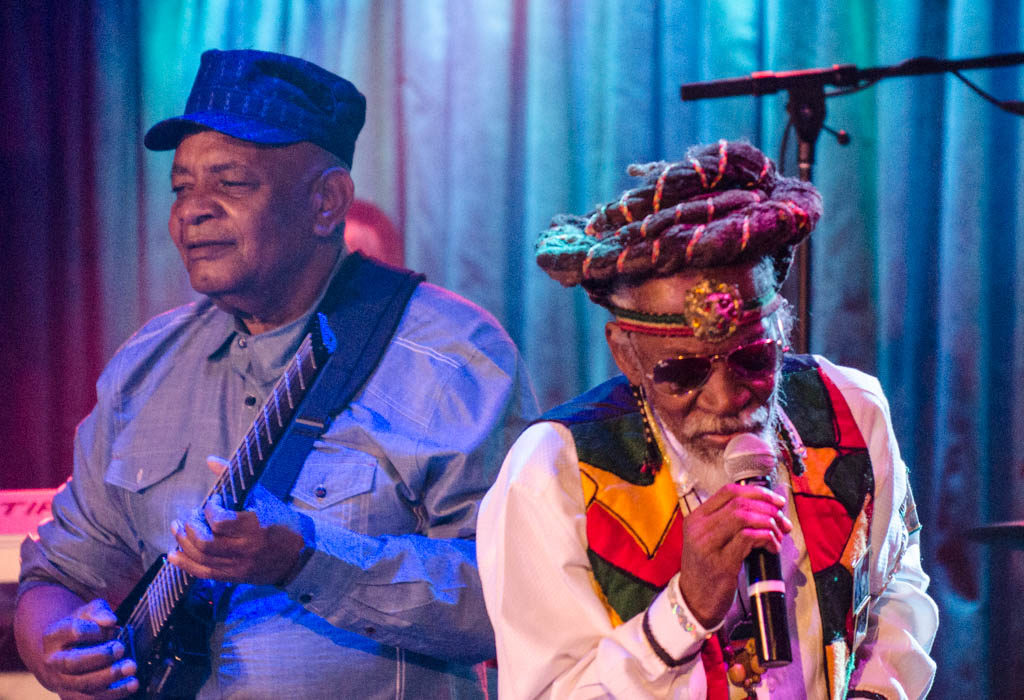 Bunny Wailer and Dwight Pinkney at B.B. King Blues Club (Eyre 2016)
And you sounded great last night as well. Tell me about your band.
Yeah, well Dwight Pinkney. [on guitar, leader of the band Roots Radics], in the band, was a member of his band when we did, "Put It On." [1965] And that song was one of the Wailers' greatest. Dwight Pinkney was the man who played on that song, along with his group. You know, he had little group. It's a long time ago, but Dwight is still alive. Some of them have died now.
And he is directing your touring band now.
Yes. He's in charge. He's a senior man.
Let me ask you about a couple of other songs on Blackheart Man. What about "Dreamland"?
Well, that's one of the Wailers' early ones, that we did, that is still being focused on as I go on stage. I have to always remember to do that track, titled "Dreamland."
And Robert is singing on that Blackheart Man version, isn't he?
Yes. He sang on that one before the Wailers separated. Yeah.
So you had left the Wailers when you made this record, but you guys were still friends, more or less. Is that right?
Yes. You know, we're a family. My dad got Robert's mom pregnant. Pearl is both my sister and Robert's sister. And then Peter got my big sister pregnant which is Andrew Tosh. So the Wailers became family.
No getting out of that. [Laughter]
No, can't get out of that.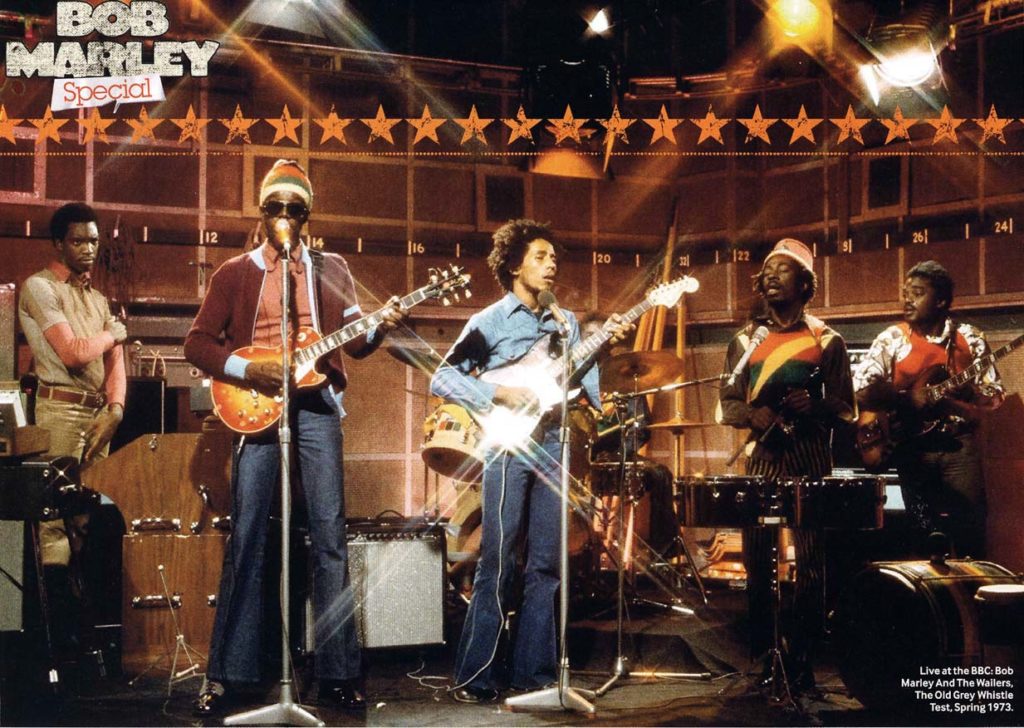 So even though you were moving out on your own, these guys were still helping you out in the studio with the record.
Peter was there with me. Bob was there too, although we were still concentrating on doing individual stuff. The Wailers is always the Wailers. Down by St. Ann's parish, where Robert was buried, I want to go there and set up an administration that relates to Bunny Wailer being there. On behalf of the Wailers. Robert Marley, Peter Tosh and yours truly, Bunny Wailer. So I am aiming on going down there to St. Ann's to get involved. You know, I have been a St. Ann's man from the age of 7. I went to school with Bob at Stephanie Elementary.
Right now, I am not focusing on how this woman, Rita, keeps treating Robert Marley. Because if it wasn't for the people's seriousness, she would've gone down there by now and taken up his body. She's a dangerous creature. So I'm going to make sure. I'm going to go down there and put the Wailers there.
Colin Grant's excellent 2012 book provided useful background for the Bunny Wailer segment in Afropop's "Two Lions" program.
Fair enough. Let me ask you about this tour. Because you haven't done a lot of touring.
No. Not a lot.
What made you want to do this?
Well, the time was calling, you know. It's a long time I haven't been out, and the fans are calling. The promoters are calling. So what do I do?
Are you enjoying it?
Yes. So far, so good. I got little flu. You know you come out sometimes and the weather changes, but I'm getting over that.
The feeling in that room last night was special.
I got my daughter, and I've got my brothers, and I got my brothers' children. Everybody was there.
Right off the bat, you played that song, "Old Time Religion. What does that song mean to you?
Yeah, well it means a lot to me, because I'm a kind of church man. I grew up in church. So that song is a religious one. You know, where I had to be focusing on that specific song to do the job that it has done. So that the fans can be revived.
Well, Rastafari definitely qualifies as old-time religion.
Yeah. It does. Give thanks, give thanks.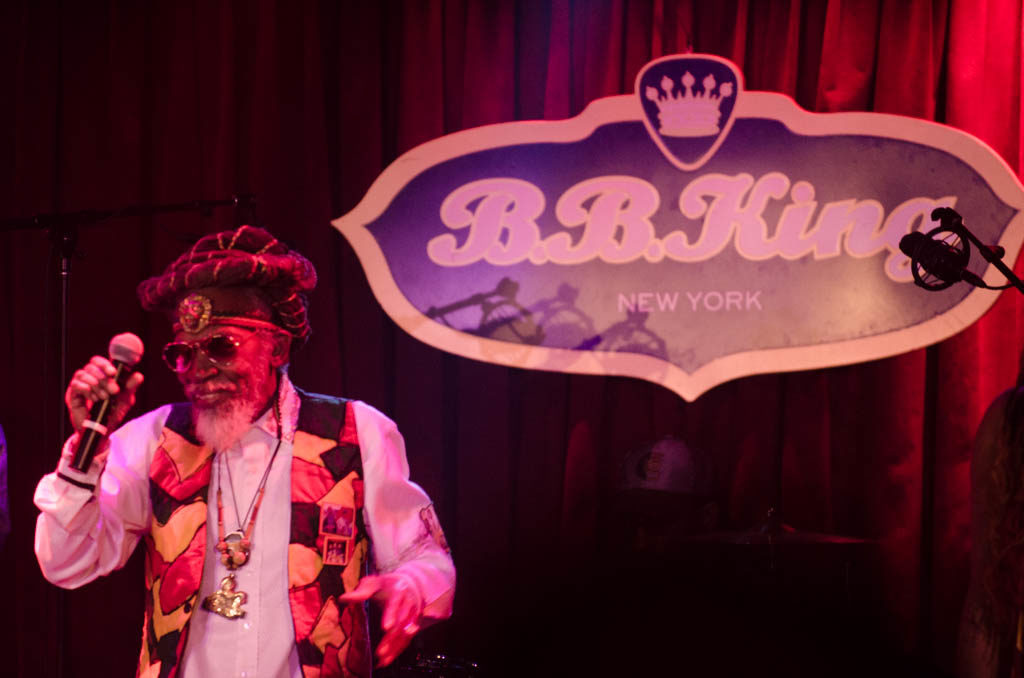 You know, with my work, I've spent a lot of time in Africa. I was once in Zimbabwe when there was a rumor you were coming. Did you ever make it?
No. We never got to Africa. When I get to Africa, that's it. I've had enough of this. I want to go and get a lot of that. When I go to Africa, I'm going to be touring among African people, and all these brothers are going to be who I am seeing, and having to do with. There are so many countries in Africa.
Yes. It's a big job. But I hope that happens. You know, we recently lost some great artists, Papa Wemba from the Congo. And Prince. Were these artists you followed or admired?
Yeah, Prince! I used to listen to Prince. That time I used to listen to the Jackson Five. So that was a link. I can't believe it, although it's happened. I can't believe that Prince… You know. Serious stuff, man.
He had a high tenor to rival yours.
Yeah. Real, real deep. Prince. You know, I'm always remember these artists, because they have left with me a legacy. James Brown, all these guys. Fats Domino. All of these guys. I've been listening to them. I've been dancing to them from when we were small coming up. I've been listening to Fats Domino, dancing to Fats Domino's music. James Brown. You know? All that kind of stuff. It's what we grew up on. Robert Marley used to love James Brown. Yeah. He used to love James Brown. James Brown was one of his idols.
I can see that. Were you thinking about that when you decided to come out on the road again? I mean, you have get out and tour while you can, right?
Yes. Exactly, that's what it is. If I didn't have to, I wouldn't do it. So I got to be out here.
And you say you're enjoying it.
Yes. You don't come out if you're not going to enjoy it.
Good attitude. So are you still writing songs?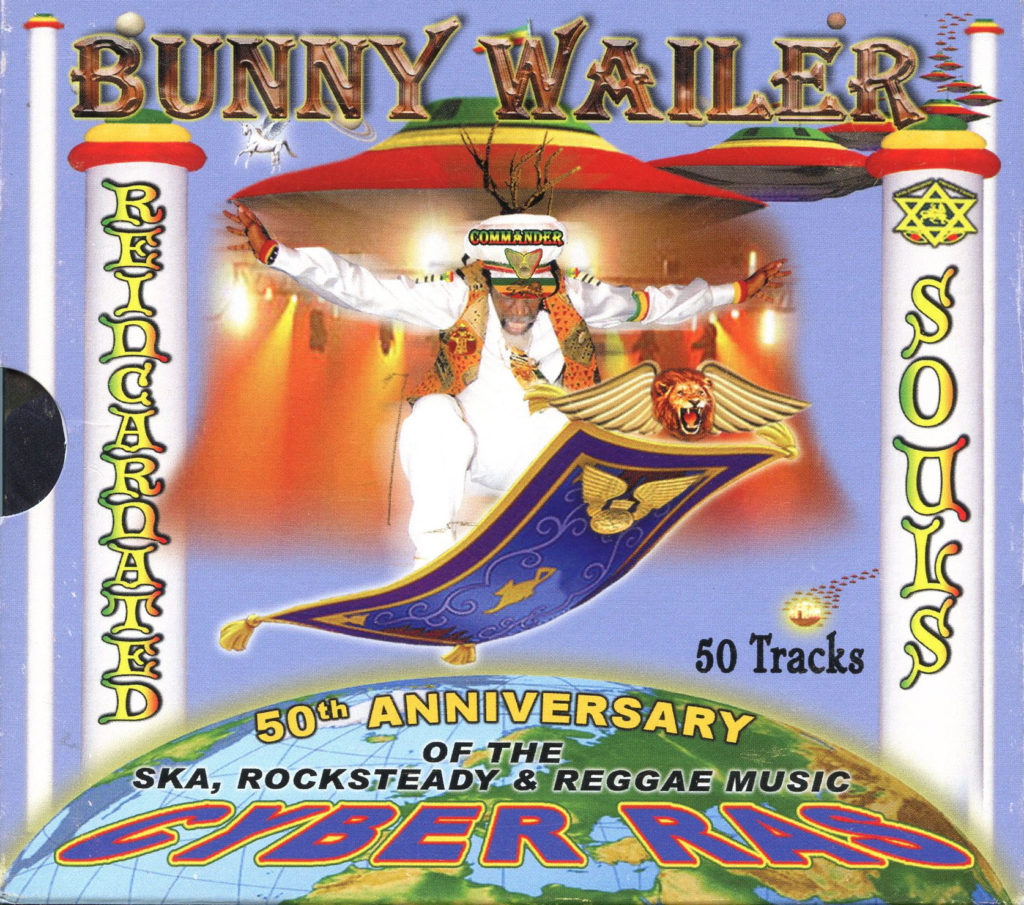 Here. [produces a copy of Reincarnated Souls.] This is new stuff. 50 tracks.
All right. Tell me about some of the new tracks.
Well, I got like Ninja Man on there, one of our famous artist. And then I've got a lot of Bunny Wailer. I'm just hoping you'll get to listen.
You can count on that. Reggae has changed a lot in the years you've been around. You've seen the whole process. What you think of when the music's going, the way it's changed, the way young artists are performing now? Are they heading in the right direction?
Yeah, well, that's what it's all about. Luciano and those guys, they are headed in the right direction. So I give thanks for the work that I've done. And to see it now dawning on these youths that they too are getting involved in doing this work, ska, rocksteady and reggae music.
And then you've got Beenie Man and you've got Bounty Killer, and these guys who are doing something different. Irrelevant. But I'm giving thanks for the youths that I'm here. Strengthen them. And pray for them. And ask the father to guide them so that they can continue in making roots, rock, reggae music.
Yeah, dancehall was another vibe in the music. Something different. It's hitting all over the world, but I wonder, do you see younger guys turning back to the original music, where was more about songs and singing and messages?
Well, you know, some people are just singing and making songs and doing what they're doing. But you still got those artists that are focusing on making sure that they stay with what we left them.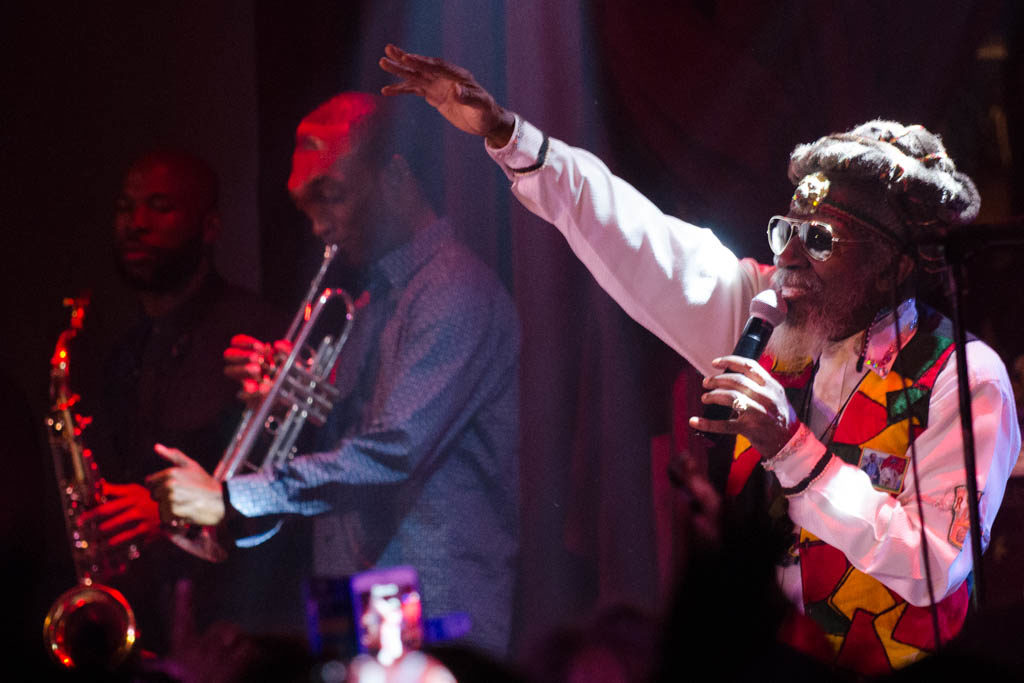 And what is that you left them? How would you describe the legacy of Bunny Wailer?
I would just like to keep on singing. That's my legacy. To be here to sing for you people, and to teach you people of what I've known by singing this music.
Well, amen. I'm sure you will do that. These recordings will live forever. Stuff you've made is there forever. No doubt about it.
I want you to take in that 50 track.
I can't wait. It's going in my car stereo the minute I leave here. [Laughter]
Give thanks.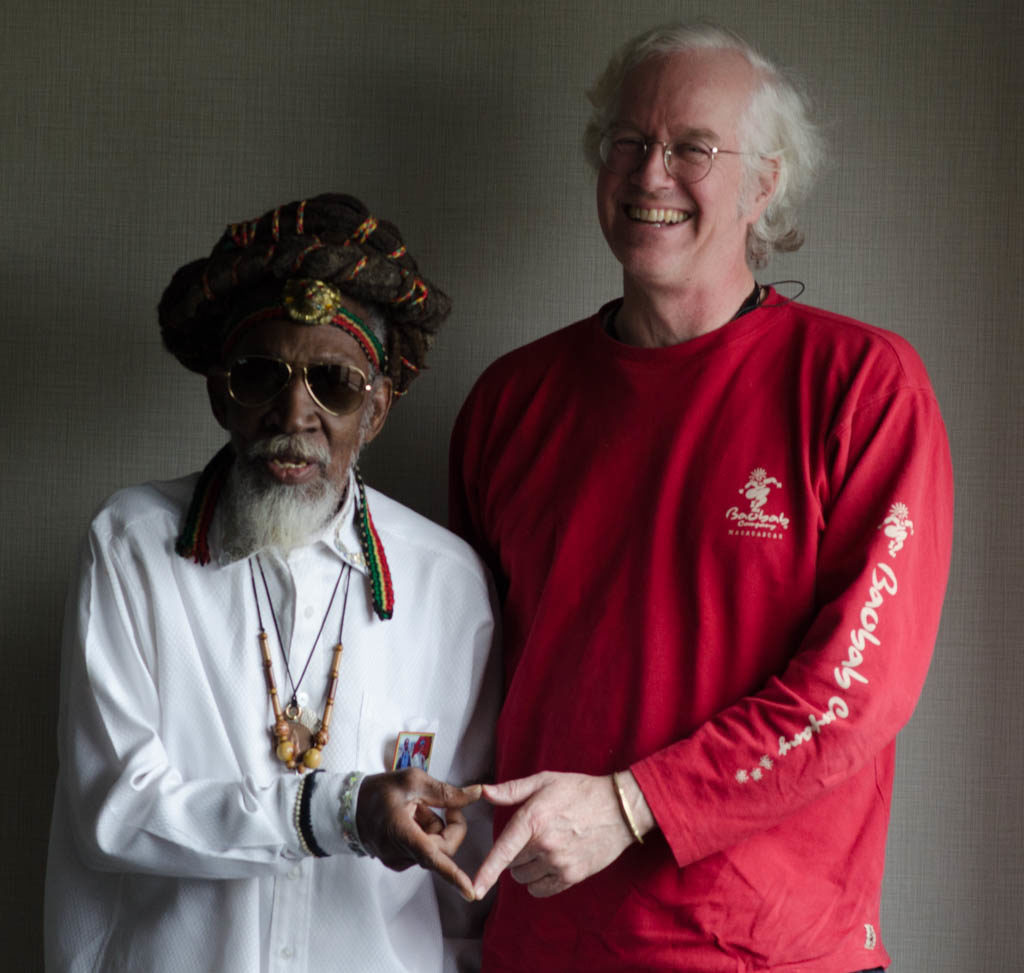 Bunny Wailer and Banning Eyre