Photo Essay: Carnaval in Recife, Brazil
Recife, on the northeast coast of Brazil, is said to have Brazil's most "democratic" Carnival, one where there are no spectators, only participants. That was manifest on a stroll through the old city on the first day of 2018 Carnival, weaving through alternating maracatu and frevo groups who parade through the narrow streets, pulling out familiar songs sure to get people singing and dancing and creating the joyous atmosphere of a celebration where everyone is welcome.
Yes, there are big stages where the stars of Northeast Brazilian rock, reggae and pumped-up pop-frevo blast out full-on spectacles, but the real action is on the side streets, where families mingle with musicians and revelers, small children ride on parents' shoulders, and older ones spray glitter and foam at one another amid screams of delight. This is said to be a very dangerous city, and brazen crimes do occur, but this visitor saw no trace of that. Instead, a well-policed event and a huge public display of open-armed festivity.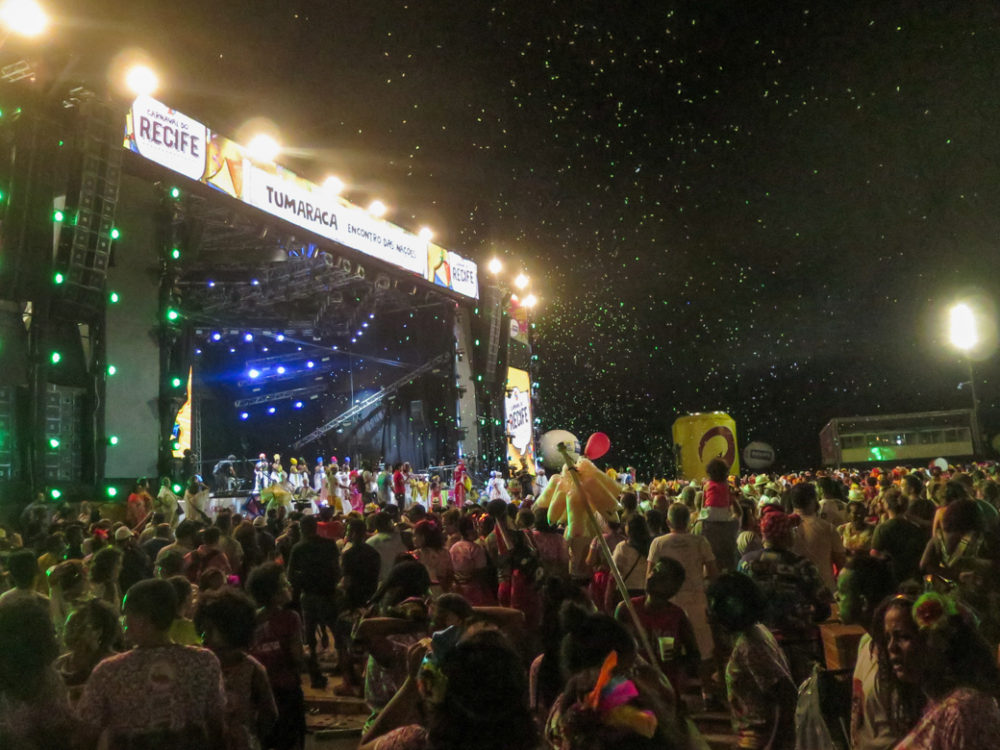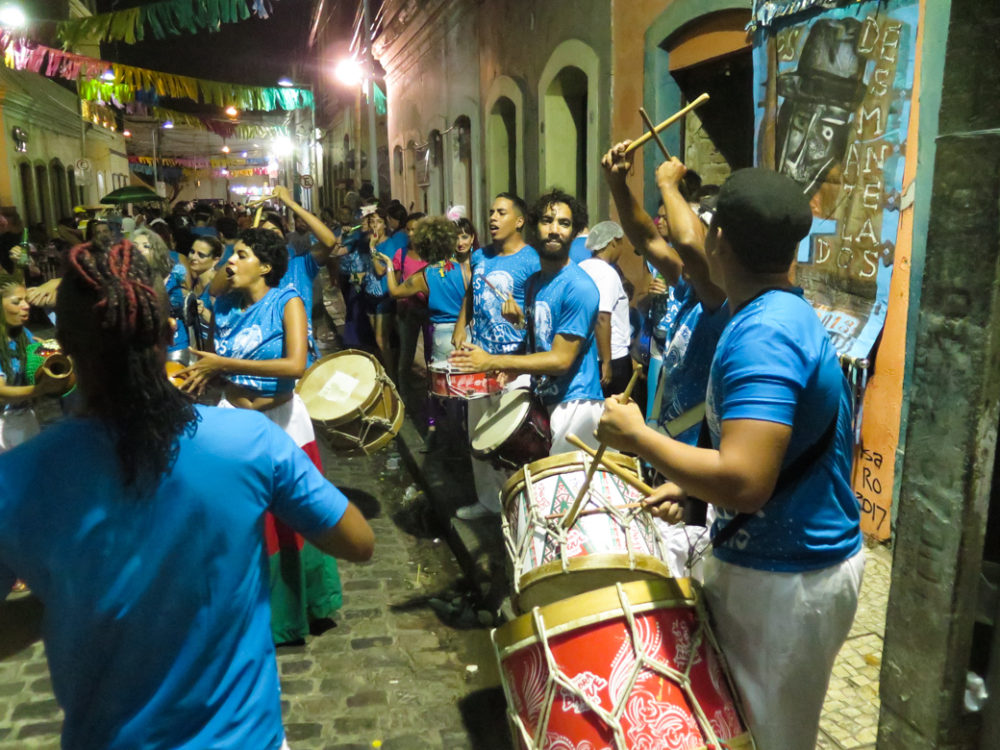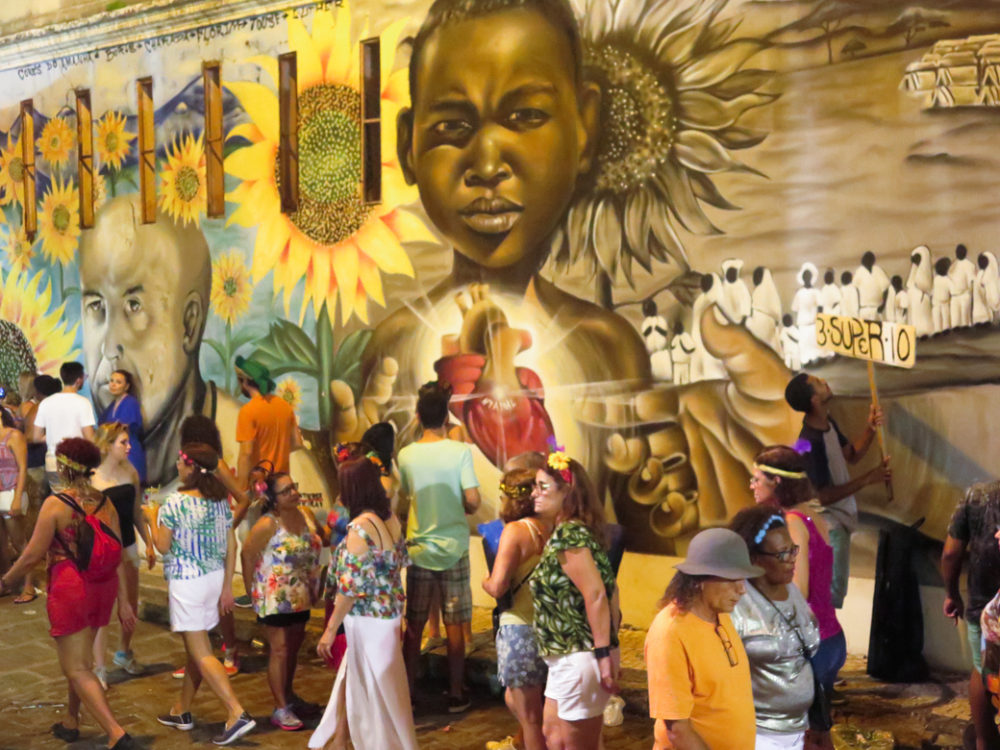 The dominant sounds of Carnival in Recife are frevo and maracatu. Frevo is the energized, brass-led music long associated with this annual pre-Lent celebration. The brass melodies can be super fast, an occasion for ecstatic dancing. There are innovators, but most frevo troupes stick to a well-known repertoire that easily gets crowds moving and singing along.
Maracatu is a strongly African, percussion-driven sound, not unlike the famous afro-blocos of Salvador, Bahia. But maracatu has its own set of rhythms, and a very distinct character. It tends to be slow and sensuous, with the deep sonority of the surdo drum pounding out seductive call-and-response figures that can become addictive. This is the tradition that underlies the modern pop sound known as manguebeat--a reference to the mangroves that snake through this watery city. Manguebeat was spearheaded by the late Chico Science, but his formula for melding maracatu rhythm with rock, reggae and rap aesthetics lives on, not least by his surviving band Nacao Zumbi.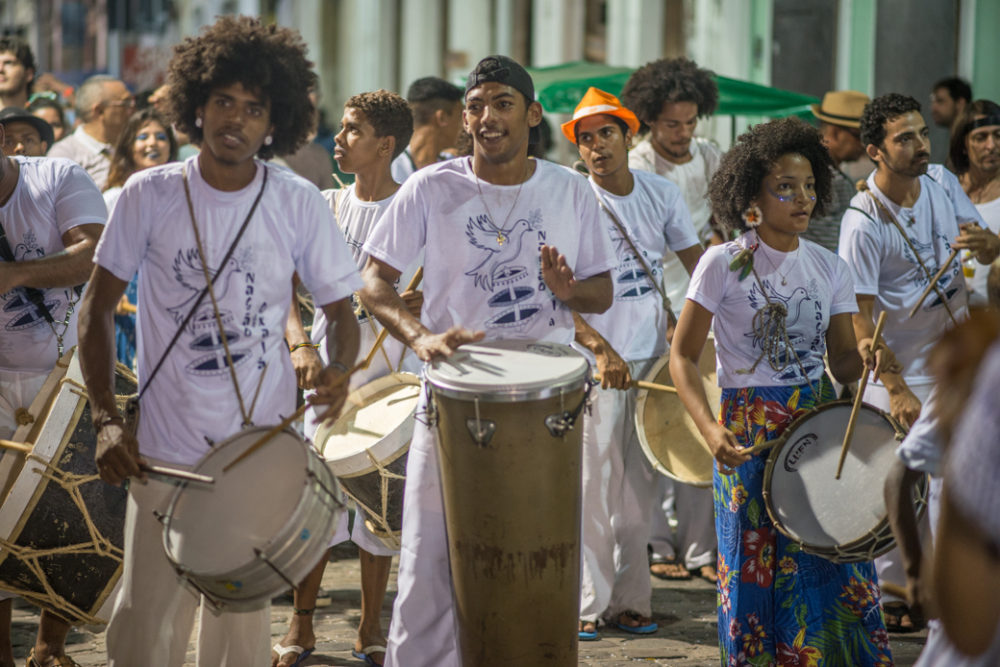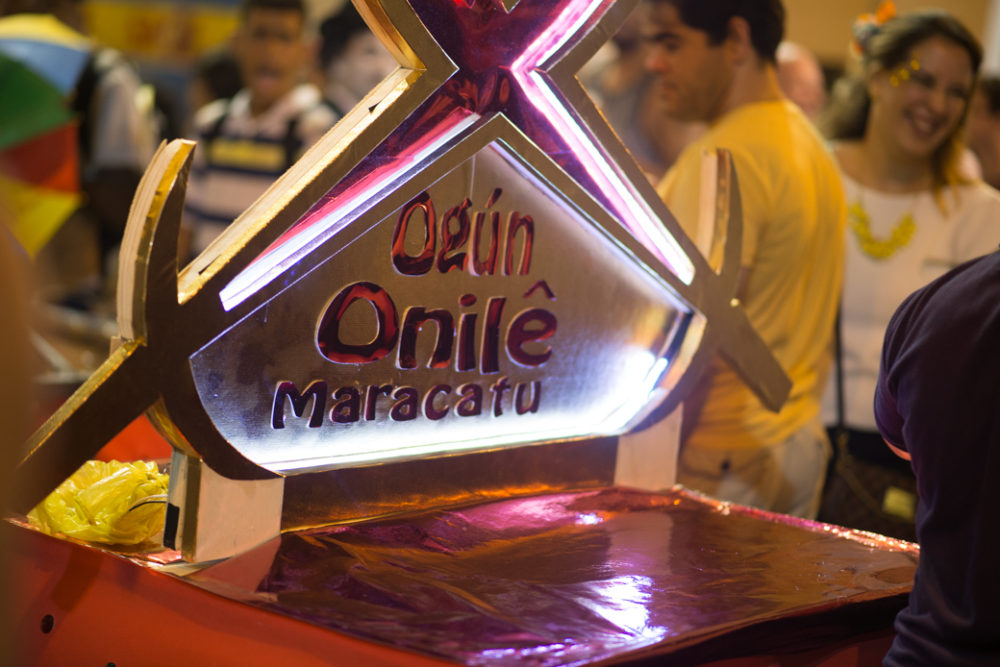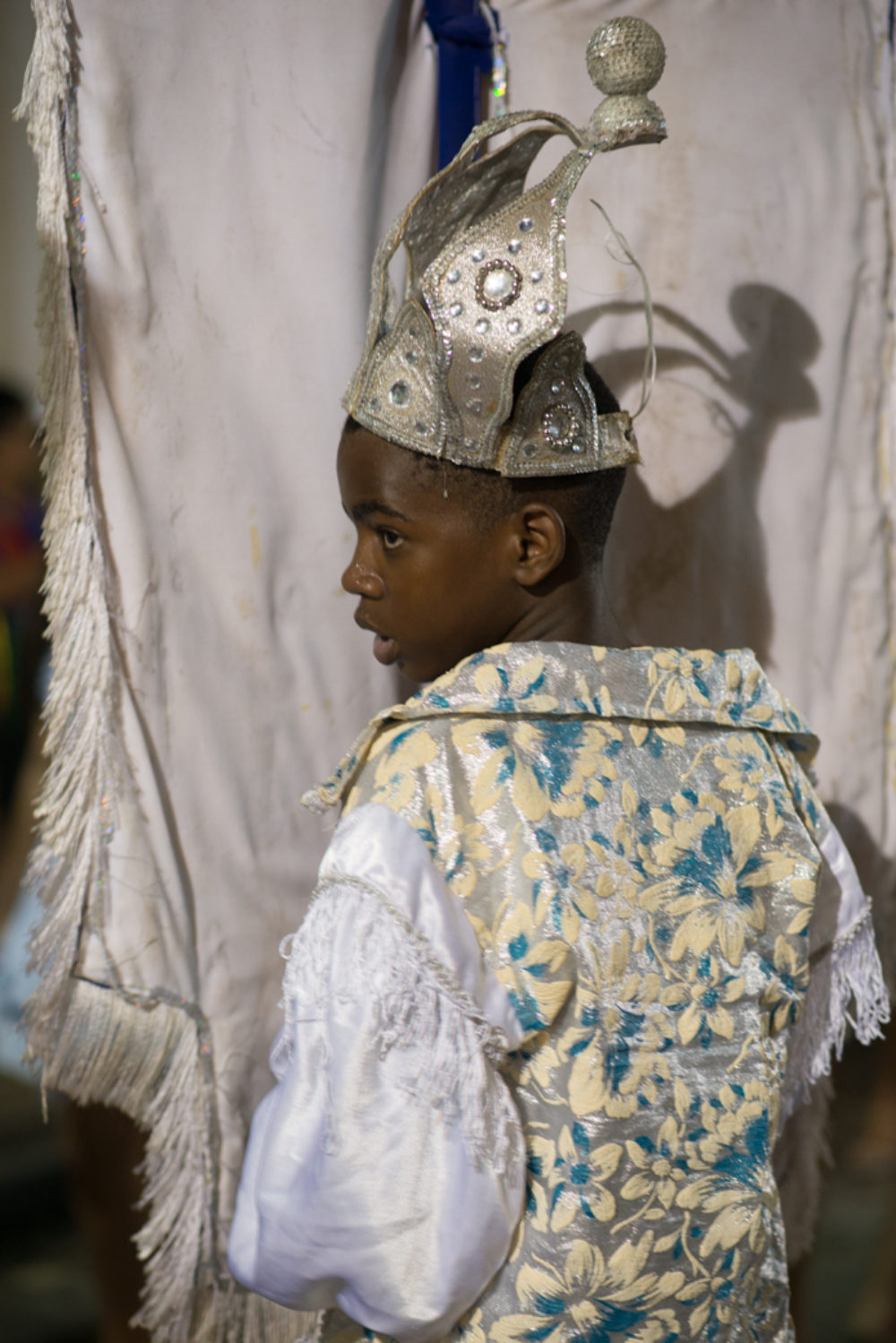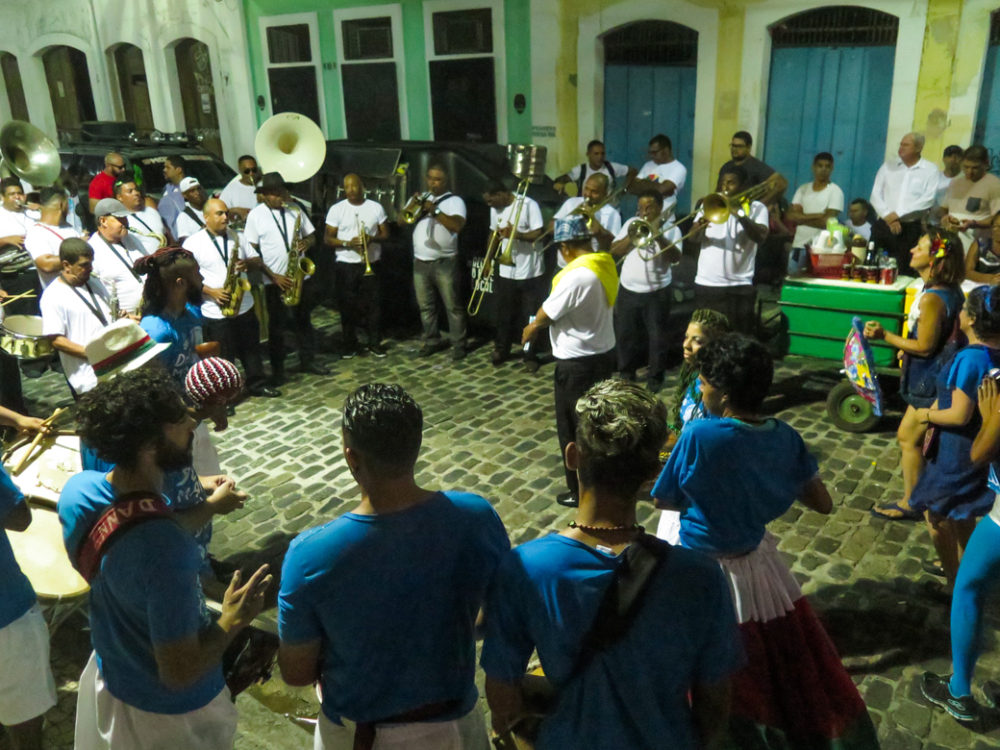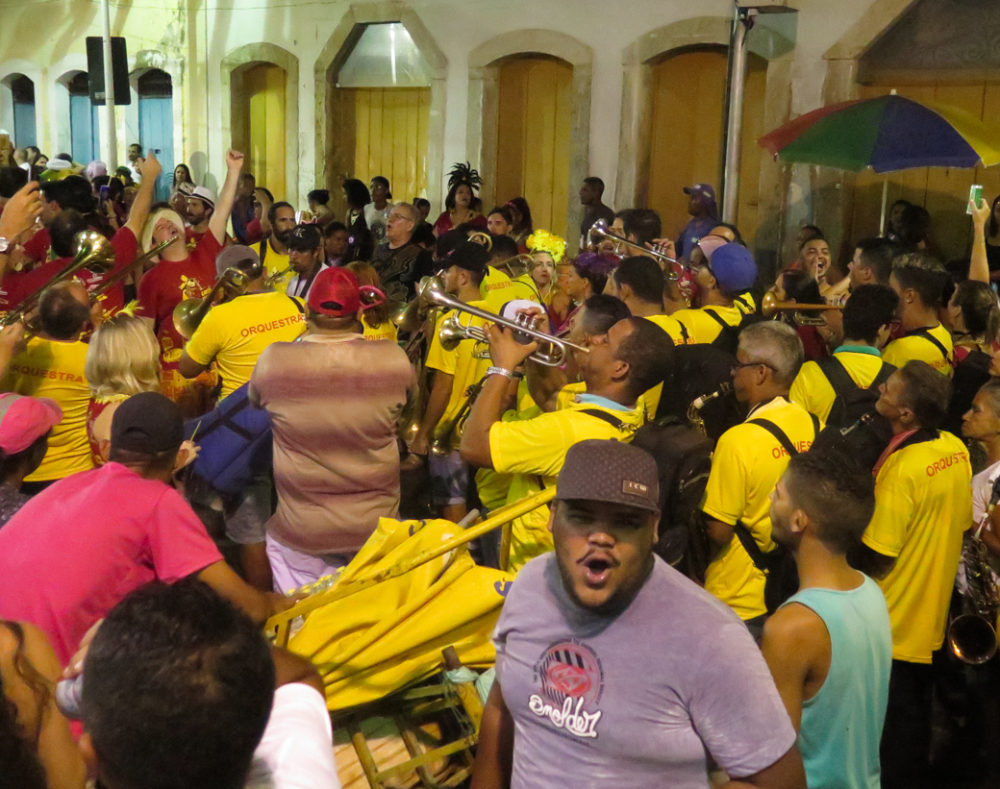 It was good to meet up with a longtime friend of Afropop, Paulo André Moraes Pires, whom we met when we first encountered Chico Science in 1994. Paulo has remained a force in promoting the traditional and modern music of Recife, and shared with us a mother lode of new music, which we will feature in an upcoming show.
Paulo noticed a difference in Carnival this year, a sign of Brazil's worsening economy. Many, many more street vendors. And many from middle-class backgrounds who would not have done such work in the past. It was true that some intersections were so clogged with vendors selling drinks and souvenirs, that it was tricky to pass.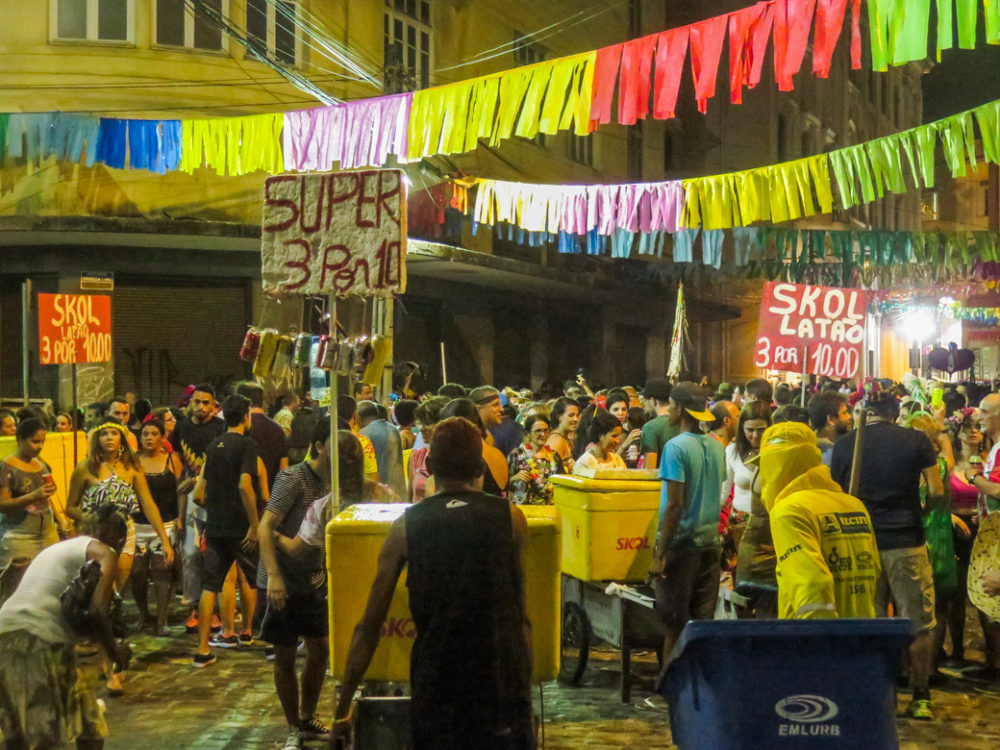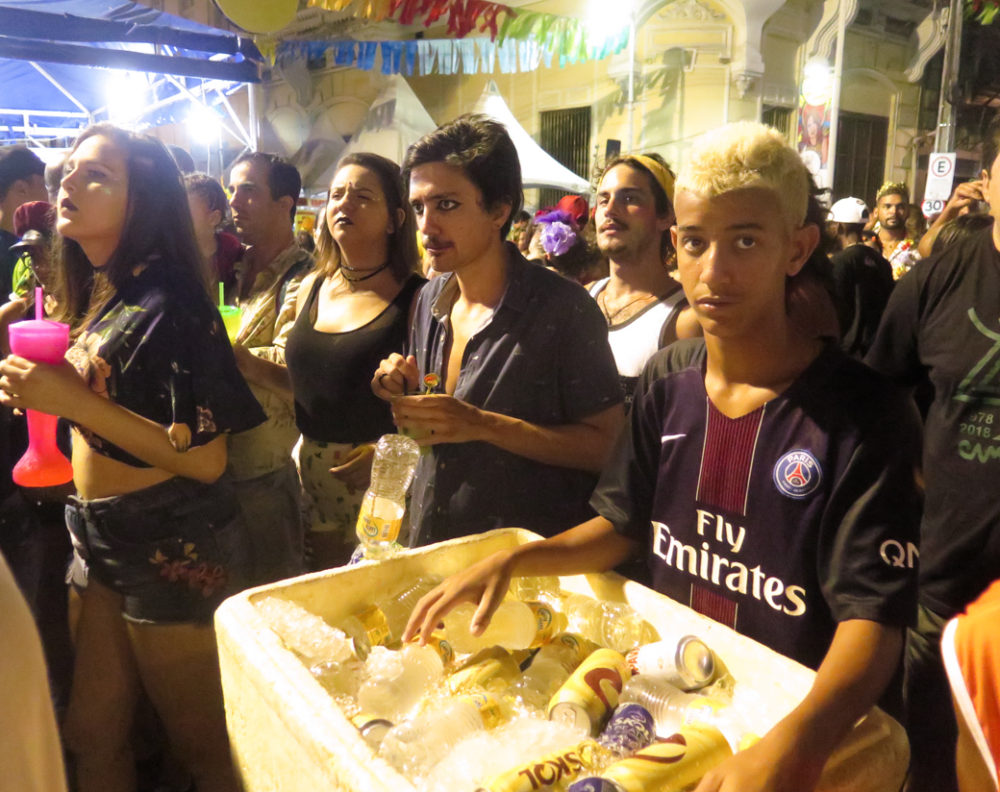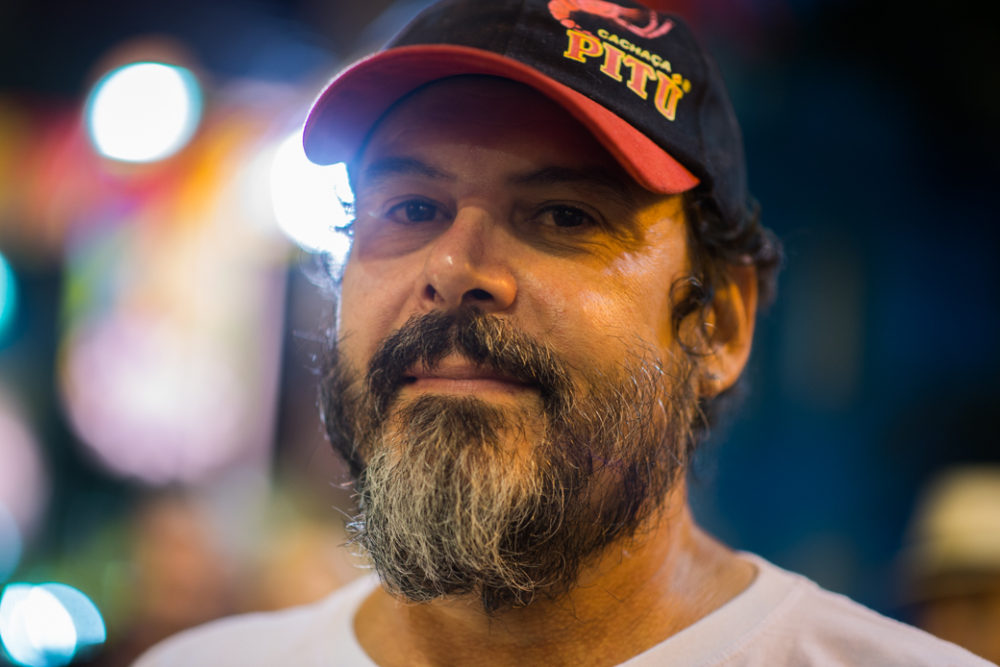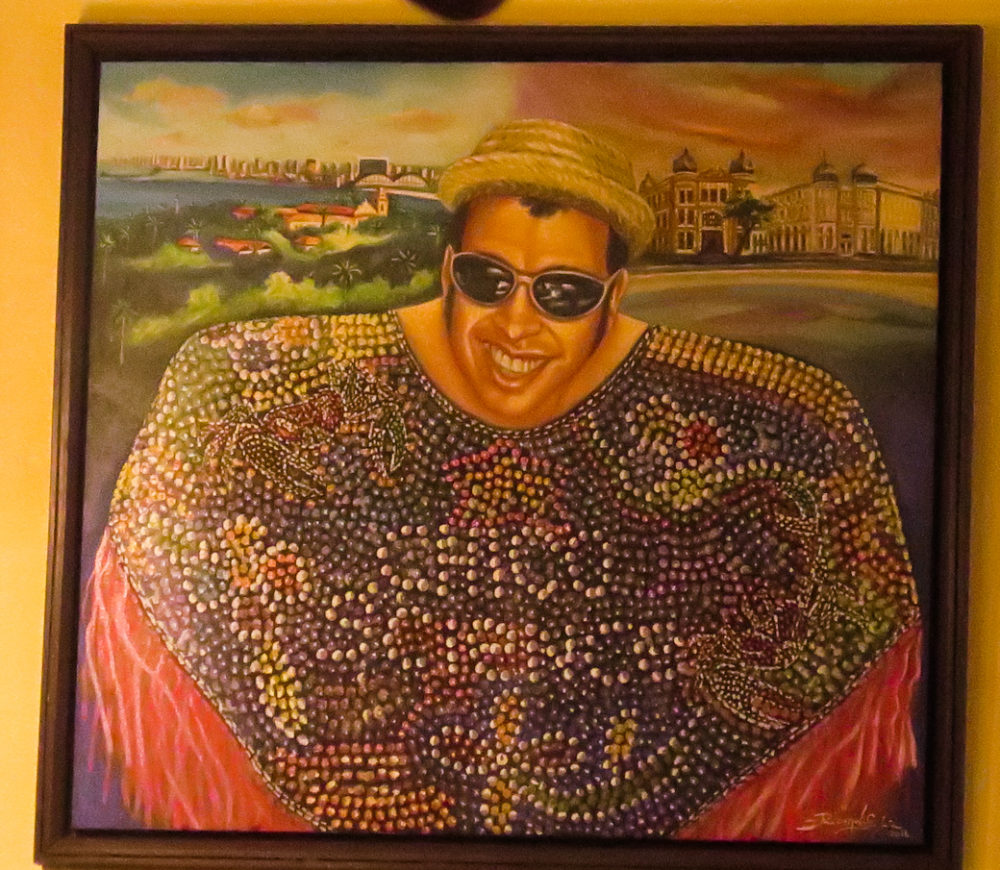 Now it may seem from these images that all the musicians in these groups are men. Not so. Female maracatu ensembles have long been a part of Carnival, and there were many on parade this year.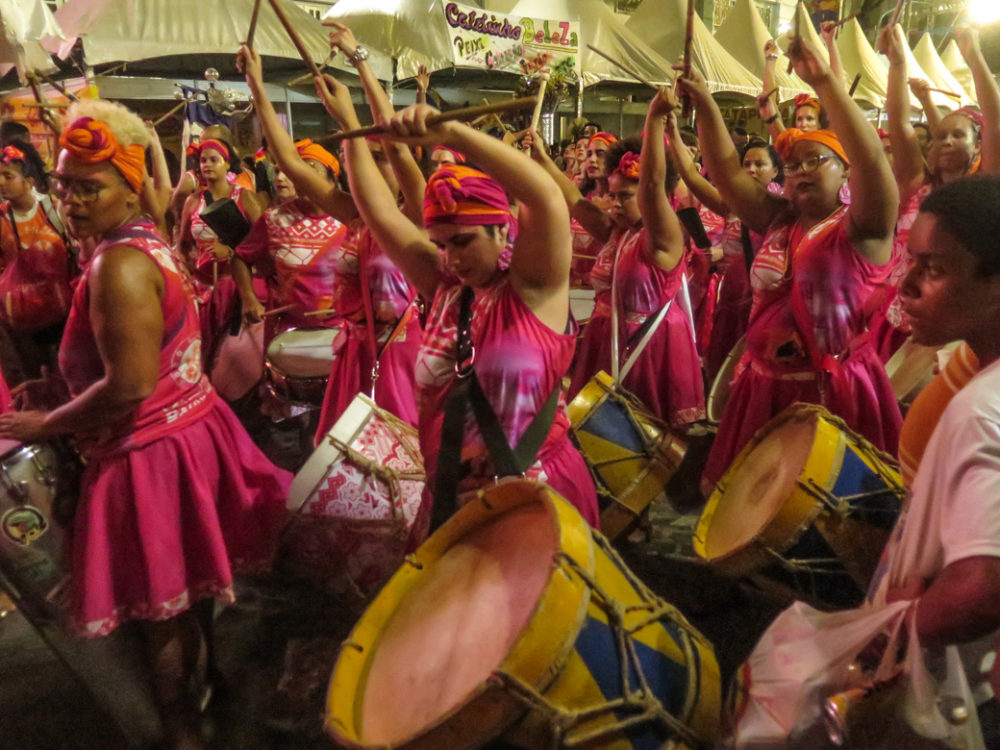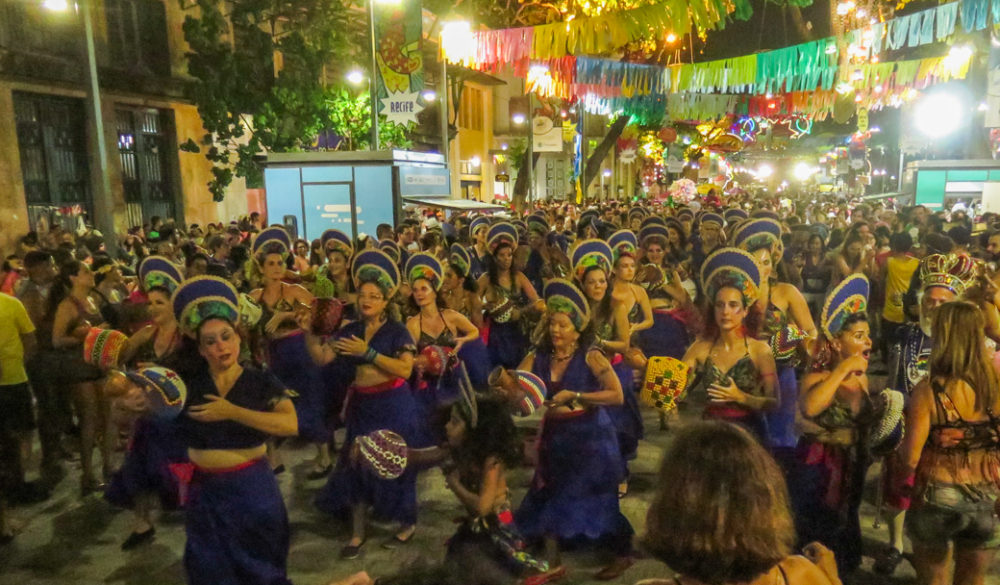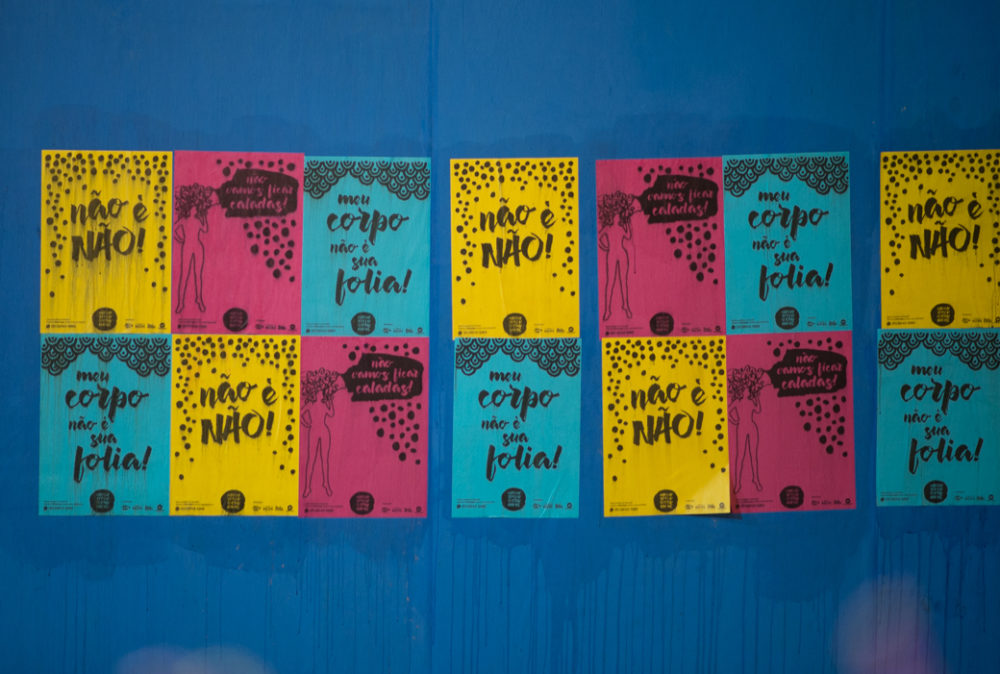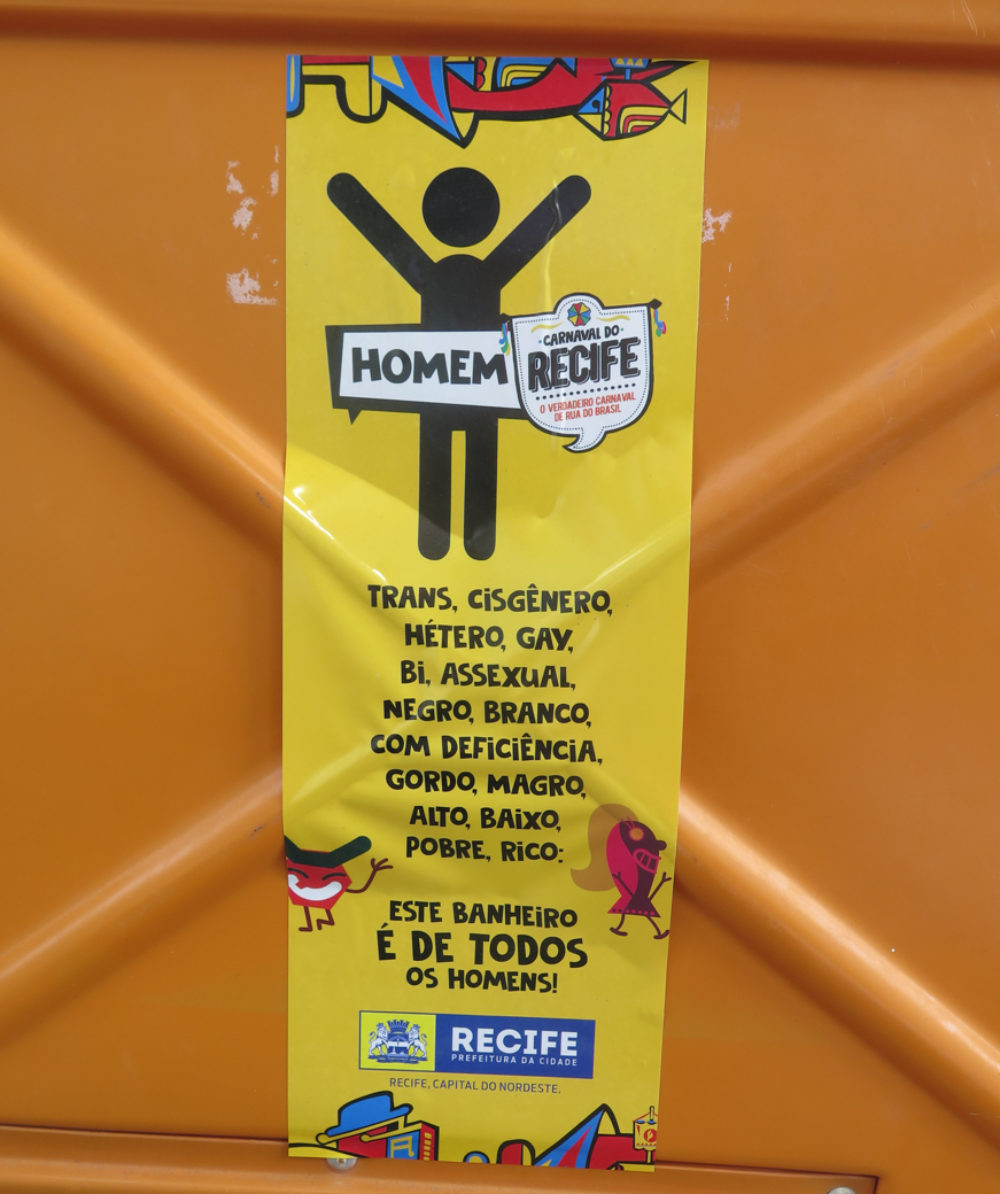 Politics were also present amid the festivities. Huge puppets of local politicians made the scene. Times are acutely difficult in Brazil these days, with political instability, economic stagnation and a general loss of faith in government that could lead to the election of a fiercely right-wing government by the end of this year.

Stay tuned on that. This is a time to pay attention to Brazil. This great country and home of New World African culture is at a fateful crossroad. But one thing is sure. No matter what happens, Carnival is forever!