Cumbé Center for African and Diaspora Dance in Brooklyn Celebrates its 10th Anniversary
Afropop Wordwide's executive producer, Sean Barlow, recently participated in Fet Iajwa, the 10th anniversary celebration of the Cumbé Center for African and Diaspora Dance in the heart of Bed Sty, Brooklyn (the setting of Spike Lee's breakthrough film She's Gotta Have It). Afropop Worldwide was pleased to serve as a promotional partner to Cumbé, our sister organization in the grand collective project of promoting the arts and stories of the all-inclusive Afro-Atlantic world. Cumbé covers on-the-ground, flesh and blood teaching of dance traditions coming from Africa and the diaspora usually accompanied by traditional drum music. And for its part, Afropop Worldwide focuses on the journalistic and storytelling side—radio and online-- with our concentration on modern, urban, electric pop music. We tell the stories and play the music of the beloved veterans and the tech savvy emerging generation. So we are in that way, very much joined at the hips. And what a better way to be joined! At one point, Sean was invited on stage between two performances to give his call-and-response praise singing—or in his case, praise talking--on behalf of Cumbé to an appreciative audience. Here's his report.
You could feel the ancestors alive and kicking at the Cumbé Center for African and diaspora's recent Fet Iajwa celebration of their 10th anniversary. For one thing, the performances and follow-up dance party were held at the intimate Billie Holiday Theater. All praise to the great Lady Day! And then there were the artists, leading ensembles devoted to Brazilian, Cuban, Haitian, and African-American dance and music. These artists, and the ensembles of enthusiastic dance students they led, stood on the broad shoulders of their ancestors peering centuries back into the misty, sometimes troubled horizons of the deep past.
On stage that night were ensembles led by Vado Diomande, a Cumbé community dance group led by Candice Franklin, a Haitian ensemble led by Julio Jean, and the favorite for this writer, Batalá, a 22-member, all-female group of Afro-Brazilian percussionists playing classic "samba reggae" out of Salvador de Bahia, Brazil's most African city. Batalá New York were charming—beaming and sweaty as they pounded out precise cross rhythms on drums of all sizes. The leader of Batalá New York City was the face-painted Deinya Phenix.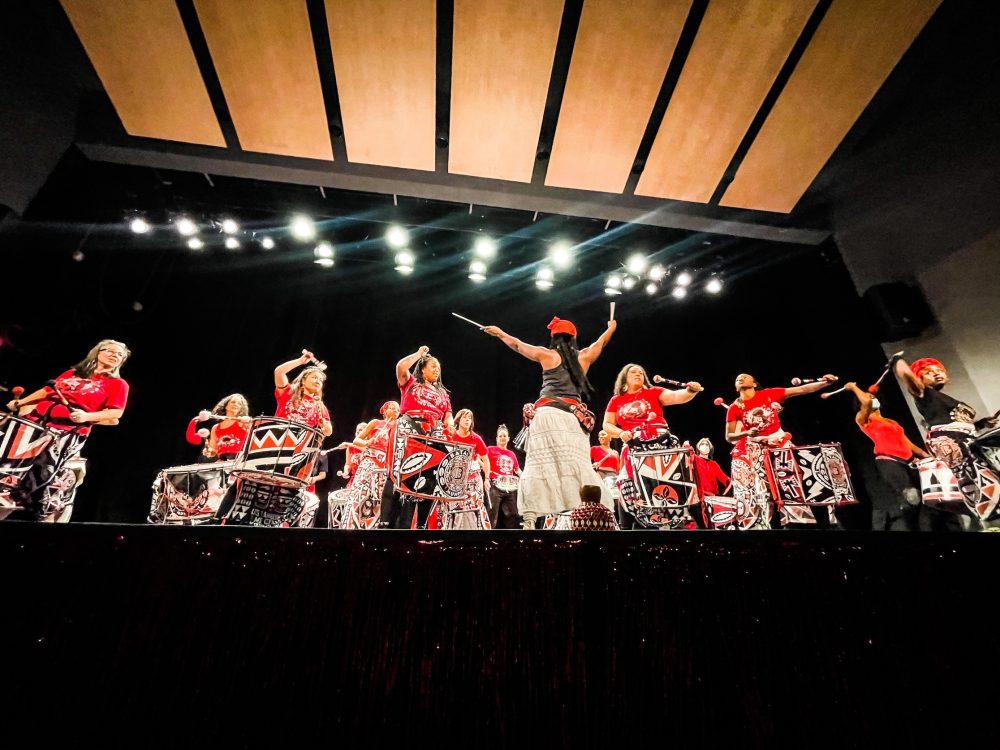 Batalá was founded in Paris in 1997 by Giba Goncalves, a percussionist with links to the most famous Afro blocos such as Olodum and Ilé Aiyé. Batalá currently has over 30 groups in 19 countries and a worldwide membership of over 1,000 percussionists. Check out the performance by Batalá Washington.
Following the stage performances at the theater, the celebration opened out into the lobby for some mighty fine eating, catered by the very talented chef Olga Lara. On the DJ digital turntables was the exuberant Sabine Blaizen (www.oyasound.com), who spun a tri-continental mix of African, Latin and Caribbean music. Sabine seemed to have a sweet spot in her heart for French-speaking Caribbean music. She had the guests dancing to Haitian kompa and Antillean zouk. Zouk is no longer as fashionable as it was back in the rip roaring '90s when it dominated dance clubs in Martinique, Paris, and much of francophone Africa, but it still moves dancing feet in 2022.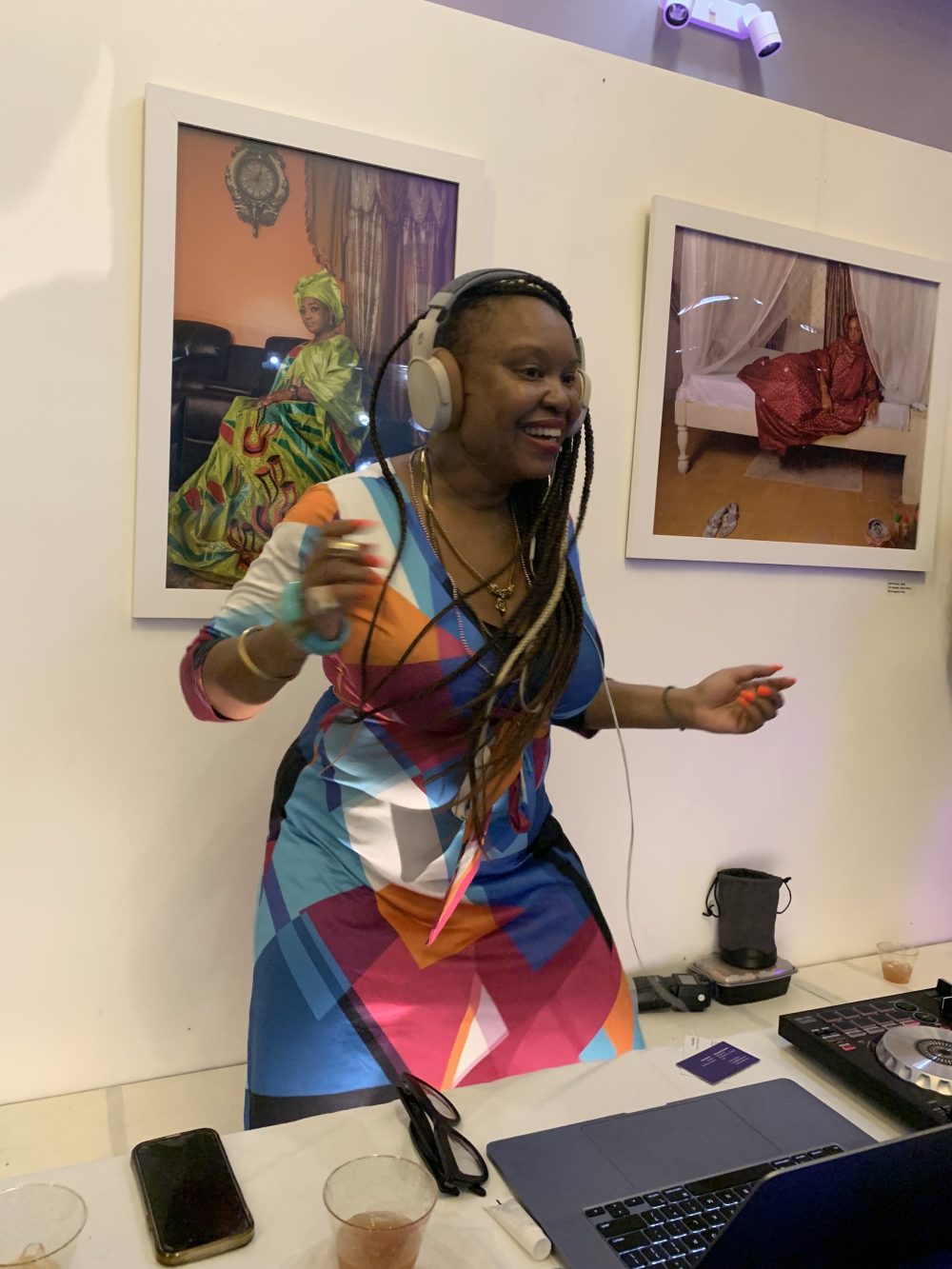 The highlight of Cumbé's party for this musically challenged but dance-happy writer was when a 40-something gentleman by the name of Fumu Jahmez, dressed in black pants and black T-shirt took control of the dance floor and led us all in fanciful dance moves. Soon dancers flocked in and we had 20 or so following Fumu's every move. DJ Sabine backed him up playing her Caribbean heavy mix. What fun! This was the single best dance experience this writer has had in 26 years of living in Brooklyn. Dance after all is more democratic than music. Not everyone can play music and certainly few musicians are good enough and driven enough to make to make a living at it. But everyone can dance! Right?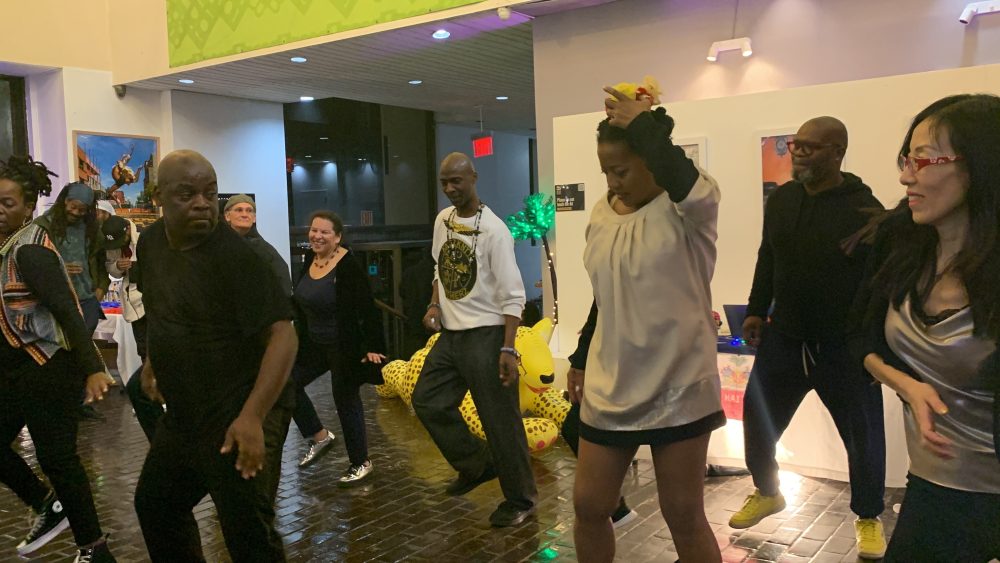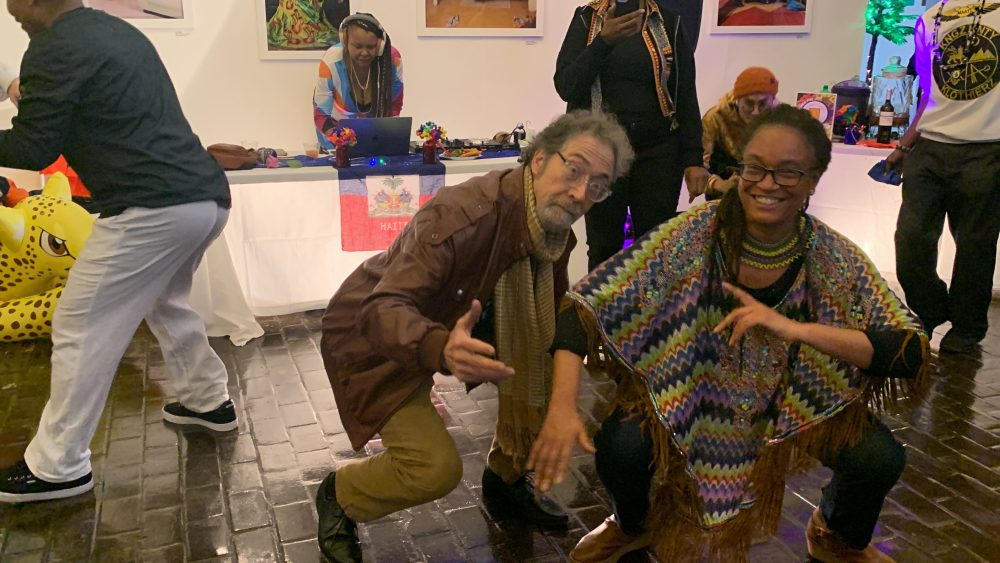 More on Cumbé
Cumbé's mission is: "To bring Ashé, the power and spirit of African and diaspora music, into our everyday lives. Through classes and cultural programs, we invite everyone to feel the joy and vitality of rhythms rooted in Africa. Cumbé champions African and diaspora culture as a vibrant descent and as an exuberant source of power, spirit and knowledge for all."

Cumbé's "core values" are:

To welcome everyone graciously

Respect the traditions and culture of Africa and the African diaspora

Make a home for the artists

Use our platform as an African and diaspora dance studio to move our community to a world towards racial equality

What exactly could you study at Cumbé, and who would teach you? Drum roll please…

West African dance—Guinea and Mali—with Darian Parker

Congo Beats with Eto'o Tsana

Afro-Haitian with Julio Jean

Katherine Dunham technique with Penny Godboldo

Afro-Fusion with Tamara Jones

Congolese Dance and Drum with Andoche Loubaki

Creative Caribbean Movement with Kendra J. Ross

West African Drumming with Vado Diomande

Afro-Brazilian with Queen Ribeiro

Experimental Sabar with Babacar Top

Intro to Orisha Dance with Tony Yemaya

Click here for more details on the classes and the teachers.

Cumbé Center for African and Diaspora Dance
Restoration Center
1368 Fulton Street
Brooklyn, N.Y.
718-935-9700
info@cumbedance.org
www.cumbedance.org

Photos courtesy of P.G. St. Luce