Daymé Arocena, Cuba's Nueva Ola Afro-Caribbean
This past Monday, March 21, New York witnessed a legend in the making as the Afro-Latino Festival and Subrosa presented charismatic songstress Daymé Arocena. Daymé embodied exactly what it means to be a musical child of the Americas. Her scatted improvisations were on par with Ella Fitzgerald. She had the essence of Aretha Franklin and Jill Scott's soul power. She was as regal and spirited as Celia Cruz and Mayra Caridad Valdez. She was fearless, yet gentle, and commanded the stage the way an
orisha
takes charge of its horse. The comparisons are many but that is because there are so many facets to this rising star. [embed]https://www.youtube.com/watch?v=fyMtXdcUZmE[/embed] Accompanied by Jorge Luis Lagarza on piano, Ruly Herrera on drums and Rafael Aldama on bass, Daymé sang songs from her debut album,
Nueva Era
. She kicked off the evening with "Madres," a song dedicated to the orishas Yemaya and Ochun. There was a strength, intelligence and beauty in her voice. Her energy is infectious and exciting, as the song "El Ruso," in 7/8 time, demonstrated. Her ballads were tender, sincere and reminiscent of all the emotions in
filín
and
trova
. Daymé's rendition of Maria Teresa Vera's "Veinte Años" left the entire room hushed with nostalgia. She also proved how funny and witty she is with "Dust," a song about her discomfort in a dusty, disheveled space as she donned white, the color she is always found in. [caption id="attachment_28308" align="aligncenter" width="640"]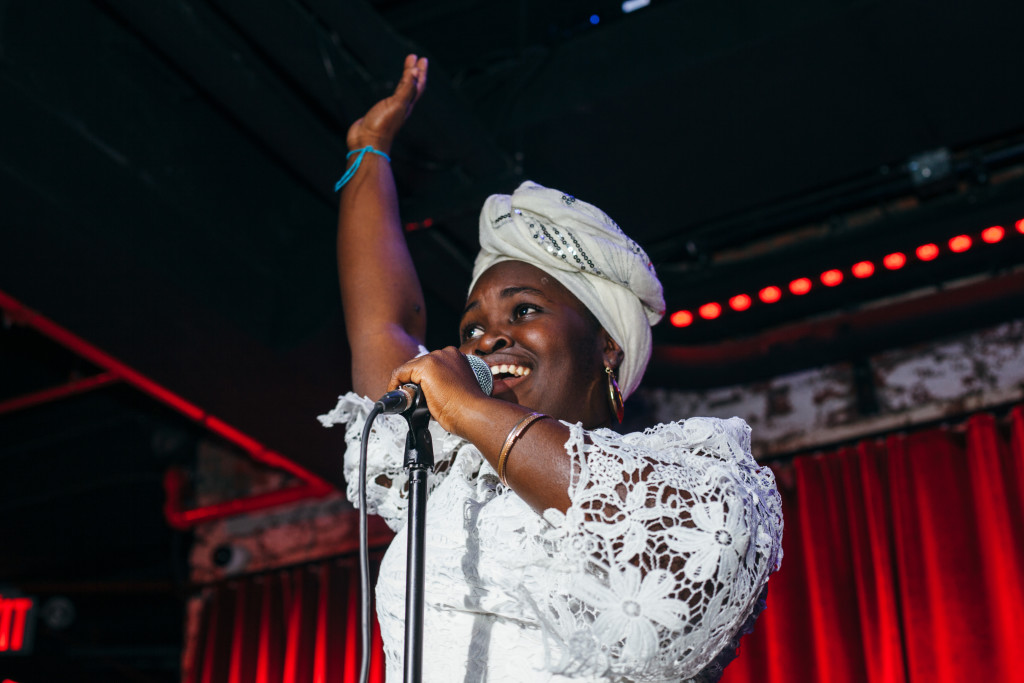 Daymé Arocena performing at Subrosa
. Photo credit: Mario Ruben Carrion[/caption] During the bridge of "Drama," she and drummer Herrera engaged in a rhythmic dialogue of syncopated fills and
quinto
-like scats. Her musicians may have looked young but were virtuosic, brilliant, and as tight as their preppy, hipster garb. The evening's coda, "Don't Unplug My Body," had a seamless, funkified flow that made every
sandunguera
in the house throw their arms up, bob their heads and groove, and left everyone in the room inspired and wonderstruck. Cuba has always been a source for powerful and irresistible music. Daymé Arocena exemplifies her roots, culture and influences, as well as demonstrating how music fuses harmonious bridges.