Ghanaian MC Delasi Shares His #ThoughtJourney
Ghanaian artist Delasi has just released his debut album,
#ThoughtJourney, 
a 25-track hip-hop opus that takes us from his current home of Nairobi, Kenya, to his ancestral home in Volta Region of Ghana, via Japan, Denmark, the U.S. and Accra, Ghana. In Ghana last December, I saw Delasi perform at the Sabolai Radio Festival in Accra. A young man with a large afro and warm, round face, Delasi strode across the stage, delivering his songs with confidence. One song in particular, "Afemakpor," struck me as rare and original: Delasi raps in the Ewe language over a beat (produced by Mike Millz) which mixes 
borbobor 
neo-traditional music from the Volta region with deep bass and trap-rap snares. "There are a lot of different influences on the album," Delasi told me via Skype from Nairobi, "A lot of Ewe music. I'm from the North Volta, near Hohoe, Ghana. This uncle of mine, Morris, he recently died, but he was really giving me the history of where I come from, helping me with my own thought journey, with rediscovering myself. On a few tracks, I rap in my mother tongue, Ewe. It's really not easy to write songs in, but I am trying. I can communicate in English better than in my own mother tongue, and that doesn't make sense! So I set out to write an album in Ewe. I didn't succeed in writing too many Ewe songs, but I made up for that with Ewe drums in the production of the album."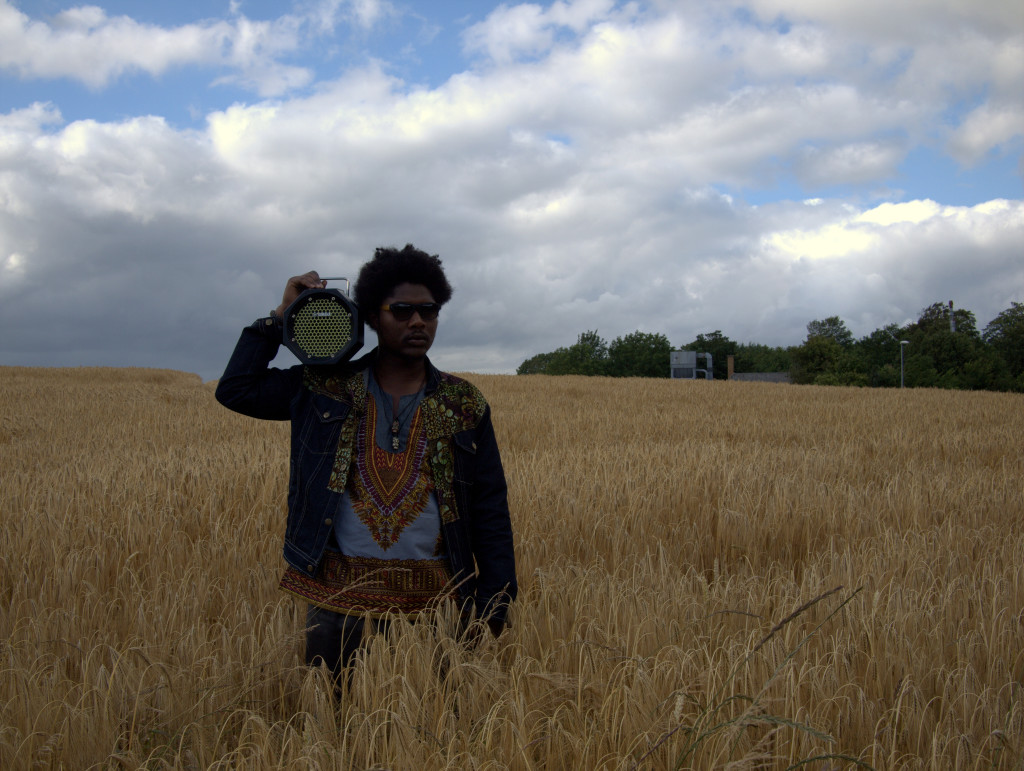 So far, Delasi has had listening parties for the album in Berlin and Nairobi, and plans to return to Accra in the near future to share #
ThoughtJourney 
with his friends, fans and collaborators there. So far, the album has been very warmly received. "It's just a good feeling to put out this big body of work, and see that it means something to others, not only me," Delasi said. "The album is a couple of years in the making, and it has changed drastically, some of the beats of the songs have changed: I changed direction from some of the old producers, and we had to redo it all from scratch. But the concept, the image of #
Thought Journey
, like the image on the cover now, I just held on to that for a very long time. I've moved around a lot, and I've been blessed to make friends all over the world. I have producers in Japan, Denmark, Nairobi, the U.S., and Accra, my home." When I asked Delasi how he came to be in Kenya, he replied "I had this opportunity, it had to do with a matter of the heart. But I move around a lot. And I've been caught in some compromising situations, getting in trouble with immigration crossing borders here, getting arrested by cops in some of the African countries. I am finding it difficult to move around in Africa. And it hurts that what my heros fought for, people like Kwame Nkrumah, Thomas Sankara, all those guys, I don't see that mobility, the pan-African alliance they dreamed of." Delasi addresses this feeling in the slammin' track "Commot for Der" featuring Twi rapper Yaw Donkor. The beat mixes traditional drums with a Dilla-esque crooked beat, and lyrics that ask the question: Would Nkrumah be happy with how Ghana--and Africa in general--is now? In another track, "Artificial Lines," Delasi questions national borders, decrying the deportation of African immigrants in Israel, over a beat by Mike Millz that samples
darbukah
and
oud
. "I put myself in the soldier's shoes, with orders to kill, and in the immigrant's shoes, an immigrant escaping home and not really finding it because of artificial lines, or borders. I juxtaposed the two scenarios in the song." Perhaps Delasi was drawn to this story because he is a migrant in Kenya himself, far away from home. "I see so many similarities in some of our words and superstitions and one type of food at least--
akple
 [a ball of corn meal]
in Ghana, here it's called 
ugali,
" He says. "But at the same time...I'm quick to be made unwelcome, generally by immigration and by cops, and shut out of job opportunities. I have to fight harder here to get anything done. But there's opportunities here also, and when I get love for my music, it's genuine." When I asked Delasi how his music is received in Nairobi, he said, "There are wild fans, if they love you, they love you. People support. With a song like 'Afemakpor,' which is straight Ewe, when I released it, I had so much buzz coming from Nairobi that some of my Ghanaian friends were getting jealous," he laughed. "World taste for music is something that's strange to me: Here I am doing something native to me, Ewe songs, and people have no meaning and understanding of what it is, but they're vibing to the rhythms, the melodies and I guess the emotions that I'm putting out." Well, I think I can safely include myself in this camp. I'll be following this global traveler wherever his journey takes him next. When I asked him what's next, he replied, "World domination!" With a laugh, of course.