Delgres: Pascal Danaë's Journey to the Afro-Caribbean-Louisiana Connection
One of the stand-out performances at this year's Nuits d'Afrique Festival in Montreal was the Paris-based trio Delgres. The group was conceived and is led by guitarist Pascal Danaë, with Rafgee on sousaphone, and Baptiste Brondy on drums and backing vocals. We spoke with Danaë via telephone a few days later while the band was on tour in Rochester, MN.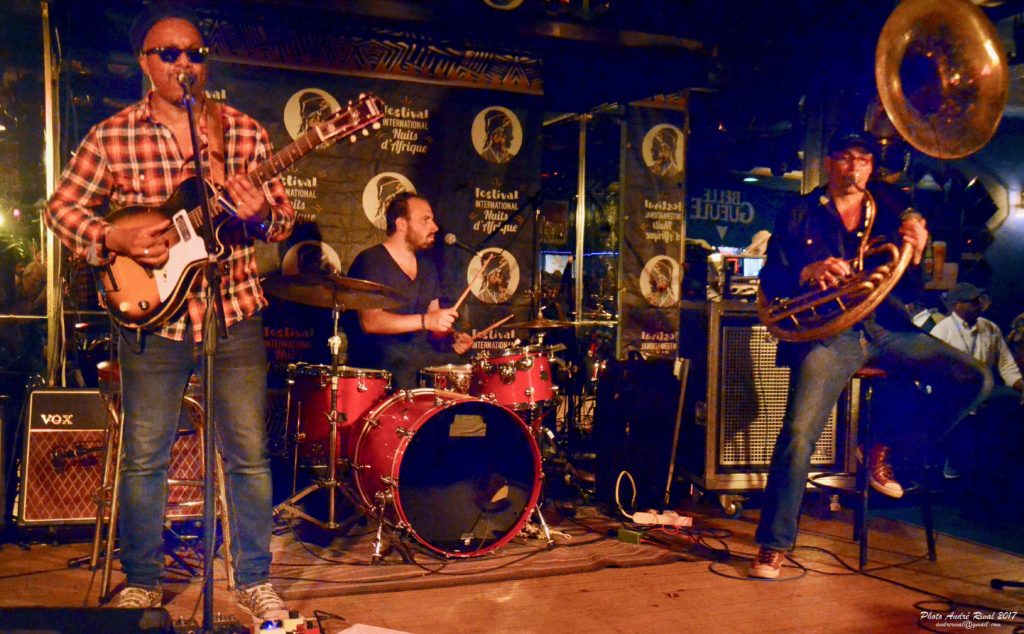 Photos by André Rival
Born and raised in Paris by Guadeloupean immigrants, Danaë, 53, first took up the guitar at 15, during a boring summer with his parents when his brother-in-law offered him one of his guitars to help while away the time. "He said to me: O.K., it's yours. Use it, don't use it, whatever you like," Danaë recalls. "I will never thank him enough for that in trusting a young teenager with his guitar. That was fantastic. It was the start of everything."
Although Danaë had already been exposed to a great variety of music, from Caribbean to classical, the Beatles to James Brown, it was American folk music that he was drawn to play at first. "Because," he explains, "when you play guitar, it's very easy. There's only a few chords. And I don't know, it just takes you somewhere. You're a young guy, you're in your bedroom, you have your guitar and you can escape, to travel in your head. Especially Bob Dylan and all those guys. They really help you travel. I think since then I've kind of always stayed in the same thing. It's always what I'm looking for. When I grab my guitar and I'm alone in my room—it could be anywhere —I always want to close my eyes and travel in my head. Most of the time this place I go it's nature, open space... it's kind of Minnesota," he laughs, "or Vancouver, we were just there too."
After jamming with local bands for a few years, his brother-in-law stepped in again, this time introducing him to a professional guitarist who gave him some lessons and helped guide him into a career as a session musician, eventually touring and recording with such artists as Peter Gabriel, Youssou N'Dour and Harry Belafonte. "Playing with Harry Belafonte happened because a very good friend of mine is [Cameroonian] Richard Bona, the bass player" who was Belafonte's musical director at the time, Danaë says. "Peter, too, is one of my heroes. We met through [Ivory Coast drummer] Manu Katché, who is another friend, who played with Peter Gabriel and Sting and guys like that. We had a house band which we played a few concerts on our own in Switzerland. It was Manu Katché, I was on guitar, and David Rhodes, who also plays in Peter Gabriel's band. So Manu introduced me to Peter Gabriel and I was just speechless, you know, the basic fan. I'm not usually the fan type, but there are a few people that I have so much respect and admiration for what they've done, you know, just fantastic. So yeah, I was lucky enough to be on a stage with him.
"When I look at it now," Danaë adds, "all these years, even when I was playing for other people, I was always writing songs and doing my own stuff. So I really feel that all those guys I played with, the experience I gained along the years, was just a way to take me to this very place where I am now. I couldn't have done the same thing today without being on stage with all these people and learning how it works, kind of what to do and what not to do—but, of course, I still have to learn a lot of things."
In addition to songs he wrote on his own, he has also co-written a few with a variety of musicians, including British electronica group Morcheeba, Israeli singer-songwriter Yael Naim, and Algerian singer-songwriter Souad Massi, including "Tell Me Why," on which he and Massi sing a duet.
While Danaë's parents introduced him to music from Guadeloupe, they refused to speak Creole with him. "They would speak Creole to my brothers and sisters," he recalls, "but because I was the last one and born in France, they wouldn't speak Creole to me. They thought it would be a problem for me at school, you know. So of course, anything that's kind of hidden or forbidden, that's what you want. I was listening to records and everything and I just loved the sound of it. That's how I grew up. But I was like in my 30's when I finally went to Guadeloupe, because also my parents would never go back there on holiday. Everybody left Guadeloupe and never went back. So there were only a few, one cousin of my father there. Today I'm the only one in the family who speaks and sings in Creole.
"I had also learned about my great-great-grandmother," he says. "The first time I went to Guadeloupe, I came upon the letter of her freedom from slavery. When you read that piece of paper, when you hear about it that's one thing, but when you see it.... It says: 'Louise Danaë, 27 years old, and her four children and they give you the names and age. And my great-grandfather was one of those children. So you can really picture a very young lady and the little kids, 3, 6 and 1-year-old. And then you realize 27 years of slavery. It's not like in movies or books, it's a person that's been through that for 27 years. I started thinking where was I when I was 27, it's just so amazing.
"It definitely comes with some kind of responsibility," he continues, "because you have to define yourself. Because of that memory, it's very strong. There's something I say, you know, in one of the songs we play with Delgres: Memory is like a hand drum that goes through your veins. It's like a pulse that you can't stop, but you can decide whether you're going to stick with it or whether you're going to move on. Once you know it, it's O.K., but then you really have to move on and define yourself. For me, it's important. I know a lot of guys that I think get stuck there as an image. They'd look at that letter and start fighting for the memory of the ancestors and all that. I think it's great, but I think what we really need for our kids, for the next generation, we really need to move forward. I want to let the world know that my ancestor was probably a brave woman who did what she had to do and went through terrible things. O.K., but then that's it. Now let's be together.
"So I love to say to people at the concerts that this is what I lived, but every single person in the world has their own version of that. I think that's what it is about—the universality of memory and feelings— and how we can move forward based on that. Especially in France, they have this vision of the blues, you know, that they sing the blues because they were slaves. I say no, they didn't sing the blues because they were slaves. They sing it because they come from Africa and in Africa you sing all the time. You celebrate everything—death, passage, birth, everything. You just sing and play music. It's a universal thing in Africa."
Not long after returning from that trip, someone lent him the Martin Scorsese DVD box-set, The Blues. "That was another one of those guys who opened a door for me," Danaë says. "Until then, I was more into jazz fusion and all that. I loved folk and everything. And of course, I would play blues, but more as a jazz guy, if you see what I mean. You play the blues, but you don't really 'play the blues.' I watched these DVDs and it just hit me like a wall. Just like—bang!"
Danaë released a solo album in 2007, London>Paris, "which was very inspired by the time I had spent in London, a very folky and intimate thing," he says. Then he had an opportunity to move to Amsterdam for a few years with his wife, after a failed attempt at creating a second solo album.
"Basically, I had kind of lost a year's work," he recalls. "It was a difficult time for me. We spent three years there in Amsterdam. But I felt a bit lonely there. And that blues thing was growing on me. I fell upon a dobro guitar. Funny enough, it was like this dobro was just waiting for me at this shop. It was really weird. They only had four in this shop in Amsterdam. Three of them didn't sound good, but that one was just there and it was just amazing. My wife was with me and we left the shop, and I didn't think much about it. Then a few months later, on my birthday, she bought it for me. She's just amazing and I was so gob-smacked. And it just all started from there to find something new for me.
"So it was the encounter between the way I was feeling kind of down, feeling like I had to start all over again, feeling a bit lonely there in Amsterdam and that dobro," he continues. "The combination of all that is what made it possible for a real thing that I had deep down to come out."
At the end of the three years, Danaë moved back to Paris, but by then he had already formed a new band, Rivière Noire. "It was a different style, with a Brazilian singer called Orlando Morais, Baptiste Brondy on drums and a producer friend of mine Jean Lamoot, who produced albums for Salif Kaita, Noir Desir, Nneka."
The group won best world music album at Les Victoires de la Musique in 2015, which is like the French Grammys, for their CD which they recorded partly in Paris and partly at Salif Keita's studio, Moffou, in Bamako. They also brought in some Malian musicians and singers, including Kasse Mady Diabaté and Bako Dagnon.
"All that music from Mali is very much a part of my life for a very long time," Danaë says, "I've always loved it because it's very trance, again, it makes you travel, you know. The open space is there when you listen to that music and it stops time. It's just like 'wow.' The bridge between the blues, especially the Mississippi Delta—the blues from the country, and the African music is there. You close your eyes and it's a landscape. And me, being from Guadeloupe, kind of in the middle, I draw from those two worlds and try to play with those elements."
But meanwhile, Danaë was still brewing something in the back of his mind—the trip to Guadeloupe, the Afro-Caribbean connection, the American-African blues connection and then also learning more about the Louisiana-Caribbean connection during the slavery and post-slavery era. Now it was time to bring it all home.
"Everyone knows now that there was a strong Caribbean influence in the music of New Orleans," he says. "because you had all those people coming from the islands, and meeting the French people, the Indians, the new African guys, the white French, Spanish, and all that. I figured out there was a very strong Caribbean influence on the early jazz music, especially."
He knew he wanted Rivière Noire drummer Brondy involved, and he first thought he wanted a regular bass player, but "in the same way I started to bring the dobro and playing something very haunting, I wanted something a bit of a trance feeling, that goes straight to the evocative landscape, and takes you through a journey. In the same way I wanted something very basic on the bass."
"Then at one point it just hit me: 'No, no, no... What you want is a tuba,'" Danaë says. "I always loved all the marching bands in New Orleans when they go out for the parade there. It's beautiful. So powerful, it's noble. Do you see what I mean? There's something very street, but also aristocratic. It's a traditional instrument. It's strong, it's fierce and very sweet and sad at the same time, especially when they play for funerals. And I wanted that." He asked around and found horn player Rafgee. "So we got together just to see how it would work, but I was not expecting too much. And it just worked beautifully, and so we decided to create a band."
Danaë decided to name the band after Louis Delgrès, a Creole officer who in 1802 attempted to lead a revolt in Guadeloupe against Napoleon and his desire to reinstitute slavery in the French Caribbean colonies. While the revolt failed, Delgrès is still considered a hero in the region.
Not long after they released their first self-titled album in 2016, Danaë received a phone call from the French Consulate in New Orleans who had seen their music video. The New Orleans Jazz National Historical Park, run by the U.S. National Park Service at the old U.S. Mint in the French Quarter, was looking for artists to participate in a musical program which would showcase the French West Indies influence on early jazz music. And, about the same time, they were also contacted by the Festival International de Louisiane, the annual music festival in Lafayette which celebrates Louisiana's Francophone connection. They offered the band a residency during the festival. "It was so amazing," Danaë recalls, "because I was working on that relationship between the French West Indies and Louisiana with Delgres, and all of a sudden to have someone calling you from the other side of the Atlantic and telling you exactly what you're thinking and talking about every day and say: 'Hey, this is what I'm thinking about too.' Then.... wow. This is bigger than I thought!"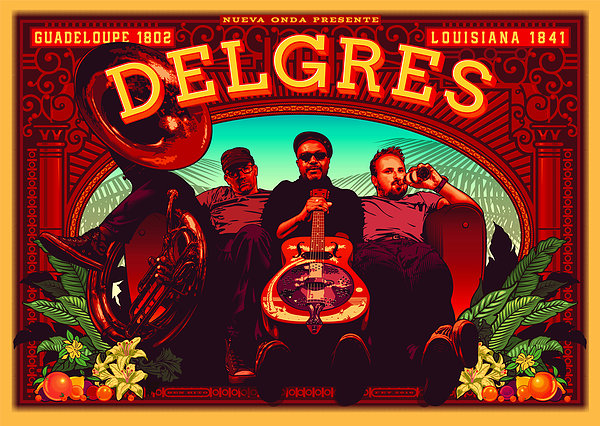 Delgres is both continuing to tour and working on their second album, which they expect to release in the first quarter of 2018. "But we will probably have a few tracks out before that, you know, to build it up," Danaë adds. "I treat this all as a gift," he says. "You know, at the beginning I really wanted this thing to be fun, more than anything else. And that's what we've done for two years now. And if there's one thing I hope people take away from seeing us is faith and hope. I want them to keep the faith and hope in the good side of life. If they can go home and feel that they are ready to tackle another day with faith that something good is going to come, then I'm happy. That's what I want.... because that's what I would love for myself."