Desert Blues: Rokia Traoré at NYC's Symphony Space  
No sooner had the air cleared in New York after a freak storm the evening of Oct. 30, than Rokia Traoré took command of the Symphony Space stage on Manhattan's Upper West Side, raining down a superlative storm of rock 'n' roll thunder seared by African traditional and latter-day "desert blues" lightning. Rokia is now a Malian superstar, firmly in the upper echelons of her country's cadre of strong, gifted female artists. It's been a long journey from the refined and fetching innocence of her early tours, nearly 20 years ago, when her acoustic guitar was her traveling companion, and her bags were filled with heartfelt and tender melodies, many her own.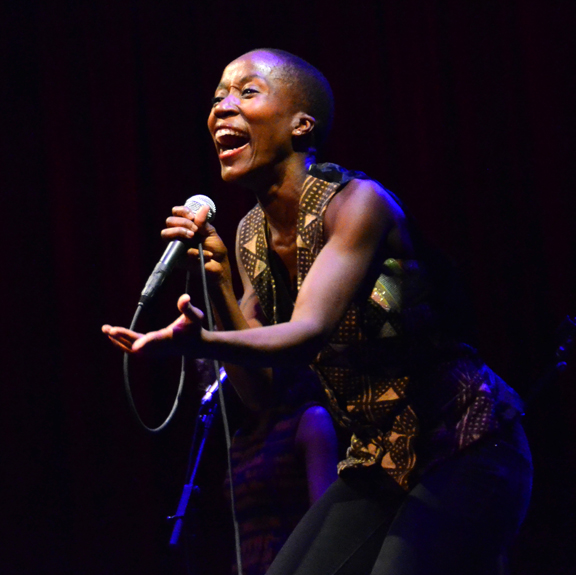 Today, she leads a cultural delegation of West Africans and one Italian primed to vaunt her coming of age—her voice and its vibrato more nuanced now, as she's piled on timbres unrevealed in those early years. Her compositions and arrangements reflect the span of her emotional range, righteous and engaging, coquettish and intimate. Driven from Bamako by the civil war and coup that engulfed Mali in 2012, her music has always explored the subtlety and complexity of her life, from poignant songs of love and loneliness, to the damage done to people and spirit by violence and hatred, to her own search for place as an African, a woman and an artist. Lest one think this show was "all about Rokia," the evening was ultimately a tribute to her country's legacy of birthing the blues, and to the reunion of that heritage with its ultimate American heir, blues-borne rock 'n' roll. Close your eyes and in your left speaker are the pared-down quintessentially African sounds of Mamah Diabaté's
ngoni
, weaving in the dry pluckings of down home, while the right speaker reports the riotous rocking of Stefano Pilia's oversized Fender.  Open your eyes now and Moise Ouattara's trap set and Zonatan Dembélé's electric bass (Burkina Faso and Mali, respectively) anoint the glorious marriage of civilizations. After a healthy encore, the crowd spilled out onto upper Broadway that balmy Sunday night. Rokia Traoré and her troupe had proved to all that global warming is real and upon us, and comes in many forms–some that affect the weather, others that lift the heart. The concert is the latest offering in the World Music Institute's Desert Blues series, which began with a stellar show by the Malian bluesman Vieux Farka Touré on Oct. 1. Upcoming are the legendary Malian guitarist Boubacar Traoré on Dec. 2 and Noura Mint Seymali of Mauritania on Feb. 24, 2017.  Check the World Music Institute website for details.
http://www.worldmusicinstitute.org
Photo credit: Michael Fleshman