Dispatch #3: Madagascar to Brooklyn, with Groupe Bakomanga
Also starring on the bill will be acclaimed Canadian based Malagasy guitarist, Guitar Slim. Making a guest appearance will be pioneering Malagasy roots pop singer Hanitra Rasoanaivo, leader of the group Tarika Be, direct from Madagascar.
I met up with Bakomanga, one of Madagascar's most-revered dancers, choreographers and international impresarios, poolside at the swank Carlton Hotel in downtown Antananarivo. Her Groupe Bakomanga was soundchecking for their show that night for the annual meeting of the Indian Ocean region Rotary Club, attracting heads of service organizations from the neighboring islands of Reunion, Comoros, the Seychelles and Mauritius. Bakomanga told me she was very happy that her group was chosen by BAM's DanceAfrica annual extravaganza in Brooklyn later this month.  Each year, one group from one country is chosen to represent the continent.
http://www.bam.org/dance/2014/dance-africa-opening-celebration
[caption id="attachment_18482" align="aligncenter" width="640"]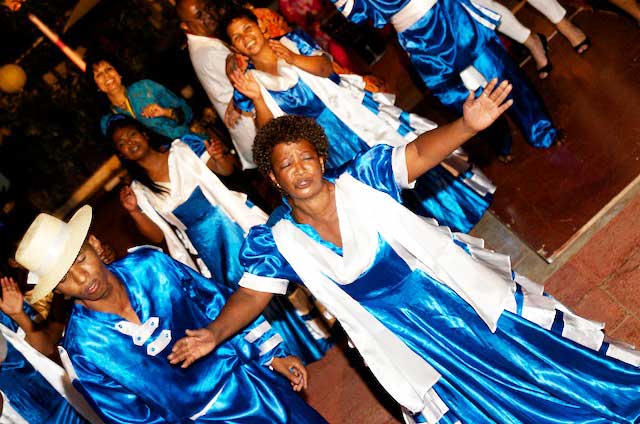 Groupe Bakomanga (Eyre 2014)
[/caption] [caption id="attachment_18476" align="aligncenter" width="433"]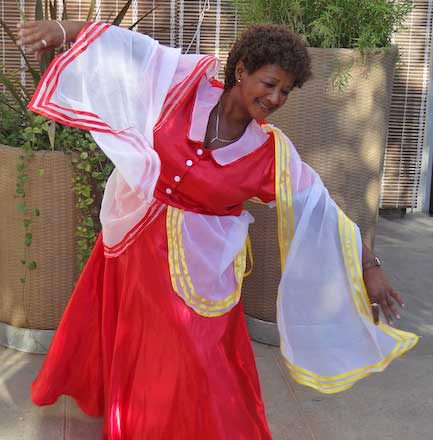 Bakomanga (Sean Barlow 2014)
[/caption] She said, "This will be my first time in New York. It's a big thing for me."  And it's a big thing for New Yorkers to have a rare opportunity to see live Malagasy music and dance. That night at the Carlton in Antananarivo, Groupe Bakomanga was a big hit. They featured  some 20 dancers and musicians  presenting a wide-ranging tapestry of Malagasy regional cultures—from Merina in the central highlands to the Betsileo further south, to the Sakalava in the north, the Antandroy in the south, among others. The Merina piece, Bakomanga told me, recreates the time of the Merina kings and queens, who would call on musicians to play songs to make them happy. Betsilio people are known as expert rice growers: Groupe Bakomanga performed a dance inspired by them.  At one point, one of the male dancers fell to the ground and started twitching. This piece is based on Sakalava culture where healers are called to visit a sick person. The healers go into a trance and reveal what herbs and other remedies sick person's family needs to obtain. [caption id="attachment_18475" align="aligncenter" width="615"]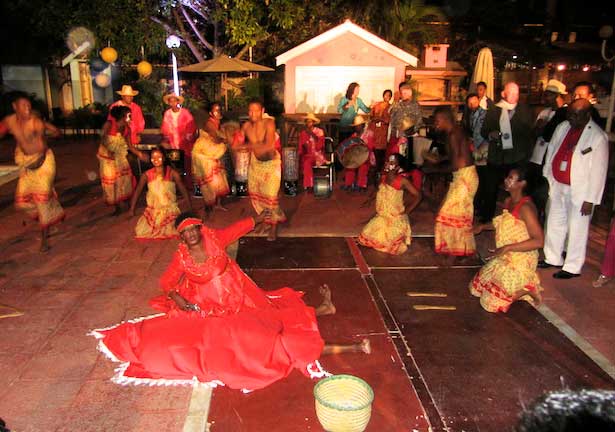 Bakomanga healing dance (Eyre 2014)
[/caption] The musicians Groupe Bakomanga will bring to DanceAfrica at BAM will play the accordion, the
valiha
,
kabosy
and various percussion.  And everyone sings, including Bakomanga, who has a distinctive, almost operatic voice. The band sounds great. And let's not forget the 10 lightning-fast costume changes! Kudos to the wardrobe manager. Bakomanga started to dance professionally at age 14. She joined one of the biggest dance troupes in the 1960s as a dancer, singer and musician, and then decided to form her own company in 1970. Originally from a poor quarter in Antananarivo, Bakomanga decided to choose young people from her neighborhood for dance training. And that neighborhood remains a source of new talent for her troupe. They perform 60 to 70 concerts a year, mainly in Madagascar. And now they are coming to DanceAfrica in Brooklyn. That night at the Rotary Club gala in Tana became a real party scene toward the end, as people from the crowd shouted out encouragement and got up to dance a traditional circle dance, often seen where
salegy
music is played. I overheard Malagasy Rotarians there proudly talking to their colleagues from other countries in the Indian Ocean about what Groupe Bakomanga was presenting. [caption id="attachment_18478" align="aligncenter" width="640"]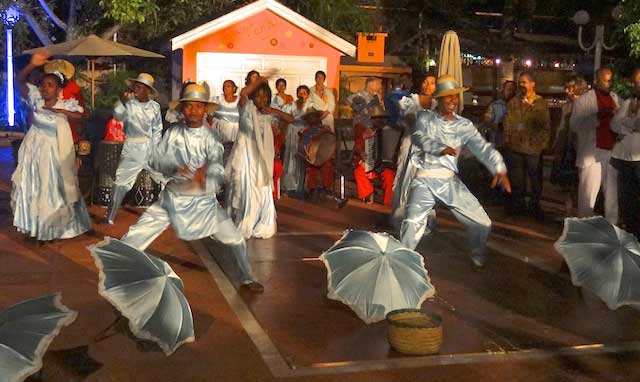 Bakomanga umbrella dance (Eyre 2014)
[/caption]
For more information about Bakomanga's upcoming performances at BAM in Brooklyn, and for more  information about DanceAfrica:
http://www.bam.org/dance/2014/dance-africa-opening-celebration
The Afropop team is presently in Madagascar doing research for production of three Hip Deep programs. Follow their travels:
Dispatch #1 Arrival in Madagasca
r:
Dispatch #2: Roots of Salegy in Diego Suarez
[caption id="attachment_18477" align="aligncenter" width="640"]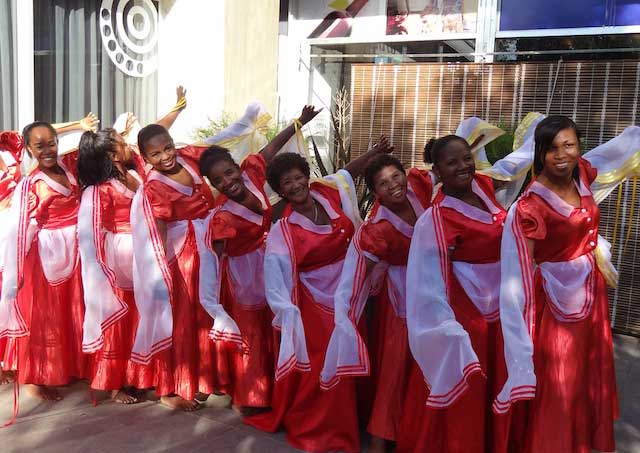 Groupe Bakomanga (Barlow 2014)
[/caption]