Dispatch From Nigeria #2: Fela Kuti's Legacy
Banning Eyre and Sean Barlow are currently in Lagos, Nigeria researching the vibrant music scene for
Afropop Worldwide
's
Hip Deep
series. Here's their latest field report.
LAGOS, Nigeria, Jan. 27--
Our day of Felebration began at the Kalakuta Museum, created in 2012 at the site of Fela's final home in Ikeja. This is the house he moved to after the legendary 1977 raid on the Kalakuta Republic. Fela's tomb sits in the front yard, and for 1000 naira (about two bucks) you can have a tour. Fela's personal quarters are as he left them, quite humble, a deep freeze, two racks of stage clothes, a wall-sized shoe rack and some Afrocentric artwork. The four-story house is festooned with photographs and news clippings marking all the significant moments of Fela's storied life. The top floor is a bar where a lively crew of local enthusiasts were gathered when we visited, all obediently observing the posted restriction: "No smoking of Indian hemp here." [caption id="attachment_34182" align="alignnone" width="640"]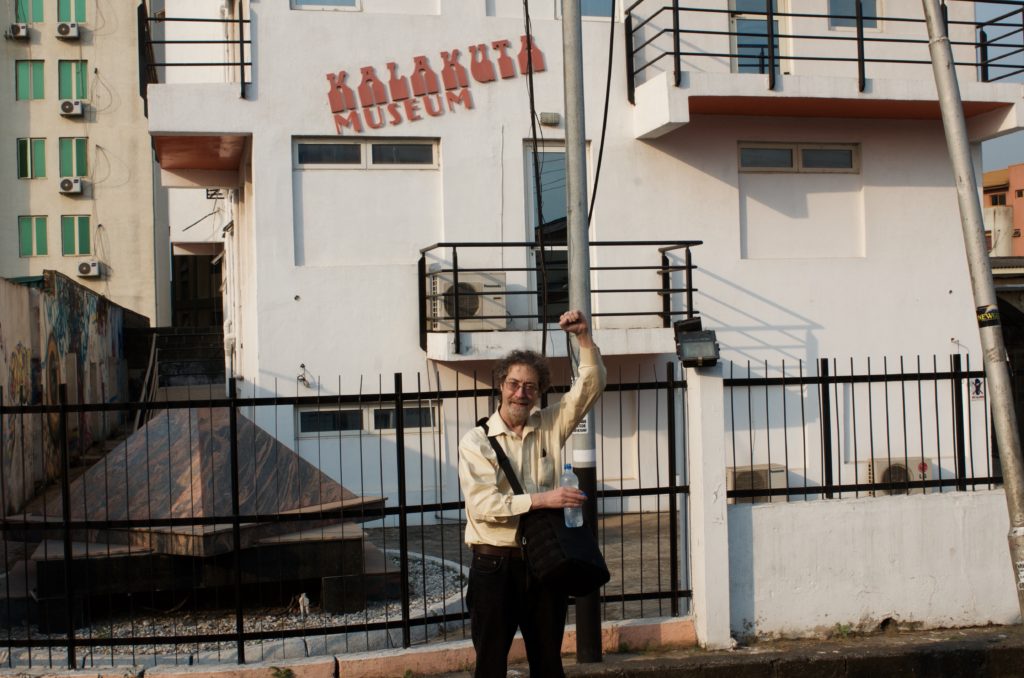 Sean in front of the Kalakuta Museum. All photos by Banning Eyre.[/caption] A short drive from there, we visited Fela's youngest son Seun at his home. We were slightly intimidated by Seun's loudly barking South African mastiffs—appropriately imposing creatures. Once inside, we found an entourage of folks watching soccer on television and busily working on laptops. Seun was relaxed and jovial. He took us upstairs to a bedroom to talk, and treated us to over an hour of sharply honed opinions on the Lagos music scene (fantastically lively if you know where to look and avoid turning on the radio), the "free press" in America and Nigeria (owned and operated by powerful regimes), new Nigerian music (slavishly imitative of American aesthetics and consumerist values), American politics (he knew Trump would win months in advance and sees it as a well-earned wake-up call to timid liberals) and so many other things. Stay tuned for one zinger of a transcript and some choice radio moments. As our local colleagues observed, "Seun is more like his father every day." [caption id="attachment_34183" align="alignnone" width="640"]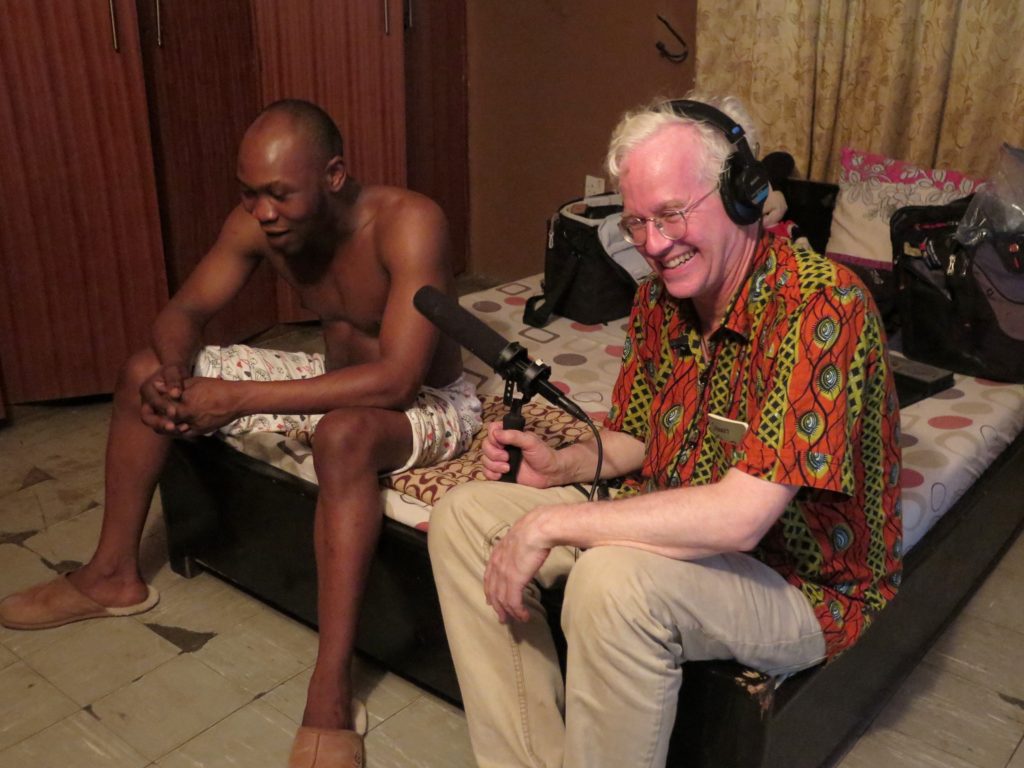 Seun Kuti and Banning Eyre.[/caption] We wound up the day at the New African Shrine, run by Fela's elder children Yeni and Femi.
Thursday
nights, Femi rehearses with his band. It's a free show, more casual than his official weekly show
on Sunday
night. The Shrine itself is impressive, spacious and funky with bars and food vendors, a certain amount of open ganja smoking, and a big stage festooned with Fela memorabilia. Femi's band filled that stage and after a three-week winter break, he drew quite a crowd. Backstage before the show, Femi joked that he was looking for an excuse not to go on stage, and he threatened to play "three numbers" and call it a night. In fact, he performed for over two hours with his characteristic manic energy. [caption id="attachment_34181" align="alignnone" width="640"]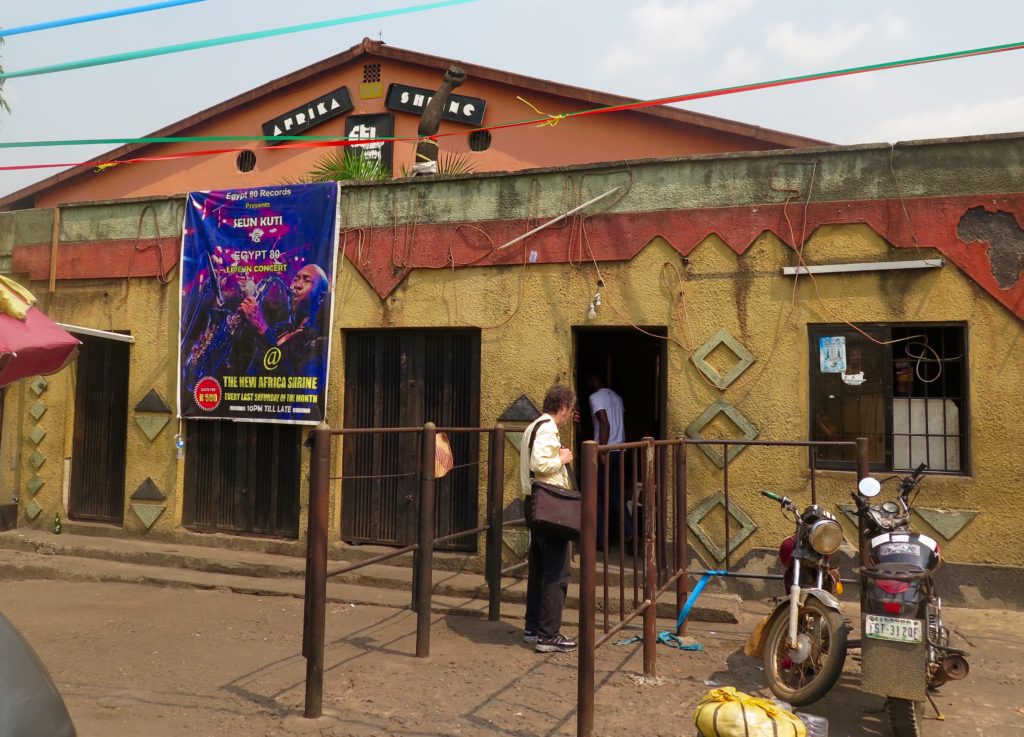 New Africa Shrine.[/caption] Femi was personable with the audience, leaning down to shake hands and fist-bump with fans, smiling more than I'd seen in his American shows. Femi is a consummate professional who has clearly worked hard on his vocal technique and his horn playing. He now solos on both trumpet and sax, as well as keys; and on horns, you can tell he's been working on his circular breathing as he blares out looooong notes over the roar of his super-tight band. Most of the set consisted of new, unrecorded songs, nearly every one of them prominently featuring the word "corruption." (The whole subject of political or "conscious" music and its lack of popularity with young Nigerians, who are said to just want to escape the grind of tough economic times and have fun, is a running theme in our interviews. More on that to come…) https://youtu.be/TF2dAtgU9Bk [caption id="attachment_34179" align="alignnone" width="640"]
Femi Kuti[/caption] [caption id="attachment_34184" align="alignnone" width="640"]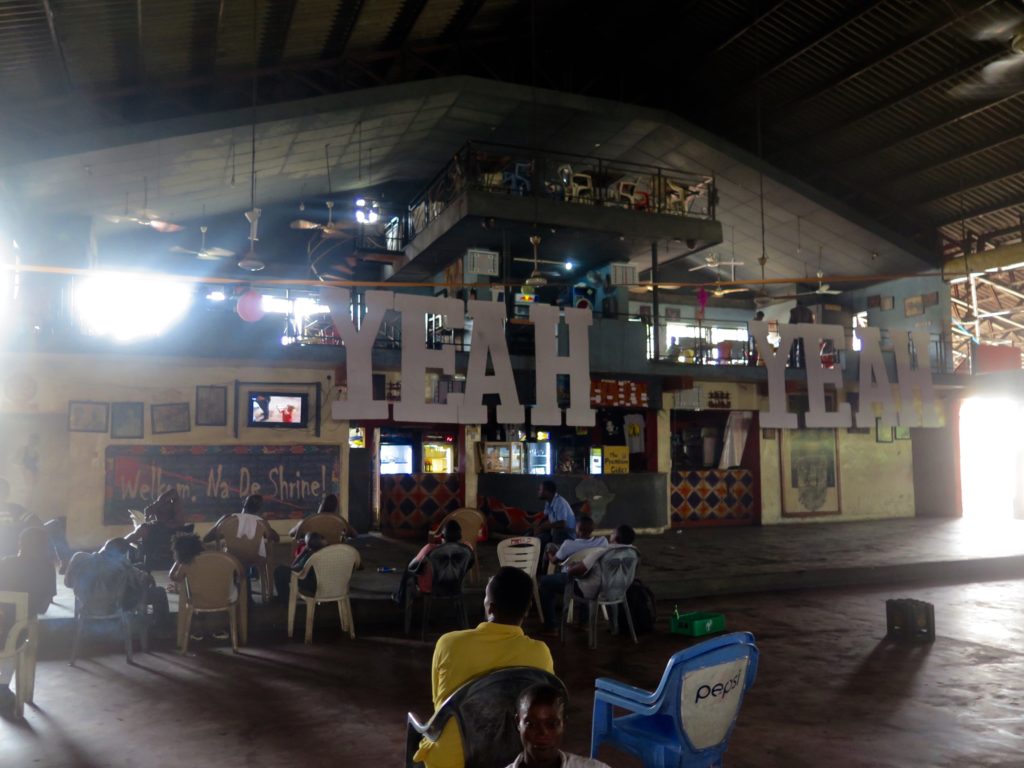 The Shrine By Day[/caption] We left the Shrine moved and impressed by the way Fela's large and at times fractious family has preserved his legacy in such a vital and dynamic way. It was heartening to see Yeni, who runs the Shrine, joyfully dancing to her brother's music, and mingling easily with visitors and fans. Outside the club as we left, the street was like a fairground, with folks sitting at tables eating and drinking, catching the vibe of the music throbbing within. The Kutis and Afrobeat in general may be marginal in today's booming Nigerian music scene, but the Kuti family legacy is now an indelible part of Lagos, and one that may well outlast the hits of 2017.


With additional support from