Concert Review: Gil and Veloso--Dois Amigos, Um Século de Música
April 20, 2016 Brooklyn, NY ; Rahav Segev/ Photopass.com / BAM
The curtain rose at the Brooklyn Academy of Music on two men with two guitars and two mics each, and a pair of long-stemmed goblets—one with water, one with wine—and that was all the septuagenarians needed to hold the audience rapt for two hours. Maybe there's a lot of good will built up—after all, as the name of the tour and the album allude, Caetano Veloso and Gilberto Gil are two friends who cumulatively have made a century of music—but the evening and the album testify to the durability of the songs they've written, as well as their persisting prowess as arrangers and performers.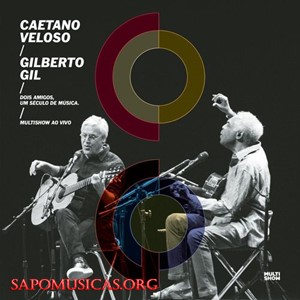 Both the show and the live recording pull from their whole catalogs: from Caetano Veloso's 1967 debut record Domingo, with Gil singing parts originally performed by Gal Costa, to a song they just wrote together in between tours.
The crowd on the album not only expresses audible excitement for their favorite tracks, they know the part they should be singing. These songs and artists are now well loved and the album's minimal arrangements—duets or solos of just guitar and vocals—give the whole endeavor all the more intimacy. Live, Gil and Veloso make faces at each other, dance during the other's solos and lead the crowd in sing-alongs. On the live album, that friendly interplay still reads—in the little triplets that Gil plays on the chorus to "Odeio," for one.
At this proximity, there isn't much room for critical distance. Even now in their 70s, both remain capable and endearing performers. Veloso's voice has aged a little more gracefully than Gil's more gravely instrument, but like a veteran athlete, Gil remains wily and capable and they still harmonize and blend beautifully. Although all but one of the songs are available elsewhere, Dois Amigos: Um Século de Música (Two Friends: A Century of Music) works just as well as an introduction to their music as it does as a retrospective of two intertwined, fascinating careers.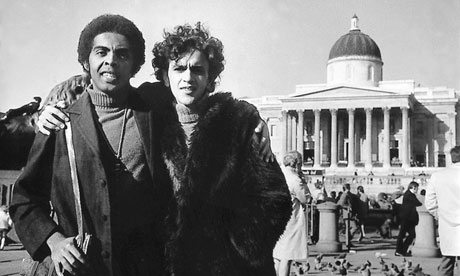 In describing who Veloso and Gil are, especially to American audiences, it's hard not to find that analogies just seem to break down—"It's like, if Bob Dylan and Bob Marley were the same person, but also there's two of him..."
Their overlapping biography is a bit more elucidating but it takes a lot of heavy lifting: The pair started making music in the '60s, starting as acolytes of João Gilberto and Dorival Caymmi, but with an ear to the outside world—Jimi Hendrix and rock 'n' roll—which is how they became foundational in the Tropicalia movement as both performers and songwriters. Veloso and Gil co-wrote the Os Mutantes song "Panis Et Circenses" that is something of a title track on the genre's manifesto album. Tropicalia blended '60s psychedelia and electric guitars with traditional Brazilian forms like bossa nova and choro. The movement blossomed for a few short years during the '60's before being shut down by the military junta that took power at the decade's end. Veloso and Gil were imprisoned and then exiled to London until 1974.
Back in Brazil, the two produced an absurd amount of music. Veloso has written some 400 songs over 49 albums; Gil has 60 albums and seven Grammys. Gil took an interest in raising the profile of music from the global south and the African diaspora, endearing him to Afropop for life.
Their foray to the United States has been brief—two shows in California, two shows in Miami, two in Brooklyn--the second one tonight, April 21. Maybe that's why they opted to make the live record. The vibes on the record are so positive, it feels like friends looking out for each other.