According to World Music Central.org, the Sahra Halgan Trio is the only artist from Somaliland working in world music, something that seems difficult to verify, but certainly speaks to how high their profile is, and how rare they are. On their latest offering, Faransiskiyo Somaliland, the band carries that banner gracefully, perfecting a balancing act between the tradition of Somali songs and creating vital art all their own.
Sahra Halgan worked as a nurse during Somalia's civil war before she fled for Europe. For 20 years she lived in Lyon, France, where she formed her trio with French musicians, guitarist Maël Salètes and percussionist Aymeric Krol.
The album, released by Buda Musique, mixes several Halgan-penned originals with a few traditional Somali songs and classics from the 20th century Somali songbook, all delivered via a combo of traditional percussion, electric guitar, drums, and one cameo appearance by a ngoni.
From the first track, the lean lineup proves up to the task. Located on the Horn of Africa, Somaliland is historically the intersection of Arabic, African and Asian-subcontinental cultures, and tonally its music recalls similarities to that of nearby Ethiopia. The Sahra Halgan Trio brings worldly pop sensibilities to the form, creating something at once approachable and unique.
The liner notes explain how the first track, "Dahel," is "a river [running] full of love, it's the most beautiful place in Somaliland." Indeed, the feeling evoked by the song is like setting down a boat into rushing water and being taken away on the heavily back-beated drums and fluid guitar.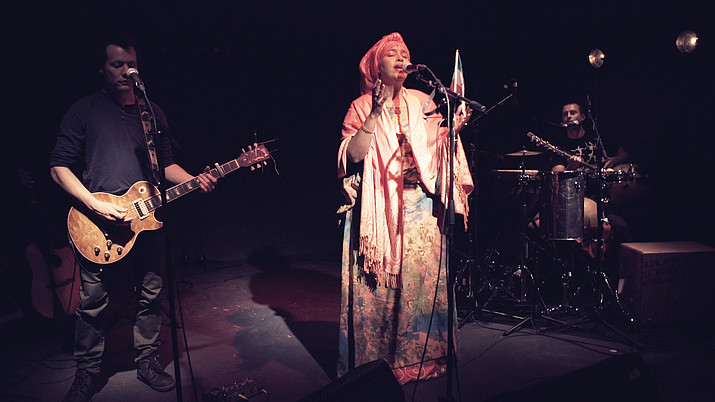 Although he is French and playing East African music, Salètes' guitar work sounds quite a bit like Tuareg guitarists such as Bombino—hypnotic, undulating, but still playful. Leaving strings open and creating a low-end drone, his' guitar follows Halgan's voice up twisting melodies that, as if hanging on a string, wind up to hold a moment and unwind with just as many twists.
Elsewhere, as on "Qaarami" and the last track, "Botor," the already lean band is cut out entirely, leaving Halgan's voice and handclaps to hold the song together until the percussion kicks in. The liner notes explain the songs are traditional, and the ease with which they fit alongside electric guitar-backed arrangements written by the singer herself is a testament to the trio's gift for songcraft. The track, "Anigoo Yaroo," by Somali singer Mustafe Maalin, employs crunchy palm-muted guitar and "la la la"s--familiar enough tropes, but in service of a song that is described as a "song on family and continuity, from the young girl in love to the satisfied mother," a theme that's all but impossible to imagine in Anglo-American pop.
The album is also packaged with a film by Cris Ubermann about Halgan's return to Somaliland. She is now living in the capital city, Hargeisa, pursing her art and also a career in politics.
Even if they're the only band recognized internationally from a country that isn't being recognized internationally, the Sahra Halgan Trio makes that visibility count.