Fatoumata Diawara and Amkoullel on Situation in Mali
In a 2013 update to Afropop's ongoing series of artist conversations on the situation in Mali, we offer the thoughts of two young, highly engaged artists. Fatoumata Diawara is perhaps the most celebrated singer to emerge from Mali in the past five years, and Amkoullel—originally from Timbuktu—is one of the country's most charismatic and innovative rappers. Fatoumata's debut CD, Fatou, has generated worldwide praise, and kept her and her band on the road for most of the past year. On January 13, 2013, Fatoumata returned to New York to perform at the annual globalFEST showcase. As it happens, this was the day that the world became aware that French soldiers were moving into Mali to push back encroaching Islamist forces in the north. Afropop's Banning Eyre managed to have a short conversation with Fatoumata as she prepared to go onstage. Here's that conversation. (Special thanks to Morgan Greenstreet for transcribing these interviews.)
Banning Eyre: Fatoumata, we don't have time to talk about your story. Next time we meet, we must arrange a longer meeting. For now, you have just arrived from Mali with a new project. Can you give us a small introduction?
F.D.: My name is Fatoumata Diawara. I am Malian, part of the new generation of Malian music. I was there on vacation after a very long tour I did last year; I went to Bamako to rest. The evening that I arrived was the when the coup d'etat took place.
So as soon as I arrived, I said to myself, "Well, this is the moment for artists to talk." Because, as you've said, Mali is represented by its music. It is a musical country; it is presented as one of the countries in Africa that has the most artists who tour, who express themselves, a country with many musical ambassadors. It is time that we, the artists, speak about the current situation. So we gathered, and we made a tune. I composed a song, and I invited all the artists, like Djelimady [Tounkara], Kassé Mady [Diabate], Toumani Diabate, Oumou Sangare, Amadou and Mariam, Tiken Jah [Fakoly]…Nahawa Doumbia…many artists played on it. And with some other young rappers who are really good because they tell the truth, the real truth. We need that!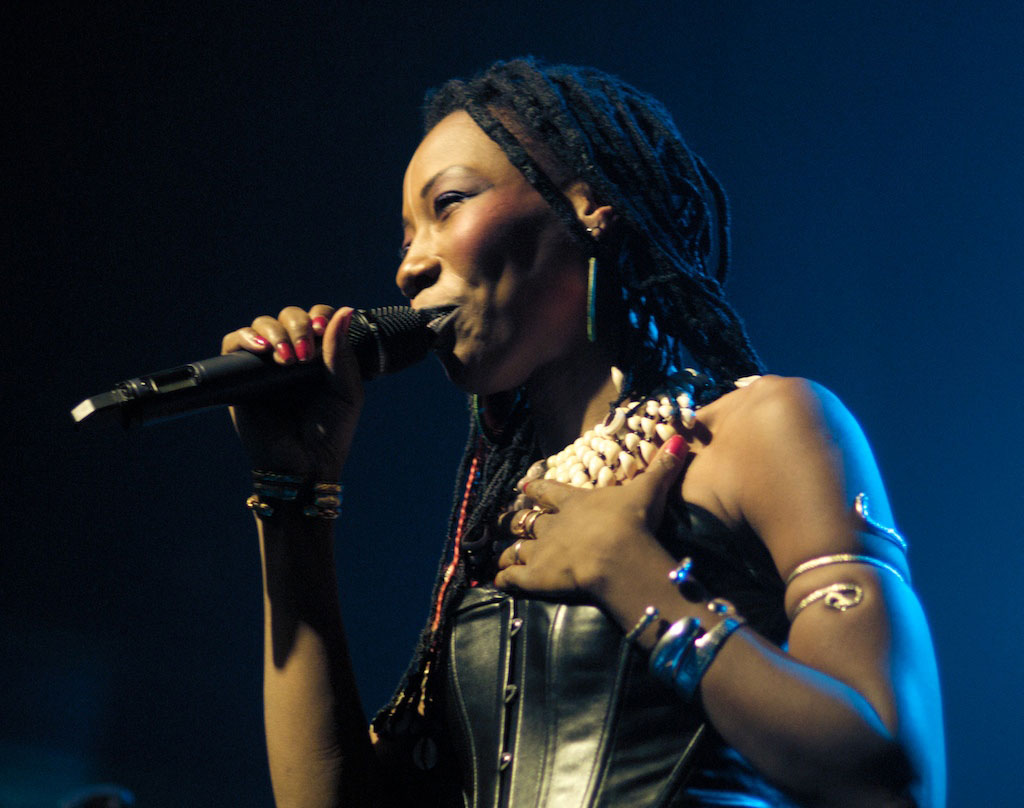 Fatoumata Diawara at NYC globalFEST 2013 (Eyre)
B.E.: Which rappers?
F.D.: We had Mylmo, Master Soumi, and Bawon, all young rappers who fill stadiums in Mali!
B.E.: And Amkoullel is there, right?
F.D.: Amkoullel is also in it! Amkoullel and I sing together. So we superimposed the songs that make up 45 minutes, and we reduced it to six minutes! So that will come out in three days. [You can see it here.] And after here, I will go to Mali for the release. Inch'allah, if all goes well.
B.E.: And what is the message of the song?
F.D.: Firstly, peace. And it also talks about unity amount Malians, because when people talk about Ansar Dine [the militant Islamist group that had controlled much of northern Mali in the year prior to this interview], one might think this is what all Tuaregs are like. But, for the song, we invited Tuareg artists who are in Bamako, who also demand peace.
So it is necessary that the world know that when we say Ansar Dine, it's a few people, not all the Tuareg. There are many Tuareg children, Tuareg women, who are refugees; children who don't go to school any more, because the bandits decided to do stupid things in the name of the Tuareg. So, in this tune, we show the union of all the artists, from the north to the west, from the south to the east, we reach out our hands, and we demand peace in Mali.
B.E.: That is very important. I have traveled a lot in Africa, and in Mali I see that the artists have real stature. People listen to the artists.
F.D.: Yes, they listen to artists. That's why we decided to use this little power. Even if we already use this power in the entire world, for the first time, our country needs us. It's really important that everyone stop traveling and get together, all of us, in December for the 31st. It's a tradition, that all the Malian artists come to Mali in the month of December. All of us come for the 31st, to welcome the New Year. We love our country. So I took advantage of this vacation, to get all the Malian artists together to make a song and all that. It took a week. We did it at Studio Bobolon. And since I am aware of the force of Malian music, I said to myself, "Okay, we don't have weapons, but our music is our weapon: it's Toumani's kora, Bassekou's ngoni, Djelimady, who takes his guitar and plays! Oumou who shouts! Everybody…Khaira Arby, Habib Koité, everyone! To say, "Stop! We want peace, for the development of this country!"
B.E.: But, today, this very day, from what I read, there isn't peace. The French have come with their army.?
F.D.: Exactly. But that is the way it goes. It makes us very sad, it's very sad what is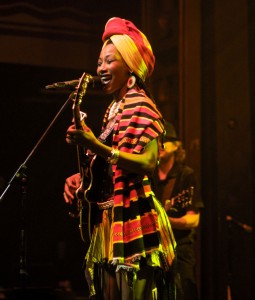 happening in Mali. I am very, very touched, here where I am. This is why I am alone. I will see you after… I want to take it easy a bit, to see what happens in my country. Because the war that is going on in Mali is bizarre; it's not our war! It's not Malians. That's what is bizarre. What is happening to us is very strange. Some people think it is the Tuareg, a war between the north and the south, but actually that isn't even true!
It's foreigners, bandits who have invaded, bandits who all got together in a country, and they want to get something that doesn't belong to them…We don't understand at all. Then France comes to chase these people, and in all that, even the Malians don't know what to do, because it's not even a Malian war! It's not Malians, not Tuaregs, not all the Tuaregs. It's not the Tuaregs…it's complicated.
B.E.: And it's not really about religion either, right?
F.D.: It's not about Islamic religion, they use the name, but that's not it. Because many women have been raped, many young girls of my age who have been raped everyday! Children who can't play music, they break all our ancient instruments. They don't want us to play music. Mali without music is impossible. It's a country that has always been musically gifted. The only thing that we believe in, in this country, is music. It's our mother; it's our god. It's spiritual; it's fundamental; it's the book. It's culture; it's education; it's politics. Music does everything for us; music says everything. Music says things that even politicians can't say. So they want to stop us. What will become of us? So it's very strange.
B.E.: So that's what brought you to the world with your message of peace. I know that you worked very hard last year; I saw the videos on Youtube. You have been touring throughout the world to bring this message, this experience to everybody, especially here in New York, where there are many Malians, many Africans. There are many people who love Africa here.
F.D.: Well, I will address all these fans of Africa, and all the Africans in New York, to tell them not to lose hope. It will be alright. I am convinced that everything will be all right.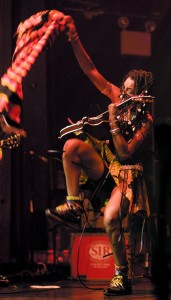 We just have to buckle our belts and never forget our worth. We must never leave our valuables in the hands of just anyone. People who decide to come, like that, into Africa and want to take away our tradition: meaning music, and our tradition of praying to genies, to spirits, like the river. The Niger is a genie! We must pray to it, and make sacrifices. We have real values in Africa, even if we don't talk about them. Mali is a very special country. Mali is an Islamic country, but not the Islam they want to impose on us. We have a great culture, of hunters, that doesn't follow the same road as the Islamists. We can't just let this culture be ridiculed by people who suddenly arrive in the country.
It is time that we become conscious of these values, of our worth. Then nobody can do anything to us. We must not abandon these values. We have to be conscious of them, we have to conserve them, we have to believe in them, and we have to love them as they are.
B.E.: : Well said, well said! Thank you so much Fatoumata. We at Afropop completely support that message. It is a great pleasure to see you, and I look forward to the next time when we will have more time to talk. Now get out there and have a great show.
F.D.: Thank you.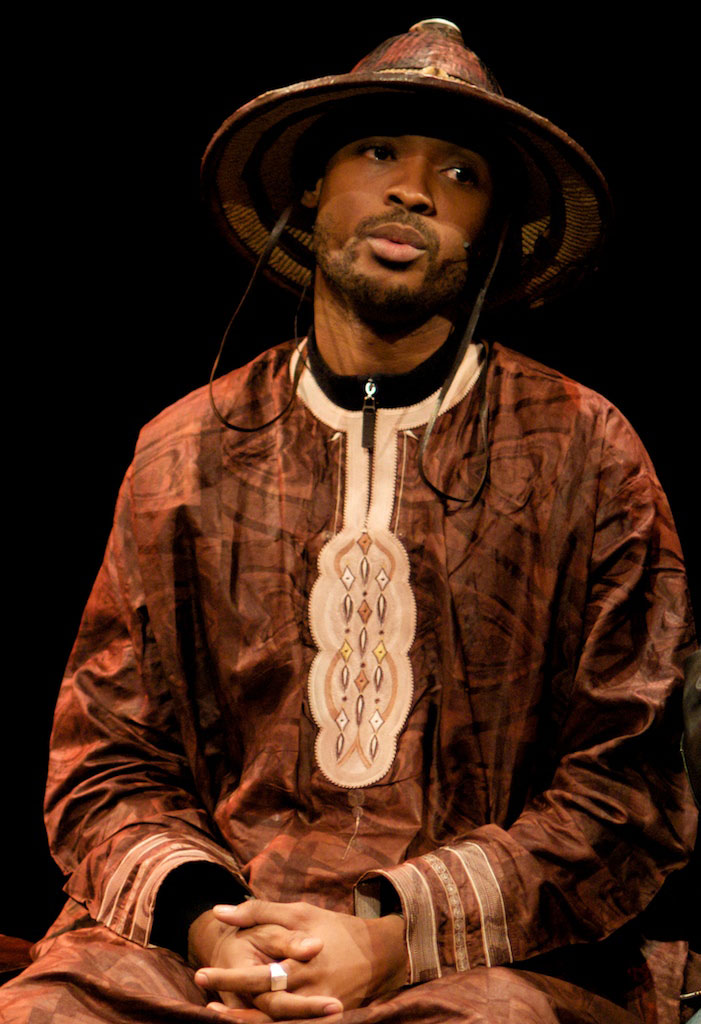 About three months later, on March 7, the Malian rapper Amkoullel came to Brooklyn to participate in a concert and forum of North African and Middle Eastern hip-hop artists at BAM (Brooklyn Academy of Music). The event, Mic Check, involved deep reflection on the rebellions of the so called Arab Spring—though most of the participants dislike this term—and on the role of musicians, especially rappers, in shaping the course of coming events. Afropop's Banning Eyre spoke with Amkoullel about his recent work, and the unfolding situation in Mali. As you will seek, Amkoullel was anything but reserved in his remarks!
B.E.: So, it's been two or three years since we last met, right?
Amkoullel: Three years. It was 2010.
B.E.: And a lot has happened in that time.
A.: Yeah, it's true.
B.E.: I really want you to tell me about your experience of the last year or 18 months in Mali. To start, where were you when the rebellion began in January of 2012?
A.: I was in Mali, but this problem is much older than 2012. It's a very old problem that we got in the north of Mali but the form changed, and it was a new version because the rebellion came with terrorism, with other people coming in Mali. A lot of things are mixed up in this problem.
So I was in Bamako when it started to get very complicated. And recently, when the French troops, the French Army come in Mali, I was in Paris, doing a song with other artists to give hope, to give strength, to a positive message to the world and to the Malian people
B.E.: Was that Fatou's song, "Mali Ko"?
A.: No, it's a different song. I did the song with Fatoumata, but this is another one. We did Fatou's song in Bamako on December 18, something like this. And two days after, I was leaving Mali for a festival in Paris. And after the festival, I called my friend, because I had the same idea as Fatoumata Diawara, and I think that all the Malians that love Mali have the same idea. We want to do something to help the people in the country.
B.E.: Naturally. We'll go back to the history, but let's talk a minute about the song you created, what's the message of the song?
A.: The name of the song is "Un." It means "one" in English. We are all one, so we are all together, we need peace, we need to talk to each other. In unity, we can find all the solutions. So it's a message of peace, from artists, not only Malian artists; I did this song with more than something like 30 artists coming from France or other countries, and we did it in Paris, so it's about love, unity and communication.
B.E.: People who love Malian music have obviously been very concerned about what's been happening. There have been a lot of events. We at Afropop were involved in a benefit last September, Musicians for Mali. I think we raised about 10,000 dollars in one night. And a lot of the New York based Malian artists came. So I'm not surprised that you were able to pull together an amazing group of people in Paris because people are so shocked by what has happened. Many of us really thought this couldn't happen in Mali.
A.: Exactly. Everybody is shocked. Everybody! And the same thing that everybody tells me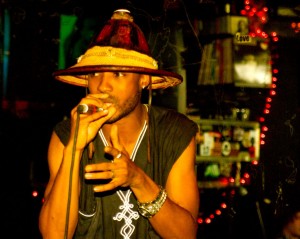 wherever I go. It's: "How can this happen to Mali?" People who already went in Mali know that Mali it's about peace, it's about tolerance, everybody's welcome in Mali. It's like your country, you can be Muslim, Christian, Catholic Christian, whatever you want. And you live in peace in Mali, without problem. So people can't understand how this happened in Mali, and Malians were very shocked. But it's… the problem is very deep, because it's about political responsibilities. Because when people start to lost hope, and have the feeling that they are abandoned by the political class, then it's very complicated. So you try to find hope in a lot of other things, other bad things. And some occasional terrorists can try to make their own law, because we are without protection, it's about that. And I think that we have to find…It's not just about making war, because war is never the solution, it's just for the moment, to fix a today problem. But for tomorrow, we need to erase the reason why this happened.
And the reason why, it's about taking care of the people. We need strong leaders who have love for their people, who have love for the Mali. That's what we need. Because a lot of people try to kill the hope in the mind of the youth. And when you kill the dream and the hope in the mind of the youth, you kill everything. This is what they are trying to do, and this is the reason why artists, we are fighting everyday, to keep the dream alive, the dream of a Mali who is stronger than yesterday, in Africa stronger, because young people are doing, everyday, good things, to change things in Mali and in Africa, and this is what we are fighting for, to keep it alive and to help people to still believe in it.
B.E.: When you say, "How could this happen in Mali?" there is no easy answer to that question, is there?
A.: It's not easy at all.
B.E.: I see four different things happening. One, you're talking about dissatisfaction of people with the government, which is kind of the narrative of all these other so-called Arab Spring situations. I guess I've learned a lot more about the Malian government in these last few months. Previously, I always had a very good impression of the presitend ATT (Alpha Toumani Toure) because of what he did in 1991, when he arrested the dictator, then stepped aside and let somebody else run. Then, years later, when he came in as president, he was very popular, people spoke well of him.
But I understand that over time he became very corrupt and he was empowering one particular part of the military and sending a lot of money their way, and that people were becoming very fed up with him and that was why they were ready to accept the coup when it happened. And of course this young military coup leader, Sanogo, went on television and said that it was all about the fact that they weren't fighting the revolution in the north. But that wasn't really the issue, was it? That wasn't really why people were supporting the coup. It was more what you are talking about. They were unhappy that the government wasn't taking care of regular people
A.: Yeah, it's true that there are a lot of things. On the one side there is ATT, the president. Everybody loved ATT, and he gave a good good image of democracy in Mali around the world. But the truth in practice we saw a lot of social injustice. Because when you rob public funds and you're not in jail, it's a problem. He's supposed to respect the law, and this kind of injustice—everybody see this everyday. So the anger and the rage they grow every day, and it's hard. Everyday life is hard. So this is what happened in Mali. People had the feeling that ATT, even if people liked him, he didn't take care enough of the real problem of society. He gave a good picture, an image, but in the practice ça s'arrangeait pas (it didn't work) in practice, in reality. And the problem with the MNLA, that you was talking about, the people in the north who was fighting in the north for some reasons, the problem is, this fight, this rebellion, the name of the légitime revendication (legitimate demands) of the Malian Tuareg.
B.E.: Yes, the Tuareg rebellion in the north. That's the second aspect of this crisis as I see it.
A.: But it's something different: there is Malian Tuareg, who have deputies who represent them in the Malian government and can talk for them. But even if I don't like to say that because we are all Malian, so we need to fix the problem for everyone. I am Fulani, my mom is Senufo, there is Bamana, Songhai, Tuareg, but we are all Malian, and if we have some problems, the government is supposed to be here to fix the problems of all people, because we are all the children of the nation of the Mali.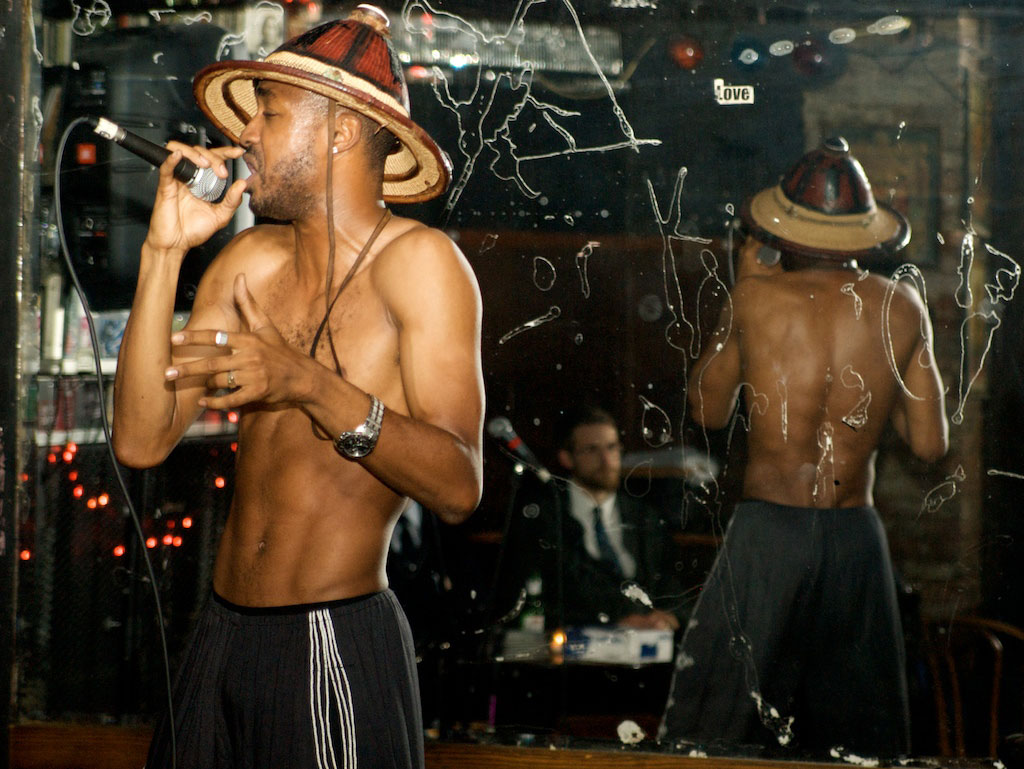 Amkoullel at Zebulon in Brooklyn, 2010 (Eyre)
B.E.: Of course. And that's been the beauty of Mali…
A.: Exactly! The problem with the MNLA [a Tuareg independence force] is they took guns and made a war about their demands. But the Tuareg people don't all recognize the MNLA. That is crazy! They just took the real problems of a community and say, 'We represent the community.' You represent no-one! Nobody voted for you, nobody asked you to kill other Malians for revenge. Mali was a democracy, and imperfect democracy, a young democracy, but it was a democracy. So we are supposed to be together as a people, to talk together, to develop this young democracy. Taking gun is not a solution! And for me, when you are forced to use violence to make your voice heard, that means that you don't have another way to make yourself heard. Which is not true! In Mali, you can talk, you can almost say whatever you want! And you have people who represent you in the Parliament. We have had two times that the Prime Minister of Mali was Tuareg.
B.E.: I remember that.
A.: And the second vice-president of the parliament is a Tuareg Malian. And the president of the decentralized areas, the territory management that governs how things have to work in the various administrations throughout Mali, the president of this institution is a Tuareg. So there is some legal ways, and democracy give tools to each Malian to talk.
B.E.: I understand. I've watched this for a long time, because when I lived in Mali in the mid 90s, I was there when they settled the conflict in the north and declared peace. I saw them burning huge arms caches on television. Now I know this dispute with the the Tuareg has a long history. They weren't getting proper access to education, they were discriminated against, all this kind of stuff, and, in addition, they had droughts and all these physical challenges. And so they were at war for a lot of the 80s and the early 90s. But in 1995, there was supposed to be peace.
And then a few years later, I was at the Festival in the Desert in 2003, where everybody was coming together, and, as you say, the Prime Minister was Tuareg. It seemed like everything had been solved, or at least put on a better road. So obviously with these people who came in with all these guns from Libya in January 2012, they were stirring something up that had been sort of calmed down. Is that about right?
A.: Yeah, but it was a lie, the idea that everything had calmed down. In appearance, what you see, peace was coming back. But the problem was, how can you come in a country with guns? It's not normal. It's just the army or police who are supposed to have guns to protect the people or enforce the law. Maybe in some countries, in the United States, it's in the culture to have your own gun, but in Mali, that is not in our culture. It's only the government or the police who have guns.
B.E.: And the hunters.
A.: And the hunters, exactly. So in Mali, you can have gun, but it's exceptional. The law allows you to have a gun but it's very exceptional. People in everyday life don't need to have it. But, even if United States, you have the culture to have your own gun, you will never accept somebody, a group, a big group, coming from another country to fight. After the war in Libya, there were mercenaries, coming back into the country, something like 500 persons, with big guns, for war! It was crazy! Did they cross all those countries? Because Libya is not on the border of Mali. They had to cross other countries before they arrived. So how they did it? It's crazy!
B.E.: We still don't really know that story, do we?
A.: Exactly! And we need to answer that question to determine responsibilities of the different persons who made this happen. But if those people arrive to make this terror happen in the north of Mali, it's because there was already an anger in the population, who accept those people and allow them to stay.
B.E.: Okay. When the rebels first came, before we started talking about Al Quaeda and Islamists and all of that, at first, it seemed to be: okay, this is about the Tuareg. I know that some Tuareg ran away and became refugees along with many others. But there were some who supported the rebellion. I spoke with Ibrahim of Tinarawen in April 2012, and he was even telling me that Mali should never have included the northern regions, that is was the French who joined these things, and that the Tuareg and the people of the north have their different life, and should never have been part of Mali.
A.: It's not true! I know that some people will say that, and I respect everybody. That's what democracy is about. But this problem is a legend. In the history of Mali you have different kinds of empires. You can check this on the internet, it's in every kind of book. You will never see an empire of the Tuareg in the Mande lands. The Tuareg are a part of the Mande. Like me, I am a Fulani, the Fulani are nomads; we are shepherds. The zone that he was talking about, the Azawad, doesn't belong to any one ethnicity.
B.E.: Of course. What about the Songhai, the Fulani, as you say, the Dogon, others?
A.: Exactly. What about Songhai, what about Berber, what about Fulani? And you are the littlest, the smallest representative group in the north of Mali! It's crazy! It's like the domination of a minority on the majority. It's not about justice. We are supposed to live together, why do you want to take this part and say, "This part is for us, because we, my grandfather was there, and the father of my grandfather was there." But my grandfather was there too! And the grandfather of my other neighbor was there too! All were together all the time. So when they say that it was the French people that put us together, it's not true! If it's true, show me the empire of the Tuareg in the north of Mali. It doesn't exist. Even this Azawad doesn't exist; it's just an idea, a conception that we call the Azawad. But there's not administration who existed with the name of Azawad.
B.E.: Where were the Tuareg in the time of Sunjata, in the 13th century?
A.: They were in the north, they were traveling.
B.E.: Nomads, like today.
A.: Yes. They were there, in Algeria, everywhere. They were part of Mande, but they were in the north, more close to Algeria, Libya, Niger…
B.E.: And this was always the beautiful thing about Mande, is that everybody worked together and had their different roles. It was multi-ethnic, it wasn't about one ethnic group.
A.: It was never about one. And even in the history of Mali, the Empire of Mande, the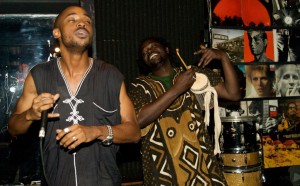 time of Sunjata, you will see that never was never, the political administration, the organization, about: you are Fulani, you are Bamara, so you have to be in charge of this part of the country. No! We are just all Malian, and we do things for the country. But, you see, some people are trying to transform a lie into historical truth. But it's not truth. It's crazy, and it's very easy to see it!
You take a book, if you want to talk about Mali, and you ask a specialist. Because sometimes I look at the TV and I go crazy because people come and say 'Yeah, I'm a specialist of Africa.' How can you be a specialist of all Africa? It's not a village, it's a continent, man! Maybe you are a specialist about the Mande music, about the Mande history, the history of the Bamana, and then you have the information. So if you are a specialist of Africa, or Mande, you are supposed to know the different kingdoms that existed in Mali, and how things grew up. And also, to say that it's the responsibility of France, it's a way to them to say to France, 'It's your fault, you have to fix it!' To make them feel guilty; it's a weapon. But everybody knows the truth.
And there is also this problem of the people who were kidnapped in the north. It's the reason why, I don't know if it's true, but a lot of people think that France was cool with those [Islamist] guys because they wanted to get the people back. Because these people tell France, "We can help you get your people back.' It's like a kind of political deal. So, can you understand that the world can accept the dictatorship of a little minority? And it's not about a war between the Tuareg and the rest of the Mali. That is not true. Because, the people of the MNLA are not recognized by the Tuareg of Mali. I said, in an interview, if MNLA think they are in the right, they have to make an election, a vote, just vote with the Tuareg, the Tuareg Malians. They will lose. If they want to try it, I ask them to do it! I know this. One part of my family is Tuareg. I have Tuareg cousin, and aunts and uncles who are Tuareg. I come from the north of Mali…
B.E.: That's right, this is your home.
A.: Exactly, so it's crazy to try to tell these kinds of lies and divide the country. There is no problem between Malians and other Malians who are Tuareg. There is problem between the political officials, because all Malians have the feeling that we are abandoned by those responsible.
B.E.: In the government.
A.: Yeah, the government. Everybody has this feeling around the country, but in the north, the weather, the conditions are harder than in the south, and maybe there, people can use this rage to do bad things for their own business and not for the community. That is one reason. And also, it's always a question of communication, of talking to the people because if you let people lose hope, they can do whatever. But let's be clear. The MNLA is not the Tuareg. That's very important for everybody to know that.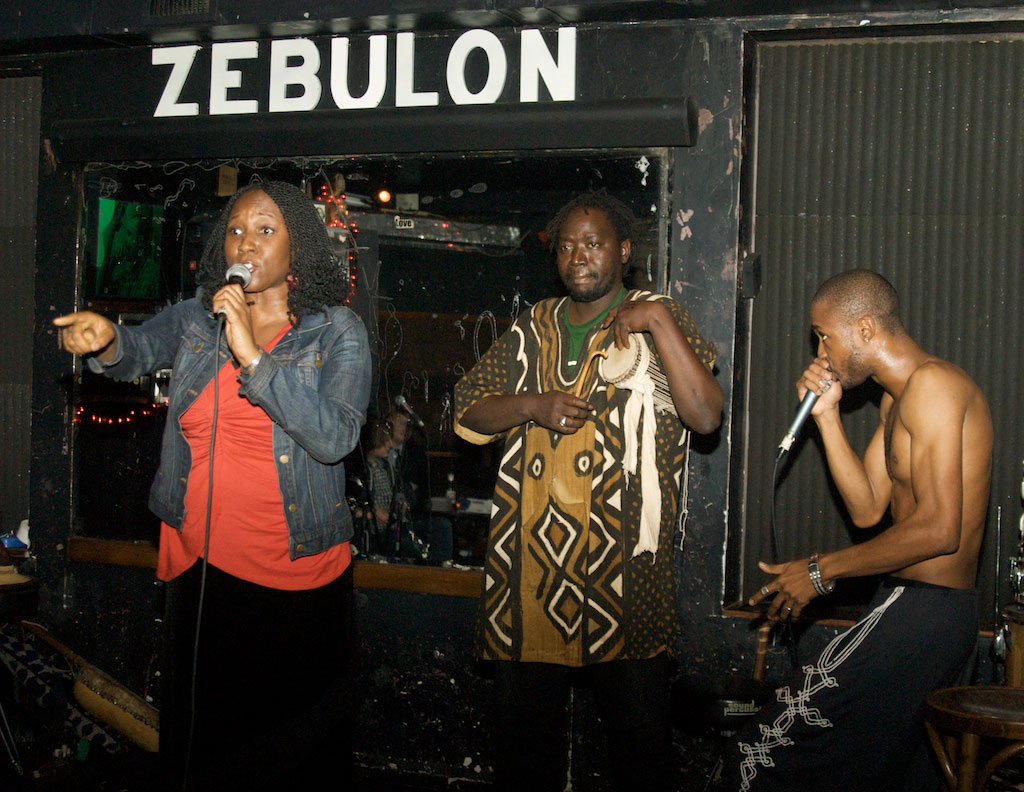 B.E.: We've talked about the problem of the government, and we've talked about the problem of the MNLA, and then on top of that…Okay, the kidnappings: the way I understand that goes back some years. In fact, ten years ago I was sitting with Salif Keita, and he was telling me, he was very worried about people coming from Saudi Arabia and preaching against art and music. He said, "There's a mosque near my house and they're preaching that music has to be banned." And then we would hear that the Americans were training people, sending them into the north of Mali, training them how to deal with these terrorists that were coming in. And they're doing these kidnappings, and they're getting a lot of money, and it's not showing up in the newspapers, so people don't really know about it.
A.: Exactly.
B.E.: So we know that there's been an outside outside extremist organization, be it AQIM or another of these shadowy organizations who have interfered, just as they are in the whole region, spreading a very fundamentalist, radical Islam. So this is another piece of the puzzle. And it seems like, once the rebellion started, these were the people who were able to actually master the game. They ended up in charge. That's why you had Sharia law and people banning music and cutting off hands and all this crazy stuff. That was because of them, right? That wasn't the government, that wasn't the MNLA, right?
A.: It's not directly because of the government, but the government has its own responsibilities. How can you accept that people come in the country like that? Because, as you say, this start something like 15, 16 years, they come one by one, coming in the north, next to Gao. They come to talk. But when they talk about "you don't have to make music," limiting the freedom of people, for Malians, it's a joke! So for us, it's not serious. But the government is supposed to know how serious this kind of menace this kind of thing can be for this country.
B.E.: Were you surprised at how serious it was once this all happened?
A.: No, last year I wasn't surprised. But 15, 16 years ago, yeah, it was like a joke. Are you crazy? You are talking to Malian people!
B.E.: But you saw this was becoming a more serious problem is recent years.
A.: Yeah. Since 4 or 5 years, we have known that things are more serious because they arrived in Bamako. And you can see in some streets, sometimes they come and they talk very bad about musicians, music, going to parties and a lot of things. So you see that they took, little by little, more space, more place. They began to multiply with more and more pressure, less and less tolerance. And you could see that.
But the aggression against the people? I have heard people say sometimes, "Yeah, it's not the MNLA, it's the extremists who come." No, I'm sorry. I can't say that it's not MNLA, because if I say that, then I have to have proof. But I can say, it's not only MNLA, because we know that members from the MNLA, the AQIM, they're all switching and mixing into the group.
B.E.: And, then, on top of all that, you have the drug trade. You have people who are just about money, and I understand that people from one group will pose as people from the other. Maybe they really care about the drug trade, but they pose as islamists so they can get control of the situation, or they pose as Tuareg rebels. But what they really care about is protecting their drug route. So it all becomes very complicated, and very hard to read.
A.: Yeah, the problem is that the MNLA joined to the other movement in the moment to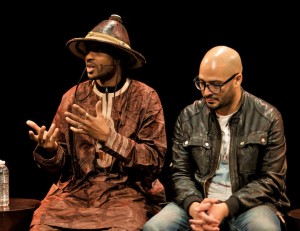 have an alliance, the MNLA with the others. And after, when they saw that it's not a good strategy, because the international opinion is negative--this is not possible, we can't support the MNLA if they work with such kind of extremist terrorists—so, a few days later, they separated.
B.E.: Yeah, I read about that.
A.: Because, the other group is bigger than the MNLA, and it eats them. So they saw that they lost something. When you are fighting for an idea, a cause, something that you really think about, you can't really make these kinds of deals with people who are just trying to kill or something else. It's just a strategy of opportunity. When you are trying to defend a dream, you can't ally yourself with people who have no faith in the law, and no scruples. So this is how the situation mounted. It's just about business. The one are on the drug business, the other are on the alcohol, fuel, whatever…
B.E.: Cigarettes.
A.: Cigarettes. Everybody has his own business, but the violence and the extortion are the same. And now in Mali, we need justice to have peace. Because, as I said in the beginning that war can't solve things, it's just to fix today things. But tomorrow problems is just about to fix it, we need justice. Because when you see your mom or your dad die, and after you see the guy who did it free to do…can you imagine how you feel? There are 10-year-old girls in the north who have been violated, and the ones who did it say it was someone else.
Human Rights Watch has made dossiers on this. But to apply justice, you have to find the people responsible. If the MNLA says, "We have done nothing," well, it is easy to verify. If they have done something, we can know. If AQIM did it, okay. But we need peace in Mali, and the only way to get peace is to use justice for everybody.
B.E.: Let me ask you this before we end. As an artist, how are you responding? You told me about your song about unity, but what other kinds of things are you talking about in the new pieces that you're writing now?
A.: I released my last album in January, Afrique Soleil Nouveau, 'The New Sun of Africa.' So I talk about unity, I talk about peace, but also, there's a song about having fun in everyday life. Even if it's not easy today, we have to keep on dreaming, to keep on living, because we cannot accept to live in terror. The reason why I was talking, even when I was in Mali, because I live in Mali, and they called me three times to menace me, to say, "You talk too much."
B.E.: Who called you?
A.: I think it was people next to the military people, because of the problem in the north of Mali, people forget that we have a dictatorship in Bamako, in Mali right now. Because even if we have a kind of president, he's not a real president, because he has no power. He was attacked in the presidential palace. It's not normal. He is here, and he is trying to do some things, but the military people are in every ministry in Mali, everywhere. At the airport; if you talk too much, they catch you. So we are actually not in democracy in Mali right now.
B.E.: No, not anymore.
A.: People don't talk about that. And we need to talk about that. Because, we can't allow the problems in the north to make us forget, to make a diversion. We have a big problem in the south, in the democracy in Mali. Today, there is not democracy in Mali.
B.E.: They are talking about elections, but what kind of elections?
A.: For me, it's a joke. I'm not even sure they will do a fake election.
B.E.: You think they won't even bother?
A.: Yeah, they will say, "Ah, we can't do that. We don't have the conditions to make a normal election. So, let's choose another day."
B.E.: So there's no easy solution here, it's just going to take a long time.
A.: No, the solution is very easy, for me, but I don't like this solution. For me, it's what I'm fighting against, because I want Mali, Africa, to be master of it's destiny. We have to be responsible, responsible for our destiny. But now, the problem is, we did bad things for too many years to solve it right now in few days. Now the Malian people and the Malian institutions need protection. Because part of the national army are kidnapping the people and institutions in Mali. That is very crazy! It's dangerous. They are supposed to protect the nation, and not to terrorize us. Because it is a kind of terrorism. We have more than 22 or 23 people who are disappeared, people who are in the army. And people know that they killed them. It's crazy!
B.E.: These were the ones that ATT was supporting, right?
A.: It's not about ATT supporting or not, because that is an excuse, the reason that they use. It's one part of the army that did the coup d'etat, and another one says, "No, we want to stop it." And they say everything is normal, even if you are not okay with the president. We are in a democracy.
B.E.: So it's not about ATT, it's about standing on principal of democracy.
A.: Exactly! Even if they are for ATT and they protect the democracy, because it's not normal to do a coup d'etat, even if you are not happy. So now, they are trying to kill all the people who were against the coup d'etat and know about how things happened. They are killing in the darkness, in the shadow, and it's crazy. So we need protection to make things change in Mali.
B.E.: Thank you so much, Amkoullel. You've really helped me understand this better. It's a sad situation, but solutions start with understanding.
A.: Yes. Thank you. Good to see you again.