Field Report: Festival Sur le Niger 2015
Tom Pryor is a music journalist and former EIC of Nat Geo Music at National Geographic. His work has appeared in
Billboard
,
MTV Online
,
Songlines
magazine and others.
Last month I traded New York's deep freeze for a chance to see some of Mali's brightest stars—including Amadou and Mariam, Fatoumata Diawara and Oumou Sangaré—perform live on the balmy banks of the Niger River. The occasion was Mali's Festival Sur le Niger, an annual five-day celebration of music and culture that transforms the dusty, laid-back river town of Ségou into a buzzing regional arts hub. Now in its 11th year, the festival has grown into one of the largest live music events in West Africa, attracting an estimated audience of over 35,000 people, as well as some of the biggest names in Malian music today. [caption id="attachment_22297" align="aligncenter" width="606"]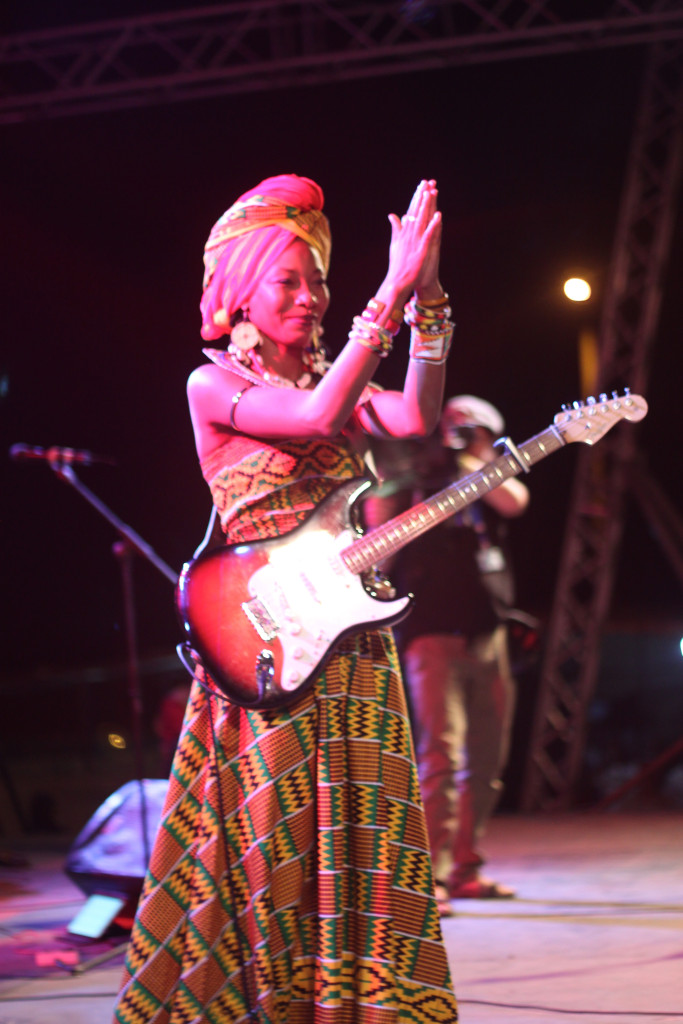 Fatoumata Diawara[/caption] The Festival Sur Le Niger was originally conceived by cultural entrepreneur Mamou Daffé as a way to develop his hometown by showcasing local talent—musical and otherwise. Over the years the festival has grown to include an academic conference (this year's theme: "Culture and Employment: Which Cultural Industry for Africa?"), multiple showcases for traditional crafts and contemporary visual arts, including a gallery space, three stages for music, dance and theater, and the Kôrè Cultural Center—a dedicated arts space that's open year round as a resource for local and visiting artists. As the festival's size and stature grew, so did its profile: Salif Keita, Rokia Traore, Ali Farka Touré, Toumani Diabaté and just about every other Malian musical legend you can think of have graced the festival's main stage at one time or another. The international buzz has grown, too, and the festival attracted over a thousand visitors from Europe and North America at its peak in 2011 and 2012. [caption id="attachment_22298" align="aligncenter" width="616"]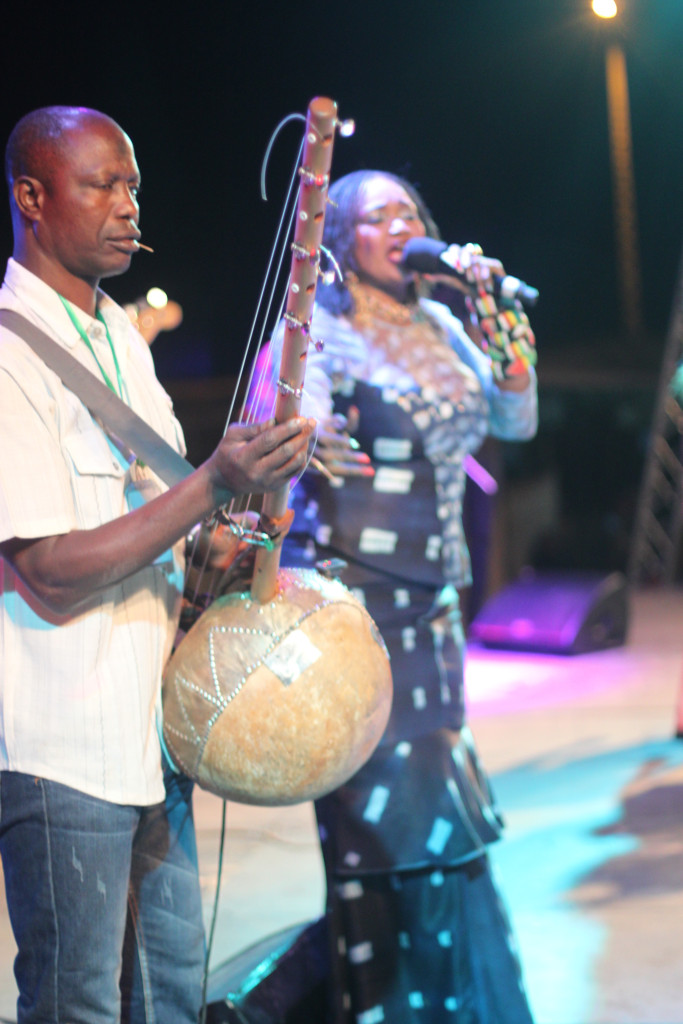 Oumou Sangare[/caption] As a brief aside, I was at the 2012 festival, and while there were rumblings of rebellion in the north, few people could foresee the troubles that the following months would bring. The fall of Gao, Timbuktu, Kidal and much of northern Mali to separatist and Islamist rebels, the military coup d'etat that would depose then-President Amadou Toumani Touré, and the French military intervention to retake the north were all on the horizon in February 2012. The festival itself, however, went off without a hitch—albeit with modification.
Its continued existence has become a symbol of hope, peace, national reconciliation and normalcy for many Malians.
While other festivals might've folded during a time of national crisis, the Festival Sur le Niger pivoted. They canceled their music programming and brought their cultural colloquium to the fore with a "cultures in resistance for peace and reconciliation"-focused iteration. It was a risky move but it paid off—keeping the festival's profile alive for the academic and public policy communities, while allowing it to re-find its footing in more uncertain times. As Mali slowly returns to stability—though the situation in the north is far from resolved, and there seemed to be far fewer Touareg attendees than in 2012—the Festival Sur Le Niger has taken on an added significance. Its continued existence has become a symbol of hope, peace, national reconciliation and normalcy for many Malians. And under the thoughtful directorship of Mamou Daffé, the festival has largely lived up to these challenges—not least as one of the hosts of the annual "Cultural Caravan for Peace," conceived by Festival au Désert director Manny Ansar. Due to the continuing instability in Timbuktu, the Festival in the Desert was reimagined in 2014 as a traveling caravan, making stops at various festivals and towns throughout the country and beyond, including Morocco's Taragalte festival and the Festival Sur le Niger. This year's Cultural Caravan for Peace hit Ségou on Feb. 4, with a lineup that included Touareg fusion band Generation Taragalte, Malian
takamba
legends Super Onze de Gao, Bwa guitar rocker Ben Zabo and the Malikanw Band ("The Voices of Mali"), a supergroup of sorts organized by the Festival in the Desert team that includes players from all major cultural groups of Mali, including Kidal's guitar hero Ahmed Ag Kaedi and Segou's own Zoumana Tereta on violin. Still, that impressive roster was just an appetizer for the full Festival Sur le Niger, which officially kicked off the following night at the main stage—a huge floating affair, built on a pontoon that sits directly on the banks of the Niger River. Dubbed the Scène Da Monzon, this stage sits opposite a large concrete quay that slopes down to the broad, muddy riverbank, doubling nicely as an amphitheater and dance floor (with extra room for those brave souls who want to dance in the river itself). When the sun goes down and the breeze begins to pick up from the river, there's nothing quite like it. [caption id="attachment_22284" align="aligncenter" width="622"]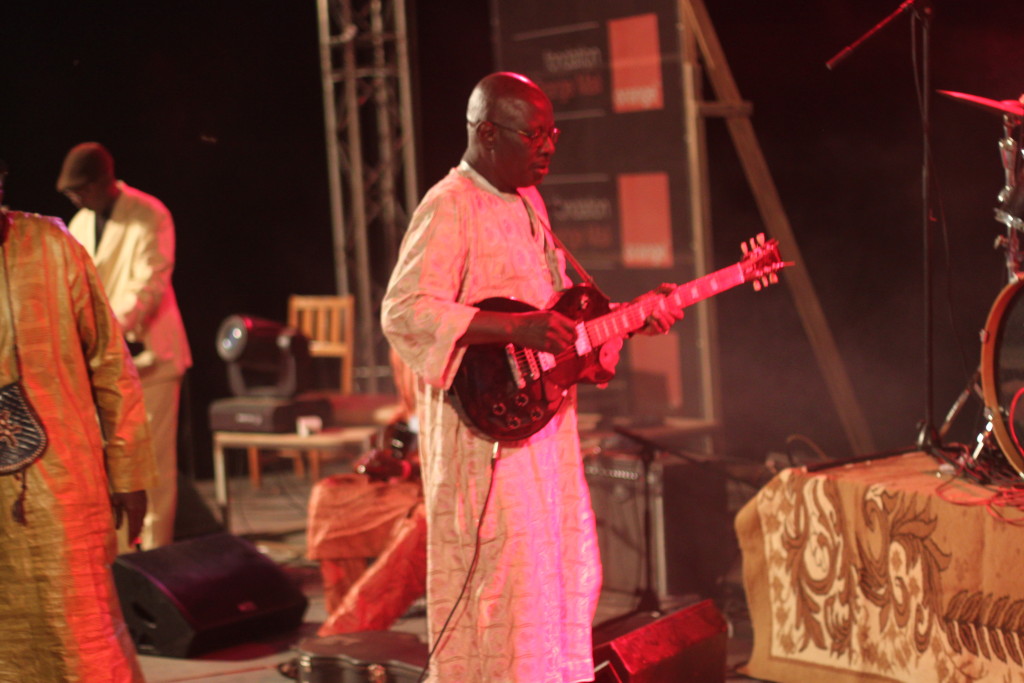 Super Biton's Mama Cissoko[/caption] The first evening on the main stage was a mixed bag of experimental fusions, Malian pop and traditional sounds. Local heroes Super Biton—a.k.a. Super Biton National de Ségou, who helped put their town on the musical map back in the 1970s—proved they still had what it takes to move contemporary audiences with their guitar-driven sound and the elegant fretwork of original soloist Mama Sissoko. [caption id="attachment_22285" align="aligncenter" width="616"]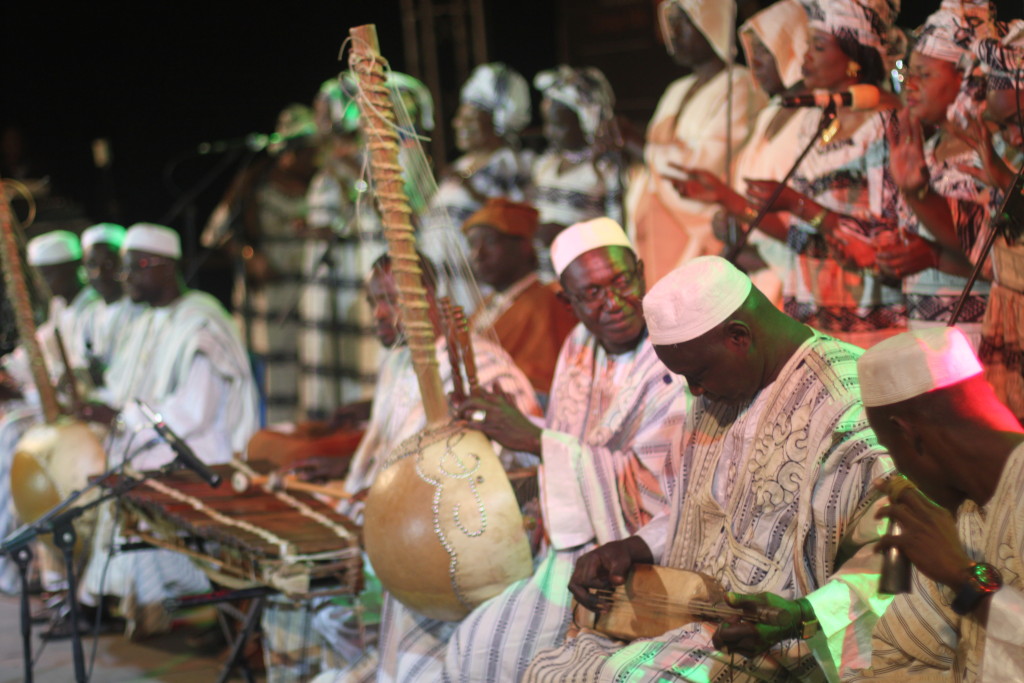 L'Ensemble Instrumental du Mali[/caption] Following Super Biton, the superb 20-plus piece traditional L'Ensemble Instrumental du Mali brought the full weight and majesty of the Malian classical repertoire to bear. Founded in 1961, just a year after Mali's independence, the ensemble only tours outside of Mali occasionally, so seeing these masters of the kora, balafon, ngoni, percussion, kamel ngoni and other traditional instruments performing live in their own country was worth the price of admission alone. [caption id="attachment_22286" align="aligncenter" width="601"]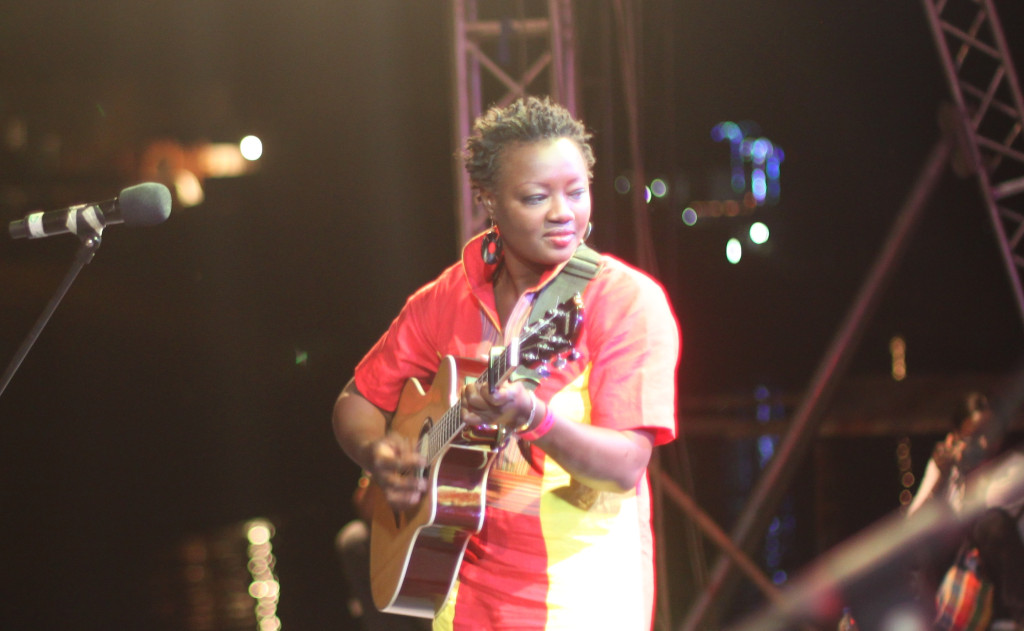 Miriam Koné[/caption] Two other acts from that first night, singer-songwriter Miriam Koné and a collaboration between Segouvian balafon great Neba Solo and Netherlands-based DJ MPS pilot, are notable for showcasing recent works recorded at the Kore Center's in-house studio. Koné in particular has made great use of the state-of-the-art recording facilities, recording her first album there after winning the Les Talents de la Cité contest at the 2012 festival. The album her victory produced,
Dakan
, propelled Koné to one of the finalist slots at Radio France International's Prix Découvertes contest in 2013. [caption id="attachment_22287" align="aligncenter" width="611"]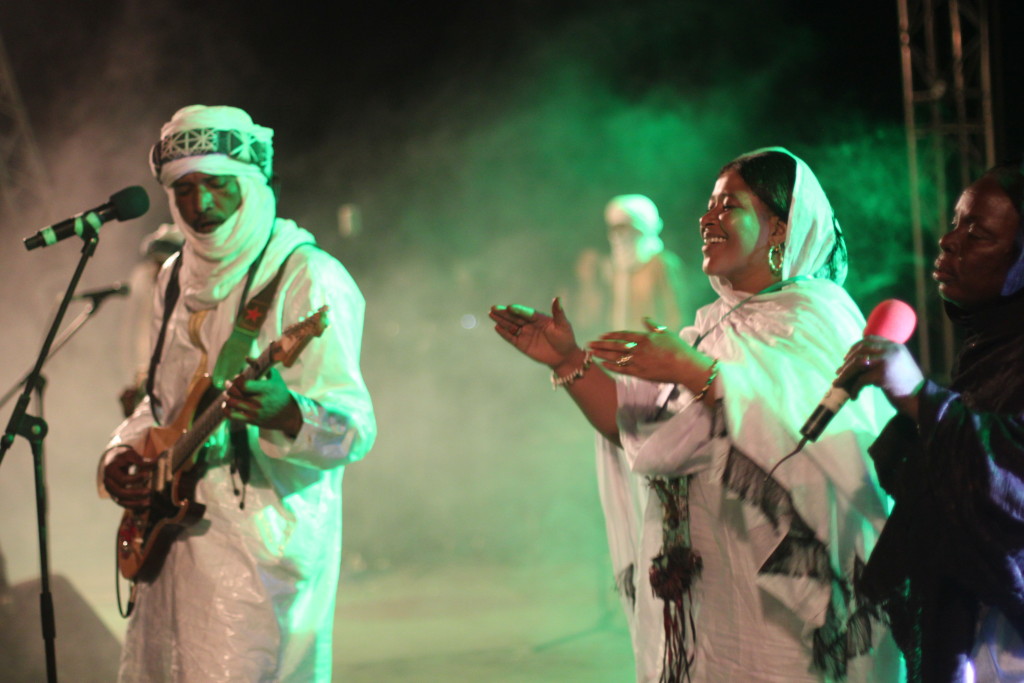 Amanar de Kidal[/caption] Also on hand for the festival's kickoff were Touareg desert rockers Amanar de Kidal, who featured Ahmed Ag Kaedi, who this time played the undiluted guitar-rock style of Kidal with his own band. [caption id="attachment_22288" align="aligncenter" width="640"]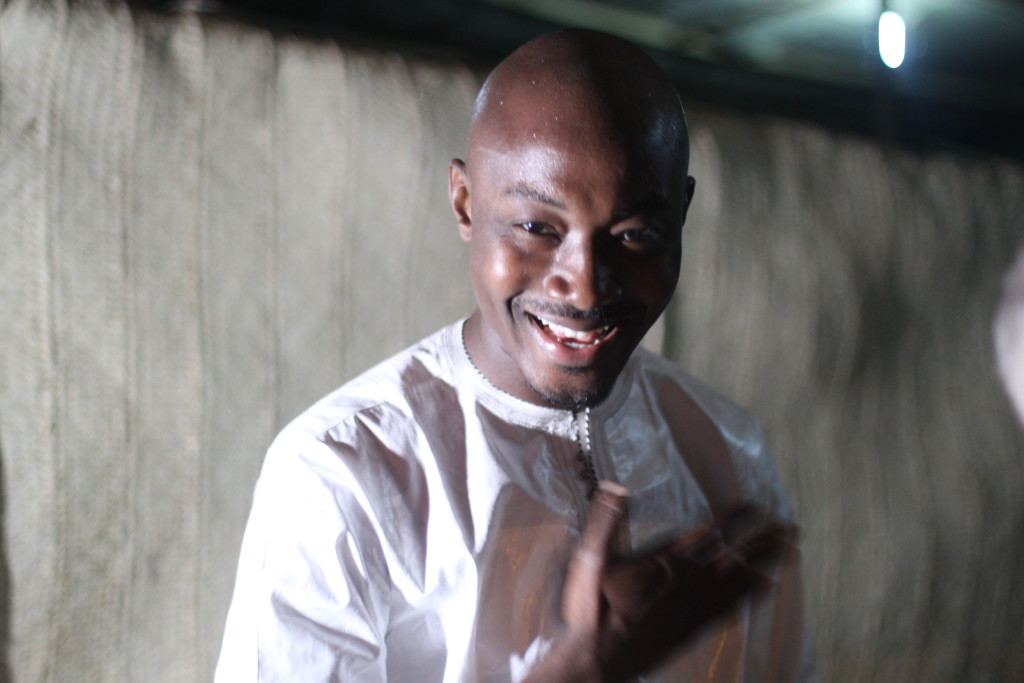 Penzy, backstage.[/caption] The following night, Friday, presented a mix of hip-hop, up-and-coming talent and major stars. Malian rapper Penzy lit up the crowd with energetic singalong hits, while visiting Senegalese hip-hop stars Ker Gui prowled the stage like a pair of restless lions, striking classic B-boy poses for appreciative fans. The festival's official hip-hop showcases took place at the smaller festival village stage, with an expanded lineup that included AK 45, Faxi DJA Original, Tal B, Mylmo, Iba One and more. [caption id="attachment_22289" align="aligncenter" width="604"]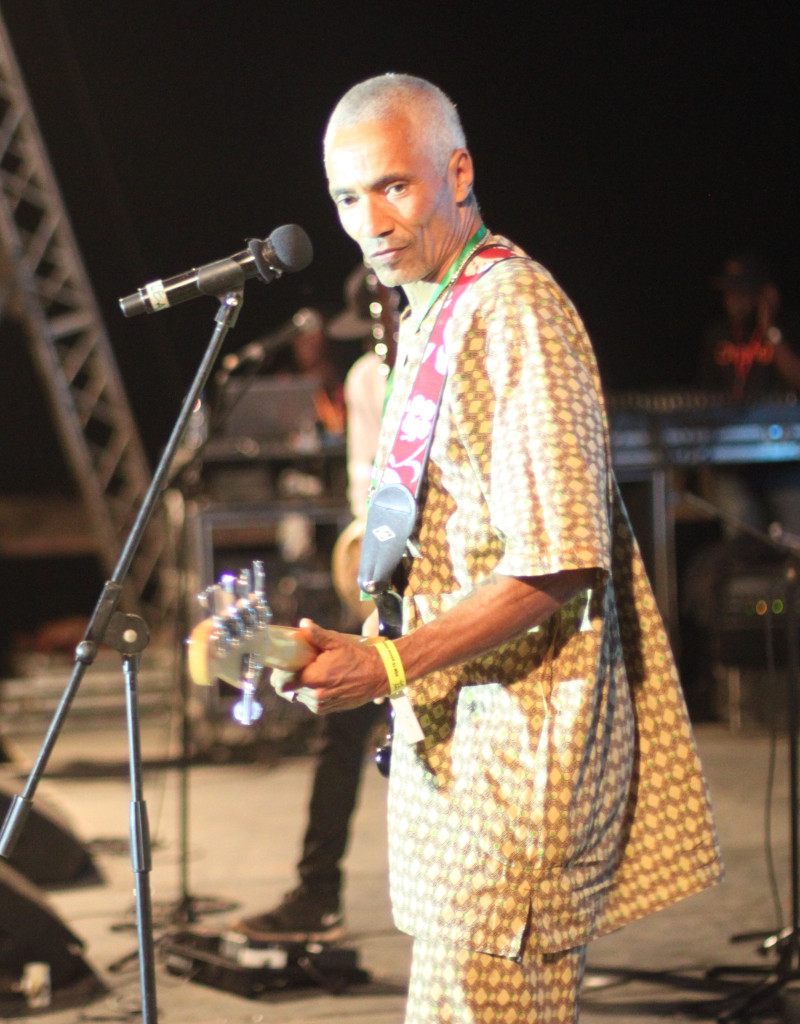 Moussa Diallo[/caption] Veteran bassist Moussa Diallo's Denmark-based ensemble brought a fusion of jazz, funk and traditional Manding-based sounds to the table next. Diallo has spent over a decade traveling and recording in Mali, and his rapport with the music was apparent. [caption id="attachment_22290" align="aligncenter" width="606"]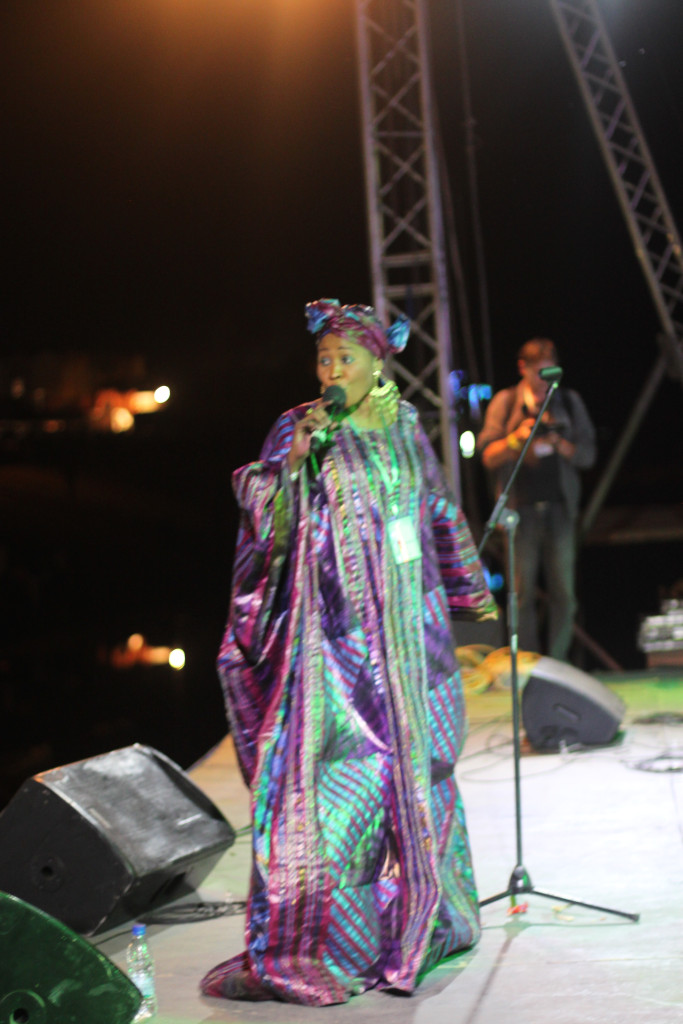 Safi Diabate[/caption] The powerhouse singer Safi Diabate absolutely electrified the flagging audience with her soaring vocals. Balafon master Abdoulaye Diabate (no relation) and his band boasted a devastating twin-balafon attack, reminding everyone exactly why Malians love their own music above all else. [caption id="attachment_22291" align="aligncenter" width="562"]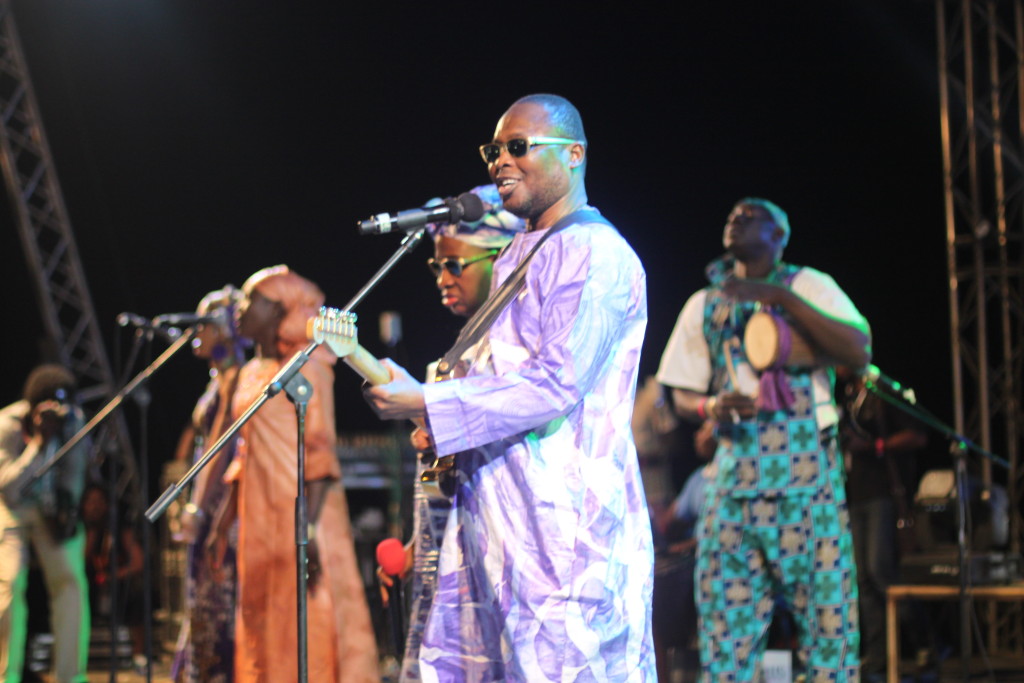 Amadou and Mariam[/caption] The evening's closer was beloved husband and wife duo Amadou and Mariam, who held the crowd rapt with a solid set of some of their greatest hits—most notably a scorching version of "Diamanche à Bamako," which now seems like a defiant elegy for a gentler, more peaceful time. The audience sang along to every word. By Saturday, the festival was pulling out the big guns: a triple attack of Bassekou Kouyaté, Fatoumata Diawara and Oumou Sangaré, supported by hot new acts and old festival favorites. [caption id="attachment_22292" align="aligncenter" width="599"]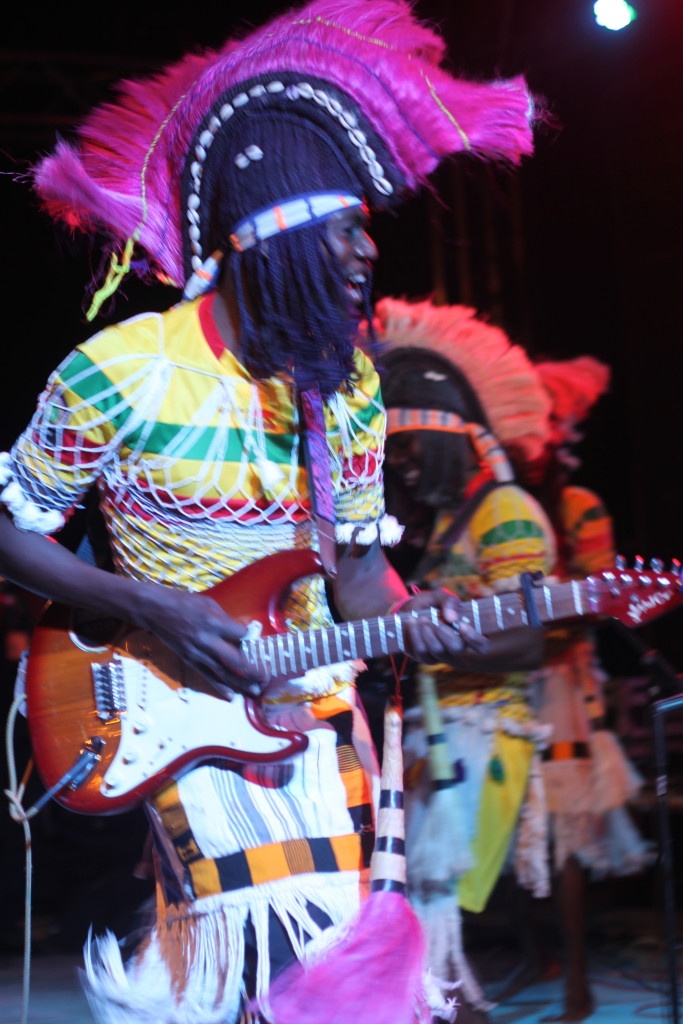 Ben Zabo[/caption] Garbed in a striking Bwa headdress, Ben Zabo opened the evening with an athletic set of guitar-and-balafon rockers that recalled the heyday of Mali's Super Djata Band. His blazing set was a hard act to follow, but Hamid Foufana was game and turned in a serviceable set of more traditional Malian pop. Rapper Soumy was a tongue-twisting, reggae-inflected crowd-pleaser, and his combination of acrobatic dancers and a live band was a winner. [caption id="attachment_22293" align="aligncenter" width="610"]
Fatoumata and Bassekou[/caption] Fatoumata Diawara's set was a bit of a nail-biter, her first solo appearance in Mali. She's based in Europe and better known there than at home. But her Wassoulou-inflected style and commanding stage presence were solid enough to win over the crowd. N'goni master Bassekou Kouyaté followed with a gorgeous set of traditional sounds that had the audience on their feet the whole time. And when Diawara returned to the stage to join Kouyaté for encores, she cemented her position as a memorable festival favorite. [caption id="attachment_22294" align="aligncenter" width="640"]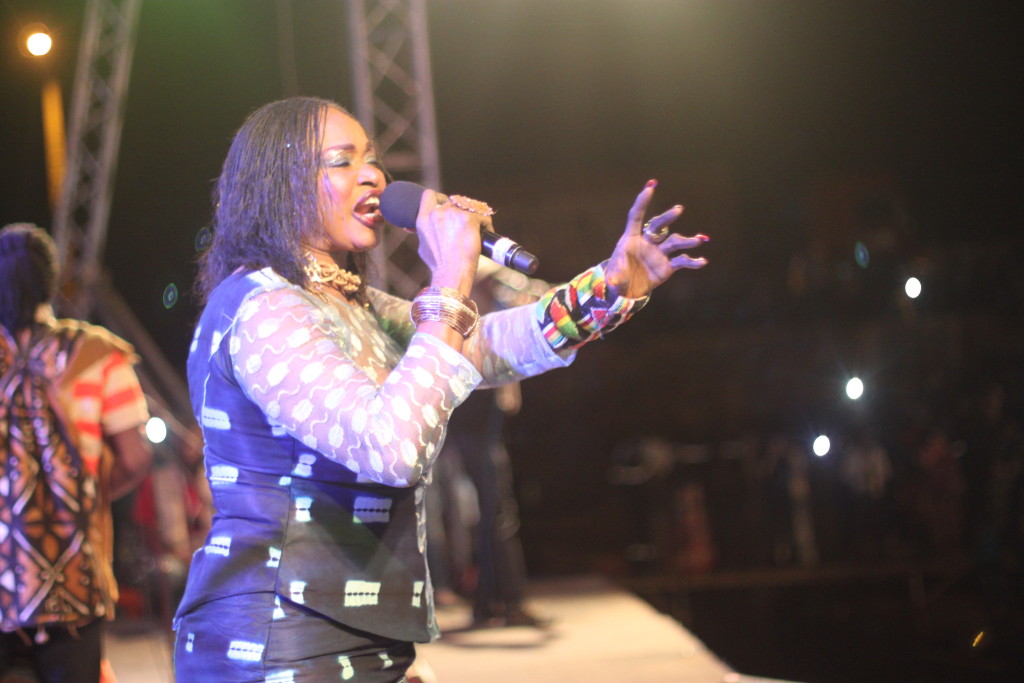 Oumou Sangaré[/caption] By the time headliner Oumou Sangaré finally took the stage to close out the festival, it was nearly 2:30 a.m., and the crowd was clearly the worse for wear. But Sangaré is a force to be reckoned with, and she would not be denied. The veteran Wassoulou singer brought things back to life with the sheer power of her voice and a truncated, but powerful set of favorites old and new. Again the crowd sang along with every syllable. It was one of those magical moments that can only happen on a singer's home turf. Never mind that she was visiting from Bamako—this audience belonged to her. And it reminded every tired festival-goer why it's always worth the trouble to see African artists under African skies.
Links
:
Festival Sur Le Niger
Festival au Desert/ Caravan for Peace
Taragalte Festival