Field Report: 2017 Festival International de Jazz de Montreal
Feature photo above: A-WA by David Kaufman
The 38
th
edition of the
Festival International de Jazz de Montreal
took place in the historic Quebec city from June 28 to July 7, with 10 official indoor venues and six free outdoor stages around the Quartier des Spectacles. There was a lot of emphasis this year on Canadian and Montreal pride, as the city is celebrating its 375
th
anniversary, and Canada its 150
th
this year. In addition, the festival extended into several nightclubs around town, as well as film theaters screening jazz-based documentaries, including one on John Coltrane, another on guitarist Bill Frisell (who also played at the festival), and a short, animated film on the life of Montreal pianist Oscar Peterson. While the focus is always on jazz, the festival also offers plenty of world music, as well as blues, rock, hip-hop and other acts. [caption id="attachment_37532" align="aligncenter" width="640"]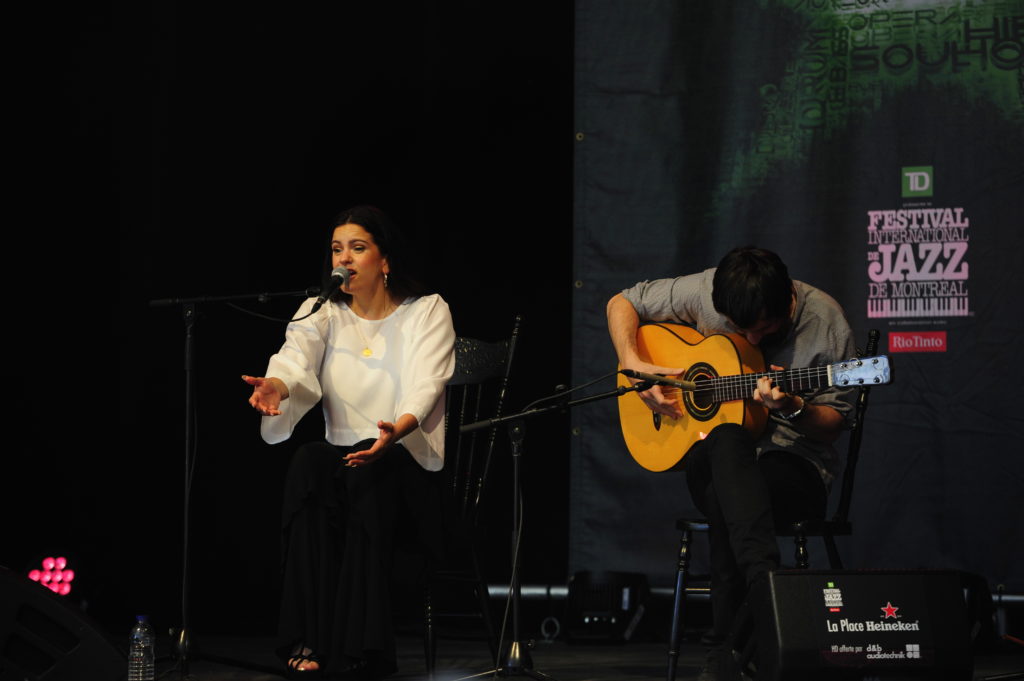 Rosalia and guitarist Raül Refree. Photo by Victor Diaz Lamich.[/caption] This year's festival had a rich and diverse mix of world artists, both old and new. The act that most impressed us was a young
flamenco
 duo, singer Rosalía and guitarist Raül Refree. Hailing from Barcelona, they have quickly attained fame in Spain and have brought a new generation of Spaniards to fall in love with flamenco. The couple played several outdoor free shows as well as opening for Buika (
see our interview with Buika
), who was herself honored with the Antonio Carlos Jobim Award at the festival. Rosalía's voice is both ethereal and earthy, channeling from the depths of the centuries' old Andalusian mountains through her deceivingly delicate frame. While outdoor festival crowds are usually difficult to give their full attention to the music, when Rosalía and Raül played, everyone was silenced and eyes riveted on them.. https://www.youtube.com/watch?v=6O192OAzMH8 [caption id="attachment_37530" align="aligncenter" width="579"]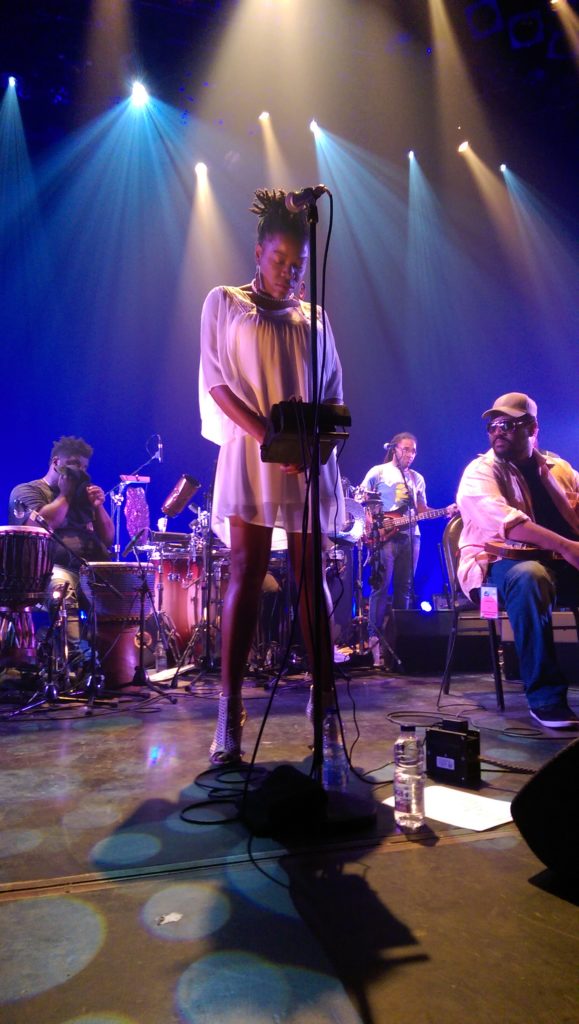 Bokanté. Photo by Ron Deutsch.[/caption] Bokanté, a recently formed ensemble (this was their 14
th
live performance ever), was another act that completely knocked us out and had the crowd at Club Soda grooving nonstop. The group features singer/songwriter Malika Tirolien, who grew up on the island of Guadeloupe, but makes her home in Montreal. The word
bokanté
, according to the band's website, means "exchange" in Creole, Tirolien's mother tongue. The rest of the group includes Snarky Puppy guitarists Michael League, Chris McQueen, and Bob Lanzetti, as well as an international trio of percussionists and fourth generation sacred pedal/lap steel guitarist Roosevelt Collier. "Unity was paramount in the formation of this group," guitarist League said in the band's press release. "Though the ensemble is multilingual, multicultural and multigenerational, we all feel connected as musicians and people. And in combining our different accents I feel that there is a strangely common and poignant sound, one that can reach and relate to listeners around the world." Indeed, their music draws from a deep gumbo of music styles and sounds. Their debut album,
Strange Circles
, was released last month on the Ground Up Music label. https://www.youtube.com/watch?v=nWYq5XGdVNY Another artist who came as a complete surprise to us was Calais-based Cameroonian musician/singer Blick Bassy. Though he gained international recognition in 2015 when his song "Kiki" was used in an Apple iPhone advertisement, he's not as well known here as he is in Europe. Bassy also spent many years with the award-winning jazz fusion ensemble Macase before going solo. Working in a very eclectic and whimsical trio--Bassy on banjo and guitar, cellist Clément Petit and trombone/synthesizer player Fidel Fourneyron—he sings in Bassa, one of the endangered Bantu languages of Africa. The show was billed as a "tribute of Skip James," which was unfortunately misleading, suggesting you might hear some of the great blues singer's songs. Blassy would have been better served if it had been billed rather as a homage to James. He did speak of how a photo of James in his studio inspired his songwriting. While his music is clearly a recognizable voice of Africa, his sound is something truly original. https://www.youtube.com/watch?v=ghT1vE_mZvA [caption id="attachment_37531" align="aligncenter" width="640"]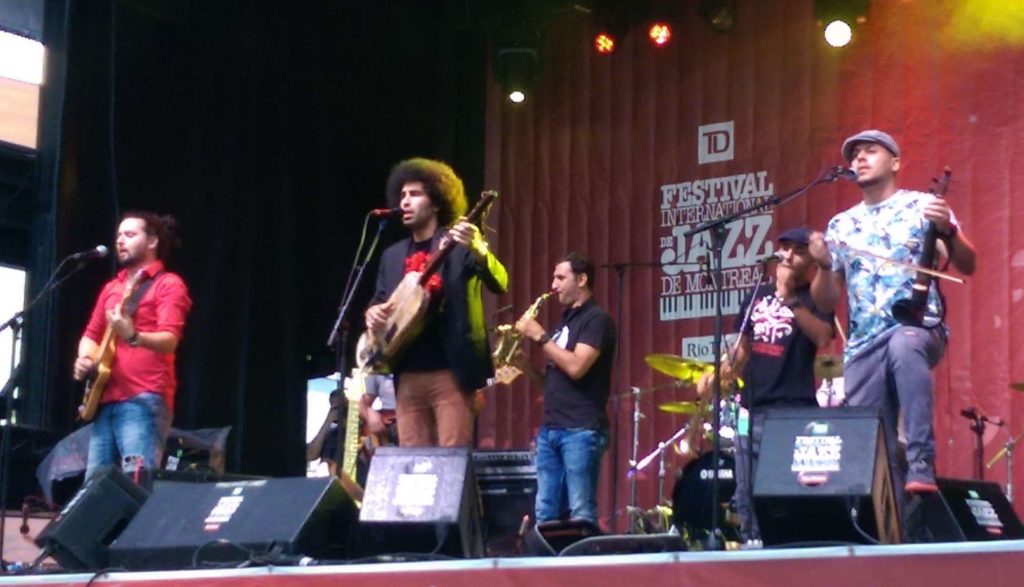 Djmawi Africa. Photo by Ron Deutsch.[/caption] While it's impossible to catch every act at the Montreal Jazz Festival that you'd like to see, other stellar international performers we did catch included Brazilian Afrobeat-infused collective Bixiga 70 and Paris-based Brazilian singer/songwriter Flavia Coelho (interviews with both are forthcoming); Argentine harmonica virtuoso Franco Luciani; Ghana's king of highlife music,
Pat Thomas
and his Kwashibu Area Band; A-WA, the stunning Israeli sisters who have repurposed their ancestors' Yemeni chants through modern rhythms;
Djmawi Africa
, an eight-piece outfit from Algeria which fuses everything from Gnawa to reggae and rock into their very danceable sound; Grammy-nominated Angolan singer/percussionist Vivalda Dula; and Puerto Rican percussion group
ÌF
É, who take traditional Yoruba chants and mix them with electronic beats to create a magical blend. https://soundcloud.com/afropop-worldwide/sets/2017-festival-international-de There were very special performances featuring grandchildren of two of the greatest South American composers, coincidentally both named Daniel. Daniel Jobim, grandson of
bossa nova
composer Antonio Carlos Jobim, shared the stage with jazz guitarist/singer John Pizzarelli, who together delivered an endearing 50
th
anniversary tribute to his grandfather's collaboration with Frank Sinatra. Later that evening, Daniel "Pipi" Piazzolla, grandson to
tango
 great Astor Piazzolla, took the stage with his group Escaladrum, revisiting the collaboration between his grandfather and songwriter Horacio Ferrer, and featured Broadway singer Elena Roger. And speaking of tributes, one of the festival's closing night performers was none other than Afrobeat founder
Tony Allen
, taking a vacation from the sound that made him famous to pay tribute to one of his idols: Art Blakey, founder of the Jazz Messengers. As Allen noted from the stage: "One cannot eat the same food every night. So for now, I'm playing jazz." As for jazzheads at the festival, there was plenty to choose from this year. The Bad Plus held court for three nights with guests such as Indian-American saxophonist Rudresh Mahanthappa and guitarist Kurt Rosenwinkel. Other jazz performers of note include John and Alice Coltrane's son, saxophonist Ravi Coltrane; Japanese pianist Hiromi; the Hudson Project with Jack DeJohnette, John Scofield, John Medeski and Larry Grenadier; and saxophone/flute legend Charles Lloyd. You could also find plenty of other non-jazz music this year, ranging from Bob Dylan to Feist, King Crimson, Buddy Guy with Charlie Musselwhite, Pink Martini, the Thievery Corporation, Ron Sexsmith, Lizz Wright and Melissa Etheridge with Joss Stone. And there was a strong funk and soul vibe going on this year which saw soul singer Charles Bradley; Cory Henry and the Funk Apostles; Spain's retro-soul group the Excitements; Montreal's own Kalmunity Vibe Collective, Urban Science Brass Band and the Brooks; and both the Four Tops and the O'Jays, all played stages during the festival. As you might expect in the times we live in, the festival was not without some political and social statements made by both performers and festival-goers. Several performers spoke of issues dear to them. Bixiga 70 went as far as hanging a hand-painted sign reading "Fora Temer" (Temer Out) in front of their stage, expressing their disgust with current Brazilian president Michel Temer. They told the audience: "We live in a coup in Brazil! Spread the message!" Also, a group of Black Live Matters activists stormed a stage at the festival, shouting "Jazz is black!" They reportedly were seeking "a national black mental health strategy developed with black communities," after the recent killing by Montreal police of a local Haitian man who had a history of mental illness and was facing eviction. Though the festival was bracketed by fits of rain, local and out-of-town festival-goers came out in droves for the entertainment. On one perfect clear evening, perched on a grassy knoll listening to a band, a friend, a Vermont radio DJ let out a big sigh, remarking what keeps him coming here year after year is the chill atmosphere. As if on cue, a young man sitting nearby started to wave his arms animatedly, almost knocking my beer out of my hand. He quickly turned and apologized. He then told us he has been living here for a year, having emigrated from Iran. He pointed to the images of jazz greats on the wall behind us and said with a huge grin, "I know who all those people are in those photos. Dizzy Gillespie, Louis Armstrong, Miles Davis, Billy Holiday. I grew up listening to them in Iran. Such great music. The best music." We all agreed. Next year's Festival International de Jazz de Montreal takes place again from June 28 to July 7, 2018.