Field Report: 33rd Festival International Nuits d'Afrique
Summer in Montreal is always a time to celebrate--mainly that winter won't be back for a few months--but also that it heralds the reoccurrence of the most comprehensive African music festival in North America. This year, the Festival International Nuits d'Afrique took place over 12 days, from July 9-21, and featured over 50 acts from 30 countries, as well as food and clothing stalls, and workshops in percussion and dance.
As festival executive director Suzanne Rousseau noted, the festival continues to grow every year, as Montreal continues to grow. And as Montreal continues to grow, so does the diversity of its population, which the festival tries to reflect in its selection of music from all places touched by the African diaspora. And the city's diverse cultures did come out in force this year – from Guinean duo Banlieuz'Art to Haiti's Tabou Combo, celebrating their 50th year performing – audiences could be heard singing along with songs from their former homes.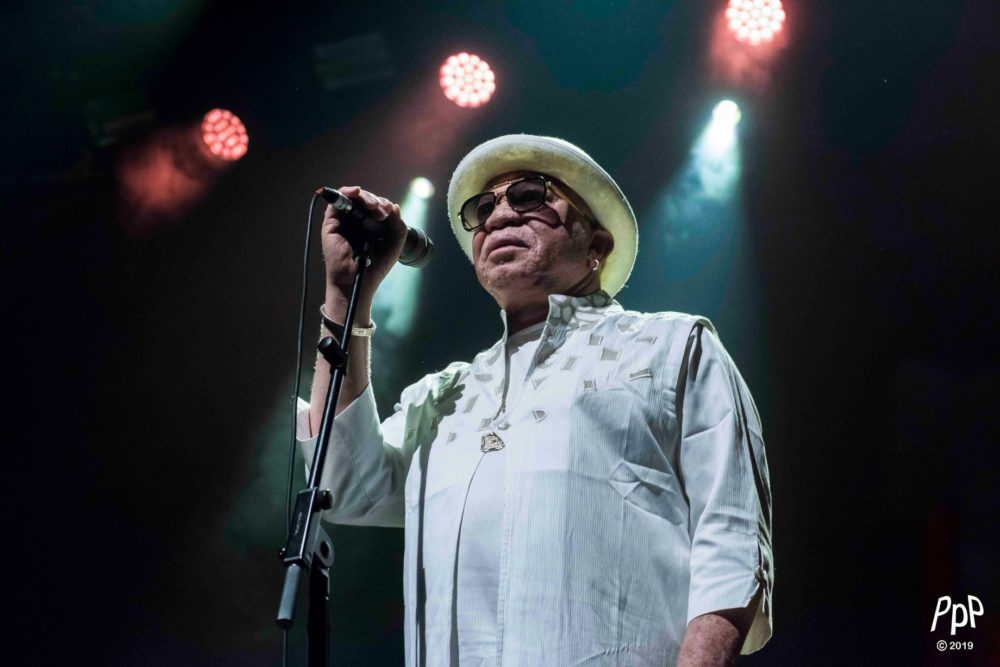 Certainly, the biggest star this year was Mali's Salif Keita, celebrating his 50th year performing and 70th birthday. The M/Telus concert hall was packed with fans going wild for the world music legend who performed both solo acoustic and with a full band.

Women played a big role in the festival this year with fabulous vocal performances from Cape Verdean Elida Almeida, Cameroonian Valerie Ekoume, and Reunion Island's Maya Kamaty (who will be featured in a forthcoming interview). Marema, a guitarist and singer from Senegal, dazzled audiences at her outdoor showcase, as did Brazil's Da Cruz, who lives up to her moniker of the "Brazilian Tina Turner."
Local female acts were also featured, including Djely Tapa (originally from Mali), Lorraine Klaasen (from South Africa) and Joyce N'Sana (from Congo) who all delivered memorable performances. We fell in love with Okan, newcomers on the scene from Toronto by way of Cuba, who also impressed us earlier this year at the Folk Alliance conference.
One act which stood out for us this year was Benin International Musical or "BIM." BIM is a collective of musicians put together as a project by French DJ Hervé Riesen, French musician/producer Jerome Ettinger, the European Broadcast Union of TV and Radio, and Rolling Stone magazine. The group was originally formed in 2014 to help expose the world to the cultural heritage of Benin. Their sound, which they call a mix of "afro, voodoo, hip-hop," is all that and more. They performed in their core formation of seven musicians, singers and rappers, and if they hadn't performed on an outdoor stage, they would have literally brought the house down with their energy. But equally, they would switch to singing a cappella, taking the energy down to cool the audience off between their next high-impact song that had the crowd jumping like mad.

Another act we were very excited to see was EMDE, AKA Mamoutou Dembélé, a Malian griot who recently relocated to Montreal and took our Afropop Prize at this year's Syli d'Or competition in connection with the festival. We will post an extended interview with this accomplished performer shortly.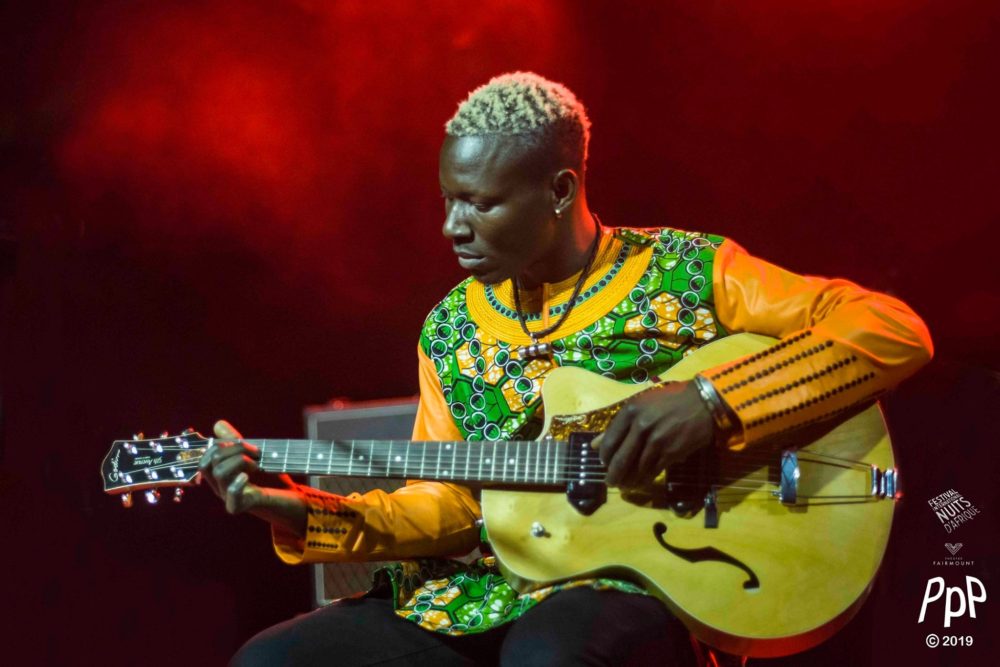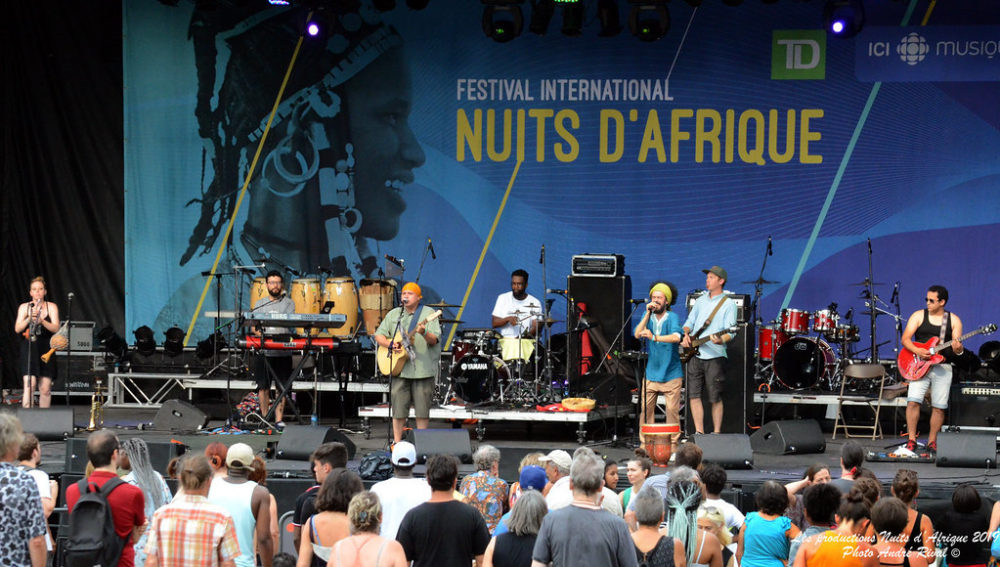 Other notable shows included Bazurto All Stars, who hail from Cartagena with their distinct mix of champeta, the music created by African descendants in Colombia, with rock, hip-hop, reggae, and other Caribbean and Central American music; the always-satisfying Daby Touré, who recently relocated to Montreal; Haitian-Quebec performer Wesli, with whom we grabbed a forthcoming interview; and an interesting cross-cultural project, Shauit & Wachmnhit. Shauit is an award-winning Inuit singer-songwriter who was invited earlier this year to travel to Morocco and collaborate with the seven-member group Wachmnhit. Their reggae-influenced showcase was the excellent end result of their work together.
We can't end without a nod to the amazing Kalabanté, formed in 2007 with Guinean artists and acrobats by Guinean circus performer Yamoussa Bangoura who moved to Montreal originally to work with local circus group Cirque Eloize. They put on a stunning and breathtaking performance, a preview of their new touring show "Tambours Sacrés" (Sacred Drums).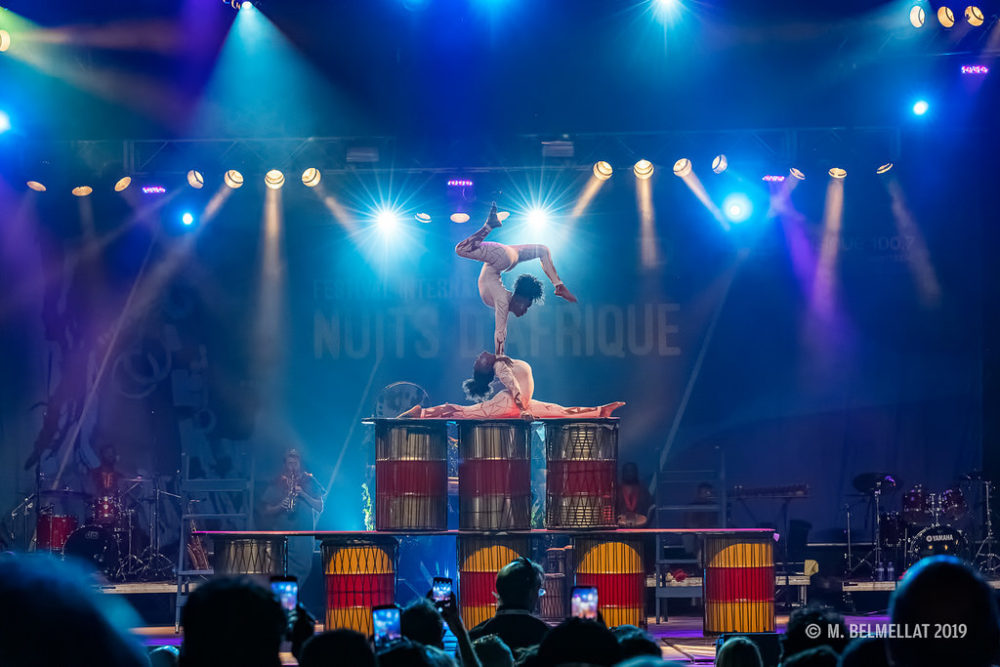 Next year's Festival International Nuits d'Afrique will take place July 7-19, 2020.