Field Report: Cape Verde's Atlantic Music Expo and Kriol Jazz Festival
Bastiaan Springer is a producer for Radio 5 (Netherlands), and a world music journalist for
FRoots
,
Songlines
and MixedWorldMusic.com. Photos by José Sergio
The Cape Verde archipelago of 10 islands and five islets, located some 500 km west of Senegal, is a mere three and a half-hour flight from Fortaleza, Brazil, six hours from Boston and four from Lisbon. Blessed with temperate weather and conveniently located between three continents, Cape Verde is the perfect setting for the new music meeting, the Atlantic Music Expo. Bringing together artists and music professionals from Cape Verde, mainland Africa and both sides of the Atlantic Ocean is the main goal of the Atlantic Music Expo (AME). This inspiring transatlantic cultural exchange is initiated by the Ministry of Culture of Cape Verde and produced by Harmonia (label,distribution and event production) in cooperation with WOMEX by José da Silva, the man who made
Cesaria Evora
a world music superstar. This year's third edition took place April 6-9 in the Cape Verdean capital, Praia, a laid-back city which offers a fascinating mix of Creole culture and ancient Portugese colonial power.
See the full schedule here.
On Cape Verde nobody seems to be in a hurry and locals welcome you with a smile and a warm "Tudu dretu?," meaning How are you? in the Crioulo language spoken there. You answer with "Tudu dretu," (I'm good). For centuries Cape Verde was a transit port for African slaves being shipped to the Americas. Independent since 1975, Cape Verde now aims to become a crossroads for positive exchanges and a central point for spreading the vision of creolization, the heart of the Cape Verdean identity. "We are all Creole " said Mario Lucio Sousa, the charismatic and visionary Minister of Culture of Cape Verde two years ago at the first edition of AME, when he suggested the creation of the African Music Forum. This great initiative to stimulate African music professionals to work together was realized this year with the opening of an office for the African Music Forum in Praia. [caption id="attachment_23233" align="aligncenter" width="640"]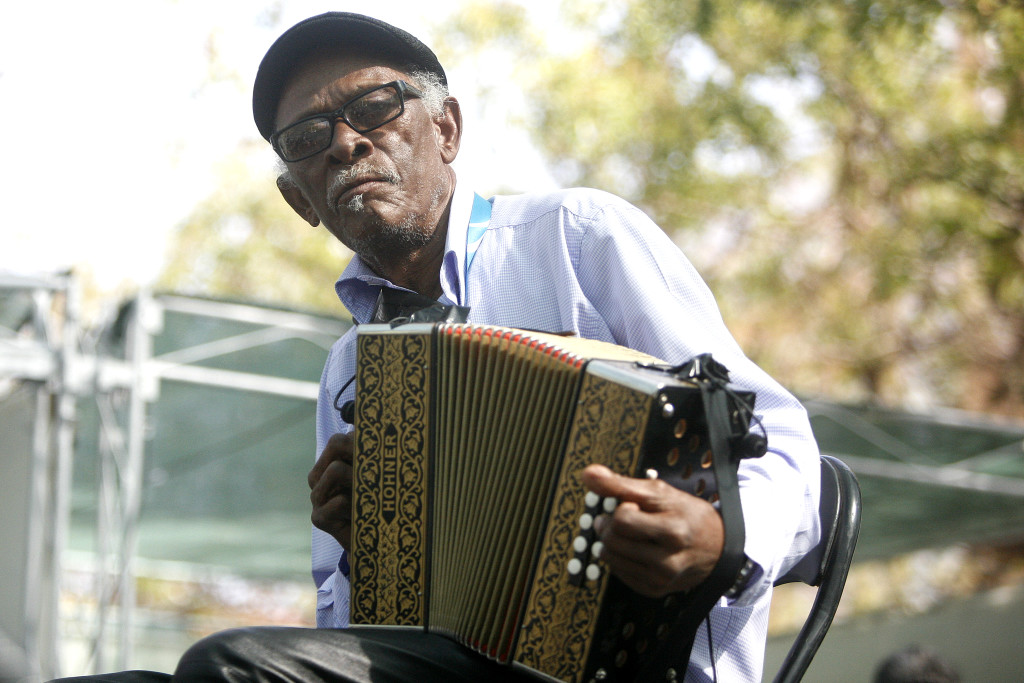 Bitori[/caption] Day sessions at AME were restricted to professionals in the world music field, including festival directors, programmers and media from more than 30 countries. Besides conferences, network meetings, speed dates, and workshops, showcases were held on the Praça Albuquerque, a charming square in the center of Praia. One highlight was veteran accordionist Bitori, champion of Cape Verde's uplifting
funaná
dance music. Bitori is hailed for his unique style on the diatonic accordion. Recently he was rediscovered by Samy Ben Redjeb, who will re-release a classic Bitori album on his Analog Africa label. The evening open-air showcases in Rua Pedonal in the pedestrian area of Praia were free for everybody and attracted thousands of enthusiastic visitors, mainly Cape Verdeans, who danced to the music of local stars like John d'Brava, Ary Morais, Albertino Evora and Jenifer Solidade. [caption id="attachment_23234" align="aligncenter" width="640"]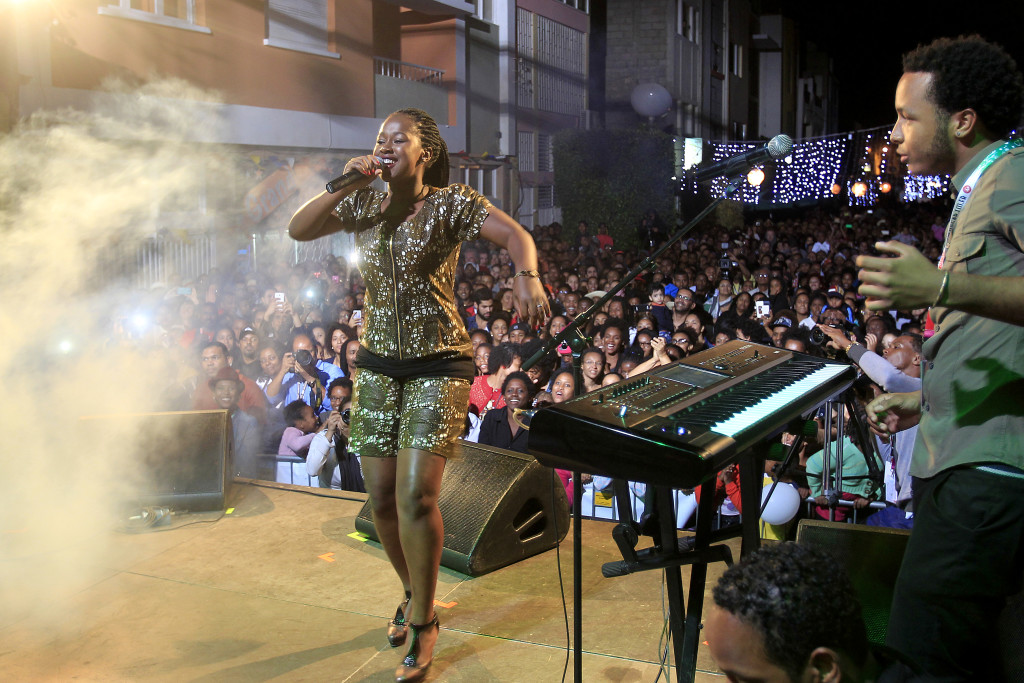 Elida Almeida[/caption] The crowd's favorite was Elinda Almeida, the new rising star of Cape Verdean music, who infuses local styles with r&b, soul and soukous. Self assured and charismatic, she presented songs of her recently released debut
Ora Doci Ora Margos
(Sweet Times, Bitter Times), which is based on experiences in her troubled childhood and young life. Her deep, powerful voice touched everyone. [caption id="attachment_23235" align="aligncenter" width="640"]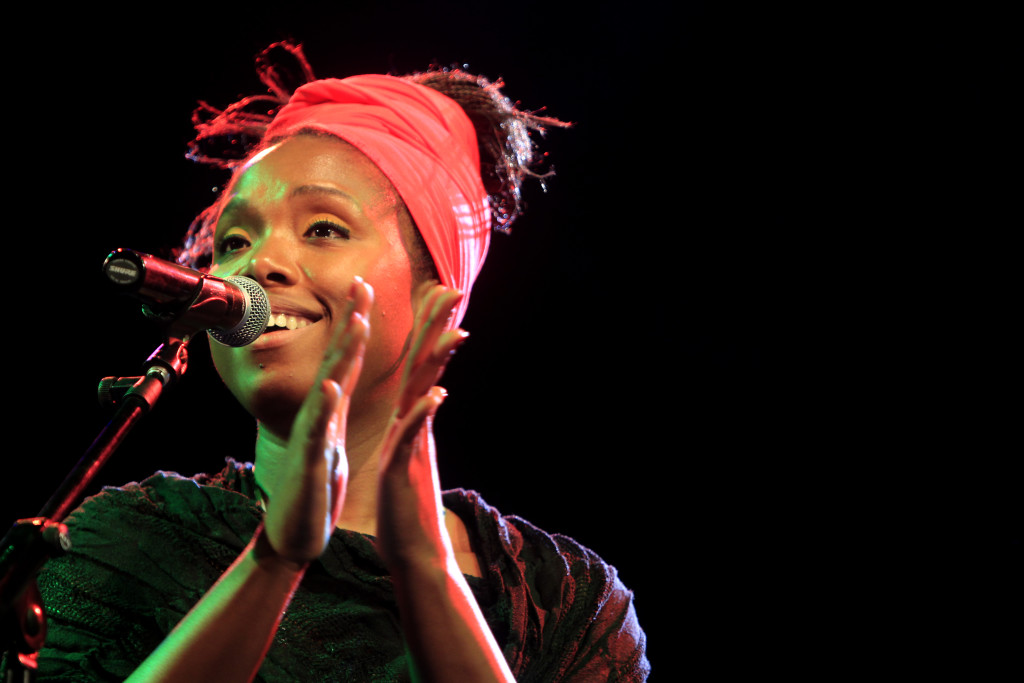 Karyna Gomes[/caption] Also impressive was the concert of Karyna Gomes, a young talented singer from Guinea Bissau. She started her career in the Brazilian gospel band Rejoicing Mas Choir, was for a while singer in the legendary band Super Mama Djombo from her homeland and debuted last year with the album
Mindjer
, Portugese-Creole for "Woman." Gomes blends the
gumbe
and
kussundé
rhythms from Guinea Bissau with Western pop, Brazilian samba, Portugese
fado
and Cape Verdean
morna
. A singer to keep an eye on the coming years. On an entirely different order was the show by Senegalese rapper Didier Awadi, the most visible figure of francophone West African hip-hop. This founding member of Positive Black Soul now works as a solo artist and is one of the most influential spokesmen of his generation. His mix of traditional music, rap and African dance music was strong, convincing and militant. Right after the conclusion of AME, the seventh edition of the
Kriol Jazz Festival
began, held at the Praça Luís Camões, a square in the middle of town. With ticketed entry and the audience seated, the atmosphere of Kriol Jazz was more formal than the exuburant AME, where the public was dancing in the streets. Kriol Jazz Festival is listed as one of the best world music festivals by the influential British magazine
Songlines
. The main objective of the event is to promote the Creole-inspired music from the Caribbean, Indian Ocean, Africa and the Americas. Over three nights, Kriol Jazz offered a wide variety of world music and jazz artists like the Ron Savage Trio (USA) , Brazilian rock star Céu, and the duo of Dino d'Santiago of Cape Verde and Fabiá Rebordão (niece of fado queen Amália Rodrigues), who fused traditional Cape Verdean music with fado. Headliners were Cameroonian bass player Richard Bona, who payed homage to Cesaria Evora with a special version of her classic "Sodade," and the young jazz superstar Esperanza Spalding (U.S.) , bassist, cellist and singer, who has already won four Grammy Awards and knows how to please the crowd. [caption id="attachment_23236" align="aligncenter" width="640"]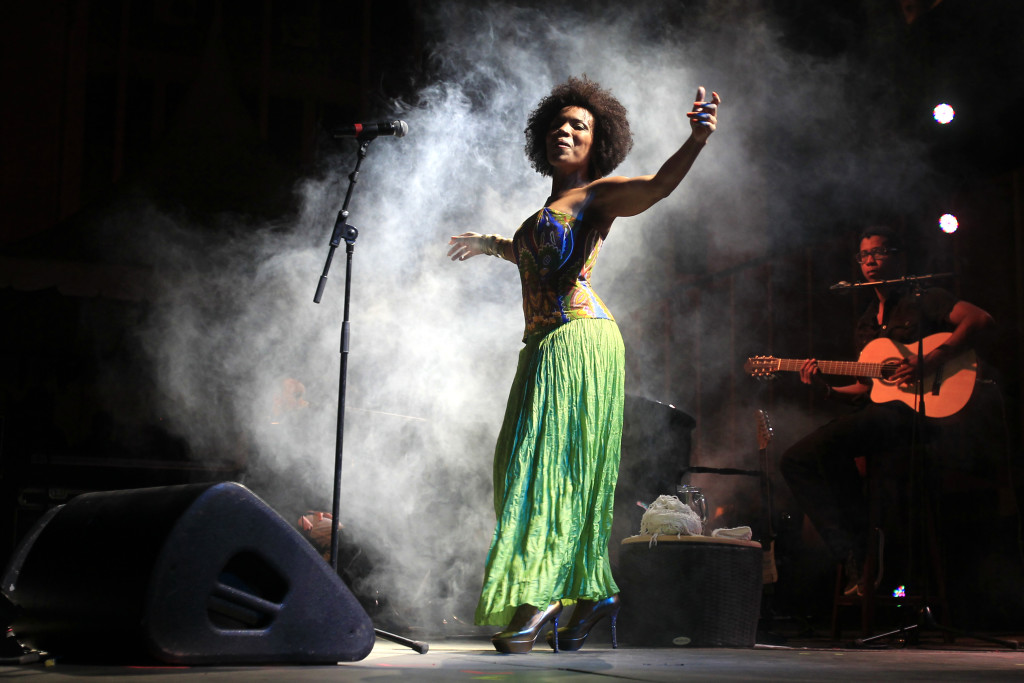 Lura[/caption] My favorite was Cape Verdean singer Lura, who made her comeback after years of silence. Blessed with a beautiful, expressive voice, at once sweet and caustic, and lots of charm, Lura stole everyone's hearts with her modern interpretations of traditional Cape Verdean music, morna, funaná and
batuque
, influenced by African and Western music. Lura has matured gracefully, and is still as endearing as ever. With the AME and Kriol Jazz Festival, Cape Verde has put itself firmly on the world music map. The friendly Cape Verdeans express their sorrow through their mornas and celebrate life with batuque and funaná, tasty Creole cuisine (
cachupa
) and divine drinks (
grogue
). If you want to celebrate
Caboverdeanidade
, the essence of Cape Verde, a visit to these sun-blessed islands in the Atlantic Ocean is highly recommended.