Field Report: Creole Rhythms on Réunion, the Rainbow Island
The island of Réunion, a French overseas department in Africa, is some 10 hour's flight from Paris and an hour's flight from Madagascar. From the air, Réunion looks like a huge mountain floating in the Indian Ocean. With a tropical climate, beautiful beaches, spectacular mountain ranges and an active volcano, Réunion is a dream destination for sunbathers and hikers. What also makes this island so fascinating is the mixture of cultures: People of European, African, Malagasy, Indian and Chinese origin live together peacefully on this rainbow island, respecting each culture and religion. The national music is called
maloya
, a traditional form of music based heavily on percussion, and usually sung in French Creole. The origin of the trance-inducing rhythms of maloya dates back to the days when slaves from Madagascar and Mozambique were forced to work on the island's French-owned coffee and sugarcane plantations. For centuries, maloya, the music of the creole people of Réunion, was banned by French rulers because of its strong association with creole culture and its links with the Communist party, which strove for independence. The ban on maloya was lifted in 1981 by then-president François Mitterand. Since the early 1980s, maloya groups such as Ziskakan, Granmoun Baba and Ti Fock were successful in mixing maloya with other genres such as
séga
, zouk, reggae, samba, Afrobeat, jazz and rock. The leading exponent of the genre is singer and poet Danyèl Waro, who has inspired a whole new generation of maloya artists like rising star Christine Salem and the group Lindigo. Maloya in its many forms could be heard earlier this year at two musical events: the fifth edition of the
Indian Ocean Music Market
(IOMMA) held May 30-June 2, and the 13th annual
Sakifo Festival
, June 3-5. After four successful meetings, IOMMA has positioned itself at the crossroads of the music industry in the region, showcasing the diversity of the 23 countries that border the Indian Ocean. Presented by the French organization Scènes Austral in partnership with the European Union and the Regional Council, IOMMA brought together 150 local and 90 international delegates (programmers, bookers, institutions, producers, media, artists ). Over three days they convened for a program of panel discussions about topics such as creating a network of music markets, selling your music nowadays, and the impact of festivals on local economic development. Nighttime was reserved for music showcases, which were held at various locations on the island and accessible to the public. Saodaj, a new group from Réunion (pictured above), was one of the revelations at IOMMA. Their name is derived from the Portuguese word
saudade
(melancholy). Inspired by traditional maloya, these five musicians blend it with influences from West Africa, Europe and Australia, including the use of the didgeridoo. That's why they describe their refreshing music as
maloya nomade
. Their songs, sung in Creole and French, are about identity, traveling, love, but also the history of Réunion. Another musical surprise from Réunion was the six-man band Identité, led by the great saxophone player Gaël Horellou, who performed an original mix of maloya with jazz. Their music, which fell somewhere between a Creole cabin roof and the red bricks of Brooklyn, deserves attention outside the island. Immediately following IOMMA was the 13th Sakifo Musik Festival, a three-night public event held in a four-and-a-half acre park on the beautiful beaches of St. Pierre. Sakifo is French Creole for "This is what you need." This festival, created by Jérome Galabert and this year directed by Romuald Requena, was attended by approximately 24,000 mainly young people. The music offered ranged from local maloya artists and African groups to such international acts as Macy Gray, the English pop folk singer Charlie Winston, and the Australian reggae band King Fisha. [caption id="attachment_29997" align="aligncenter" width="640"]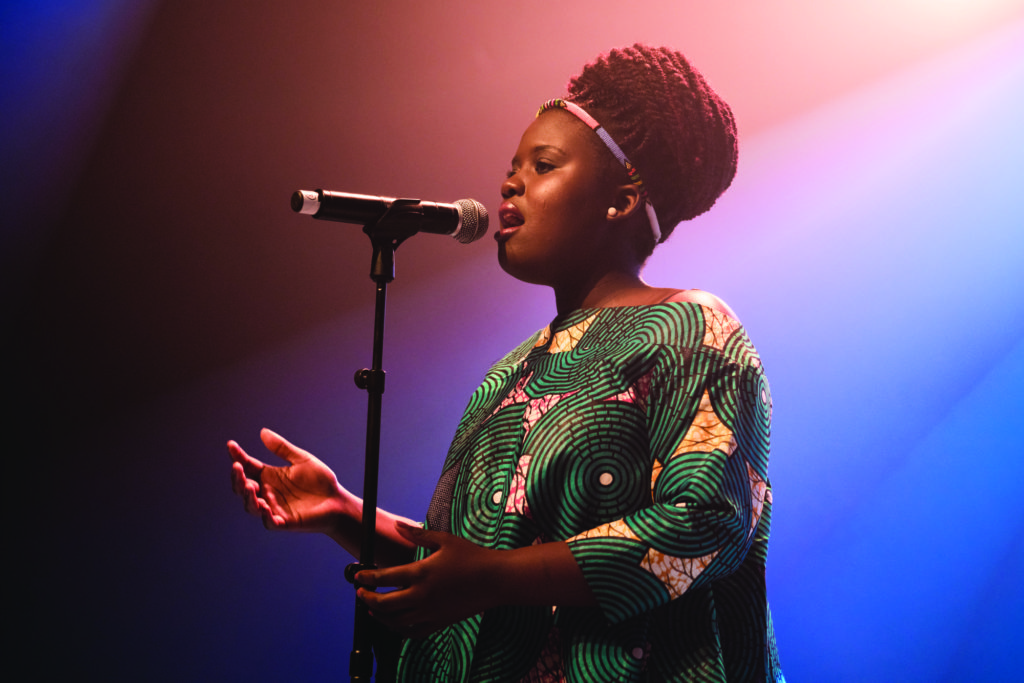 Theo Matshoba with The Soil. Photo by Lucas Dumortier.[/caption] Some groups performed at IOMMA as well as Sakifo, like The Soil, an amazing award-winning three-member a cappella vocal group from South Africa in the tradition of Miriam Makeba, Dorothy Masuka and Ladysmith Black Mambazo. This young trio impressed with great vocal harmony, adding some doo wop and hip-hop. The original female vocalist Buhle Mda was not on stage because she's taking time off from the group to focus on her ancestral Sangoma calling. She was replaced by the great 20-year-old Theo Matshoba, who is reminiscent of a young Miriam Makeba. Male voices were provided by two brothers, Luphindo and Ntsika Fana Ngxanga. Their music can be best described as
kasi soul
. The introduction was great: "We come from heaven but are locally based in Soweto!" With three amazing voices The Soil delivers melodic and harmonious messages about peace, love and happiness, and oneness. They have been superstars in their homeland since 2011, when their debut album
The Soil
was released and achieved platinum status, selling over 50,000 copies. [caption id="attachment_29988" align="aligncenter" width="640"]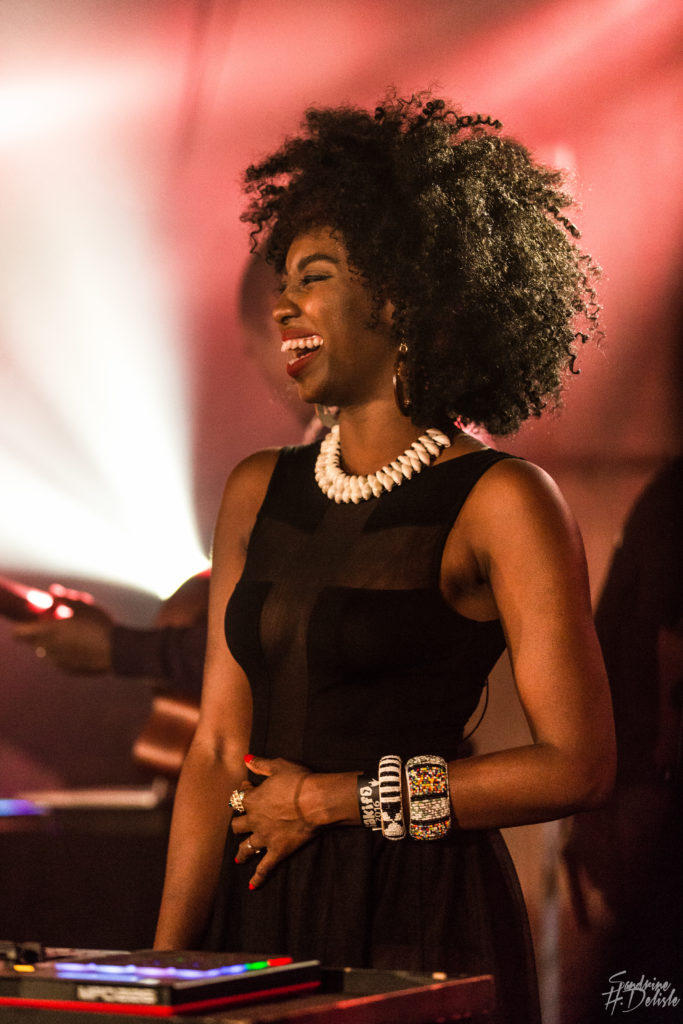 Inna Modja. Photo by ® Sandrine Hubert Deslile[/caption] Quite sensational was the performance of the wicked Malian singer Inna Bocoum, better known as Inna Modja, a Malian-French female singer and model. The word
modja
means "bad, not good" in Fulfulde, a nickname given by her mother. Mentored as a teenager by Mali's legendary vocalist Salif Keita, Modja got her start in music as a backing vocalist for Keita's Rail Band de Bamako before relocating to Paris, where she worked as a model while pursuing her music career. Inna Modja abandoned the music of her African roots in favor of a commercial soul-pop sound. On her latest CD,
Motel Bamako
, she presents an exciting mix of soul, blues, hip-hop and electro sounds permeated with the colors of Mali. On stage the gracious Inna Modja was backed by a French guitarist and a Malian kora player. The sound was hard and electronic and sometimes too loud for my ears but Mojda's dynamic sound was impressive. She has certainly everything to be the next superstar of Africa. [caption id="attachment_29986" align="aligncenter" width="640"]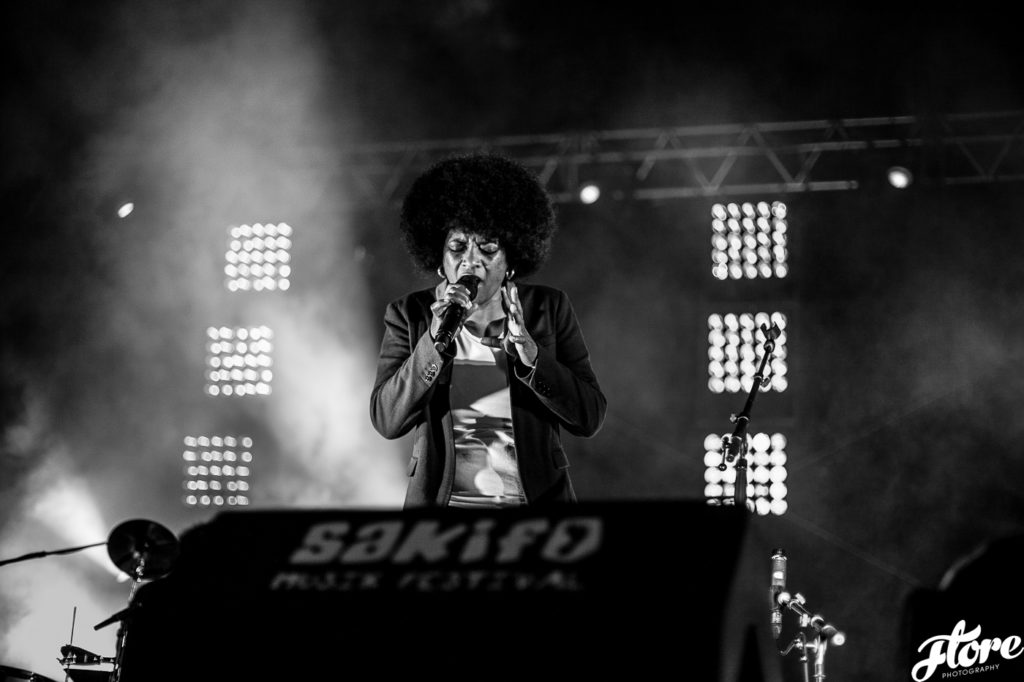 Christine Salem. Photo by ® Flore Baudry[/caption] Christine Salem, the rising star of maloya, performed at the huge Salahin stage. Although I prefer her music in a more intimate setting, her show was remarkable. The combination of her robust contralto and heavy 6/8 maloya rhythms literally entranced the crowd. She shook the
kayamb
(sugarcane rattle) and explored the maloya tradition deeply with fascinating songs about the African diaspora, ancestors and the spirits of gods. Her homage to Nelson Mandela raised goosebumps. [caption id="attachment_29991" align="aligncenter" width="640"]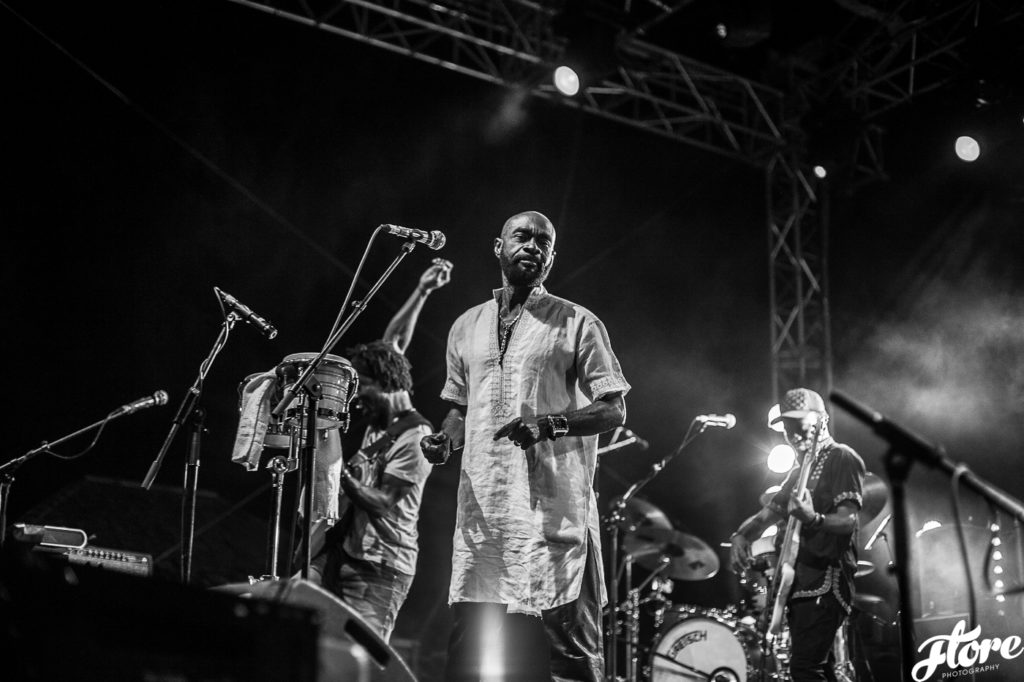 Pat Thomas and the Kwashibu Area Band Photo by ® Flore Baudry[/caption] Two African veterans were also on the bill : highlife pioneer Pat Thomas and Senegalese superstar Baaba Maal. The 70-year-old Ghanaian Thomas, nicknamed the Golden Voice of Africa, proved that age doesn't matter. He fit like a glove together with the extremely swinging Kwashibu Area Band led by multi-instrumentalist Kwame Yeboah and saxophonist Ben Abarbanel-Wolff, and demonstrated how highlife should sound. [caption id="attachment_29984" align="aligncenter" width="640"]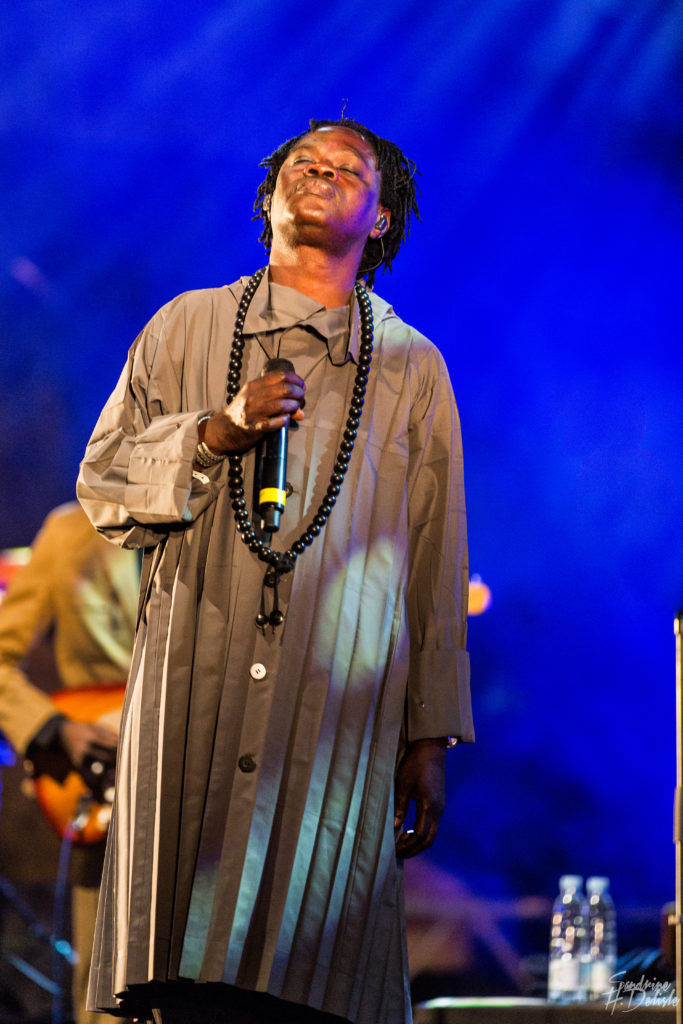 Baaba Maal. Photo ® Sandrine Hubert Deslile[/caption] The performance of Baaba Maal evoked mixed reactions. He looked tired, a result of intensive touring the last months, with Mumford and Sons, among others. Maal tried to light the fire with classic songs like "African Woman" and "Cherie" but lacked the energy to convince the audience. When he left the stage after one hour I was a little disappointed because I know a Baaba Maal in great shape can do much better. The absolute highlight of Sakifo 2016 was the performance given by Songhoy Blues, hailed by the English world music magazine
Songlines
as the next big thing from Mali. This desert punk/blues group was formed in Bamako after they were forced to leave their homes in Timbuktu during the civil conflict and the imposition of Sharia law. Their debut album,
Music in Exile
(2015), produced by the American guitarist Nick Zinner of the Yeah Yeah Yeahs, offers a fascinating mix of Malian desert blues and electric guitars in the style of Jimi Hendrix and John Lee Hooker, but they are definitely carving out their own groove. Their impressively varied and rousing set caused nearly everyone there to go into a trance. Such energy! Sakifo 2016 came to a great finale with Serbian bandleader Emir Kusturica's romping No Smoking Orchestra who blew everybody away with a mix of Balkan brass, gypsy music, pop, rock, a hilarious ode to beer, and movie soundtracks from films like
Time of the Gypsy
,
Black Cat, White Cat,
and the recurring theme of
The Pink Panther
. Taking off from the Roland Garros airport the next day, the hypnotic rhythm of maloya still pounding in my ears, I was filled with a yearning to go back home to the island. Réunion,
merci
!
Bastiaan Springer is a producer for Radio 5 (Netherlands), and a world music journalist since 1984. Read his report from 2013's IOMMA here. (Feature image above: Saodaj photo by Christophe Carlier.)