Field Report: Festival International de Jazz Montreal 2016
This year marked the 37th edition of the Festival International de Jazz Montreal and, as always, for world music fans there was a plethora of treats in addition to all that jazz. With nine free outdoor stages and 11 indoor ticketed venues, over 3,000 artists performed over the 11 days of the festival (June 29-July 9) which would satiate the appetite of any music fan.
But keeping our focus on the world music offerings, this year the free outdoor stage that features many of the international performers was co-sponsored by Turkish Airlines and CBC/Radio Canada. With the tragic attack at the Istanbul airport happening the day before the opening of the festival, regardless of the weather it always felt as if there was palpable cloud of compassion and sorrow hovering over the stage. Booths around the grounds of the stage featured a Turkish tourism information booth, a tented lounge with Turkish cuisine, on-site demonstrations of Turkish arts and crafts, and daily performances by a 12-member Turkish dance troupe. Festival-goers could be heard expressing their condolences to those at the booths. In addition, two bands from Turkey who performed took time to send out messages of peace and love to the victims and their families–Sattas, billed as "the only Turkish reggae band," offered an infusion of Middle Eastern vibe (but could have been a bit more infused), and psychedelic rockers Baba Zula, part of a long history of Anatolian psychedelic music, who entranced the audience with their East meets West sound (and who we'll be featuring in a forthcoming interview).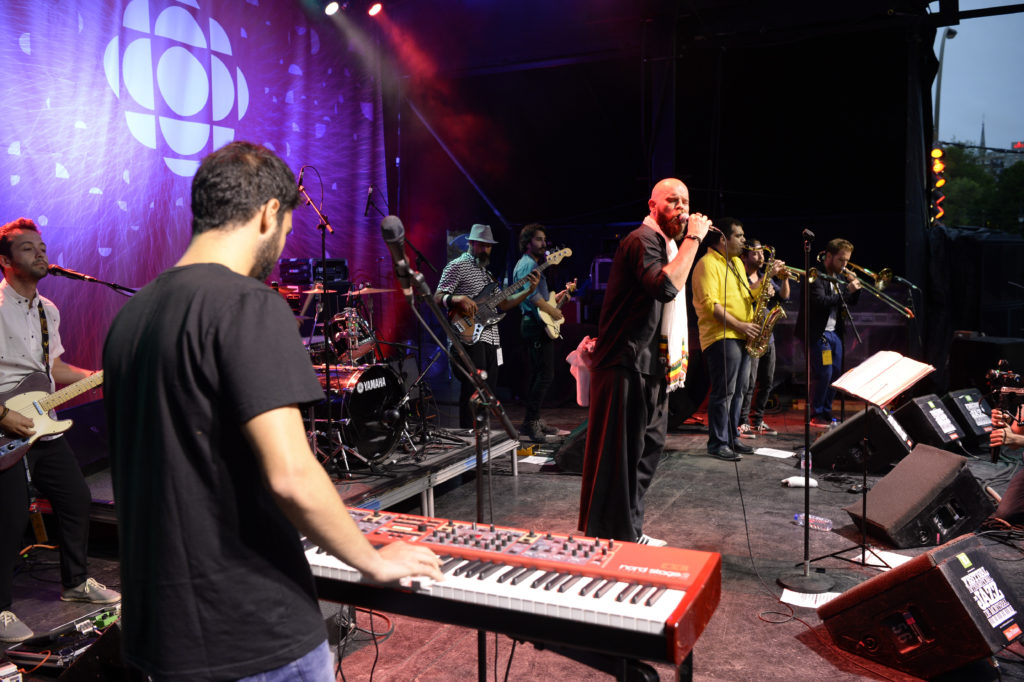 Sattas, Turkey's only reggae band. Photo by Victor Diaz Lamich
Other world music artists who performed on that stage included Orchestre Tropicana d'Haiti, celebrating over 50 years as a performing group; the multitalented Mozambique/Quebec musician Samito who won the 2015-16 Revelation Radio Canada world music award; newly emigrated from Senegal singer/guitarist Ilam who picked up this year's Revelation/Radio Canada award; Montreal's queen of South African music, Lorraine Klassen.
La Dame Blanche AKA Yaite Ramos Rodriguez, a former member of the Sergeant Garcia group and daughter of Buena Vista Social Club trombonist Jesus "Aguaje" Ramos, wowed the crowd as she came on stage with a huge Cuban cigar in one hand and her flute in the other, bringing her Cuban-infused hip-hop backed by a DJ and drummer (though with a full band it would have worked better). Also on hand was the fabulous Krar Collective from Ethiopia, whose leader Temesgen Zeleke was a student of Ethiojazz master Mulatu Astake and had audiences dancing in the drizzling rain.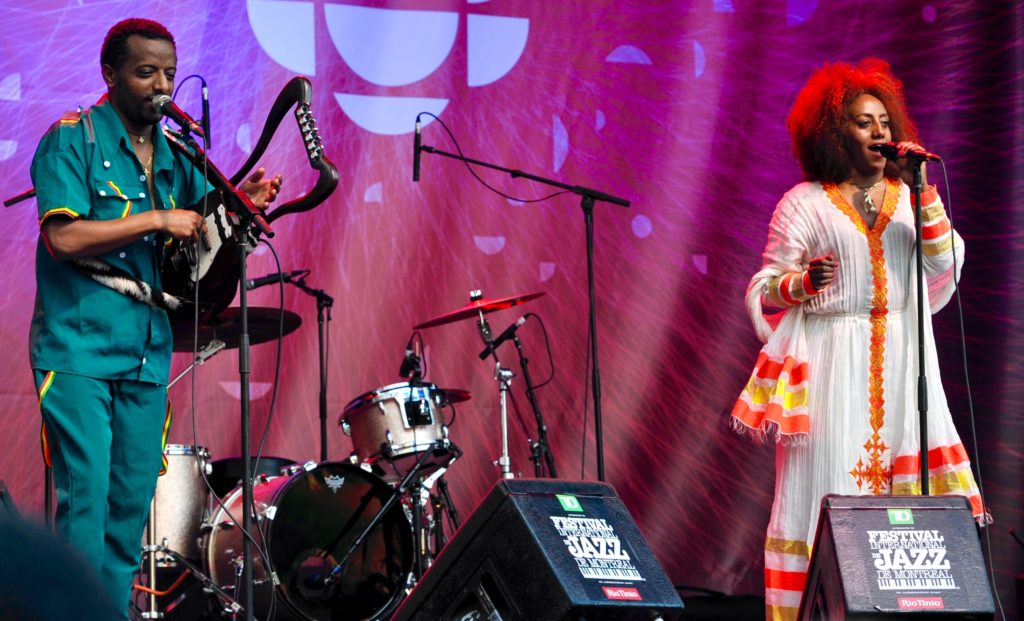 Krar Collective. Photo by Victor Diaz Lamich.
Performing on the festival's main stage was the 73-year old Nigerian legend Orlando Julius Ekemode and his Afro Soundz band. O.J. did not disappoint and commanded his saxophone as nimbly as a man half his age. After the show, we spoke briefly to Julius, who told us about the time when James Brown came to Nigeria in 1970 . Brown sent a car to bring Julius to the hotel to meet him. Brown kept telling him he's "bad," which Julius said he didn't understand because "in my country, bad is not something good." Brown then put on a huge smile and said, "No, no, no–you're superbad!" And Julius then understood, he told us with a beaming smile, that this was something good.
Other free outdoor shows included New Orleans pianist Jon Cleary, soul singer Sharon Jones and the Dap-Kings, who has refused to let her battle with cancer stop her; Latin Grammy winners, the all-girl Mariachi Flor de Toloache; the hot Cuban rhythms of Cuban-Quebec artist Carlos Placeres; and the impressive Devil's Tale, a project forged by Ontario-based guitarist Adrian Raso with the Romani-Balkan brass band Fanfare Ciocarlia.
For those wanting more, the indoor shows this year included a stellar performance by Brazilian sensation Céu, who is in the midst of her first North American tour in several years, promoting her new album Tropix; on their second North American tour, Lebanese rockers Mashrou' Leila (with whom we'll also be featuring an interview shortly) had the audience enraptured with not just their music, but also their multimedia stage show; Taj Mahal, who canceled last year due to his health, proved he isn't ready to give up performing yet, and endeared himself to the audience with his fluency in French; Mexican-American diva Lila Downs, who received this year's Antonio Carlos Jobim award from the festival; and a mesmerizing meeting of artistic minds between jazz legend pianist Kenny Baron and jazz guitarist Lionel Loueke from Benin.
Of course, there were plenty of standout performances for jazz lovers, ranging from Chick Corea, playing with Christian McBride and Brian Blade, the Charlie Hunter Trio, Wynton Marsalis, singers Gregory Porter and Stacy Kent, saxophonists Chris Potter and Steve Coleman, the Aaron Parks Trio, and a stunning solo performance by Fred Hersch.
Without a doubt, one of the most exciting shows this year was Cory Henry's The Revival. Also a member of the Brooklyn-based jazz ensemble Snarky Puppy, Henry is touring his new solo album, a mix of gospel and funk. He performed on organ and keyboards with only a drummer accompanying him. It took place at the Gésu space which is beneath a church. By the end of his show, everyone in the packed room was on their feet, clapping and dancing as in a true church revival show.
As well, there were plenty of rock and r&b acts ranging from Brian Wilson's Pet Sounds tour to Noel Gallagher's High Flying Birds, and from the stunning Lauryn Hill to classic funk of Kool and the Gang.
On a final note, if the opening of the festival had both musicians and audiences struck by the events in Turkey, halfway through the festival came news of the protests and deaths in Dallas, Texas, of which many artists commented and expressed their sadness and frustration.
Nevertheless, it was a great festival and we highly recommend a visit to Montreal at least once to experience it.
Feature photo above: Orlando Julius by David Kaufman.