Field Report: Festival International de Louisiane
Afropop correspondent and photojournalist Bill Farrington attended the 28th annual Festival International de Louisiane in Lafayette in April 2015, reporting on the cultural heritage of the Acadiana region of south Louisiana that is enriched by French, African, Caribbean and Hispanic influences. All photos by Bill Farrington.
Louisiana is dotted with small towns like Eunice, Mamou, Breaux Bridge and Opelousas, which are known the world over from the music and musicians who call their country dancehalls home. Many of those musicians gather in Lafayette, the heart of Cajun country, each year during the last week of April for the Festival International de Louisiane. Zydeco, and Cajun in particular, are the musics of Acadiana, the French-speaking southern part of the state stretching from west of New Orleans to the Texas border. International artists highlighting historical ties to the French, African, Caribbean and Hispanic influences of the region's heritage are also invited to perform at this event. This year African artists from francophone West Africa had a prominent role. Mauritania, Mali, Niger and south to Benin and Nigeria, represented the region and provided an interesting juxtaposition with local bands. Groups from Quebec, Belgium, Ukraine, Uganda, Honduras and elsewhere in the U.S. also participated, most doing two shows. Presenting five days of music, with 80-plus bands all performing free of charge, would be impossible without creativity and massive community support from volunteers, donors and municipal workers. Instead of fencing off an area, the city itself is transformed into the festival grounds, a half dozen stages scattered over a few blocks in downtown Lafayette. Festival-goers stroll the streets lined with stands featuring Creole cooking, arts and crafts, and can also stop in one of the local pubs or restaurants between shows. With so much happening at once, what follows is an extremely selective sampling of the activities. [caption id="attachment_23226" align="aligncenter" width="640"]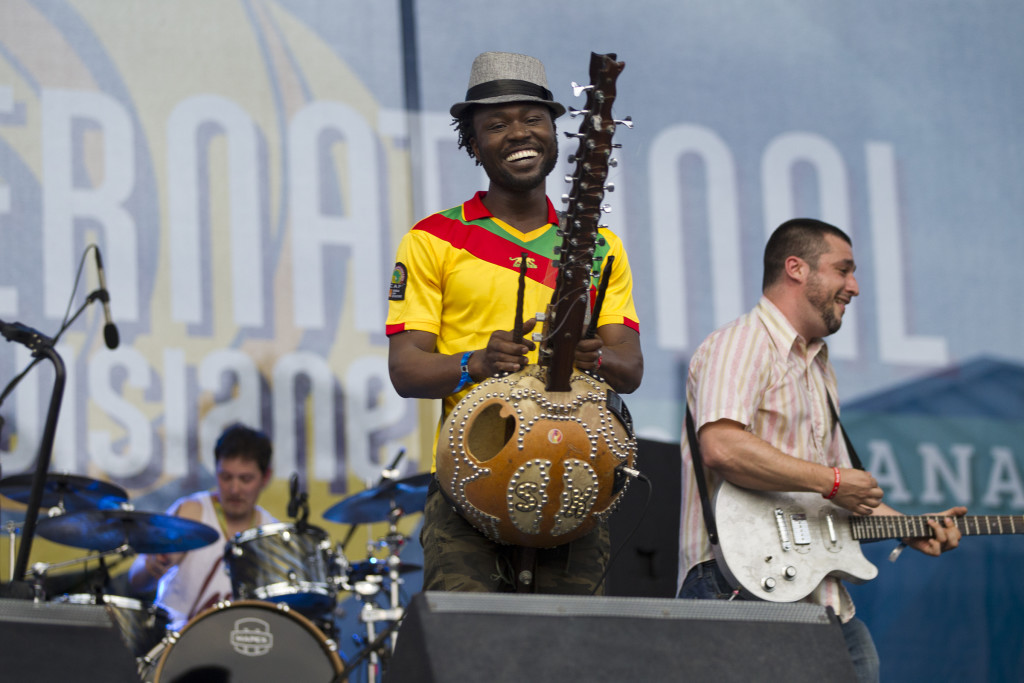 Sekou Kouyate and Joe Driscoll[/caption] First up Friday evening, April 24 (the festival began on Wednesday but we arrived for the weekend), was Joe Driscoll and Sekou Kouyate. Marc Ambrogiani, director of the annual Nuits Metis Festival in Marseilles, France, recalled welcoming Driscoll to the festival in 2009. "Having loved the show, we offered him [the opportunity] to create with Sekou, convinced that the meeting would be rich musically, [even though] music was their only common language as Joe did not speak French, and Sekou did not speak English. They were offered a five-day residency to get to know each other and build musical links before debuting at the festival. I watched him grow...." Nearly five years later they walked onto the Scene Stabil Drill International stage in Lafayette. Kouyate, from Guinea-Conakry, like several other African performers at the festival, comes from a family with deep musical roots. Driscoll is a rap/beatbox artist from Syracuse, NY. Along the way the duo recorded a critically acclaimed album,
Faya,
and have another soon to come out. In performance the music was more a back and forth of musical styles rather than collaboration, the flow is energetic with each artist trading leads in a freeform MC style backed by drum and bass. Driscoll delivered rap/reggae lyrics like an urban folk preacher, pacing the stage with an urgency. Kouyate was a tour de force of effortlessly cascading and rising kora riffs, fast-plucked notes and chunky flourishes backed by funky drum and bass grooves. It was an entertaining set and one of the more memorable of the weekend. [caption id="attachment_23220" align="aligncenter" width="640"]
Vieux Farka Toure[/caption] Mali's Vieux Farka Toure headlined Friday night at the TV5 Monde International stage. Vieux's electrifying performance was met by an enthusiastic handful of African fans in front of the stage, while many in the audience appeared initially curious, but by mid-set were visibly warmed up by his music. The sound mix emphasized Vieux's lead guitar and searing vocals up front, applying strong echo and reverb effects to his voice. The result was that his vocals pierced the night and beckoned many concert-goers who migrated to his stage throughout the performance. Vieux performed with longtime drummer Tim Keiper and brand-new bassist Patrick Andy. There were moments of excellent interplay between the lead electric guitar and the
ngoni
of Moussa Diabate. Much of the featured music reflected historic cultures created in exile. The Acadians (now known as Cajuns) came to what is now Louisiana between 1755-64, more than 11,000 French who were exiled by the British from the Canadian Maritimes. The Garifunas of the Caribbean coastal region of Central America are descendants of African slaves and indigenous Caribs. They were deported during the same era, from the island of St. Vincent to rural coastline villages in Belize, Guatemala and Honduras, where they settled and also preserved their unique language, culture and identity. [caption id="attachment_23227" align="aligncenter" width="640"]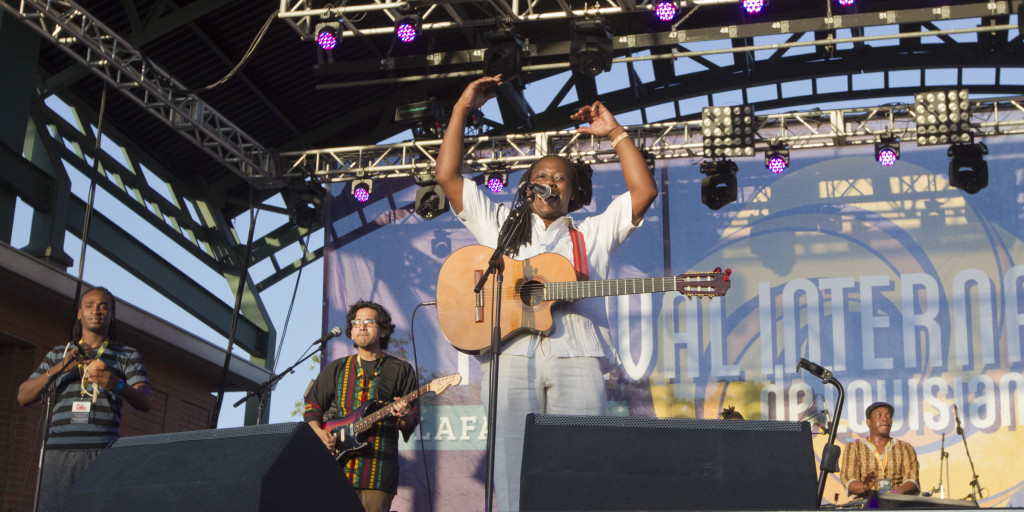 Aurelio Martinez[/caption] Honduran Aurelio Martinez is a contemporary master of Garifuna music, absorbed via his parents and grandparents. The Garifuna Soul band, guitarist Tony Penalva, Carlos "Bodoma" Norales and Donny Medina on Garifuna drums, Andy Norales, maracas, and Junior Guerrero on bass backed the singer at Festival International. The set was drawn primarily from his latest release
Lándini
, songs that were inspired and contributed by his mother Maria, telling stories of Garifuna life. He says, "When you listen to this music you are coming to my mom's house." Sung in the Garifuna language, the vulnerable yearning of his vocals contrasts with the upbeat danceable rhythms. Aurelio's acoustic guitar interacted with Penalva's beautifully expressive electric guitar (quite different than the surf-drenched lead by Guayo Cedeno on the album). [caption id="attachment_23228" align="aligncenter" width="640"]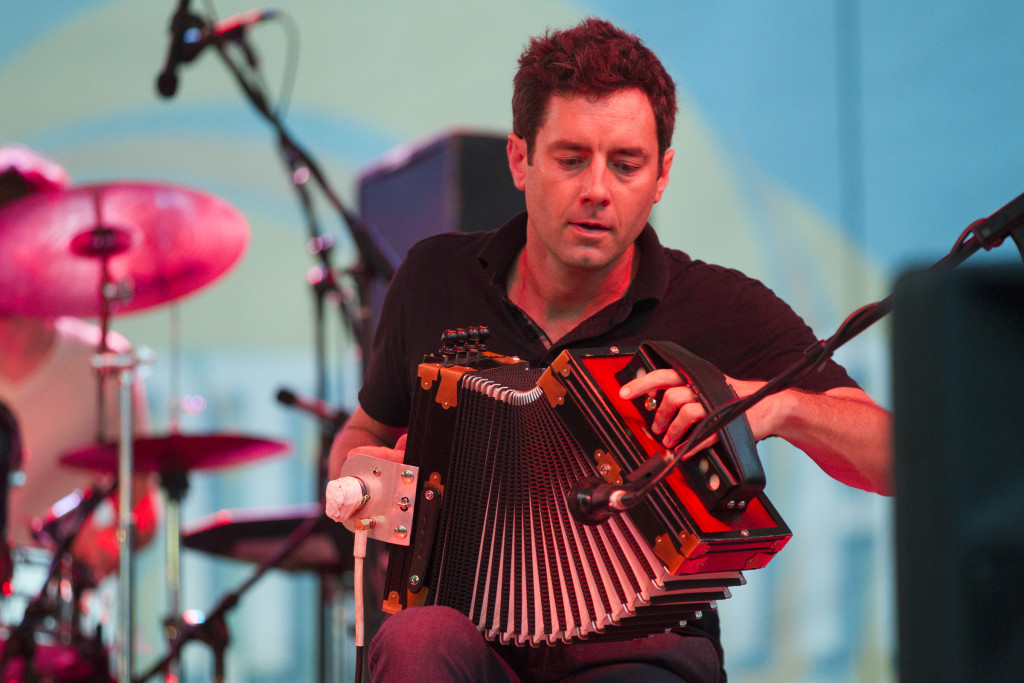 Andre Michot of the Lost Bayou Ramblers[/caption] Also making a powerful impression were the Lost Bayou Ramblers. Their raw, haunting take on Cajun tradition opened with Andre Michot creating a textural drone on lap pedal steel; he later moved to accordion. Brother Louis Michot on fiddle and high-register vocals sung in Cajun French, with Korey Richey on bass, Eric Helgle, drums, and Johnny Campos on guitar. Known for their energy and sonic experimentation, they played an intense set without compromising their origins. The Michot brothers began playing with the family band Les Freres Michot and still use material written by family members as well as the repertoire of hundreds of classics learned from their father and uncles. Louis says in high school he played in rock 'n' roll bands but never considered himself a singer until he started singing in Cajun French, explaining: "I found my voice, not sure what it is, perhaps the high register, just like the accordion and fiddle. Singing in Cajun French is like lyrical poetry. I can improvise and make it work even if I don't know the exact lyrics. We are absolutely, definitely a Cajun band. Whatever we do is based around accordion, fiddle and French vocals. We are game for anything and perhaps more open-minded and progressive than most. What I love is that there's a mystery to Cajun music, you want to know what he is singing, so much of the beauty is the mystery and the sadness, and this is our reality." [caption id="attachment_23221" align="aligncenter" width="640"]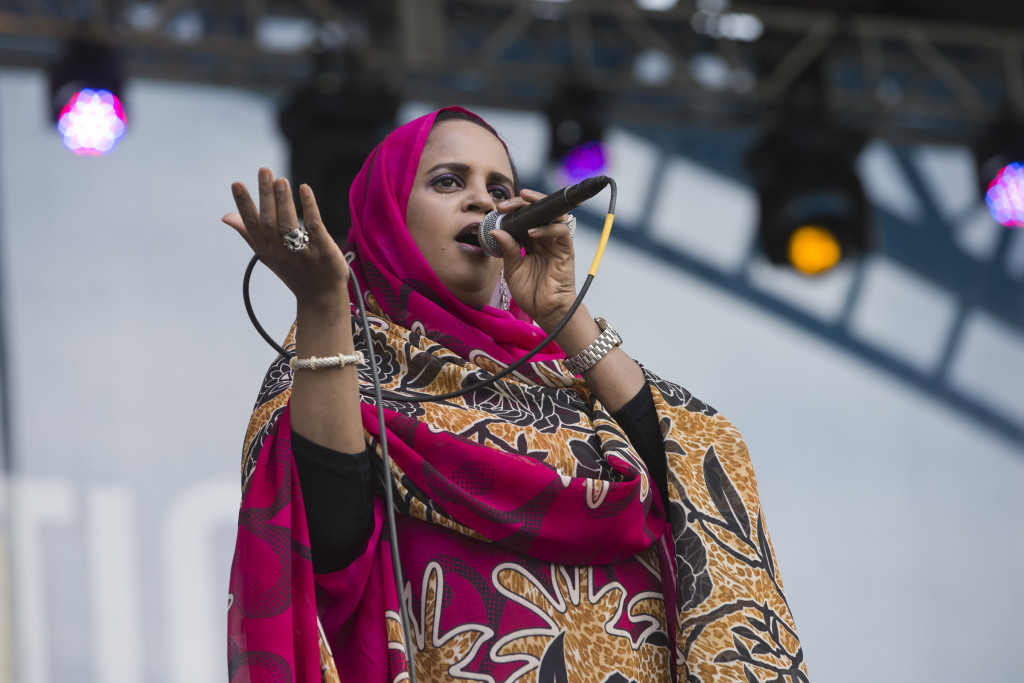 Noura Mint Seymali[/caption] Like the Lost Bayou Ramblers, Noura Mint Seymali's music is trailblazing. From a family of Moorish musicians, she began singing professionally at a young age. Noura and Jeiche Ould Chighaly, her husband and guitar/
tidinite
player, have been experimenting since 2004 with what can be described as a fusion of traditional and pop formats. Noura's calm presence on stage contrasts with her riveting voice. Jeiche's guitar work is expressive and emotional, sparse and bluesy. Matthew Tinari, drums, and Ousmane Touré on bass keep the music focused and moving. Mauritanian music is rarely heard outside of the country (the last major artist to perform in the States may have been her stepmother Dimi Mint Abba, at a World Music Institute festival in 1996). At home the four-piece group supports themselves as traditional musicians working weddings and events. Matthew, who manages the band as well, explained that there are very few musicians interested in incorporating the traditional into a pop format, and so they are breaking new ground. An American living in Senegal, Matthew met his mates after finishing a gig at a festival there, and as he was leaving, heard there was a Mauritanian band about to play so went back. "They needed a drummer at another gig and asked me to join them," he said, "beginning an association that has evolved into the current streamlined quartet." There is a huge repertoire of poetry in Mauritania, in the public domain. A sense of the poetic content reveals itself in Matthew's liner notes for
Tzenni
, their latest album: "
In hassaniya
means to circulate, to spin, to turn. It's the name for a whirling dance performed to the music of Moorish griots, often under
khaima
tents thrown up for street gatherings in the sandy quarters of Nouakchott and out across the wide deserts of Mauritania. Tzenni is an orbit, the movement of the earth around the sun, the daily progression of light and dark, lunar cycles, tides and winds. Tzenni, the dance, comes forth as the cyclical trajectory of a Moorish musical gathering builds to a feverous pitch. It's a word whose expansive valence reminds us how only the most basic reality can create such romantic metaphor." [caption id="attachment_23223" align="aligncenter" width="640"]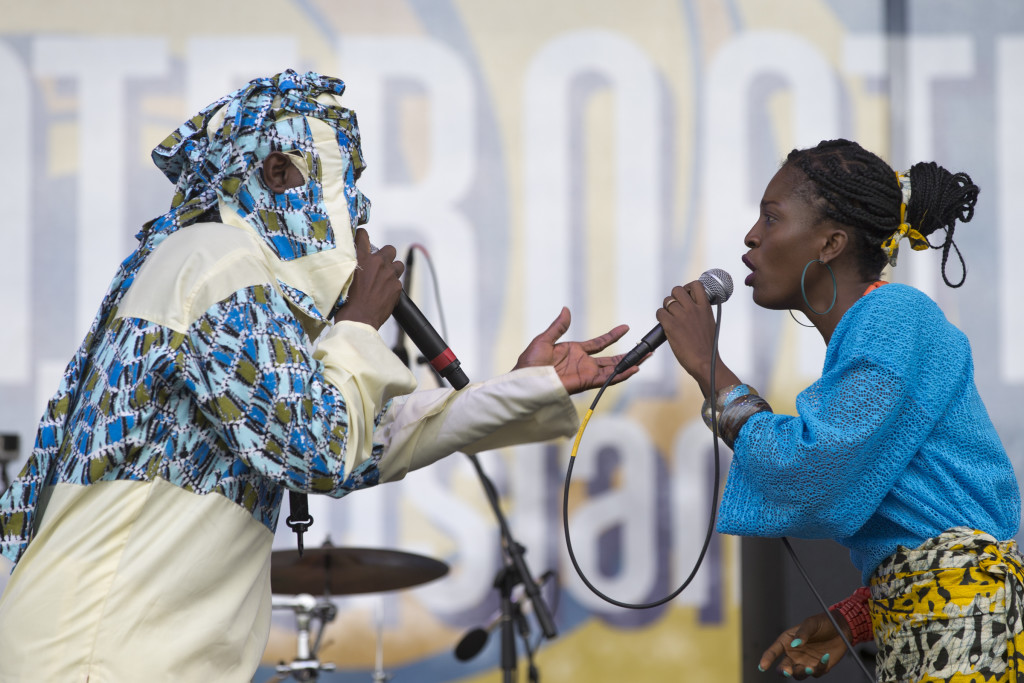 Lagbaja with Olufunke Ogundokun[/caption] Lagbaja's set opened with drummers bounding onto the stage, crisscrossing as they pounded out Yoruba rhythms. Joined by vocalist Olufunke Montrayo Ogundokun, the energy was maintained from beginning to end as they played an early afternoon set Sunday, April 26. From Nigeria, Lagbaja (Bisade Ologunde) was heard before he was seen. It's been nine years since his last tour and the sound of his saxophone announced his arrival as he walked out, maintaining his tradition of appearing in public masked to represent the concept of the anonymity of the common man. Masks are important components in traditional Yoruba culture used in ceremonies and dances and his use of the mask give particular significance to his socially conscious lyrics. As he walked onstage the
dundun
,
ogido
,
sakara
and
bata
drums played clipped Afro-funk rhythms. One of the memorable and more accessible songs was "Africalypso," beginning with the drums and moving into a calypso rhythm with soulful vocals back and forth between him and Olufunke. Another, "Tell Me Simple Yes or No" began with hand claps and addressed itself to politicians. Although lately he has not toured internationally, he explained that took time off to be a daddy, and he has been performing and active back in Nigeria. His latest work in the run-up to recent Nigerian presidential elections, "200 Million Mumu" (The Bitter Truth), urges people to take responsibility for their leadership, question them before elections. The set, says representative Steve Heath, featured older material says because three band members, his keyboard player, guitarist and a vocalist, were denied visas. After the festival and a New Orleans JazzFest gig, Lagbaja worked on a couple of tracks during a tour layover in Detroit. The Detroit session will include the same musicians in a larger band, using rhythm to connect Nigerian and American soul, folk and jazz. [caption id="attachment_23224" align="aligncenter" width="640"]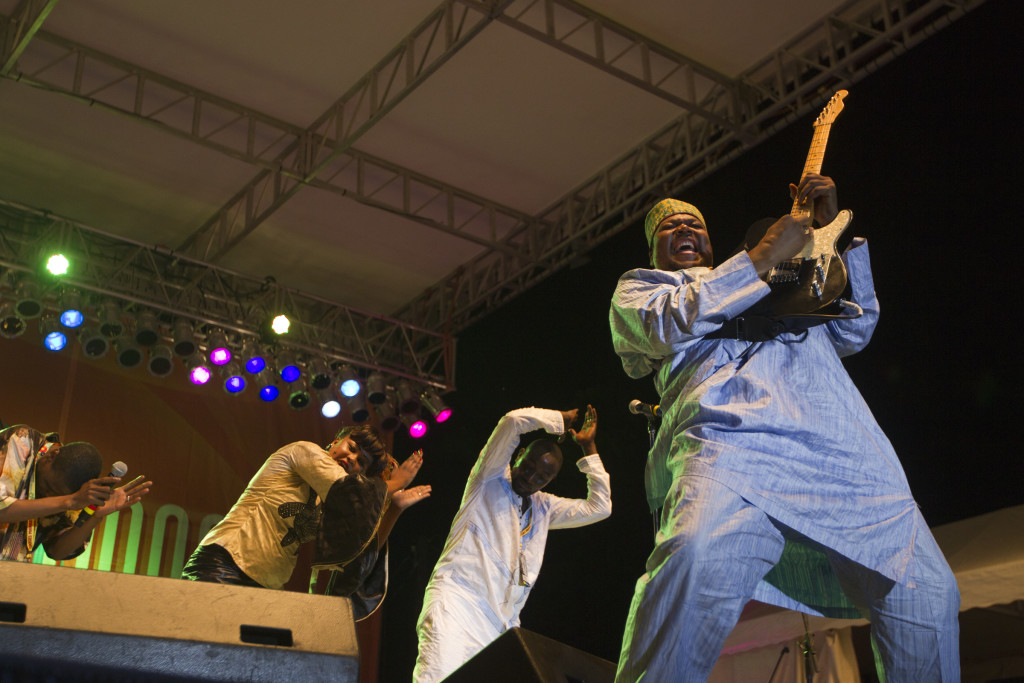 Almeida of Tal National[/caption] Tal National delivered a rousing set headlining Saturday night. Taking the Scène Lafayette General Fais Do Do stage, the band spread out across the front, moving slowly to the rhythm, band members stepping forward individually as if to introduce themselves. The pace picked up quickly propelled by the 12/8 rhythms of the Hausa talking drum and manic drumming from the drum kit, pounding out straight rock or accelerated rumba beats. Dual vocalists traded off with a chorus from the ensemble. Their ebullient spirit quickly spread throughout the audience. At times the music became chaotic before re-forming behind a single driving beat, an element of their very distinct sound that sets them apart from other forms of West African music and confounds listeners unaccustomed to the shifts. The concerts at the Festival International, two very different shows, revealed a quirky eccentricity, as if using humor to tweak preconceptions. It kept a smile on my face and my attention focused wondering what was coming next. Their latest album,
Zoy Zoy
, captures the spirit of the band live, differing from the concert in one major way: The full complement was unable to make the tour, in particular the second guitarist was missed, depriving us of the joy of hearing the interplay with the lead guitar of bandleader Hamadal "Almeida" Moumine. He was limited to playing mi solo for much of the show, switching to lead during the vocal breaks. Following the opening songs, including "Claire," a tribute to their fans, the ebullient mood took an esoteric turn into a trance piece, "Saraounia." Induced by the rhythm, the spirits entered the soul of the singer, which he interpreted for his audience by shouting, grunting and gesturing from the front of the stage, the tempo increasing as the drums urged him, pounding out rhythm until the spirits were exhausted and presumably future events foretold. Salamatou, the dancer, was featured in an extended piece. After an initial moment of shy coyness, she took a pose similar to the downward dog yoga stance and with her rear in the air crawled between the legs of the vocalist, then repeated the pose at the front of the stage for the audience. It's a controversial piece at home and drew a contentious reaction here as well. Almeida says that she was showing the audience her rear so that they could see how well fed and healthy she was. The song angers Islamists at home in Niger, they don't like the dance, and some in the Lafayette audience were offended as well by the suggestive nature of the song. Almeida compared it to the
mapouka
and other popular West African dances, as typical of African dance and is enjoyed and understood in his country, declaring he will not let Islamists dictate what music he should or shouldn't perform. Similarly on "Banganésiba," from the album
Kaani
, the vocalist is chopped at by several band members as he stands singing in a fixed spot. The song, Almeida says, represents the artist continuing to perform, impervious to the attacks. He threw his arms wide open during the "attack" as if to say you cannot hurt me. They concluded the set with medium tempo tune "Zoy Zoy," which refers to a Zama tradition where a pregnant woman returns to her parents home for birth for 40 days and makes herself beautiful and ready for her husband, then came back strong with a fierce encore, starring a blistering Almeida solo. Speaking to Afropop before the show, Almeida explained that Tal National is the most popular band in Niger, where just playing music can be controversial in a country which is 97 percent Muslim. Islamists have taken to national television to denounce the band. The group has been together 12 years now, playing up to five nights a week, and the music is a mix of Western and traditional African influences. He himself is Tuareg; the other band members represent other ethnic groups in the country including Hausa, Songhai and Fulani. Almeida began playing guitar at the age of 27 in his village, Zinder, in the east of the country, before moving to the capital Niamey, where he works as a judge. He finds that his status as a well-known musician helps him in his work in court, getting parties to reconcile on their own. Once had to rule in a case of damages resulting from a bar fight, where the accused was a big fan, one that came to every show, so he fined him and paid it out of his own pocket. Their DIY spirit resonated with audio engineer (and punk musician) Jamie Carter, who may be the biggest Western influence on the band. His life took a sudden turn after meeting Almeida by chance in Chicago where he is based, and before long he found himself in a Niamey studio recording
A-Na Waya
, released only in Niger. Since then he has recorded the two international releases,
Kaani
and the current
Zoy Zoy
. "It's a collaborative process as far as my input, just opening doors they wanted to go in," he says. "It's not tinkering with the sound, rather imagining what they would hear, achieving their vision." On
Zoy Zoy
"I wanted the instruments to be distinct as possible but as immersive as possible. When you close your eyes it is possible to sink into it." [caption id="attachment_23225" align="aligncenter" width="640"]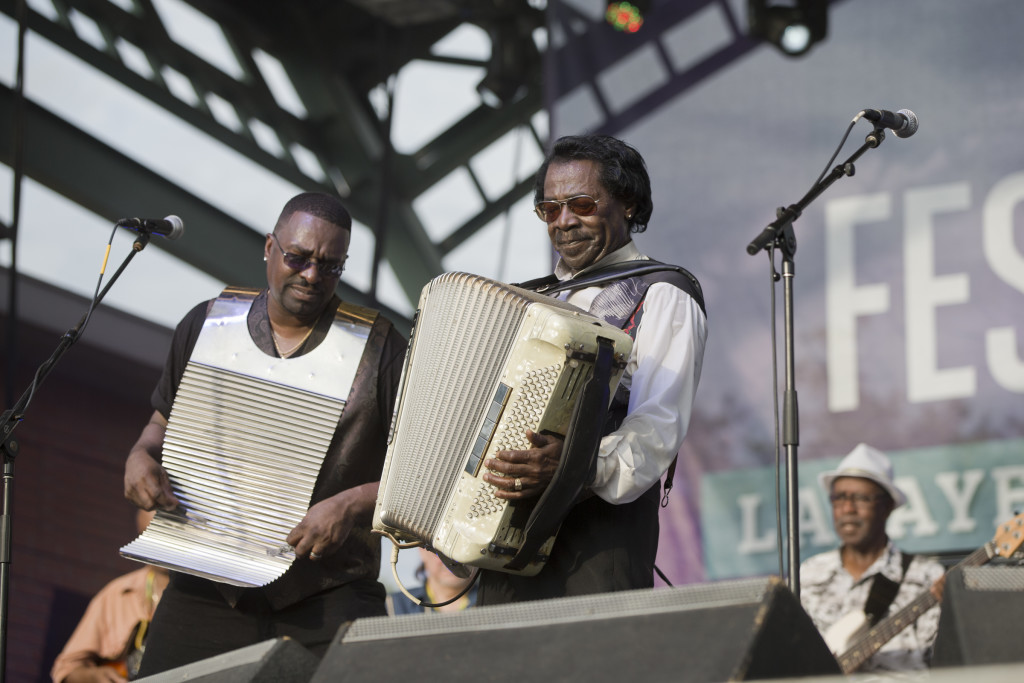 Buckwheat Zydeco[/caption] Zydeco artists opened and closed the festival, Dwayne Dopsie and the Zydeco Hellraisers, Lil Nathan and the Zydeco Big Timers, and Buckwheat Zydeco. It doesn't get much better than listening to Terrance Simien call out to family and friends and launch Mardi Gras beads into the audience while the Zydeco Experience pumps out a rollicking groove. [caption id="attachment_23222" align="aligncenter" width="640"]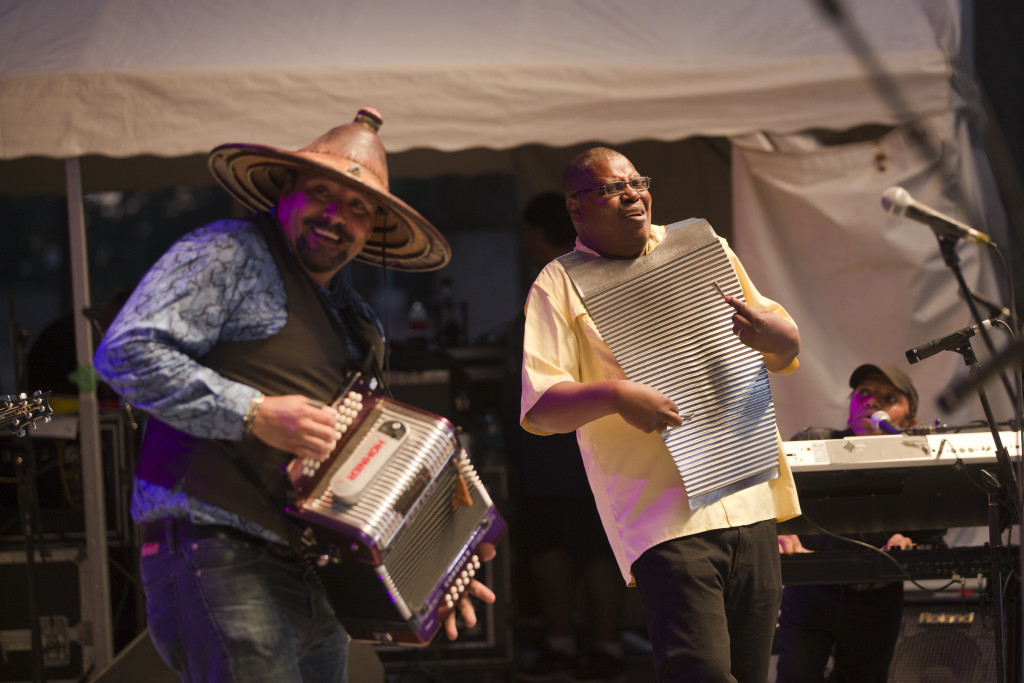 Terrance Simien with Zydeco Experience[/caption] After-parties at several venues steps from the stages kept the music going late into the night. Visiting musicians joined locals including the Sub-Saharan Swamp Stomp featuring Lil' Buck Sinegal, CC Adcock (Louisiana) with special guest Vieux Farka Touré at the Blue Moon Cafe. Mark Milliron, the drummer from visiting band Frenchaxe, raved about Bonsoir Catin's performance at Feed and Seed. Feed and Seed also hosted showcases with Steve Riley and the Mamou Playboys introducing their new album
Voyageurs
. Artmosphere Bistro was also a favorite stop for late night music. Lafayette's ambience made deciding which stage to go to the most stressful decision of the weekend, followed by where to eat. As local music entrepreneur Anthony "Moose Harris" Daniels explained, the local music scene is "a bunch of puzzle pieces that make a picture but come from different boxes." Standing in front of each stage was like opening a gift; unfortunately we could only be at one at a time.