Field Report: Festival Timitar, Agadir, Morocco
With a 10 km-long beach of fine sand, more than 300 days of sunshine a year and a marina, the south Moroccan town of Agadir is an ideal holiday resort. Every summer Agadir is also home to the Timitar Festival, born of a desire to open the Amazigh (Berber) culture to the world. Under the theme of "Amazigh artists greet world music," this year's 14th edition, held July 5-8, gathered more than 40 Moroccan and international musicians to perform their music in a laid-back coastal environment.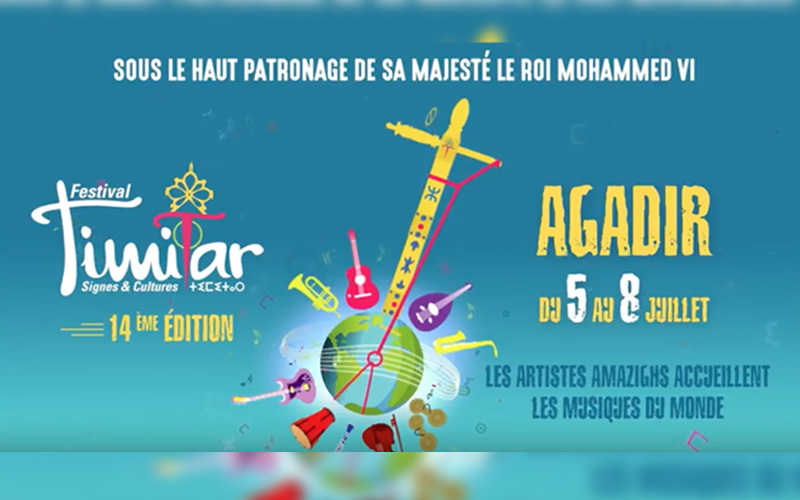 The four-day event attracted some 500,000 spectators, an intriguing mix of selfie-taking youngsters, traditionally dressed Moroccan families, and tanned tourists. They enjoyed such local artists as Asmae El Menaouar, Samy Ray, Najat Rajoui, Rhany, Fatima Tihihit and Fatima Tabaamrant. The festival was also presented international artists such as Oumou Sangaré, Algeria's Labess, Cuba's Ibrahim Ferrer Jr., Estonia's Trade Attack trio, and the rising South African diva, Nomfusi.
One of the biggest festivals in Morocco, Timitar was founded in 2004 with the aim of setting up a cultural project to facilitate meetings between Amazigh artists and world musicians. The word Amazigh, plural Imazighen, means "free people" in the indigenous Tamazight language. Among outsiders, the more common—though incorrect—name for Imazighen is Berber, a term that is largely rejected by Imazighen for its negative connotations: It's related to the word "barbarian."
Brahim El Mazned, artistic director of the Timitar Festival, explains the origin of the festival: "In the south of Morocco, especially in the Souss [region of Agadir], for several centuries the Amazighs have been celebrating summer with the Moussem which are forms of traditional festivals that often take place around a holy place. For more than 20 years several cities in Morocco [Fez, Essaouira, Rabat] have seen the birth of modern festivals like everywhere else in the world. In 2004 the then-president of the region, Aziz Akhannouch, created a festival in Agadir and he entrusted me with the mission of realizing the concept, and we came up with the Timitar Festival: Amazigh artists welcome the music of the world. Since its inception, Mr. Akhannouch has been involved in this festival to keep it one of the world's major music events, and to maintain its identity."
[caption id="attachment_38384" align="aligncenter" width="640"]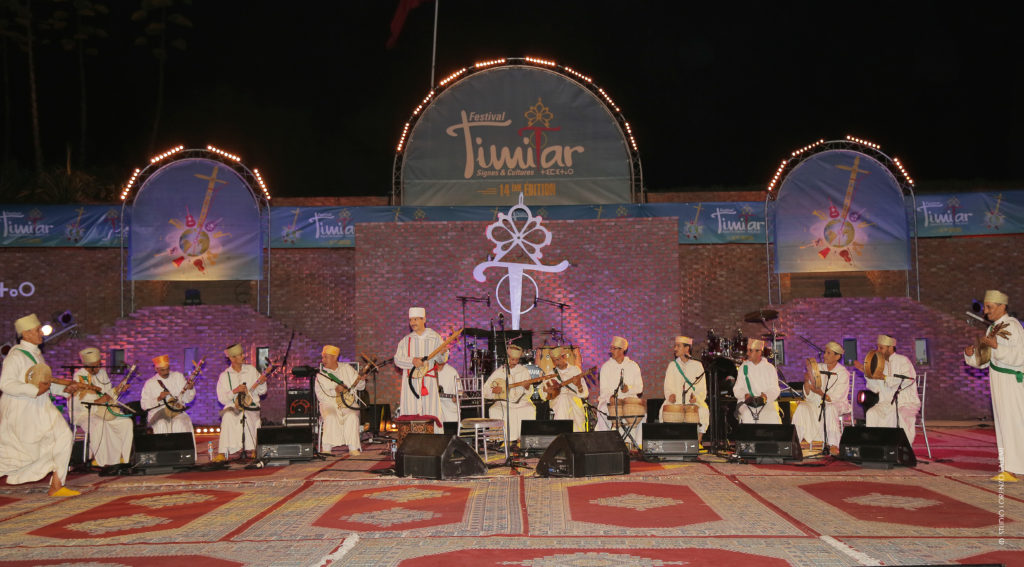 Traditional Moroccan group. Photos courtesy of Studio Lorenzo Salemi.[/caption]
About the programming of this year's edition, Brahim El Mazned says: "We invited many Amazigh artists who testify to the musical richness of Morocco be it traditional or modern. Each evening an Ahwach group opens the main stage on Al Amal Square. We also invited several masters of the Rways such as Rayssa Fatima Tabaamrant or Rayss Hassan Aresmouk who perpetuate this tradition without forgetting the major current figures of the chaabi scene like Abdelaziz Stati. Contemporary music is represented by such artists as Asmae Lamnawer, Ribab Fusion or Ahmed Soutan, who deal with current events but also the hip-hop scene with the inevitable Masta Flow."
Brahim el Mazned explains what the name Timitar means: "Timitar means 'sign' in the Amazigh language. Signs in Amazigh culture play a strong role, both in such outwardly visible ones as henna, tattoos, hairstyles, etc. but most importantly in the invisible signs that lend rhythm to life in the Amazigh community. They can be detected in agricultural life, in marriages, in the role of women in society, etc."
Staged in three open-air venues throughout Agadir, audiences enjoyed free admission to music at the central Place al Amar, Place Bijaouane and the Théâtre de Verdure.
The opening night offered a varied program of Moroccan and international stars. Beside the Malian diva Oumou Sangaré and singer Elida Almeida, the new rising star of the Cape Verdean music, there were also concerts by Les Amazones d'Afrique, an all-female collective of West African musicians campaigning for gender equality. This supergroup consists of big names such as Angélique Kidjo, Kandia Kouyaté, Mamani Keita, Mariam Doumbia, and Mariam Koné. One of the surprises was the Moroccan group Géneration Taragalte, a popular young band from the oasis town of M'Hamid on the edge of the Sahara in south Morocco, close to the Algerian border. Géneration Taragalte, formed in 2009, recalls traditional songs from the Sahara, reflecting the nomadic background of the five musicians. Their music is also greatly inspired by the desert blues of musicians like Ali Farka Touré, and later, the renowned Tuareg band, Tinariwen.
Many interesting concerts took place at the Place Al Amal, a huge square in the center of Agadir. A big dose of Amazigh funk, powered by the one-stringed bowed ribab, was produced by the six-piece band, Ribab Fusion. This group was created in 2008 in Agadir to celebrate Morocco's Amazigh culture. With '70s-style funk, Afropop dance vibes and high-energy call-and-responses choruses, the energetic Ribab Fusion got the crowd moving on the packed Place Al Amal.
[caption id="attachment_38385" align="aligncenter" width="640"]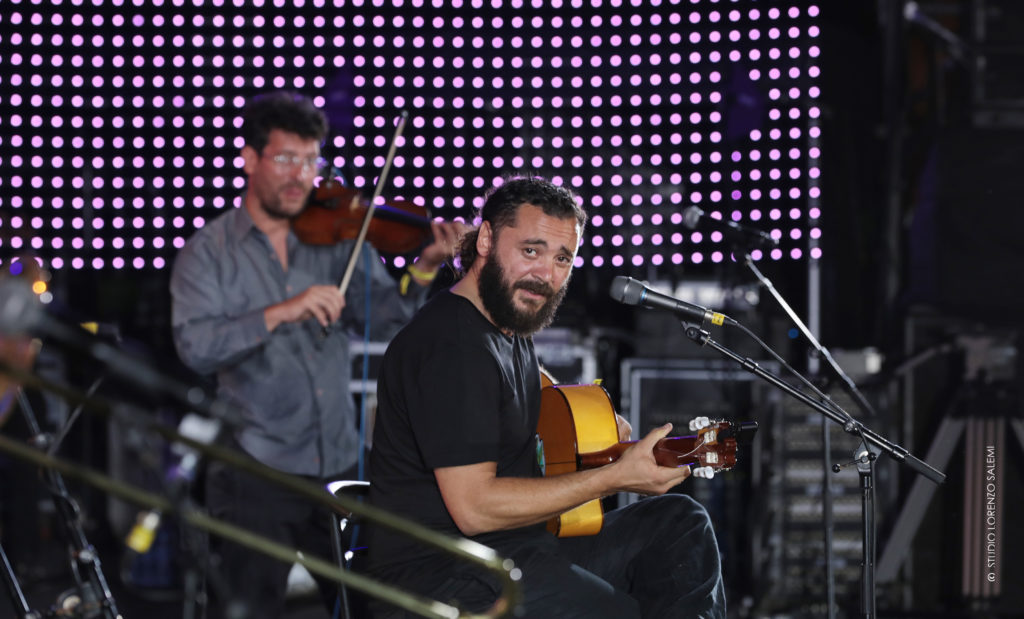 Labess[/caption]
One of the highlights of the festival was the group Labess, which means "all right" in Arabic. Led by the charismatic singer-songwriter of Algerian origin, Nedjim Bouizzoul, who sings with his raw, expressive voice in Arabic, French and Spanish, this dynamic group creates a festive fusion style with Cuban guaracha, flamenco, gypsy rumba and North African traditional music. The instrumentation consists of krakeb (traditional Arabic percussion), bass, clarinet, trumpet, guitar and drums. Within a few minutes everybody on the packed Place Al Amal was dancing to this ultimate party music. This very tight band was sometimes a little reminiscent of the Gipsy Kings, but with socially engaged lyrics, celebrating tolerance and freedom, Labess has much more depth.
[caption id="attachment_38381" align="aligncenter" width="690"]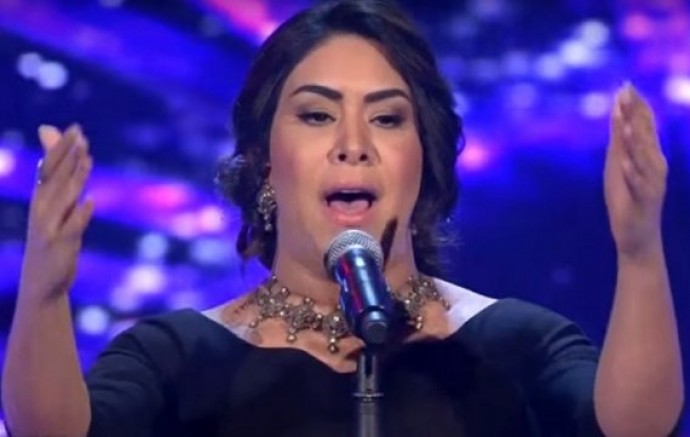 Najat Rajoui[/caption]
The rising star of Moroccan music is singer Najat Rajoui, whose promising career is in the process of evolving. After her appearances on the popular TV talent show "The Voice," Najat Rajoui climbed the ranks of the Moroccan and Arabic stage and established herself as a voice impossible to ignore. Her talent and classical style have allowed her to attract attention and to arouse the great interest of the specialists and critics who are determined to follow this singer very closely. Her show in the packed Théâtre de Verdure was received with waves of enthusiasm. Everybody was singing along with her songs inspired by the belle époque of classic Arabic music.
The concert of the Cuban singer Ibrahim Ferrer Jr. was quite disappointing. He was singing boleros and other Cuban styles, just like his late father, the world-famous Ibrahim Ferrer of Buena Vista Social Club fame. The problem is that Junior is not a good singer and his uncertain presentation only made matters worse.
[caption id="attachment_38382" align="aligncenter" width="640"]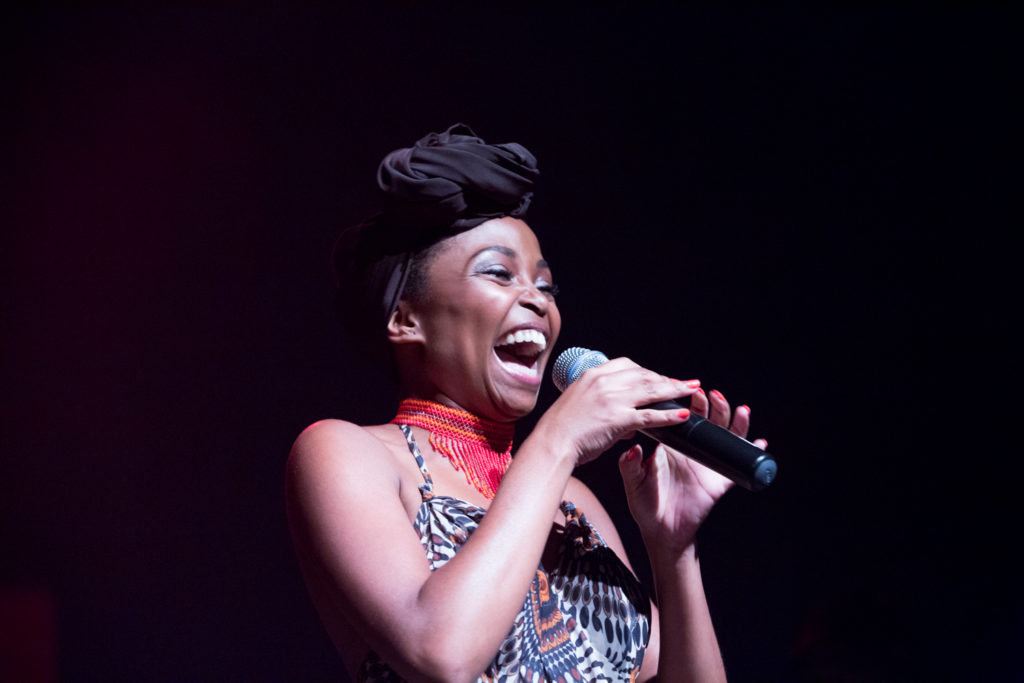 Nomfusi[/caption]
Nomfusi, the rising star of South African music, made a big impression. This singer, a self-taught composer, has an extremely energetic stage presence and an expressive voice that instantly connects with her audience. From a working-class childhood in KwaZha-kele, Nomfusi possessed two powerful qualities that enabled her to escape the misery and poverty: an irrepressible desire to shape her own life, and a grandiose voice. The vocal range and tessitura of Nomfusi's voice, which can alternately be radiant, rumbling or enchanting, is imbued with an almost inexplicable power. Nomfusi combines the sound of Motown with African soul and pop, while keeping her own accent. Check her new album, African Day.
Singer-composer Hamid Bouchnak made a name as one the members of the famous Moroccan group Les Frères Bouchnak. This family band, consisting of four brothers, was extremely popular in the '80s and scored hits like "Hiya," "Laylayla" and "Sidi Yahya."
Since 1995, Hamid is a successful solo artist, combining Moroccan rai and chaabi with elements of Western pop and rock. His show at the Place Al Amal was a sight to behold and uplifting to the heart. Everybody was dancing, yelling and having a great time.
The varied lineup of the Timitar Festival adheres strongly to the spirit of plurality inherent in world music and Amazigh musical tradition. Attended by Moroccans and foreigners, the Timitar Festival is an exciting foray into Morocco in summer.
Bastiaan Springer is producer for Radio 5 and The Concert Radio in the Netherlands, and a world music journalist.
Featured image above: Ribab Fusion