Field Report: Folk Alliance International 2019
This year marked the 31st annual Folk Alliance International conference which took place in Montreal, Quebec from Feb. 13-17. For the uninitiated, FAI offers a yearly opportunity for musicians to network among themselves, attend workshops and seminars, and most of all perform for bookers, festival/venue presenters, managers, agents, record labels, radio/podcast disc jockeys, and, of course, the press.
Over 650 acts performed over the four days and nights of the conference which was held at the Fairmont Queen Elizabeth II hotel. The hotel holds a special place for music lovers, as it was in one of the rooms where John Lennon and Yoko Ono held one of their famous bed-ins. This year marked the 50th anniversary of that event, and the conference held a virtual streaming bed-in, where musicians around the world were able to log in and sing "Give Peace A Chance" together.
While the primary focus of the conference is, of course, folk music, the folk came from every part of the globe – from Austin to Australia. And while the majority of performers were solo singer/songwriters, there were groups representing musical traditions from Maoris to mariachis. Some acts were seasoned veterans, and others newcomers to the scene. We did our best to catch as many world music performances as we could: Here are the top picks of what we saw.
We've written about and interviewed the talented Haitian-Quebec artist Vox Sambou over the last few years, and his performances and music keep growing stronger. He totally killed at his showcase, where his band was joined on stage by Bokanté front-woman Malika Tirolien and Malian kora player Emde Mamatou Dembélé. Never shying away from political and social issues, Sambou urged the audience to read up on the current riots recently occuring in Haiti. He dropped a new single, "Rezistans," this month, a tribute to Haitian immigrants living in São Paolo, Brazil, where Sambou has regularly been performing and recording. This is a group not to miss.
We absolutely fell in love with two women, representing two different countries at their respective showcases. Actually, Kiran Ahluwalia, born in India and raised in Canada, has been on our radar for some time, having garnered many awards for her albums, and for her collaboration with Tinariwen covering the Nusrat Fateh Ali Khan classic "Mustt Mustt." She almost mystically blends traditional Indian sounds with jazz and rock, and watching her perform live is itself an other-worldly experience.
Farah Siraj may not be as well known to Western audiences, but the Jordanian singer (who is the official music ambassador of Jordan) has been recording since 2011, and her 2013 collaboration with Oscar and Grammy award-winning Indian composer A.R. Rahman, "Zariya," was a huge hit in both India and the Middle East. Currently residing in Philadelphia, she has brought together classic Middle Eastern music and flamenco jazz into a beautiful, almost floral mix that intoxicated us from the start. New Yorkers can catch her at the Rockwood Music Hall on April 19.
Andrew Finn Magill grew up in Asheville, North Carolina where he early on was recognized for his fiddle playing. By the age of 18, he had released his first album, and later was an All-Ireland Fiddle finalist. In 2014, he moved to Brazil, where he immersed himself in its music and performed with local musicians. In 2018, he released Canta, Violino!,a Brazilian jazz fusion project on Ropeadope Records. At the conference, he performed as a duo with equally excellent Brazilian guitarist Cesar Garabini totally impressing us with their virtuosity and musicality.
If you're looking for dance music, two bands that showcased at the conference should be in your playlist. First up were Six Degrees recording artists the Turbans, who like to say their musical influences come from "manywhere," an apt description as the band's members hail from countries including Turkey, Bulgaria, Israel, Iran, Greece and England. They are a lot of fun live and you should definitely try to catch their act.
The second band we recommend to get you on your good foot was the marvelous Polish group Caravana Banda, who fuse Balkan, Gypsy and flamenco, and sing in several languages. This was their first visit to the West and we hope they will bring their circus-like caravan of musical fun back to our shores soon.
Also of note, Montreal native Kaia Kater is mostly known as a folk singer/banjo player, but on her latest album Grenades, on the Smithsonian Folkways label, she told us that she asked the archivists there if they could dig out some traditional music from Grenada, where her family's slave roots are from. Among the recordings, she found an old chant which she adapted, recorded, and sings a cappella in French, entitled "La Misère." It was a highlight of her well-received showcase.
Special mention goes to several acts we also enjoyed. Nava, based in Dublin, Ireland, seem to do the impossible – blend traditional Irish folk with traditional Persian music. The members of the quartet are folk/bluegrass musicians Paddy Kiernan and Niall Hughes, and Iranian-born brothers Shahab and Shayan Coohe. Their very original music left us very satisfied.
Then there was Sofia Rei, an incredible vocalist originally from Argentina, but now based in New York. She has collaborated several times with the multitalented John Zorn, and has just released Keter, with Guadeloupean musician J.C. Maillard, in which they interpret the works of Zorn, specifically from the last part of his Masada trilogy. Her voice is powerful, exotic, and lush, and highly recommended.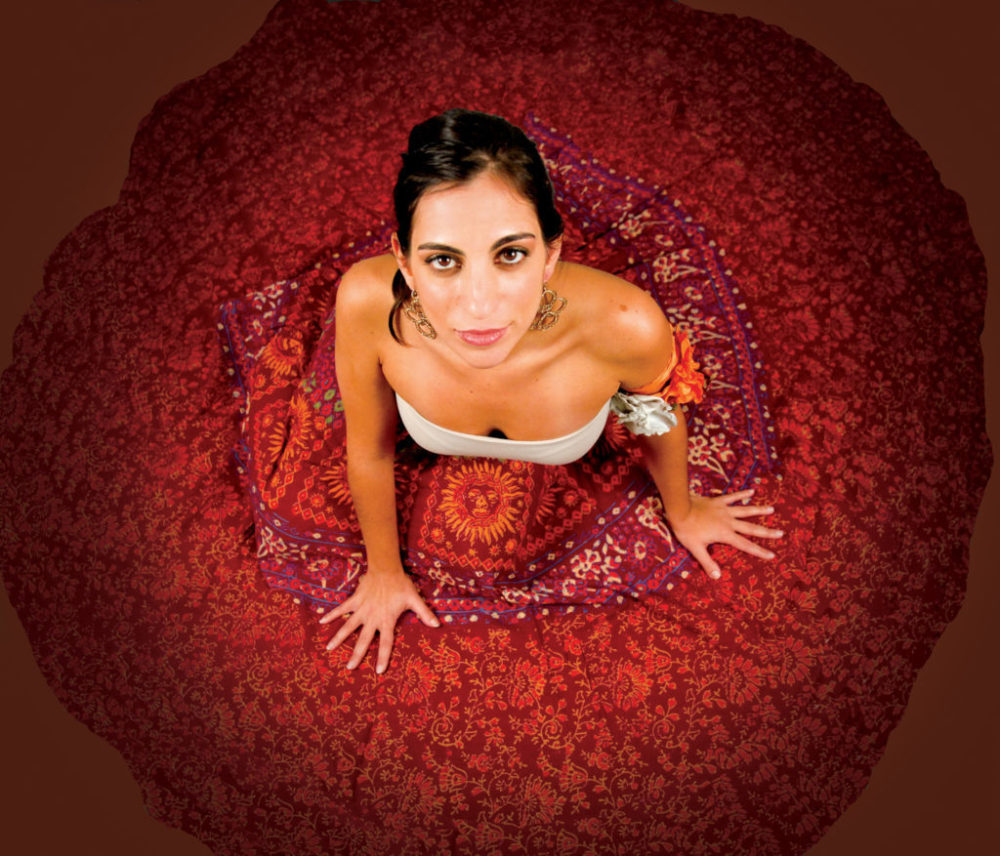 And finally, Mauritanian-born, Senegalese-raised singer/songwriter Daby Touré, whose father was a member of the great Afropop band Touré Kunda, though he himself should be well-known to our listeners through his several albums on both Peter Gabriel's Real World and the Cumbancha labels. At the conference, he debuted a new project that just blew us away. He performed as a duo, singing and playing guitar, accompanied by Hungarian cellist Laszlo Koos. In such a minimalist arrangement, his music was able to lift us and we floated along on a wonderful journey with him. He is working on a new album in this vein, and we look forward to it being released later this year.

Next year's Folk Alliance International conference will take place in New Orleans, Jan. 22-26.