Field Report: Highlights From the 2014 Gwoka Festival in Guadeloupe
Guadeloupe--like most of its island neighbors in the Caribbean--has a long and difficult history of colonial conquests, slavery, and embedded African cultural traditions. (For more, check out our Hip Deep program "The French Caribbean: Cosmopolitan, Colonial, Complicated."
The musical traditions of Guadeloupe are deep and rich, and thriving to this day despite near extinction some 30 years ago, when social and racial discrimination had marginalized the music and discouraged public performances. The folk music known as gwoka survived mainly in the rural areas and was generally considered lower-class and backward.
A legendary homeless street musician named Vélo is said to have kept the gwoka tradition alive by performing in the marketplace in Point-a-Pitre through the 1970s. His death in 1984 was a wakeup call for Guadeloupeans to reclaim and celebrate their heritage, and currently UNESCO is considering awarding the Intangible Cultural Heritage recognition to this indigenous music. Gwoka is enjoying a strong revival, with many practitioners, groups, and music education in schools to transmit the traditions to the upcoming generations. The 27th annual Gwoka Festival reviewed here is evidence of the success of the continuing musical renaissance.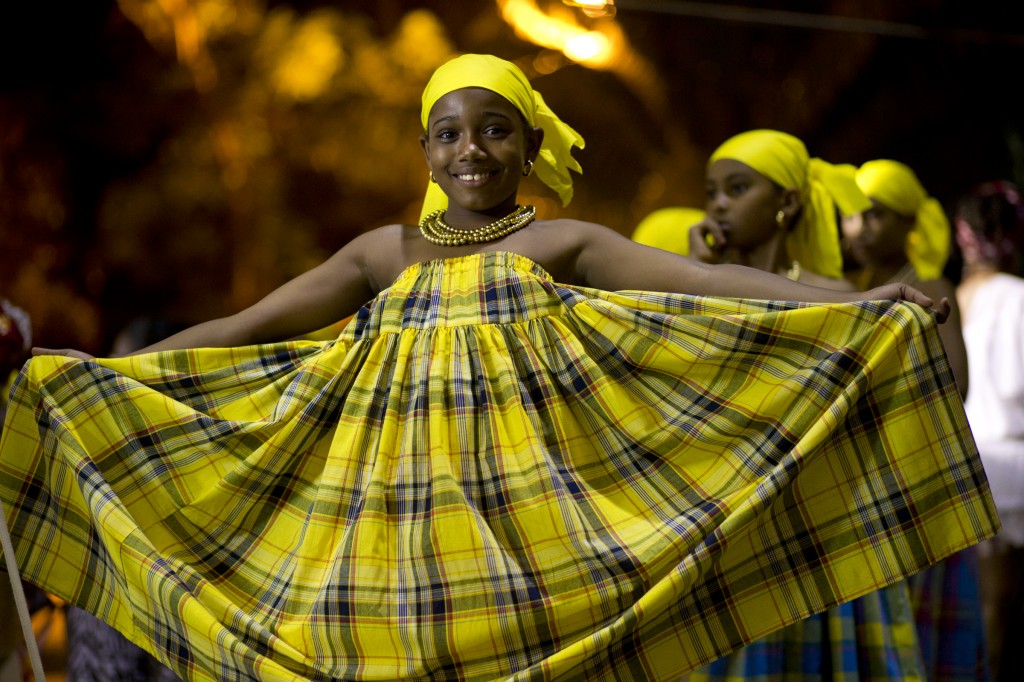 If your familiarity with the French Antilles began with the zouk group Kassav', you'll be interested to know that Kassav's original members were from Guadeloupe, and began incorporating gwoka rhythms into their earliest recordings in 1979, in tribute to Vélo and bringing recognition and acceptance to the then-disparaged style.
The African roots of the music are immediately obvious and undeniable. Research has traced links to the various origins of the rhythms in Congo, Sierra Leone and Senegal, among others. The word gwoka derives from the Creole form of the French gros ka (big drum), originally constructed from a wooden barrel with a goatskin head. The instrumentation of a gwoka ensemble consists of a large ka drum called the boula; a smaller drum known as a makè, a chacha (gourd rattle), and a clave-like pair of sticks, ti bwa, which are played percussively on the side of the drum. Performances include specific dances and song repertoires that accompany seven traditional rhythms: graj, tumblak, mendé, kaladja, woulé, padjanbel and léwoz.
Afropop correspondent Bill Farrington attended the 27th annual Gwoka Festival in July 2014, and brought back the news that gwoka is alive and well and thriving in Guadeloupe. All photos by Bill Farrington.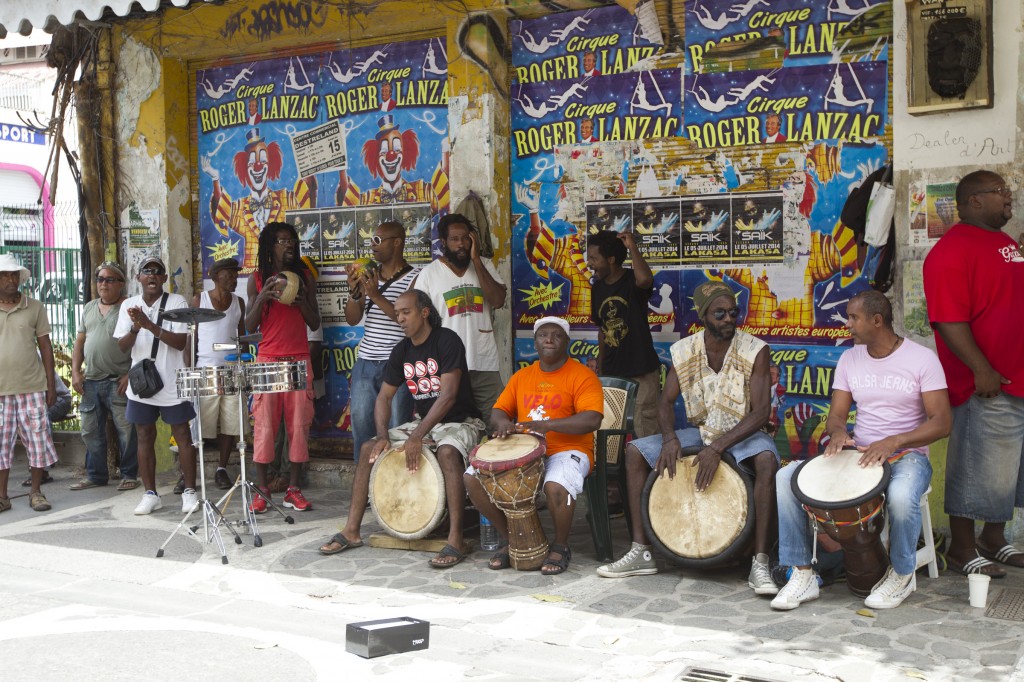 From July 9-14, the picturesque seaside town of Ste. Anne hosted five nights of music and dance at the 27th annual Gwoka Festival. On tap was a wide range of music all tied to the seven basic rhythms of gwoka. Hundreds turned out each night, mostly Guadeloupeans with a handful of tourists and international fans of the music. All shows were free, many taking place in public spaces around town, with the main stage at Plage Galba.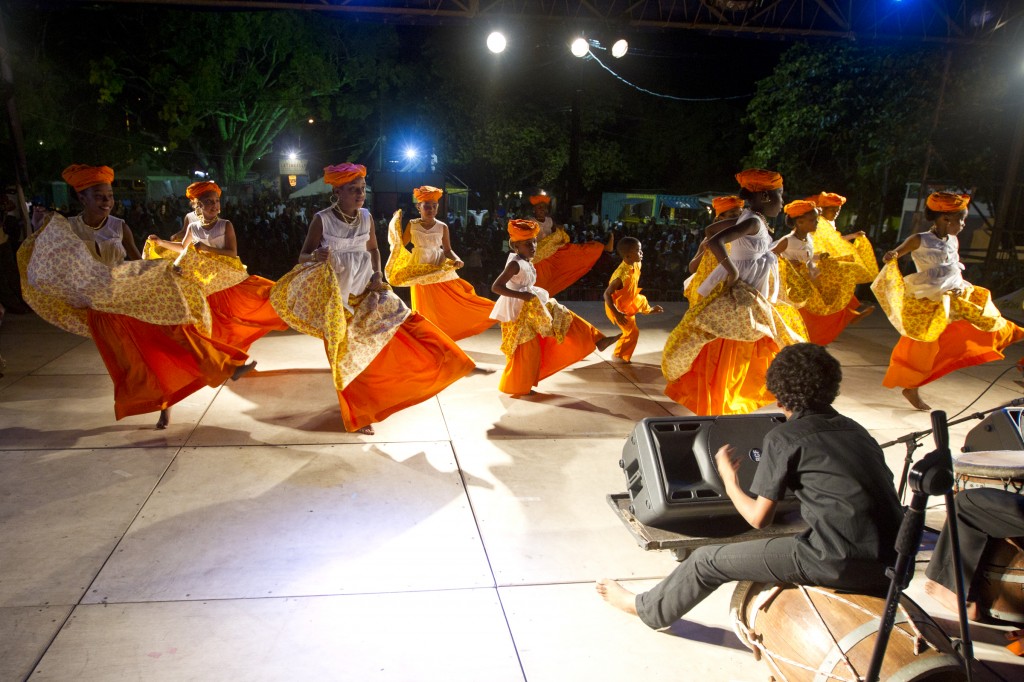 Discussion of the future of the music began at the opening reception on July 9 and continued with panels over the course of the weekend. One topic: How to expand opportunities for the local economy through the music. One day of panels was organized to inform artists how to go about gaining international exposure. A concern was that gwoka would drift from its roots. Spurring passions was the development that gwoka is now under consideration for UNESCO world heritage designation, acknowledging the role of the music in resistance, rebellion, and as a voice of the working people.
At one panel, Cameroonian vocalist Gino Sitson added perspective, saying the music originated with the Africans who were brought to the island to work in the sugarcane fields, more particularly the maroons who were drawn to the Grands Fonds region inland from Ste. Anne on Grande-Terre where the rugged landscape provided refuge. The drum was the common denominator among the slaves speaking different dialects but seemed like noise or worse to colonial rulers and Catholic church leaders. In 1843, five years before emancipation, drumming was banned. In response, drummers in the Grands Fonds area developed boulagel (mouth drums), a throat-singing rhythmic vocal technique. As a singer this technique reminded Sitson of traditions found in Africa, and led him to work with the Geoffroy family, masters of boulagel.
A turning point came with the independence movement in the 1970s. Gwoka, strongly associated with that movement, had until then been marginalized and not considered music, explained lawyer Felix Cotellon. Through the struggle of the workers and patriots it caught the attention of students and intellectuals and grudgingly gained mainstream acceptance.
Cotellon, former National Director of the U.P.L.G. (Popular Union for the Liberation of Guadeloupe), is now president of Repriz, the organization behind the festival. He says the history of the festival also overcame the same prejudices as the music, and currently is striving to be more inclusive of music and dance of other Guadeloupean cultures.
[caption id="attachment_20111" align="aligncenter" width="563"]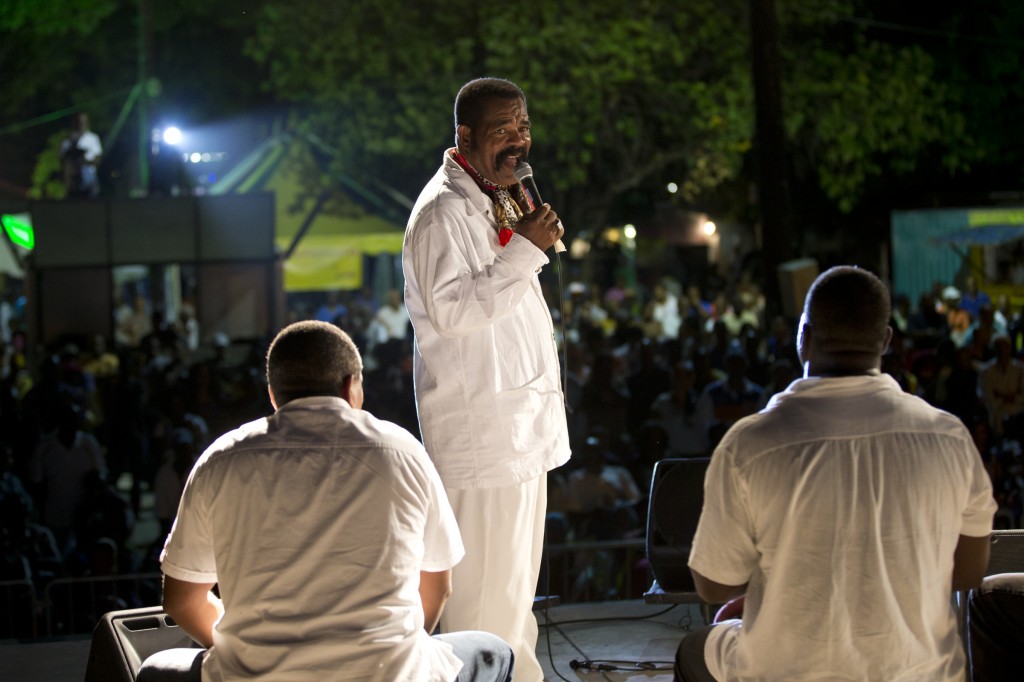 Gwoka singer Esnard Boisdur on stage with his group at the 2014 Gwoka Festival.[/caption]
The voice of Esnard Boisdur is as timeless as the street musicians are spontaneous. His complex melodic vocal patterns rise and fall over gwoka rhythms, answered by a chorus that echoes the rhythm. The drumming itself is understated in comparison to other gwoka bands heard at the festival. There is more than a hint of saudade in his voice. Elegant in all white with a red patterned scarf around his neck, he patrolled the front of the stage, making eye contact with listeners.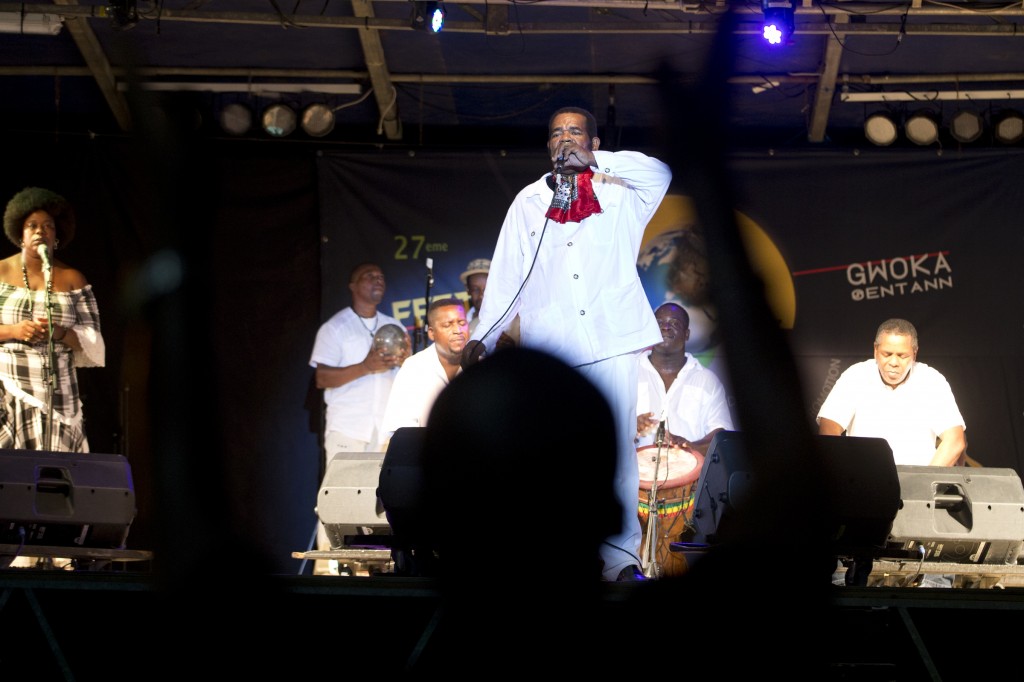 Boisdur was backed by three ka hand drums, a chorus of three, and two percussionists on calabashes. Songs performed during an approximately 80-minute festival set included "A Bwa Vigne," about the social conditions of workers, set in the past: Hungry sugarcane workers decided to eat the farmer's mule, and the farmer wakes up to find he no longer has a mule, a metaphor in the context of human comedy; "Proteje Yo," about the problems of youth delinquency, saying the same kids who are calm when sober, turn nasty under the influence; and "Las Fé Mal," stop practicing witchcraft, a song he composed after being afflicted by a curse. Guitarist Christian Laviso made a spontaneous appearance towards the end of the long set, introducing a solo that Boisnard answered.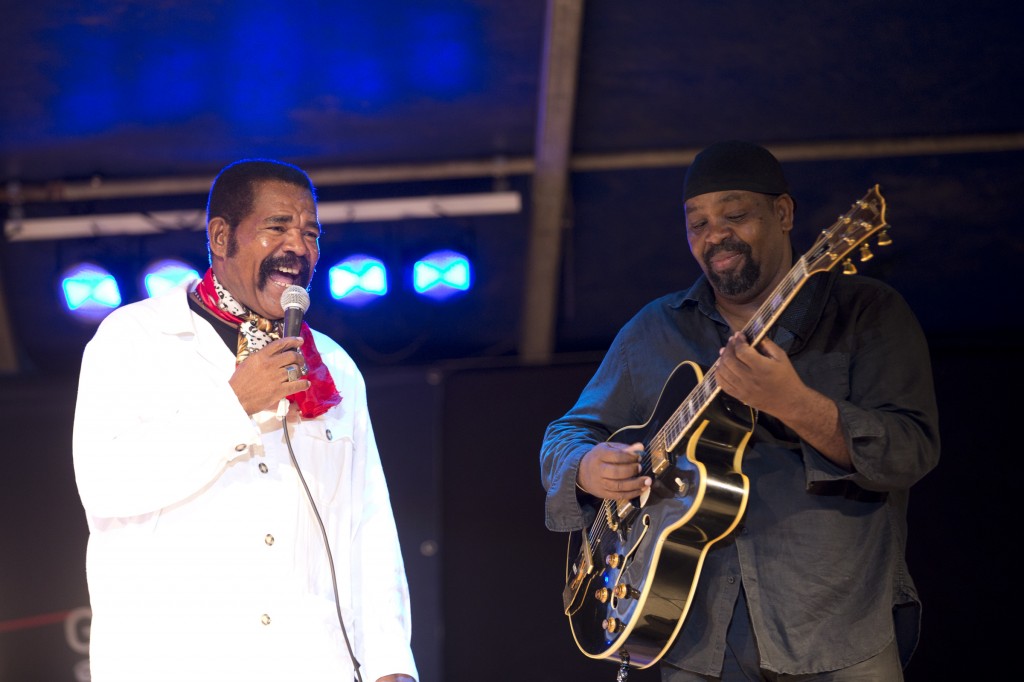 Groups exemplifying the oral tradition of the music, Kan'nida, Konvwaka and Fondong also performed on July 12, a night featuring traditional gwoka. Kan'nida, named after a traditional work song, is made up mostly of Geoffroy family members led by brothers Rene and Zagalo, and are cousins of the Boisdurs, also from the Grands-Fonds region.
[caption id="attachment_20107" align="aligncenter" width="576"]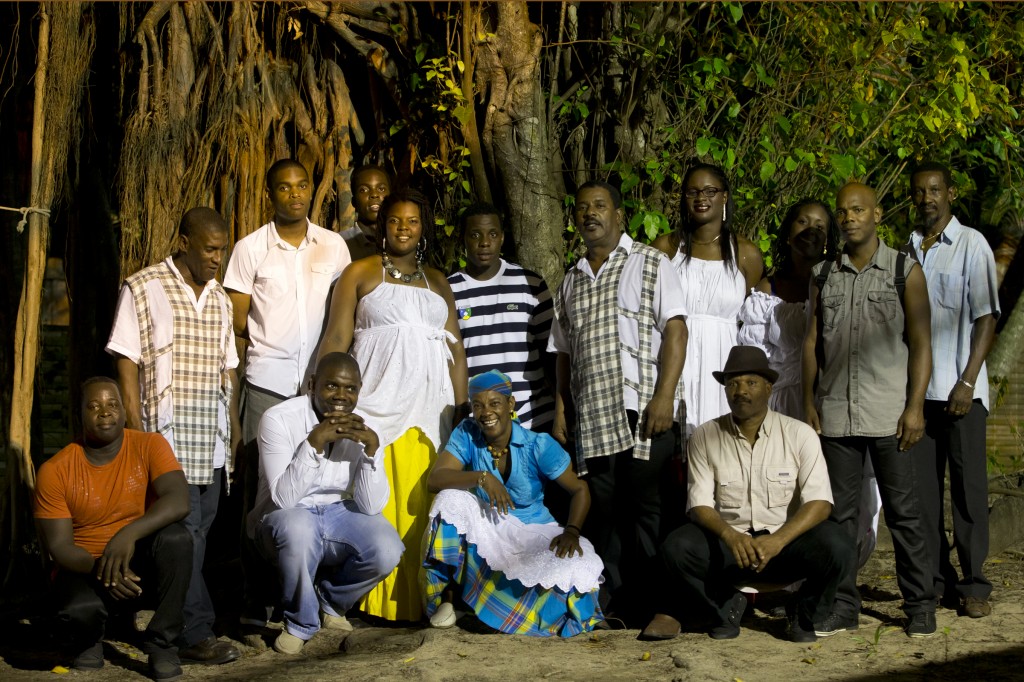 Kan'nida portrait after their performance at the Gwoka Festival, Ste. Anne, Guadeloupe.
Kan'nida performed with three drummers (makè, lead and two boula, rhythm), two percussionist/vocalists and a chorus while the two brothers traded lead vocals. Their set included two boulagel, of which they are masters, "Tankitan," sung by Zagalo and "Bonjou," sung by Rene, as well as a spontaneous piece, "Chikoungounya," sung by Zagalo in the kaladja rhythm.
[caption id="attachment_20106" align="aligncenter" width="576"]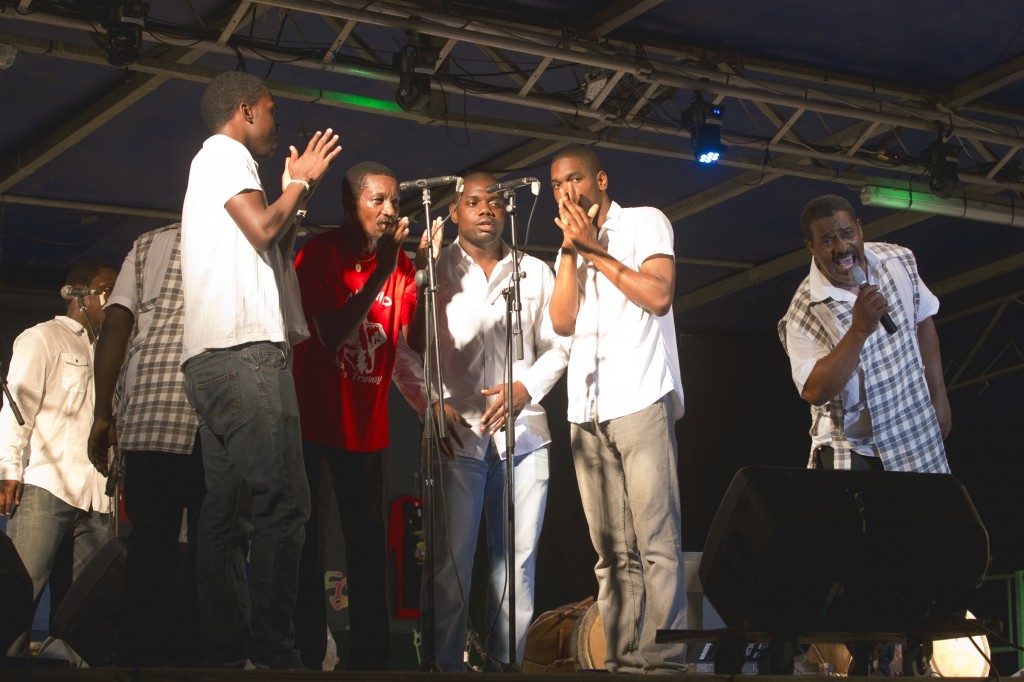 Kan'nida performing a bouladjel song with Rene Geoffroy, right, on lead vocals.
Konvwaka is led by drummer Yves Thole on makè, two boula, two percussionists, a chorus of four female and two male vocalists, and Christian Laviso on guitar.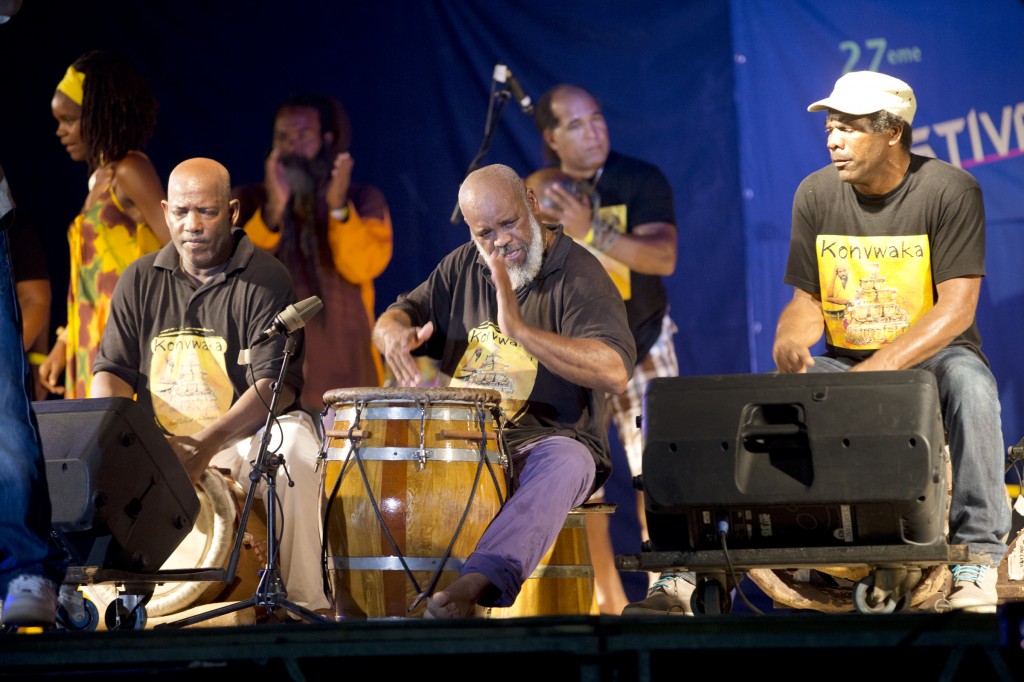 Laviso played a searing solo in a "Gita Ka" style in which he translated gwoka rhythms to the guitar.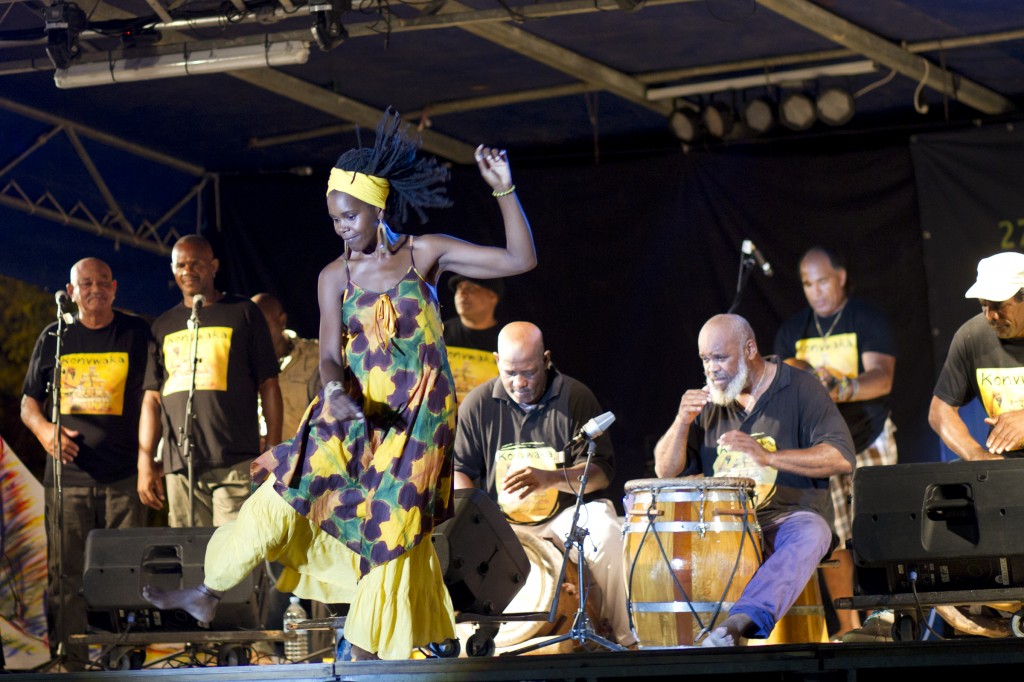 Also performing was guest drummer and vocalist Francois Ladrezeau. This June Thole organized a tribute to Velo, a week of music and mas honoring the drummer. He also built the ka in a tribute exhibit on view at the festival. Ladrezeau and Laviso both collaborated with American jazz saxophonist David Murray on The Devil Tried to Kill Me album.
[caption id="attachment_20110" align="aligncenter" width="576"]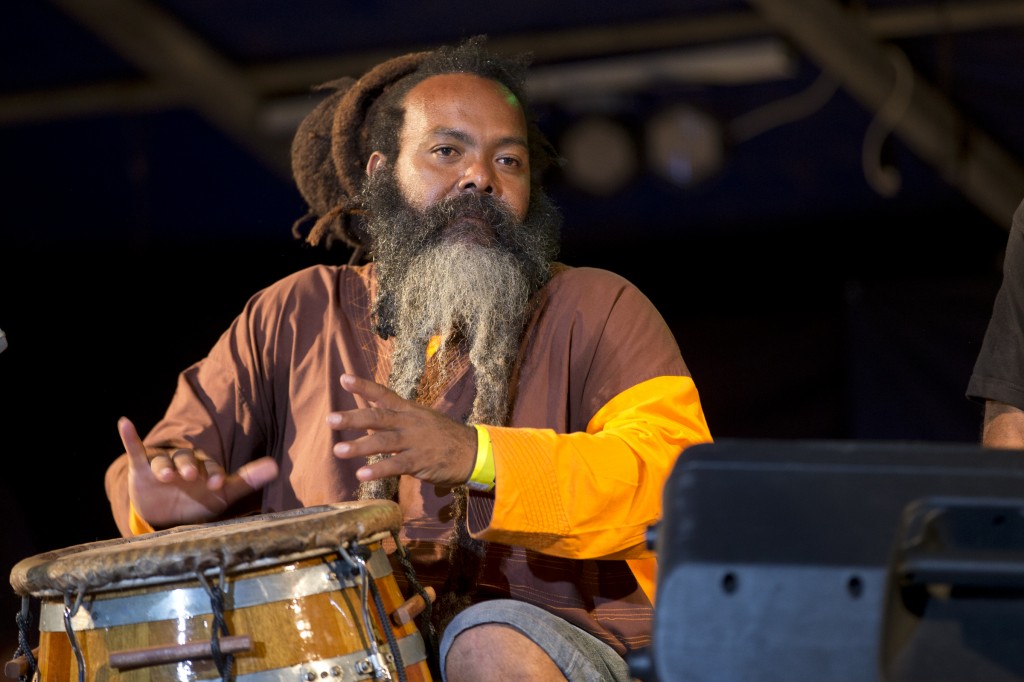 Francois Ladrezeau playing ka with Konvwaka at the 2014 Gwoka Festival.[/caption]
Opening the evening was Fondong, a relatively new configuration of veteran musicians led by drummer Gistavelabeka.
[caption id="attachment_20113" align="aligncenter" width="563"]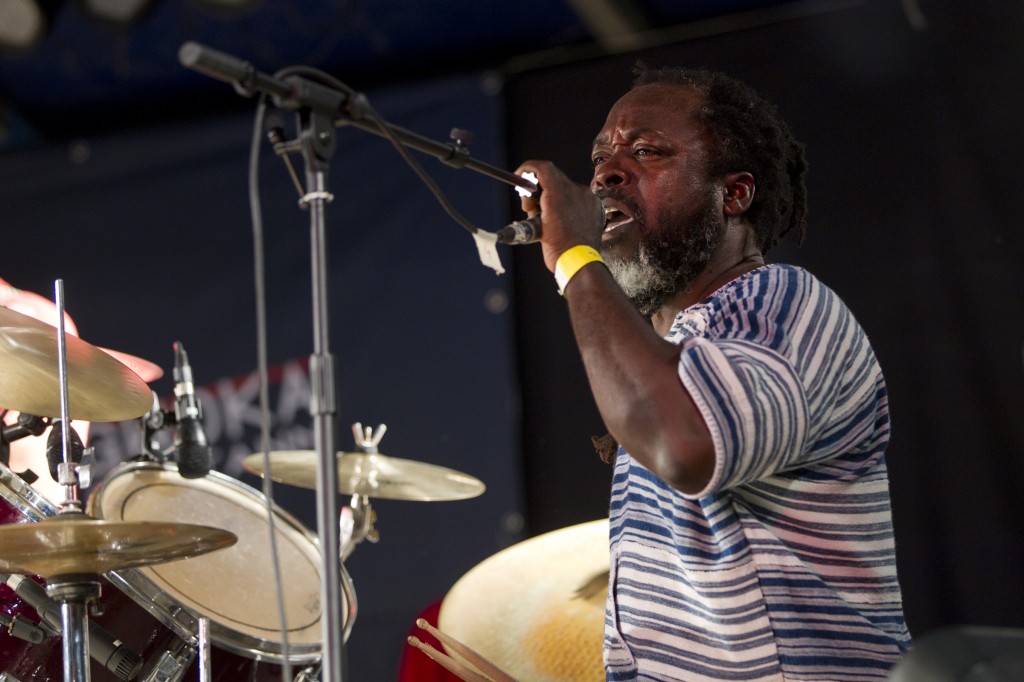 Fondong drummer and band leader Gistavelabeka.
The group uses their experience in traditional music, lewoz, padjenbel, granjanbel, as a springboard for an evolving form of original music. The boula keeps the rhythm, explained Klod Kiavue, a percussionist/vocalist who also played with Murray. Improvisations occur around the boula, play with the rhythms and create a more open, unstructured sound, moving in the direction of jazz without the chord changes and harmonies.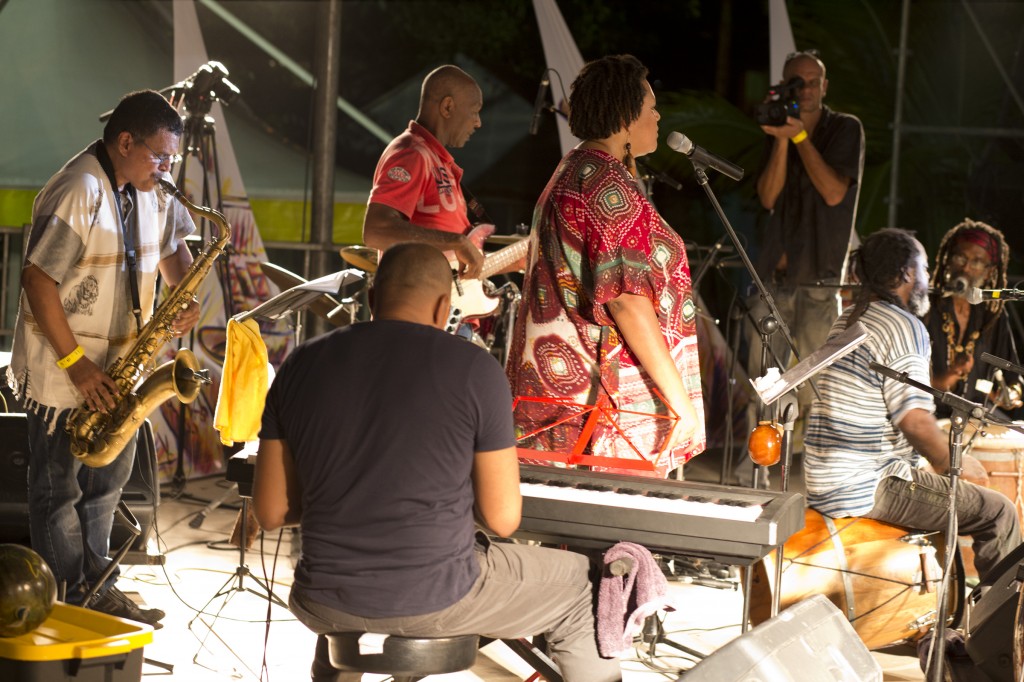 Vocalist Nathalie Jeanlys mixed Creole and Zulu words in a loose narrative based on a text about Segu (Mali). Jocelyn Marboeuf on piano, Guy "Guyto" Jean-Jacques on bass, Patrick Zamore on tenor sax, and Dominique Tauliaut on congas rounded out the band.
[caption id="attachment_20114" align="aligncenter" width="640"]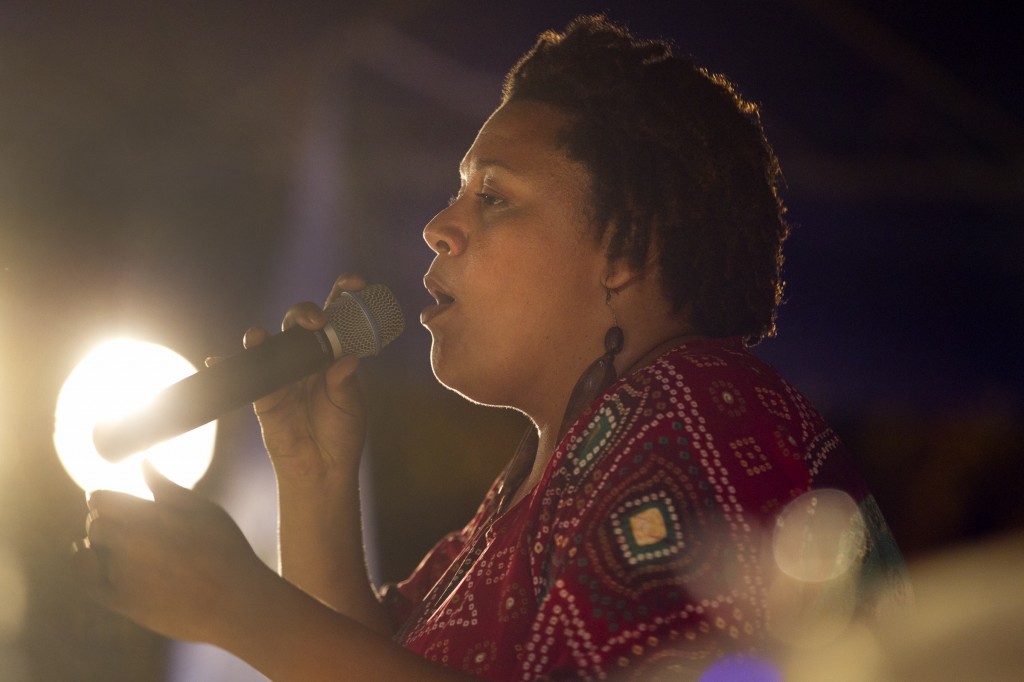 Fondong lead vocalist Nathalie Jeanlys
A traditional lewoz dance was held the evening of July 11. A circle of open space in the sand beneath a towering banyan tree at Plaj Galba was ringed by hundreds of spectators facing the gwoka ensemble of master drummer Bébé Rospart and Solboko from Basse-Terre.
[caption id="attachment_20116" align="aligncenter" width="576"]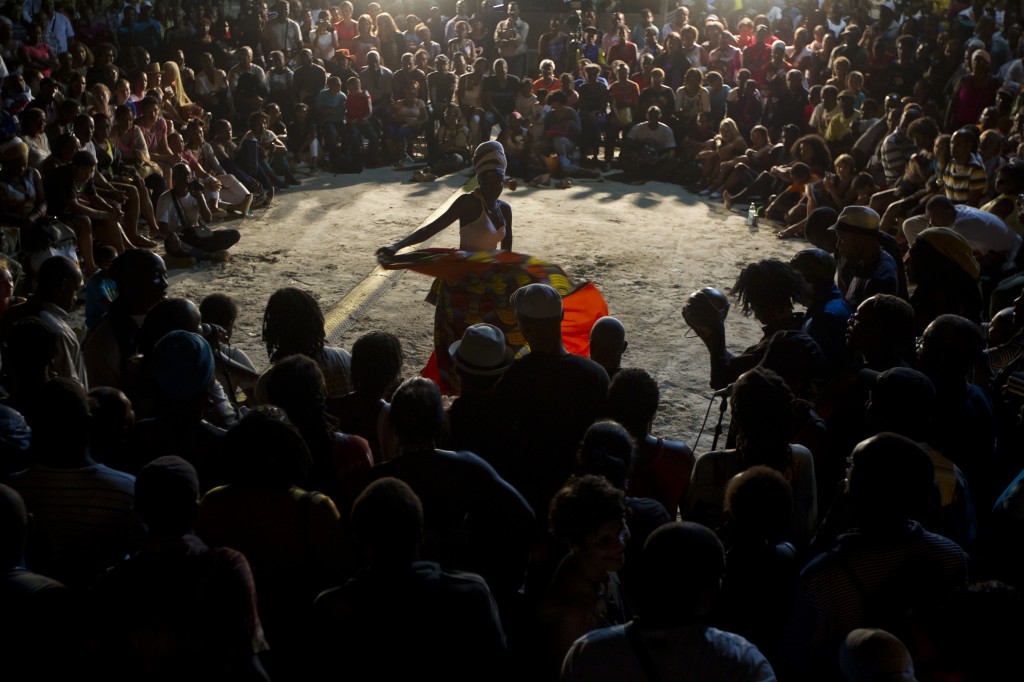 Anais Cheleux dancing to gwoka drummers at a Lewoz at the Gwoka Festival.
This was a youthful new generation's take on lewoz and a musician referred to the style of gwoka as indestwas. Rospart called out an introductory phrase a cappella, and was answered by the chorus of percussionists surrounding him. This signaled the drummers what rhythm would be played.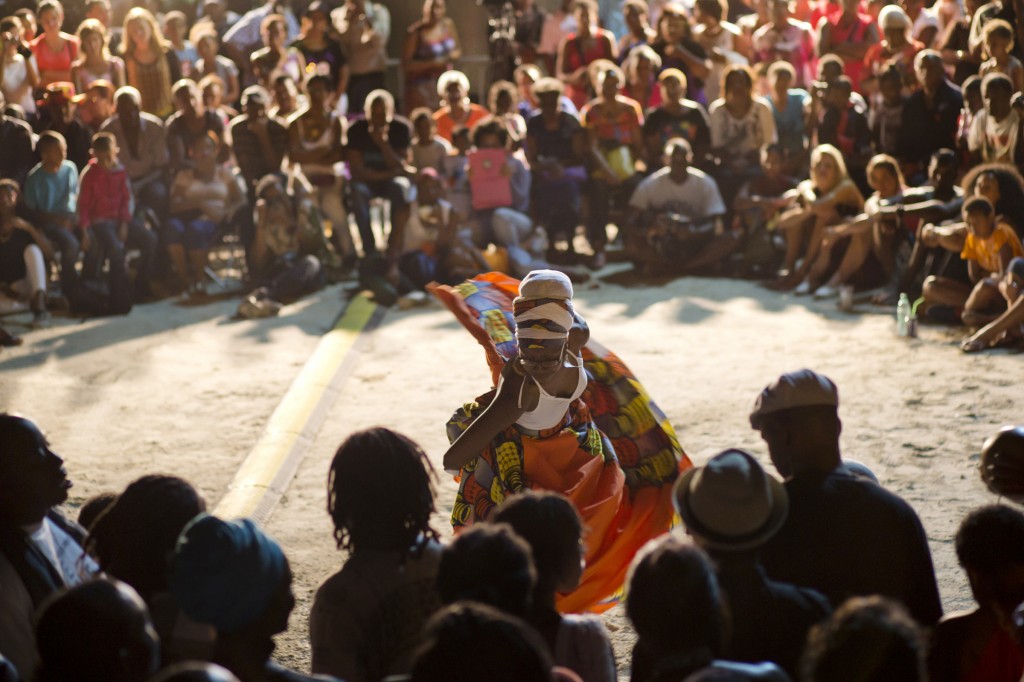 Once the music was rolling dancers were invited to enter the circle, where they first made eye contact with the drummers, then challenged them to stay in tune with their movements. The ritual began anew when a new dancer entered, and carried on into the early morning hours.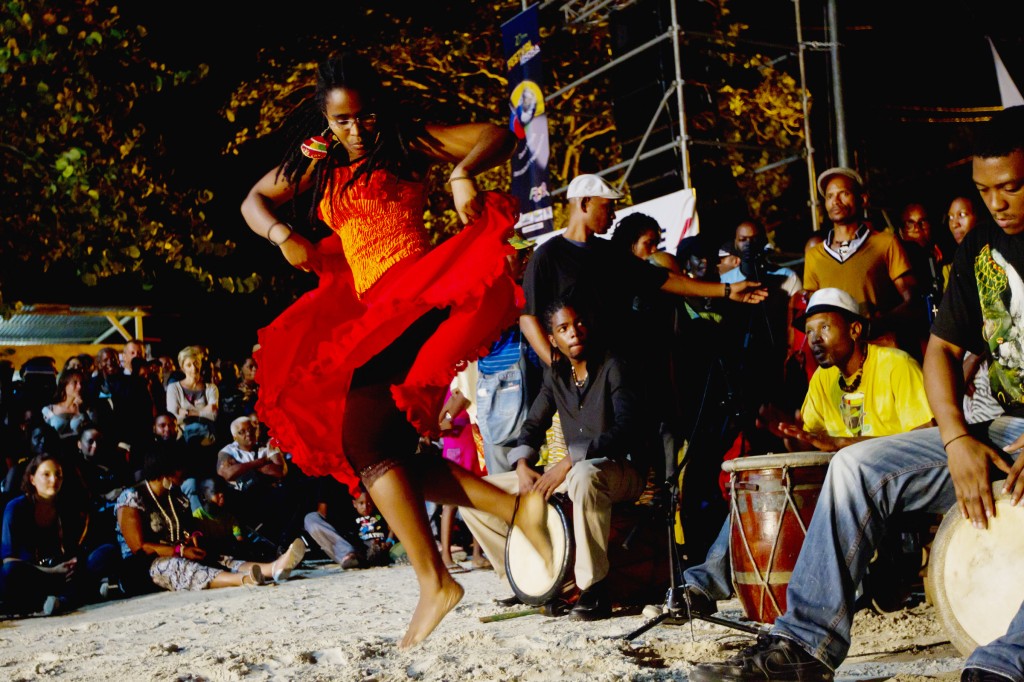 July 14's closing night presentation featured karnaval band Voukoum, vocal ensemble Famn Ki Ka, traditional gwoka from Kalbas Ka, and gwoka moderne from Rozan Monza.
Kalbas Ka, an energetic large group of 16 musicians, made an impactful visual image on stage, with rotating ka players and vocalists all dressed in white. They performed both traditional and original compositions.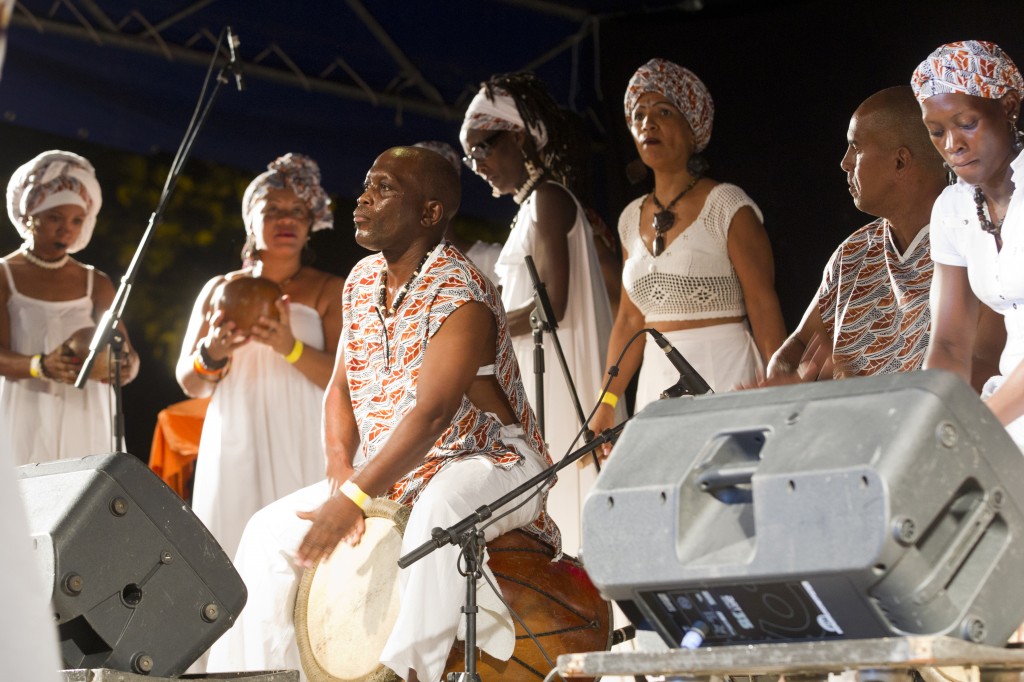 Voukoum Mouvman Kiltirel, a Basse-Terre based carnival band known for their fierce street presence, their weapon in their commitment to social struggle of the poor and working class. The warlike two-note rhythmic call of the conch sets the heart racing.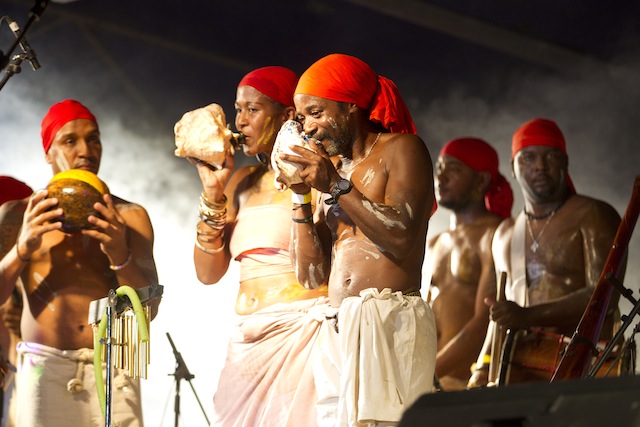 Twenty members of the troupe took the stage and gave a taste of the chaos they bring to the streets. West Indian j'ouvert bands use the same rhythmic call. Fred Demetrius, a leader of the group, refused to talk to me at first because I did not speak Creole, but after my stumbling attempts satisfied him he relented with a laugh. The message, he said, is "The strength of cultural power, if we believe in our cultural power other people will believe in us."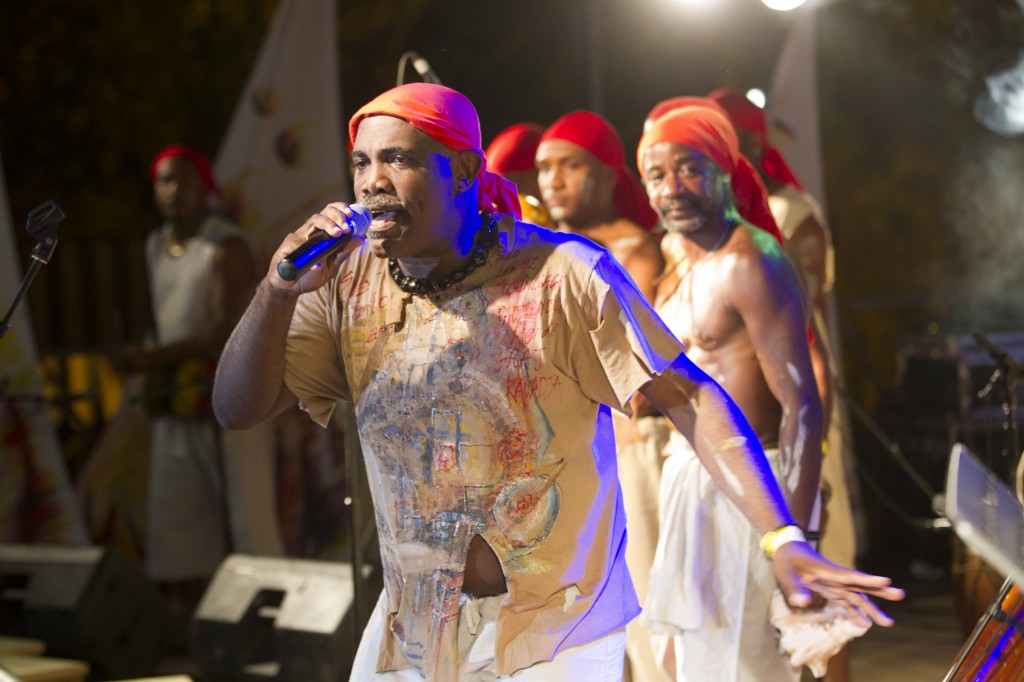 Rozan Monza's music moves gwoka in a new direction. Using the tradition as a foundation he explores blues and jazz as well, with a band comprised of ka, drums, guitar, bass, sax, percussion and keyboards backing his vocals.
[caption id="attachment_20125" align="aligncenter" width="640"]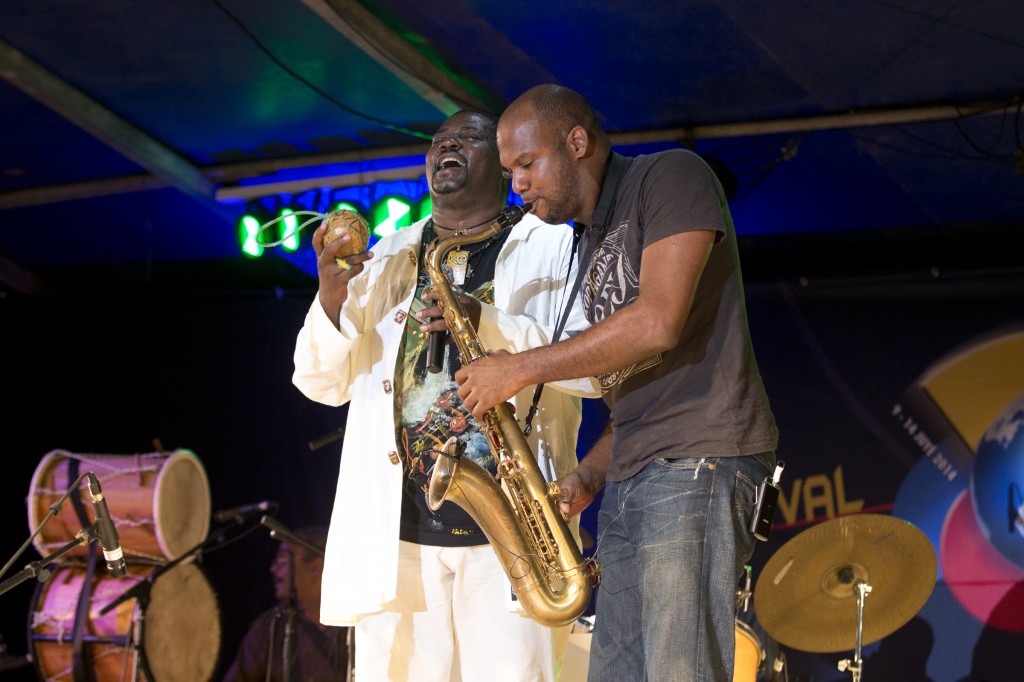 Wozan Monza, saxophonist Philip Sadikalay and band performing at the Gwoka Festival.
If you want to read more about the musical heritage behind the festival, read our Hip Deep interviews with Brenda Berrian.
http://www.afropop.org/wp/13573/interview-brenda-berrian-on-the-music-and-culture-of-the-french-caribbean-part-1/
http://www.afropop.org/wp/13783/interview-brenda-berrian-on-music-and-culture-in-the-french-caribbean-part-2/