Field Report: How to Knit a Festival--Austria's Glatt & Verkehrt
Bastiaan Springer, a producer for Radio 5, Netherlands, and a world music journalist since 1984, traveled this summer to Austria's wine country to report on the 18th annual Glatt & Verkehrt
Festival, held in Krems, a charming city on the Danube River. Photos by Ton Maas.
Glatt und verkehrt
is German for the knitting pattern known as knit and purl, where one stitch is the reverse of the next. Glatt & Verkehrt is also the name of one of the best world music festivals in Europe, held every July in Krems, about 70 kilometers from Vienna. Located in the midst of the beautiful vineyards of lower Austria, which produce delicious white wines like grüner veltliner and riesling, Glatt & Verkehrt offers a blend of traditional music from all over the world, as well as jazz, pop and avant garde sounds. Program director Jo Aichinger constantly looks for top artists and unexpected musical collaborations to "knit" together on the schedule. This year's 18th edition took place from July 4 through the 27th and included small concerts on the grounds of local wineries; Louisiana brass band music, Cajun and zydeco on a river cruise aboard a wonderful 100-year-old paddle-wheel steamer; a workshop in the Göttweig Abbey; and a series of five themed evenings with three concerts each night, located at the huge Winzer Krems winery that can accommodate 900 visitors. The first night, entitled  "Africa's Ark: Current Music from Dakar, Kinshasa and Harare," kicked off with Kunzwana #1, a cross-cultural fusion featuring three outstanding musicians from Austria with their Zimbabwean counterparts. Under the inspiring leadership of Austrian trumpeter Frans Hautzinger, this project presented an interesting mix of jazz, soundscapes and traditional Zimbabwean
mbira
music. One of the most remarkable musicians of this group is Hope Masike on vocals and mbira. Awarded the Zimbabwe Arts Council's National Arts Merit Award for outstanding female musician of 2012, Masike is one of the most sensational mbira players to emerge this decade. [caption id="attachment_20642" align="aligncenter" width="574"]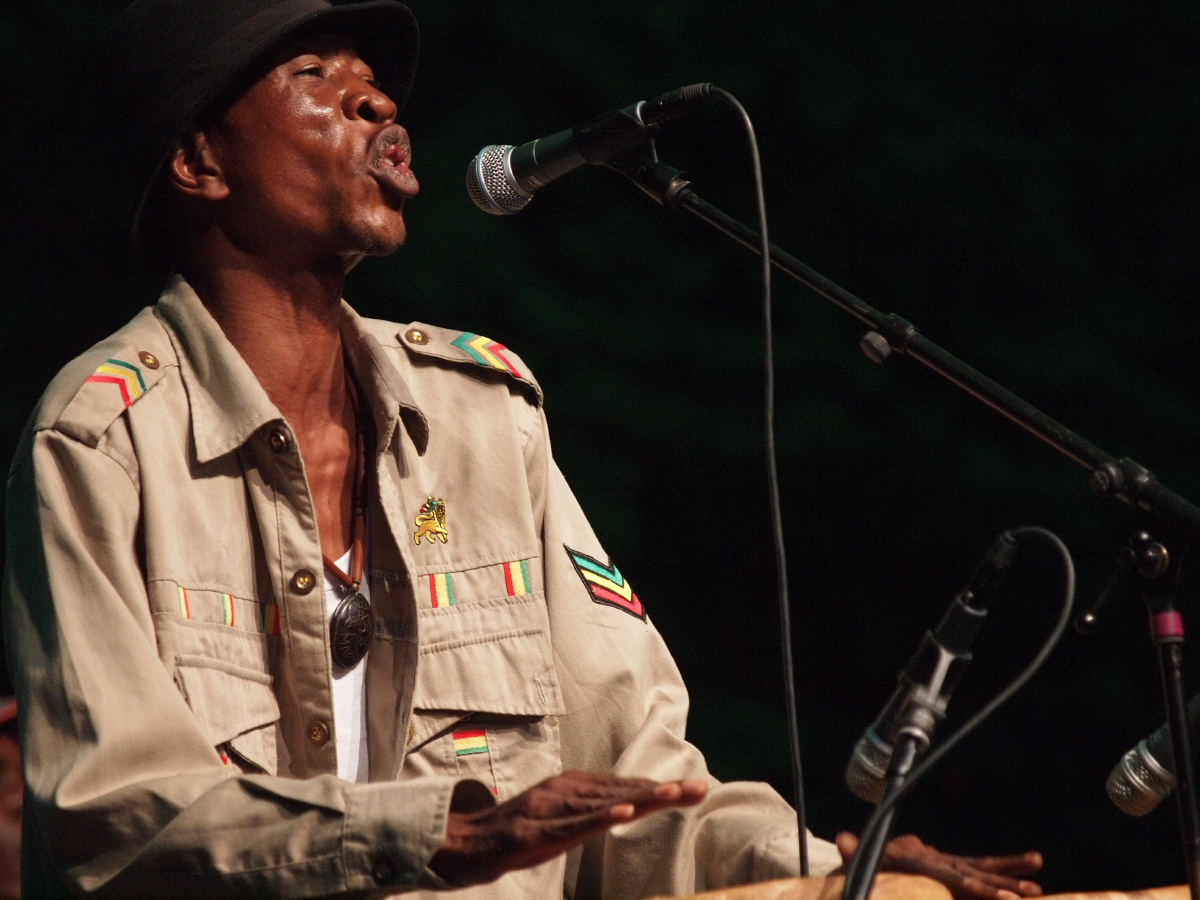 Jupiter and Okwess International[/caption] Despite their energetic performance Jupiter and his band Okwess International from the Democratic Republic of Congo could not really impress with their hybrid of Congolese soukous, funk and rock. Certainly an interesting and innovative concept, but this night it just didn't work. [caption id="attachment_20641" align="aligncenter" width="581"]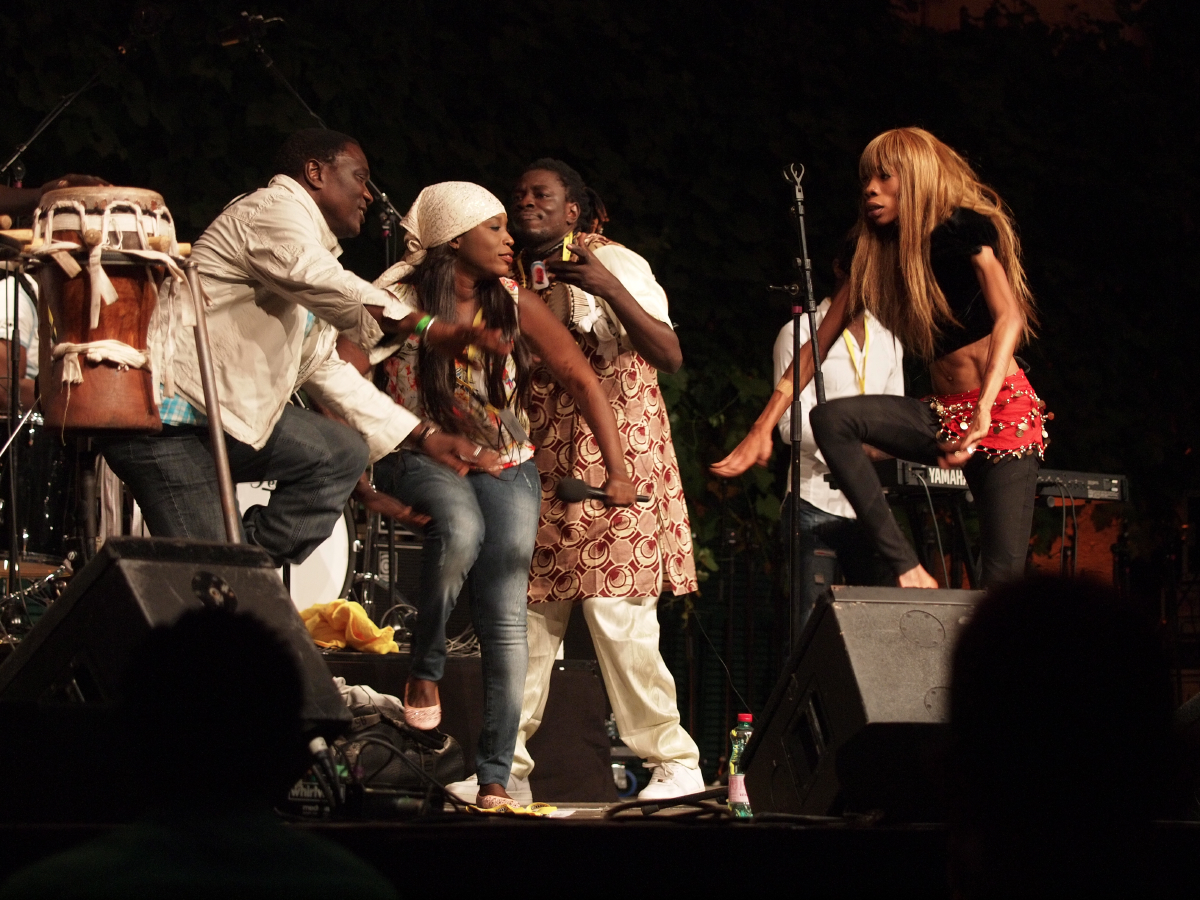 Jeri-Jeri, produced by Mark Ernestus[/caption] Much more excitement came from the renowned Berlin-based producer Mark Ernestus, joined by singer Mbene Diatta Seck and a group of
sabar
drummers from Kaolack, Senegal called Jeri-Jeri. Ernestus, an innovative producer of dub and minimal techno, traveled in 2011 to Senegal where he became obsessed with
mbalax
and met a griot clan of sabar drummers, along with famous mbalax musicians. Their collaboration resulted in an explosive show full of irresistible beats and breaks, and acrobatic moves by a scrawny dancer with elastic legs. (You can read our review of their album
800% Ndaga/Ndaga Versions
here.
) [caption id="attachment_20643" align="aligncenter" width="593"]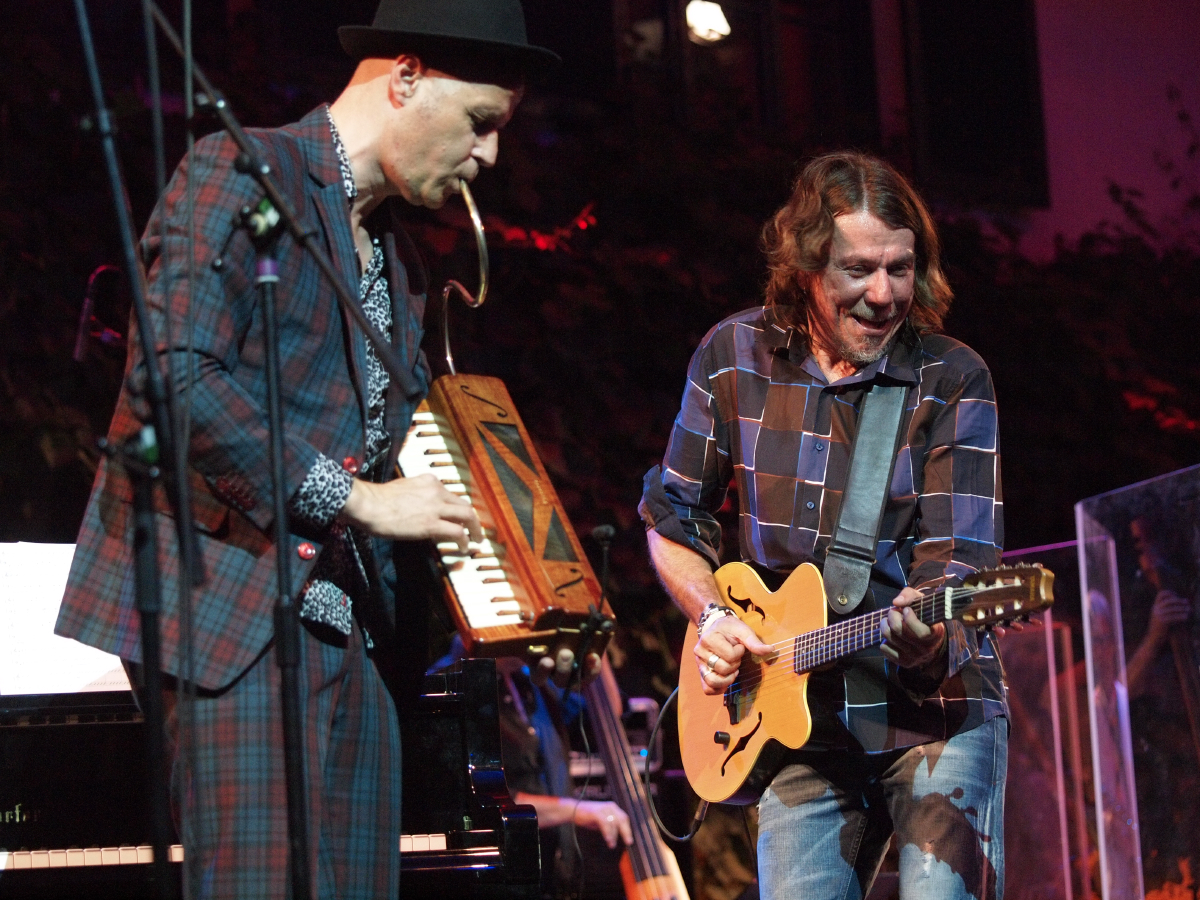 Martin Fondse and Lenine[/caption] One of the highlights took place on the second festival night, titled "Latin Plus: Latin America With A View," pairing acts consisting of artists from Brazil and Holland, and Mali and Cuba. The Bridge, a cooperation between the Brazilian singer-guitarist Lenine and the Dutch pianist-composer Martin Fondse, brought a fascinating interaction between poetic Brazilian pop and folk and beautiful orchestral arrangements. The repertoire was taken mainly from highlights from Lenine's 30-year career, supplemented with new work from Martin Fondse. Lenine was in great shape, played with all his heart, and gave the orchestra plenty of space to improvise. [caption id="attachment_20640" align="aligncenter" width="584"]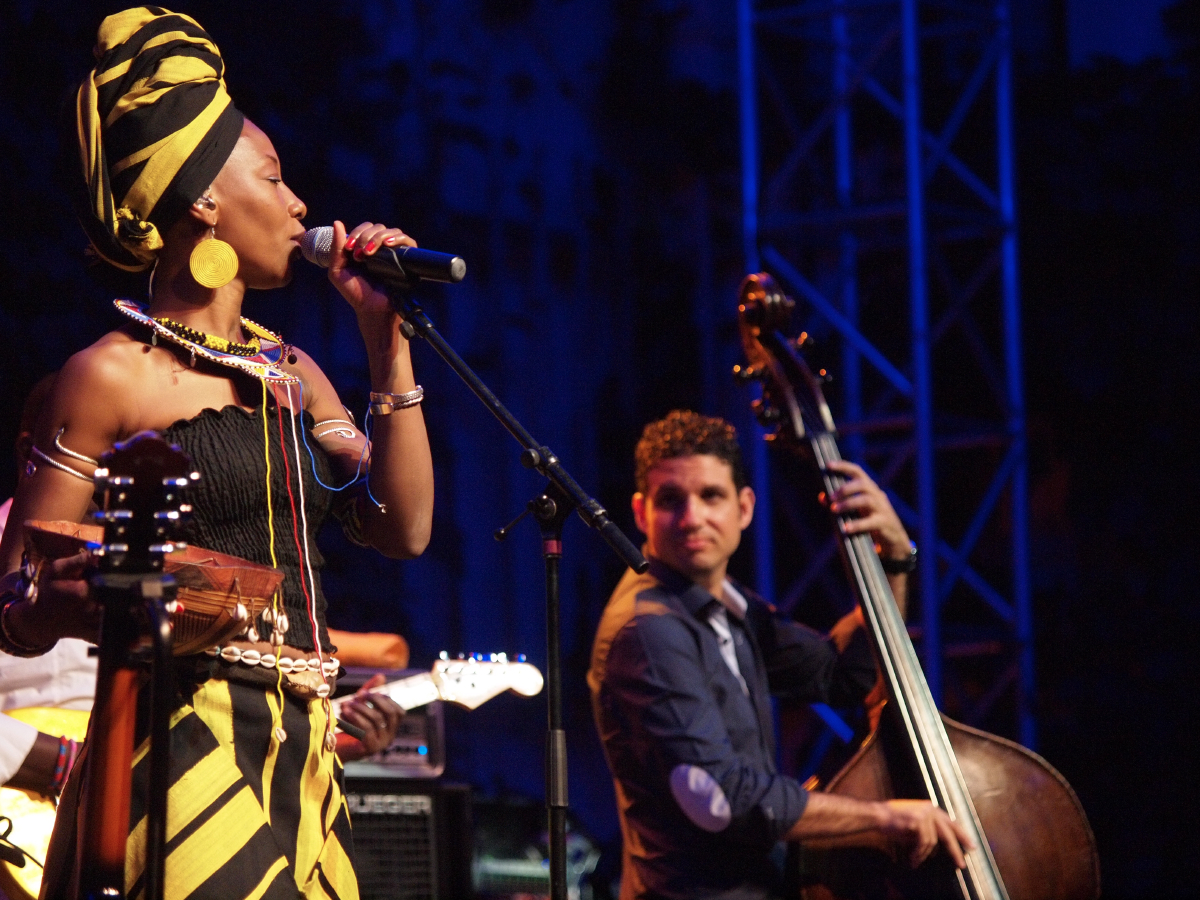 Fatoumata Diawara and Roberto Fonseca[/caption] After this unforgettable concert it was time for the project of the Malian diva Fatoumata Diawara and Roberto Fonseca (Cuba), former pianist of the Buena Vista Social Club and now a star on his own. Although interesting in concept, their blending of Malian and Cuban music lacked the necessary tension. Diawara's singing seemed routine while Fonseca played too many notes without real depth, but his hip hat and quasi-macho look made an impression. The real star of this concert was Sidibé Drissa, a virtuoso of the
kamale n'goni
. This beautiful Malian 10 or 12 stringed instrument, also called the young man's harp, became popular in the Wassoulou region and contributed to the rise of Wassoulou music in the 1980s and '90s. The performance by the pregnant Mexican singer Dora Juaréz Kiczkovsky, a passionate interpreter of ancient Jewish-Ladino compositions, lasted only four songs. To prevent a miscarriage her doctor had prescribed absolute rest, but because Dora didn't want to disappoint her audience she decided to sing a few songs. After a short statement about her physical state she introduced her close friend, singer Sandra Cuevas, who finished the rest of the concert and impressed with her poetic voice. [caption id="attachment_20644" align="aligncenter" width="580"]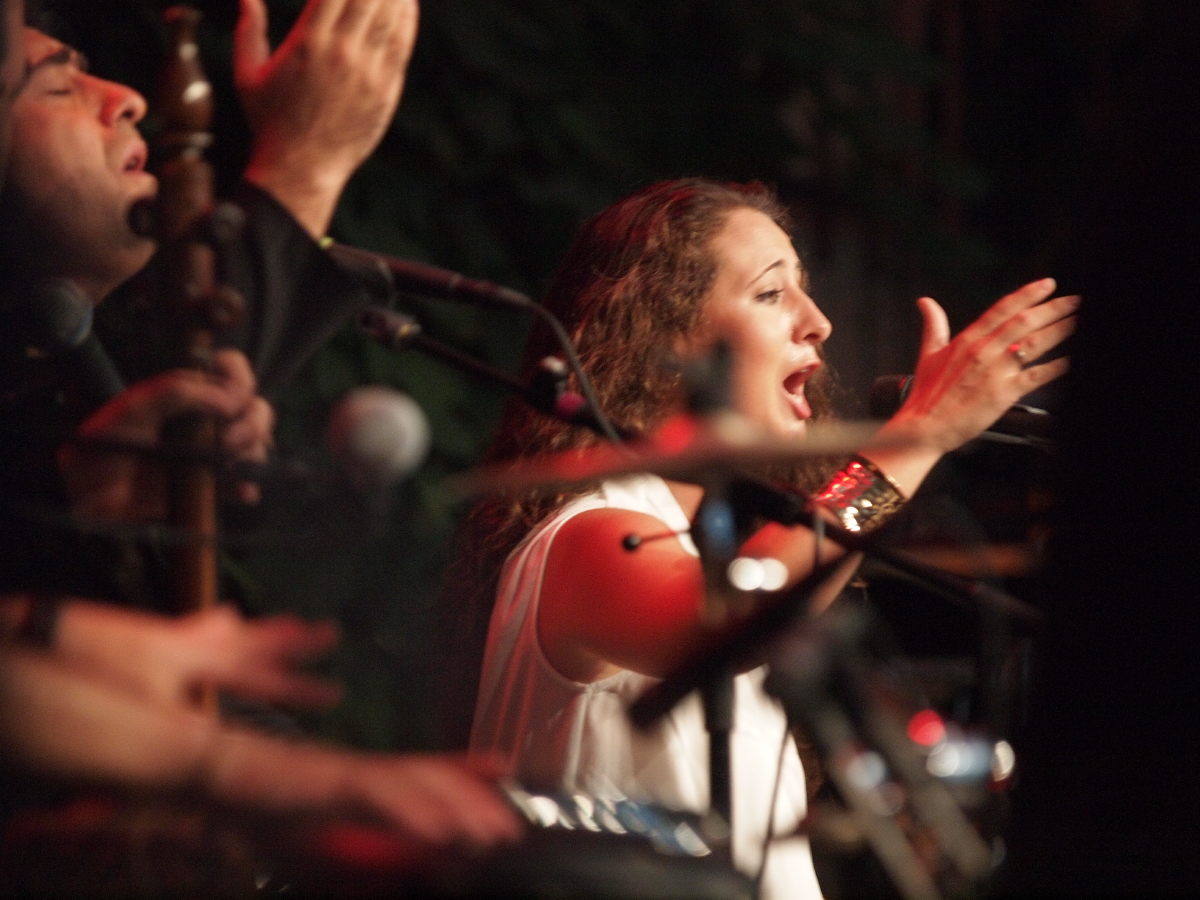 Mohammad Motamedi and Rosario La Tremendita[/caption] Also enchanting was the Qasida project, a partnership between the young Sevillian flamenco singer Rosario "La Tremendita" and Mohammad Motamedi, the young rising star of Iranian classical music. Although flamenco and traditional Iranian music have hardly anything in common, Motamedi and La Tremendita bridged cultures in an organic and intense performance in which
cante jondo
and
ghazal
, flamenco rhythms and
maqam
scales melted together. [caption id="attachment_20639" align="aligncenter" width="582"]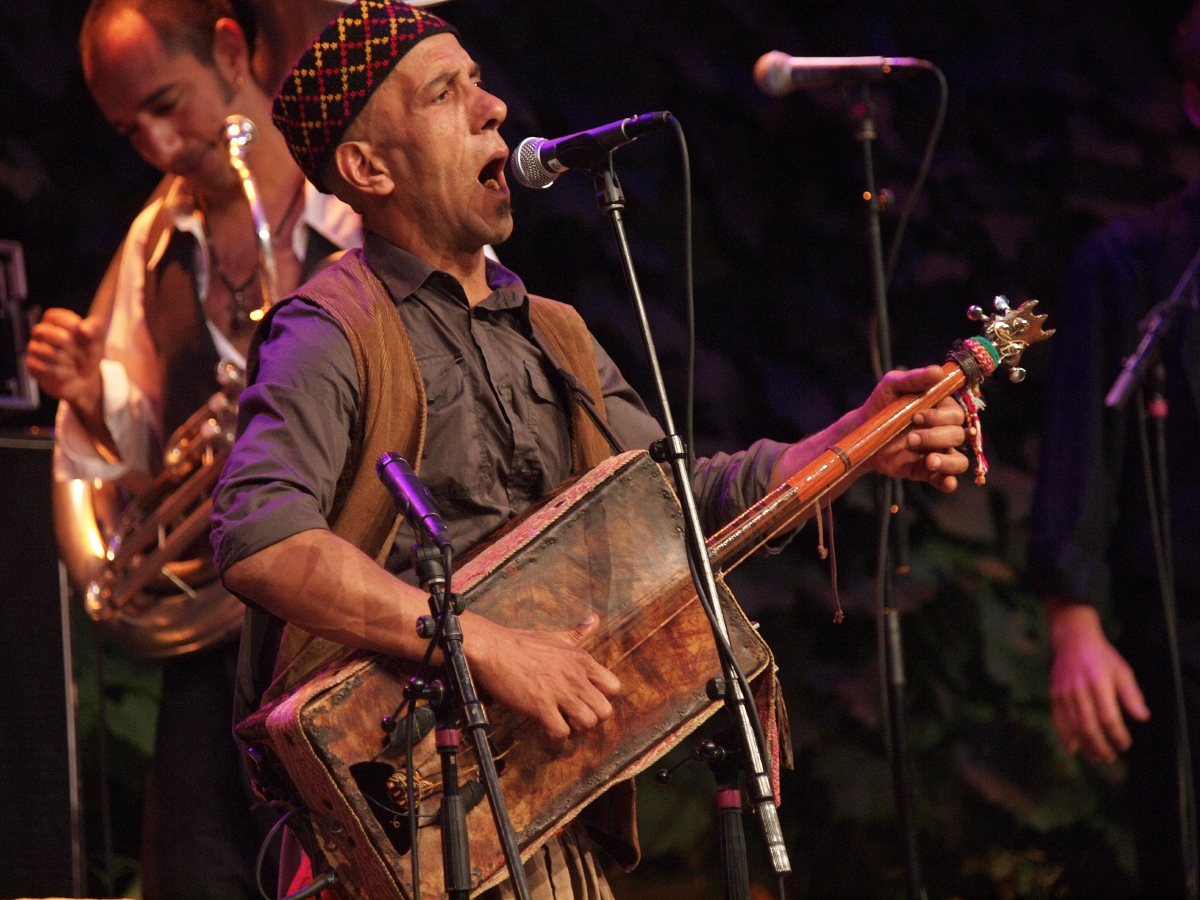 Fanfaraï[/caption] The closing act of Glatt & Verkehrt was Fanfaraï, a French/Algerian party band that uplifted the crowd with a blend of North African raï and Gnawa music, traditional percussion, Afro-Cuban music, Latin, reggae and jazz.