Field Report: Indian Ocean Music Market and Sakifo Festival
Feature image above: Pachibaba, photo credit Fabien-Tressaille.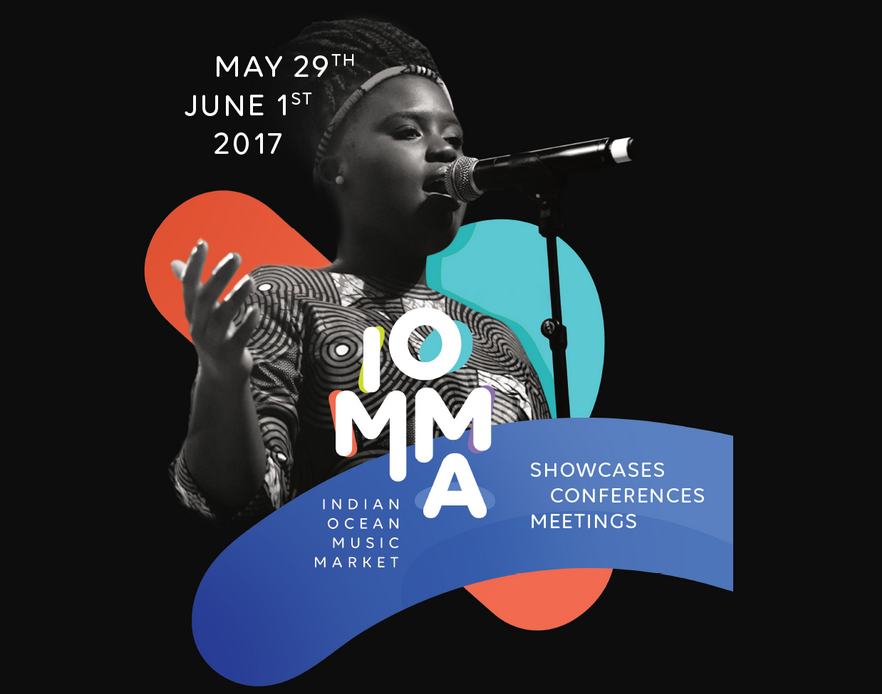 Every year at the end of May/early June, the tropical island of Réunion (in French: La Réunion), a French overseas department located east of Madagascar in the middle of the Indian Ocean, is home to the IOMMA (Indian Ocean Music Market) and the Sakifo festival. Although Réunion is more than a 10-hour flight from Paris, it is a part of France. The official language is French, although most of the islanders speak Réunion Creole. In cafés you can order a
petit dejeuner
with croissants and
chocolat chaud
(hot chocolate). You pay with euros. But even though French culture is everywhere on Réunion, the island is actually a fascinating mix of European, African and Indian cultures. Initially uninhabited, Réunion was colonized by the French in the latter part of the 17th century. When discovered, the island was uninhabited so there was no local population and thus no indigenous language. When settlement began, it was initially by people from France and Madagascar, and later by slaves from East Africa, who were forced to work on the sucarcane plantations. Slavery was abolished on Dec. 20, 1848 (a date celebrated yearly on the island), after which indentured workers were brought from South India, among other places. The present-day population of 800,000 is a mix of French, African, Chinese, Malays and Indians. This modern and prosperous rainbow nation, blessed with beautiful beaches, a spectacular mountain range and an active volcano, Piton de la Fournaise, is largely dependent on tourism and financial support from
la métropole
(mainland France). The goal of IOMMA is to showcase the musical diversity of the countries that border the Indian Ocean, and promote exchanges, meetings and opportunities between artists and music industry professionals of the Indian Ocean, as well as connecting with professionals coming from Europe, Australia, America and Asia. The sixth edition of this leading platform for the Indian Ocean took place from May 29 to June 1. Over three days, more than 300 local and international delegates (festival organizers, promoters, artists, managers and journalists ) from South Africa, Madagascar, Mauritius, the Seychelles, India, Tanzania, Australia, China, Taiwan and (of course) France convened for panel discussions, workshops, and music showcases presenting bands from traditional to urban. Daytime at IOMMA was restricted to delegates while the evening showcases at were open to the public. Réunion's signature music style,
maloya
, could be heard in many variations. It dates back to the days of slavery, mixing African and Indian rhythms. Originally this great dance music was discouraged, controlled and sometimes even banned by French authorities because it was considered to be protest music. The Communist Party made use of maloya in the 1970s, when it was fighting for greater autonomy from France. Maloya was seen by the French as a threat to the state and maloya concerts had to be reported to the authorities, and the song lyrics submitted to the authorities beforehand. Many maloya artists performed without being discovered by the French authorities by constantly changing their tactics, organizing shows in different private residence. Other musicians were not so lucky and were jailed for playing maloya. Life for maloya artists changed dramatically in 1981 when Francois Mitterand, leader of the Socialist Party, became the French president. He did not just legalize the music, allowing it to be played on the radio, but provided funds to help cultural projects. Since then quite a few Réunion artists began rediscovering their musical roots, mixing maloya with such other genres as
sega
,
zouk
, reggae, jazz and rock. Nowadays the leading exponent of maloya is singer and poet Danyèl Waro, who has enriched the trance-inducing rhythms with poetic lyrics and political messages. In 2009 maloya was deemed to have met the UNESCO criteria for inscription on France's Representative List of the Intangible Cultural Heritage of Humanity. [caption id="attachment_37516" align="aligncenter" width="600"]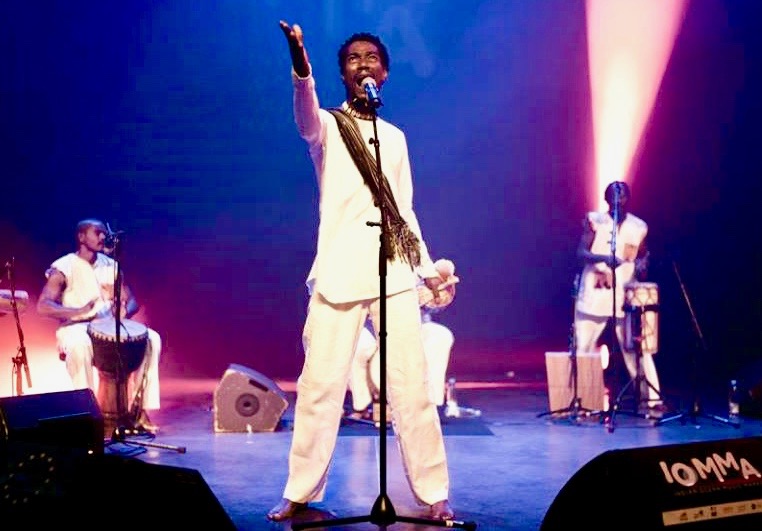 Kiltur[/caption] Pure maloya was demonstrated by the Réunion group, Kiltir, whose name derives from the Creole word for culture. Kiltir plays "speed maloya" with fast rhythms and creative texts about social justice and the maloya culture. Formed in 1996, Kiltir is essentially a family group consisting of brothers and cousins who have been practicing maloya together since their childhood. Maloya accompanies every moment of their life, the good ones as well as the bad ones, in family gatherings and the
service kabaré
, a ceremony in tribute to the ancestors organized each year by their grandmother. Leader and frontman is the super-energetic singer Jeannick Gino, using only vocals and typical maloya percussion instruments such the
roulèr
, the
pikèr
, the
bobre
, and the
kayamb
. Kiltir's primary goal is safeguarding and passing on maloya to future generations. Another highlight of the IOMMA was Pachibaba, the new project of singer Olivier Araste from the Réunion maloya group Lindigo, accordeon player Fixi (Java, Winston McAnuff, Tony Allen) and drummer Cyril Atel ( M, Bumcello, Congopunq), who brought an energetic mix of maloya, dub, Afrobeat and electro. Currently they are recording their first album in La Réunion and next year they will light up many festivals in Europe. [caption id="attachment_37514" align="aligncenter" width="600"]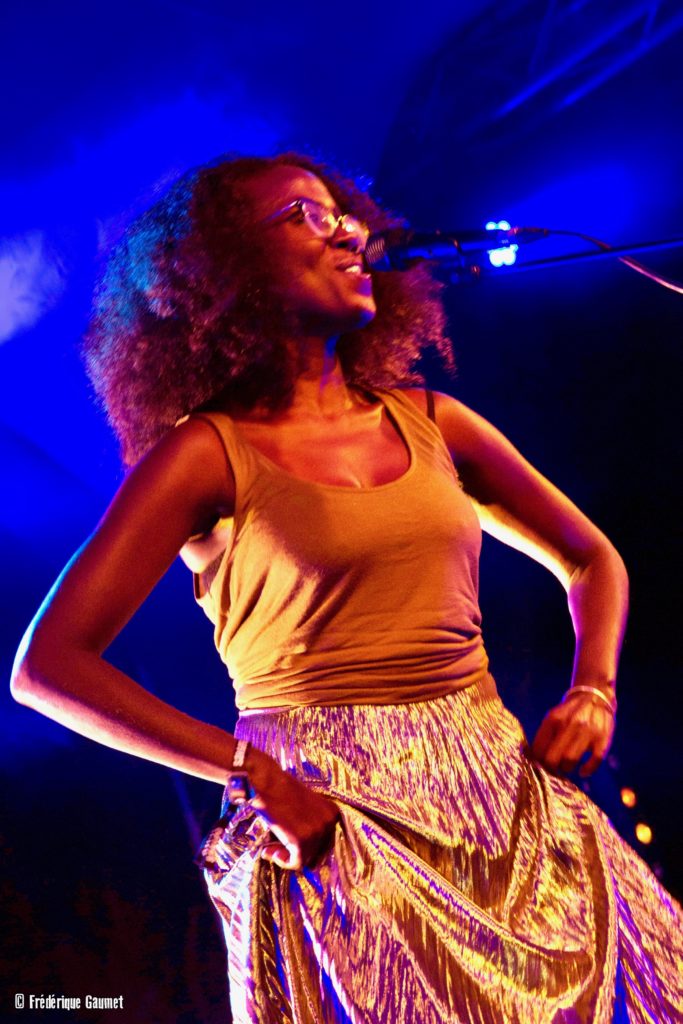 Kaloune[/caption] Actress, storyteller and author of two collections of poems in Creole and French, Judith Profil, better known as Kaloune, is one of the most interesting artists in Réunion. She is passionate about words, and sings about memory, the sacred and the feminine and accompanies herself on the
mbira
(thumb piano) used in Zimbabwean rituals, mixing poetry with electro beats. But just before Kaloune's performance, she was was confronted with a dead computer. Instead of cancelling the show she choose to do an improvised acoustic concert, with only voice, mbira and percussion, and a lot of energy and humor. The crowd in the packed Karbadock reacted with great enthusiasm, joining her handclaps, singing and dancing. A few days later Kaloune performed at the Sakifo festival, this time with Electro Wizard. It was a complete different concert, but Kaloune impressed again. [caption id="attachment_37513" align="aligncenter" width="575"]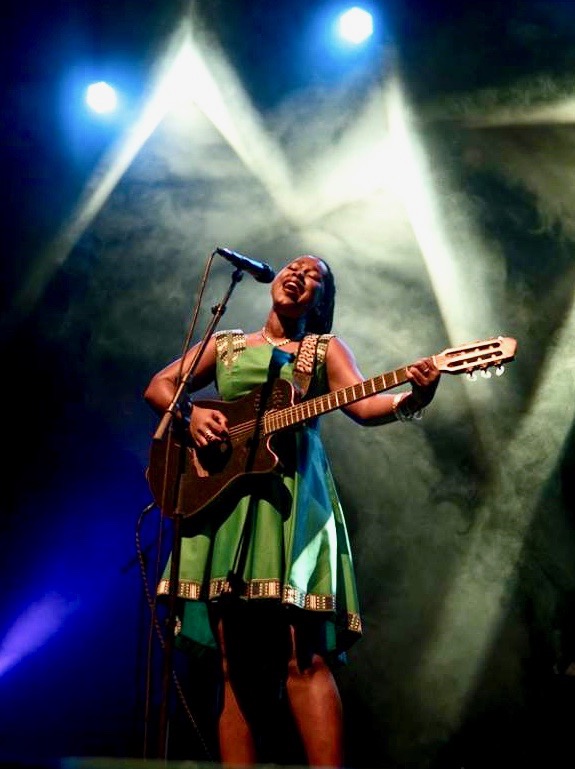 Elida Almeida[/caption] Singer
Elida Almeida
is the new rising star of the music in Cape Verde. This protege of entrepreneur José da Silva, the man who made Cesaria Evora world famous, spent her childhood years with some difficulty in the mountains of Santiago. At age17, she sang at church, she listened to the radio, she said that she grew up on a place without electricity or necessities. Now at 24 she has released an album,
Ora Doci, Ora Margos,
and has everything she needs to become the new African superstar: a great, emotive voice, energetic stage performance and the right mix of melodious ballads and uptempo dance songs. Composer, dancer and singer Eusebia, talented daughter of the Madagascar superstar Jaojoby, has been touring with her father and now also performs on her own. This charming and energetic performer uses the Malagasy rhythms to sing the strong values of her country. What a joy to see this always-smiling lady performing! Immediately following IOMMA was the 13th edition of Sakifo ( Creole for "This is what you need"), a four-night public festival held in a four-and-a-half-acre park on the beautiful beaches of the seaside resort Saint-Pierre. This festival, spread across six stages, is directed by Romu Requena and was attended by approximately 30,000 people. Requena commented, " I'm really proud of all those newcomers that we managed to program. We still have a programmation with more unknown artists than headliners. It means that we have an audience ready to come to Sakifo to discover new artists. And our mission is to propose them good shows if we want to keep their loyalty. Another important thing for me is the focus on our natural area, the Indian Ocean. Nearly 50 percent of the artists of the programmation are coming from Indian Ocean. It's also a way to show the liveliness of the music in our region." The music ranged from international acts, including Bob Marley's youngest son Damian Marley, Nigerian soul and hip-hop artist Keizah Jones, and German reggae star Patrice, to local maloya artists. My favorite hangout was the very cozy Salle Verte (Green Room), a simple hut of bamboo, where local maloya musicans came together for hours-long jam sessions. Pure maloya was also produced by the Réunion band Mélanz Nayson, led by the energetic singer Stéphane Grondin, who is "living maloya, even dreaming maloya," as he told me. The band's name means "Mixed Nation," referring to the African, Indian, Chinese and European origin of the Réunion people. Formed by friends in a rough neighbourhood, Mélanz Nasyon demonstrated what maloya is all about: tight percussive rhythms, strong call-and-response vocals and Réunion Creole lyrics. One of the revelations was the young Mozambican singer-guitarist Deltino Guerreiro, gifted with an impressive voice. In his radio-friendly compositions, sung fluently in Portuguese, English and Macua, this charming performer blends traditional music with soul, pop and contemporary urban fusion, creating danceable Afro-soul. Of course he performed his hit song "Sonho," which makes you want to get up and boogie along. More great African music could be heard by the Belgian rapper, MC and hip-hop artist of Congolese origin, Baloji; veteran South African jazz, fusion and
mbaqanga
singer Ray Phiri (Stimela, Paul Simon's Graceland ); and the South African singer, songwriter and guitarist Bongoziwe Mabandla, who is hailed as the new face of Afro-folk. [caption id="attachment_37518" align="aligncenter" width="600"]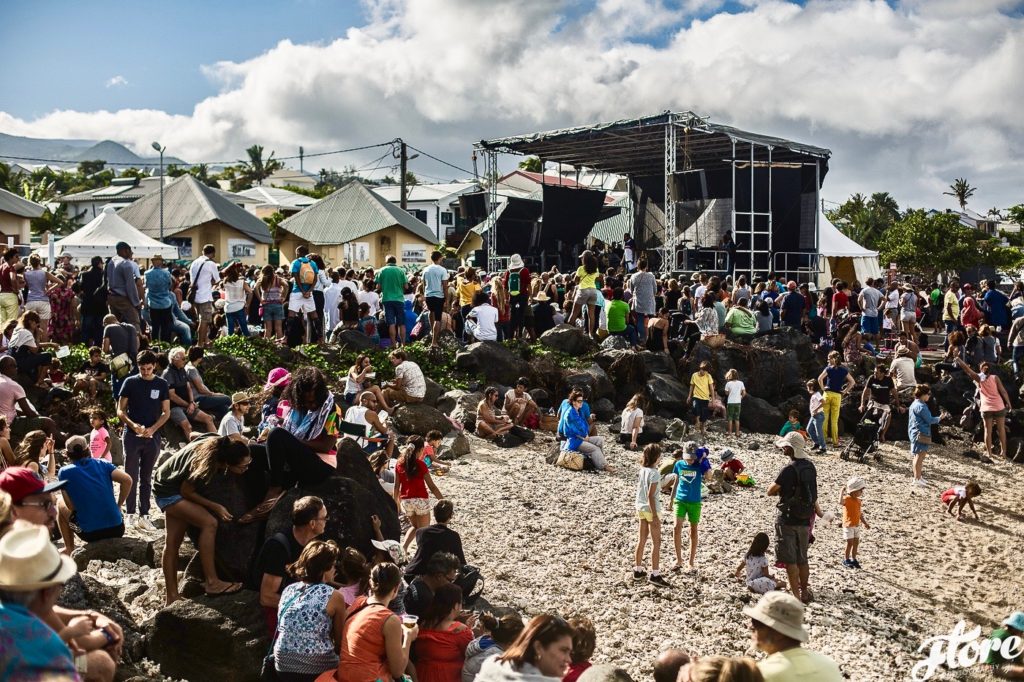 The Sunday morning scene at Risofé. Photo credit Flore Baudry.[/caption] Sakifo's highlight took place on Sunday morning at the Risofé, the annual free concert on a stage right next to the Indian Ocean. The locally famous band Ousanousava, French Creole for "Where are we going to" attracted more than 1,000 mainly Réunionnais, who, under a lovely morning sun, danced, sang along and shouted their heart out to a joyful blend of maloya, sega, reggae and
chanson créole
. What a party it was! After hearing maloya for nearly a whole week, its good to know that maloya, once barely hanging on as a half-remembered folk tradition, is clearly more alive than ever.
Réunion, mi aime a ou
( Réunion, I love you!)
Bastiaan Springer is producer for Radio 5 and The Concert Radio in the Netherlands, and a world music journalist.