Field Report: Montreal's International Festival de Jazz Celebrates 40 Years
From humble beginnings in 1980, two men, André Ménard and Alain Simard, created a world-class music festival in the city of Montreal, Quebec, which celebrated its 40th anniversary this year. It also marked the retirement of the two founders who have curated the festival since the beginning.

"Jazz belongs to America," Ménard told Variety in an interview, "but it has traveled a lot and it can come in many forms and colors. The jazz programming is still the main trunk, but you have leaves of many colors. What people call pure jazz has always been part of the festival, and we've been trying to illustrate that music needs to refresh itself with new influences and a different approach." He added that he believes they have left the festival in good hands, and that the new programmers will "have that spark, energy, and will to prolong the fun and do it their way."
While typically running 10 days, this year there were extra concerts bookending the festival, extending the event to a total of 12 days. With over 500 concerts, the nearly two million people took advantage of all those free outdoor (which makes up two thirds of the programming) and ticketed indoor shows. And as Ménard noted, whatever color of leaves you enjoy – from pure jazz, to jazz fusion, gypsy jazz, or rock, soul, country, blues, metal, hip-hop, electronica, world and even disco – there was something on a stage to satiate your taste.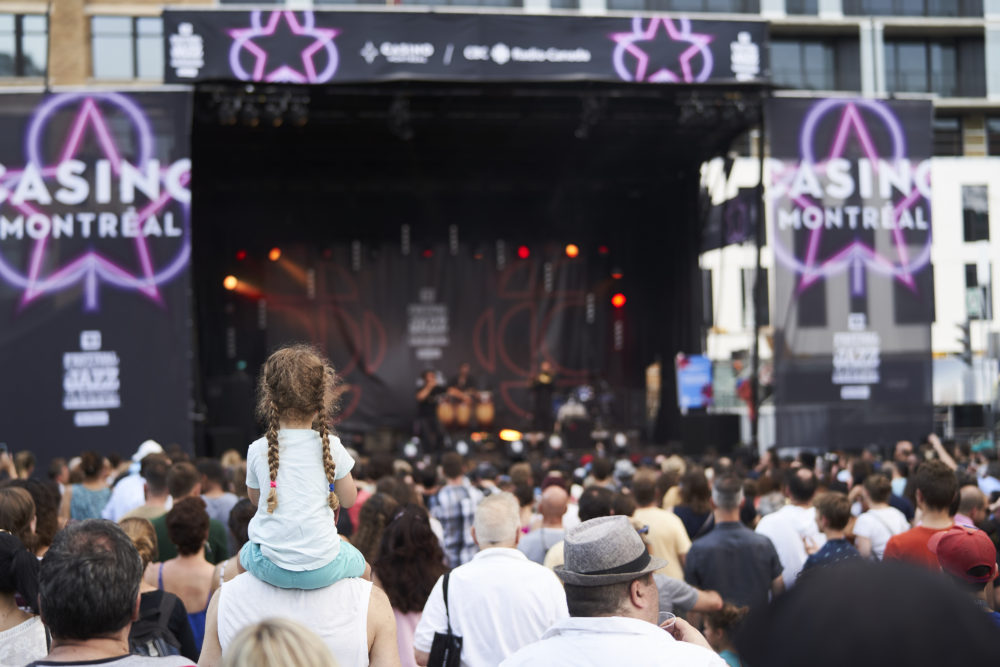 There were some early rumors of surprise big-name acts that would be announced at the start of the festival, which ran from June 26 to July 7, although that never materialized. And there were just some minor rumblings from some festival aficionados that it should have been a bit more "extra special" for the 40th anniversary. Nevertheless, that didn't mean it wasn't special, for there are always plenty of opportunities to discover new artists you might never have known of, as well as seeing fantastic shows by seasoned performers, and this year was no different.
One cannot catch all 500 shows, of course, and sometimes you have to make peace with missing some act that the following day everyone is raving about, but we didn't feel disappointed in the least by all we did see. As always, there was a strong world music presence, and we applauded the focus on Montreal-based performers, though not as many international world music artists this year as in the past.
This year, two international world music acts we caught that most impressed us were the Afrobeat collective from Chile, Newen Afrobeat, and Kenyan singer Muthoni Drummer Queen – both of which we'll be featuring interviews with shortly. We were also glad to see recently rediscovered Ethio-jazz legend Hailu Mergia, with whom we also got to speak. But we wished Mergia could find the kind of backing support that fellow Ethio-jazz legend Mulatu Astatke has with a 15-piece band behind him. Playing as a trio, Mergia struggled a bit, we felt, to bring his music to life.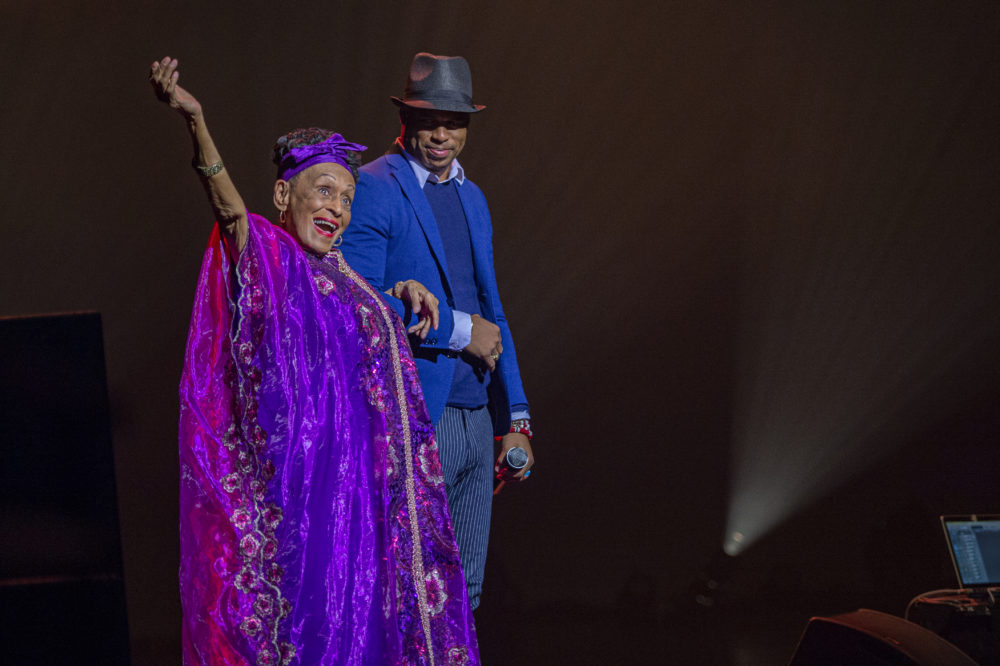 It was both wonderful and bittersweet to see 88-year old Cuban diva Omara Portuondo on, as she announced earlier this year, her final international tour – the "One Last Kiss" tour. While she needed assistance to get on and off stage, and spent most of the concert singing while seated, Portuondo was, nevertheless, vibrant, passionate, and with great humor, joking with both the band and audience throughout. She encouraged a party atmosphere in the large theater, waving her hands for the audience like a kid to join her in song. And more than once, she refused to end a song, playfully demanding the band play yet another chorus, knowing for us this too would probably be our last time together. The former Buena Vista Social Club chanteuse was accompanied by a group led by Cuban pianist Roberto Fonseca, who also played the festival with his group in concert.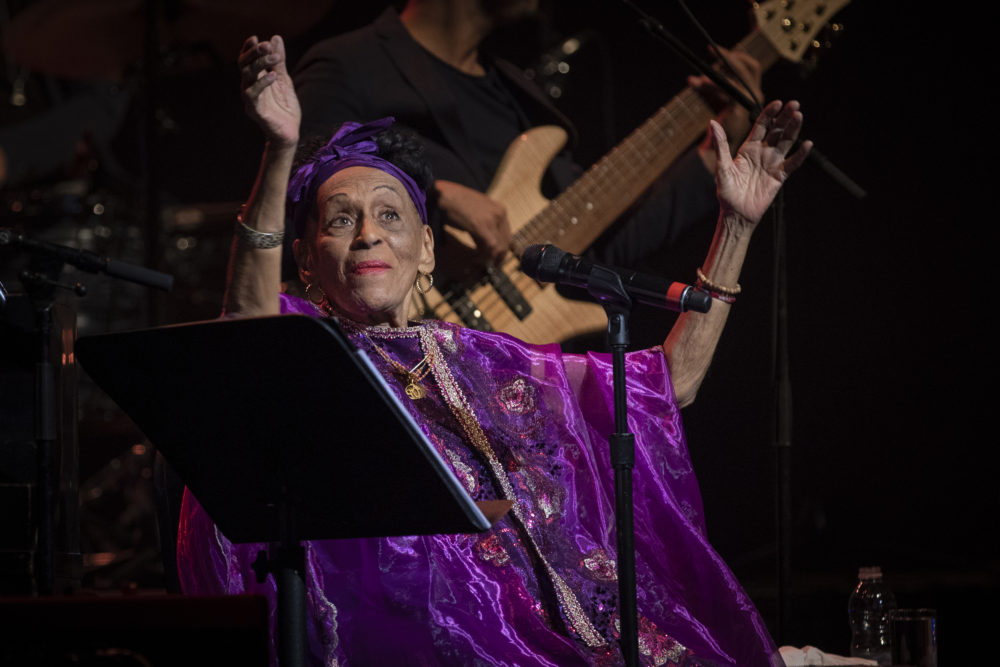 Portuondo told Rolling Stone in an interview two months ago: "Music is my life. I'm gonna do this until I die."

An unexpected special treat came when legendary Cuban pianist Chucho Valdes, who was also in town to perform at the festival, came on stage and accompanied Portuondo in a solo rendition of "Besame Mucho." The two previously released an album together in 2011.
Moving on, we were utterly enthralled by Edmar Castaneda, who plays a traditional Central American harp known as arpa llanero. But rather than only play traditional joropa music, Castaneda fell in love with jazz. He came to New York from Colombia in his teens and was inspired by the work of famed jazz bassist Jaco Pastorius. He plays his instrument with the same intensity as his hero played the bass – hugging it while standing, and at times it's like he's caressing it, other times attacking it. It's also a family affair, as Castaneda invited his wife, Andrea, to join him to sing a few numbers, introducing her with the romantic story of how they first met.
Then there was 27-year old British saxophonist Nubya Garcia, who absolutely killed her outdoor set on June 30. Garcia is part of a new generation of jazz musicians that is bringing a whole new set of influences and perspectives to jazz. Her playing is strong, solid and soulful. In a recent interview in the Guardian, she remarked that while she sometimes gets tired of people being surprised to see a woman on the saxophone: "[When you ask yourself] 'Why am I here, why am I doing this?' It's because someone came and put an instrument in our hands rather than say, 'Hey, you're a woman, you should sing.' We have an opportunity to create another dynamic that two, three generations from now could be equal, gender-wise, ethnicity-wise. That's so exciting to me." This is an artist we're convinced is about to break big.
We also can't say enough about husband and wife team Michael and Tanya Trotter, AKA The War and Treaty. The Michigan-based soul and gospel duo are truly inspirational, both in music and life. The couple met at a festival where they were booked separately about a decade ago and soon became inseparable. Michael, an Iraq war veteran, has struggled with PTSD, and spent part of his childhood shuttling between homeless shelters in Cleveland. Songwriting has been both his salvation and therapy. In 2017, a last-minute substitution gave them a spot at the Americana Festival in Nashville, which blew audiences away and launched their career. Their first album, released in 2018, Healing Tide, was produced by Buddy Miller, and features a cameo from Emmylou Harris. If you're a fan of groups like the Staple Singers, the War and Treaty will be one of your favorite new discoveries this year.
Afropop Worldwide fans should be quite familiar with the work of Austin-based writer/producer/multi-instrumentalist Adrian Quesada. Quesada was one of the founding members of the Grammy-winning, Latin funk Grupo Fantasma. He was part of the Grupo spin-off band, Brownout, as well as Octote Soul Sounds, which he founded with members of Antibalas, and the Echocentrics, wherein he teamed up with Argentinean singer Natalia Clavier (Thievery Corporation) and Brazilian singer Tita Lima (daughter of Os Mutantes' bassist Lihminia). His latest project, Black Pumas, was born out of a desire to explore the psychedelic soul genre. It all came together when he was introduced to singer/guitarist Eric Burton, and very quickly they wrote an album worth of material with which they are now touring.
"I was looking for somebody with their own identity who liked Neil Young as much as Sam Cooke," Quesada says in the band's promotional material. "I loved his energy, his vibe [and] from the moment I heard him on the phone, I was all about it." And from the moment the band took the stage, Burton's stunning presence and voice, as well as Quesada's masterful guitar work, had the audience at the outdoor stage in the palm of its hand. Don't miss seeing them live if you can.
Another Austin band that we fell for might play, what is best described as, "intergalactic music." If one had to try to describe Golden Dawn Arkestra in words – imagine if Sun Ra and George Clinton had a child who was raised by the B-52's, and given LSD and Afrobeat CDs to listen to at bedtime. At first audiences weren't quite sure what to make of the bejeweled and costumed ensemble who claim to have traveled from a galaxy far, far away, to preach a message of universal love. But once they got their funk on, the audience was on board the mothership, calling the band back for two encores.
Special mention also goes to Spanish guitarist Juan Carmona. Although born in France, his family's roots come from Andalusia. After picking up the guitar as a boy, he made the trek to study with his family and their friends and has emerged as one of the great flamenco guitarists of our time. The award-winning Carmona gave a mesmerizing performance that was totally transcendent.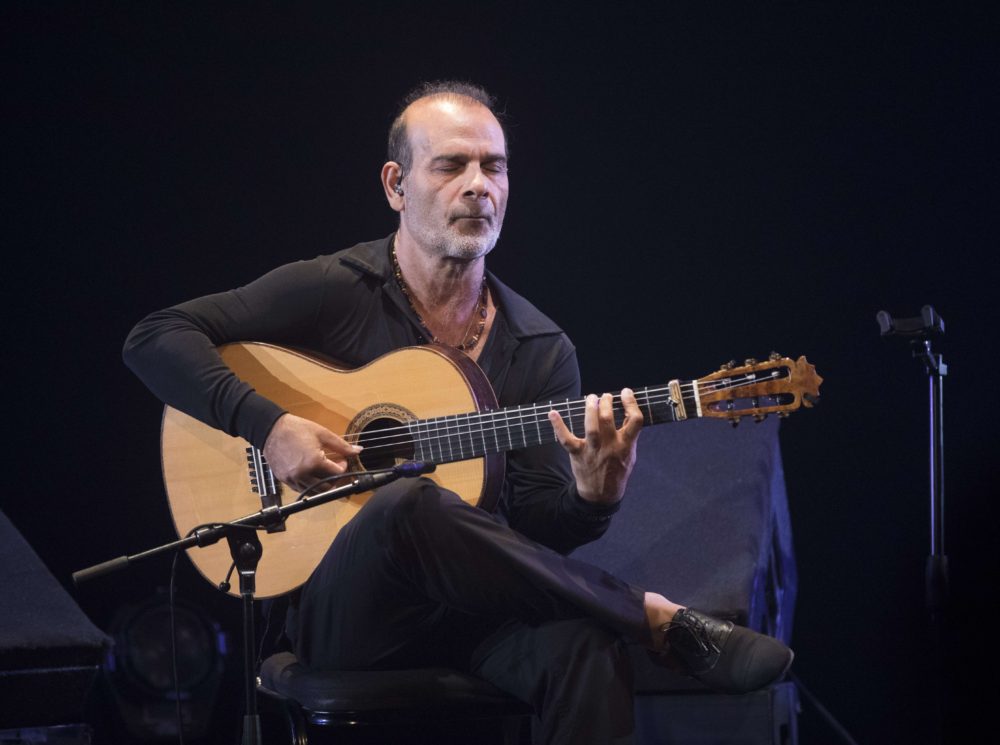 Toureg guitar wizard Mdou Moctar was supposed to perform, but something happened. As far as we know, Moctar arrived with his band early on Sat., July 6 to set up and sound check, but then promptly turned around and left. Neither the band nor the representatives of the festival has made any statement about the cause since. It was quickly announced via the festival phone app that Moctar and his band had canceled, and a fine local jazz band, the Liquor Store, took the outdoor stage in their stead that evening.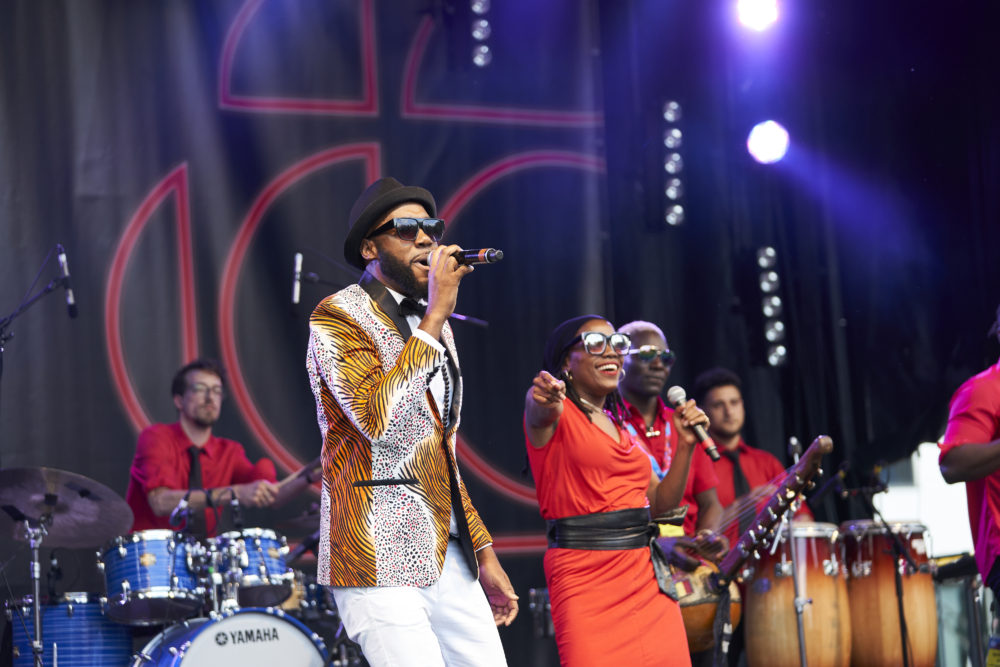 As we noted, there was an emphasis this year on local world music acts. One band we've touted often is Vox Sambou, the Haitian-Quebec singer, who delivered yet another wonderful live performance with his band, featuring singer Malika Tirolian (Bokanté) and this year's Afropop Worldwide prize winner at the Syli d'Or competition, Malian-Quebec kora player Mamoutou Dembélé AKA Emde. Another local band we've raved about in the past is Ayrad, led by Moroccan-born Hamza Abouabdelmajid, that also performed a knockout set, as we'd have expected. Both these groups should be in your digital playlists. Other local world music artists who performed--and you should get to know--include the Brazilian-Quebec singer Bïa, Mexican-Quebec band Boogat and the Senegalese-Quebec singer, Ilam.
All in all, Montreal is a great city to visit, especially in the summer, and even more especially when you can spend your days and nights seeing some great live music. The 41st edition of the Festival de Jazz de Montreal will take place from June 26 to July 4, 2020.