Field Report: Moroccan Pop at the World Sacred Music Festival
­Afropop's Sebastian Bouknight is back after a week in Morocco, where he was tuning into the local music scenes and checking out the offerings of the World Sacred Music Festival in Fes. This is the first of a series of posts about that trip. Check back soon for more from Morocco!
Of course, in just one week a visitor can only just scratch the surface of an entire nation. But even in that time, the fertility and complexity of Moroccan culture is unmistakable. Yes, everything the tourist literature says about the magnificent architecture, delicious food, stunningly varied landscapes and visible presence of an ornate history is true. But the rich reality of Morocco reaches far beyond the ornamented Almohad gates and sparkling Mediterranean beaches: the neighborhood soccer games; the newly minted, awe-inspiring Saharan solar farm; the locally made TV dramas; the weekly family visits to the ancient public baths (hammams); and the quickly rising suburbs with Burger King and Ikea. And, of course, that thing we're particularly interested in: the music.
Morocco encompasses many, many worlds of music: Gnawa, Arabic pop, Amazigh ahwach, classical Andalusian melhoun, Issaoua rhythms, daqqa, raï, rap, chaabi, jazz and so much more. At the World Sacred Music Festival in Fes—which this year took the theme "Water and the Sacred"—we heard a rich spread of Moroccan pop, Amazigh (Berber) fusion, Gnawa and Sufi music, as well as artists from across the globe: China, France, Brazil, Mali, Kuwait, Egypt and Greece. We sat one night at the Rabat home of a respected Gnawa mâalem, heard abundant music wafting out of shops, cars and phones and even caught a set from Tobagonian singer Calypso Rose at the international Mawazine Festival in Rabat. We'll tell the stories of all this music over a series of photo essays, playlists and interviews, but to begin, let's focus in on the pop music.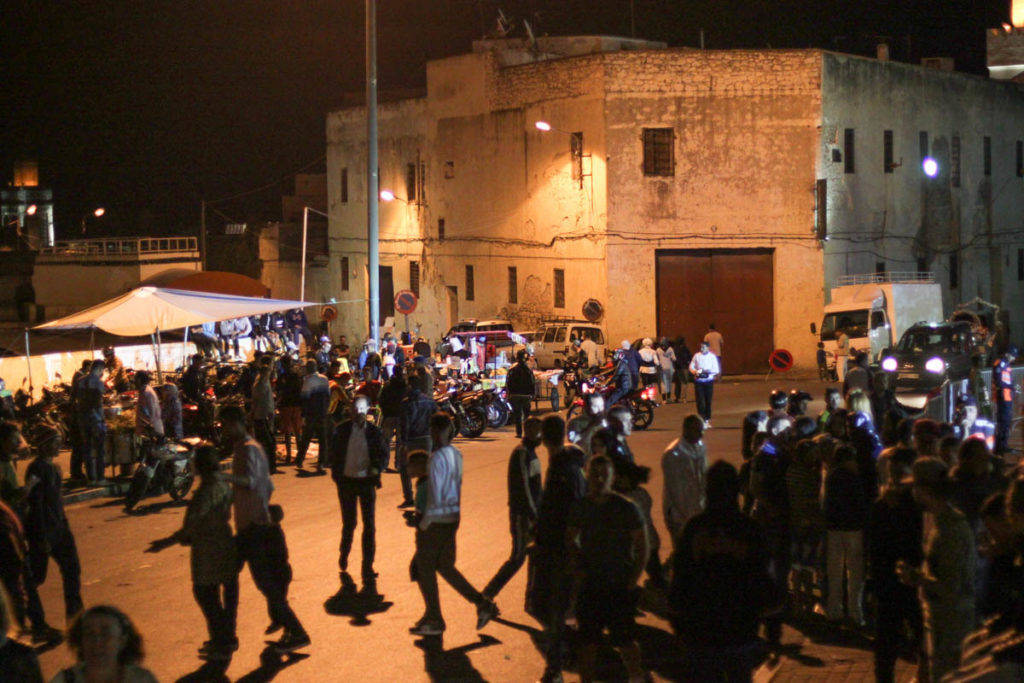 Fes at night: outside Place Boujloud
Every night, the festival hosted a free concert with popular Moroccan musicians in the sprawling Place Boujloud, just outside the famous blue gate into the old medina—Bab Boujloud. During these concerts, the square, encircled by old stone ramparts, was packed full, mostly with Fassis (Fes locals) and visiting Moroccans of all ages. Teens and millennials dominated the space while elders sat on the steps and kids ran around and climbed on barricades to get better views of the stage.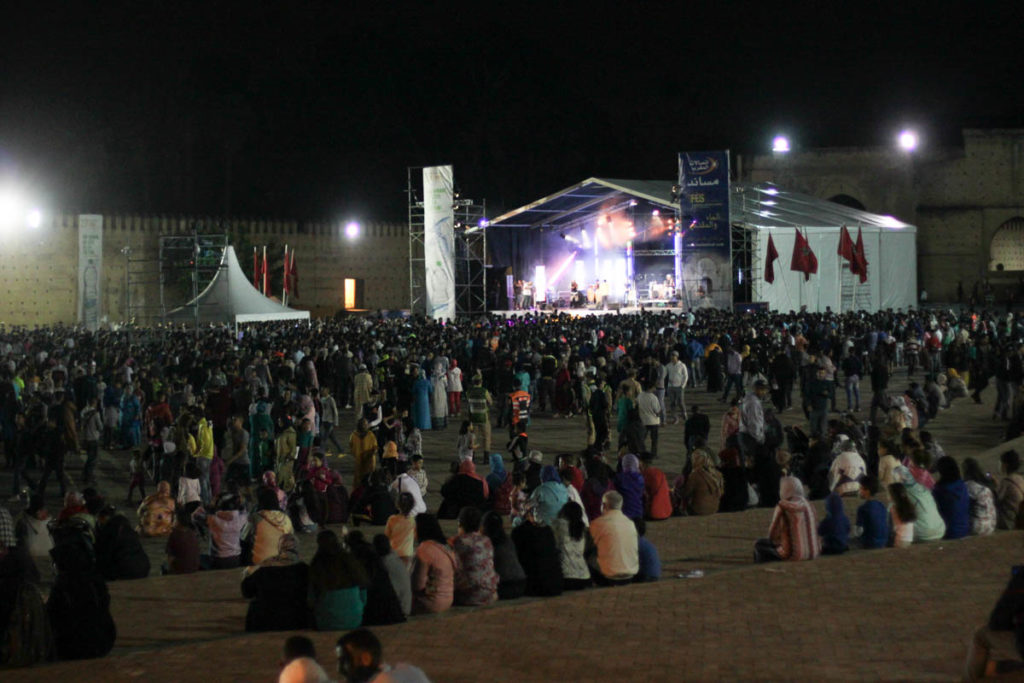 The stage at Place Boujloud
The lineup ranged widely from night to night: for example, Said Guissi of the Issaoua Sufi brotherhood; the crooning Cheb Rayan; the hip-hop/pop group Fnaïre; and a superstar of Gnawa music, Hamid El Kasri, who recently visited New York as part of the Gnawa Festival Tour. On a busy schedule, we were able to catch one of these performances: a double bill of Oussama Abdedayem and Fassi singer Nizar Idil.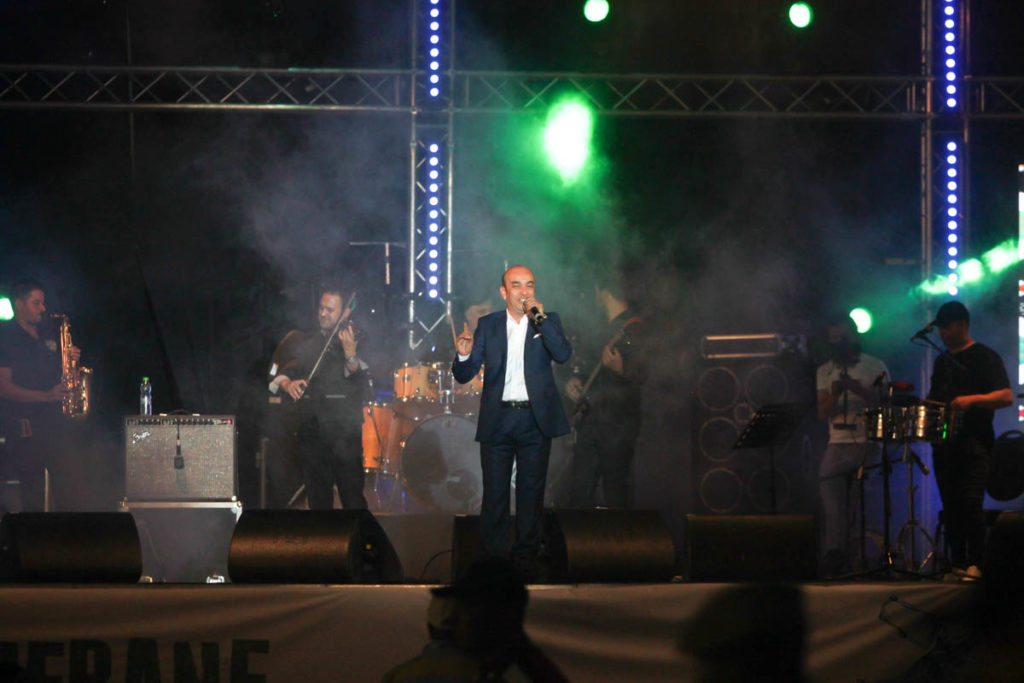 Oussama Abdedayem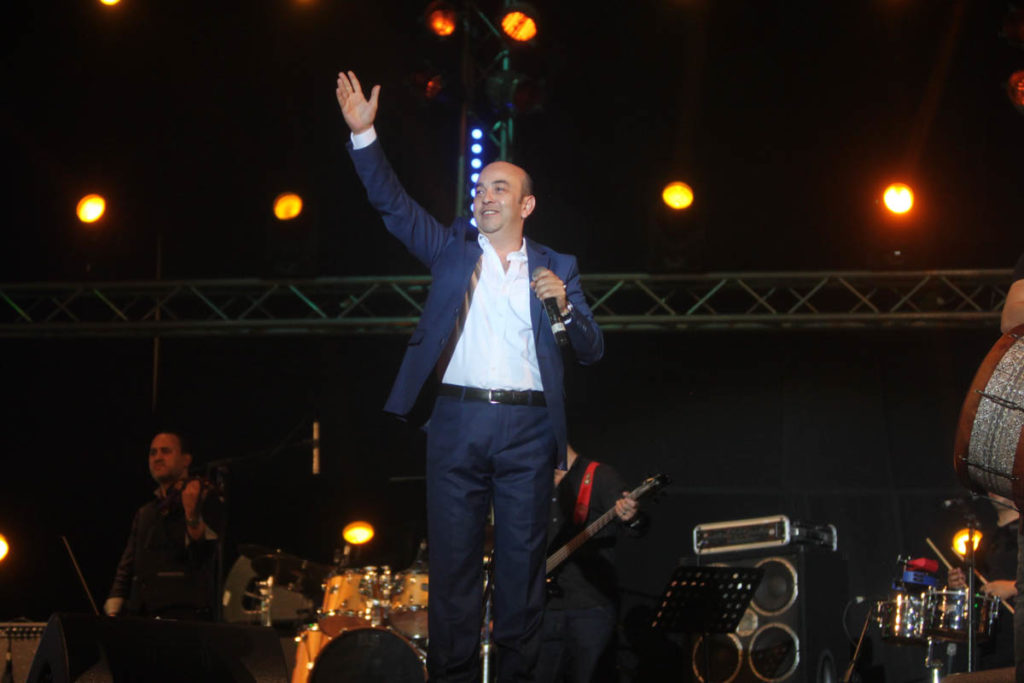 Both of these singers worked with a similar sound, backed by large bands anchored by bassists and assertive drummers (drumset, darbuka and congas), and colored by synth, violin, flute, guitar and saxophone. Although Abdedayem's style was looser than Idil's, his vocal gestures echoed the melismatic, mawwal solos of classical Arabic singers. His music blended the classic sound of Arabic pop with reggae upbeats and jammy djembe solos. Abdedayem sang about, among other things, love, God and Morocco (while draped in a Moroccan flag). Screens behind the singers showed images of slowly waving Moroccan flags on repeat, adding further patriotic weight to their songs of national pride.
A drummer with Oussama Abdedayem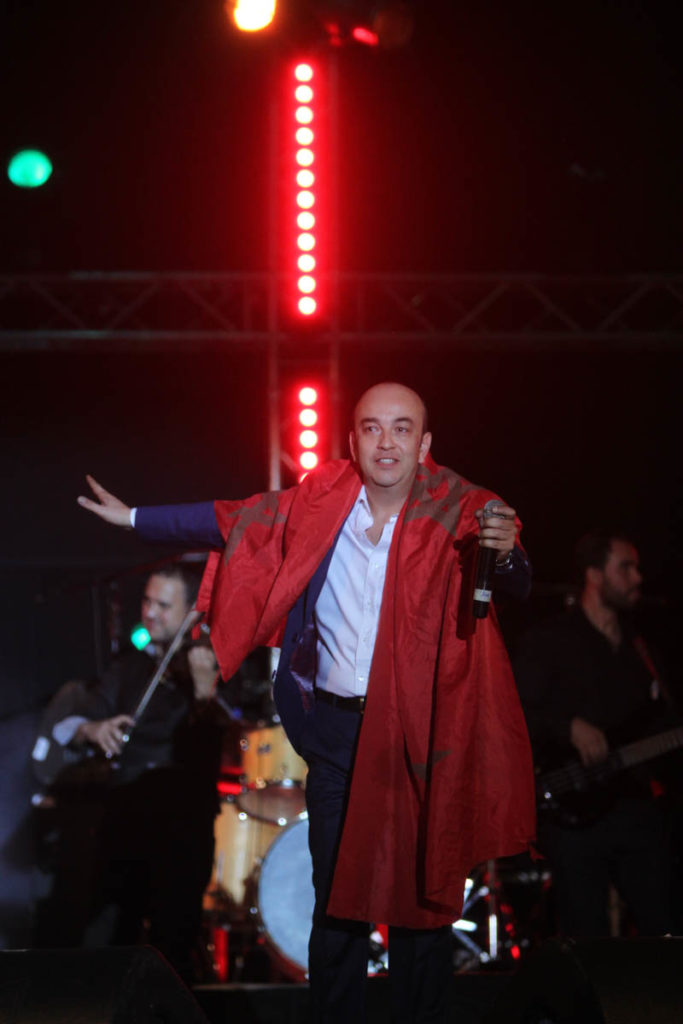 Oussama Abdedayem draped in a Moroccan flag
Nizar Idil is clearly a big hit in his hometown. His presentation is slicked back and rather syrupy, crooning songs of love with a smile. Although there were times when his voice could have benefited from some post-production polish, he led his band with high energy, serenading the crowd and getting them dancing. The crowds, well acquainted with the music of both of the singers, joined in loudly on all of the choruses.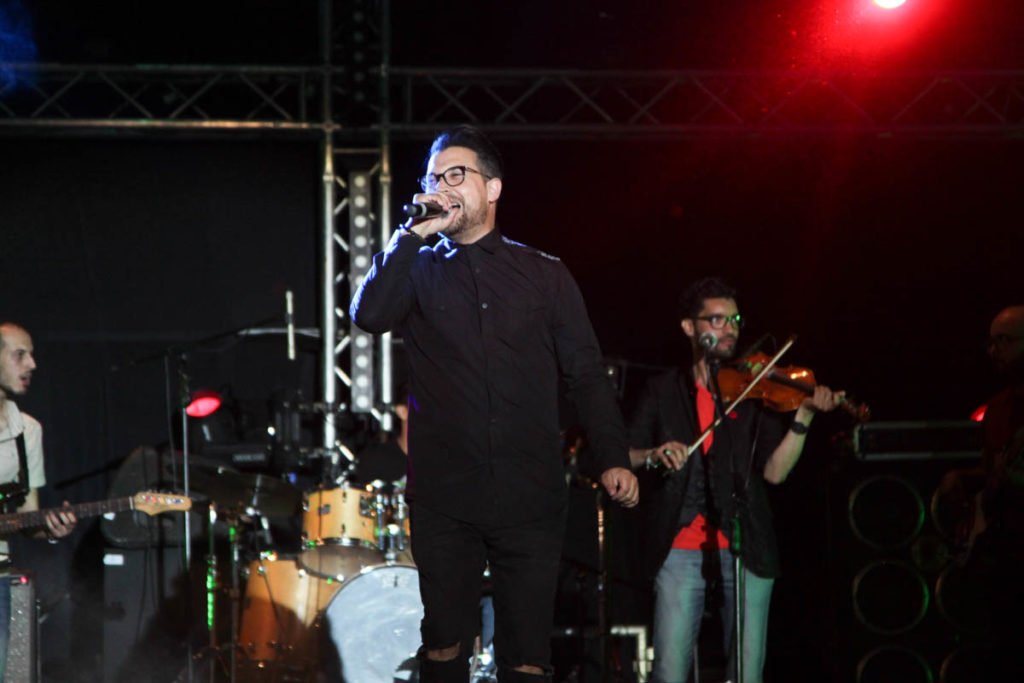 Nizar Idil
This track, "Tah 3la Raso" by Nizar Idil, got a lot of love:
Another song, "Hyati," replete with smoky sax vamps, appears to be part of the soundtrack for a Moroccan TV show of the same name.
The young men in the audience were having a particularly raucous time, surfing the crowd—more accurately, walking on the crowd—and literally tossing the smaller boys up into the air like acrobats. During the down time in between songs, clusters of soccer fans would start up loud chants for the local Fes team, keeping the energy on full, nonstop. Place Boujloud was brimming with good feeling and a pride in Morocco that wasn't always present at the other concerts in the festival. For one, there were many more Moroccans. For all of the beautiful music offered by the festival, it did not always feel accessible to the average Fassi—foreign visitors made up most of the audience for many of the paid shows. The free nightly series of Sufi music and Moroccan pop were key to maintaining the Moroccan heart of the festival.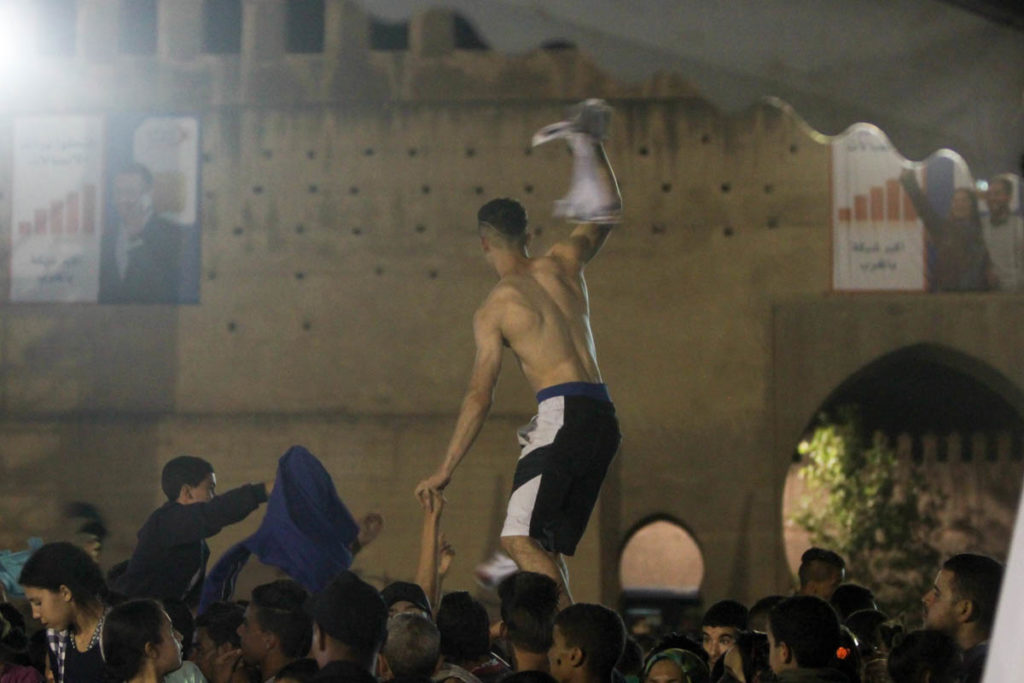 Fans getting the spirit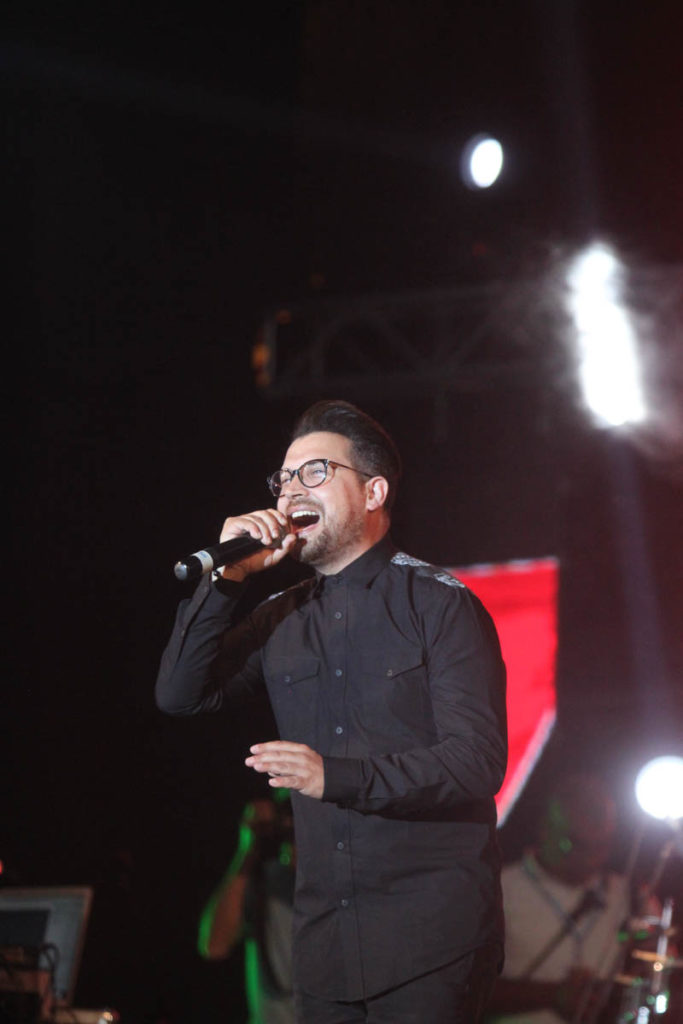 Nizar Idil
Moroccan pop is a very distinct kind of musical gem, albeit one with many faces. Whereas much international pop music can sometimes seem to blend together, many of the popular singers coming out of Morocco stay true to the deeply rooted sounds of their home. One of the first Moroccan bands was Nass el Ghiwane, a group that emerged from an avant-garde theater project in Casablanca in the 1970s. They took the art of the oud, guembri and Amazigh loutar and blended it with banjo and rock 'n' roll, thus bringing the sounds of Gnawa and Berber music to the big stage. This was a revolutionary moment in Moroccan music: Nass El Ghiwane was working with distinctly Moroccan sounds and poetry, free from the sounds of Egyptian pop that had been dominant for some time.
Their legacy lives on. Judging by the music being made by young artists these days, many—but not all—continue to embody the long-lived sounds of traditional Moroccan music. Actually, even trying to make a crisp distinction between new and old, or pop and traditional music is flawed. The sound of what is popular music in Morocco is fluid, stretching from the highly produced, more globally inspired vibes of the likes of Nizar Idil to the intense, trance-inducing music of the Gnawa and the Issaoua.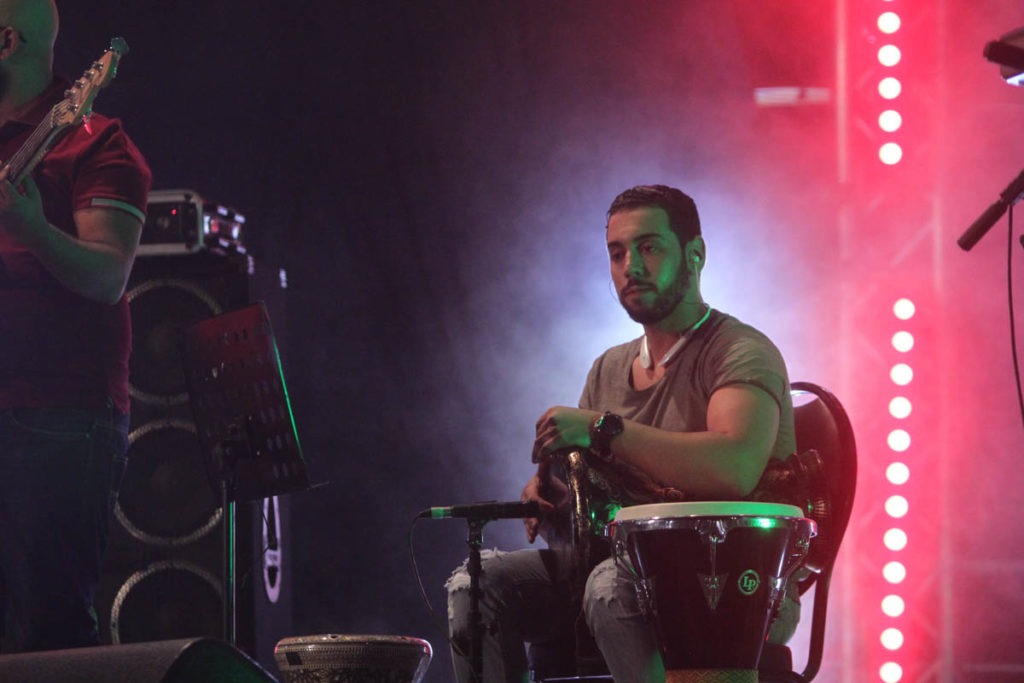 Darbuka player with Nizar Idil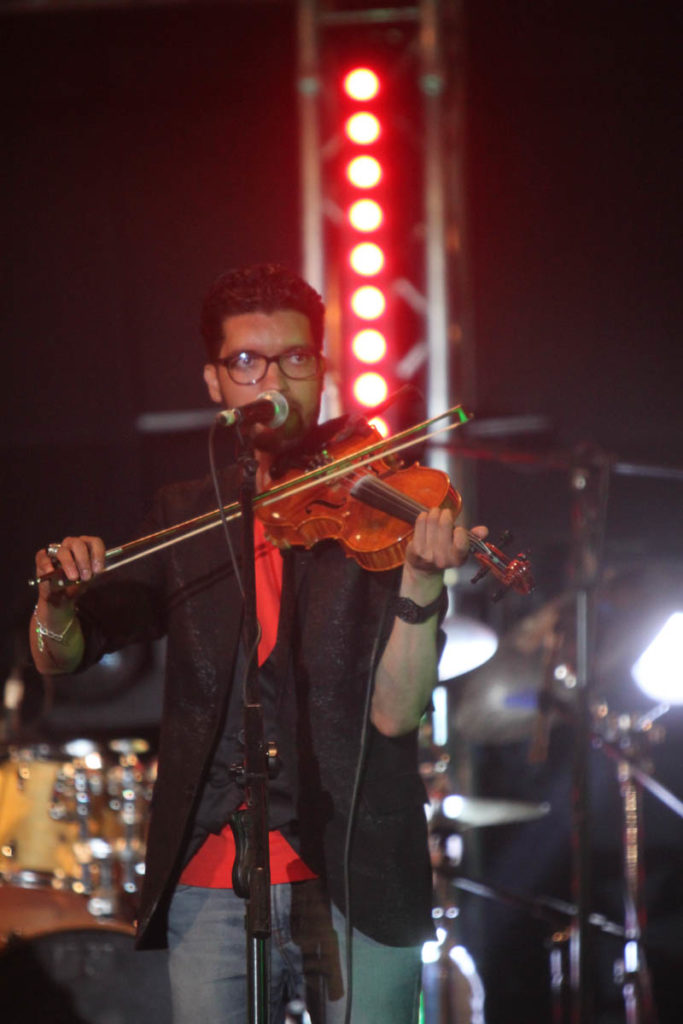 Violinist with Nizar Idil
Both Oussama Abdedayem and Nizar Idil had strong currents of distinctly Moroccan sounds in their music: percussionists played the metal krakebs and big tbel drum of Gnawa music while the drum set churned beats built around the distinctive tumbling flow of the krakebs. Violins in Moroccan pop can take after the sweeping orchestral sentiments big in classic Arabic song (like the Egyptian singer Umm Kulthum) or they can mimic the old Moroccan rebab, a one-string bowed instrument used in Berber music. Compare, for instance, this song from Moroccan singer Zina Daoudia with the next, from Lebanese singer Nancy Ajram. Daoudia's rhythms have a strong Moroccan feel, while Ajram's use the ever-popular Egyptian baladi rhythm (listen also for that violin in Daoudia's track).
Zina Daoudia: "Chedi Weldek Aliya"
Nancy Ajram: "Aah W Noss"
Moroccan sounds might hold strong in pop music, but language occasionally gets different treatment. Arabic-speakers might notice that pop singers sometimes shift their lyrics away from their local dialect into the Modern Standard Arabic (MSA), used across the Arab world in more formal situations or in international news media. Even though a big-time Moroccan star may speak in Moroccan Arabic, known as Darija, they might choose to sing a song in a dialect that can be understood beyond Morocco. (Darija is not always intelligible to non-Moroccans.)
As with pop stars worldwide, the art is often shaped by the cash flow. Think of the many international musicians for whom English is not a first language but whose lyrics nonetheless employ the global status of English to reach a wider audience. In the world of Arab pop, singing in MSA will reach a broader audience and might be appreciated by listeners from the wealthy Arabian peninsula, whose dialect is considered closest to MSA (although that statement is subject to much debate). It's telling that the Arab world's biggest record label, Rotana Records, is owned by a Saudi: Prince Alwaleed bin Talal, also one of the richest people in the world. You might notice that Moroccan pop star Asma Lmnawar's recent video was produced by Rotana. This language shift is definitely not the norm, though—most Moroccans stick with their Moroccan identity and sing in Darija.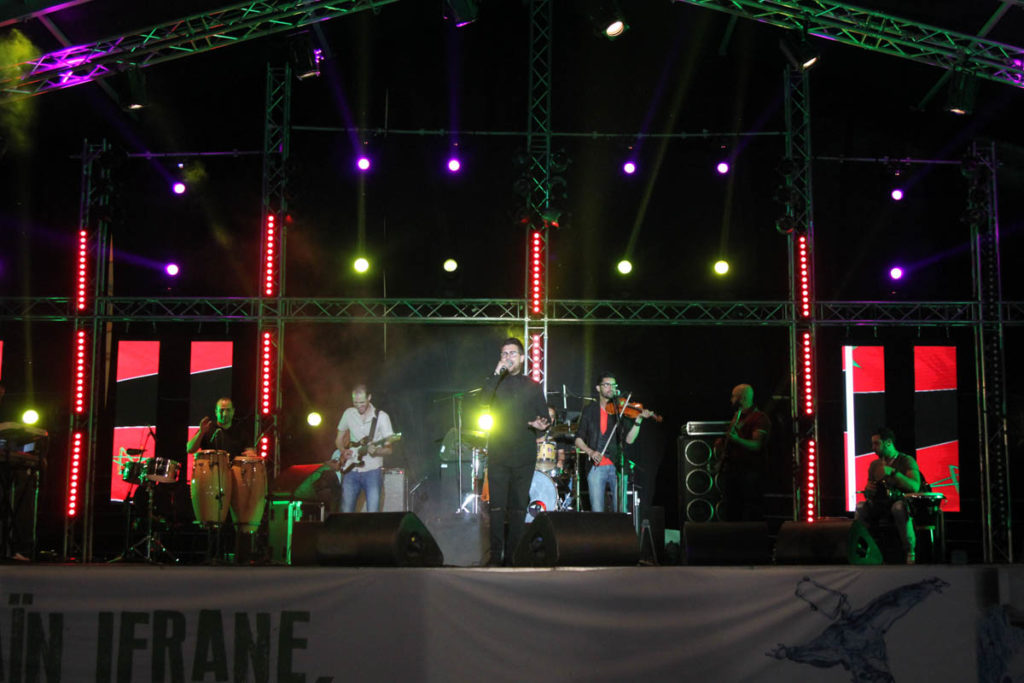 Nizar Idil[
Nizar Idil and Oussama Abdedayem are just two artists in a landscape of phenomenal Moroccan popular musicians. In coming posts, we'll dive further into that world: offering a selection of songs from across the spectrum of Moroccan music, and exploring the fluidity between secular pop and sacred trance music.
Check back soon for many more photo essays, playlists and links as we continue to follow up on all the incredible music and musicians we encountered in Morocco. We've only just skimmed the surface and there's much more to hear!