Field Report: Gnawa World Music Festival in Essaouira, Part One
For lovers of Morocco's inimitable, irresistible Gnawa music, the place to be is the Gnawa World Music Festival in the breezy port town of Essaouira. Every summer, Gnawa masters from around the country and a unique patchwork of musicians from around the globe come together for three days of music. You can't get this anywhere else. This year, Afropop was on the scene and brings you back some words and photos from the festival. This post takes us to day one: Thurs., June 21. All photos by Sebastian Bouknight except where otherwise noted.
One grand avenue runs down the length of Essaouira's medina (old city), between the old stone gates of Bab Doukkala and Bab Mechouar. To set the festival in motion, a parade of Gnawa marched down that road, one maalem after the other, followed by his kouyous (singers who play the big metal castanets called krakeb). As is typical at the opening of a Gnawa performance or a ceremonial lila, the maalem played the big barrel drum called tbel, rather than the three-string guembri (alternately known as sintir or hajhouj). Thundering rhythms from the tbel and krakeb ushered in the inundation of Gnawa that would permeate this port town for the next three days.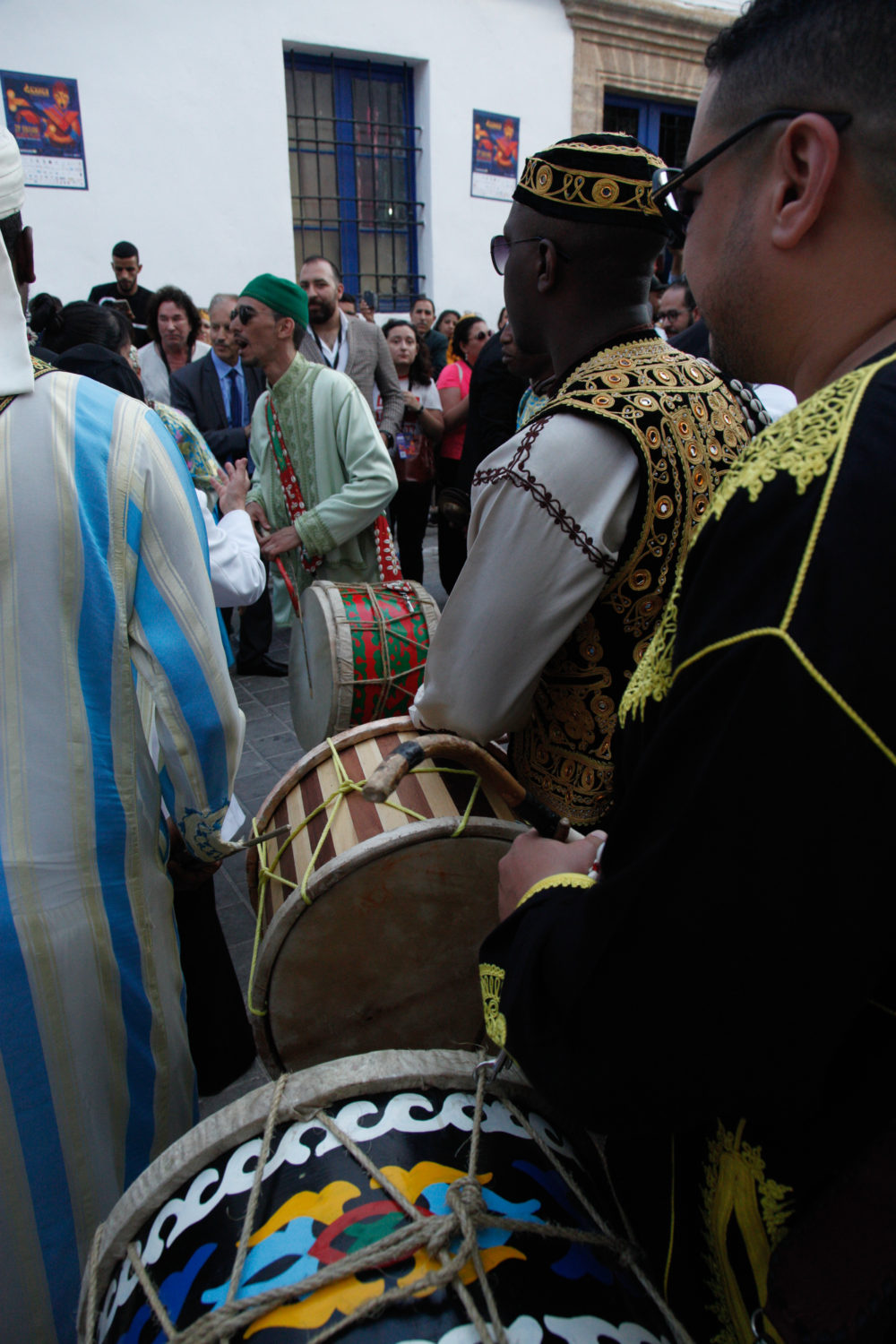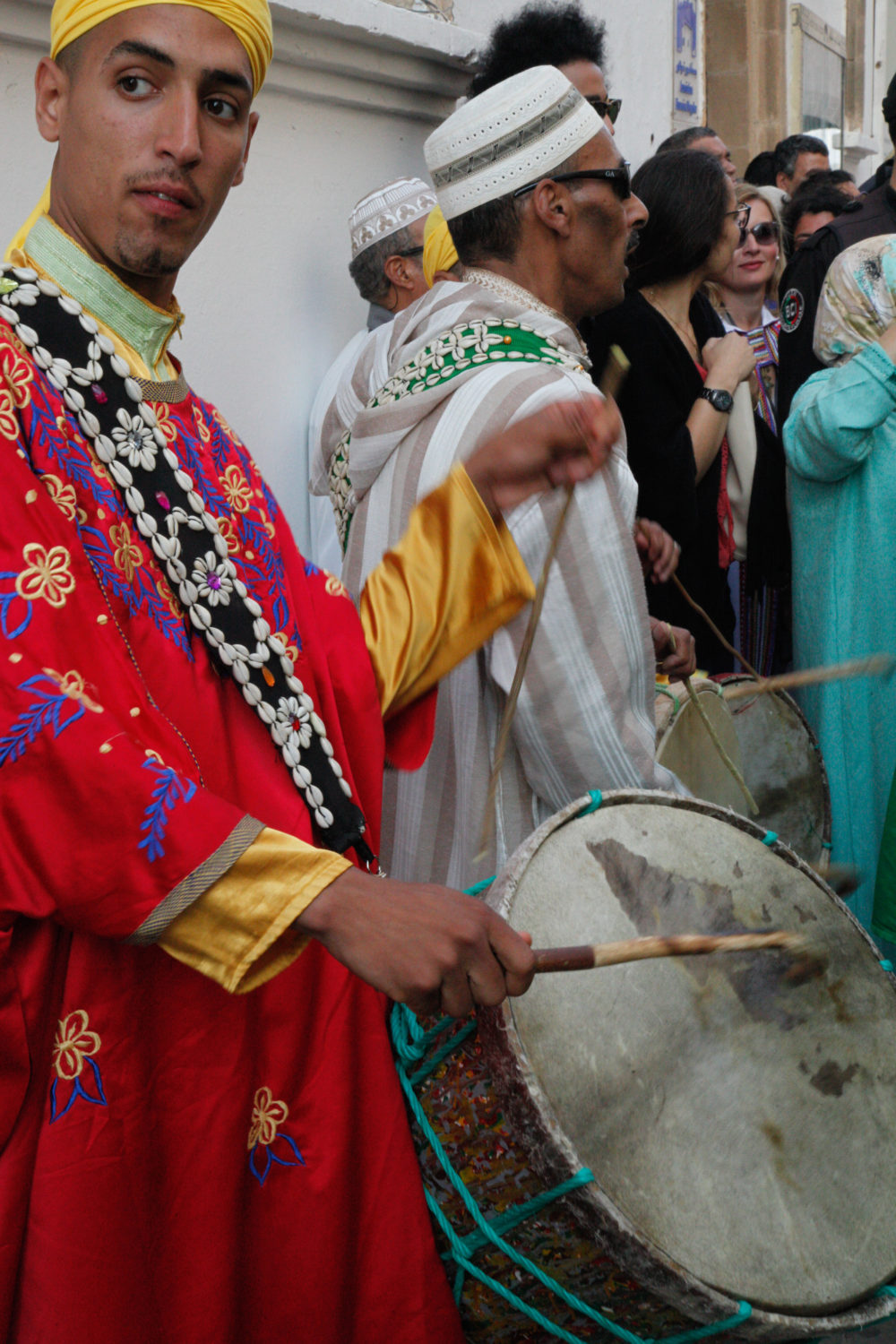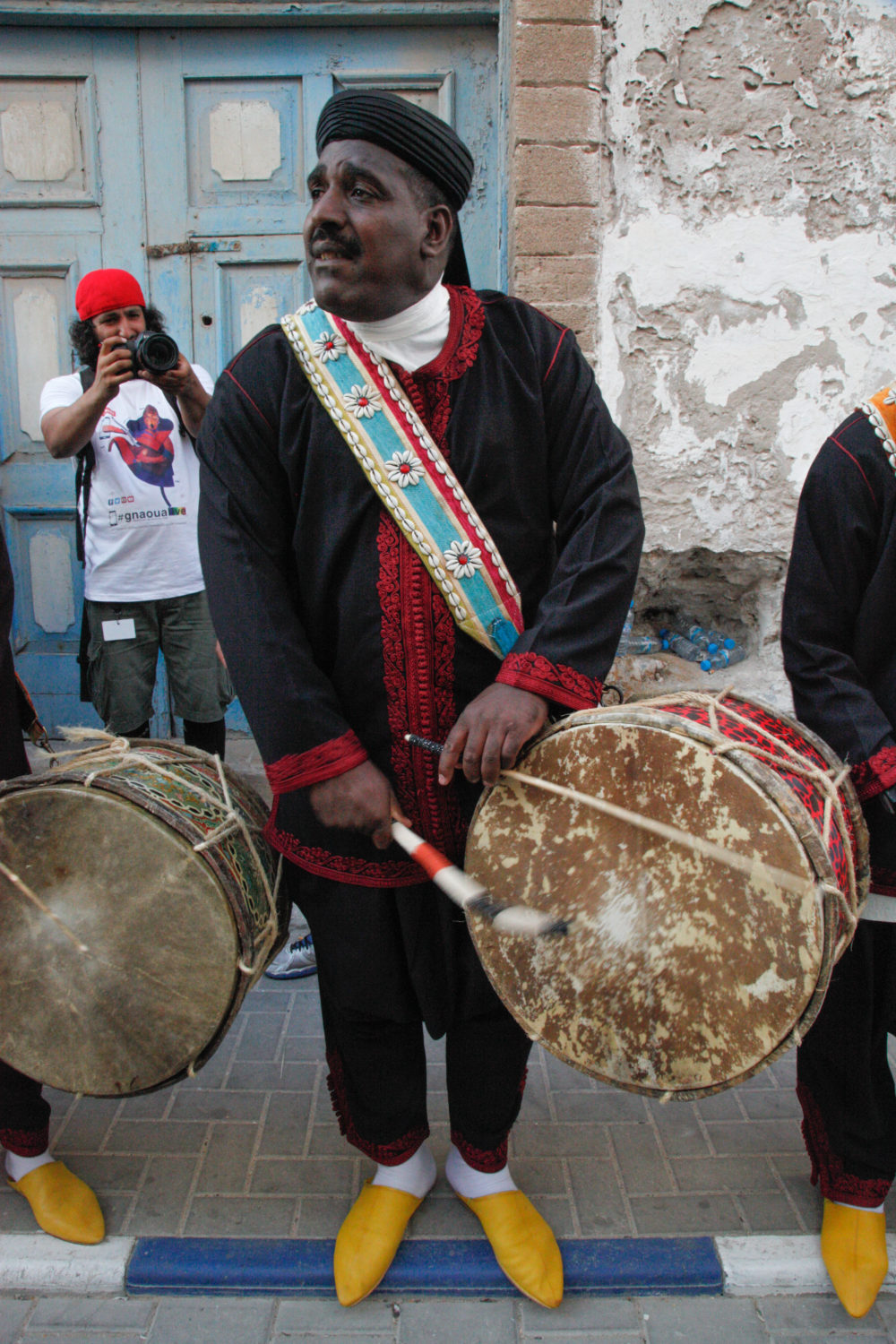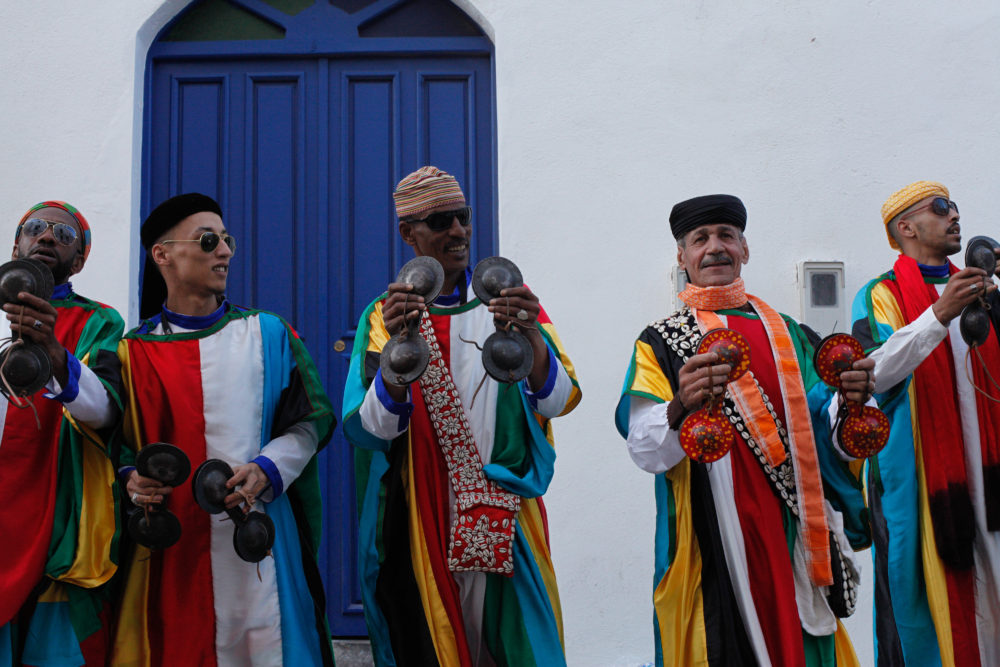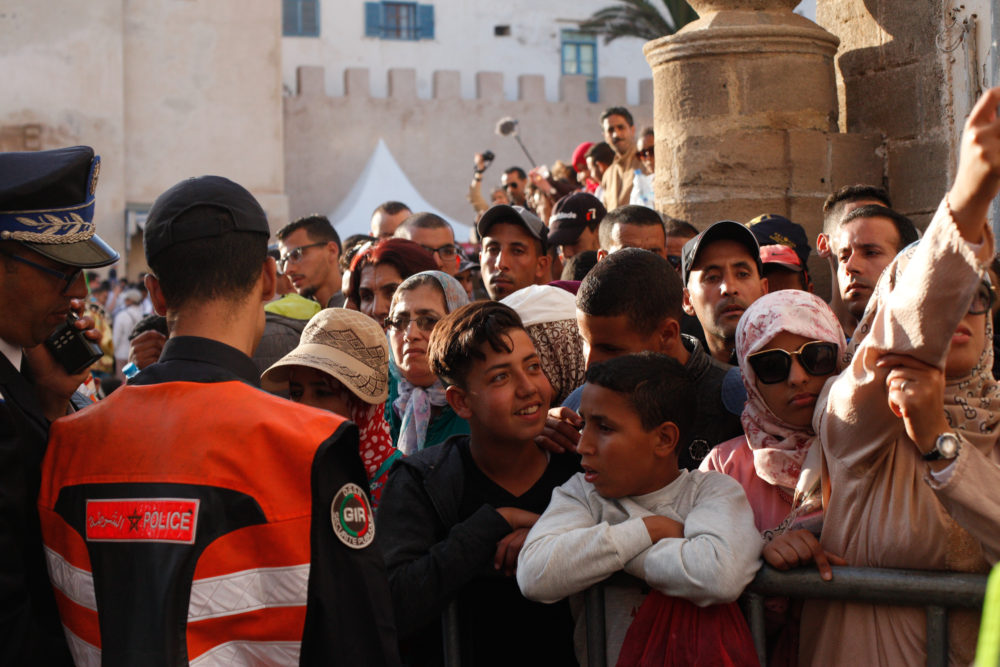 The street was absolutely overflowing with people crammed up against the barricades from start to finish. Everyone from grandparents to infants came out in full force to watch les grand maalems on parade. Each maalem brought his own style from every part of the country, from Tangier to Agadir. Once they had reached Bab Mechouar, the Gnawis lined up on the final stretch, offering their songs one by one to a party of luminaries like festival founder Neila Tazi, and André Azoulay, senior advisor to King Mohammed VI, Essaouira native and major promoter of the festival. Azoulay plays a powerful role in the Moroccan cultural scene and has been a zealous advocate for his hometown.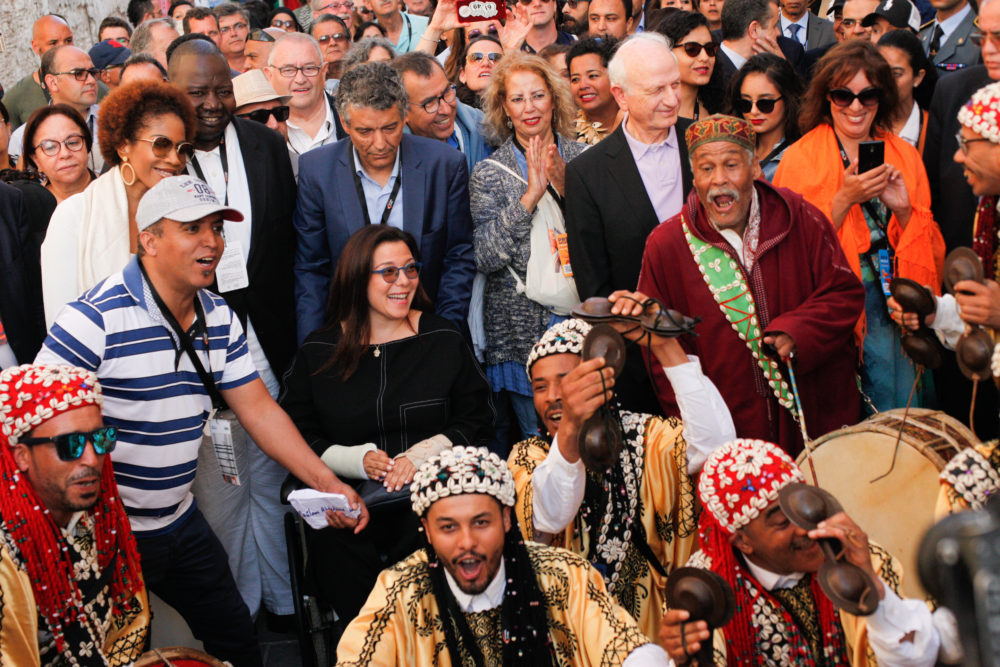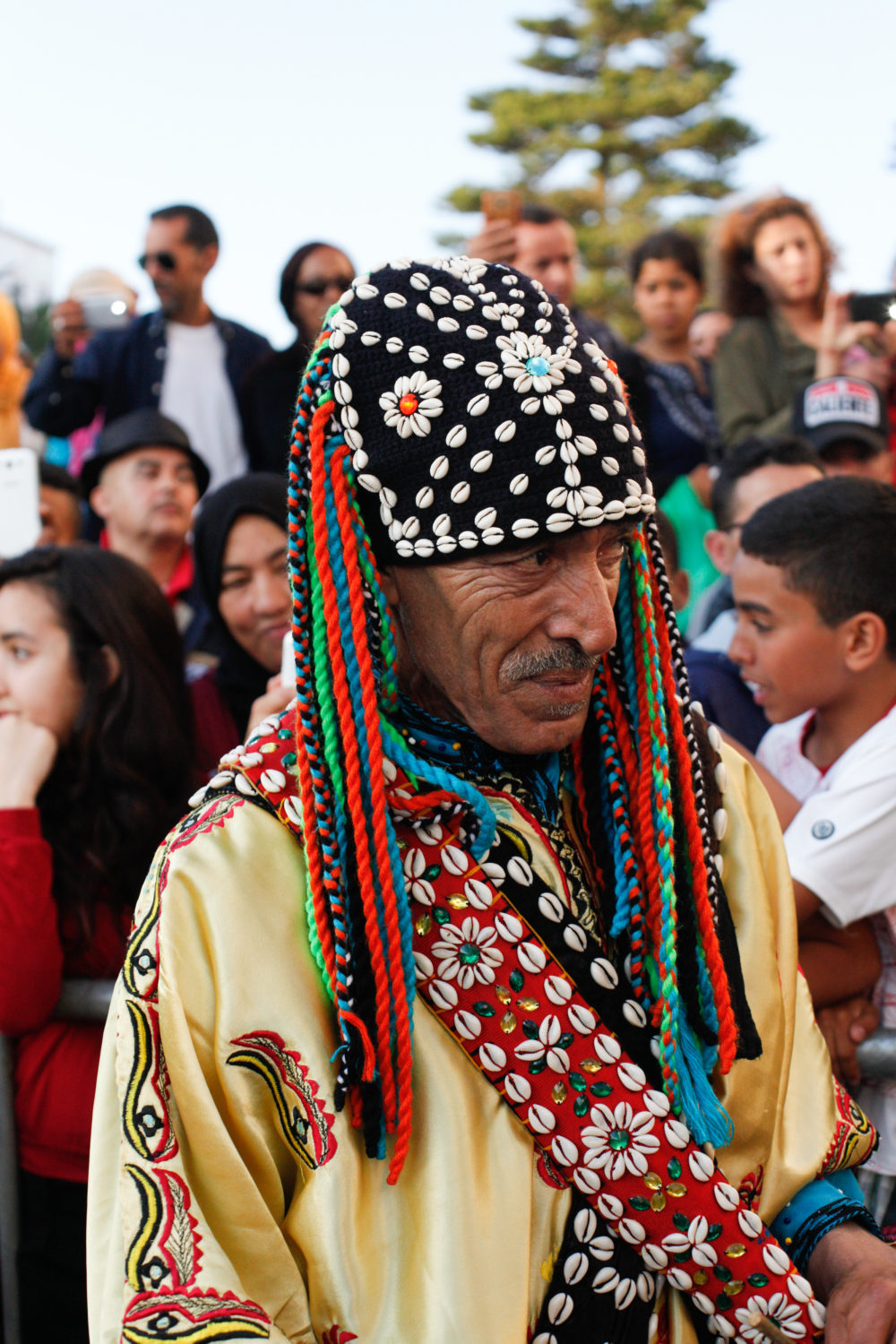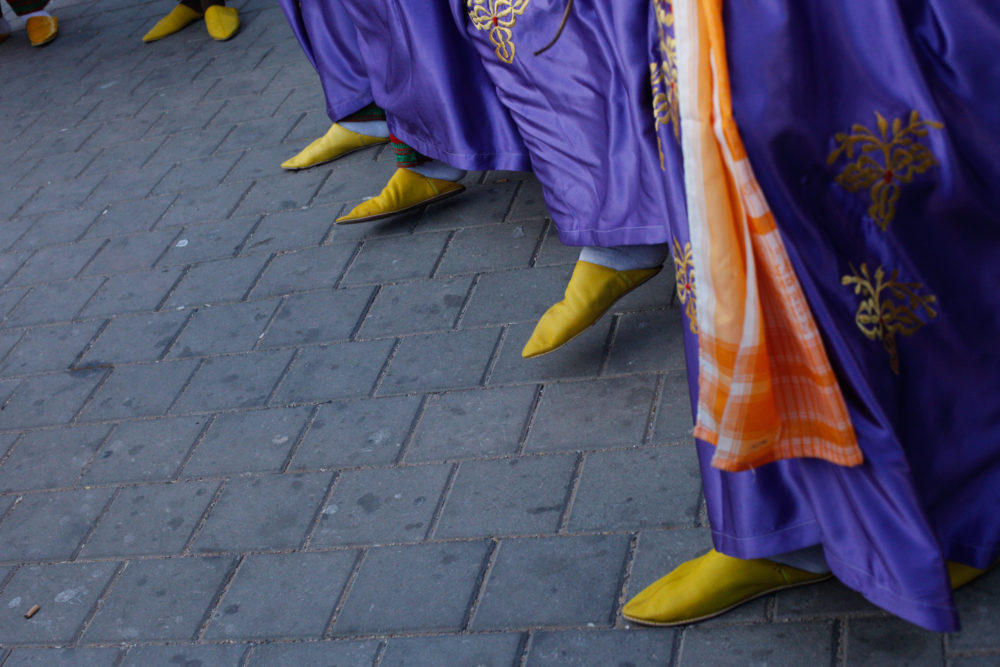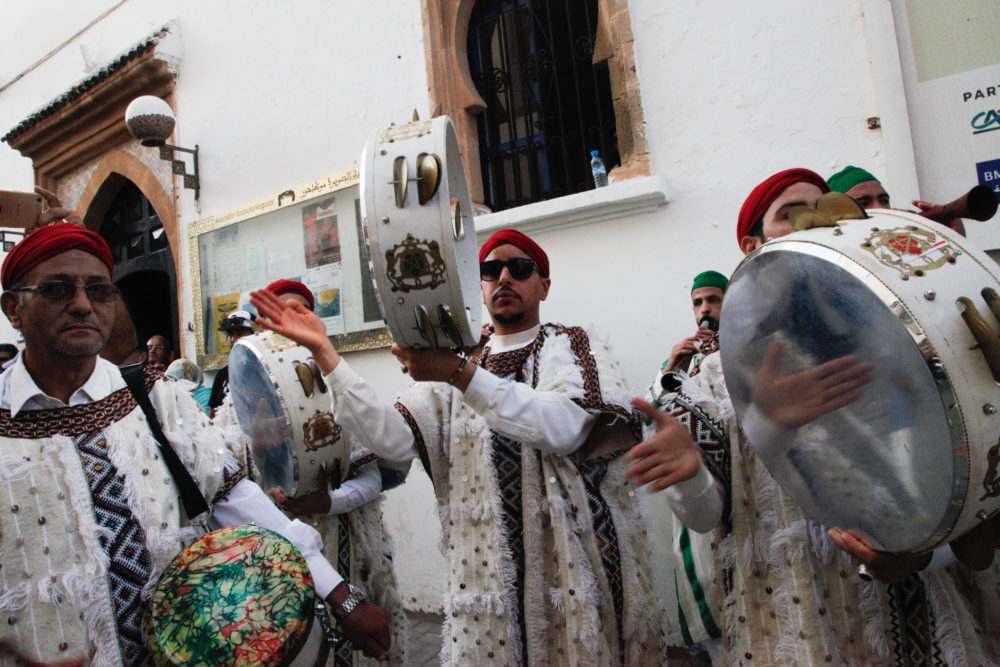 The parade wasn't all Gnawa. Among the Gnawis were musicians from the popular Sufi brotherhoods Issaoua and Hamadcha, as well as those playing Amazigh ahwach and ganga, a kind of Gnawa relative from eastern Morocco played just with krakeb and the big barrel drum, also known as ganga. We'll talk more about those kinds of music in a later post.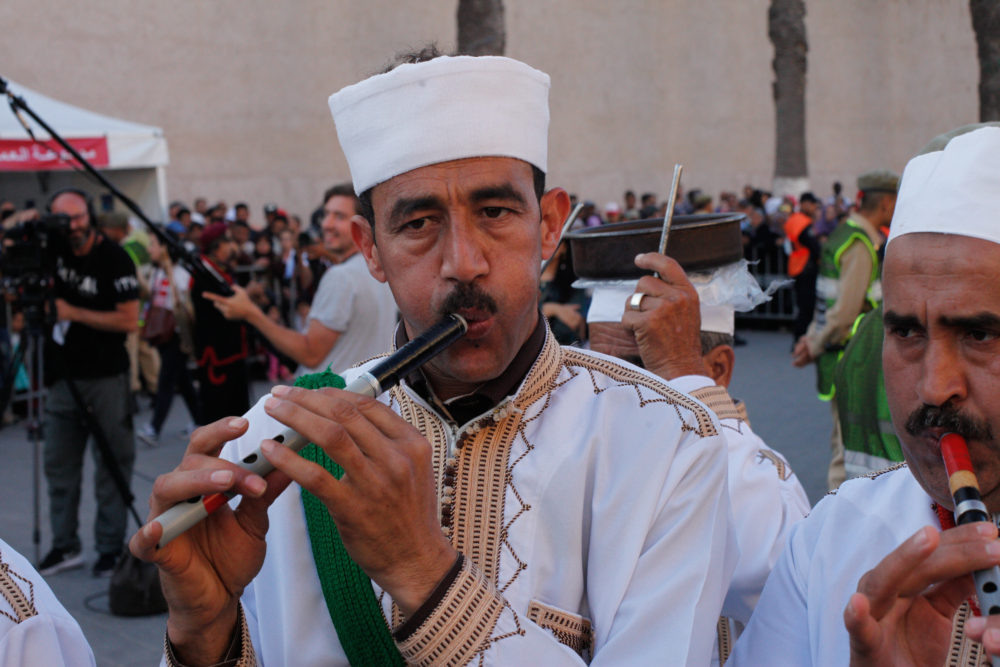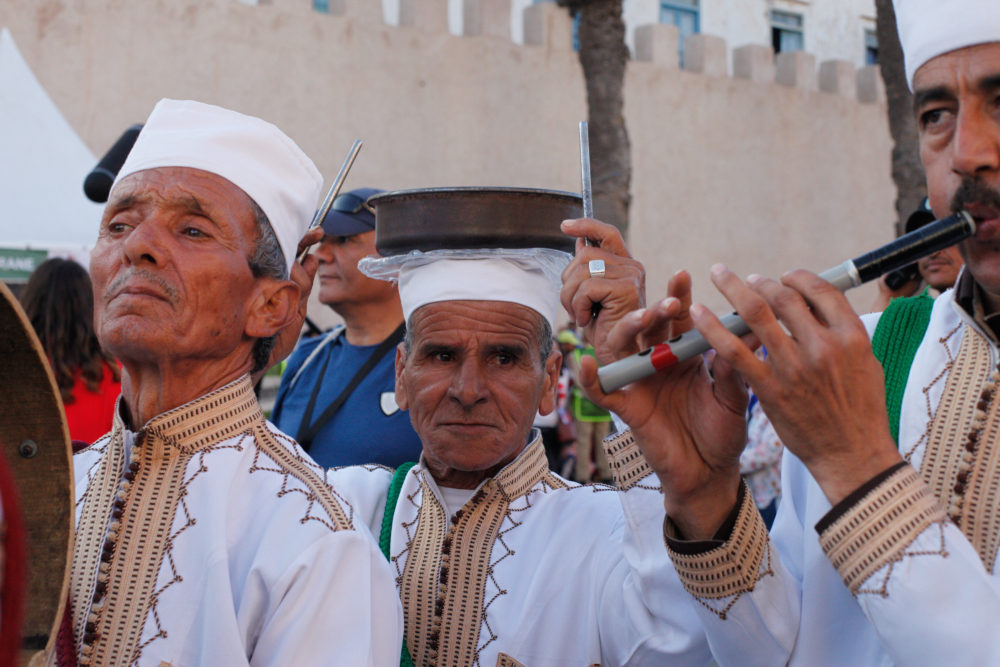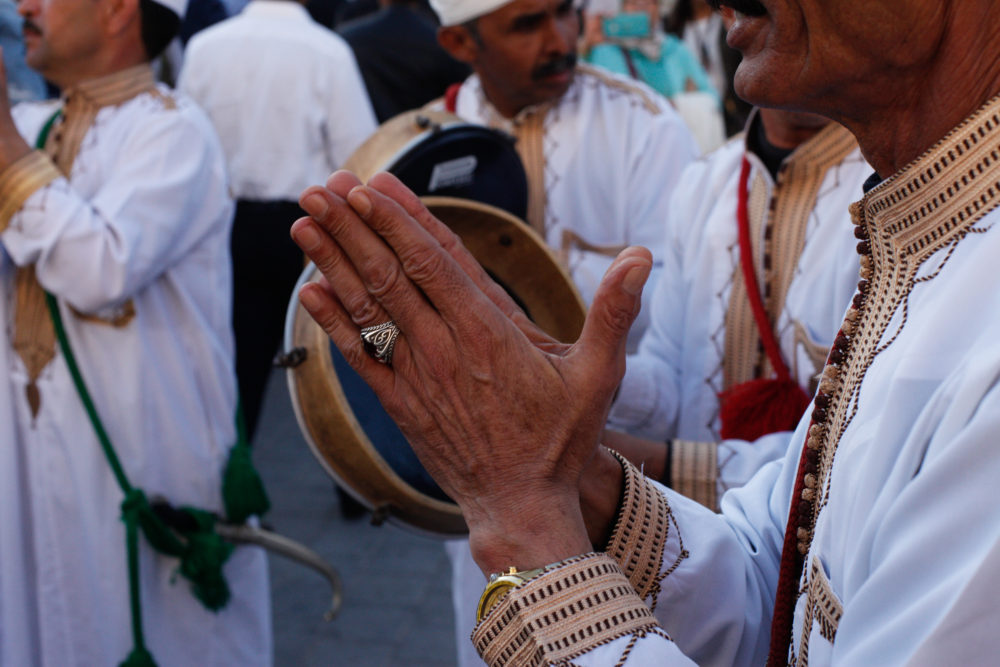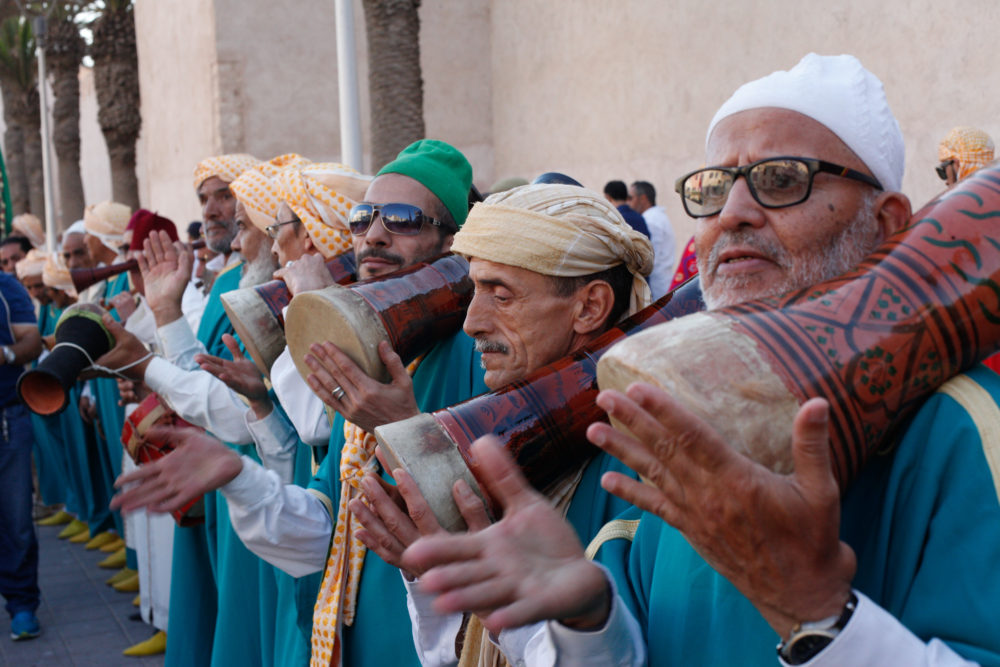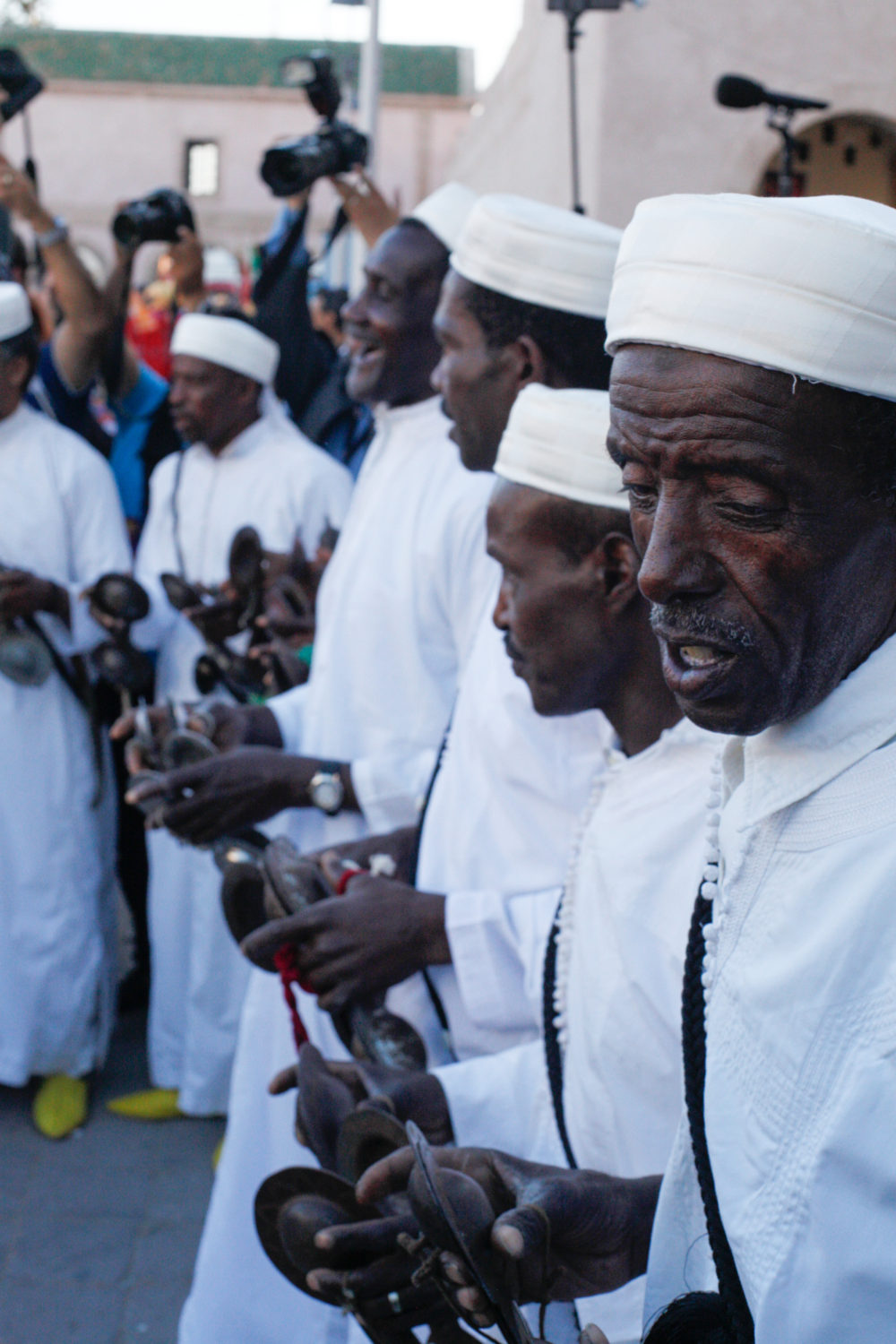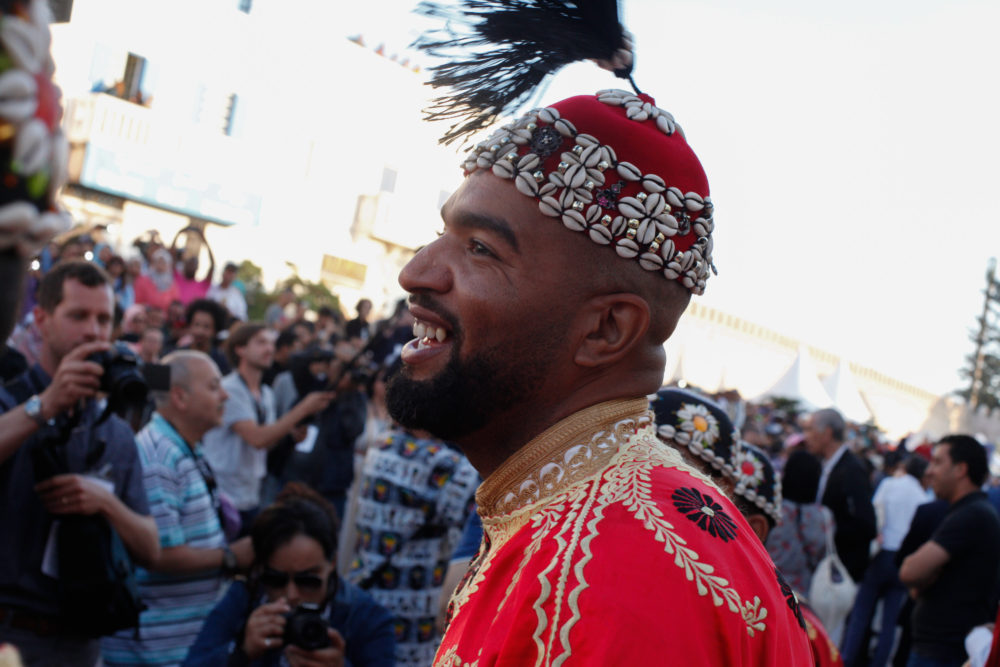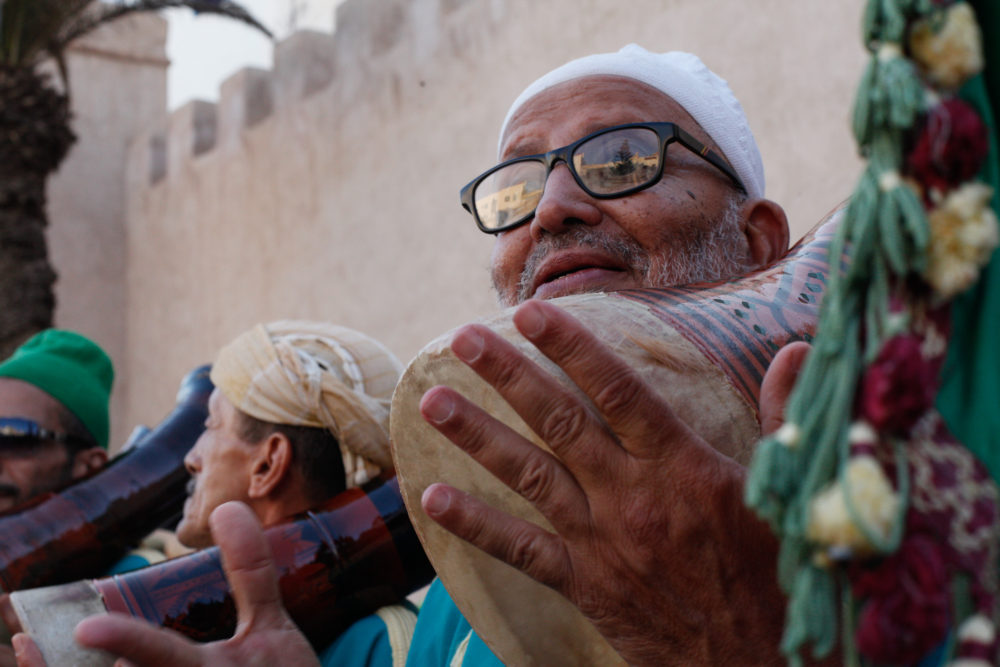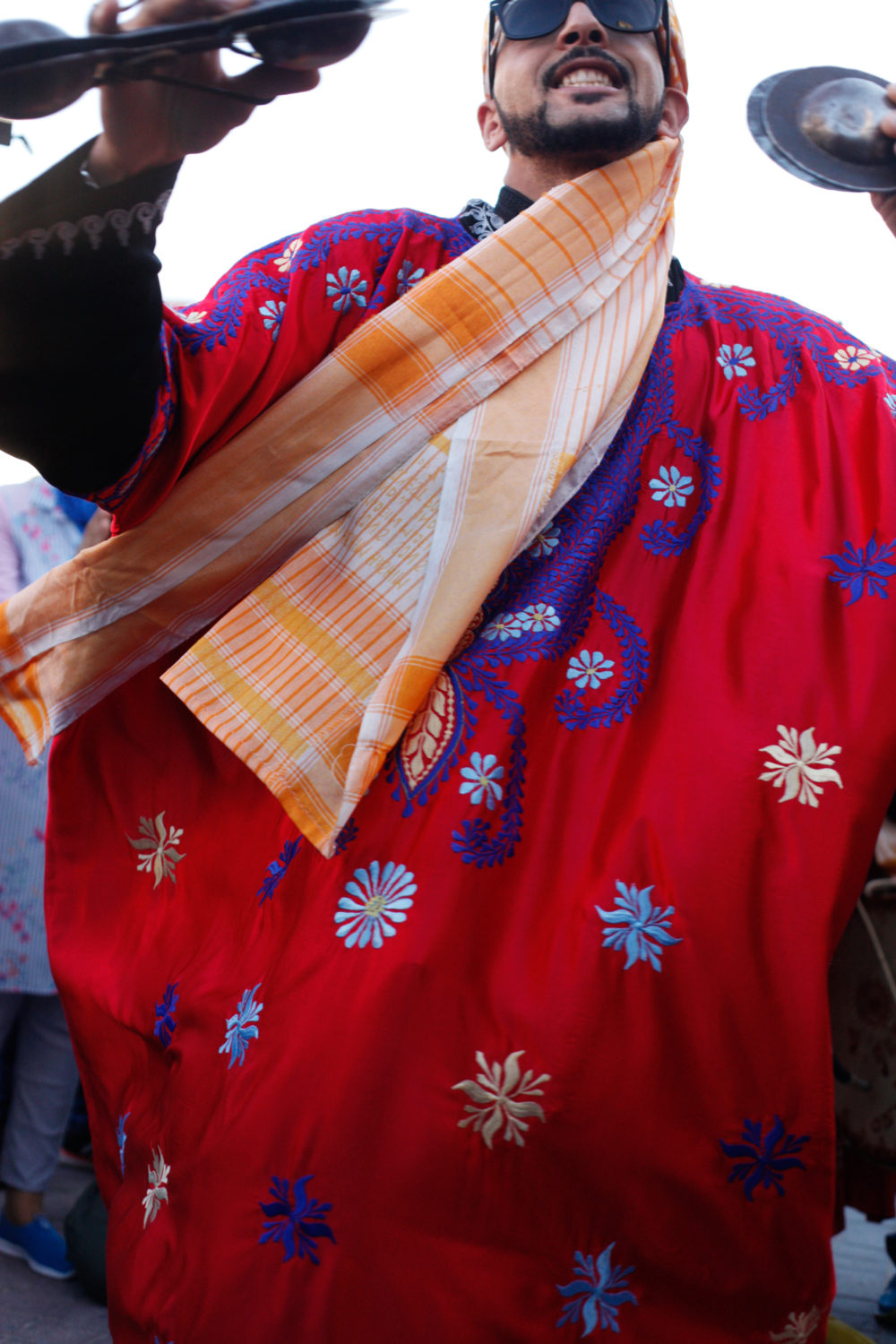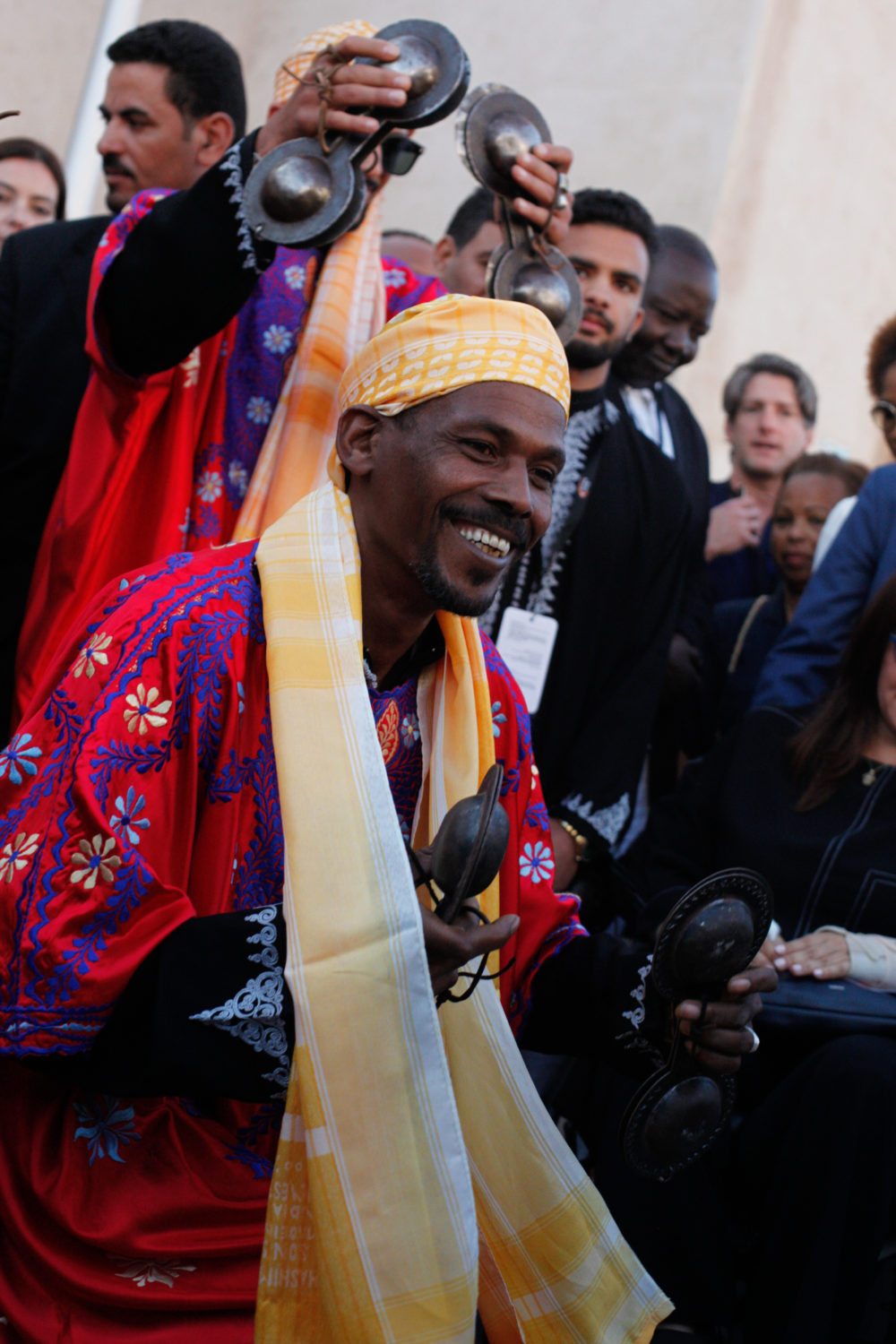 The deep crowds rode the frenzied wave of the opening parade through sunset into dusk. As night fell, everyone gathered at the massive main stage in Place Moulay Hassan, a hop, skip and a jump away from the ocean and Essaouira's historic port. Presiding over the stage that night was a mighty collaboration between the American instrumental groove band Snarky Puppy and the revered Maalem Hamid Lksri.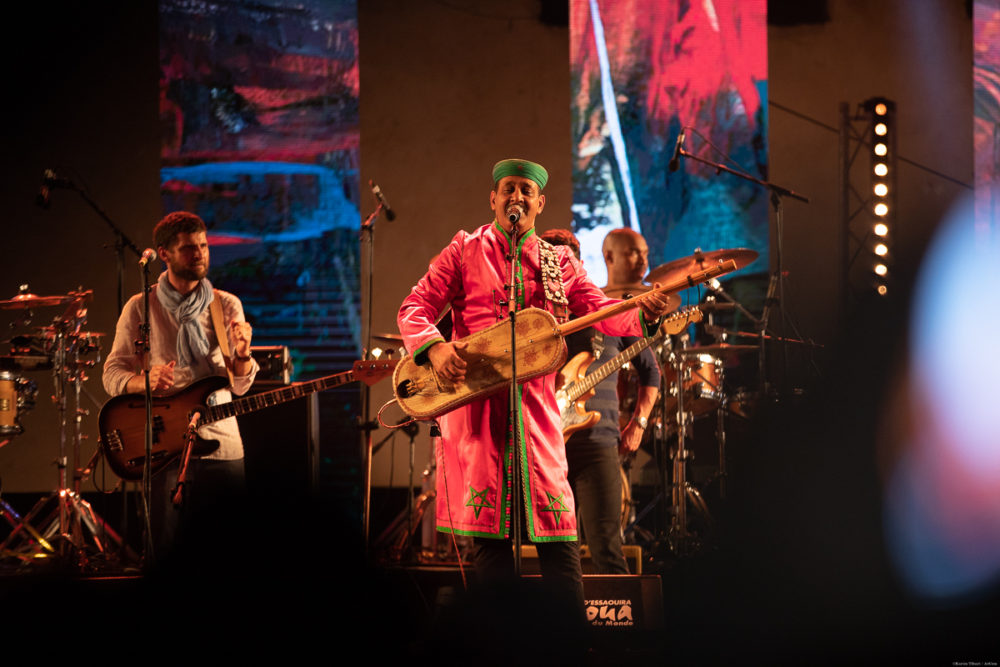 The low end prevailed: Lksri on the bass-like guembri and Snarky Puppy's bandleader Michael League on electric bass. Lksri's steady yet acrobatic grooves commanded the group's movement through a well-rehearsed marriage of Gnawa's deep repertoire and Snarky Puppy's meticulous funk. With a combined band of nearly 20 players, the supergroup managed to avoid the real possibility of overloading one's aural fuses, instead crafting a rich texture and big sound.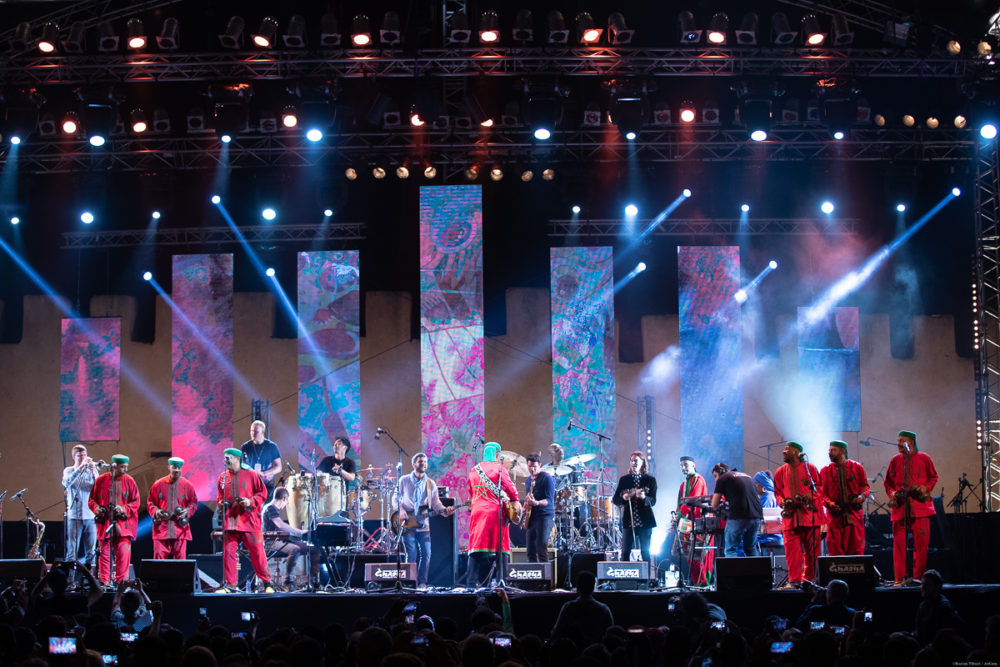 League told me about working with Maalem Lksri: "He doesn't speak any English and I don't speak any French or Arabic … But I feel really close to him, you know? Like, we're playing the same instrument … You really have to exhibit a lot of awareness and restraint when you're playing with another bass player, as a bass player. You can't just play what you want to play 'cause you'll be stepping on each other … For me, the easiest solution is just not playing. So most of the gig, I'm just not playing and then, when I do play, I play exactly what he's playing, but like an octave down or something like that … You have to do it in a way that's respectful to him as the kind of chief of the stage. I love it."
League explained that the collaborative process was actually led by Karim Ziad, an Algerian jazz drummer and the artistic director of the festival (Ziad also was featured in the 2017 New York edition of the Gnawa Festival). Ziad picked out some Snarky Puppy songs that he thought would mesh well with Gnawa and passed them to Maalem Lksri, who then wove his warps into their wefts. When Lksri, League and their bands met for the first time in Essaouira, it took just three days of rehearsals to bring it all to life.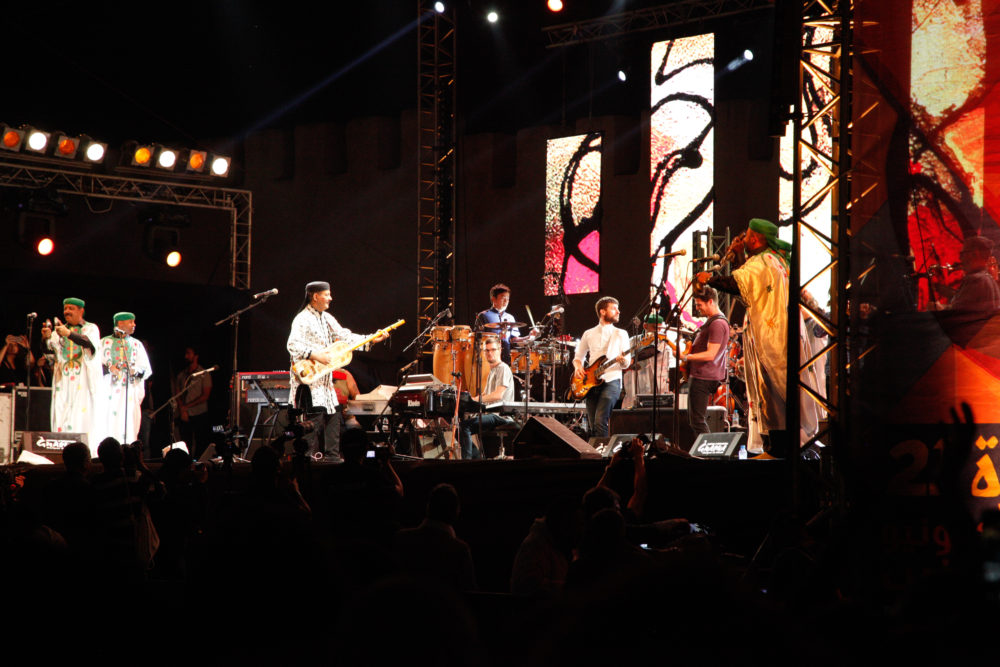 Some attempts at fusing Gnawa with other kinds of music have produced less-than-revelatory results. The two musics can end up staying more or less separate as they hand the spotlight back and forth (jazz time, then Gnawa time, then jazz time again, etc.) rather than truly find a common language. Some musicians can treat Gnawa like it's immiscible.
The Snarky Puppy-Lksri collaboration very effectively avoided that pitfall. Snarky Puppy's horns mirrored the kouyous' voices singing "La Allah." The drummers built their grooves on top of the tumbling krakeb. The krakeb, with its distinct motion, shifted the weight of Snarky Puppy's funk feel in just the right way. Lksri's prowess had space to shine equal to that of the dexterous American instrumentalists.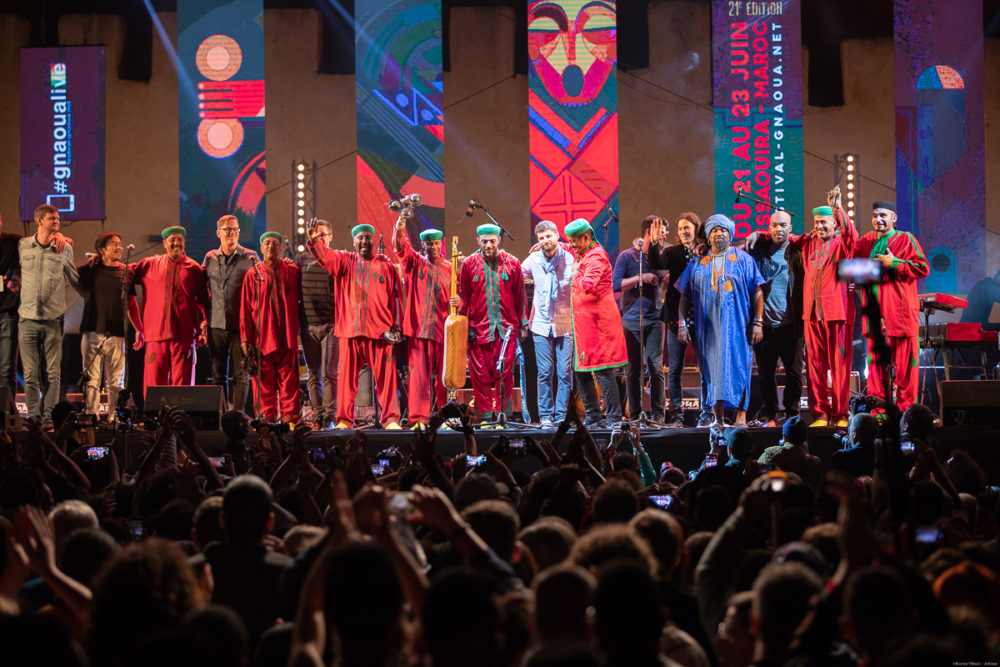 After Snarky and Lksri took their bows, the much-loved Moroccan Gnawa-reggae-rock-fusion band Hoba Hoba Spirit ascended the big Moulay Hassan stage. Hoba Hoba's strength is in their spirit, rather than extraordinary technical ability or a highly refined sound. But in this case, spirit matters more—a whole generation of young Moroccans knows and loves their songs, and, here in Essaouira, they showed it. The band was proud to be back on stage in Essaouira yet again, 15 years after their first show there.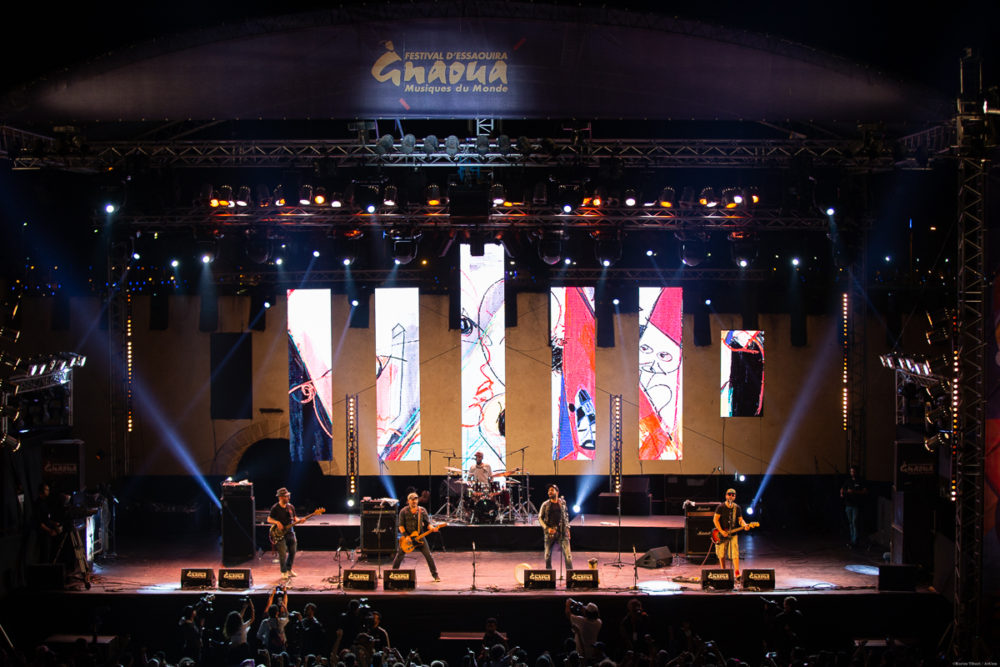 Down a narrow alleyway from Moulay Hassan is the intimate Dar Loubane venue. Normally Loubane is a restaurant but for the festival, it was transformed into a carpeted, cushioned and warmly lit space ready for a Gnawa lila, the ceremonial, spiritual situation in which Gnawa is traditionally made. Late each night, a succession of maalems played at both Dar Loubane and Zaouia Issaoua, a small, secluded courtyard regularly occupied by the local Issaoua group. Although these performances were not full-fledged lilas, they carried lila energy, fostering an atmosphere ripe for the mluk—the spirits.
Getting a chance to see a lineup of maalems from across the country is a special thing. Each region of Morocco has its own style of Gnawa: a particular way of singing each song, a particular order in which songs are played and even certain songs that are unique to that place. It's even difficult to get a consensus among maalems about Gnawa's history and the proper way to perform it. To tell the story of Gnawa is to patch together dozens of perspectives from dozens of places. After all, for most of Gnawa's history—before it had an international festival and entered the very public sphere it now occupies—it wasn't an easy thing for a maalem from Tangier in the far north to hop on down to the far south and consort with a maalem from Agadir.
Just the first night at Dar Loubane, we saw Maalem Abdelkader Haddada from Tangier and Maalem Ahmed Baqbou from Marrakech. Pictures and recordings were not allowed (it makes a big difference to be present with Gnawa without a screen to get in the way). Maalem Haddada was intense, with his eyes trained on something to the side that wasn't there, or perhaps intently concentrating on not looking at anything at all. Even so, his music was subtle.
Maalem Baqbou was mighty. He is an elder of the eminent Baqbou Gnawa family (three of whom played at this festival). Baqbou is a small man with thick glasses, a moustache and a tranquil demeanor. But when he sat down in Dar Loubane with his kouyous, he brought out something powerful. His voice is not big but it's seasoned with decades of experience and a kind of ineffable, penetrating fullness. Baqbou's kouyous had their energy turned on full, complementing the maalem's coolness.
The energy that emerges with the music of a truly masterful maalem is hard to describe, but the difference is palpable in your bones; it's a kind of buzzing that stays with you long after the music ends. Given the right circumstances, that feeling can escalate and bring a person to their feet or to the floor in trance. While Maalem Baqbou played, the music hit one man hard, pulling his self out of himself as he danced and cried in the healing way that Gnawa brings.
Once Baqbou had finished, somewhere around 2 or 3 a.m., we returned to the street, still electric with the masses of young Moroccan Gnawa lovers eating crepes, laughing, flirting and playing Gnawa of their own. Two more days to go. More to come.