Field Report: Visa For Music 2017
By Bastiaan Springer
Visa For Music is the first world music market in Morocco focused on Africa and the Middle East. This year's fourth edition, held from Nov. 11-14 in the Moroccan capital of Rabat, not only attracted about 2,000 world music professionals ( programmers, festival directors, managers, record label owners, media) from 85 countries but also young residents from Rabat. After the first edition in 2014 some professionals had their doubts about the future of this event but now, after four editions, everyone agreed that this very lively and inspirational music salon, offering concerts, a market, conferences and speed meetings, has become an important professional platform where musicians from Africa and the Middle East can promote themselves and boost their business.
Rabat is an ideal location for an event like Visa For Music. This laid-back city is not too far from Europe and the Middle East, and has a lot to offer: a Mediterranean vibe, palm-lined boulevards, a lively medina, a picturesque Kasbah, magnificent ocean views, and three good music stages. And in November there is still plenty of sunshine in this city.
Brahim El Mazned, director and founder of Visa For Music, explained: "Visa For Music was born from a paradox: the great effervescence of music creativity in Africa and the Middle East versus the lack of structure and resources in this sector in these same regions. We want to create a professional music market in the region because there is a lot of talent in Morocco, the rest of Africa and the Middle East. We need professional platforms and fairs here in Africa to promote all this talent without needing to go through Europe or the United States. On this year's edition we presented 50 groups and DJs from 35 countries. The program varied from young talent to household names."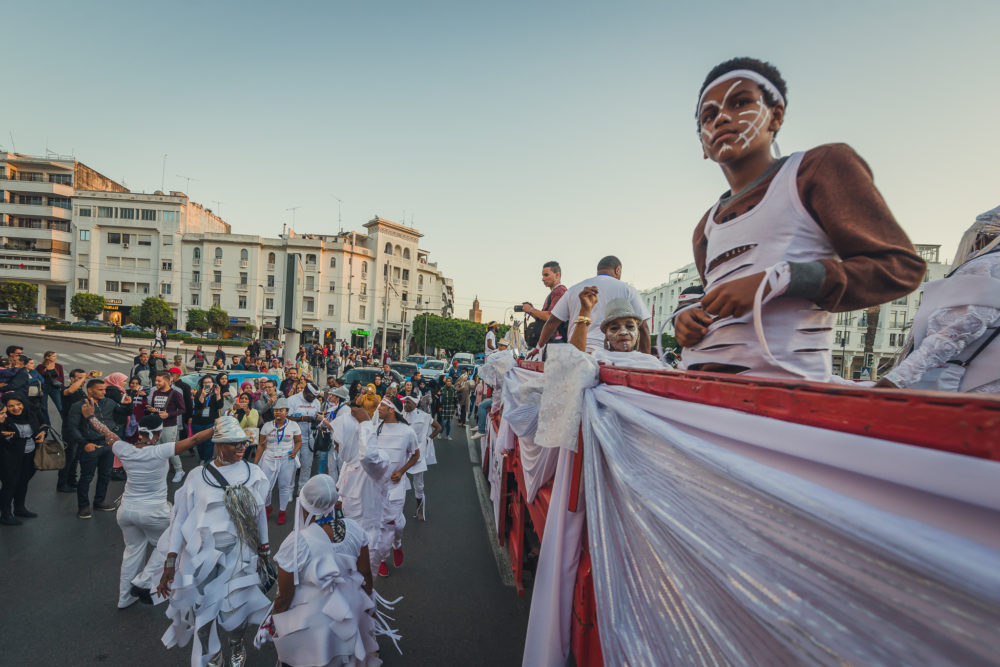 Visa For Music opened with a carnavalesque street parade from Jouvay Fest, a troup of dancers and musicians from Trinidad and Tobago, who were dressed in beautiful outfits. Jouvay Fest honors and pays tribute to T&T's African history and culture with spectacular percussion and dances.
3MA, the first group on the opening night in the beautiful Théâtre National Mohammed V, was one of the highlights of Visa For Music. This trio consist of three stringed-instrument virtuosos from three African countries starting with the letter M : Ballaké Sissoko (Mali) on kora , Driss El Maloumi (Morocco) on oud (Arabic lute) and Rajery (Madagascar) on valiha (bamboo tube zither). They are maestros on their own instruments and masters of the traditional music of their countries down to the last detail, and at the same time are open for new styles and new collaborations. The musicians met each other at a music festival in Agadir, gained fame with their debut album in 2008, and just released a second album that invites contemplation and meditation. The trio gives each member all the space he needs and brings out the best in each other with their plucked instruments that alternately whisper and shout with joy, transporting the listener—almost imperceptibly—to an exceptionally peaceful state of mind.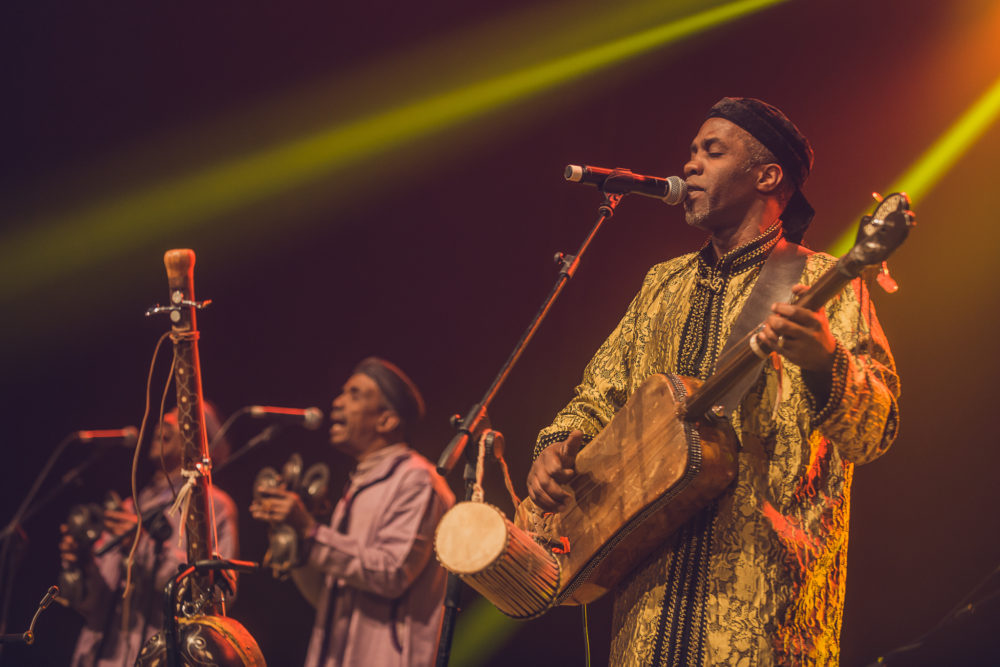 Hassan Boussou and Gnawa Racines is an exciting seven-piece band from Morocco, that mingles traditional Gnawa rhythms with African and Cuban music and jazz. Hassan Boussou , son of the late maalem (maestro) H'mida Boussou, was educated according to the precepts of Gnawa tradition. In 1996 he founded the Gnaoua Fusion band with Belgian musicians. His starting point is still the traditional Gnawa repertoire while expanding to the include Western styles. Although the sound in the Théâtre National Mohammed V was not perfect, the performance of Boussou and his band generated a great deal of excitement among the audience.
Singer and dancer Eusebia, the talented daughter of the Malagasy superstar, Jaojoby, is the new face of salegy, the national dance music of Madagascar. For years she has been touring with her father as a background singer and dancer and in 2012 embarked on her solo career. This charming and energetic performer, who uses the Malagasy rhythms to sing the strong culture of her country, made everyone dance in the packed Club Café Renaissance.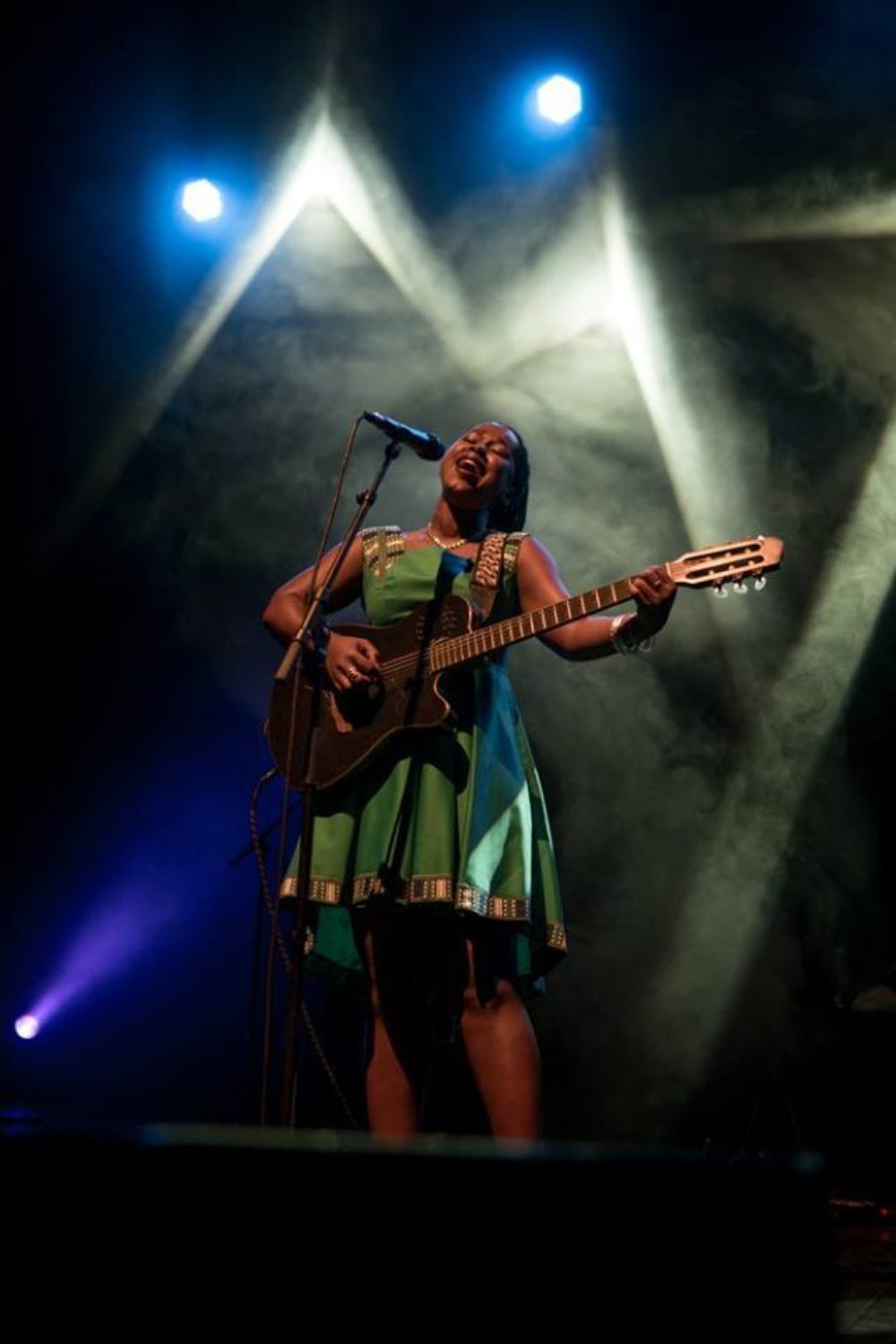 One of the absolute highlights was the concert of singer/composer Elida Almeida, the new rising star of Cape Verde. She was discovered by entrepreneur José da Silva, the man who made Cesaria Evora world famous. Almeida experienced some hardship in her childhood years in the mountains of Santiago. At age 17, she sang in church and listened to the radio, saying that she grew up in a place without electricity or basic utilities. Now 24, she has released two albums and has everything needed to become the new African superstar: a great, emotive voice, energetic stage presence and the right mix of melodious ballads and up-tempo dance songs. Her show in the Théâtre National Mohammed V was mind-blowing.
The Tunisian duo Ÿuma (Sabrine Jenhani and Ramy Zoghlemi) is part of the new wave of Tunisian alternative music. The group started their career with original mash-ups of Oriental and Western songs. Ÿuma's acoustic folk-soul is lovely, intimate, melodic, melancholic and simple. They combine Tunisian dialect with hints of Mediterranean music, desert blues, neo-Arabic styles and Western, almost Celtic melodies. Sabrine's voice reveals a full range of emotion, forceful yet fragile. Ramy accompanies her with deep, breathy vocals, while playing acoustic guitar. Their intimate show at Club Café Renaissance was quite impressive, especially thanks to the beautiful voice of Ms. Jenhani.
Daara Tribes is a band from the Daara Valley, located in the southeastern Moroccan region of Souss-Massa-Daraâ. Influenced by Tinariwen and Ali Farka Touré, the five musicians bring a hypnotic mix of the tribal styles of Daraa, Gnawa, Amazigh (Berber) music, reggae and Sahraoui blues. Their show in the Club Café Renaissance was very exciting and uplifting and inspired everyone to clap, yell and dance.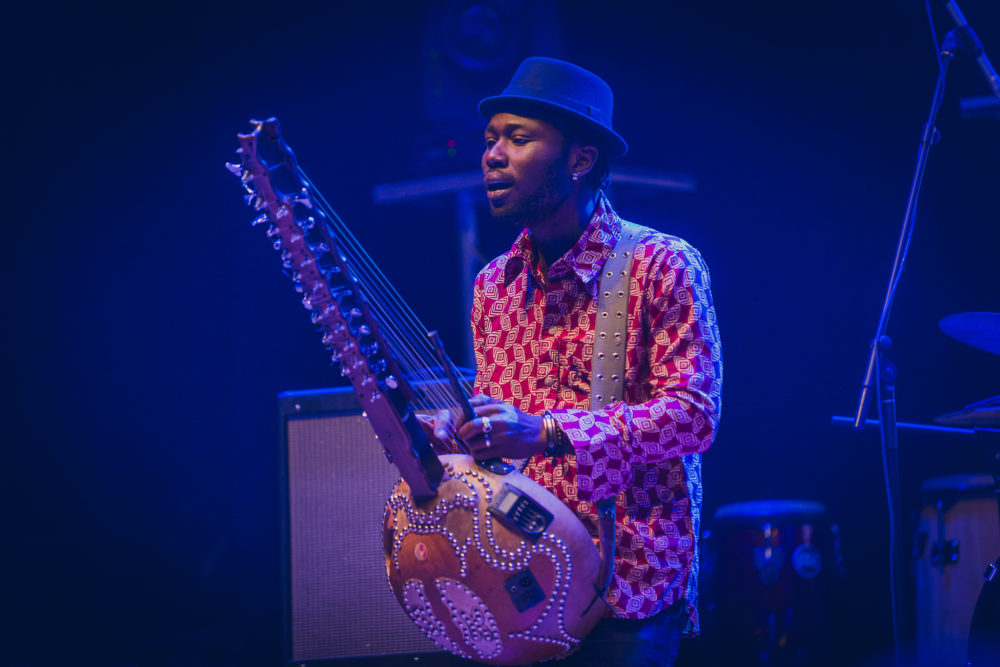 Kora virtuoso Sékou Kouyaté is from Guinea but lives in France, where he is better known than in Africa. He uses all kinds of wah-wah pedals, adding lots of effects to his dexterous playing on the kora. He has often been called "the Jimi Hendrix of the kora," a silly moniker of course, but maybe a good way to catch the attention of a Western audience. Besides being a great musician, Sekou Kouyaté is also a gifted singer.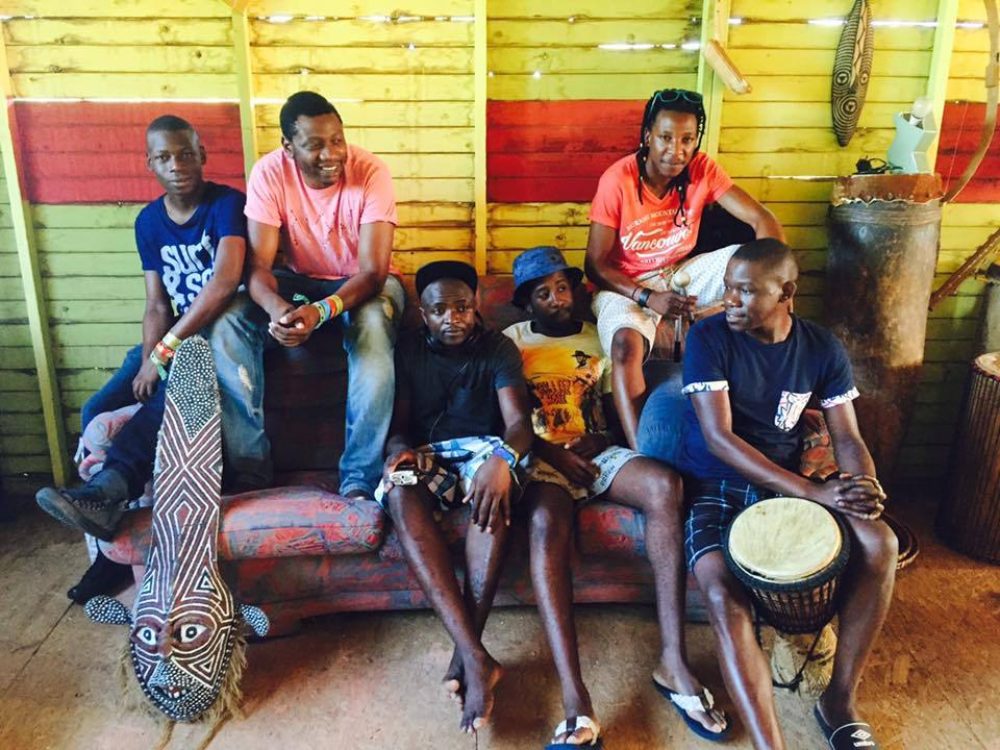 Music from Zimbabwe is often associated with the mbira (thumb piano) or the hypnotic chimurenga of Thomas Mapfumo. Fresh and energetic pan-African dance music is the starting point of the group Mokoomba, formed by six young musicians from Victoria Falls, a city on the border of the Zambezi River in northern Zimbabwe. Their mix of Zimbabwean and South African rhythms, Afrobeat, soul and soukous generated exuberant scenes in the Salle Renaissance, an old cinema in the heart of Rabat.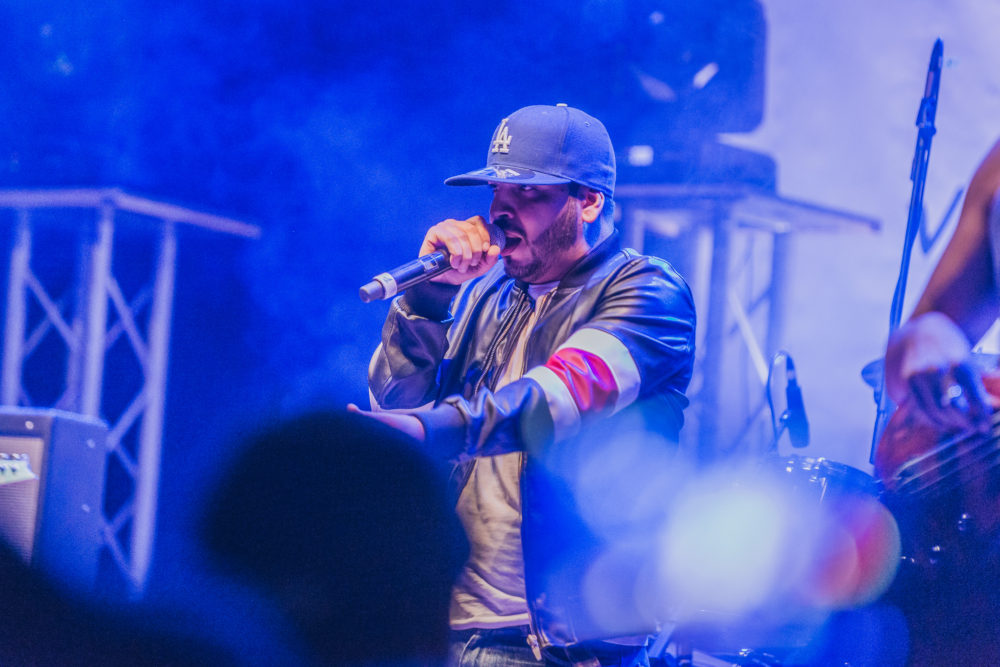 Rabat resident Lmoutchou A.K.A. Mobydick is a superstar for the youth of Morocco. He raps in the Moroccan Arab dialect Darija, which most of the foreign guests of course didn't understand but he succeeded in transporting his message and energy to the wildly enthusiastic crowd.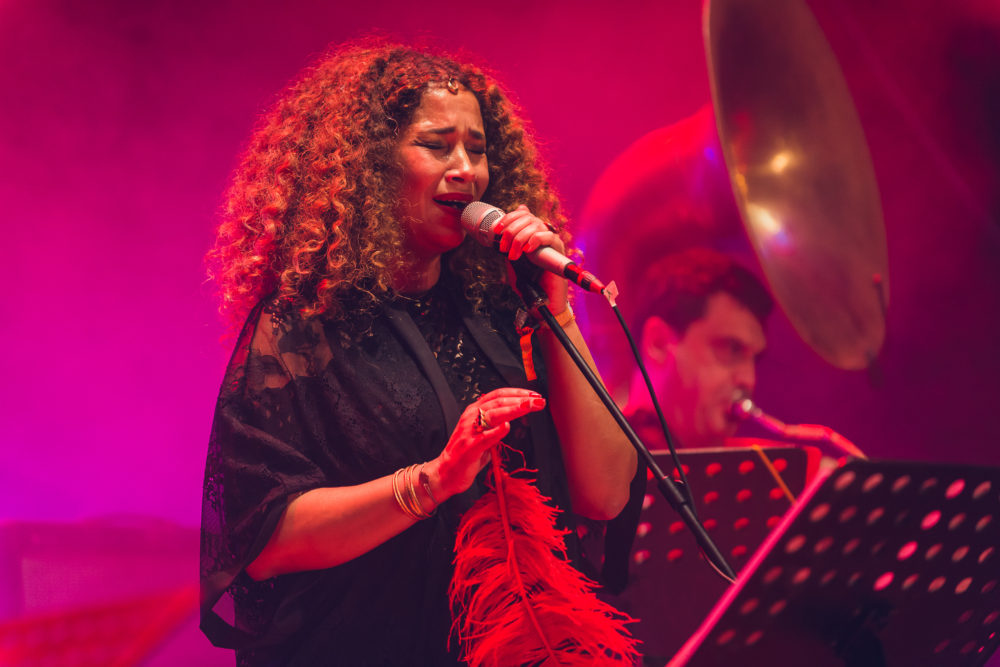 One of my personal favorites was singer-songwriter, writer and graphic designer Ghalia Benali, who presented her new project MwSOUL in the Salle Renaissance. Benali was born in Brussels, grew up in Tunisia and now lives in Belgium again. In the past she made such beautiful albums as Wild Harissa, Romeo and Leila, and Ghalia Benali Sings Oum Kalthoum. Benali is gifted with a beautiful, very flexible voice capable of expressing a wide range of emotion, from whispers to belting it out at the top of her lungs.

With flair, charm and humor Ghalia Benali presented her latest project MwSoul (meaning "connection"), a very interesting meeting between Arabic music and poetry and four brass instruments (tuba, saxophone, flute and trumpet) of the jazz collective Mâäk, led by trumpet player Laurent Blondiau.
Visa For Music not only offers good opportunities for networking and doing business, it also proves that Africa and the Middle East–mostly associated in the news with war, violence and misery–are blessed with an amazing amount of musical talent. In the end, events like Visa For Music might even be able to contribute to a more peaceful and stable world.
Bastiaan Springer is a producer for Radio 5 (Netherlands), and a world music journalist.