Field Report: Visa For Music in Rabat, Morocco
Report from the Visa For Music expo held in Rabat, Morocco, by Bastiaan Springer, a producer for Radio 5 (Netherlands), and a world music journalist since 1984.
For more than 20 years now WOMEX has been the biggest international networking platform for the world music industry. This huge event with over 2,400 delegates is far from ideal if you prefer a more intimate and laid-back atmosphere. In recent years, new local music markets have been organized in response to the hustle and bustle of WOMEX, such as the Atlantic Music Expo in Cape Verde, IOMMA (Indian Ocean Music Market) in Réunion and Visa For Music, the first world music market in Morocco oriented towards Africa and the Middle East. This year's third edition, held from Nov. 16-18 in the Moroccan capital, Rabat, further consolidated Visa For Music as an important world music salon with a lot of musical surprises. Although Rabat has more than 1.6 million inhabitants, the city offers a relaxed Mediterranean vibe. One can walk down the boulevards lined with palms and colonial architecture; look for bargains at the lively medina; wander through the picturesque kasbah; or enjoy beach life with magnificent ocean views. So it's the ideal city for world music professionals looking for new inspiration. Visa For Music's founder is Brahim El Mazned, an energetic man with a vision, who for over a decade has been the artistic director of the Timitar Festival of World Music in Agadir, Morocco, dedicated mainly to the Amazigh (Berber) culture. A few years ago he took the initiative for Visa for Music. El Mazned explains, "We want to create a professional music market in the region because there is a lot of talent in Morocco, the rest of Africa and the Middle East. Recently we met with several other similar events organizations in the world, and we were almost the only ones representing Africa. We need professional platforms and fairs here in Africa to promote all this talent without needing to go through Europe or the United States." He continues: "Most of the artists who played here in 2014 and 2015 have been successful in getting dates at very prestigious festivals around the world, in Europe, the U.S., Canada and also in the Middle East." Daytime at Visa for Music was restricted to professionals in the world music field, including festival directors, programmers and members of the media, who were engaged in conferences, network meetings at the music market and speed dates. The evening program with some 50 showcases in Théatre National Mohammed V, Club Renaissance and Cinéma Renaissance was open to the public and attracted many young residents from Rabat. One of West Africa's best singers, Guinea's Sekouba "Bambino" Diabaté [photo above, by Clara Salina], was invited for the opening night in the Théatre National Mohammed V. He was born into a musical family and descends from a long line of griots. In 1979, at the age of 19, Bambino became lead singer for the state-sponsored Orchestre Bembeya Jazz National. He stayed with the group until 1990, when he left to pursue a solo career, becoming a huge star among West Africans both at home and in Europe. In 1996 Diabaté provided vocals for tracks on Africando's
Gumbo Salsa
and in 1998 he also sang on Africando's fourth album. Now in his early 50s, Bambino gave an impressive performance with his powerful vocals still sounding as youthful as ever. [caption id="attachment_33391" align="aligncenter" width="666"]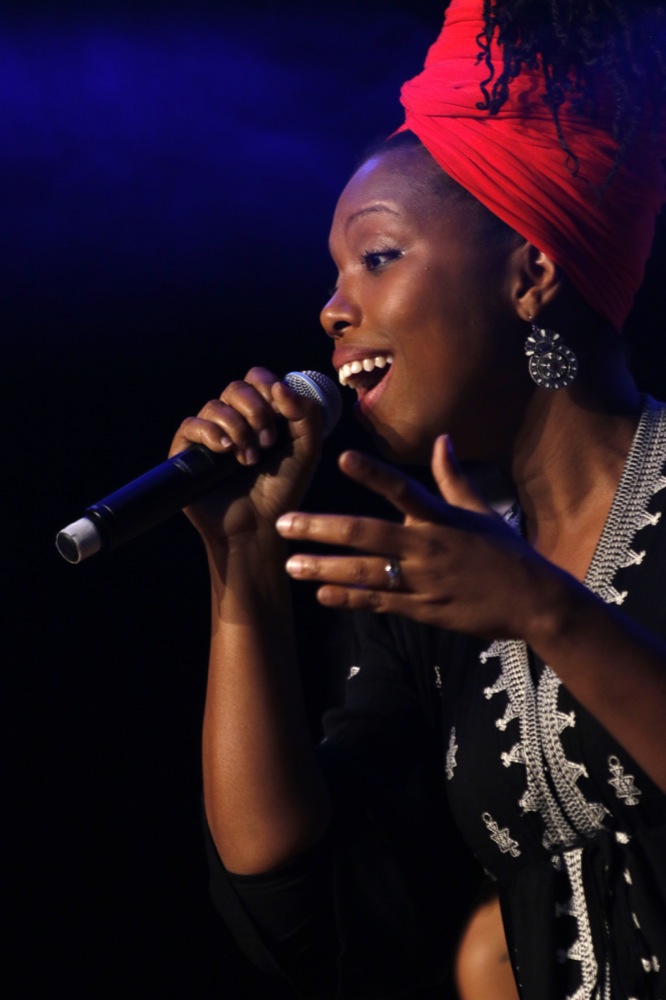 Karyna Gomes. Photo: Clara Salina[/caption] Another great artist on opening night was rising star Karyna Gomes, a talented vocalist and percussionist from Guinea Bissau. From 2007 until 2013, she sang in Super Mama Djombo, the band that became a symbol of Guinea-Bissauan identity after independence. Her first CD,
Mindjer
(Woman), was released in October 2014 and ever since she has been playing all over the world. "For me the most important rhythm is the rhythm of the
tina
, a kind of calabash in the water, which I infuse with soul, r&b, jazz, African rhythms and Cuban music. As my mother is Cape Verdean I also feel some influences from Cape Verde" she explains. Gomes gave a strong Latin and Cape Verdean-infused show, accompanied by a small group including the talented trumpet player Jéssica Pina. Karyna Gomes is currently working on her second album. [caption id="attachment_33393" align="aligncenter" width="640"]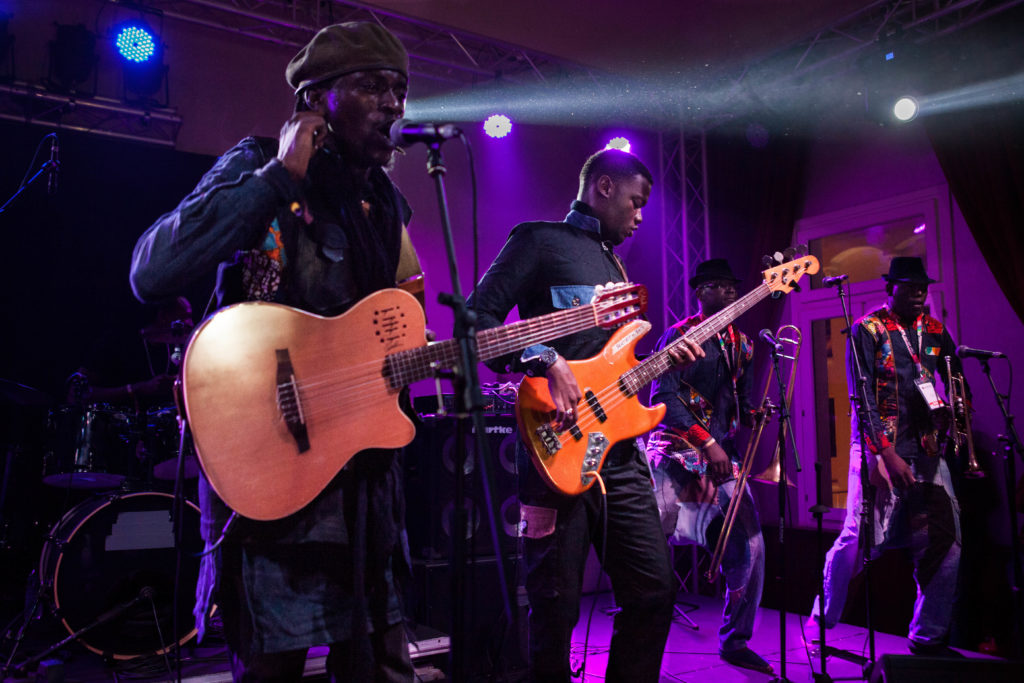 Sahad and Nataal Patchwork. Photo: Khalil Hassani[/caption] One of the musical discoveries was Sahad and the Nataal Patchwork, a young band from Dakar, Senegal.
Sahad
means harvest in the Serer language but it's also the first name of the lead singer, Sahad Sarr. This dynamic band blends many styles: Senegalese
mbalax
, Malian desert blues, Afrobeat, Cuban music, rock and jazz. Sahad Sarr's meandering voice is backed by six tight musicians including two excellent horn players. Echoes of a young Baaba Maal and Cheikh Lô could be heard in their dynamic show as well as vibes of Fela Kuti. The audience in the packed Café Renaissance went crazy for this energetic music. [caption id="attachment_33390" align="aligncenter" width="640"]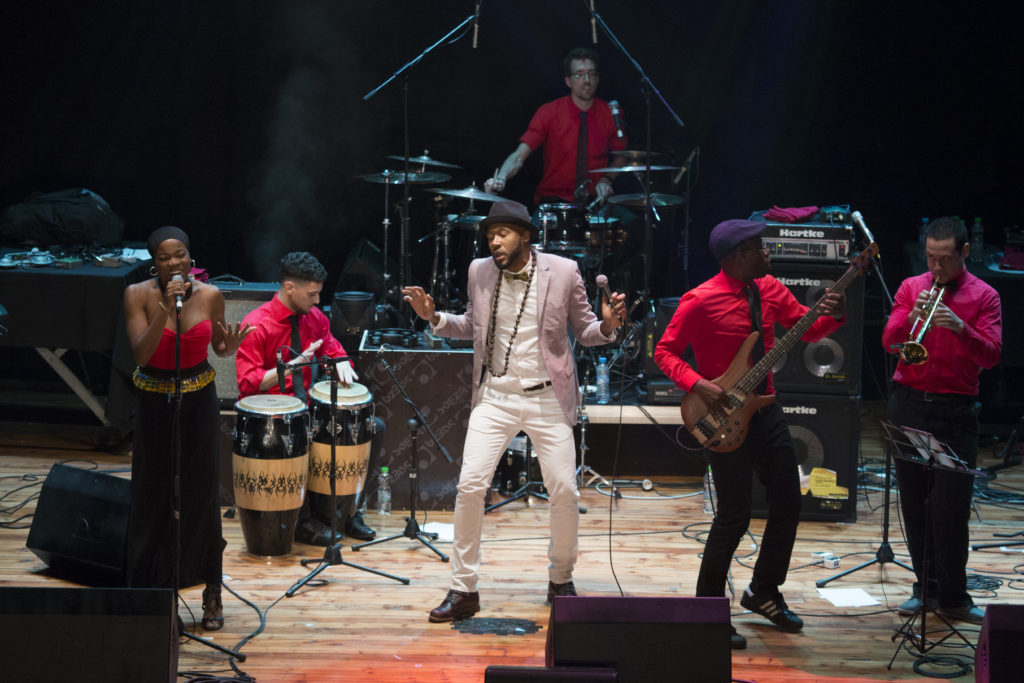 Vox Sambou. Photo: Tbeur Amine[/caption] The showcase of the Montreal-based MC Vox Sambou, a key figure of the rap kreyòl movement, was both explosive and entertaining. This sharp-witted lyricist and charismatic showman presented a vibrant hip-hop fusion, mixing up his Haitian roots with reggae, Afrobeat, Latin music, and danceable jazz. Vox Sambou's boundless energy on stage with his six-piece band easily won over the crowd, making him one of the highlights of Visa For Music. Revealing the hidden gems of Africa and the Middle East, Visa For Music attracted a lot of bands and artists almost unknown in Europe and the United States, such as Groupe Doueh from the Western Sahara who played together with the French punkers Cheveu. The result was an amazing mix of desert blues, punk rock and electro. 47SOUL is an electro-Arabic
dabke
band from Amman, Jordan. These musical exponents of the Palestinian diaspora have rapidly amassed fans in the Arab world and Europe by blasting the electricfied dabke sound through underground music scenes. On top of the traditional Arabic beats, 47SOUL hypes it up with analog synthesizers, hypnotic guitar lines, and stunning verses from the singers. Their lyrics, mixing Arabic and English, call for celebration and freedom in the struggle for equality. The show ended in a nonstop dance and trance party. [caption id="attachment_33389" align="aligncenter" width="600"]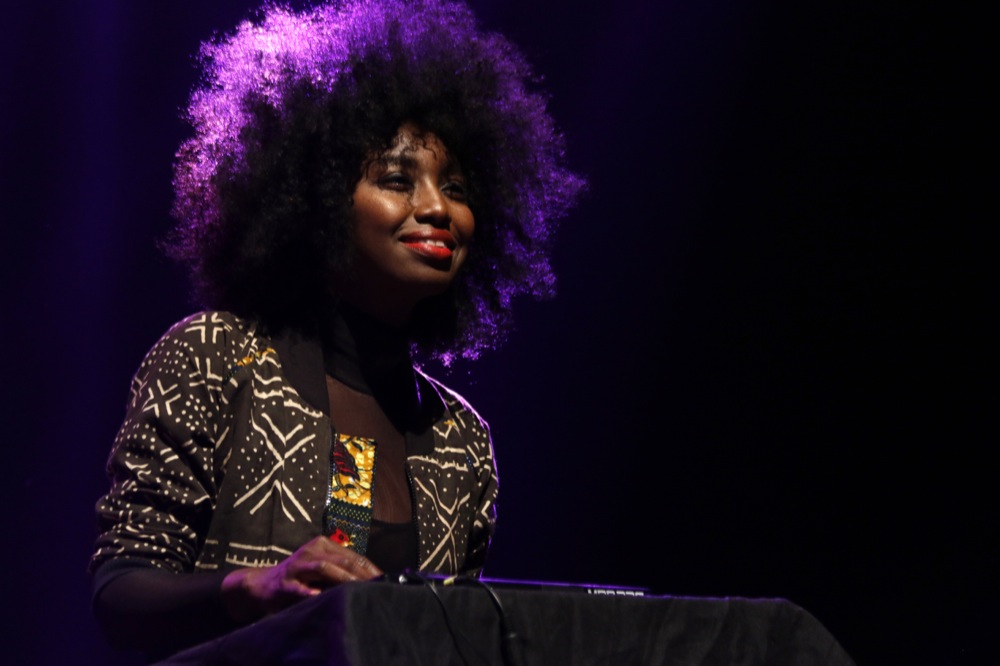 Inna Modja[/caption] Earplugs were a must for the show put on by the new queen of African pop, Inna Modja from Mali. Her mix of traditional Malian music, hip-hop and soul was immersed in extremely loud computer beats. To be honest, the volume was really over the top. Still this utterly charming diva succeeded in transforming the stately Théatre National Mohammed V into one huge dance floor. [caption id="attachment_33392" align="aligncenter" width="640"]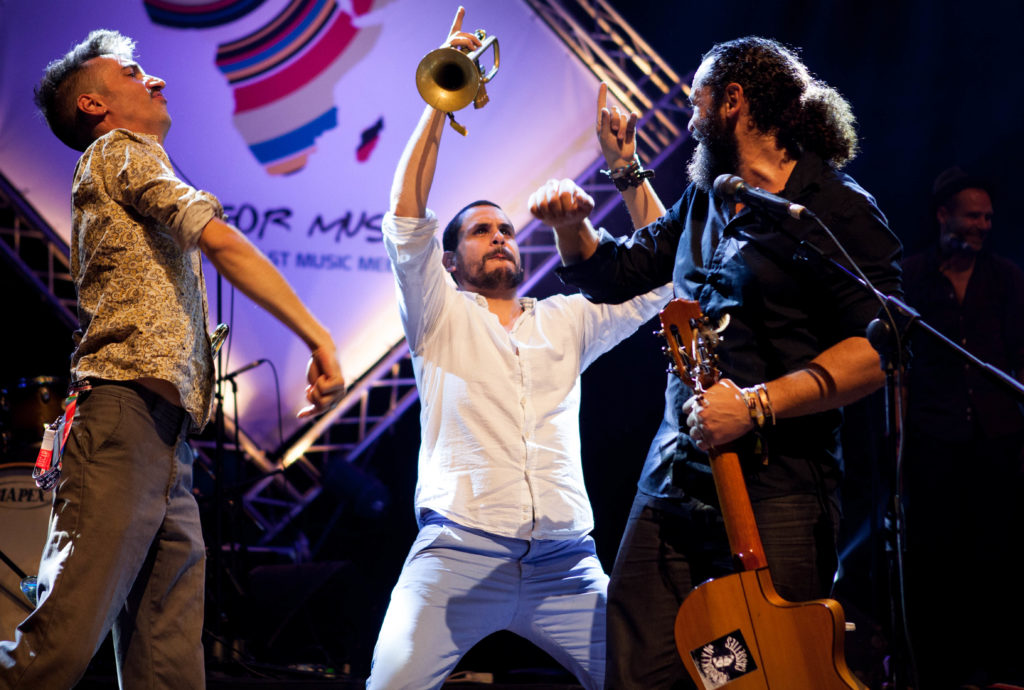 Labess[/caption] The closing act of Visa For Music was Labess, a Canada-based band formed around singer Nedjim Bouizzoul. Their catchy mix of
rumba Catalana,
chaabi,
rai
and flamenco, and the message of living together despite our differing backgrounds, caused deafening cheers and wild dance steps among the mostly young Moroccan audience. There is so much new talent and musical energy in Africa and the Middle East nowadays, there is growing need for such music salons as Visa For Music. Compared to the first two editions, this year's was better organized, despite the erratic starting times for the showcases. With its animated Mediterranean atmosphere, Visa For Music has proven itself as a lively new world music fair that can become increasingly important in the coming years.