Over the last weekend of October, WOMEX—the World Music Expo—descended on the Polish city of Katowice for five days of international music showcases, conferences, films and one of the biggest music markets in Europe. Now in its 23rd edition, WOMEX has become something of an annual pilgrimage, drawing thousands of music professionals every year: booking agents, promoters, labels, distributors, journalists and, of course, artists. This year's event boasted more than 2,600 attendees from over 90 countries; and over 60 acts with 303 musicians from 46 countries. Simply put, it's a pretty big deal.
This year also marked WOMEX's first event in Poland. Katowice, a once-grim mining town in the heart of Silesian coal country, may have seemed an unlikely choice, but the town graciously threw open its doors and welcomed the event and its diverse international mix of delegates with a warmth and kindness that more than made up for the chilly autumn rain. And, amid a season of Central European elections that swept xenophobic right-of-center parties into power in Austria and the Czech Republic last month, Katowice's hospitality isn't to be taken lightly.
African and diaspora artists were well represented at this year's event. Fifteen of the 33 Official Selection showcase acts came directly from Africa or African-derived musical traditions—and that's not including the artists who performed at the Off-WOMEX, DJ Summit and other additional showcases.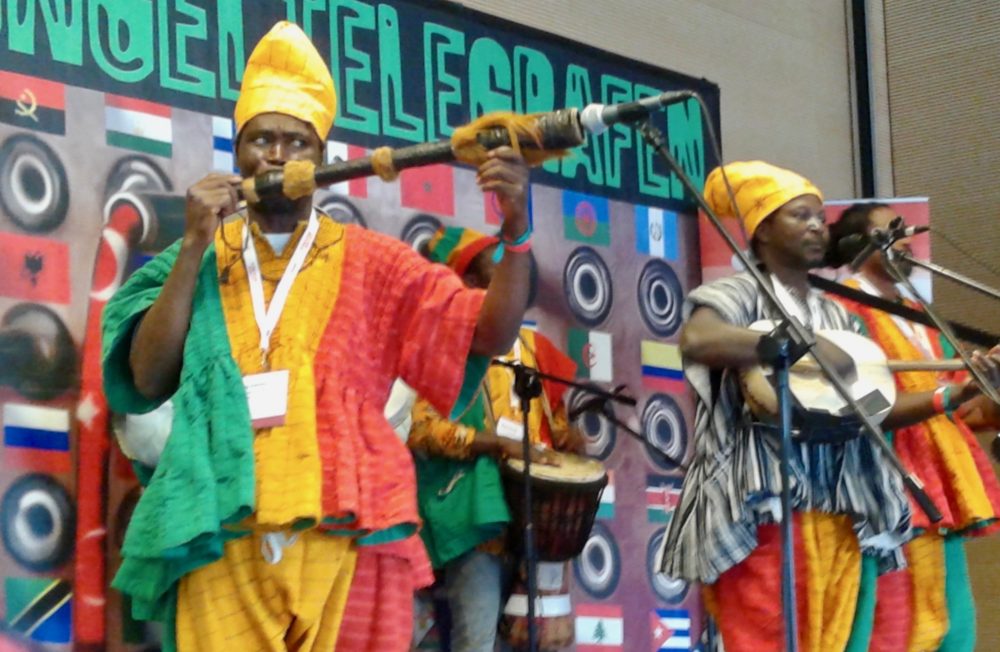 One of this year's most exciting WOMEX debuts came from Ghanaian singer King Ayisoba. Although not yet widely known, Ayisoba is having a bit of a moment this year with his album 1000 Can Die, released on the Glitterbeat label. Produced by Arnold de Boer, front man of Dutch group The Ex (who produced Ayisoba's two previous albums), and featuring Jamaican dub legend Lee Perry and Nigerian sax legend Orlando Julius, this record is helping this raw-voiced kologo player from Ghana's rural northeast find an international audience. Ayisoba met that audience head-on at his WOMEX showcase, leading a fierce, five-piece acoustic outfit consisting of traditional percussion, dorgo bull's horn and his own two-stringed kologo lute. When they kicked into high gear on songs like "Grandfather Song" and "Africa Needs Africa," they were absolutely hypnotic.
Some of this year's most innovative performances came from transnational fusion acts, such as Ifriqiyya Electrique, whose members hail from both Tunisia and Italy. This unusual collaboration draws inspiration from the Sidi Marzuq trance ceremony that takes place annually in the southern Djerid region of Tunisia. This healing ritual is performed by Tunisia's Banga community; descendants of Hausa people brought to Tunisia as slaves. Similar to Moroccan Gnawa, this music consists mainly of call-and-response chants accompanied by rhythmic percussion on hand drums and metal tchektcheka castanets (provided here by Tarek Soltan, Yahya Chouchen and Youssef Ghazala). But Ifriqiyya Electrique put a 21st-century spin on this sound with thunderous, throbbing slabs of electric bass, apocalyptically distorted guitar, and some minor electronic wizardry, courtesy of François Cambuzat and Gianna Greco of the avant-punk industrial collective Putan Club. The group's multimedia collaboration is striking, with the guitar histrionics and digital effects taking a back seat to the insistent trance rhythms, all accompanied by video shot in the south of Tunisia.
Addis Ababa-based Qwanqwa brings together American violinist Kaethe Hostetter (of Debo Band fame) with Ethiopian krar virtuoso Mesele Asmamaw. Together they lead an all-star quintet of traditional musicians in a daring exploration of Ethiopian string music. The group's sound hinges on the interplay between Hostetter's five-string electric violin and Asmamaw's electrified krar—the large lyre indigenous to Ethiopia and Eritrea. But the supporting players add depth and texture to the music: Endres Hassen Ahmed's masinko box-fiddle brings an almost psychedelic drone, while Anteneh Teklemariam Barrago's bass krar adds some much-needed bottom, and Misale Legesse Muleta rocks harder than John Bonham on his four-piece cymbal-less drumkit.
Another intriguing transnational act was the French-Colombian collaboration Pixvae. Based in Lyons, France, this sextet combines members of two other ensembles: French math rock trio Kouma, and members of Colombian currulao troupe, Bambazú. For the unfamiliar, curralao is the swinging sound that accompanies one of the oldest Afro-Colombian social dances on Colombia's Pacific Coast—and Pixvae somehow manages to deconstruct that sound without ever losing the swing. The group's unusual lineup combines the gorgeous harmonizing of singers Alexandra Charry Caicedo and Margaux Delatour (who both double on guasa scrapers) with the precision guitar crunch of Damien Cluzel backed by Romain Dugelay's skronky bass saxophone; all underpinned by Léo Dumont's nimble drumming and some subtle tambora hand percussion from Jaime Andres Salazar Pina. The result is a sound that's a little reminiscent of post-punk funk deconstructionists like Rip Rig + Panic, Pigbag and The Ex; but with an Afro-Colombian lilt that's all its own.
Betsayda Machado and Parranda El Clavo brought more traditional Afro-Latin sounds to WOMEX after wrapping up a stunning, crowdfunded North American tour. This seven-piece percussion and dance ensemble from Venezuela has been performing tambor Venezuelano—a sound and dance rooted in the country's African communities and cocoa plantations—for over 30 years in the tiny coastal town of El Clavo (population 1,500). The group's secret weapon is singer Betsayda Machado's extraordinary, room-shaking voice, which once made her famous as "the voice of black Venezuela" in her solo career. Leading a practiced crew of singers and acoustic percussionists—notably singers Oscar Ruiz and Ote Gomez— Machado demonstrates exactly what 30 years of playing together can accomplish. In Venezuela, a parranda is a party or big night out, and Parranda El Clavo delivered both.
One of WOMEX's biggest draws is the opportunity to see just these kinds of international legacy acts, and this year's edition didn't disappoint. Africa was especially well represented on this front with performances from Nigerian saxophone colossus Orlando Julius, Kenyan Swahili rumba pioneers Orchestre Les Mangelepa, and legendary Angolan-born singer/songwriter Waldemar Bastos.
As one of the original architects of Nigerian Afro-soul in the 1960s and '70s, saxman Orlando Julius Ekemode, A.K.A. Orlando Julius, is about as legendary as they come. Thanks to the reissue of Julius' landmark 1966 album Super Afro Soul (Strut, 2000), a whole new generation of fans have turned on to the sax-wielding bandleader's funky, proto-Afrobeat sound. Lately he's been touring with London-based Afro-jazz accomplices, the Heliocentrics, with whom he recorded Jaiyede Afro in 2014 (Strut). Julius' seven-piece WOMEX band included members of the Heliocentrics, including drummer/producer Malcolm Douglas Catto and guitarist Adrian Maurice Owusu. Not surprisingly, their set was somewhat, er… heliocrentric, favoring the material that Julius has recorded and toured with them in recent years. Classics like "Aseni" and "Buje Buje" still pack a mighty dance floor punch, and Julius can still wail on the sax as fiercely as he did with his original outfit, the Modern Aces.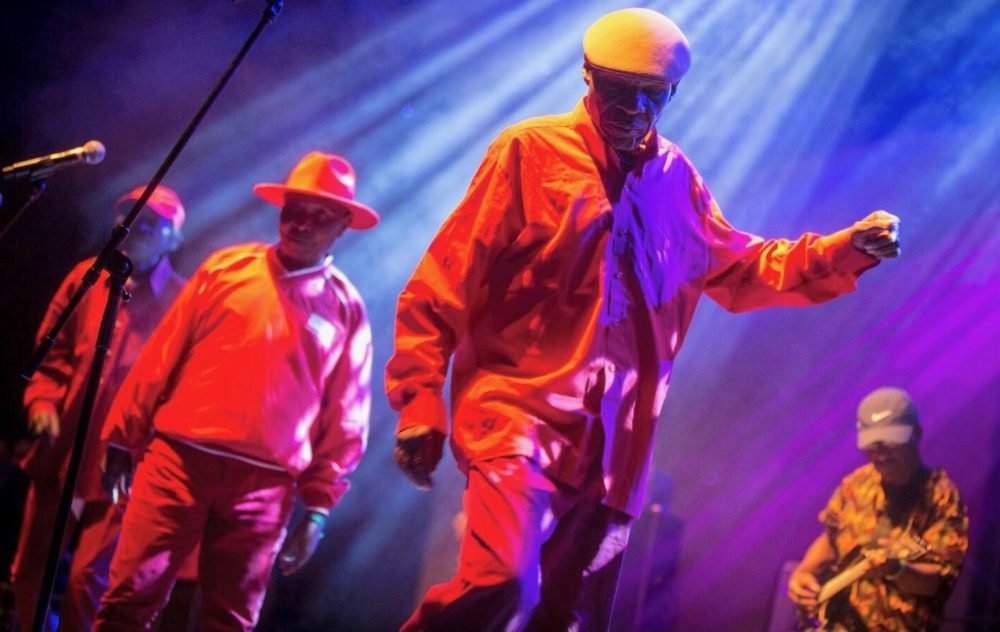 Equally impressive was Kenya's Orchestre Les Mangelepa, one of the last torchbearers from the golden age of Congolese expatriate bands in East Africa in the '70s and '80s. In that era, Swahili-speaking musicians and bands like Orchestra Super Mazembe and Orchestra Makassy from eastern DRC often based themselves in Kenya and Tanzania to take advantage of the lucrative touring circuit, and bring the latest soukous sounds and steps to hungry audiences. Orchestre Les Mangelepa was part of this wave, emerging in Kenya in 1976, when its founding members split from Baba Gaston's seminal Baba Nationale band. Today there are only three original members remaining, singers Evany Lubumbashi, Kibawa Nzazi Kalenga and Kaniki Lutulu. But they still perform (with a much younger backing band) every week at Nairobi's Vibro Bar, and recently recorded an album for Strut Records called Last Band Standing. If their performance at WOMEX is anything to go by, Mangelepa is far from done: Once the band locked in to a vintage soukous groove, the lilting harmonies of these three veterans practically levitated the room. It was pure dance floor heaven.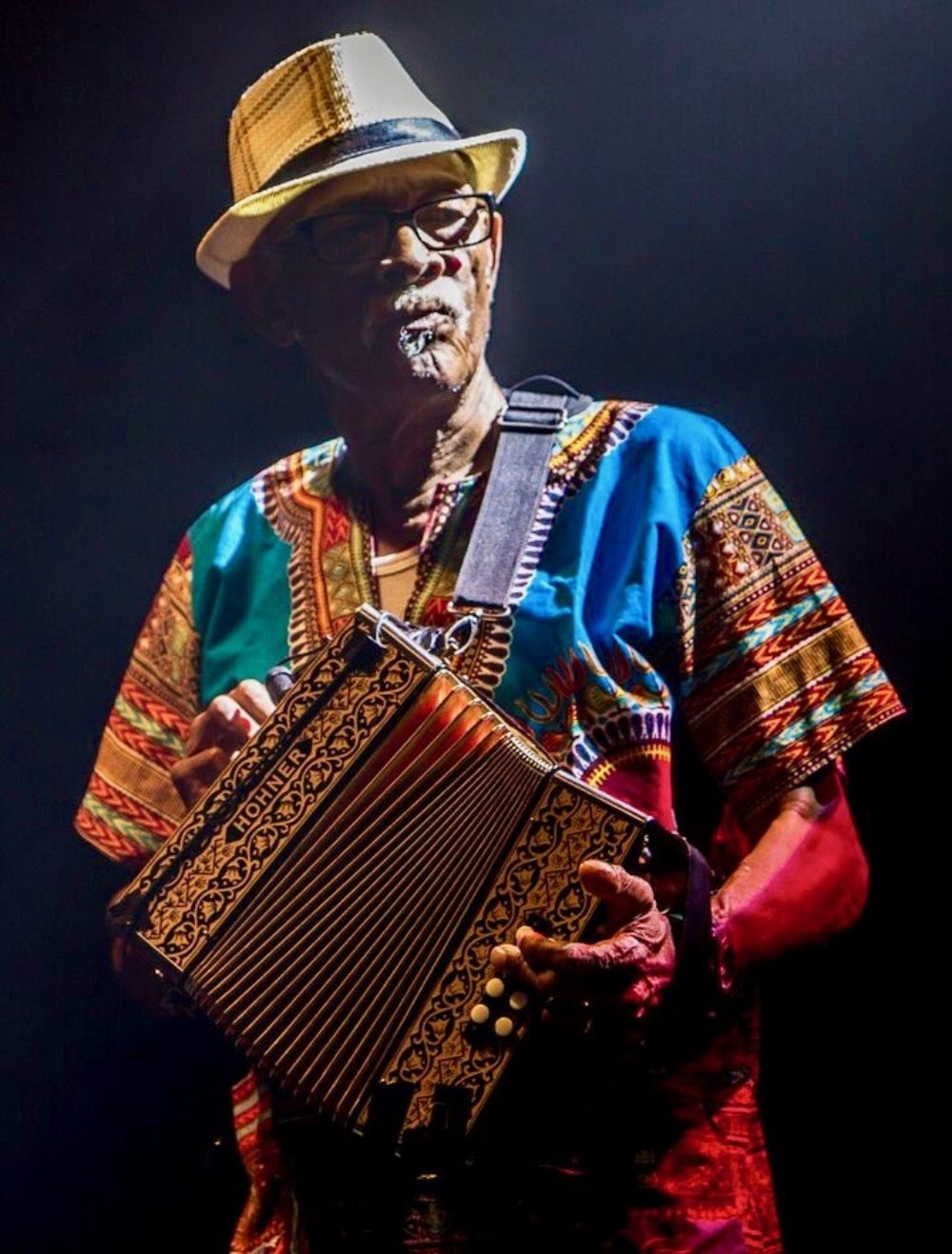 Cape Verdean funaná pioneer, Bitori, A.K.A. Victor Tavares, took a very long road to WOMEX. Funaná is the swinging, uptempo, accordion-based dance music of rural Cape Verde that was banned by the Portuguese colonial authorities until 1975. The music carried such a stigma that even Bitori, who had been playing funaná in and around Praia since the 1950s, waited until 1996 to finally record his first album Bitori Nha Bibinha. The recording was instigated by singer Chando Graciosa, who assembled some of Cape Verde's finest talent (including Danilo Tavares, and Miroca and Toy Paris) to back Bitori on this landmark recording. The result was an instant classic in Cape Verde that helped ignite a modern funaná revival that's still going strong today. Thanks to Analog Africa's re-release of the album on its 20th anniversary in 2006, Bitori is enjoying a second resurgence today, with international appearances at WOMAD, the Chicago World Music Festival and, of course, WOMEX, where they beguiled a receptive crowd with their rollicking set of vintage sounds.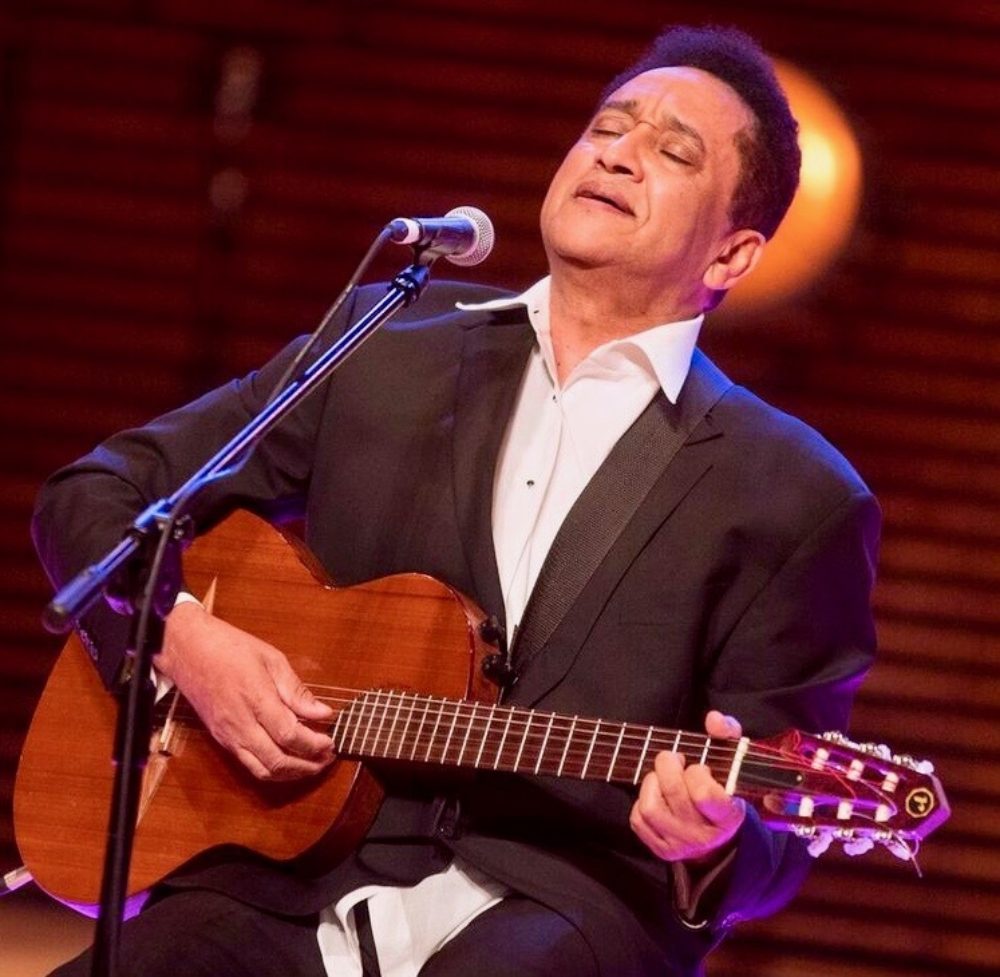 WOMEX invites a few ringers every year: marquee names and surefire crowd pleasers at the peak of their careers. Angolan-born singer/songwriter Waldemar Bastos was definitely this year's ringer. Bastos' set was unadorned and blissful. With just three guitars (courtesy of Bastos, Rui Meira and João Mouro) and some subtle percussion, the singer and his band invoked the long sweep of Bastos' personal journey, from his '80s flight from Angola's long civil war, to his life in exile in Brazil and Portugal, to the tragic loss of his son, to reconciliation with his homeland. Bastos' hybrid sound drew from across the Lusophone musical spectrum. Angolan semba, Brazilian choro, Cape Verdean morna, and more; dark notes of loss, longing and redemption, swirled together in a lush confection. It was just the cathartic, bravura performance the WOMEX delegates had been waiting for.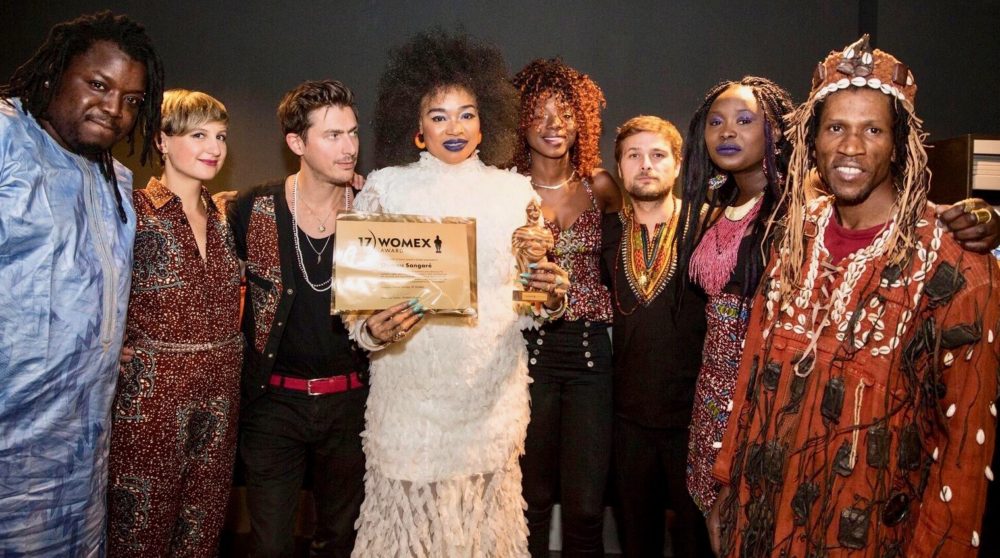 Finally, no WOMEX would be complete without its annual award ceremony, which honors "exceptional achievements in world music on the international level" and hands out statues in three categories: Professional Excellence, Top Label, and Artist Award. This year's honorees were Czech broadcaster and music journalist Petr Dorůžka, German label Glitterbeat, and legendary Malian singer Oumou Sangaré.
Sangaré was honored both for her "innovative developments in Wassoulou music and her longevity as an internationally beloved star" and her "dedication to activism and advocacy for the underprivileged in Mali and beyond." The WOMEX Artist Award was presented by Bintou Simporé of Radio Nova, who hailed Sangaré as "this sensitive woman, authentic artist and great connoisseur of her cultural traditions, a contemporary lady, champion of women's rights and an example of hope and tenacity for young people"
After a short speech thanking her collaborators, Ms. Sangaré did what she does best and knocked the crowd out with a short set of stripped-down songs culled from her new release, Mogoya. It was the kind of closing that every festival longs for, with weary delegates literally dancing in the aisles.