Over the course of the last weekend in October, artists, booking agents, promoters, labels, journalists and distributors congregated in Las Palmas de Gran Canaria (Spain) for the 24th edition of WOMEX, the World Music Expo. This annual gathering of world music professionals, affectionately called Womexicans, is the biggest and most important world music market on this planet. This year more than 2,600 "world music pilgrims" attended WOMEX for five days of international music showcases, conferences, film and network meetings.
As always, Afropop was present to celebrate old and new friendships, meet new colleagues, experience amazing performances and discover new artists. African and diaspora artists were well represented at this year's event, which exuded positivity and resulted in a lot of new plans for the future.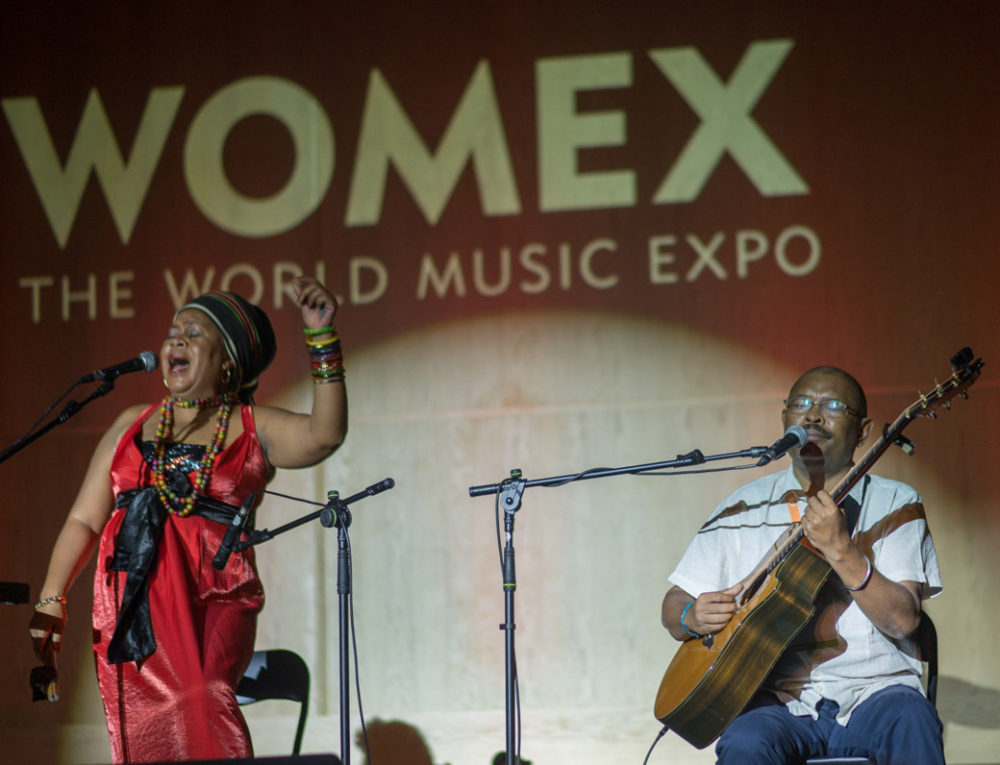 One of the highlights was the daycase of the trio Toko Telo, a dazzling all-star trio from the unique and exceptionally rich musical island of Madagascar. Toko Telo features the soulful voice of Monika Njava, guitar maestro D'Gary and Joël Rabesolo, the leading Malagasy guitarist of his generation. The latter replaced original member accordionist Régis Gizavo, who died last year on stage in Corsica, at age 59. Their music is deeply rooted in the rich musical traditions of southwestern Madagascar. Although Toko Telo is a super group the artists don't behave that way. D'Gary's dexterous playing on the acoustic guitar is a delight for the ear while Monika Njava adds a lot of soul to the beautiful Malagasy songs. Joël Rabesolo's electric guitar playing is impressive, adding a nice "fat" extra dimension to the songs. On top of that Toko Telo delivers three-voice harmony that sends chills up your spine. The music of Toko Telo is melodic, light-hearted, uplifting and refined.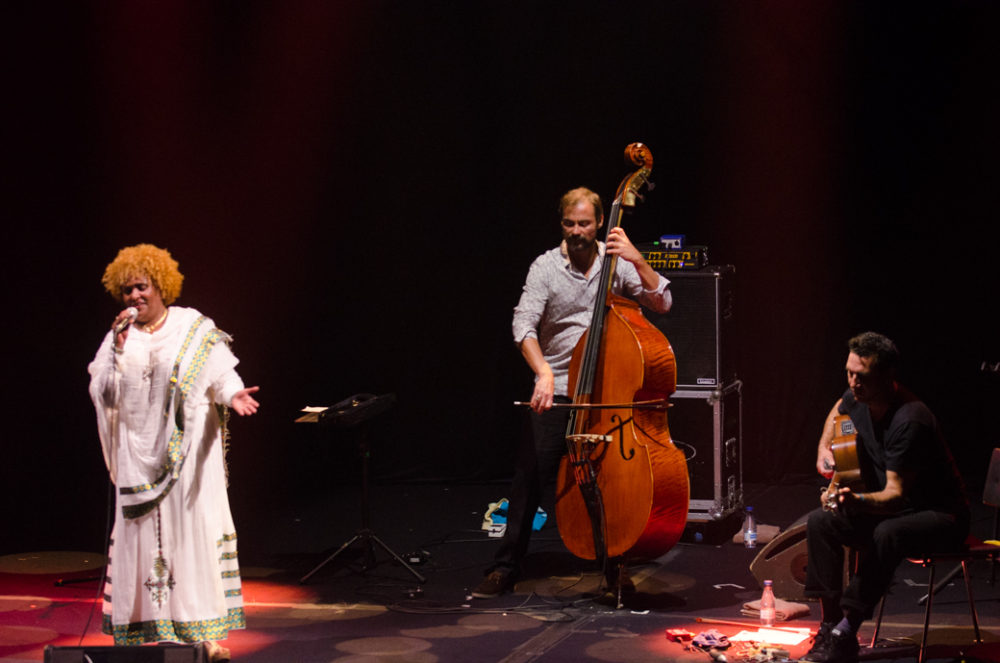 The collaborative project by Etenesh Wassie, interpreter of traditional Ethiopian music, and French free-jazz bassist Mathieu Sourisseau was out-and-out fascinating. This Ethiopian diva made her name in the cabarets of Addis Ababa in the '90s with daring improvisations based on the traditional Azmari repertoire, traditionally the domain of troubadours that accompany themselves on the masinko (one-string fiddle). Wassie met the French guitarist and bassist Sourisseau in 2007, and was invited to perform with his group, Le Tigre des Platanes. At the WOMEX showcase the pair was assisted by Sébastien Bacquias on double bass .The result cannot easily be described. The cross-pollination of alternative rock and classical music yields nine brooding and unruly songs that barely fit a label. Listening to Etenesh Wassie's trio is one big adventure, as there is so much going on. It is also worth checking out their album Yene Alem, one of the most exciting African albums of 2018.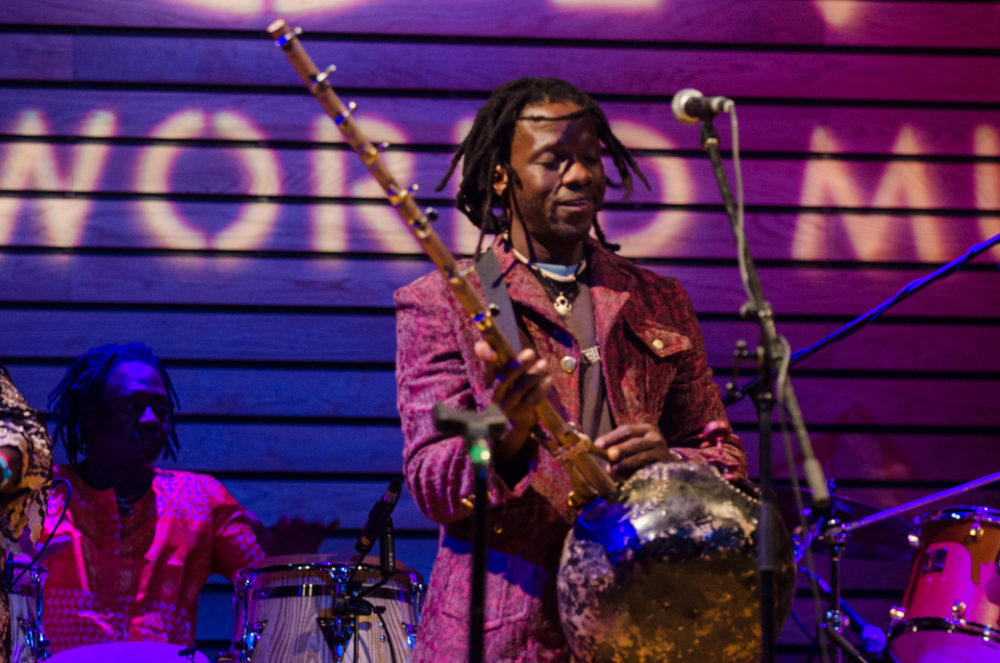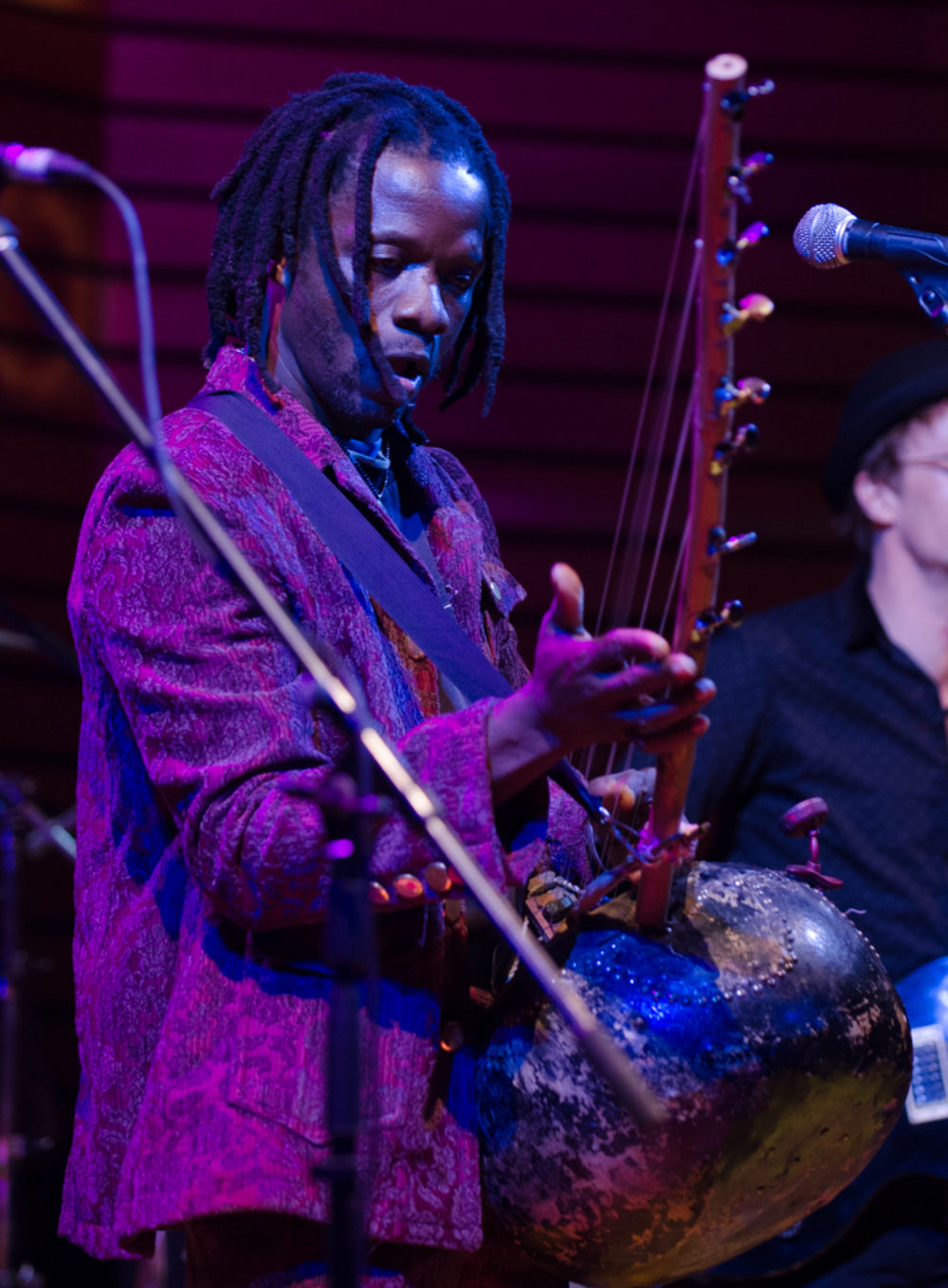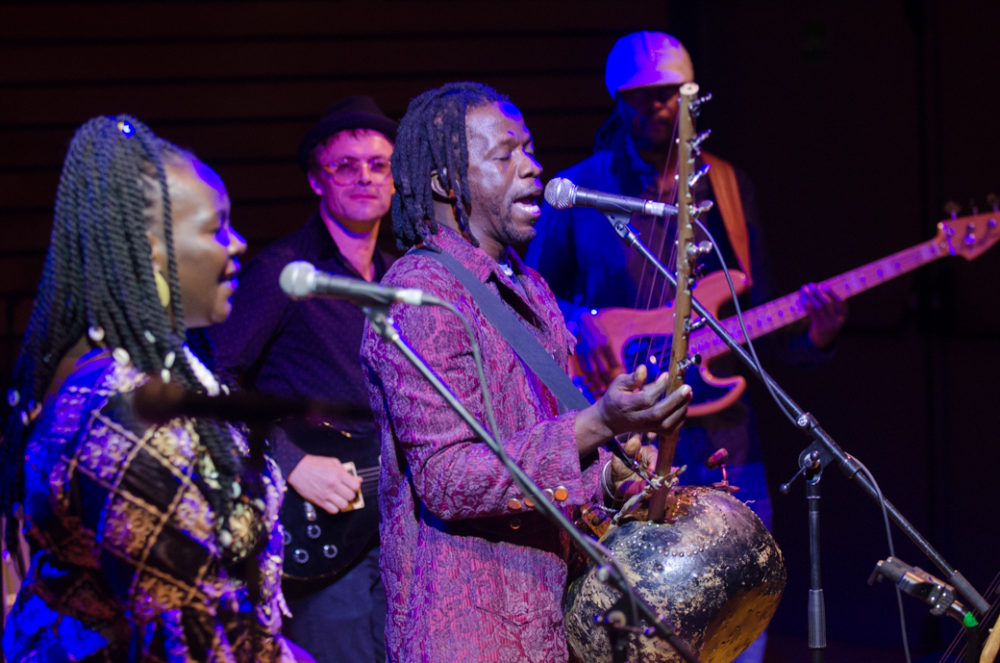 In his homeland Mali, Harouna Samaké is considered one of the best players of the kamale n'goni, a traditional Malian instrument with six strings and forerunner of the banjo. He has accompanied his compatriot Salif Keïta on international tours and can be heard on more than 50 albums as a side man, by artists that include Salif Keita, Blick Bassy, Bela Fleck, Etienne Mbappé and Bassekou Kouyaté. Samaké's breakthrough finally came this year with his first solo album Kamale Blues. This string virtuoso cleverly connects traditional Malian Mandingo music with jazz and blues. His sights are set on the dance floor and so it takes little effort to get the audience moving. The duets with his wife Assetou Diakite, who is blessed with a stunning voice, are exhilarating. Unfortunately the showcase at WOMEX was more or less ruined by subpar sound balance, in which Samaké's voice could not be properly heard. A missed opportunity.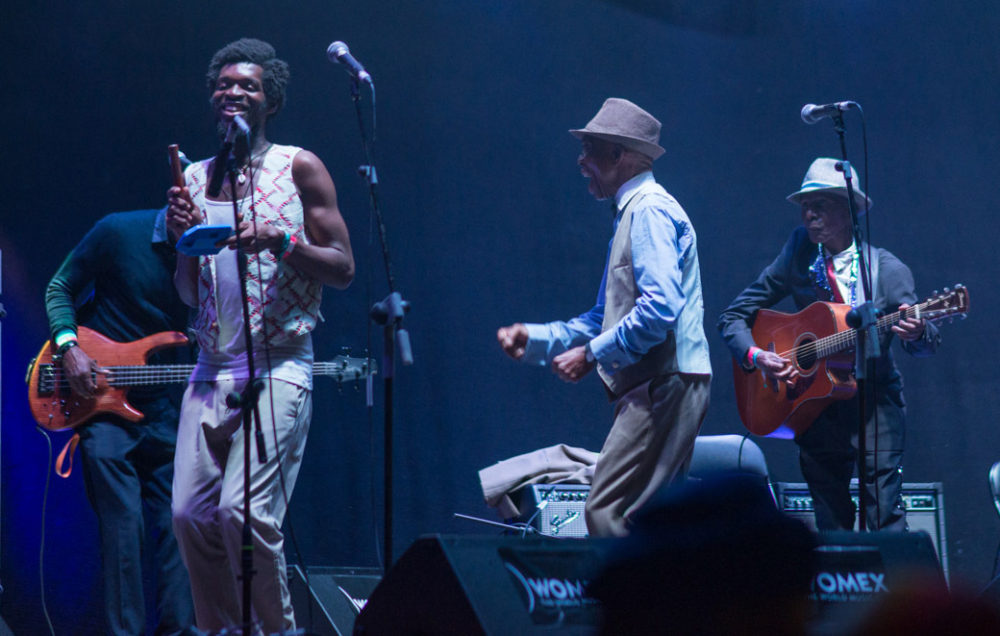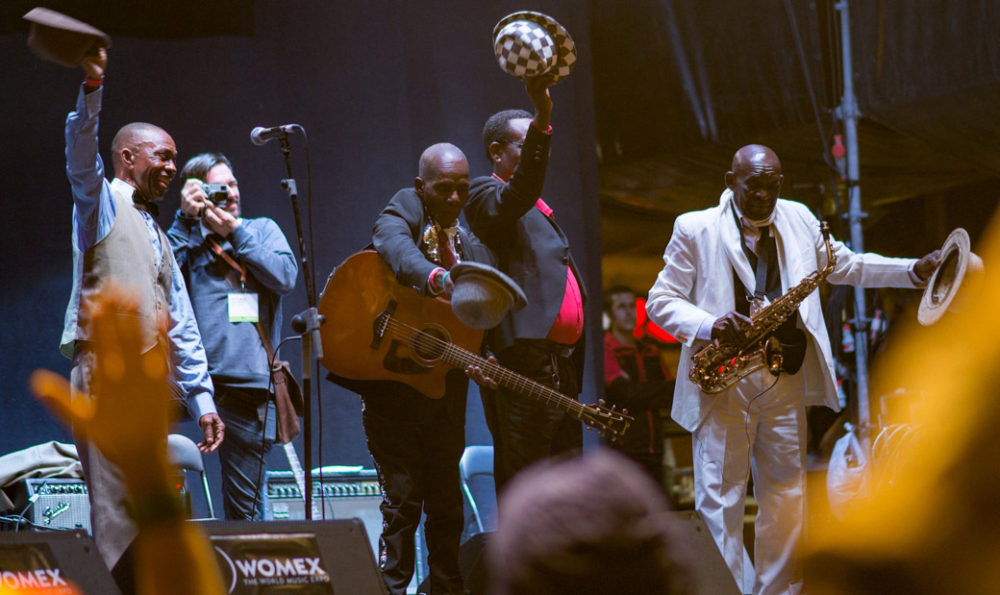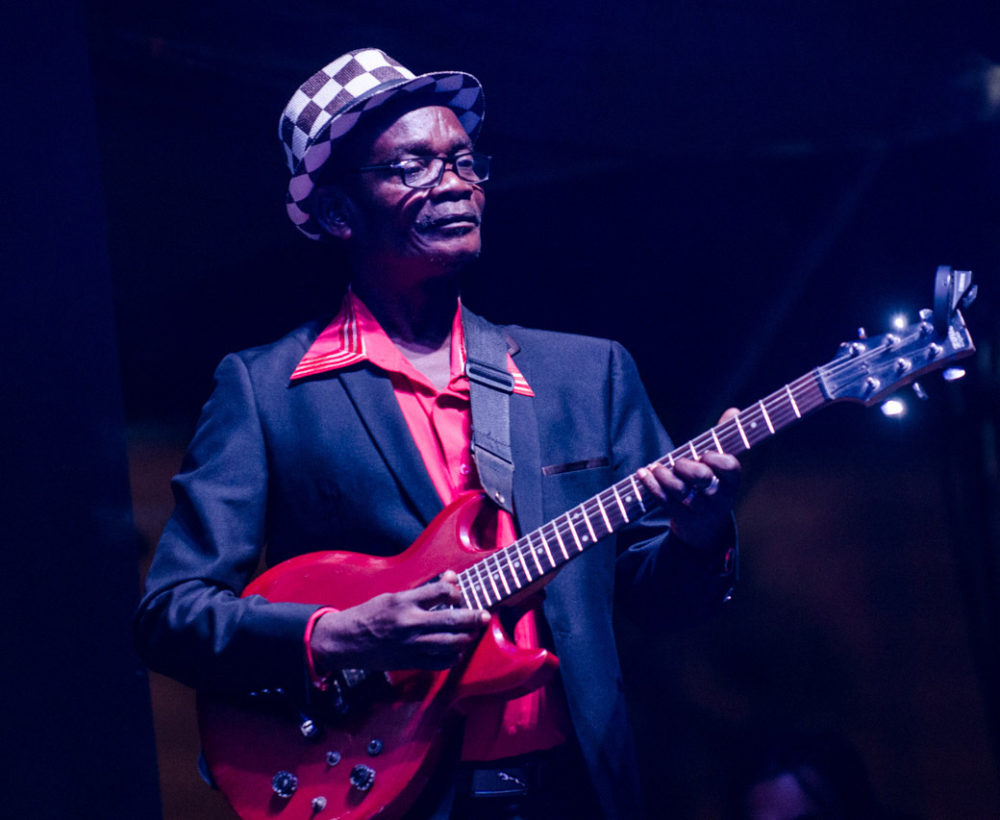 Bakolo Music International's showcase was slightly disappointing. These legendary Kinshasa-based rumba pioneers from the '50s are back on stage to celebrate their 70th anniversary. Born on the banks of the Congo River, Bakolo Music International, the "Music Masters," is the oldest group of roots Congolese rumba in Kinshasa. In their 80s, the last members of the golden years disseminate an African rumba with lyrics in Bantu languages and African drums. These veterans paid homage to Papa Wendo Kolosoy, the grandfather of the rumba who passed away 10 years ago. Although their show was entertaining and classic rumba songs like "Indépendance Cha Cha" were well chosen, you missed the much-needed excitement and energy, but maybe that's too much to ask of these sympathetic veterans.
Singer Lucibela is one of the new stars of the Cape Verdean music. Born 1986 on the island of São Nicolau, Lucibela's career started in hotels on the island of Boa Vista, entertaining tourists. In 2012, she moved to Praia, finally making a breakthrough at the 2017 Atlantic Music Expo, leading to invitations to Belgium and Lisbon, where she recorded her debut album Laço Umbilical with producer Toy Vieira, Cesária Évora's musical director. Lucibela's beautiful warm voice is greatly reminiscent of the late Cape Verdean diva Cesária Évora though it must be said Lucibela definitely has a very charming style that's all her own.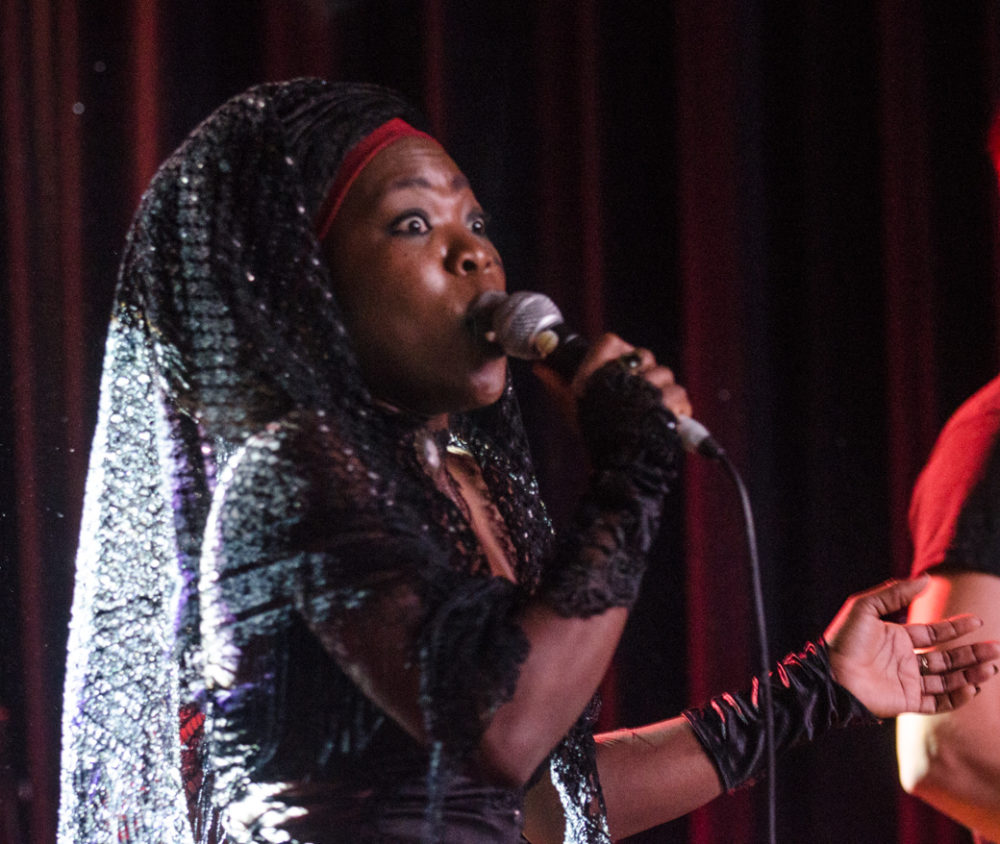 France-based Haitian singer Moonlight Benjamin, nicknamed "the new priest of voodoo rock" presented an exciting mix of voodoo blues, Haitian rock and Creole roll. Her latest project is a riff-heavy, groove-laden sonic concoction built on the tension between her powerful voice and saturated electric guitars provided by Matthis Pascaud of the French experimental thrash-rock group Square One. In her dynamic show Moonlight Benjamin explored the African roots of voodoo culture and its journey to the Americas.
The absolute highlight of WOMEX 2018 was the closing concert by the Garifuna Collective from Belize. They played pure Garifuna music in the great tradition of the late Andy Palacio, pioneer of Belizean punta music, who passed away 10 years ago. This irresistible dance music was an excellent choice as the closing act for this year's WOMEX. Everybody was dancing to this spiritual music and the extremely enthusiastic crowd even cajoled the band into an encore, which as far as I know, was the first encore ever heard at a WOMEX.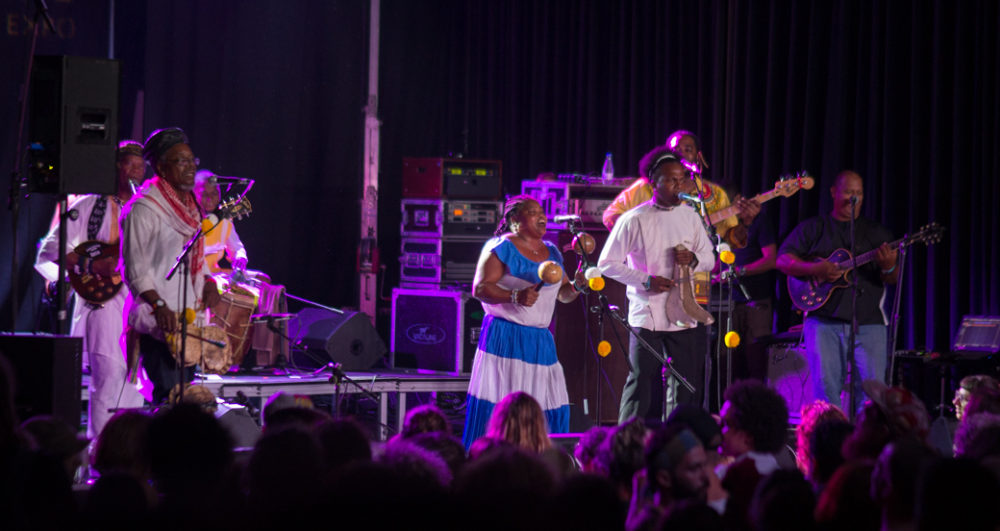 WOMEX is heading to the north of Europe next year: to be more specific, to the city of Tampere in Finland.
Report by Bastiaan Springer, presenter and producer for Concert Radio (Netherlands), and a world music journalist since 1984.
All images by Banning Eyre, used with permission.