Finding Fela: The Film No Afrobeat Fan Can Miss
Finding Fela, a documentary film that opened in New York and other cities on Aug. 1, is an instant classic in the world of popular music documentaries. No African musician can boast a story to top Fela's, and it's hard to imagine there will ever be a more definitive film version of that story than this one. That is largely because of the time and care director Alex Gibney and his team have taken in putting this together, and, importantly, the willing cooperation of Fela's family and others who have access to extraordinary footage from the man's singularly dramatic life.
This film operates on multiple levels. In a sense it grew out of the Broadway musical Fela!, and includes clips of stage performances, and—more interestingly—of the show's creators, including Bill T. Jones, deliberating about what to include or not include. They fret over how to handle sensitive matters such as Fela's ravenous sexual appetite and his denial of the existence of AIDS, the disease that ultimately killed him. So we are aware that a legend is being shaped, but also, that there is recent, well-remembered truth, not all of which fits the legend. Unlike the Broadway show, this film is interested in all that nuance and complexity.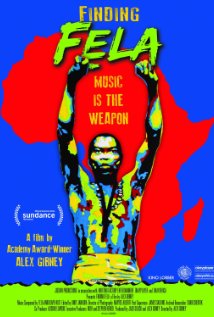 The archival footage is extraordinary, letting us see and feel, for example, the raids on Fela's compound, the Kalakuta Republic as never before. But what really helps us sense we are "finding Fela" is the frank and revealing commentary from people close to him and, especially, from key family members: Fela's daughter Yeni and sons Femi and Seun. We sense the struggles they endured. We don't feel they are obscuring complexity with hagiography. We trust them, and that puts the story and the man in perspective like nothing we've seen before. This is the same magic that worked so well in Marley, the acclaimed 2012 Bob Marley documentary, and it is equally effective here.
Right after Fela died, there was reported tension within the family, particularly between bandleader brothers Femi and Seun. Watching this film, though, one senses that the years have smoothed the edges of rivalry and jealousy. And why not? The members of this large extended family are now guardians of a highly marketable story and a huge body of persistently fascinating music. Today, with Yeni operating the Africa Shrine in Lagos, Seun leading Fela's old band in new directions, and Femi continuing with his band Positive Force, it seems that these three key family members are working in concert. Best of all, they seem comfortable talking about their mythologized father as a human being, one with genius talent and at times monstrous shortcomings.
This is a film Afrobeat aficionados will want to own and watch again and again, for the task of finding Fela is no easy one. Fela is a puzzle with a variety of solutions no one of which quite satisfies. That, like the best of his music, will keep us coming back for more.