Flavia Coelho: A Brazilian Soul
Feature image above by Dave Kaufman.
When Brazilian singer/songwriter Flavia Coelho took the stage at Club Soda at the Festival de Jazz de Montreal last week it was a homecoming, a big homecoming. She had not performed anywhere in the Western Hemisphere since she moved to Paris almost a decade ago.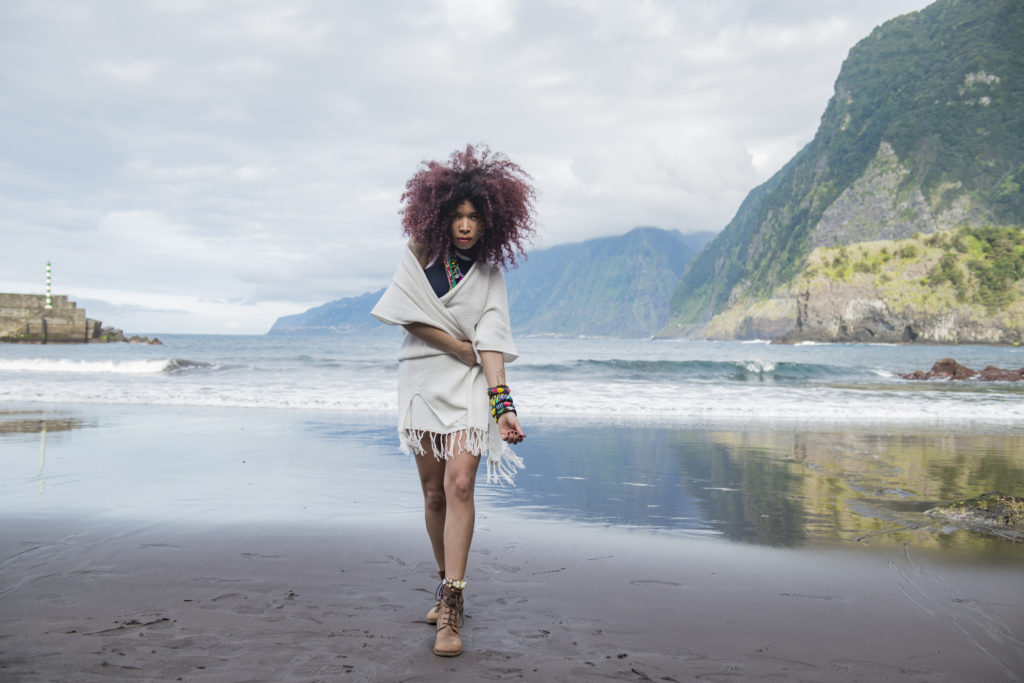 Photo: Youri Lenquette
Born in 1988 in the favelas of Rio, Coelho's family moved around a lot, often between Ceará and São Luis, Maranhão, where her parents had come from. She ingested all the music that surrounded her during those formative years, though her biggest influence was reggae, which she first heard at the age of 8 via sound system trucks parked on the streets of Maranhão. By the age of 14, she had started singing with various groups.
"My history with my music is that it's me," Coelho says. "You see, I'm two girls. I'm a black girl and I'm a white girl. My father's family, they are black. My mother, she came from Portugal, and also Brazilian Indians. My father lived in Ceará which has a lot of different styles of music—forrò, repente and xote. My mother came from São Luis, Maranhão, the home of reggae in Brazil. I lived between those two parts of Brazil. I was born in Rio—rap, hip-hop, samba, pagode. How could I not have mixed all these sounds? It was impossible for me to have a choice to do just one style. But the music in me is also metal, punk, rock, funk—Tim Maia was the king of funk from Rio de Janiero."
"I was also born at a very special moment in Brazil," she adds. "The dictatorship ended in 1986, I was born in '88, in this moment of transition. I grew up with all the music from around the world, television, cars. People were coming to Brazil from all over the world."
When Coelho takes the stage, you immediately know you're witnessing a show. She is not one to simply stand in front of the microphone strumming her guitar, but rather takes over the whole stage, prancing and dancing, in that way only Brazilians can get away with, and inviting the audience to join with her. Her ability to command a stage and the importance of developing a stage presence was also something she learned as a child, though from a somewhat unconventional source for a youngster.
"Yes, it's very true that my mother was a hairdresser for drag queens in Rio," she admits with a laugh. "My mother, she taught me music, cabaret—because I grew up in those cabarets. I saw them perform and they taught me how to put on the dresses, the heels, the makeup. I was a little young, you know—between four and nine. My mother also taught me tolerance and love. It was in the '80s and '90s when AIDS started in Brazil. It was very hard for her because all the neighborhood were saying: 'She works with the drag queens! She's dangerous, this woman!' You can imagine the time when AIDS started, they were all afraid."
At 18, she first visited Paris as a member of a vocal group. Experiencing the City of Light, which had played host to artists and writers she loved—from Hemingway to Gilberto Gil—cast its spell on her. She also saw in the city's rich ex-pat pan-African community an opportunity to get in touch with her own African roots. There was nothing else for her to do but move there.
One of the first people she met was Cameroonian guitarist/bassist Pierre Bika Bika, who schooled her in African rhythms as the two began playing in the Paris Metro, as well as local bars. In 2010, mutual friends introduced her to producer/musician Victor-Attila Vagh, who had a recording studio in town.
"They came to me," Vagh, who also plays multiple instruments in her band, recalls. "At this time she was already singing in a bar near my recording studio. She said, 'Can I just record one song in your studio?' And that's how we started. At the beginning, she was actually paying for the recording. But then, the first track was really good. So I think after the third track, I said I wanted to go further and deeper," adding, with a laugh, "and she doesn't have to pay me any more."
Those recordings became her first album, Bossa Muffin, released in 2011. The album was very successful and led to Coelho becoming a regular fixture on the European festival circuit. In 2014, she released her second album, Mundo Meu, or "My World."
How one track, "People Dansa," on that album, or what she likes to call her "little Afrobeat," came about is a story she gets all excited to share. As she explains it, Vagh, who was again producing her, decided to play the demo track to his friend, Afrobeat drummer Tony Allen. Allen not only liked it, he volunteered to play drums on the track, and more.
"Working with Tony Allen was an incredible day for me," Coelho says, jumping up and down on the couch. "I composed this song in my room, this Afrobeat thing like that with my little guitar... my little Afrobeat. You see, I had crossed paths with Tony because sometimes he goes into the studio for recording with Victor. I would say 'Hi, Tony! How are you? Thank you so much for living!' So Victor showed to him the song and Tony said: 'It's great! It's great! I want to play! Let's go!' So Tony played the song, but also made arrangements for the horn section. Normally, he just comes in to play the drums, but by the end of the day he was producing the whole thing! It was incredible! And it started in my room, you know, like that? And now, Tony, the father of Afrobeat, he played on this song! Every time I think about this story, it's crazy!"
Over the ensuing years, she has also lent her voice to recordings by a select group of artists, which, as she explains, have to be friends. "I don't like to sing with people I don't know," she says. What's nice is that her friends include musicians such as Cheikh Lô, Paris-based South African DJ Mo Laudi and the French/Chilean group Sidi Wacho.

When she hears the name Cheikh Lô, Coelho immediately starts praising him passionately. "How many kings are there in Senegal?" she asks. "We have Youssou N'Dour, Ismaël Lô . . . and Cheikh Lô. He is a monument of music from Africa. He plays with so many people. He started a different form of music in Senegal. He's a very, very important musician and a very, very good friend. It's an honor for me to play with him."
Then, she adds with a giggle: "He's also so cute."
Coelho likes to say her philosophy is to "dance through difficult things" and that we must "smile through suffering."
"This is very Brazilian," she says, "because you don't have to pay for dancing and you don't have to pay for smiling. When you are born and grow up in the favela, life is very hard. It is the only exit, the only choice for us. And this was very cool for me, finally, because today I have no problems in my life.
"A true problem for me," she continues, "is a problem with the health, with my brain. These are true problems. Because when you grow up in a moment in such a hard life, of course, today is a dream. That is why my new album is called Sonho Real—the 'Real Dream'—because this is a real dream for me to play my music, live the sonho real, play with my friends, travel around the world, doing interviews like this! It's f**kin' crazy! It's f**kin' good!"
She and Vagh wrote the songs while they were touring last year. But while Coelho doesn't see problems in her own life, the songs on the album speak to many problems we face in the world today—problems of women, race and immigration, she explains.
"On this album and in my concerts, I want to talk about the condition of women," she says, "because it's very important for me, of course. I know very well how many singers need to work very hard to get a good position. When we see the festivals, for example, there is not a lot women singers in the festivals. There are the groups, mostly guys, but not a lot of girls. I want to talk about immigration. I know this being an immigrant myself. The real message is: 'Don't worry.' We will be passing through this difficult moment—but you work, you want, you do it, you will have. It's just all inside the brain. And sometimes we need to pass through different difficult moments, but we have the light at the end.
"I also talk about Brazil a lot on this album too," she continues. "The bourgeoisie. Because in Brazil now, after 10 years, we started to become rich. And when the people become rich and they don't have a good education, they become bête, you know, foolish, silly. In Brazil now, finally, they have completely forgotten they were very poor, like the former president, Lula, for example. And of course, I cannot close my eyes for the situation of my country. I don't know if I can change something, but I want to try with my words. I cannot close my eyes. It's impossible."
Coelho dreams of returning and touring, not just in North America, but most importantly, playing for her own people back in Brazil. "I so want to go back to my country," she concludes. "Because I started my albums in Europe and it all came very fast. We played a lot in France and Europe like this, but we didn't have time to come to the Americas. I write my songs in Portuguese, to speak with my people, but I've never performed in Brazil with my albums. So of course, this is the first time now and I want to come back with my guys and go to Brazil. I hope today I am planting seeds and praying for rain for this."