Foday Musa Suso and Philip Glass at National Sawdust
All images by Jill Steinberg, used with permission.
At 80 years old, Philip Glass isn't really worried about the specifics. "Foday and I have been writing music together for...30 years? 30 years or so?" The composer furrowed his brow. "A long, long time," he concluded. Seated behind his grand-looking kora, Foday Musa Suso nodded approvingly.
The two artists were on stage Sun., March 12 as a coproduction of the World Music Institute and the venue, National Sawdust. Their four-man ensemble gathered in Brooklyn to play through selections of the composers' three decades (give or take) of collaboration. Glass is in the midst of an international celebration of this milestone year, which has comprised everything from premiering his 11th symphony at Carnegie Hall, to live soundtracking the film Dracula from 1931 with the Kronos Quartet. The celebration speaks to the breadth of Glass's work. His first job was transcribing Ravi Shankar's music into Western notation in Paris, and his career since has since spanned from movie soundtracks to avant garde minimalist composition.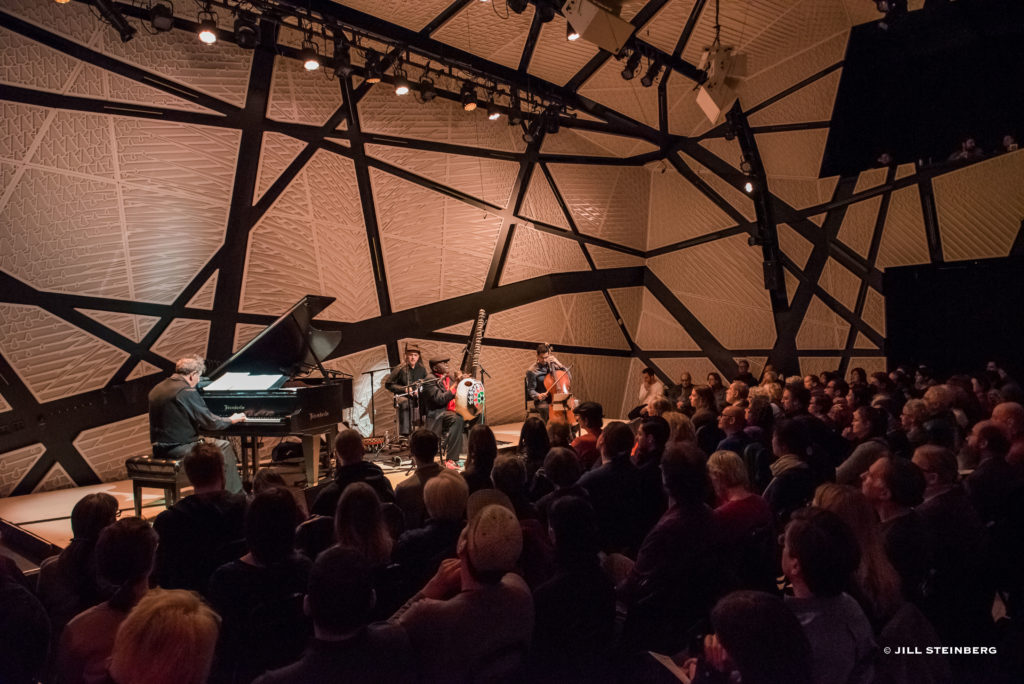 In Suso, Glass has found a peer whose work is equally wide-ranging. Born to a family of Mandingo griots in Gambia, Suso can claim to be both a descendent of the original inventor of the kora, Jali Madi Wulen Suso, an innovator in his own right. The traditional kora has 21 strings but in 1971, Musa Suso added another three bass strings to the bridged-harp instrument, allowing for a "bassier beat" that Suso says "young people like to dance to." He has played with more outre musicians like Pharoah Sanders and Bill Laswell, and has also composed music for the 1994 Olympics, in collaboration with Herbie Hancock, and for the 2004 Olympics with Glass. At National Sawdust Suso joked, "In 20 years, wherever they are, I expect I'll be making music for the Olympics again."
The two composers and musical wanderers came together for the first time in the early 1990s, to compose music for the Jean Genet play Screens. That music, along with their Olympics compositions and their soundtrack for the film Powaqqatsi, comprised the set list for this concert. With Glass behind the piano and Suso with his kora and pedals, Asher Delerme provided percussion on hand drums, cymbals and cabasas rigged to pedals, and Jeffrey Zeigler, formerly of the Kronos Quartet, handled the string parts on cello.
National Sawdust provided the intimate and perhaps ideal setting for the night. The concert hall's capacity is only 200, and was designed with the best possible acoustics in mind. The walls are paneled in the asymmetrical, uneven shapes of a medieval city, but rendered in Star Wars black and white. As Zeigler played a solo piece on the cello, his breaths were audible in between phrases.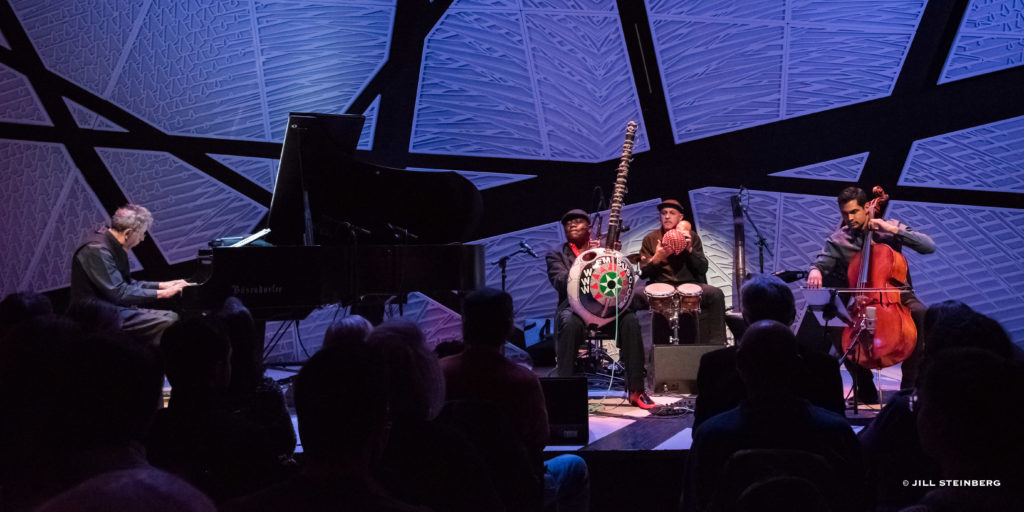 All busy musicians in their own right, after opening with "The Mad Caidi's Court" from Screens, Glass admitted "It's a little different every time we play it." Different in perhaps the best possible way, though. The small ensemble laid bare Suso and Glass's compositions, as both melodic and rhythmic phrases moved from kora to piano to Zeigler's sweeping bow. Suso gave himself free reign with pedals that patched synthesizer pads of voices or organ over the pluck of the kora strings, a microcosm of the Western and West African sounds that made the evening.
Glass periodically joked that he didn't remember the specifics of Screens. "This song is called 'Night on the Balcony.' I don't remember why, must be something from the play, but to me, now it just sounds like a night on the balcony."
He did remember the important stuff, however. "I remember we wrote this piece with people from six or seven countries and what we all had in common was the constellation, Orion" the composer said of the piece of the same name. "I asked everyone to write down what Orion meant to them...and nobody did it." Presumably guilty, Suso suppressed a laugh.