Ghana Field Report: Hanging With Wanlov
Producer Morgan Greenstreet is currently in West Africa, checking in on the scene, and talking to some of our favorite musicians. We will feature more of his reports in the future.
Sunday, 1 a.m.:
Wanlov Da Kubolor joins Ghanaian-American rapper Dex Kwesi onstage at the massive outdoor Independence Square in downtown Accra. Dex is in black overalls, unique enough in the popped-collar, fitted hat style of Accra street wear, but Wanlov is wearing a yellow Ghana Electrical Company hard-hat, a black #Borla T-shirt (repping Sistah Deborah, his sister) and his classic, controversial cloth wrap instead of pants. He clutches the mic in one hand and a pink iPhone in the other and, of course, he is barefoot.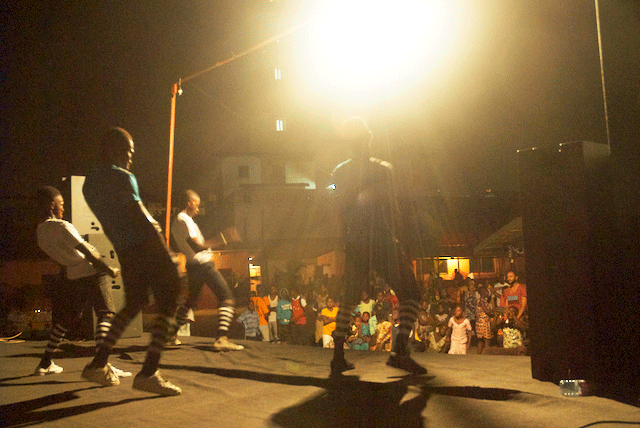 The concert begins about five hours later than listed, but as a result, the promoters open the gates, dropping the ticket price of 10 Ghana cedis (about $3.50 USD), which is prohibitively expensive for most Ghanaians. Despite the free entry, the crowd is only about 200 people, mostly young Ghanaian men, one self-described Polish Princess (also wearing a #Borla T-shirt), myself, and five Ghanaian children dancing around the Polish Princess. As the DJ drops "African Trap," Dex and Wanlov launch into the slow, trap-style flow. The young men in the crowd erupt when Wanlov raps, "We shit where we eat!" He is visibly tired, but as his flow continues, he grasps some energy from the crowd. As they finish the song, he mumbles into the mic, "I lost my key-o. Charlie…I lost my key!"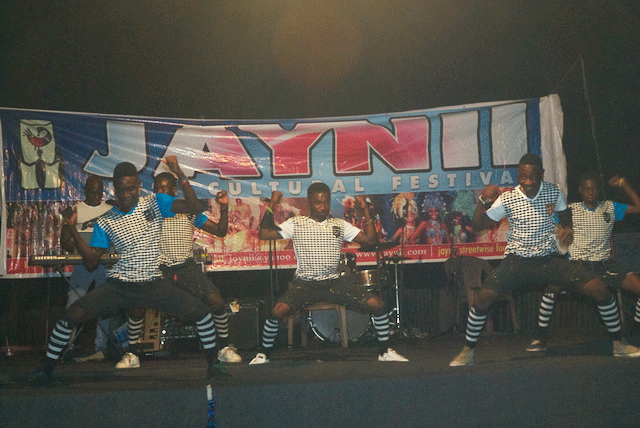 Sunday, midnight (one hour earlier):
Wanlov and I are standing in the middle of the street in front of Republic Bar, the one and only hipster bar in Accra. Chic patrons sit around tables that spill halfway into the street; the DJ spins regional Afrobeats at conversation-facilitating volume (unlike the bar up the street, which blasts hits from distorted speakers as people dance in the street). "Kubolor! Wanlov! Take one picture with me, chale!" From every direction people approach Wanlov, cameras bared, huge smiles, grabbing, pushing, tugging, hugging; men and women dressed for the club, street children, policemen in black uniforms, older women, cigarette vendors. He takes it all in stride, posing for the pictures with half-closed eyes, answering everyone who calls him. If you didn't know, as I do, that he just dropped his car key somewhere on this bottle-strewn block, you might think he was relaxed, enjoying his evening. "I just tucked it into my wrap as I usually do, but as the policeman came to greet me, I thought, I should tuck it deeper, but I didn't do it. I felt it there for some time as we walked and then…I don't know…This sucks." "Do you have a spare?" "That is my spare." I feel sorry for him, but also, my backpack with camera and recording gear are locked in his trunk.
Saturday, 8 p.m.  (four hours earlier):
Jamestown is an old neighborhood of downtown Accra, right near the sea. The JAYNII International Culture Festival is right on the beach, under a lighthouse, painted a fading red and white. JAYNII is an organization that grew out of the effort of one local resident to turn this very beach from a dumping ground into a place people could come and enjoy. Now the organization has grown, has international supporters, and works with local children on cultural projects. A stage is set up, a beach bar where locals mix with Europeans and Americans, drinking beers and chatting. Wanlov and I sit with two French girls who work for Alliance Francaise, one of the main promoters of "alternative" local and international music in Accra. We are watching a comically awful duo: a white woman and a black man singing and dancing over poorly produced hip-life tracks. She talks and sings in some kind of pidgin English, while he twirls around her. His dance moves look like Michael Jackson on a kola nut binge, minus talent. They are followed by a cultural troupe, and a group of hip-life dancers who actually excite the crowd. The dancers spin and flip, some shirtless, muscles rippling with sweat, the rest in matching white shirts. Kids imitate them, doing flips in the sand in front of the stage.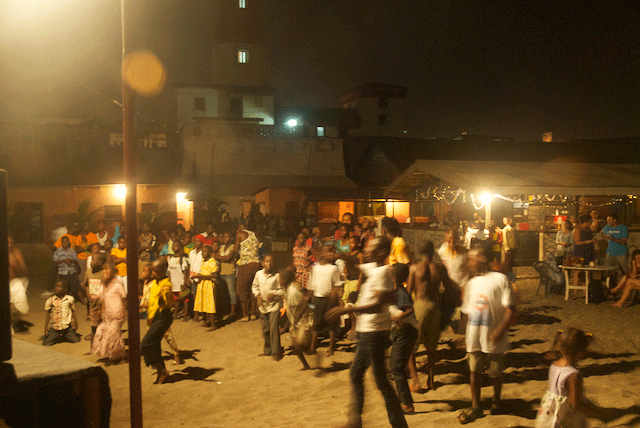 Finally Wanlov goes on, joined by Steve-O, a musician from Bolgatanga in the far north of Ghana, who plucks a
kologo
, a two-stringed instrument of the Frafra people, while Wanlov strums an acoustic guitar. "I've been taking lessons from Mensah's dad, Tumi Ansah, learning highlife and things. I'm just beginning, though," Wanlov tells me later. They sit on the front of the stage, legs dangling, ringed by children kneeling in the sand, and begin to play. Their music together is simple, like two friends jamming, but also poignant and powerful. In one song, Wanlov addresses inequality between politicians and the rich and the vast majority of Ghanaians who have to live with the results of their politics, like regulated power outages. He sings, "Dey no dey care about light off, dey get dey generators/Dey no dey care if the road be rough, dey get dem Landcruisers…Dey never go change, oh, dey never go change…" Steve-O takes the lead with a brilliant flash of traditional music, his voice soaring over the rhythmic strokes on his instrument. When they leave the stage, I slip out with them into the hot Accra night.