Ghana's Mozart: African Maestro J. H. Kwabena Nketia
Professor Joseph Hanson Kwabena Nketia is essentially the most important music scholar in Ghana and an amazing composer with a storied history spanning decades. His expertise in music theory and composition has created a foundation for contemporary composers around the world to understand Ghanaian and African music. Still active at the age of 93, he maintains office hours at the University of Ghana-Legon, holds speaking engagements around Accra and supports Ghana's music scene. His awards and publications are too long to list and now, there is a documentary to honor and remember his lifetime of amazing work. Ben Cohn spoke to Anita Afonu, the director of African Maestro, a documentary about Professor Nketia, the development of the Roaming Akuba film production company, and Ghana's movie industry.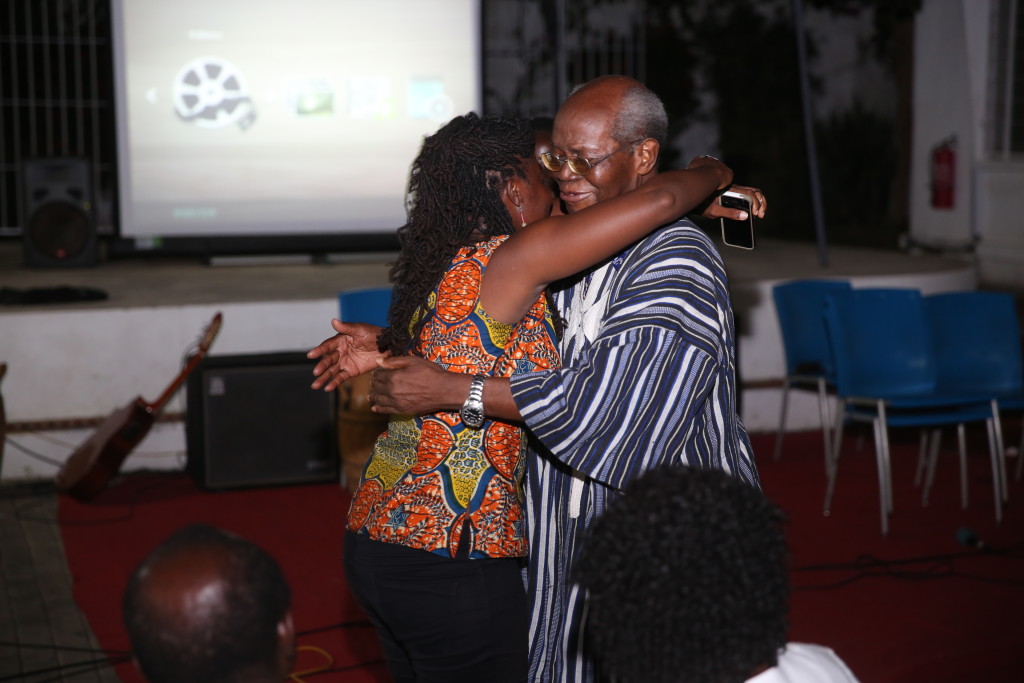 Anita and Prof. Nketia at the screening of "African Maestro"
Ben Cohn: First off, can you introduce yourself?
Anita Afonu: My name is Anita Afonu. I am a documentary filmmaker based in Ghana. I have done two films after graduating from film school. I graduated from film school in 2010. I attended the National Film and Television Institute (NAFTI) which is close to the Goethe Institute and I majored in documentary filmmaking.
When did you know you wanted to do documentaries?
I had always wanted to do films as a kid because I was greatly fascinated by films and movies and storytelling. As to whether I wanted to do documentary or fiction, I didn't know until I got to film school and I got a better understanding of the genres and then I chose to do documentaries because I felt like almost everybody was doing fiction, but the documentaries are a completely different genre. A lot of people don't go near that genre and I understood that it's a lot harder, but with [documentaries] you get to experience real people and tell real stories. And so I decided that documentary was for me and I am happy to say that I am doing well with documentaries.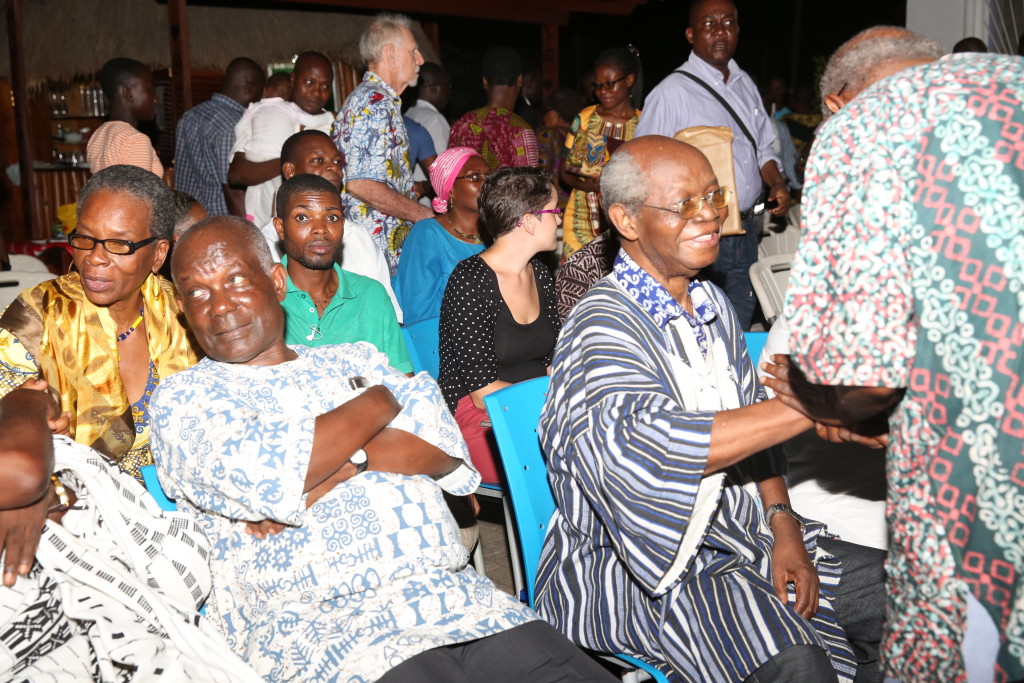 Do you have any experience in front of the camera? Or are you always behind?
I have done one [movie] in front of the camera. I never got to see it though. It was a film on clothing in Ghana which was done by this American filmmaker and she profiled me in it. That was four or five years ago.
What are some of your goals as a filmmaker?
As a filmmaker, I think that I indirectly am an activist. It is my duty. I feel obligated to tell the stories of people who are in certain positions, who cannot voice out what they are going through. For instance, three years ago, I made a film titled Perished Diamonds and I told the story of Ghanaian cinema and what has become of [it] from the time Nkrumah was president and how it is valued now. I showed the plight of Ghana's film archives and how they are rotting and how they've been neglected. I think my job as a filmmaker is to speak for myself and for my people and, contribute as a citizen to the country.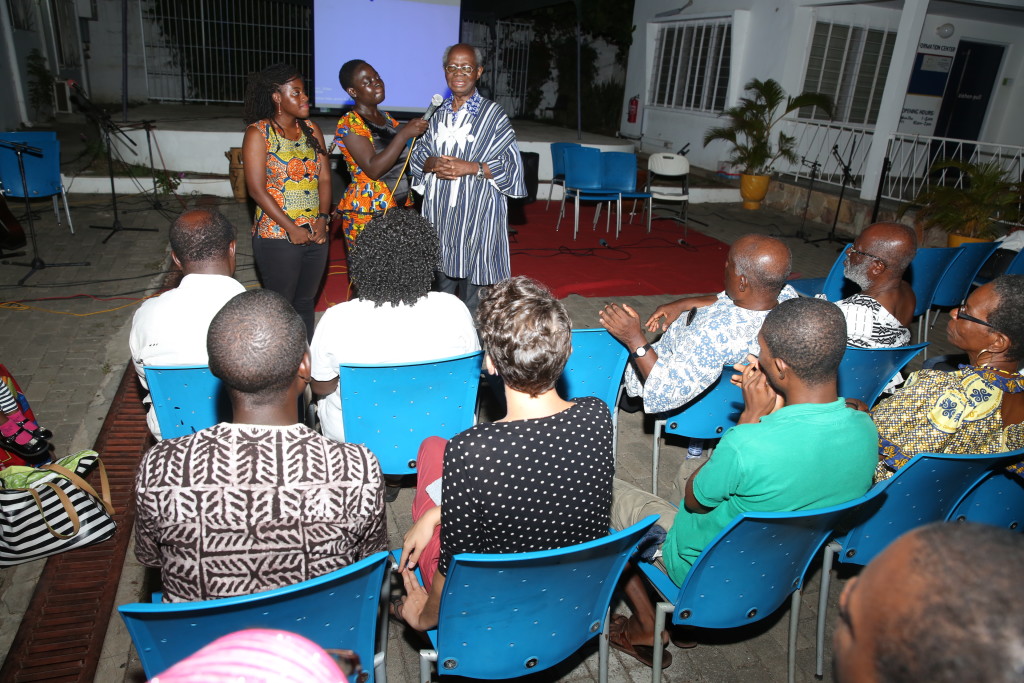 What is the film scene, the documentary scene specifically, here in Ghana?
I can confidently say there isn't really an industry for documentary filmmakers. The focus is more on fiction and the concert/party genre a lot of people like to see. A lot of people in Ghana think that documentary films are boring and that is because they watch the wrong documentaries. For instance, they watch maybe too much National Geographic, and so you mention documentary, and they are thinking, Are you going to make a film on animals or poor people or that kind of thing? I think that a lot of Ghanaians have not really experienced engaging documentary films. And so there is really very little understanding about documentaries from a Ghanaian perspective. Fiction is more common. There's [director] Shirley [Frimpong Manso], there are all these guys in Kumasi making stories that a lot of people enjoy. There's really not much for people like me who make documentary film. It's not a money-making venture at all. For me, I am able to get to screen my films in film festivals and that helps me to meet other filmmakers, engage with other audiences. I know of another documentary filmmaker, [Anas Aremeyaw] Anas, who goes undercover to make all these films. I think he makes money from it, but he also gets commissioned. But for someone like me, who goes on their own accord to make documentary films, there really isn't a scene or market or anything to write home about in Ghana.
Do you think the scene is improving? Is this attitude changing at all? Where is it headed?
It's a really slow process. I think, by and by, a few people are getting to understand what documentary films are. It's still really hard to get people to want to see a documentary film. But for instance, the people who showed up at my screening got to see the film and got to enjoy it. Two, three, maybe four years ago, you wouldn't have gotten those people to show up. So it's gradually opening up; you're getting people to understand, but these are educated people, not the semi-literate or illiterate. It's going to take a much longer time for it to open up to audiences like the semi-literate and the illiterate, but I'm sure that if I did make a documentary in a local language, which piqued peoples' interest, semi-literate and illiterates would enjoy it. It's a slow process and gradually a few people are getting to understand it.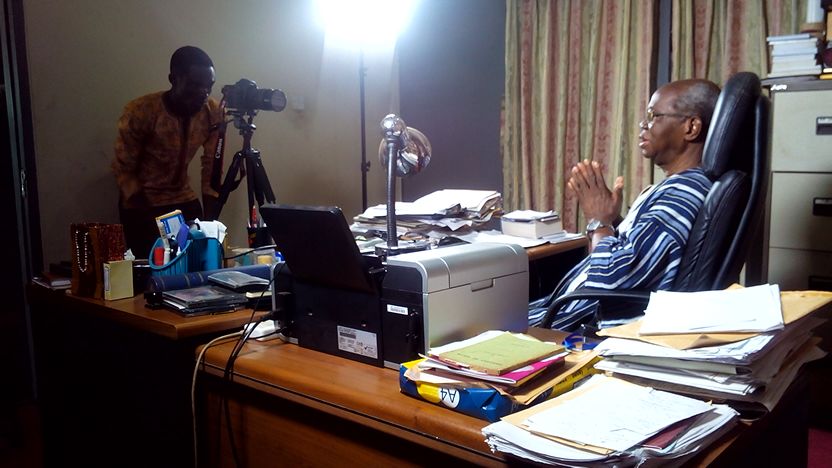 All three of your films are in English?
Yes, all three of my films are in English. In my thesis film, there was a little bit in a local language and that was an interaction between two people that was subtitled, but mostly yes, they've all been in English.
In the future, do you see yourself making a documentary in a local dialect?
Absolutely, yes. At some point, I'll want to do something in a local language, but that would all depend on the circumstances, the sort of story I'm telling, the situation I'm showing and the people in that situation. So it all depends, but why not? I'd absolutely love to put the local language[s] out there.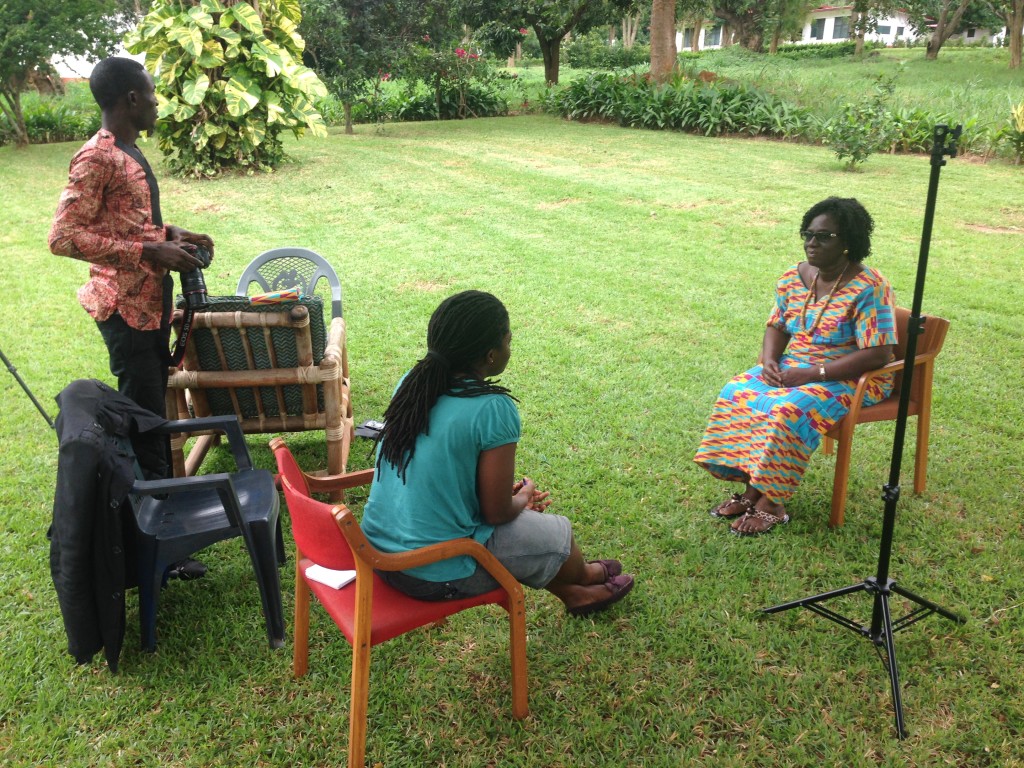 Can you tell me about Roaming Akuba?
When I completed film school, I was very confused. I didn't know what I wanted to do. Immediately after I completed film school, I wanted to get a master's degree. I did apply to a university in Norway, but I didn't get in, so I was really frustrated. And eventually, somebody contacted me and wanted a local producer. The crew was coming from the U.S. and they needed a local producer on the ground to help them film. Somebody contacted me and I said I could do it. The short of it is I did the job; they were very happy with it, and when they went back to the U.S., they recommended me to another film crew. And then [the second crew] also got in touch with me. So I thought, OK, I could set up a company and do this. That is how it started. I started working as a local producer for film crews that come from abroad. And basically, that's what I do to earn money. The films that I make, I don't make any money from; they are noncommercial. But the advantage of that is that I get to send them to film festivals. I get invited to film festivals and I get to show them and meet other filmmakers. After that, I started to get some organizations commissioning me to make short infomercials for them, like documentary stuff, and so that is how Roaming Akuba started. And the name was actually a blog I started, like a travel blog. My name is Akuba and I was traveling around, writing about the places I went to. I thought the name was nice so I used it for my company.
So now, how big is the company? It started in 2012. What is it like today?
It's still a really small company, but I have a team that I work with. I have hired an intern who gets to do other stuff for me, like transcribe interviews and run errands. I have a cameraman, a soundman and an editor. It's a really small group. And we take things one at a time. I try not to load the crew with [too] much work. And I take things in stride. It's not a multimillion dollar company, but we focus on doing quality work and we try to maintain it. It was registered in 2012. It's still a start-up and we are building from there.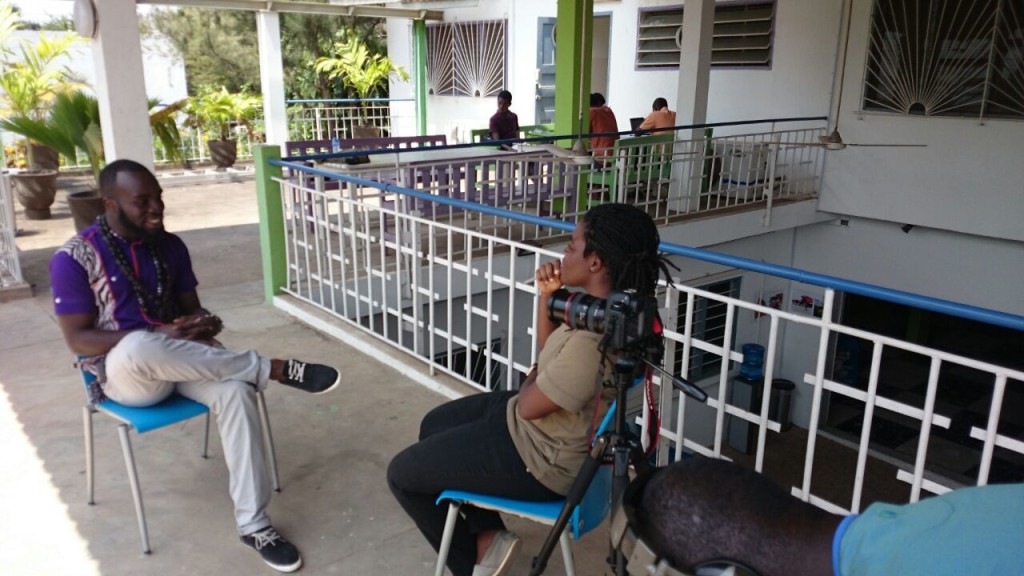 Interviewing M.anifest
So you have a cameraman, soundman and an editor, I'm wondering what your role as a director entails?
As director of Roaming Akuba films, I do a lot. I respond to all of the emails that come in. I maintain the website, as well. I put up videos and photos of what we're generally doing. I'm the face; I'm the frontline of the company. For instance, if there's a foreign film crew that is coming in, I respond to emails if there's equipment they need–I make all of the calls to help them settle in. I get to meet them. I do much of the work: when we get commissioned to do infomercials, I direct, but in cases where I can't do everything, I hire a producer to do the paperwork. Then I get to focus on being a director.
What inspired you to make this most recent film, African Maestro? How did it come together?
It's funny. I had wanted to do a film on Professor Nketia, but I didn't know how. I think it was just a stroke of luck that the Goethe Institute called me and said that they would like me to do a film on Professor Nketia. I thought, Gosh, I've been wanting to make this film. I've been thinking about it. So when they called me, I was really shocked. They asked if I'd be interested in doing the film and I said, "Yes, he is getting old and will be leaving soon." And that is basically how it started. I have to say that when I first started, I had thought I wanted to make a film on him, but I had not decided how I wanted to tell the story. So the challenge for me when the Goethe Institute asked me to make the film was to figure out how to tell the story. Once I got over that hurdle, I was able to do it.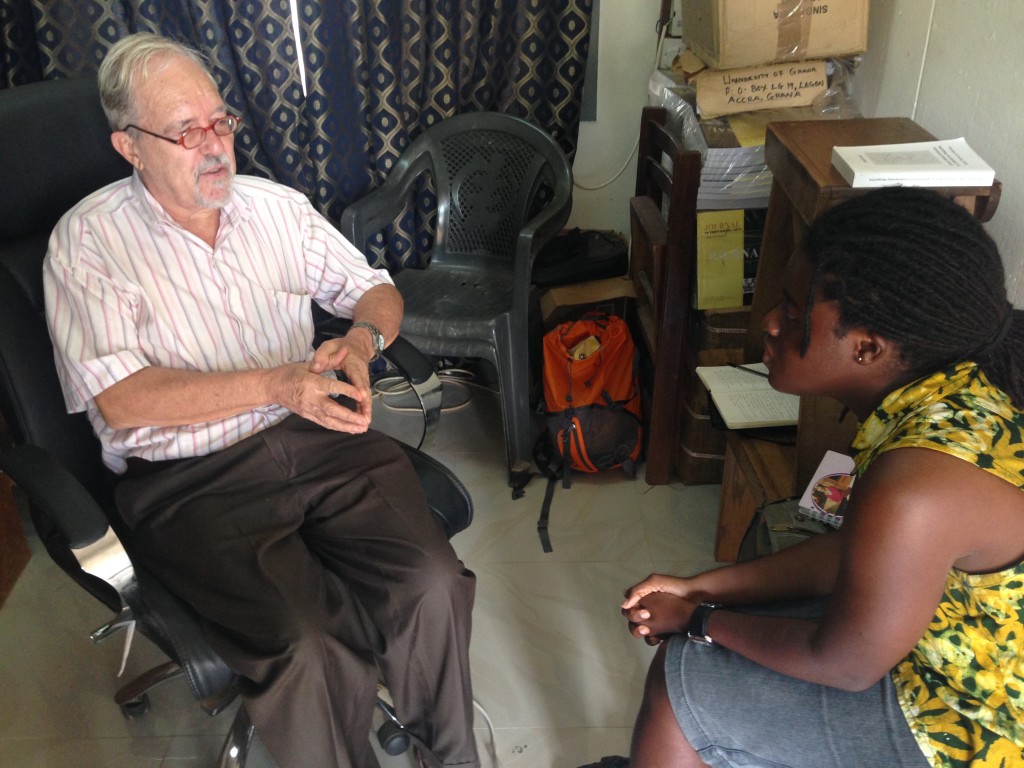 Discussing with Prof. John Collins
Just put it into the universe…
I know! Yeah! Because I had seen him on TV and I knew I wanted to make a film on him and then two or three months later, I get a call from the Goethe Institute. That was really strange.
What did you learn about Professor Nketia through this process?
Through making African Maestro, I got to experience his music. I had not really heard much of his music, but when I saw the compositions, when I asked people to play them, that's when I got a feel of his music. I thought, Wow, this is so nice, so pleasing to the ear, so artistic. Why aren't I hearing this on the radio? Why haven't I heard any of this? I got to experience a live experience from Koo Nimo. I got to talk to the most humble human being I've ever met–that's Professor Nketia–and I got to understand his background and where he's coming from and his artistic inclination. It was just a blessing getting to experience all of this. I wish I would hear more of his music on the radio or on DVDs or something. But no…
As a music researcher, I've heard plenty about Professor Nketia. But in your own words, what do you think Nketia means to Ghana?
That's a hard question. First of all, I wish that more Ghanaians even know him. He seems to be known mostly in academic circles. I think that he put Ghana on the map when it comes to African music. To classical African music, he is Ghana's Mozart. In my own words, he is Ghana's and Africa's Mozart.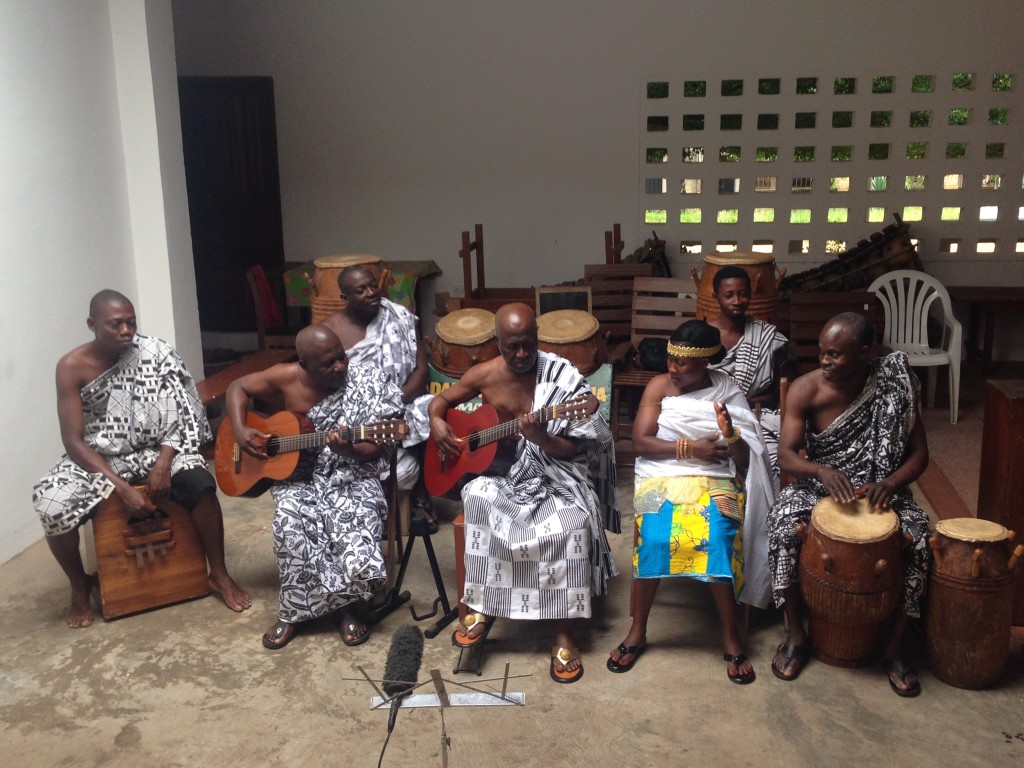 Koo Nimo & his band performing "Nketia Sabene"
Can you break down the process of filming African Maestro?
When I started making African Maestro, I would visit Professor Nketia two or three times every week for about a month, just visiting him, chatting with him, doing research, finding out information about his background, or even just having a chit-chat about his experience during Nkrumah's presidency, about what Ghana was like then and how it is now for him, how he see the changes. I did a lot of research before we started filming. We interviewed [Prof. Nketia] twice and I asked him if there were any people he thought would be of interest to the film. I got to meet his very best friend, Professor Kofi Asare Opoku. I got to meet his daughters, who are very lovely people, and then I got to meet his grandson. I didn't know M.anifest was his grandson until I saw the two of them on TV and I realized that these two are related. That's basically how it started. I contacted everyone the professor thought would be of interest for the film. I met with them, discussed the project and later scheduled a time to film [interviews]. Then we transcribed each interview, which to me was probably the hardest [part]–transcribing every day and every night. After transcribing, we got to editing and that was a really difficult time. It was in editing that we were able to piece together the story from the interviews, from the transcripts. Eventually, we got the story built up; we got all of the other shots like the music. I got to consult one professor from the University of Michigan, who had studied under [Nketia] and we discussed which of Professor Nketia's compositions we should use in the film. Then I met this orchestra that was willing to play for us to record. That's how we were able to put it together. It was really difficult, but we managed to pull it off.
What was your favorite part?
That would be Koo Nimo playing. When we went to visit Koo Nimo, I just asked him to play five of Nketia's songs and he called together his band, and they sang for us. While they were doing it, you can't see it in the film, but I was in the background, dancing, laughing, taking shots with my iPhone.
How has this been different than your previous documentaries?
This process had to do with getting to understand music. I'm not a music person. I listen to all kinds of music genres, but I did not understand what a quaver was; I did not understand music language and, by making this film, I got to [learn] musical language. Also, making this film was fun. It was more fun than making Perished Diamonds, for instance, because for this one, I got to meet musicians. I got to meet very fun people like Koo Nimo, the Professor himself, M.anifest and Professor [John] Collins. It was a very fun process. I went to each of them and they'd play you something new for you to hear. It wasn't depressing like the documentary I first did. I got to understand Ghanaian intonation with regards to music. I got to understand a totally different facet of music that I never knew. In Perished Diamonds, I showed the bad and depressing side of Ghanaian cinema. It was discouraging. But with African Maestro, the process of meeting the people and getting to hear music was really blissful. It was beautiful.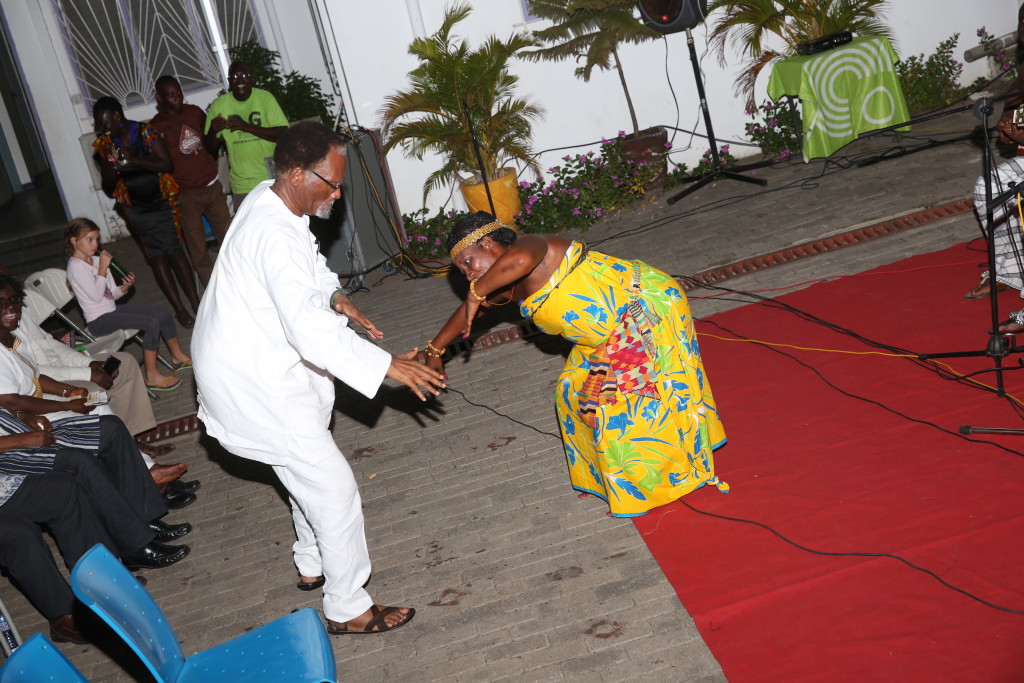 This is a celebration of something as opposed to showing the destruction of something else.
Absolutely, yes.
Can you speak about the screening of the documentary at the Goethe Institute? What were your expectations? How did it feel?
I wasn't in charge of organizing the screening. Goethe was responsible for that. My job was to make the film and deliver it to Goethe. Usually, when there is a film screening, you don't see that many people. You'd probably find 30 or 40 people. When I did Perished Diamonds, we had a little over 100 people, but with African Maestro, I wasn't expecting that many people. I had invited people, but nobody had confirmed that they were going to show up. And so when it was time for the screening and I stood on the podium and saw all of these people, I was happy that I had done something to bring them to come and see. I had documented the life of this great man, which had drawn so many people to come. So I was really happy, stunned. I couldn't believe it. I still can't believe it. You usually wouldn't hear of so many people at the screening of a documentary.
In addition to the big crowd, most of the biggest names in ethnomusicology were present and musicians, as well.
I was surprised. An uncle of mine came and he said, "You managed to put together all of these people?" So for me, to pull together all of these big names in Ghanaian music, in ethnomusicology, in African music, I was surprised I actually did it. It is one of the things I will never forget in my career as a filmmaker.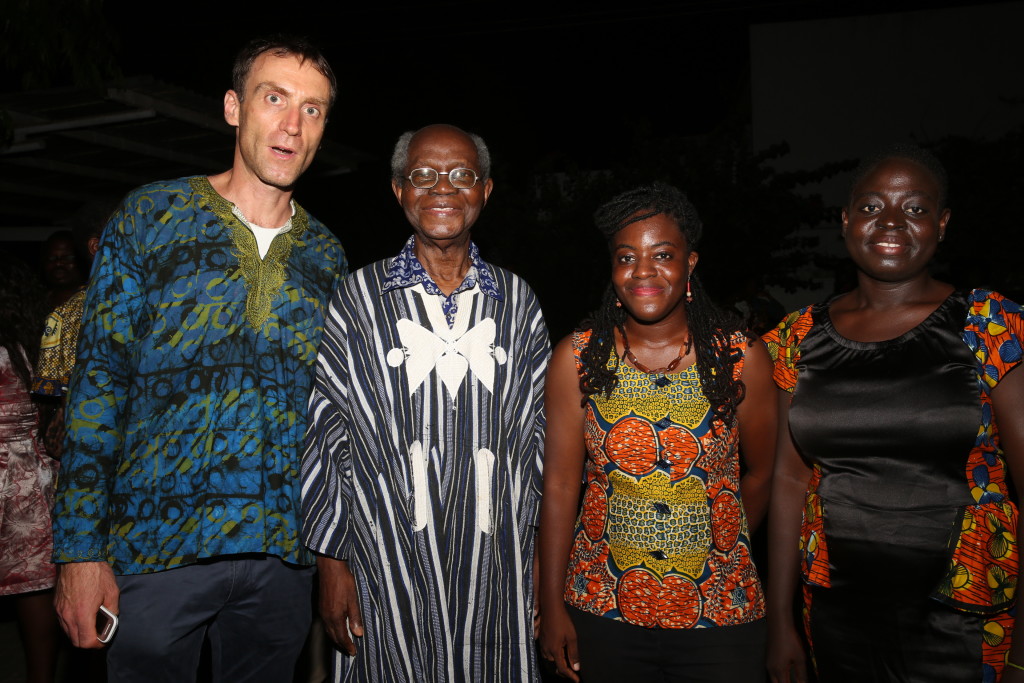 What is the plan for further use and distribution of this film?
Unfortunately, I do not own the rights to this film. However, I am aware that it will be at the Berlinale Film Festival in Germany and it will screen in three other film festivals in Germany. I am aware that it will screen at the University of Ghana, UCLA and the University of Pittsburgh because Professor Nketia used to be a professor there. It is a noncommercial film, so it's basically going to be distributed in film festivals and universities. I know that the University of Michigan is going to get a copy. It's going to be preserved in their libraries and so forth. I can also send it to some festivals; the Goethe Institute has given me permission to do that. The copies are going to be made in Germany. I think they will be ready in a month and once the copies are shipped in, we'll start sending them out.
Is there a chance the general public will get a chance to see it?
Yes, there will be another screening at the Goethe Institute. I would like to screen it at Cape Coast and Kumasi, at least at the universities, so people there get a chance to see it.
And finally, what is next for you? What does the future hold?
After the screening on Friday, I woke up Saturday morning and asked myself, "What next?" Honestly, I don't know what's next. I don't want to be that filmmaker that churns out a film every two or three months. Usually, an idea will just come and I will start to work on it. But I'm the kind of person who likes to takes things one at a time. I don't like to rush through things. I mean, after I did Perished Diamonds in 2012, I didn't show another film until 2015. I think that's how it's going to be for me. Who knows? Maybe in 2017 or 2018, I'll put out another film. In between that, I'm just going to do what I do as a local producer for other film crews because at the end of the day, I need to earn some money. So I will do that for money, but for my own artistic space and thoughts, I'm just going to wait and see what comes up.