Habib Koite, Derek Gripper and African Strings
A special concert unfolded at the Somerville Theatre in Boston on Sun., March 10. This had been planned and promoted as a night of Malian music with two luminaries joining forces. Habib Koite is one of the country's best-known and most-original singer/songwriters. Bassekou Kouyate is a master of the ngoni whose band Ngoni Ba has traveled the world for years. The ensemble was to be small, just Koite and his percussionist, Mama Kone, and Bassekou with his son Mamadou and wife Ami Sacko. That was the plan anyway.
Somewhere along the line, in the ever-more expensive and unpredictable process of obtaining performance visas for the U.S., something went wrong. Bassekou, Mamadou and Ami were refused visas, despite their many successful past tours. Lobbying on behalf of the tour went as high as Nancy Pelosi's office in San Francisco and the State Department in Washington. There was no change in the decision, and, most frustrating of all, no explanation given for the refusal. The INS is not required to state their reasons for refusing visas, and rarely does, but this is a particularly disturbing development. Not only are Americans being denied access to three well-known and beloved Malian artists, but a message is being sent: If artists of this stature embarking on a tour of over 20 high-profile, well-promoted concerts can be refused summarily, American presenters might have to think twice about working with West African musicians in the future.
Despite all this sturm und drang, Boston presenter World Music came up with an elegant solution for this concert. The show would open with Derek Gripper and African Strings, a new project in which the South African classical guitarist, who has made a career out of playing mostly music from Mali, is backed by Congolese guitarist Jaja Bashengezi and Ugandan multi-instrumentalist Kinobe. These two outstanding musicians now live in Washington D.C., and combine their talents on each other's work and other projects, including recently the debut album by the Congolese/American vocal duo Nsimbi.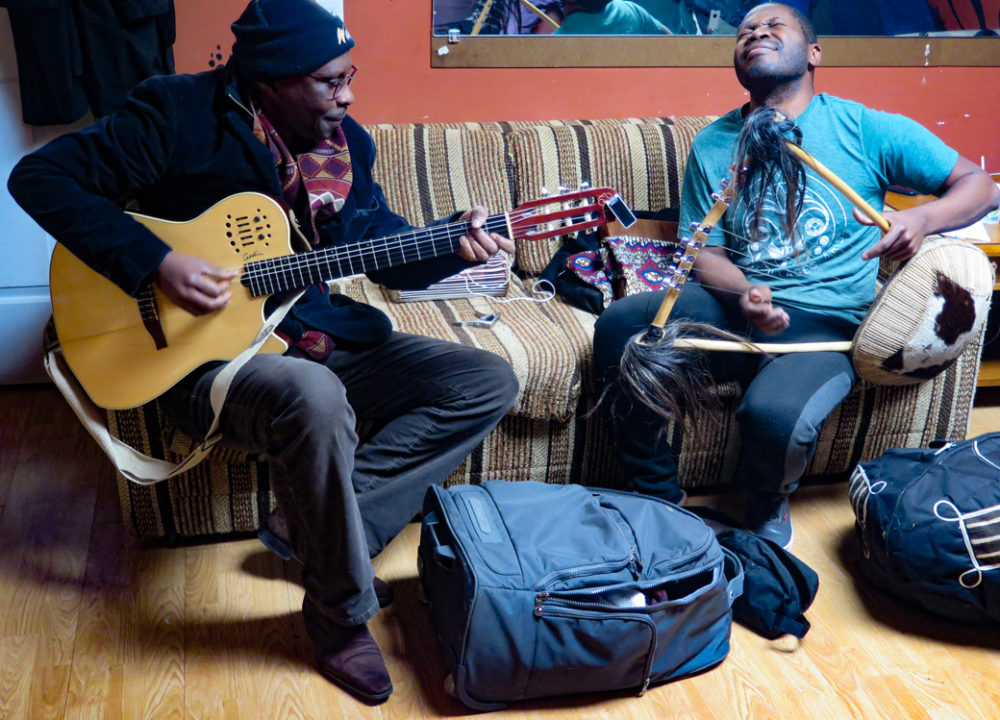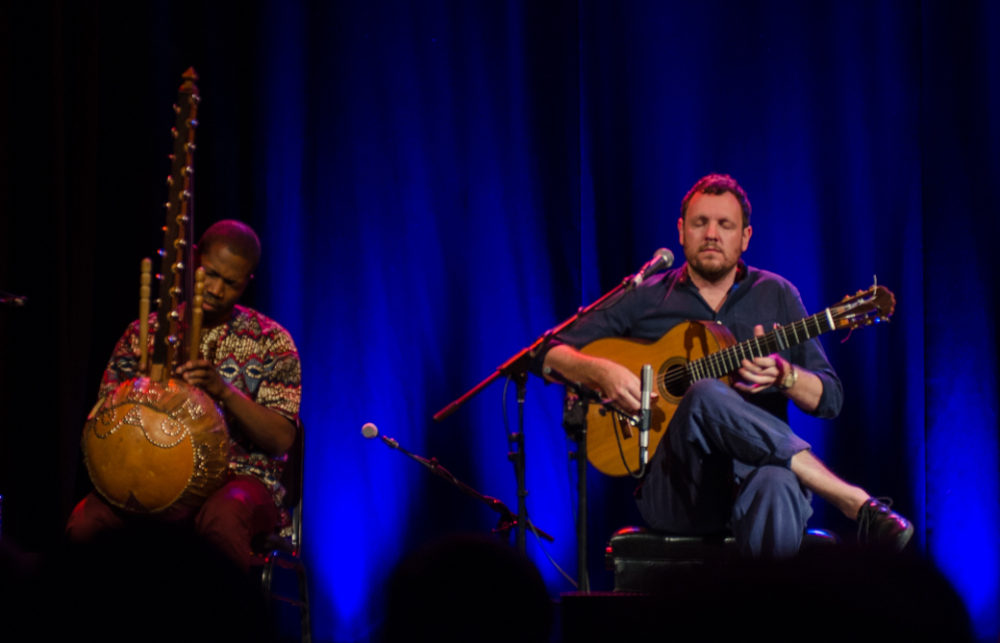 Gripper, Bashengezi and Kinobe conjured gorgeous sonic soundscapes, Kinobe switching between the akogo, a member of the kalimba/mbira family of instruments from eastern Uganda, the adungu, a harp from the country's north, and the Malian kora. Yes, Kinobe is that rare African musician who, having mastered the traditions of his own country, takes it upon himself to learn a challenging traditional music from a completely different part of African. Gripper is used to playing solo, and is prone to all sorts of in-the-moment inspiration. He also finds more different sounds on his classical guitar, using various tunings, just with his hands, than most guitarists could manage with a carpet of effects pedals before them.
Kinobe's buzzing, fierce deep pockets on the adungu provided a rock-solid foundation for Gripper's' extraordinary guitar flights. Bashengezi, on accompaniment guitar, was more subtle, blending and reinforcing the propulsive lines within Gripper's rhythmic textures, never really stepping out, but always adding. This trio has only performed a handful of times, and they change repertoire gig by gig. So it's a work in progress, but wonderfully engaging even in this nascent form. From Gripper's stirring cover of a Salif Keita ballad to his deep takes on kora classics and original pieces, including one lamenting the fate of beached whales in his native South Africa, this trio had the house on its feet in acclamation. One wondered how Habib Koite, alone on guitar, could follow.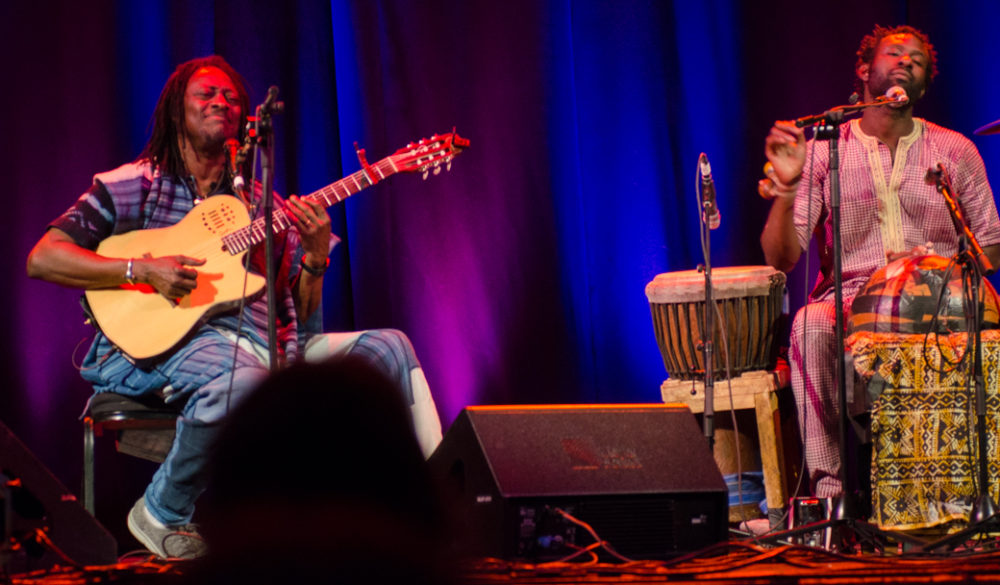 One need not have wondered. Unlike African Strings, Koite and his percussionist have a connection deepened and burnished over many years recording and performing together. Also, having played a number of shows on this tour without the expected support of Bassekou's crew, the duo has clearly got its groove on. Koite has always been a superbly original guitarist, a master really. He plays fingerstyle on nylon strings, and these days, he likes to enlarge his sound using a harmonizer. He can drive galloping rhythms all on his own with his ferocious fingers, or coax bell-like tones from his guitar to create moody swells of harmony. He is also a spectacular singer, with a velvety midrange and sharp crying attack in his high register. Many of these subtleties are hard to fully appreciate when Koite performs with his wonderful band, Bamada.
So it was a real treat to experience his art stripped to its essentials, with Kone on djembe, calabash and self-styled trap set, perfectly and effortlessly in synch with the master every step of the way. There were a few new songs, but most were classic repertoire, albeit reimagined. Koite opened with an expansive take on "Imada," and ended with a rollicking reworking of his 1991 hit "Cigarette Abana," during which he mostly prowled the stage and through the audience, with majestic fusillades of guitar virtuosity exploding from his busy fingers. Midway, his slow blues "Foro Bana" morphed into a takamba rhythm from the north of Mali.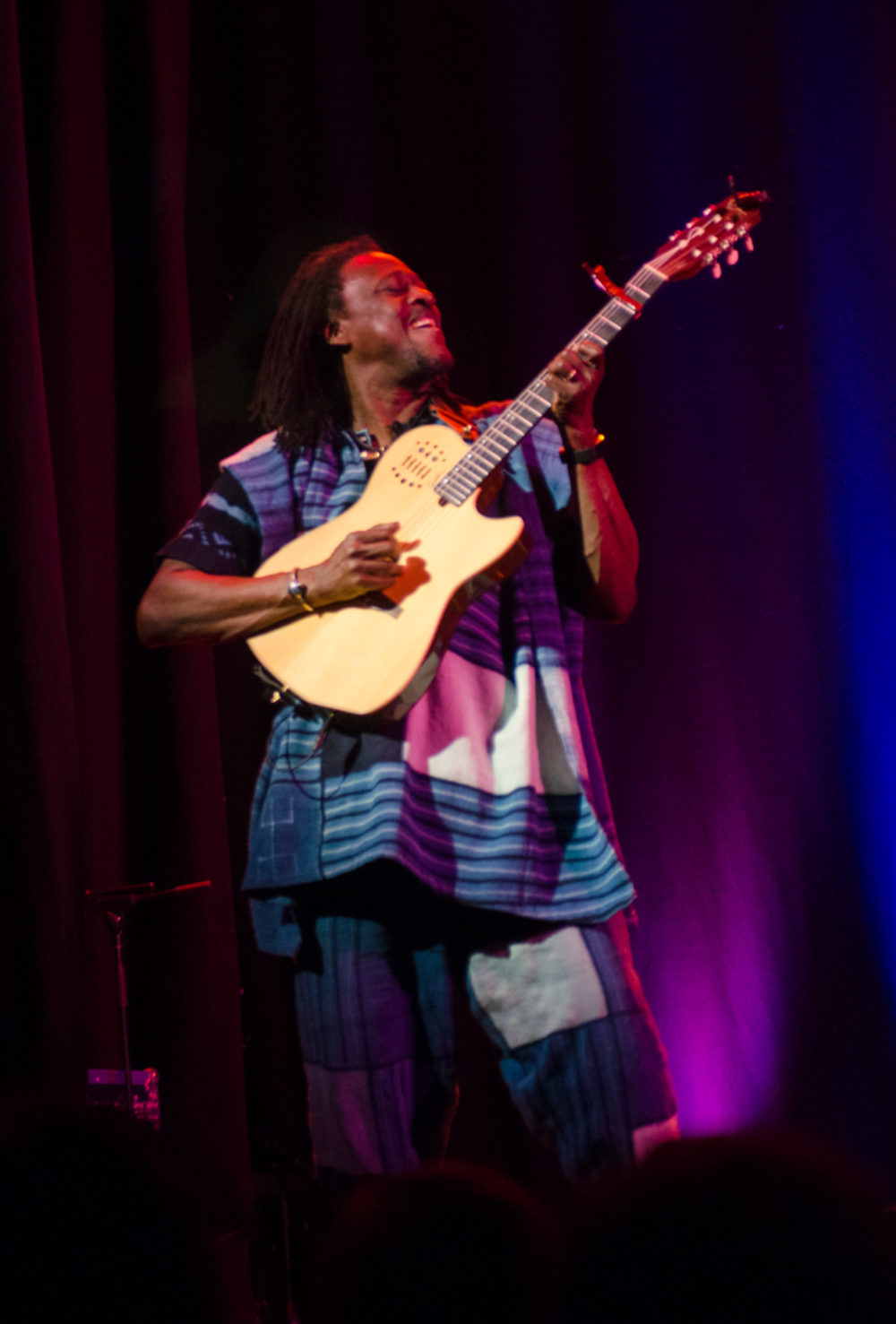 One beautiful moment that the Somerville Theatre audience missed happened in the dressing room before the show. Koite joined an impromptu jam with Bashengezi and Kinobe—neither of whom he had ever met. On stage and off, this was a dream night for lovers of African string music, even with the dark shadow of INS whimsy hanging over it.