In Conversation with Rocky Dawuni
2015 has been a big year for Ghanaian-born singer/songwriter/bandleader/activist Rocky Dawuni. Following the release of his sixth album, Branches of the Same Tree (Cumbancha), early in the year, he's been traveling the globe, rubbing shoulders with rock stars and presidents in service of all sorts of causes—from peace-keeping to global sustainability. Last week, Branches of the Same Tree received a Grammy nomination for Best Reggae Album. Afropop's Banning Eyre recently met up with Rocky in Harlem, New York. The singer was in town for the annual summit of the United Nations. Here's their conversation.
Banning Eyre: Why don't you introduce yourself and tell us a little bit about your early story?
Rocky Dawuni: My name is Rocky Dawuni. I am from Ghana in West Africa. I was born in a military barracks. My father was originally from a royal family in the northern part of Ghana. He was the last born of his family, so he moved away and came to the southern part and joined the army. He felt that's where his destiny was, so we were born in that environment and during the time I was growing up too, my father, who happened to be a cook in the army, joined a lot of the U.N. trips to Europe during the Arab-Israeli war. What was happening was the soldiers who were involved in these trips used to bring back music whenever they went. So within the barracks system, we were exposed to music that the rest of the country wasn't being exposed to.
This was during the time of Ghana's military coups, the era of Jerry John Rawlings.So the Ghanaian military was heavily involved in politics. Everything around us was politics, politics, politics. So music and politics, and then I'm a child who wanted to figure out a way to articulate his environment and use his voice for something that was important. I always gravitated towards the arts. I felt that music was a means by which I could express myself. And so with those foundations, that launched me into being a musician.
What year were you born?
I was born in 1969.
O.K., so you were pretty young during that Middle Eastern war.
Yes.
So how did you start as a musician? Did you sing? Play an instrument?
You know, the thing is that when we started, our parents did not really see music as something that was viable. Everybody's parent wanted you to grow up to be a lawyer or a doctor, something that they felt was bankable. Because their investment needed to be recouped.
A familiar story.
Exactly. So music was seen as something that was recreational and frivolous. But it was different with my parents, because they recognized that music was something that I had a passion for. They saw that it was something I just wanted to really do. So there was that encouragement. And I just kept on going. Within the barracks, there was like a military band that was called Hot Barrels, for lack of a better name, and they used to play cover songs. So I used to hang out at their sessions, and doing that too, I started to find my voice.
Because we didn't have access to instruments, we would be using a kind of beat-boxing. We had a trio with friends of mine. One would be the bass, one would be the drum, and I was always the singer. That didn't go well with a lot of them, because everyone wanted to be the singer, and have me go to the bass. But no, I can make up the song. So we were beat-boxing and making up songs. This also taught me the ability to produce, because anytime I write or envision music, I envision all the components. It all comes together. So with that foundation, eventually, I got the opportunity to go to the University of Ghana.
In Legon.
Yes, Legon. So that's when I met the first group of people and formed our first band called Local Crisis. Everything else took out from that time.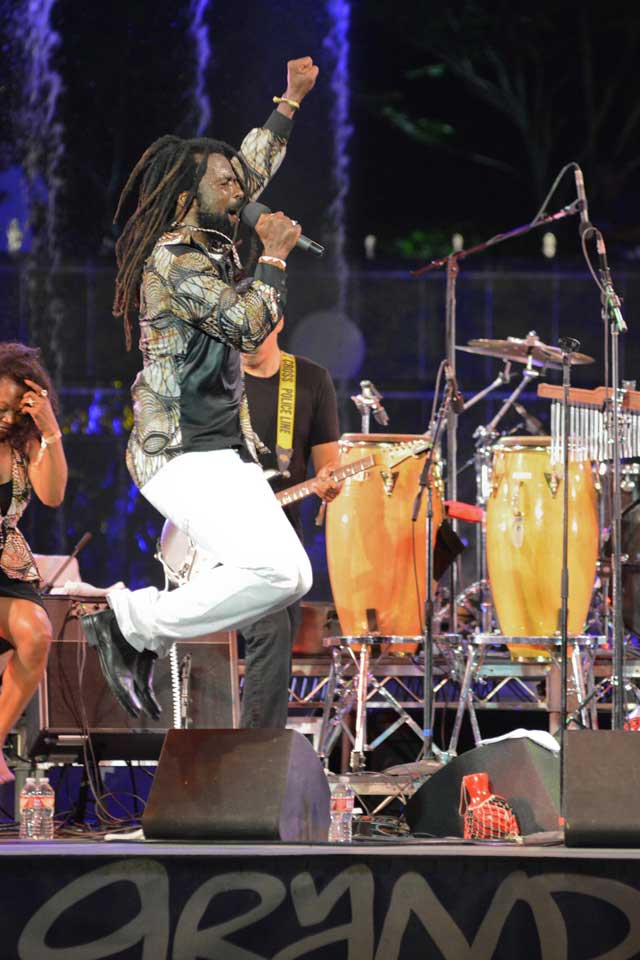 Rocky Dawuni (Aiby Jan Salzman)
Was it reggae right from the beginning?
It was reggae, but growing up, it was really a stew of every kind of music. I mean, highlife was the music that we listened to every day. African Brothers was pretty much the cornerstone of the music we listened to, and then a lot of the traditional music, because I come from a traditional home. I was always inspired by that. And in the schools too, you had to do traditional music. Ewe music, Dagomba music, all of that stuff.
You said you came from the north. Are you Dagomba?
I am Konkomba. Dagomba is the biggest tribe there, so that culture was everywhere. We were inspired by that.
That's cool. By the way, I've been to that Legon university campus. It's a very lively place, a lot of music going on.
Yeah, and during that time too, the interesting thing was that Ghana had only three or four universities. You had to sit for an exam, nationwide, and only a few students were chosen. So it was a very competitive to get into the university. If you failed, you were pretty much left out of the next level of social evolution. You had to look at something else. So I was lucky. Although I was interested in music, I also did very well in school. I qualified for university. But I remember a story that I tell all the time: After I qualified, I refused to go to university because I wanted to start my musical career. I felt that if I became too educated, I might leave that behind. So my older brother who is, interestingly, now the chief of our people, was at the university at that time. So he came back home and told me. "You know, have you ever considered that you'd be a better musician if your educational background is stronger? Because it will give you more latitude to really use your music for bigger stuff."
And after pondering over that and thinking, I said, "Wow, he's right." So the following day I packed my bag and went to the campus. And the first day there, I met the people who became my first band. They were also at campus, and they were trying to figure out why they were there, so we all met, and said, "Why don't we form a band?" So the band was called Local Crisis. [Laughs]
Many levels of meaning in that.
Many levels of meaning in that. So we were all influenced by highlife, reggae music, Afrobeat, and then all the pop and soul that my father was bringing from different places. So my musical taste from the outset, was a combination of genres.
Did you finish school?
I went through. My final year, I left. I traveled to the U.S. I had met my girlfriend, who became my wife, on campus. The band had just started getting a lot of success in Ghana. We did a big concert there.
This is the '80s?
Actually the '90s. Ninety-five, '96. The band was gaining a lot of popularity in Ghana, and my girlfriend was like, "If you really want your music and your intentions to broaden and go worldwide, you need to travel. You need to learn other genres and be exposed to a lot more than Ghana." So I decided to take a trip to Los Angeles. When I went, I was planning to go back to school, but I got to Los Angeles, I got a job interning at Delicious Vinyl. I started learning music promotion. O.K., this is something I need for my music. So I stayed in the U.S. and worked to learn how to run my own music career. And that was how the story started.
Photo by Myra Vides.
Now, somewhere in here you started recording, right? I have a few of your records. How many have you made?
Branches of the Same Tree is my sixth record. What I did was, I came here and made some money. Then I went back home and recorded the first album, and that album was released in Ghana, with the band I had before. A lot of them had just finished university, and then they were getting into other businesses, so music was kind of part-time for them. But I brought everybody back together, and now it was more of a solo project of a Local Crisis project. But we put that album out and it became very, very successful in Ghana. All of a sudden it launched me into a much bigger popularity.
What was the album title?
It was called The Movement. And incidentally, we never put it on CD. There are a lot of Ghanaians who still say it's their favorite album of mine. It's like they won't settle for anything I did afterwards: "That's your problem. This is it." [Laughs] Meanwhile, in terms of production quality and all that, it's not really comparable, but there was a certain rawness to it, and there was a certain dynamic to it that is unique. I think that's why everybody kind of gravitated towards it.
So that year that you came to Los Angeles and worked at Delicious Vinyl, that was 1995. But you live in Los Angeles now, don't you?
Yes. I move between Ghana and Los Angeles.
That's a long commute.
A long commute. Well, sometimes I stay a year in Ghana, and a year back here. So I am more or less bi-continental. I wanted to make the two places my home because I felt that, ultimately, the cornerstone of what I was doing was to use music to connect mainland Africa with the diaspora. So the fact of my deeply understanding America culturally, in a very, very profound way, and understanding Africa, equipped me with the ability to be able to understand the points by which I could join the two cultures through the music.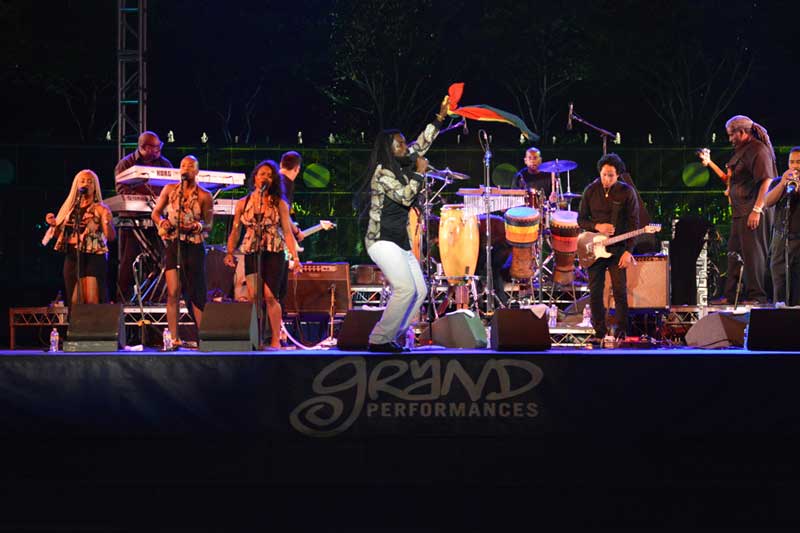 Now was it at that point that you can truly focus on reggae and make that the center of it?
Reggae was kind of the beginning just because I was really attracted to it, and I wanted the music to have a voice. I wanted the music to impact people, and be meaningful. Reggae was doing that. And at the same time too, although I was playing reggae, I was also very into Afrobeat. That was also a genre and a style that was really focusing on the same issues. The music of Fela Kuti, you know. So the reggae started it off. My first two albums were very heavily reggae. But at some point, people started seeing all the influences that I was made up of. It all started showing up in the music: reggae, Afrobeat, highlife, soul, hip-hop. I wanted to bring in all the kinds of music I was exposed to, and do it in a holistic way that made sense, also a simple way. So it was a process of evolution in terms of the records and the music. And I think Branches of the Same Tree really represents to some extent the fruition, the fruits that came from that long process of evolution.
It's a strong record, and we're going to go there next. But first I want to ask you about the activism you've been involved in, working with the U.N. and other organizations. It sounds like that vision was put in your head in part by your brother at that early point. Is that right? If not, how did that happen?
Well, that was the intention from the beginning. That's what led me to reggae music. I was a musician from my heart and soul, but then I also wanted the music to be meaningful. At the same time too, I had a problem when artists talk about big concepts of, let's say, changing the world, impacting people, and then once they step off the stage, it's something different. I wanted more. I wanted to see how I could leverage music to really make a direct impact on lives. So the best way to do that was to connect with organizations that were already doing that kind of work. That really gave me a way to engage the mechanisms of changing consciousness and bringing change.
That kind of drove me. I always wanted to do things that were tangible, so from the outset, my concerts were dedicated to big issues in Ghana. The Ghana AIDS Commission approached me and said, "Rocky, we feel that you are the best person to help us do an advocacy on AIDS and bring that to people." So that was a big thing during the time when AIDS was really, really strong in our community.
And people didn't understand the disease transmission. They needed education.
Exactly. So I was involved in that. I was also involved in girl-child education initiatives. I was involved in clean water stuff with UNICEF. So all this started without me seeking it. People were coming to me, in Ghana. The word started spreading in so many circles of government around the world, and then I was invited to work with Project Red, which was launched by Bono. We worked alongside the U.N. Global Fund. So the third big grant that was given for AIDS vaccinations, I actually traveled with Elle Macpherson to Ghana to go announce that program. And then a few years later, I was invited by the United Nations foundation when they launched the Global Alliance for Clean Cook Stoves. They brought Julia Roberts and José Andres as ambassadors. They approached me to be an ambassador as well. So that brought me into the U.N. family, and since then, I have collaborated on climate change initiatives with the secretary general. I also collaborated with a number of world leaders on various issues that were of common interest.
I feel that an artist's perspective is different, because a lot of times politicians are tied by the hand that brings them over there. But I am not ruled by anything. I'm just an artist. I had to claw my way up, in terms of having my own platform. So I bring a certain freedom of engagement when it comes to issues, and if the issues really resonate with me deeply, in my heart, I can communicate in a way that is honest and true. So that is what has really made these kinds of partnerships very, very impactful, and it's been growing in stature. I'm showing that artists can make a difference in people's lives, both on the stage by inspiring them, and on the ground by doing the work too, shining the light on issues.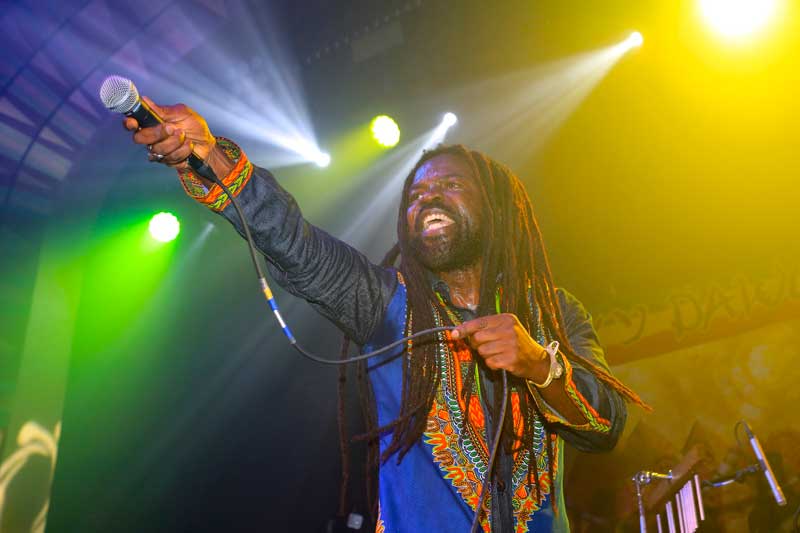 Photo by Myra Vides.
And just to bring us up to date, what are you doing in New York with this particular U.N. gathering in 2015?
Well, it's a very important time in the history of the U.N., and also in the course of human history generally. This week, the United Nations and all the leaders of the world signed sustainable development goals, which are meant to change the world and arrest the spread of poverty and inequality, and also to address climate change. It was so important that the Pope also came to be part of the conversation, really pushing the moral dimension of what leadership should be. Leadership is service. You have to be there for the people. That's why you are there. So this week in New York is so incredibly important.
I was invited by a combination of 2,000 organizations, non-government organizations who came under the banner of Action 2015. They, in liaison with the office of the Secretary General, organized an event called Under One Sky. So Under One Sky was to bring people from all walks of life—interfaith people, citizens of the world—to make a powerful global event on the eve of the presidents' meeting, to let them know that the people of the world want them to step up to the plate and overcome all their political inclinations, and think about humanity.
So this was first of all a political statement, and at the same time a spiritual statement, and really a bold statement by the people of the world. So Under One Sky happened in over 100 countries, and the culmination of it was on the doorstep of the U.N., in U.N. Plaza. I was brought here to sing my new song, "Shine A Light" as part of this. We had luminaries like Graça Machel, the wife of Nelson Mandela; Amina Mohammed, the under secretary for the U.N. We also had Archbishop Cardinal Turkson, one of the top officials of the Vatican. He came with the Pope. There were thousands and thousands of people who gathered there for the event, and my song "Shine A Light" was there. The whole crowd ended up singing the song, because it really defines the intention of people—that we all have to be able to shine a light and show our greater self in order to rise beyond the challenges of the time.
Wow. That must have been quite an experience for you.
It was. And you know, last night, they set up a meeting with me and Bono. He was here for just an hour. So he and I and the secretary general met and had a conversation. And we also met Malala Yusef [the Pakistani womens' rights activist] last night. The global goals cover everything from poverty, to inequality, to the environment and the oceans, to women's issues–you know–everything to collectively improve societies and lead to transformation in the lives of ordinary people. We need to help these leaders. Because true leadership is service. So when I think of that, then all of us have to help them serve better. The mechanisms of change need to start with entrepreneurship at the lowest level, at the bottom of the pyramid. We need to help women and people who live in deprived areas to be able to start initiatives that will help them handle what is coming into their environment. We need to work at the level of micro-economies.
Although I talk about spiritual issues, I am also very practical. I know that these initiatives empower people. So collaborating with the leaders, and also pushing the moral dimension of what their responsibilities are, and offering to be a messenger to help people know what their responsibility is important to me.
Last night when I met Bono, one of the things that we spoke about was the importance of taking these goals and making them relevant around the world. Bono said, "Yes, and we've got to score the goal." He's Irish, and I'm Ghanaian, so soccer is very important to us. We had a laugh about that. So it's been that kind of a week. Connecting with very amazing people and luminaries who are doing incredible work. And all of us being able to connect here, and we will go back into our various places and bring that light of change.
For me, in my concerts beyond here, I can inspire my audience and let them know that we are in a time where people have got to be aware of what's going on and how they can be part of change. Because when humanity wins, we all win. When we see that fossil fuels are contributing to the warming of the environment, we know that eventually we are all going to pay the price. We've got to be able to tell the companies involved that it's time to start looking at something else. There are alternatives. There is renewable energy. It is becoming so low in cost that it can totally be scaled up to transform power systems. Then we can leave aside all those fossil fuels that have decimated our world and destroyed waters and land.
But the thing is, condemnation is easy, but to point the path to a solution is very, very important, and difficult. That's why I say we are all going to have to work together to find solutions.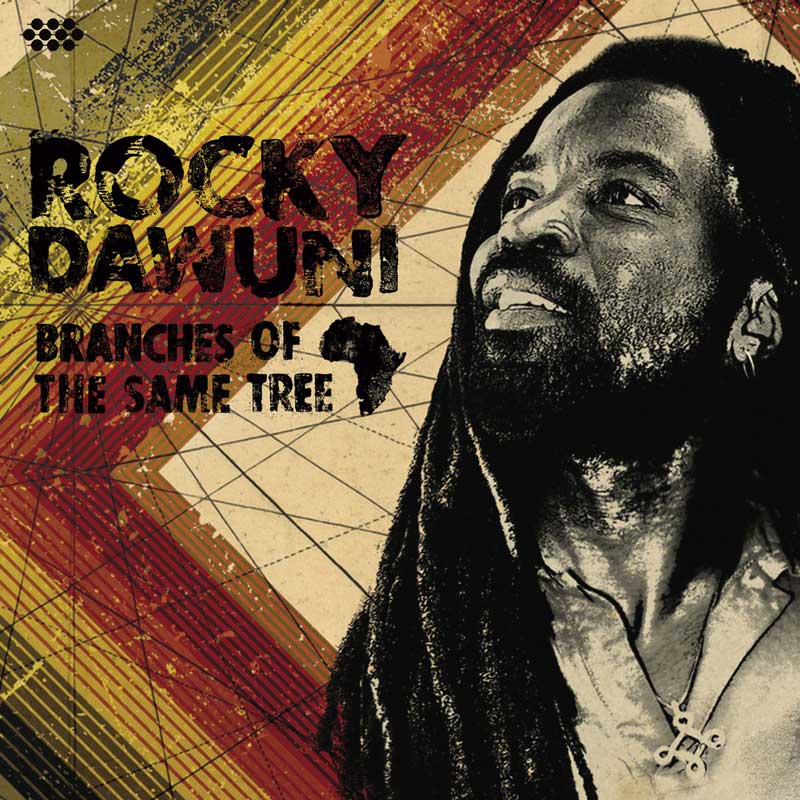 Let's talk about this record, Branches of the Same Tree. Maybe you can start by just giving us your big picture. What were you trying to accomplish with this record?
Well, Branches of the Same Tree represents my musical influences. In my music, the paths come from different places, but they are holistic at the same time. For this album, I was inspired by various influences from highlife music to Brazilian samba, to New Orleans gospel music, soul, reggae… The message was aimed at all of humanity, regardless of how different our cultural dimensions or religious visions are, or what our orientations are. We all share that basic humanity. So this is a message of inclusion, understanding the commonality we all share, the oneness that permeates everything. Hopefully I was able to come to a certain level in painting that picture for my listeners.
We talked about "Shine Your Light." Let's look at a couple of others. How about "Black Star"?
"Black Star" is on the border of hip-hop. There's a little bit of heavy rock in there too, because I was also influenced by the Seattle sound a lot—Pearl Jam, Nirvana, Mother Love Bone. I was really into that period, so those influences subtly show up in the music. Message-wise, this song was meant to represent an African renaissance, the reawakening of Africa, but not only for the sake of Africa, also for us. I feel that young Africans right now need inspiration to recognize what their personal power is in the world we are trying to create. I want them to feel they have a responsibility in the process. So "Black Star" is a song of uplift. It's a song of recognition of the point of history that we are. It's also building on ideas from people like Marcus Garvey. It's important that we are actually in Harlem now, because historically it really resonates. Marcus Garvey, one of the things that he was talking about was the unification of black people.
Right now when you go to Ghana, there is so much division, both ethnic and political. Politics has made things much worse. Our president is in town right now, and I have met Ghanaians who say, "I'm not going there because he's an NCP president." And I'm like, "He's the president of Ghana. He is beyond party. You can't hold onto that." But people do hold onto that. There need to be a means by which we can all celebrate who we are, and at the same time become better at engaging everybody else and representing ourselves in a better way.
So it's a song of empowerment. The vision is towards Africa, but also towards anybody who loves Africa. We talk about Africa, but I don't believe that Africa is only black people. Africa is the roots. It's the roots of all humankind.
Amen. That's our message at Afropop as well. We're down with that!
It's about everybody. I have met so many people who work on behalf of Africa who are of different races—some who haven't even been there. But all these people are connected to Africa. If you love the Motherland, we are all black stars.
So the song in some way refers to Marcus Garvey and the Black Star Line. The whole Back to Africa movement is kind of implicit in this.
Yes, yes, there is a foundation of that. But now we live in a world where people move back and forth. You can get to any place around the continent within eight hours. You have the ability to explore other places, but don't lose the importance of recognizing that Africa needs to be strengthened. Economically, the powers that have dealt with Africa need to know that they have to evolve into an era of partnership where they deal fairly with African governments and help to grow their economies for the betterment of everybody.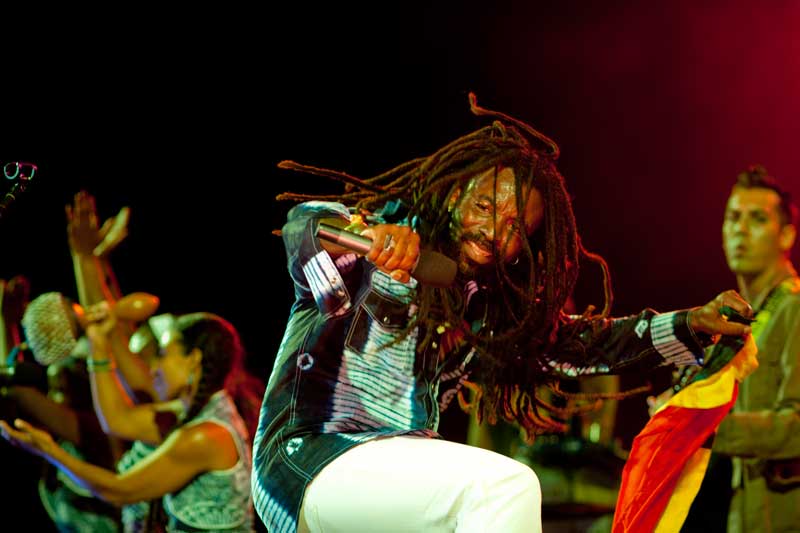 Great. How about the song "African Thriller." That's a very nice video for that one, by the way.
"African Thriller" is a celebration song. No matter who you are, no matter what line you come from, we can all rise above our everyday dealings and celebrate who we are. In the video, we use the metaphor of the ring. You jump into the ring. People think of the ring as a place of confrontation. But in the video it becomes a means of expression. You jump in there and you dance. It doesn't mean someone wins and someone loses. It's how much you can let go and express yourself. It's about being able to see the beauty in this beautiful life we are all given, and to recognize that these moments are precious. We should celebrate more. In light of recent stories about Ebola and all that, it shows the resilience of Africa. Africa is really a happy place. People love music, people love community, people love to embrace visitors and strangers and all that. That's what African culture is ultimately about.
Nice. Then we have "Children of Abraham." It's interesting to hear that you had this early formative experience during the Israeli-Palestinian conflict in the 1970s. Obviously it's still a concern.
This song was inspired by the trip that I took there recently. I toured Israel with an Israeli star, Moshe Ben Ari. I had the opportunity to go to Shabbat, to pray at the wall, pray in a mosque, pray at the Church of the Holy Sepulcher. Being in Galilee really let me deeply experience my spiritual foundations. My spiritual foundations all come from the Abrahamic foundation. The major religions, Christianity, Islam and Judaism all come from this foundation. But we've seen that in the modern world, instead of this being a means by which we celebrate each other and acknowledge that commonality, it is actually being distorted. Once you leave the epicenter, people are more divided by religion. There are so many forms of oppression being perpetuated under the banner of religion. So "Children of Abraham" is really a song to make an appeal to all of us that we have to look at the foundation.
And remember that were branches of the same tree.
Yes, branches of the same tree. We are all Father Abraham's children. It's something to be celebrated, not something to be driven by fear and war and bloodshed. This is a song appealing for peace: let's step back from the brink, and recognize what is real and important, that we are all coming from the same roots.
And then you have this love song to Nairobi, "Nairobi, I Love You." That's also been a great video. Did you shoot that in Nairobi?
Yes, I did.
I've never been there.
Oh, it's a fantastic place. I was invited actually before the elections, to come and help in the peace-building process there. The Red Cross brought me there, because the previous election had been marred by tribal attacks. Everyone feared it was going to implode. So I went there to work with musicians and try to hold a peace campaign right before the election. I went to Kibera, the ignition point for the last unrest. I met people. I traveled to radio stations, played a concert. I remember when I was traveling into Nairobi at that time, people were leaving the country. They were fleeing at the airport, and I was going in. But you know, I felt that the problem of Kenya is an African problem, and so Africans from all walks of life needed to stand with Kenyans to work through that. I felt that as a musician too, I had to make a song that was inspired by something all Kenyans held with pride, a common vision, a common goal. This is more important than all the political divisions and ethnic divisions. So "Nairobi, I Love You" was to point to all the beauties of that country, and the beauty of being Kenyan, and the beauty of what we all look at celebrating each other. It serves as a salve in the wounds that have been created by all the tribal divisions. So this was a song of empowerment, common vision, coming together. It's about shaking off the tragedies of the past and also focusing on the victories that lie ahead in the future. So, Nairobi, I love you.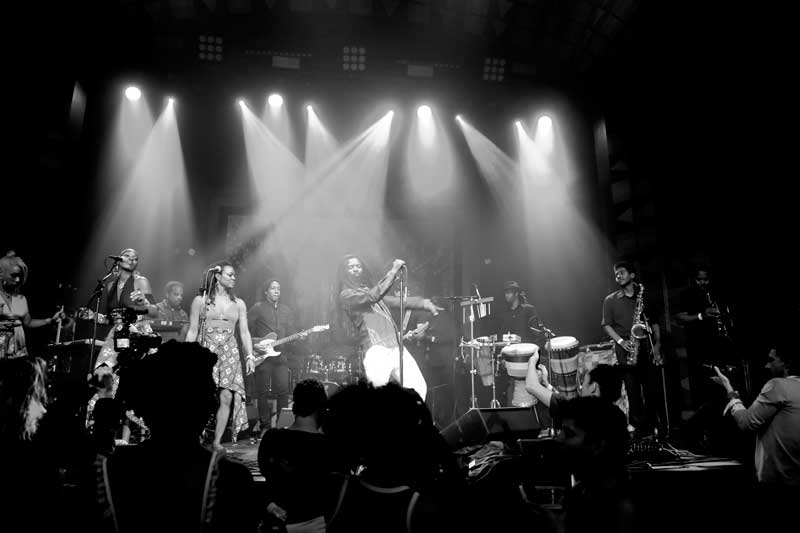 Photo by Myra Vides.
Well, you made me want to go there. Any other songs here you particularly want to draw attention to?
I think the whole album has a united message. It reflects so many social intricacies that are inspired by real situations, and real movements of social forces. All that was crystallized in this record, and it comes across in a very melodic way. It's uplifting and soothing, so I give thanks. Because a lot of times I feel that we're all basically channels for the bigger voice. So I give thanks for the opportunity to be able to articulate that musical vision for that record. Every song is for me key, even the love songs like "Island Girl" and also "Rock Your Soul" you know, just to celebrate love.
The song "Butterfly."
"Butterfly." Because love is such a beautiful thing. When you're in love, it's just happiness. The purity of it. So out of all that we are doing, all of the human situations and the problems it were talking about, ultimately the most important thing is happiness, all of us being able to sit together and hug each other and know that you are my brother. I'm not looking at the color of your skin or your ethnicity. I'm not looking at where you come from. It's not based on any judgment. It's based on that pure love that we share as one part of this human family.
Now I've missed your live show the last few times. One of these days that will be rectified. But while I have you here, I want to hear about your band.
My band is really an amazing group of people. I've been fortunate to play with so many incredible musicians. And because I am bi-continental, I have a group of musicians in Ghana, and in the U.S. In Ghana, I have everybody from Osei Tuto who has worked on all of Ebo Taylor's records. He's a very big musical visionary in Ghana. I worked with him in Ghana. And also in Los Angeles, my musicians have all been part of Ben Harper's Innocent Criminals. My drummer and my keyboardists were part of the original lineup of that band.
These are Americans.
They are Americans, so I have the African and the American side. And I bring it all together. It's part of creating that conversation and connecting the diaspora with the Motherland, so I do it even in terms of the musicians I use, their cultural experience, because I think the authenticity of that will permeate in the music. I share some musicians with Ziggy Marley too. And the drummer played on the record is Michael Franti's drummer. So it's a family affair.
Well, Rocky, I think it's remarkable the way you've been able to integrate the music and the message and all these worthy activities. You're really in the fray. Music has to be part of change and you're living it. It's a beautiful thing.
Music is the purest language, because it judges not. Once you can feel the groove, and you have your own move, you can just move, and nobody judges you by the way you're feeling the music. Music is personal. It's liberating. At the same time too, it glues all of us together, because when you're all moving to the same beat, and all in the same harmony and you sing together, it's timeless. The experience transcends time and space. Look at all the big movements from the '60s and so on—they were all driven by musical soundtracks. People hold marches. They hold hands and sing. It is part of who we are. I am blessed that God has given me this ability, and now, I'm lucky to be able to use that purposefully and focus on the betterment of all of us.
Thanks, Rocky. Great talking with you.
For more on reggae's history in Ghana, see the feature "Best of The Beat on Afropop: Reggae in Africa, Part One."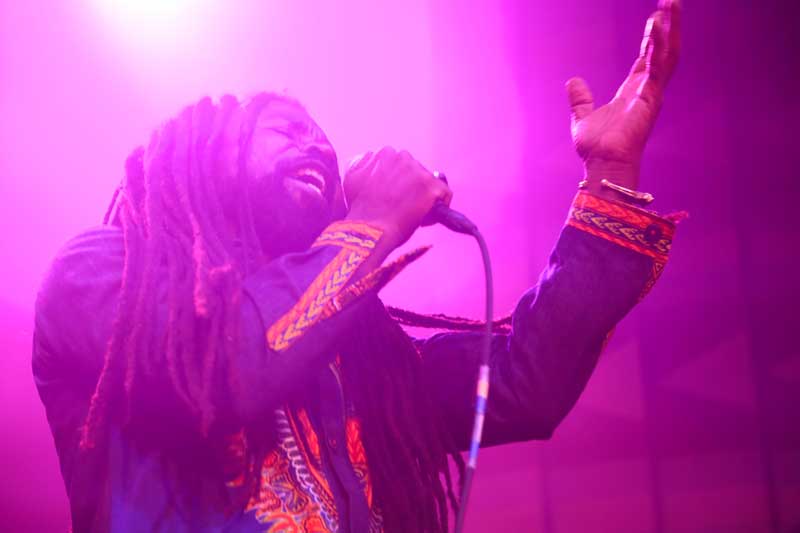 Photo by Myra Vides.