Interview: At Home With Kees from Kes the Band
Soca is music of motion, of dancing, of Carnival parades, and Kes the Band has been on the move. The Trinidadian group was racking up accolades, taking the title of International Soca Monarch in 2011 and the Road March title at Carnival 2020 in the course of a rigorous touring schedule. Of course, Trinidad's Carnival was the only celebration this year, as festivities—and Kes's travels—came to a halt in early 2020.
But after sitting, stunned, for a bit, the band found its bearings. They've been writing and have recorded their first live album, which almost seems overdue since they're a soca band that's built for live performance. Coming out Aug. 28, Kes We Home, revisits their hits like "Hello" and "Magic" and even features a new track.
Afropop's Ben Richmond caught up with Kees, the band's lead singer, via a video call to talk about how the band has been spending its time, how albums can mark artistic eras, and how calypso and soca remain vital channels of expression today.
Ben Richmond: First off do you want to introduce yourself to the Afropop crowd?
Kees: Yes, I am Kees, lead singer of Kes the Band. I'm from Trinidad and Tobago, in the southern Caribbean. Yeah man, we represent the music of the Caribbean—soca music, calypso music, a bit of dancehall, a bit of reggae, and then a mix of everything else.
You're in Trinidad right now? How are things there?
You know everywhere is different but I have to say I'm very happy to be at home. Being on the island, in comparison with being in a city would be two different things. So it's good to be stuck at home with the ones, and it's been manageable in Trinidad but every week it's a different story and different threat, so we really just taking it day to day here.
Have you noticed a lack of tourists that would normally be there over the summer? Or is summer a slower season?
No one's really come in and out unless they quarantine so this is a serious change. Trinidad however is accustomed to an influx of tourists during Carnival season, the pre-Lenten celebration, so it's usually in January or February—it changes according to the church. That's when we get a lot of tourists, so that happens next year. Of all the carnivals around the world, we are the first one to have it for the year, so we were the only carnival this year, everything else got canceled.
At least they got in one that counts! So you have a new LP coming out?
That's right, that's right! Kes We Home. It's really a dedication to a live feel and live aspects of our band and genre. What we've realized over the time, is that live interaction—that place where you, the performer, meets the person in the crowd, the fan, the person who loves the music—is such a real place. Especially when you don't have it now, you miss it so much; it's such an important core part of music. So we wanted to dedicate an album to our live feel for fans and for new fans, new people coming on, people who don't understand the feel of soca or what calypso is, or where we're from. You can get a good feel.
People can relate to a drummer, a guitar and a bassist, you know? From anywhere around the world you can relate, so it's really cool to interpret the music live, because we're a producer-based industry, a lot of it is producer-artists. We're a band, we're a touring band, we're a celebrated band, so we said we need to capture ourselves: soca in 2020. Kes the Band 2020, live. It was great, a therapeutic sort of experience.
When did you record it?
We did it last month actually, so it was when things eased up a bit, because things were tight during the quarantine. When it eased it up a bit, we headed straight to the studio and got them down. It's something that you think is going to be easy, because you've performed nearly every weekend of the year all around the world, but it's something else, recording. It's a whole different aspect. Getting into the studio and working out the kinks and getting our heads together it kind of brings back that band camaraderie that you have on the road. So it was all good from beginning to finish.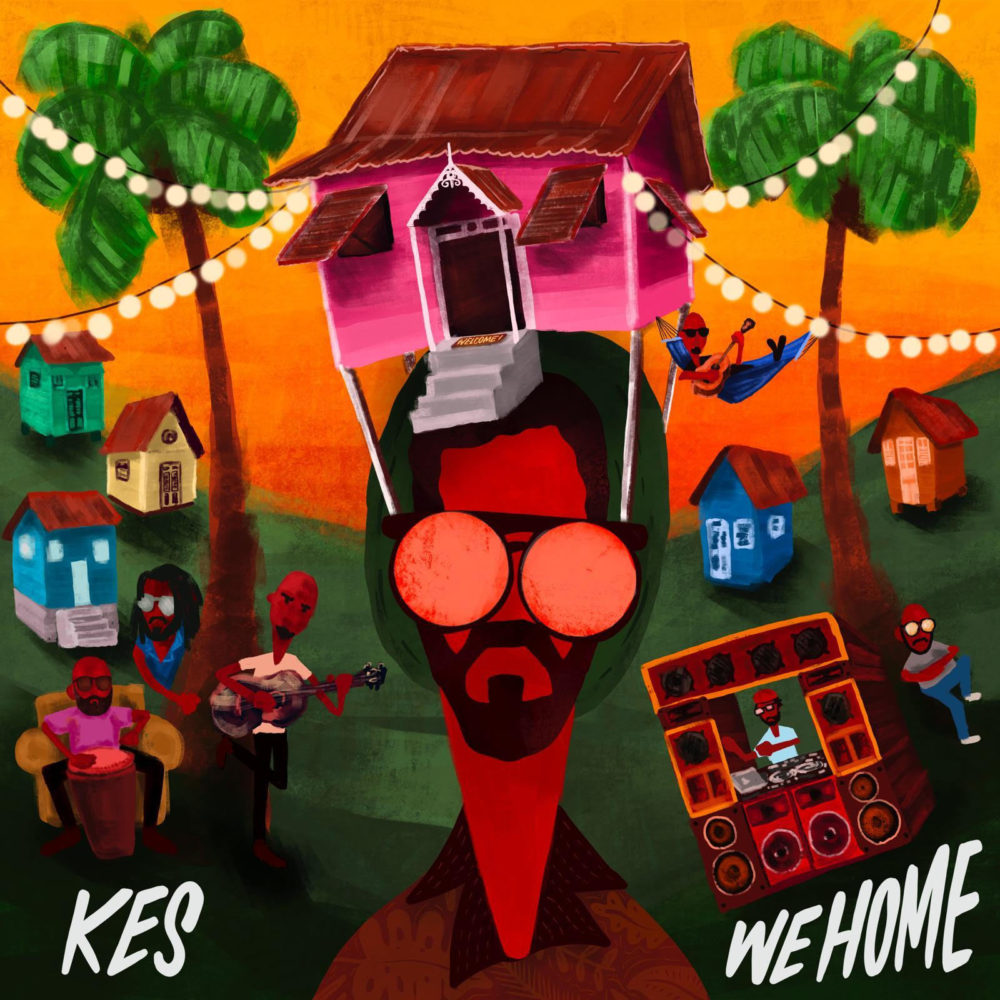 This is actually our sixth full-length, but we were only releasing singles for a few years, because I believe an album is a body of work that sort of represents something and I think that this time is so representative of so many things. That this is our sixth LP, but our first live album.
How's your approach to a full-length differ from when you're making a single like "Stage Gone Bad"?
It's still, I think, a body of work that you have to think of in terms of beginning, middle and end. There's always going to be those one-off songs and collabs that you do here and there, and they may not be the entire picture, but you have to organize yourself as the artist and know what I want to say, what does body of work represent. With this one I really felt it really fit something for me. We've never done a live album before and it's sort of our greatest hits with one new song on it, and it just feels like, they say, this moment is the sum of every moment and it just feels like this represents us now and who we are, so I feel great about putting all these pieces together this way.

I'm working on another album actually after this, because it's wrapped in my mind. We're just rolling it out now. But there's another body of work coming and that again is going to be a differently approach— album and body of work. I thought of it as every year, your stimulus changes as an artist. You grow as an artist and change and so what you're into and what you're inclined to make, it's going to be different every year. I probably could've released an album every year before. But this was the first time to really put it together.
You've had so much recent success at the Soca Monarch competition and the Road March title. Has that changed or weighed on your approach at all, or can you put that out of your head?
To be honest, for the past few years that's never been the focus of us, to win Soca Monarch or Road March, honestly. It came and it spoke for the body of work that we did and how we put it out it just happened that way, and I'm very grateful for it, but it's never been a defining thing for us. We sort of started out as a bit of the outcasts, sort of misunderstood, so I think we've always been trying to think of what''s next and what's the next evolution of who we are without holding on to accolades of any kind. Its different and it's cool. I enjoyed myself this Carnival. For a lot of artists it's a lot of stress, and it was at some point for some years but for me, now, it's such a glide and such a joy to do what we do, have fun, you know? It's the best job in the world, I can't lie. So I enjoyed it and it was such a good experience and I give thanks for it, but it's not everything.
I guess there's two ways that could go: you could feel like, "Oh the pressure is off, because we've proven ourselves in this way, and now we can focus on what we want to do" or it's like "Now we have to top that?!"
You know I think some things come to you when you're over it and I think all of those things came to us when we were ready and onto the next, because it's really about making that timeless music and that song that you can listen to, and any generation could listen to and everyone around the world could feel. You may not be able to understand the words but you can feel the energy of it. And I think concentrating on doing that and on our own show—there's something we do every year called "Tuesday on the Rocks" and we're not only a soca band, we're known for touching reggae and dancehall and soul and Afrobeats—a few different things—that's a space that we've made in Carnival to really showcase our entire side, not just the soca side. So with that, I think the songs come and the wins come but having that focus really did change things for me.
Can you talk a little about your and soca music's connection to the continent? Have you all performed in Africa yet?
One of my first recordings ever played on the air was played in Nairobi, Kenya—we were young! My sister was studying telecommunications and she was living in Kenya and we were kids and had a punk-rock band and we were jamming and recorded it and she played it on the radio.
But we've never been to Africa. Our music plays—I get calls from different areas—but I think now is the time for us to return to Africa, because it did come from Africa.
Calypso came to Trinidad from Africa and it definitely developed its own feel because of the island and the Indian influence came in. So Africa and India and the melodies of the world, basically, we've combined it to create soca. And soca has a relationship with calypso just like dancehall does to reggae. Soca is the young energy and became that force between African beats and Indian beats and popular music. All of that combined, it's sweet like syrup, it's so accessible and fun, you feel it. And that's the mixture.
But I believe, too, that the African continent and the Caribbean have constantly been cross pollinating over the years. It all came from Africa, over to the Caribbean and the Caribbean puts in its own flavors and it goes back to Africa and then from Africa it comes back to the Caribbean, and they're influenced by each other.
So I think it's time for us to combine. We have a riddim culture in the Caribbean and for those that don't know, different artists singing the same piece of music. I'd love to see an African soca act, a dancehall act, a reggaeton act, all together on one piece of music or tour or festival. Because we are the rhythm of the world, we make the worldwide all of us together. So that's my vision for really combining with Africa and creating a united front of the world of rhythm and everywhere we've reached. We're the rhythm of the world! So we should combine!
And also in pop music in the U.S., over the last few years, the Caribbean influence that has always been there is now up front!
It's everywhere! The reality is that there's a lot of talk about genres being recognized and soca still has to be recognized on other platforms like Spotify and Apple music. They have soca playlists but you still can't register your songs under a soca category, which is to me, outdated and they need to update their categories, especially now when streams matter. Our listeners are on your platform, but we can't build a genre or file any of our soca hits or dancehall. So there's a lot of things that need to be done. But we can't wait for that. We have to organize things for ourselves and recognize each other. It's a big thing, you know?
Is your band still comprised of some of your family as well?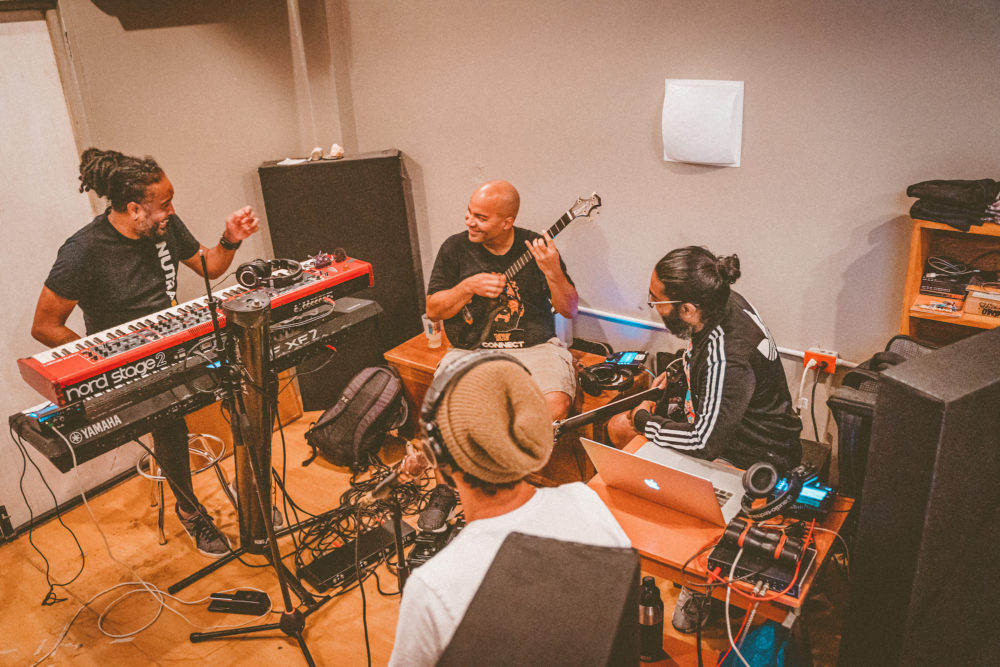 That's right! My big brother, my big bro, plays guitars and the family vibe is who we are, so everybody is brothers; it's really a gang of brothers. You know, if anybody touch anybody.... But we are, we are. But we push each other, and it's great.
There's something about touring with your family, you're never away from home. You're always looking over your shoulder and saying "You seeing this, bro?"
I know everything's on hold on the moment, but are you making plans to tour in the distant future? You have some local live shows?
Not quite yet. We have a live show we're going to be broadcasting as well, I think things are still iffy with respect to playing live, but I think what's going to be next for me on the agenda is a local tour, like something at home here. Because we can't really move and go anywhere, I haven't been home for the last few years because of travel. We've been doing so many great things but I haven't had time to be home. So doing something at home to me is important. If you can't be out there, it's enough to touch the communities who have never seen us live ever. So that's gotta happen someway in some place. And activate home!
Is this giving you more time to write songs?
I'm not gonna lie, the first few months I was in shock and couldn't write anything—there was no inspiration, just mush. But now, as things have settled within myself, yes, creativity has started to turn to a new realm of "Wow, what's next? What do we have?" Because art is a reflection of life, so you need to look around, take a pause and see, "Wow, what's up now?" "What to write about?" How do I relate to this? And this has unplugged a lot of stuff as I was thinking "what's next ,what's next?" and this has been like therapy.
At first glance, in America, when we think calypso, we think of the Harry Belafonte songs from the '50s that you learn as a kid, but the more you get into it, you realize there's always been a social critique part of it—in Mighty Sparrow songs and of course Harry's work too.
Definitely and it's because of calypso, you could sing what you couldn't say, and so calypso was a place to get the true story, not the one that was written in the paper and you know, it still serves as that. Even "Stage Gone Bad," our Road March hit, was about the state of the Road March competition, about how it was a little iffy, you know what I mean? So that song really kind of dealt with that, but in such a fun way. Carnival is a revolution, started from a revolution and that turned into a celebration so there's always those undertones of "Maybe I can't say what I want, but I'll say it at Carnival!"
One more time, so everyone knows, what's the name of that album coming out?
Yes, it's Kes We Home! It's out Friday, Aug. 28 and we're going to be releasing one single off it every Friday until then. And we'll be having a live broadcast too on Aug. 31 for people who don't know calypso or soca to say "Welcome to the party!"