Max Glazer is an undeniable enduring presence at the crossroads of dancehall and New York City. Attend any one of the city's many popular dancehall parties, and chances are that Glazer has a hand in it. Chances are also that he will likely make an appearance behind the boards at some point in the night. In addition, Glazer hosts numerous shows on RadioLily.com and is co-founder of Federation Sound. And if that's not enough, he's constantly doing DJ gigs outside of his own events and seems to be in Jamaica every couple of months. He also probably has Mavado and Rihanna's digits in his iPhone.
Yet, despite the busy, high-profile status in the NYC dancehall world, Glazer keeps it relatively low-key. Try finding information about him on the Internet and you come up with relatively little info about the DJ and producer. When I finally tracked down Glazer at a super secret location in Brooklyn, Glazer was friendly, talkative and careful to remain respectful of everyone he mentioned discussing his background as a DJ and the NYC dancehall scene for the radio program Jamaica in New York City. Here's our conversation, covering the numerous insights that Glazer has on the last twenty plus years of dancehall in New York City, it's relation to hip-hop and the current state of the music industry.
Saxon Baird: Tell me a little background about your beginnings as a DJ?
Max Glazer: I been DJing for probably 22 years at this point. I started out playing a little bit of everything– back in those days there was less quantity of everything. I grew up in upstate New York, and used to come down into the city to buy records at places like Rock n' Soul and Downtown Records. All of those places had a big hip-hop section, big house music section –you know like contemporary house music at the time –and a section of classics, and a section of reggae. There was a lot more interaction between all the different kinds of music at the time because there wasn't so much of every kind of music. In like 1990, you wouldn't be able to just throw a rap party. Rather, a lot of the parties that I started going to, I was listening to DJs that played a little bit of everything. Even guys like Stretch Armstrong who I really got up on through his WKCR radio show which was straight hip-hop. If you went to go hear Stretch in a club downtown, he'd always play a reggae set and it'd always get a huge response.
When did you start DJing?
I started DJing upstate before I came down to NYC –I probably have a flyer somewhere of something I did in a community center. But even then, I was going to school, kind of working a little bit and would DJ for fun. I think the first year I moved down here, I did my first party at a place called the Island Lounge on Bowery which is no longer there. But one of the reasons we went there is because that was one of the places Stretch Armstrong did a party that was very heavily reggae. It was kind of like a Caribbean-Jamaican spot. So the gig was me and my roommate at the time Roz, and also DJ Spooky. In other words, an amazing team of people for the first party I ever did in New York. And the flyer was hand drawn by Roz with a picture of Judge Dread smoking a spliff. I think we outnumbered the people that even showed up to the party. That was probably late '92 or early '93.
When you first started doing stuff in New York City, you were doing dancehall and reggae?
I was doing everything. A lot of hip-hop. Sort of equal parts. Probably more hip-hop and house, and a little bit of reggae. I always liked reggae but it wasn't specifically reggae. At that time I was by no means playing 100% reggae. It was definitely all over the place.
In the '90s there was a lot of stuff going on as far as dancehall. You've produced for a lot of Jamaican artists.
That comes way later, though. At that time I was not DJing full time, it was very much a hobby. I started working at record stores which lead me more and more to DJing. Back then the big DJs doing the dancehall-hip-hop thing was Bobby Konders on the radio, Pat McKay, David Levy, Red Alert, Hot 97. Red Alert was only on on Fridays and Saturdays and one of those days there was a 22-minute reggae segment every time. Hip-hop shows usually brought that in. Then on Sundays both on KISS and BLS, the two main urban stations, there was a reggae show and I don't remember who was where but it was various combinations of these DJs.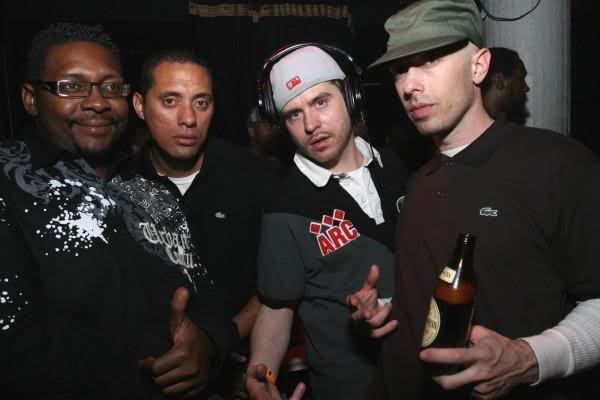 So I was listening to all that and then there was like a New York-hip-hop-reggae meeting of the minds with some of the stuff that Bobby Konders was doing with a record that he put out called Bobby Konders and Massive Sounds. It had Mikey Jarrett "Mack Daddy" on it which was basically over a hip-hop breakbeat. In those days a lot of Bobby Konders' stuff was done by Salaam Remi who, at the time, I think was somewhere between 16 and 19 years old... like a really really young kid. And it was Salaam that worked with Bobby also on Super Cat's "Ghetto Red Hot." And "Ghetto Red Hot" is probably the record that made everything meet more than anything.
There was like a very clear intersection going on between Shaggy records and like Screechy Dan who was doing records with Kenny Dope and Todd Terry, which was another big one. "Don Dada" by Super Cat was on Rap City because of his major label deal. So those things are what definitely got me, and I think a lot of people in a similar time frame as me, more heavily into reggae.
http://www.youtube.com/watch?v=C6Pfx_r0aeA
When did you start producing when it came to dancehall and reggae?
We started Federation Sound in 1999. When it started, it was myself, Kenny Meez, and Cipha Sounds from Hot 97. Cipha went his own way because he was doing Hot 97 and the radio full time, but he is still a part of the family. And to this day, it is still myself, Kenny Meez and Alric & Boyd, who are based in Jamaica and have been on Fame FM for years.
In '99 we came together, used the name Federation and started doing more and more reggae stuff from there. And for me and Kenny as well, the percentage of reggae increased steadily and the percentage of everything else decreased. At that time I was primarily known for doing hip-hop events and my manager at the time used to get me to do all of Diddy's events, album release parties, just sort of big name downtown type of stuff. In that era, everything was switching from big dance floor clubs to bottle service, promoters and hosts. And I really didn't love all of that stuff and was just getting more into reggae because it was way more interesting to me. There was way more to discover as opposed to like... you knew every rap record that was coming out for like some months in advance and every artist, etc.
Whereas with the reggae stuff there was definitely a lot to discover. As you've seen when you go down to Jamaica: you can be there and hear something one day that nobody has ever heard before and the next week it's the biggest song in all of Jamaica, which is kind of an interesting phenomenon. Whereas with hip-hop and everything else, it's past that point where it can't really happen that way anymore with hip-hop. There's a longer process and a longer system.
So from '99 and up maybe to the mid 2000s, I was DJing with Rihanna on tour for 3 years. I was doing mostly reggae stuff before that but then I had this 3-year span where I wasn't doing clubs at all because I was on tour. Then by the time I got back from all of that stuff, I definitely had no interest in anything but dancehall. I just realized that this is what I enjoy doing and I've been doing it for a longer time. It's too much to be like out till 5 or 6 in the morning playing and researching music if I don't really really love it, you know?
It's interesting because when Federation Sound came to be in '99, it's not long after the time when the big labels kind of started dropping the New York dancehall guys like Red Foxx, Screechy, etc. And also that's when the reggae record stores started disappearing in the Brooklyn area. So was it that you saw this happening and consciously wanted to fill a void or was it just something you loved?
Not filling a void, but just wanting to pursue stuff that I was really interested in. And through doing it, I was able to go to Jamaica and just meet people and be able to work on stuff that we found really interesting. At that point, the era of major labels wanting to sign dancehall artists had definitely passed. All of that stuff had quietly went away and there was none of it until Sean Paul came around and became what was really the next dancehall artist to end up on a major label. But the whole climate of everything had changed and that didn't open up as many doors as people would have liked. Not that Sean didn't try but it didn't really set off a next wave of what we had seen in the very late '80s and early '90s. It was more of an isolated thing. But yeah, it was definitely not done with the intention of filling a void, but just doing what we like doing and that's kind of what it has always been.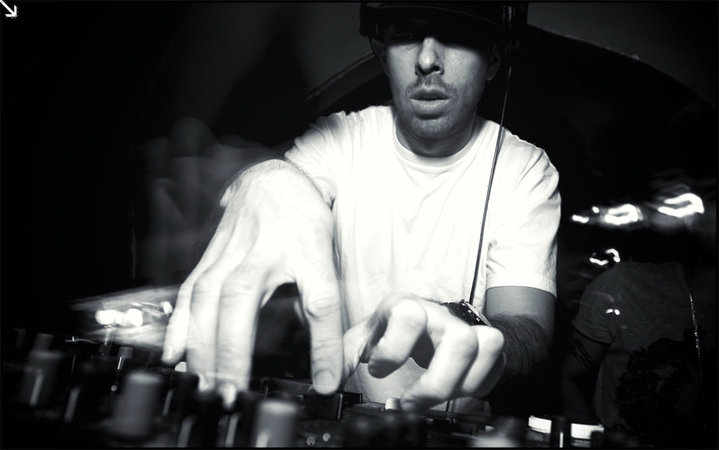 When did you really start going to Jamaica and hooking up with artists?
Kenny and I took our first trip down there probably around 2001. I'm based here in NY and Kenny is based in Philly and for reggae artists coming up here, there wasn't a ton of people outside the dancehall community reaching out to them. So I guess people kind of felt that we were because I always had one foot in the hip-hop world and because we always had Cipha on the team officially. And remember, there wasn't a ton on the Internet, yet. So I think people kind of gravitated towards us and we ended up, either through reaching out or dancehall artists reached out or through someone connecting us, really seeing a genuine interest there.
The way Kenny and I got more into reggae and the way Federation started was based around the decision to not throw it in their faces –not everybody is going to be ready for it, but sort of like make it a natural progression. You know, putting it in places in a way where maybe a million more people won't hear it, but maybe ten would. And if those ten people developed the same affinity for dancehall as we did, then that's sort of a start.
What role did living in New York City play in your development of Federation and yourself as a DJ?
At the time [90s, early 2000s], it was definitely more important to to be where the thing was happening. Pre-Internet, people were handing you physical records before they switched over to CDs, you know? If you wanna be an actor you got to move to Hollywood. And if you're in the music business -- unless you're like a Hair Metal or a rock band -- you are based in NYC. But now, you can jump on a video conference or sing and audition, do all of those things online. In those times, it wasn't like that and it's also definitely one of the reasons that brought me to New York City to live full time. There was just so much club activity and the DJs were like the best DJs in the world. Now there's a million DJs from everywhere but in those days when it came to hip-hop there was a small handful of DJs and they were all from New York. The only DJs from hip-hop that could get booked anywhere in the world were from New York and it was all the mixtape guys -Doo Wop, Ron G, Master Flex, Mister C - all of that.
So NYC was definitely like a powerful magnetic center for all music but also especially for reggae because there is such a large Jamaican community here and a lot of traffic back and forth from Jamaica. VP Records, while also in Florida, had their main operations up here. London was also very powerful but a lot further. New York is really the next stop in those days but maybe much less so now. In those days when you had a record take off in Jamaica, the next place to go with a huge amount of Jamaicans and your already pre-built-in audience was New York. You'd go to Queens, go to meet with VP about doing some business. There was also Hot 97 which was the urban station that everyone had their dreams getting on. Maybe not even getting in the rotation but just a spin on a mix show even. It's still like that a bit but it was especially true then when there was no Internet radio and no YouTube.
And meeting those people in person was also important, which is the same reason why Kenny and I started going to Jamaica and meeting not only the people we crossed paths with up here but actually meeting and sitting down in someone's studio makes a profound difference. Especially when you sit down and talk to someone as opposed to someone who you've never met before, just handing you a record. So I think it was very important for me to be in New York. Also my father is from Queens, my mother is from Philadelphia. So it's also not like I came from halfway across the world. It was also where the records stores I ended up working at were, and they had everything that I was interested in- hip-hop, reggae, house- all of it, you just really had to be here.
It's interesting that you mention Hot 97 because it remains and was then primarily a hip-hop station. And hip-hop definitely went through a dancehall phase in the late '90s and early 2000s. Do you think Hot 97 and NYC played a role in bridging these two genres?
I think it was unique to NYC. One, New York was such a powerful center of the music business, but also it had this huge Jamaican and Caribbean population. And it didn't happen on radio stations in the midwest and LA, which also had big urban stations but the core market of kids into dancehall was in NY. So in NYC, it kind of just went hand in hand. It wasn't like bringing something totally different to it. The same people that were rocking to Hot97 (and a lot of them came from Brooklyn, Queens and the Bronx) were people that grew up listening to Beres Hammond and Buju Banton and the dancehall that their parents listened to. And maybe they haven't been living here that long or maybe they didn't even have an accent; like Biggie for example - you wouldn't assume Biggie was Jamaican but if you listened to his mother talk it's very clear. So it was just like a natural meeting of it that couldn't really happen anywhere else. I think it happened in London to some degree, maybe. And again, there's a huge West Indian population there, but the point is that in NYC, it was just there and ready and natural. Like when Shyne does the record with Barrington Levy and Foxy does the record with Spragga (Benz). We look at it as in the history of reggae meeting hip-hop but what may get overlooked is that those are also some of the most New York-New York records that you can think of.
http://www.youtube.com/watch?v=ZIY4lWq2pis
I am interested in your perspective on the current rise of producers outside of Jamaica producing for dancehall artists. I mean, you've produced for dancehall artists but there seems to be a rising trend with the likes of Dre Skull, Diplo/Major Lazer, etc.
It's funny because I get asked about it a lot and I think people are maybe expecting me to have negative things to say about it but I am always all for more people hearing reggae and more people getting involved in it. That has kind of been my mission, it's what we've done with Federation all along. So you know, some of the music I like and some of it I don't, but if its being done by someone who is doing it because they are interested in the music, then that's fine. You don't have to be someone who knows every single thing about the music. I certainly don't! I just see it as this: if people are attaching or connecting to dancehall or reggae in any way, then that's good. If somebody, through listening to a Major Lazer album, goes and finds the original of the "Jessica" song they did with Vampire Weekend, and finds that and loves that, then that's cool. Not everyone is going to do that. Tons of those people are just girls standing upside down, shaking their asses. Which is awesome too, though, because that's a huge part of dancehall. And maybe those girls will end up finding some weird Busy Signal song with a video of girls dancing on Youtube, and get into the music through that route. Or maybe someone will get into some Studio One stuff from the '70s because they heard the Snoop Lion record and wanted to find the original song that the first cut on that record flips. Love, hate or be indifferent about that record, if it's putting that stuff in front of ears, and possibly ears that have never heard that sound before, then I think that's always a good thing.
And that's essentially what we try to do. When I produce, I tend to just produce straight dancehall. There are certain records I get and I instantly love them and I basically just try to make something like that. But it's personal. Music is personal. So I am a very aware of that like Madhouse Records, Dave Kelly/Tony Kelly-style dancehall which is the stuff that immediately makes the lightbulb go over my head. But for other people it might be that Studio One, one-drop thing. And on that note, I've always felt that if reggae artists are getting on records that exist outside of that reggae realm, then it's a good thing. Whether I love it or not, that's beside the point. If Busy Signal is on a No Doubt record and that makes a thousand other people go search for other Busy Signal songs, then I support that a thousand percent.
The reason why I ask the question about how you feel about the presence of DJs outside of Jamaica producing for dancehall artist is that I am interested in how that changes the music in Jamaica. However, on the same note, even going back to the rocksteady years, Jamaican artists have always looking and at least partially influenced by American music or pop culture...
Right, it's interesting because it basically all started based off of American music and 45s (7-inch records) that were made to go in jukeboxes because those were being brought down to Jamaica. And when it comes to dancehall, it kind of became its very own thing and was not really pulling that influence like early dancehall. And then what I've learned, and from going to Jamaica and talking with artists and producers down there, is that it started getting more heavily influenced by America again when BET came into the island of Jamaica. There was a long period of time when it wasn't broadcasted on the island but when it came you started to see a lot of influence in rap in dancehall. And it's interesting now because with the Internet, the world has become so small that you can look up anything and listen to it.
So for example Dre Skull comes from dancehall, but also definitely an electronic producer place. But then interestingly, the person that has affected the current sound of dancehall the most is this kid named Adde Instrumentals from Sweden. He's the one who produced the Vybz Kartel song "Summertime" and Popcaan's "Ravin." He had produced a few things for Kartel before, had never met him and was just sending him beats. And there is just a certain swing to "Summertime," which is almost four years old, that is still be replicated in dancehall from Jamaican producers. There's always a ton of other things, but that became a whole lane that definitely made a huge market for that whole feel-good, party-type vibe in dancehall. It's a great song by both Vybz and Popcaan but it's definitely not the traditional dancehall sound and it's that way because it came from someone who is from elsewhere but who grew up on dancehall and was inspired by it. And he just started sending riddims to Kartel without having ever even been to Jamaica, which you can do now. There's also all these forays into dance music, house music, electronic. There's Jamaican music that's going 140 BPM to the extreme.
http://www.youtube.com/watch?v=H7sPsiCLJ30
And then there's Ricky Blaze out of Brooklyn with that super hip dancehall record that he did. I think The Fader called it "trance-hall." But also one that's come directly out of Brooklyn. And on that note, for everything we've talked about, Ricky Blaze is a really interesting part of that puzzle as a contemporary producer out of New York. Outside of dancehall, the first really big thing he produced was Gyptian "Hold Yuh" but prior to that he had produced "Ding Dong's "Bad Man Forward Pull-Up" which was like a worldwide dancehall anthem. So it's interesting that a guy like that from New York who is originally Jamaican and grew up around sound systems and DJing for sound systems, started producing when he was really young. And now he's done records with people like Jim Jones and Nicki Minaj, but he's also produced for Santigold and other stuff in that kind of world. So he's a really interest 2012-2013 version of where dancehall meets the rest of the world in New York.
It's just interesting to me because Ricky Blaze is not the norm in Brooklyn. The dancehall scene really dissipated into the 2000s. And while there are still sound systems and dancehall parties in Brooklyn, there really isn't any artists who are Jamaican-born, New York-raised or New York-born but Jamaican by culture coming out of Brooklyn right now. And it seems thats because hip-hop just took over everything.
There is very little of that scene going on. But if you take it back to old-school hip-hop, guys like Special Ed who had Headz and Dreadz on his first album. And he grew up in Flatbush and is of Jamaican descent. So there's always been those connections but there's also been a huge gap in those connections. Right now, it's interesting because Ricky Blaze sort of connects it to hip-hop but even more so to electronic music and dance music which is kind of the new hip-hop anyway when you are talking about what's on top of the charts. If you take the 10 years when the Billboard Top 100 was totally dominated by hip-hop that is now turning into what you would call "EDM." And interestingly, 15 years ago, Ricky Blaze would have been hip-hop meeting reggae directly, now he's putting out and has put out records on Ultra, which is the number one dance label in the U.S. But he also put a record on Fools Gold. And he also did the Santigold record while him and I just did a remix of this Matt and Kim song. And he's also produced Vybz Kartel "Touch a Button" and Ding Dong's "Badman Pull-up." Point being, what Ricky is doing is almost like this whole new world of music where that Brooklyn--New York--Flatbush-Jamaica-- to the rest of world connection continues.
If we are to believe what the internet is saying this year, dancehall is making a resurgence in hip-hop like Assassin being featured on the new Kanye. Do you think this is a real trend or a narrative that is maybe a bit manufactured?
People using dancehall elements and artists has always been there to a degree. Again, I think it's a great thing that Assassin is on the Kanye album. Especially for me and where I sit in the world, I am happy to see it. Now, I don't know if it will do what people hope or think it will do which is do something like make Assassin the next Sean Paul or something. I don't think those are the steps that are going to unfold. I like to look at things in a much more realistic way where if even just ten new people become aware of Assassin and then go look up his music, I think even that is important. I don't think it's going to be 10 million. Because of the way that music works and the culture of celebrity now, people are fascinated with Kanye and maybe less the content of the music. It doesn't necessarily work this way where if Kanye puts you on a record, then people think you are just as awesome and amazing as Kanye. It's like this idea of the co-sign. At one point in hip-hop, it was the most essential thing but now, I think it's just culturally less relevant because things like... what Kanye's baby looks take precedent. Instead of people being interested in something like what creative roads this person took to get to this level, the celebrity stuff becomes the focus. And I don't think it's the artist's fault, it's just sort of how the world is now.
Take the new Jay-Z album. Less people are doing things that we used to do which is pull out the liner notes to check out the publishing and writing credits. Now, there is not even a record to turn over and look at anymore. And if there was, nobody would be turning it over and be looking at it anyways except you, me and maybe four other people. Instead now, with someone like Jay-Z, the attention goes to something like, "Oh my God, Beyonce rode a bicycle to her show at the Barclay's Center" or whatever. That's where the attention goes now.
So going back to Assassin and your question, I don't think dancehall artists appearing on big name rap albums is going to set off some groundswell of interest. However, it does put it in a place where people who have an ear for it and are interested to hear it.
http://www.youtube.com/watch?v=W0BiK7fBA0Y
Or if there is a groundswell, it's very small and within a niche, set group of media outlets and people.

Yeah, people will definitely write about it. And I think the Assassin feature on the Kanye record got a lot of attention...
Even if he's not credited...

Even if he's not credited. Which actually, if you look at the writing credits, he is credited but you would need to know his real name. But again, it's one of those things where it's Kanye's art. It's his more than anyone's. It's an art project, not necessarily an "album." It's Kanye's art and that's great! Let's hope that Assassin at least gets a great publishing check out of it and even if no one ever listens to an Assassin song because of his feature, I think him getting paid nicely for it is a positive even because what is Assassin going to do? He's going to go do more of what he does. And Assassin is an amazing lyricist and a great dancehall artist. So if him being featured on a Kanye record leads to him getting the financial support to do stuff that makes someone like me like him, then that's a good thing.
I just look at it like that from being around dancehall so long. If there is anything that can be of potential benefit to the dancehall artist or the dancehall fan whose ears hear it? Then that's a good thing.