A Few Words With Vieux Farka Touré
If you've been in the orbit of Afropop for any time you should be well acquainted with Vieux Farka Touré. His father, Ali Farka Touré, is counted with King Sunny Adé, Sir Victor Uwaifo, Franco and Djelimady Tounkara as a luminary in a generation of great African guitar maestros. Vieux Farka is an apple that didn't fall far from the tree, himself an exceptional player whose deft fingers and wide capacity for collaboration have produced several excellent albums and to be sought out by notable guitarists from around the world. Touré is consistently turning out solid, guitar-driven music rooted in the sounds of his birthplace in northern Mali. He's worked across the board with American guitarists like John Scofield and Derek Trucks, Israeli musician Idan Raichel, his father's protégé Afel Bocoum and young kora player Sidiki Diabaté, son of Toumani Diabaté. His recent album, Samba, is yet another production rich with his uniquely warm, dynamic guitar sound. Vieux Farka Touré was in New York recently for the beginning of a tour for this album, performing at BRIC in Brooklyn, with local Gnawa group Innov Gnawa opening. Afropop's Sebastian Bouknight sat down with Touré for a brief conversation about his music, Mali and the future.
Photos by Sebastian Bouknight.
---
Sebastian Bouknight: Hi Vieux, good to see you again. Could you introduce yourself?
Vieux Farka Touré: I'm Vieux Farka Touré, I'm from Mali. I'm a musician and we're just starting the tour for the new album, Samba.
What can we expect from Samba?
You know, Samba is a…trio and quartet album, it's not very busy. It's very…I'll say simple. But why Samba? Samba is…I'm Samba. Because I am the second boy in the family so they call me [Samba]. All second boys in the family are named Samba. But, when I'm young, my dad and grandfather, they sing for me "Samba Si Kairi." [Sings "Samba Si Kairi" and claps in rhythm]. So I'm young, I'm on the calabash and I'm dancing [sings and claps more]. It's like… for me it's like a homage for my grandparents.
[caption id="attachment_35923" align="aligncenter" width="640"]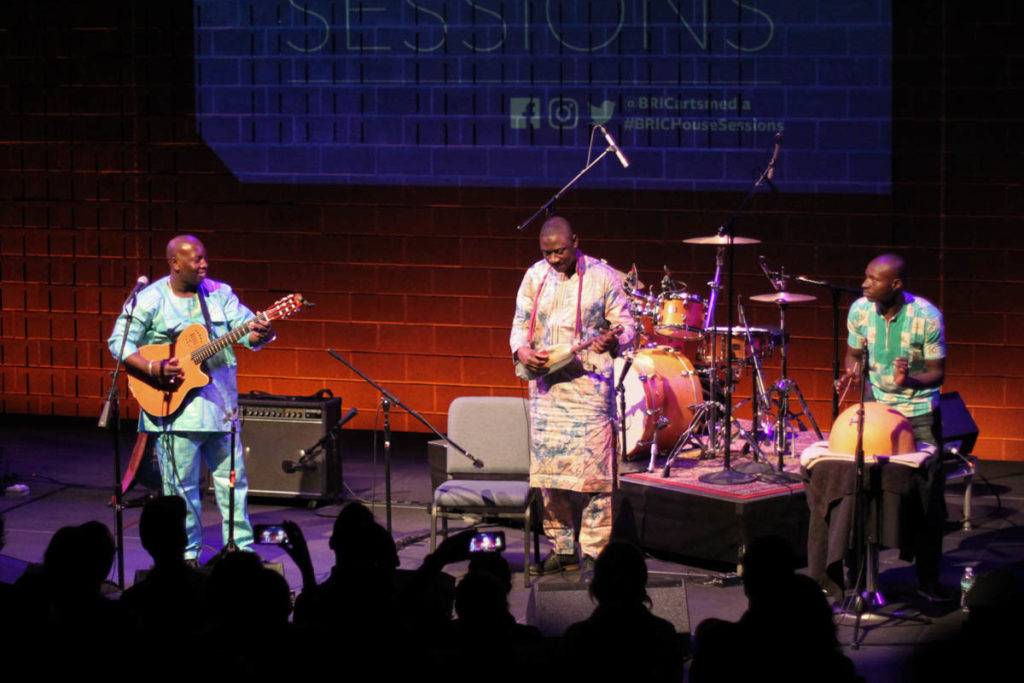 Vieux Farka Touré[/caption]
You began playing music on the calabash, yes?
Yeah, with the calabash, the rhythm. That's it! I started with the calabash, with congas, drum set, and after, I could play all of that and I thought it'd be good to play guitar. So that's how I started.
So on this album you worked with Idan Raichel, Afel Bocoum and others.
Yes, I invited them – you should know that Idan is a friend of mine…I told myself, "O.K., it'll be good to invite him to be on this album." It's an album for peace, it's an album of the revolution, in fact you'll find everything about society on this album – it's very important.
What do you like about Idan? What draws you to work with him?
It's his manner of playing. It's very special, his special way of doing things. It's very important. When you make music, you have to have your own signature. It's very important.
[caption id="attachment_35925" align="aligncenter" width="640"]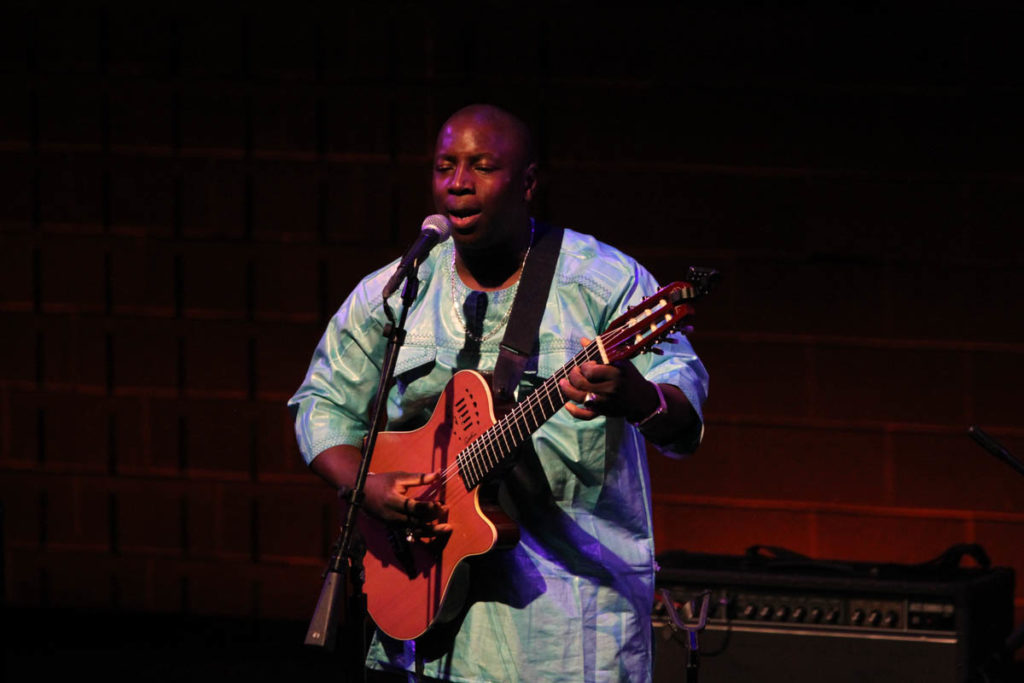 Vieux Farka Touré[/caption]
What is your own signature sound?
Ah, when you hear the guitar you know that it's Vieux Farka because it doesn't resemble anyone. I don't copy anyone. I play only what comes from the heart and that's it. That's what it is.
For sure. You've worked with Sidiki Diabate as well.
Yes, on my last album, Mon Pays, Sidiki did two tracks on the kora.
Yes and he plays the kora just like...
Like his dad [Toumani Diabate]! Of course.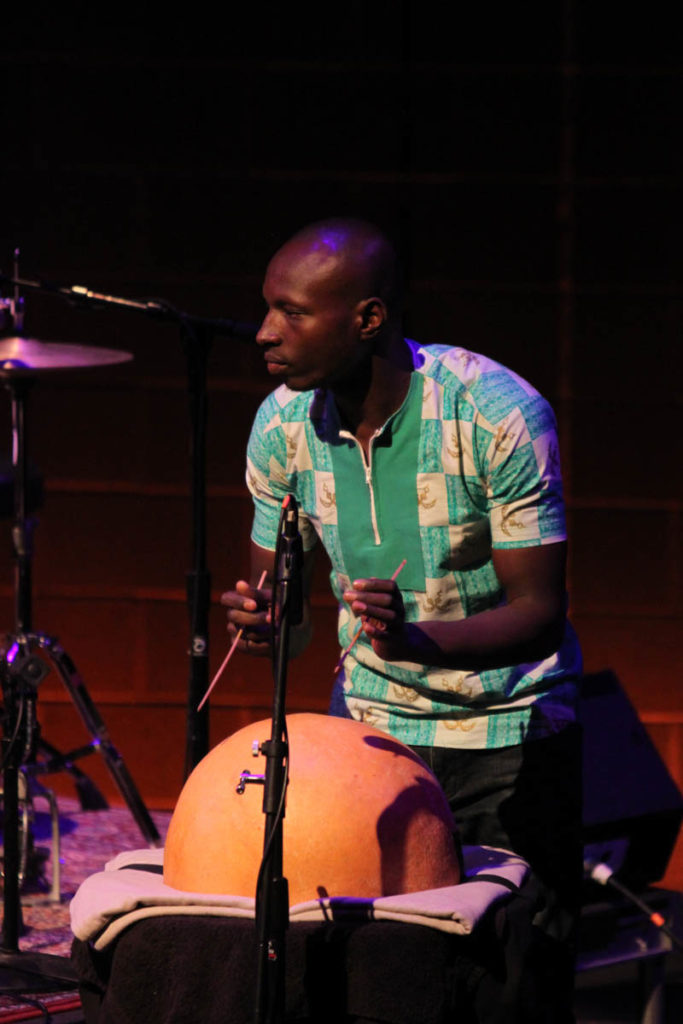 Right! Plus, he also makes hip-hop.
Well yes, he makes other music but, me, I prefer his kora side, in fact. Because for me, I don't use any programming – it's something that I don't do in my projects. So, O.K., in music everyone has something that they want. All in all, often it's good to use programming, but it's not my genre. [Sidiki], he creates something for him and there you go, it's like that.
So, the next generation of Malian musicians – what do you think about that generation? Are there musicians that are learning from the style of Vieux Farka?
Yes, there are the people that learn and there are people that want to play like me; it's like that. You should know that Malian music is not like it used to be. There was a moment when Malian music was very, very strong; very, very respected. But not these days, you know? Because, I think about the time of Ami Koita, the time of Kandia Kouyate, the time of Ali Farka [Touré], the time of Habib [Koite], the time of Toumani Diabate, all of them. The music isn't like that now. It used to be an education, a form of education that the people did, but today, it's not that. Today, Malian music, it's mostly the youth, you see? They say whatever, they do whatever...One says it's Malian music, though it mars the name of this culture. For me, that reality is my big problem with it. You can make music, but not from a negative attitude, you know? You should make it with a positive attitude and that's what's good.
[caption id="attachment_35918" align="aligncenter" width="640"]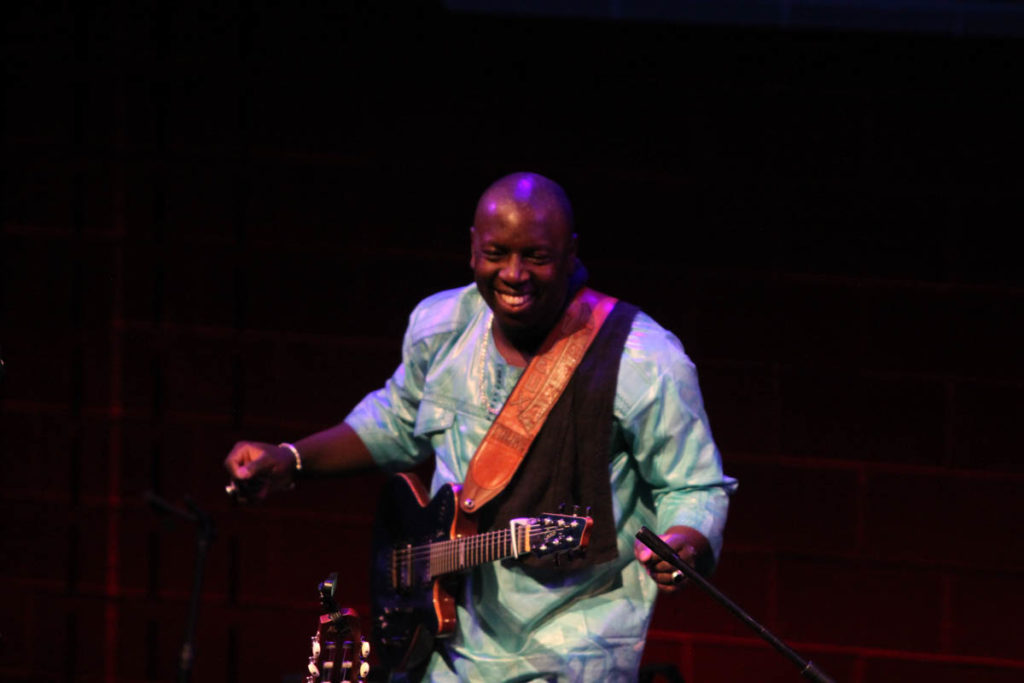 Vieux Farka Touré[/caption]
Interesting. So what is happening now, what is life like now in Niafunké, in Bamako, in Mali in general?
You should know that now, the reality is that it is only poverty. The people are poor, the people don't have anything. You have to say it like it is because that's the reality of things. There are many problems in Mali today – many, many, many problems. We pray only that God truly helps us. It's not good. That's it. Mali is really, really doing badly. That's how it is. So I am not proud of it right now, not at all. It worries me a lot. All of these problems truly worry me a lot but I'm not afraid of anything. All we can tell the people is to be calm. As a Malian musician, all I can tell people is to stay calm. That's all. Because, I swear, I know Malian people well. The day it all goes, it'll all be ruined. That's Mali's problem. Malians are very positive, but the day things go to shit, it's going to get real bad. That's the real problem. But, we don't want it, because of all of those who passed the last time, all those who lived, those whose parents lived…I think that the people should reflect and say O.K., we cannot fall into the same horror. They will not fall into the same horror. One must just try to fall on the good side. That's it.
Thank you for sharing that, that's real, that's very real. We're always praying for Mali too. O.K., I have a question about Innov Gnawa [who opened for him earlier this night]. Do you see a relationship between Gnawa music and your music?
Songhai music and Gnawa music are the same thing [Laughs]. It's the same, man, the Gnawa music and the music from the north of Mali--the real same, no difference. Just these people playing with the ngoni [guembri] and we're playing the guitar, but it's the same man, very same. They are just very original, playing the original sounds from where they are. It's very good.
[caption id="attachment_35931" align="aligncenter" width="640"]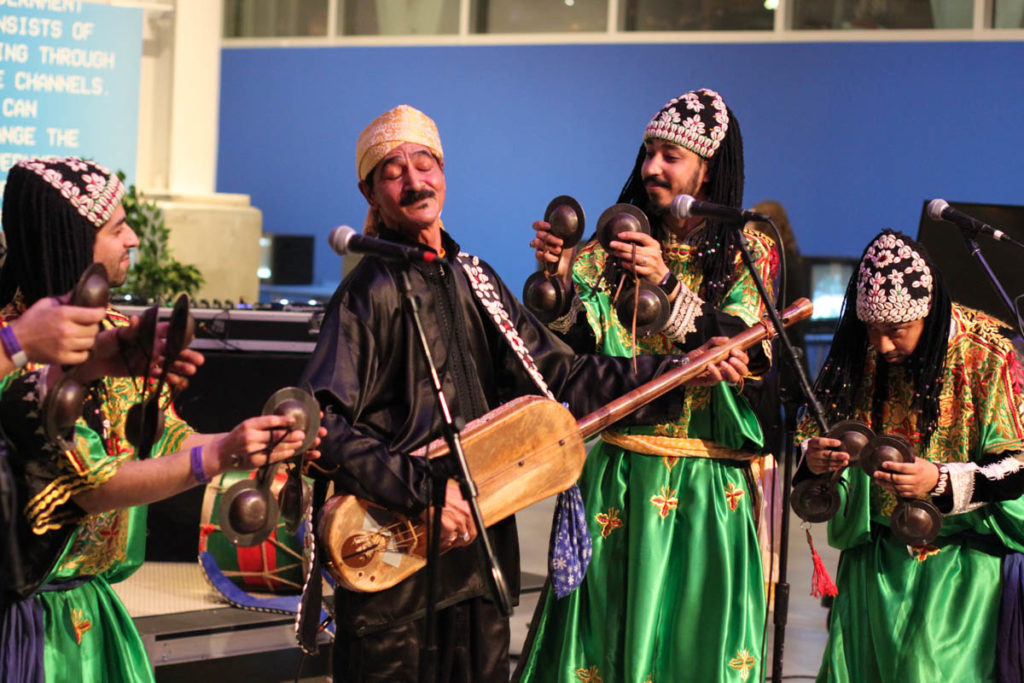 Innov Gnawa[/caption]
When I first heard Gnawa I thought of the donsow music, the music of the Malian hunters.
Yes, the donsow of Mali. It's very important.
[caption id="attachment_35927" align="aligncenter" width="640"]
Maalem Hassan Ben Jaffer of Innov Gnawa[/caption]
So there are deep connections between those kinds of music. You also work with many musicians from other places and who play many kinds of music, like the album with Julia Easterlin [Touristes], Idan [Raichel], Derek Trucks…
Yes, John Scofield, Eric Krasno too. It's normal!
No borders.
No! Because the music doesn't have borders, you know, it doesn't have any borders. Music is like a highway, it's like…
Touré's friend: "Like air! Like water!"
Vieux Farka: Yeah like air, you can just play with everybody. It's what I love, I just love to play with everybody…So we have to create; to create you have to play with people and, you know, learn with everybody. It's very important. But people think, "No, no, no, we just know what we know and we're fine." It's not like this. You know what you know, but you need more. This is why I'm playing with everybody and I'm learning…It's very important.
Friend: Music is like a food; every day you have to taste it.
Right on. Then this album, Samba. What is its story? How did it get made and where was it recorded?
It got recorded in Woodstock [New York], but it took a very long time to get made. It started with the song, "Samba [Si Kaidi]." I played it like four years back, maybe, before I made the album Mon Pays, you know? It's not an album that you make quick just like that, you know? It has been a long time. So we were recording in Woodstock, live. Because sometimes, Eric [Herman, my manager] tells me, "When you are on the stage, you have this energy – it's what I love and you're going to put it on an album." I say, "O.K., let's see." So, in Woodstock we go in and do this album live, with everybody listening. We took this album live and people, they say, "Oh my goodness, you have this energy, it sounds like you did this album live." And you say, "Sure, it is live, yes." But you know, it's not everybody that can make an album live. It's very difficult to make an album live, because it's not possible to change anything, you know? When you play, it's one way, you take and it's finished.
No doubt. Are you happy with it?
I'm very glad, I'm very happy to do this album, Samba, like this.
It's the real deal, it's an excellent album. Thanks so much for your time, Vieux.
All right man, thank you.