Interview With Les Amazones d'Afrique at Reeperbahn Festival 2019
The 14th annual Reeperbahn Festival and Conference took place this year in the beautiful harbor city of Hamburg, Germany, Sept. 18-21. Hamburg is a serious music-lovers city, with a history that includes being where the Beatles first got their start. Over just those four days, there were over 600 concerts in 90 venues, over 15 music-related film screenings and 240 conference programs. While its primary focus is on indie pop, electronic and rock artists, both homegrown and around the globe, the festival makes plenty of room for performers of all other genres.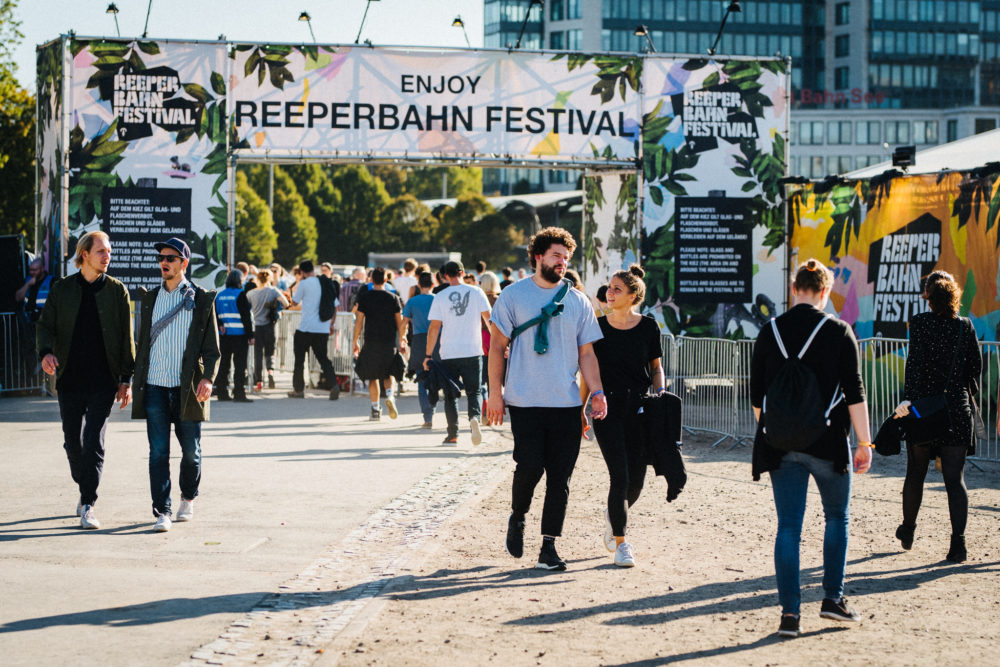 World music artists represented this year included the legendary Ghanaian-Canadian musician Ata Kak (AKA Yaw-Atta-Owusu), the German and Ghanaian-Mozambican Afro-futurist duo Gato Preto, Zimbabwean festival favorites Mokoomba, Turkish psychedelic rockers Baba Zula, Cameroonian Blick Blassy, the Tuareg group Bib Ahmed and Group Inerane, Western Saharan chanteuse Aziza Brahim (we will also have an interview with Brahim, forthcoming) and a new incarnation of Les Amazones d'Afrique.
Les Amazones began in 2014 when Valerie Malot, executive and artistic director of the French booking, management and publishing agency 3D Family (whose primary focus is on promoting jazz and world music artists), sat down and had a conversation in Bamako, Mali with three African divas – Oumou Sangaré, Mamani Keïta and Mariam Doumbia (of Amadou and Mariam). The conversation turned to gender issues and, as Malot told the Guardian in 2017: "What we found out was that female repression in the continent and in the world, is something that touches every woman. It's not a question of color, or culture. It's something generic. All women can relate to it."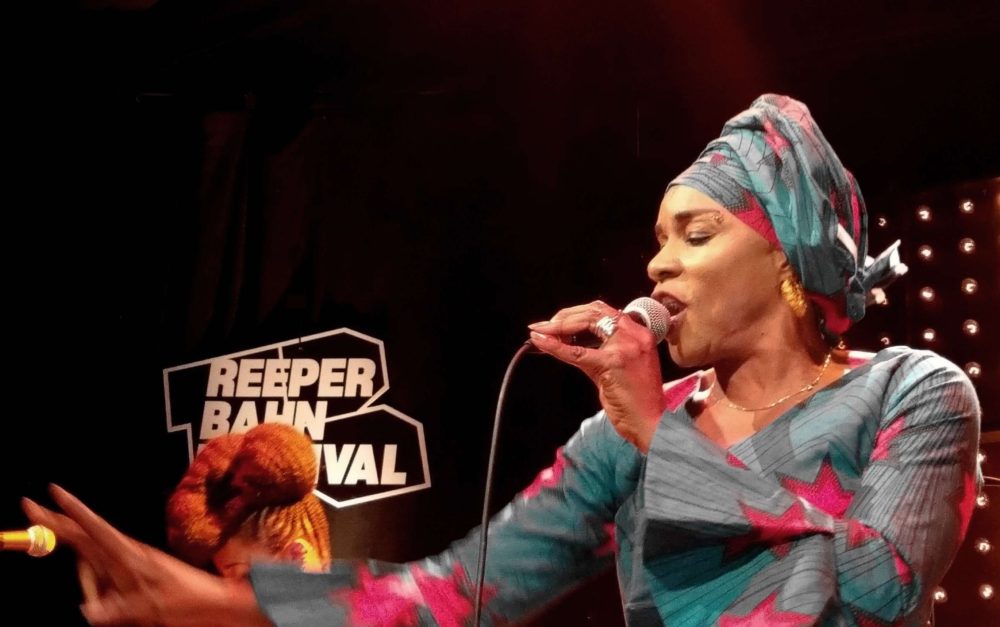 Malot's agency was just getting involved with social change projects in Africa, specifically running the Africa Stops Ebola campaign, "which spread essential information to help change behaviors and attitudes towards the disease." They facilitated this through a recording they produced, "Africa Stop Ebola," which featured Tiken Jah Fakoly, Salif Keita, Amadou and Mariam, and Oumou Sangaré.

In the aftermath of that conversation, Malot was inspired to form Les Amazones d'Afrique, a supergroup of African female musicians – though a few men were invited – who would raise awareness about gender inequality and violence against women. The group of 12 included Doumbia, Keïta, Angélique Kidjo, Kandia Kouyaté, Mariam and Rokia Koné, Inna Modja, Massan Coulibaly, Mouneissa Tandina, Nneka and Pamela Badjogo. They released their first single, "I Play the Kora," in 2015, and the full-length album, République Amazones, in 2017, all to great critical acclaim.
Les Amazones d'Afrique – "I Play the Kora"
Cut to 2019, and Malot has brought together a new quartet under the Les Amazones name, with Mamani as the only original member. The other three are established, but perhaps still relatively unknown internationally, singers from around Africa. They are Kandy Guira, from Burkina Faso by way of the Ivory Coast, Fafa Ruffino from Benin, and the Guinean Niariu, who resides in Paris now. They are all very different from each other, but also alike in that they have amazing voices and are committed to speaking out about women's issues around the globe. We got a chance to briefly sit down backstage with the quartet after their electrifying performance at the Mojo Club on the second night of the festival.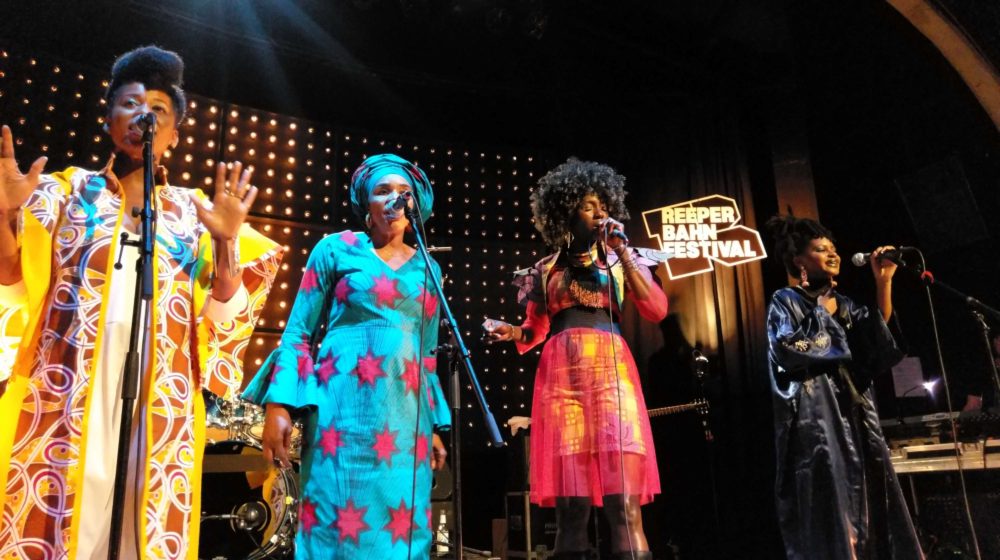 Ron Deutsch: Why don't you all introduce yourselves?
Fafa Ruffino: I am Fafa Ruffino, it's an Italian name. [She laughs] It's a long story. The three of us are all new – only Mamani is from the original Amazones project.
Mamani Keïta: I am the only person who has stayed from the beginning. The original band was only female musicians and the only male in the band was the guitar player. We let him join us. [She laughs] We were almost all singers from Mali.
Kandy Guira: I am Kandy Guira from Burkina Faso. I want to say that, separately, we all have our own musical projects, but we've put our projects aside for this. We are working together for something that matters.
Niariu: I am Niariu – the youngest member of the group. My story is that I happened to come to the studio where they were recording to do some backup vocals on "Amazones Power." And then we tried something on another song and the producer liked it, so here I am.
It's only been a few months now we've been all together. They asked us to be part of this touring project, but now we also have an album coming out. To be chosen, we had do some interviews about our own story, our own lives. So they picked us partially from the interviews, but I think also for our voices. [She laughs] Also, that we are all coming from different backgrounds.
And as Kandy said, we all have our own projects, but this Amazones project is bringing us together. We all have our own personalities, but together you see it all merging. You can see it in our clothes, our styles. But at some point, we will all return to our own projects.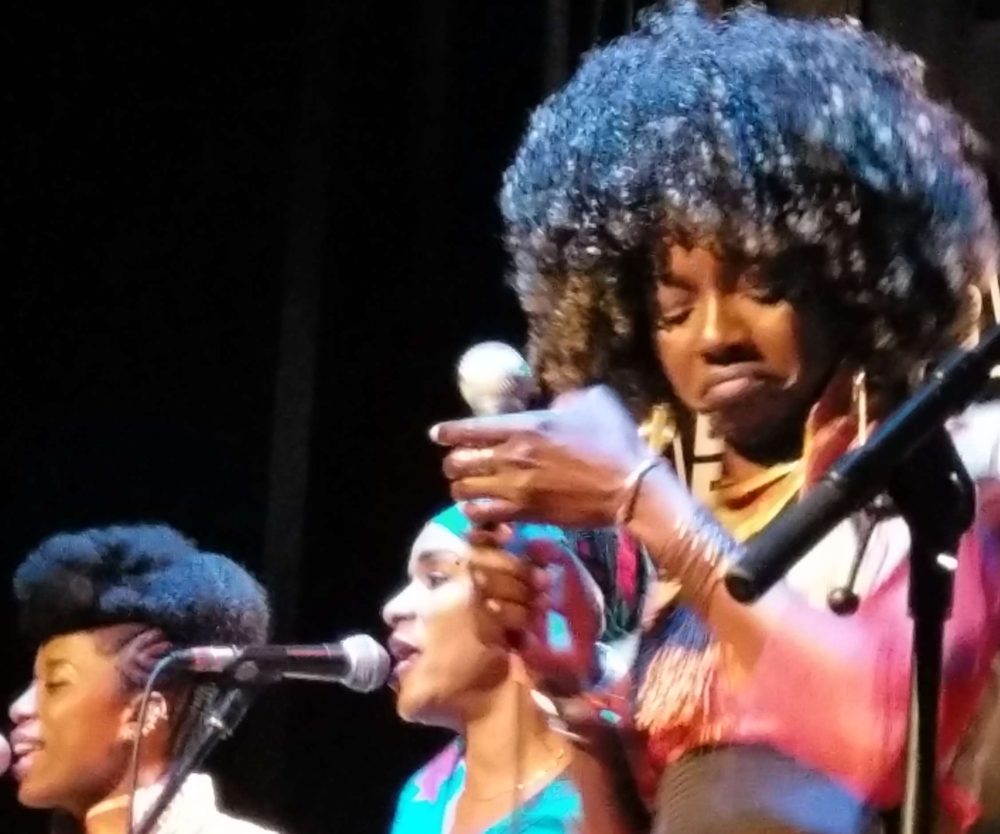 As you say, this is more than just a musical project, you also have a message that you want to share with the world. Let's get into that.

Fafa: The name "Amazon," you see, comes from female warriors who were from the Benin empire. They had an army of females. And that's why we call ourselves that, because we're going on a war. It's a war to defend women's rights. We talk a lot here in Europe about gender equality, but in a lot of countries in Africa, and also in other parts of the world, females don't have basic human rights. There are young women who are forced into marriage, young women who are genitally mutilated and it's very taboo to talk about. Also, the society has become very, very patriarchal and women don't have the right to say anything. They just carry these burdens and pass them along to their daughters. But today there are a lot more women fighting against this. The change is not tomorrow.
Kandy: It's right now.
Niariu: It's happening. There are a lot of women rising and fighting for this, and we need to tell them that we are all together and we are here. The problem is that they are not connecting. So we want this movement to connect all women so they know they are not alone. We are all here for each other. And even if feel you're fighting alone in your corner, we are all together and with you.
One of the issues that you sing and talk about is female genital mutilation, which there has been a growing awareness of over the last few years. Do you see it diminishing at all back home?
Niariu: The problem of genital mutilation is still very much a problem in Africa. There has been some reduction in genital mutilation, but it depends on which country.
Mamani: There has been some promotion in Mali. They have succeeded, I think, in making some change.
Niariu: For me, for example, being from Guinea, there's really not a lot happening. But there are a lot of women there fighting this thing – some of them 12 or 14 years-old have--risen up. And we really want to shed light on these girls.
Kandy: In Burkina Faso also the mutilations are still being practiced in hiding, though it is illegal.
Fafa: People were sleeping, quiet or shy, but now no more. It's not easy, but it's like a time bomb. You feel like something is now happening.
[According to the Center for Reproductive Rights, as of 2018, 18 countries (Benin, Burkina Faso, Central African Republic, Chad, Ivory Coast, Djibouti, Egypt, Eritrea, Ethiopia, Ghana, Guinea, Kenya, Mauritania, Niger, Senegal, South Africa, Tanzania and Togo) have so far enacted laws of some kind criminalizing female genital mutilation. However, penalties range from only three months in some places, to a maximum of life in prison in others. Several countries also impose monetary fines. They say there have been reports of prosecutions or arrests in several African countries, including Burkina Faso, Egypt, Ghana, Senegal, and Sierra Leone. But nevertheless, it remains a major problem.]
Niariu: The real thing is that women have been brainwashed for centuries. They have been told that they are less than men. So now they have to know that we are sharing one brain. And we are even more powerful than men, you know? We carry a child for nine months! This is so powerful. This power has been given to us by God, or whatever you believe in. It's not, you know, to say that men are all bad.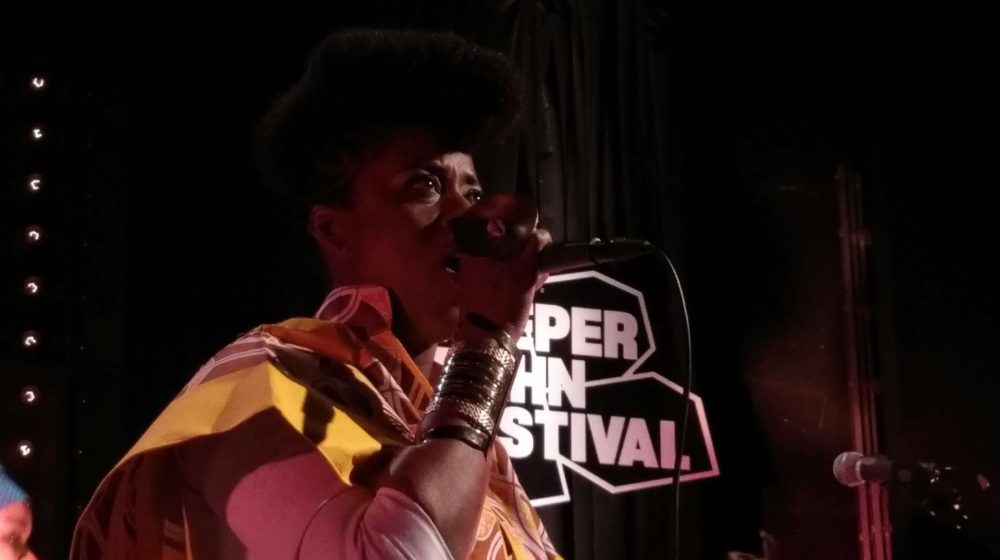 And not all our songs are about this one issue of genital mutilation. We have songs about forced marriage, and also about widows. I don't know if you know about this. Like in Benin, we have tribes, and a king. And let's say he has like four queens. When he passes on, the new king has to take them on as wives. It's so creepy. It's crazy. This law is legal and is still happening nowadays in 2019.

It often seems like part of the struggle in Africa is that there is this cultural leap in many places, partly thanks to technology, into the 21st century.
Niariu: Traditions evolve and have always been evolving, but remember, we also had colonization. So we had a big change in our traditions and I feel that after this, in post-colonization, we went backwards in society in some ways. We took some things from colonization and stuff, and also religion, that really made women even lesser in society. Before all of this, women had rights, you know? But women became the person to blame. Women took on a lot of the burdens. I feel like men are hanging on to the old traditions, but even these patriarchal traditions are not the whole thing. I think there are a lot of things going on here. You can't blame it on just one thing.
Fafa: I think all of these things are coming out because of social media, you know. It's made it so that people cannot hide anymore. All the kids have the phones. So when things are happening in their house.... In Benin recently, I've received many photos of this woman who was beaten by her husband. She just went into the bathroom – this woman has never been in school before, but she knows how to use Whatsapp – and she took these photos and she sent it to all her Whatsapp contacts. And the guy is in jail now. You would never have had this happen 10 years ago.
For all the criticisms we blame on the Internet, it's not a bad thing when you have a way to communicate what's going on in people's lives. In all the small villages in Africa, they have the smart phone. Now these men can't be doing freely what they had been doing before. They can't hide it, or themselves anymore. Something is definitely going on. Change is now.
Kandy: The new generation is taking everything on.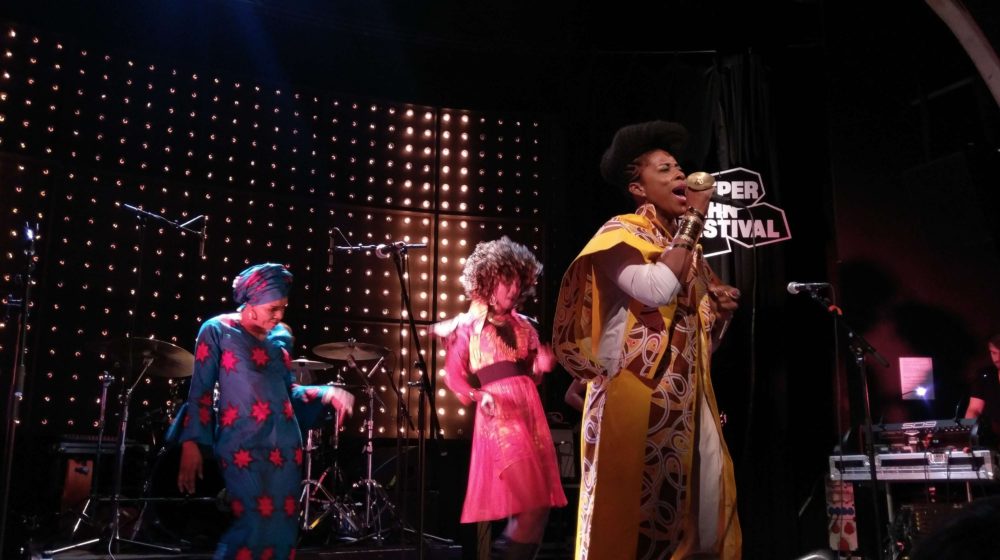 Do you want to add anything else before I go?
Fafa: I think the main thing we want to share with our music with the people, is that yes, women all over the world have almost the same issues, maybe different kinds of violence, but our message is for them to know they are not alone... and they have to talk. When you have a woman being beaten by her husband, they just want to hide themselves away, filled with shame. But when you know you are not alone, maybe your neighbor can witness this and help you. You don't have hide and just accept it. Maybe we are living in a dream world, but maybe there is a sisterhood that can make a huge change.
Niariu: I want to confirm what she is saying. Our message is going out to all the women of the world. And to know that African women are a part of this world and we are fighting too. We want to give a voice to women who are not being represented in the larger feminist movement in the West. We want to make the African story matter as part of it.
Thank you so much for your time.
All together: You're welcome! Thank you!
The new formation of Les Amazones d'Afrique released a single, "Heavy," in July and will be issuing a full album in January.
Les Amazones d'Afrique – "Heavy"