Iron Pipe: Spouge in the 21st Century
When I arrived in Barbados' capital Bridgetown for the 50th anniversary of independence week, I was excited about seeing some of the veterans of the local spouge music in concert and interviewing them about why the music had died out. As far as I knew, live spouge was limited to infrequent "back in time" revues and an occasional medley thrown in by a band in between their soca selections.
At Wendy Alleyne's concert at the National Stadium I struck up a conversation with Chrissy Pantoja, a Florida-based Bajan culture enthusiast and rum blogger. She introduced me to her friend Trevor Wood, who is interviewed in our episode. Trevor declared me the first ever "spouge tourist." That's not entirely correct--I know a few collectors who'd previously gone to the island to look for out of print WIRL recordings or visit Jackie Opel's grave--but spouge will probably never rival sun, beaches and rum as the main attraction of Barbados.
A few hours later I was in the car of podcast host and broadcaster Daveny Ellis, headed to the home studio of Simon Pipe, a Bajan singer, songwriter, guitarist, and one-third of the group Iron Pipe, which mixes spouge with contemporary sounds along with DJ Simmons and Adrian Green. What followed was a freewheeling conversation with the three members and Ellis about their music and what spouge means to Barbados.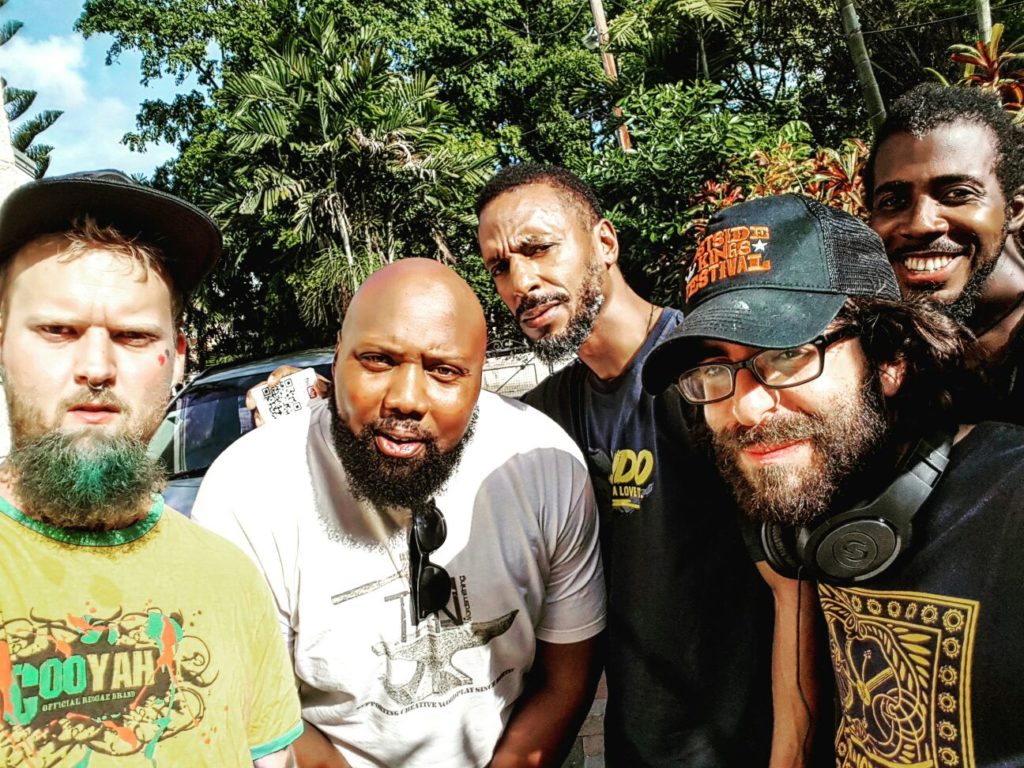 From left: Simon Pipe, Daveny Ellis, Adrian Green, Noah Schaffer and DJ Simmons
Noah Schaffer: Can you explain what Iron Pipe is?
Simon Pipe: We are a band called Iron Pipe. We do a modernized version of spouge in that we are using the traditional spouge rhythm, but a lot of the music was very major chord, very happy sounding, so what we are doing is a little darker. A lot of the times our content is a little more minor chord so it has the infusion of some dancehall and reggae vibes as well. In truth a lot of Barbadians don't know what spouge is so even when we've gone on the radio a lot of people aren't sure what to call the music and they'll default to dancehall or reggae, but the people who are musicians who have studied music here immediately recognize it as spouge and are excited that someone is doing something with it. It's a big experiment because the truth is not a lot of younger people are doing spouge music. It's a lot of fun. Serious hard work too. When you look at Jamaican music they've really preserved their culture. Mento is not as big as reggae obviously, but you're seeing the "reggae revival" where artists like Jesse Royal, Chronixx, Kabaka Pyramid and Jah9 are bringing back a lot of Jamaican [roots reggae] but modernizing it a little bit and doing something similar to what we're doing.
Daveny Ellis: I knew these guys from the spoken word/poetry scene here. All three are some of the best musicians and artists in Barbados. Simply hearing their first record when it came on out the radio made a big impact.
Simon: We've had a phenomenal start as a group. This really is a big experiment. Iron Pipe is a new thing but people know us individually. Honestly if we were someone else and playing spouge music I can't tell you it would have been played 'pon the radio.
Is spouge something you grew up with?
Daveny: No. When I found out about it, man it was the hardest thing since raw cakes.
DJ Simmons: My father used to play the old-time music every Sunday but I couldn't tell you who was singing. I only realized how large it was when I got to research it. My father didn't know. Jackie Opel, he was a guy who sang 'pon some Bob Marley records--a backing vocalist. I didn't know him as an artist. [Note: In reality Marley was Opel's backing vocalist!]
Daveny: When I hear people who were around when the music was big they talk about this pinnacle and Jackie was the guy and he was really gonna take off. It upsets me because I really wish this had happened. How come people couldn't hold onto the local art form? A lot of art forms they hit these paradigm shifts where they hit a brick wall. But the way spouge disappeared with no explanation was a real problem--this art form was going to get so big for us and transcend what we were doing. Not that calypso hasn't done a good job of carrying on, but what you found in spouge had elements of blues, funk, soul, r&b, it was able to translate to other cultures very easily. I'm interested in that death moment when spouge became a thing and then it stopped. Because we talk about reggae and we can see the path of ska to reggae to dancehall. Why don't we see that [with spouge]?
DJ Simmons: There are local artists that like spouge but I don't think they take it seriously enough, but they don't see it as something they could inject into their actual brand. Some of them might get paid to sing a Jackie Opel tune at an old-time show, but they wouldn't put out a spouge song.
Was it challenging to learn spouge rhythms?
Simon: It took me quite a while and then it just clicked there's so much we can do with this rhythm. It's quite different. [Ex-Steel Pulse guitarist and producer] Jimmy Haynes taught me to play spouge on guitar. But I don't think I can say on U.S. public radio how he taught me! The rhythm goes a-shit-ing-a-kitchen, a-shit-ing-a-kitchen, a-shit-ing-a-kitchen, haha! But he wanted it to be me. It was a long process before it clicked…. I also have recorded and worked with the Troubadour, and those guys have been really helpful in giving me some history on spouge, particularly their drummer Ken Jones. His home was actually Jackie Opel's rehearsal space for a long time, so he's been around from the inception.
Have you all studied the origins of Bajan rhythms?
Simon: All of Barbados is this mixed up thing. Given the population percentages Barbados is fairly homogenized, so basically our music is fairly African, but indentured servitude was the first thing to happen here, so you had the Irish and Scottish brought over and then the African slave trade, so it was a big mixture of these very different cultures. Tuk is a real good example, it has the pennywhistle and a snare and you can hear the tuk rhythm in Scottish music. But there are things in tuk that don't come from Scotland!
Daveny: I fear that spouge and tuk could become something to gawk at, to use as a prop, and that is why Iron Pipe is so important--I feel comfortable because I know you guys care about art and pushing it and you're interested in the stronger aspects of what art can do and how it can reach people.
DJ Simmons: No sane person would do what we're doing. It's very unlikely to be very successful. At the end of the day most of the artists want to feed their family.
Daveny: That's right, one reason that prevents artists from doing spouge is that they want to eat. And as an artist it's not easy to make a living when you're doing something that's not popular. I wish more DJs were willing to buck the trend and play this music so others could hear it, but like DJ says they have to eat.
Adrian Green: I am the elder in the group--you can tell by the gray in my beard--so I grew up as a spouge lover and one of the few that I know. Even in my age bracket, as old as I am, I spent a lot of time, many many years, trying to get other artists and other musicians interested in spouge. Even if they are interested they are more concerned with eating. And when you get involved with what many consider a dead art form like spouge you're going to have some work to do to bring it back to life and I had not found a musician interested in doing that kind of necromancy! And I hooked up with DJ and Simon but it took some conversations. I feel very blessed to have met up with two guys who really caught a vision of what spouge can be and who don't want to fetishize it but who want to build something fresh from it. The irony is that while people will tell you they don't know or like spouge I've seen several bands incorporating it into their sets.
Simon: And we only just started experimenting. It is just starting to sound good and I know we can only improve so.