Isango Ensemble at the Brooklyn Academy of Music
If you find yourself in New York City this week, make your way to the Brooklyn Academy of Music (BAM) for what promises to be a mighty performance: "A Man of Good Hope" from South Africa's Isango Ensemble. The innovative, award-winning theater company brings a powerful, timely and true story of a Somali refugee who flees civil war at home only to arrive in South Africa and face a wave of intense xenophobic violence that throws the country into turmoil. The production, driven by a powerhouse of singers and marimbas (as is Isango's signature style), "delivers a clear-eyed portrait of resilience amid the challenges of displacement." Here's a trailer that will give you a sense of the drama and fierce artistry in store:
https://www.youtube.com/watch?v=zF1vWKBSC1E
The Isango Ensemble operates in defiance of the often hierarchical exclusivity of "high art" theater and opera. In a Western context, entering into these creative fields as a performer often demands years of advancement in study and experience in relatively narrow path with numerous barriers to entry. Even the conversation around these forms of art tends to be exclusive, as Isango director Mark Darnford-May wrote in a South African newspaper. Isango takes a different approach, using the company itself as a training ground. The members of the Isango Ensemble hail from the townships surrounding Cape Town—some are classically trained and some are untrained, and this variety is intentional: they embrace artists "at all stages of their creative development allowing senior artists to lead and contribute towards the growth of rising talents." The company's talents are many, as all the performers flow fluidly between dancing, singing, speaking and playing marimba. 
[caption id="attachment_34665" align="alignleft" width="640"]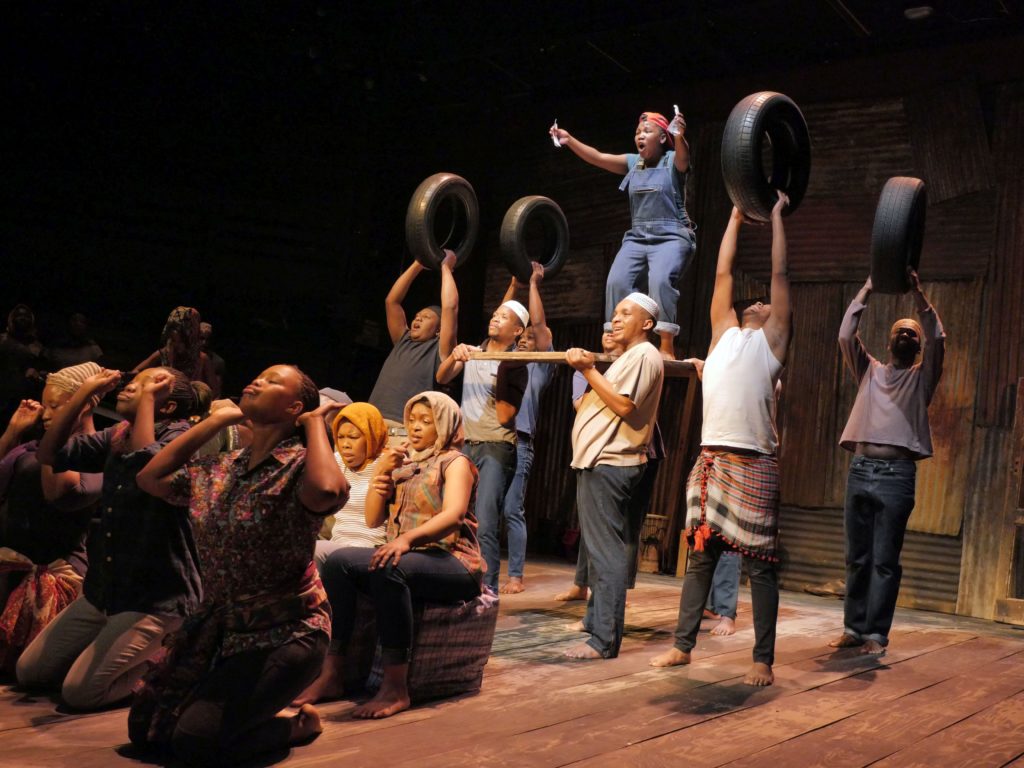 Isango Ensemble in "A Man of Good Hope" at the Young Vic © Keith Pattison[/caption]
Led by Dornford-May and music directors Pauline Malefane and Mandisi Dyantyis, Isango makes theater with the intention of offering access to art for all South Africans and of "contributing to a more united South African nation." They have brought their productions across the world to sold-out audiences (including at Shakespeare's Globe Theatre) and received high praise and numerous awards. The company reimagines theater and opera from the Western canon in a distinctly South African context, "thereby creating inventive work relevant to the heritage of the nation." In addition to staged performances, the group has shot several films on location in the township of Khayelitsha—U-Carmen eKhayelitsha and Son of Man—giving local residents opportunities to be a part of the films. U-Carmen premiered in the township's O.R. Tambo Sports Centre for weeks to many audiences of excited Khayelitsha residents, and when it was brought to the wider world, the film brought the township to international awareness. Isango's intent is to continue their mission of opening doors to theater for performers and audience alike with the hope of reflecting and uniting a diverse South Africa on the stage.
Get a taste of the Isango Ensemble's magic for yourself at BAM this week. "A Man of Good Hope" runs from Feb. 15-19. If you're not able to make it, check back with Afropop Worldwide for a forthcoming review.