Issa Bagayogo (1961-2016)
Issa Bagayogo was a trailblazer in West African music. His 1999 debut release,
Sya
(Cobalt/Six Degrees) set a new direction for Malian pop. It drew on his background playing the
kamele ngoni
, literally "young man's harp," a kind of secular adaptation of the sacred
doso ngoni
(hunter's harp), commonly played in the Wassoulou region of southern Mali. The kamele ngoni was created in the 1960s, and was roughly as old as Bagayogo, who was born in 1961. By the time of
Sya
, the harp was becoming internationally known as a central feature of the then-ascendant Wassoulou music style, sparked by the emergence of Malian diva Oumou Sangare 10 years earlier. That makes Bagayogo 38 years old when he stepped onto the world stage with a truly innovative concept. Working with French producer Yves Wernert on keyboards, Bagayogo created a sound that was spare and modern, boldly juxtaposing the aura of tradition with the minimalist groove of electronic dance music.
Sya
was not exactly Wassoulou music, rap or electronica, but it combined elements of all three and presaged the emergence of a whole new wave of artists and styles in Mali. Bagayogo followed up with
Timbuktu
(2001),
Tassoumakan
(2004) and
Mali
Koura
(2008), all fine albums that grew increasingly complex and sonically rich as more and more support musicians participated in the recordings. His songs dealt with history and social issues, but it was really his hypnotic blend of ancient and contemporary sonic moods that made his music so compelling. [caption id="attachment_32165" align="alignnone" width="590"]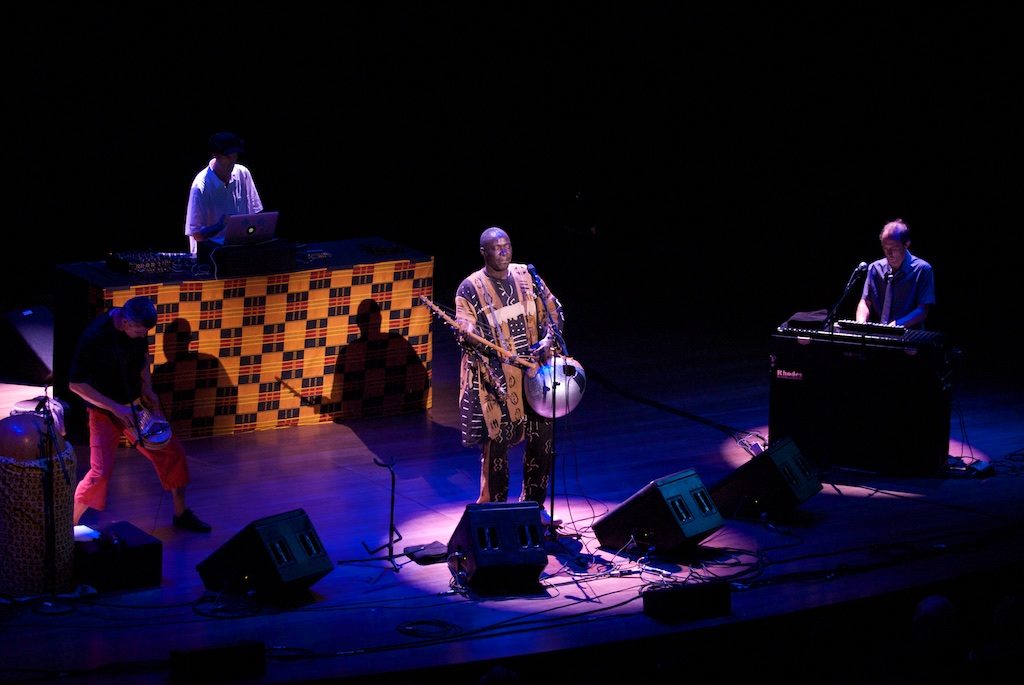 Issa Bagayogo and group at Lincoln Center in 2009 (Eyre)[/caption] Issa Bagayogo performed at Lincoln Center in New York in 2009 on a double bill with Justin Adams and Juldeh Camara. For that show, he returned to his minimalist roots, singing and playing kamele ngoni amid just a percussionist, a keyboardist and a DJ. Reports on Bagayogo's untimely death mention only a "long illness." Bob Duskis of Six Degrees, the San Francisco label that released all four of Bagayogo's albums, posted a remembrance on Facebook after the artist's death on Oct. 10, writing in part, "Issa was a gentle soul who had had a hard life filled with poverty and alcohol and drug abuse. His music saved him…" Bagayogo's work also inspired many around the world and left a mark on the music of his remarkably creative country. All of us at Afropop send our condolences and best wishes to his family, friends and fans.