Janka Nabay: The Bubu King Returns Home
It seemed as if Janka Nabay was just warming up when his latest album, Build Music, was released just last year with a hit like "Santa Monica." It retained all the hypnotic elements of bubu music while also appealing to the West in its instrumentation. In his effort to bring bubu music from Sierra Leone to the world, Build Music would be his last album. He passed away unexpectedly from a sudden stomach illness in the Kambia District of northwestern Sierra Leone on Mon., April 2 at age 54. Luaka Bop, Nabay's record label, confirmed his death in this moving tribute.
Janka Nabay was born in Sierra Leone and was the "King of Bubu Music" during the decade-long civil war in the '90s. Bubu music, from northern Sierra Leone, is associated with traditional folk and witchcraft, and it was this music that found its mouthpiece in Nabay. He became a revolutionary musician and used this music that Sierra Leoneans love and could proudly call their own to spread his message about stopping the war. It was this same war that forced him to flee his country and live in relative obscurity in Philadelphia working at a Crown Fried Chicken. Afropop producer Wills Glasspiegel discovered his music on this side of the Atlantic and Luaka Bop took note and signed Nabay to a recording contract. He went from serving fried chicken to performing his unique brand of bubu music all over the country. Wills shares his experience working with Nabay:
I first heard Ahmed Janka Nabay's music while coproducing the Afropop Worldwide radio documentary "Sierra Leone: War, Celebration and Healing." It was the first public radio program that I worked on as a coproducer in my early 20s, and research for the show opened up my ears to the history of Sierra Leonean popular music. As I listened to all of the music that I could get my ears on from Sierra Leone--mostly from plastic bags full of old tapes and CDs passed to Afropop Worldwide from the BBC--I heard a sound that immediately grabbed my attention. From the lyrics and sleeve notes, I learned that it was bubu music by Ahmed Janka Nabay, but I could find no references to bubu anywhere online, and only scant mentions in academic literature. The sound and lack of historical grounding inspired me to seek out Ahmed, who, it turned out, was living on the East Coast at the time. We soon met up in the Bronx, and poof, I somehow immediately became his manager and close friend. Over the next few years, I helped him get his musical career off the ground in New York City, a journey that established his legacy as the global pioneer of bubu music from Sierra Leone. Two years ago, I worked with Afropop Worldwide again, traveling to Sierra Leone to document Janka's legacy in the country. That hour-long program--"Proving the Bubu Myth"--is available here, along with a photo essay. The last project I worked on with Janka before he passed away was a short film called Sabanoh, using footage gleamed from debil masquerades in Freetown. Janka passed away in Sierra Leone, the land of his birth, but his spirit will live on anywhere that people dance and move to bubu music."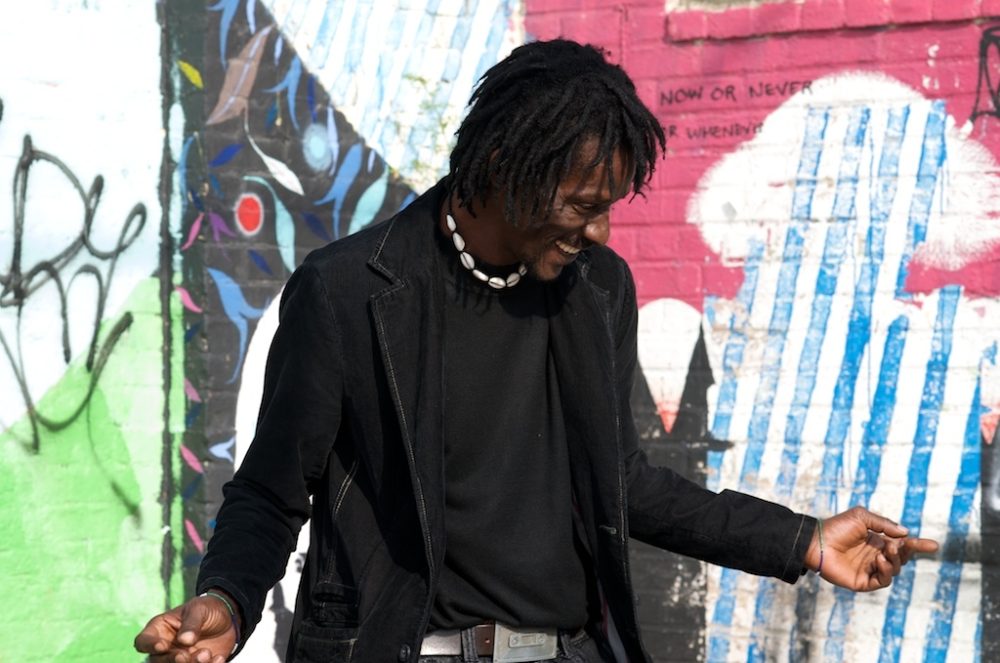 Yale Evelev and Eric Welles from Luaka Bop had this to say about Janka Nabay:
Janka was a force and a shining ray of light, as if he had a beaming aura glowing around him. Working at Luaka Bop, one of the most fun things here was being around Janka, and introducing him to other people. His sense of humor and energy was undeniable, and you could instantly see the person fall in love with him, becoming transfixed by his friendly smile and charm. It was "game ova!", as he liked to say. His kindness and charisma touched everyone he met. "My father always told us he won't die with money, but he has some diamonds, and we are the diamonds. I'm a diamond! I'm telling you! Trust me. Everybody knows Janka is a diamond, yes."