Johnny Clegg Band: Road Warriors
South African singer-songwriter and road warrior bandleader Johnny Clegg made what is becoming an annual pass through New York City this week, selling out two nights at the City Winery, despite the July 4 holiday. Clegg is aging well. He burst on the international scene in 1984 with the band Juluka and the
Scatterlings
album--a groundbreaking fusion of folk rock and Zulu
maskanda
. In one of many engaging raps in his current show, Clegg recalls merrily how, at that exact moment, so many around him were telling him that his music would go nowhere. The last laugh is sweet. Juluka evolved into Savuka, and now the Johnny Clegg Band.  It's a lean, electric guitar-based, 6-piece outfit at this point. Gone are the acoustic guitar finger picking and the extended Zulu dance session. The sound is more disciplined and spare. What emerges are the songs, many of them--"Asimbonanga," "Dela," "I Call Your Name," "Scatterlings"--still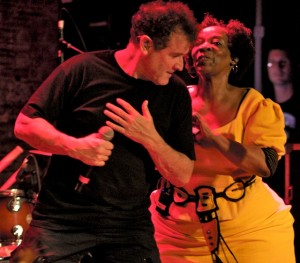 remarkably resonant all these years later. Clegg's singing is better than ever. He reworks familiar melodies with ease, adding nuances, and he arranges songs so as to feature the band's excellent vocal harmonies. When he dances with longtime backing singer Mandisa Dianga, the effect is more touching and folksy than the athletic stomp-downs of Juluka and Savuka shows, but, in its way, no less affecting. Clegg's 2010 release,
Human
, is his most recent, but with such a deep catalog to draw upon--Juluka began recording in the late 70s--Clegg can assemble a set that works as a time capsule, evoking the dark days of apartheid when Juluka was brave and controversial, as well as the solemn ecstasy of the early Mandela era, and its murky aftermath. The current show also works in a few new songs, including one about women in traditional African society. Clegg introduced the song with a riveting recount of the history of women's suffrage around the world.  New Zealand was first to let women vote.  "England and America?" mused Clegg, "Not even in the top ten."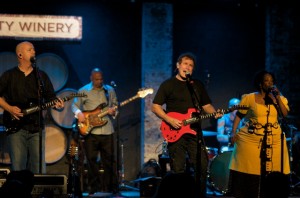 Clegg's audience is fiercely loyal, and he speaks to them with humor, intelligence and respect. You can hear a pin drop when he talks, because fans are nearly as keen to hear him reminisce, opine, and tell stories as they are to hear him sing and play guitar. It's a rare connection. African music has moved on in many ways, and Clegg's oeuvre clearly belongs to another era. That it still comes across so well is the mark of a tremendously committed and gifted performer who remains deeply engaged with the world, even as he sticks to what he knows.
More Summer 2012 Clegg tour dates here.